How I "mined" HIVE with NICEHASH using Lightning Wallet by brianoflondon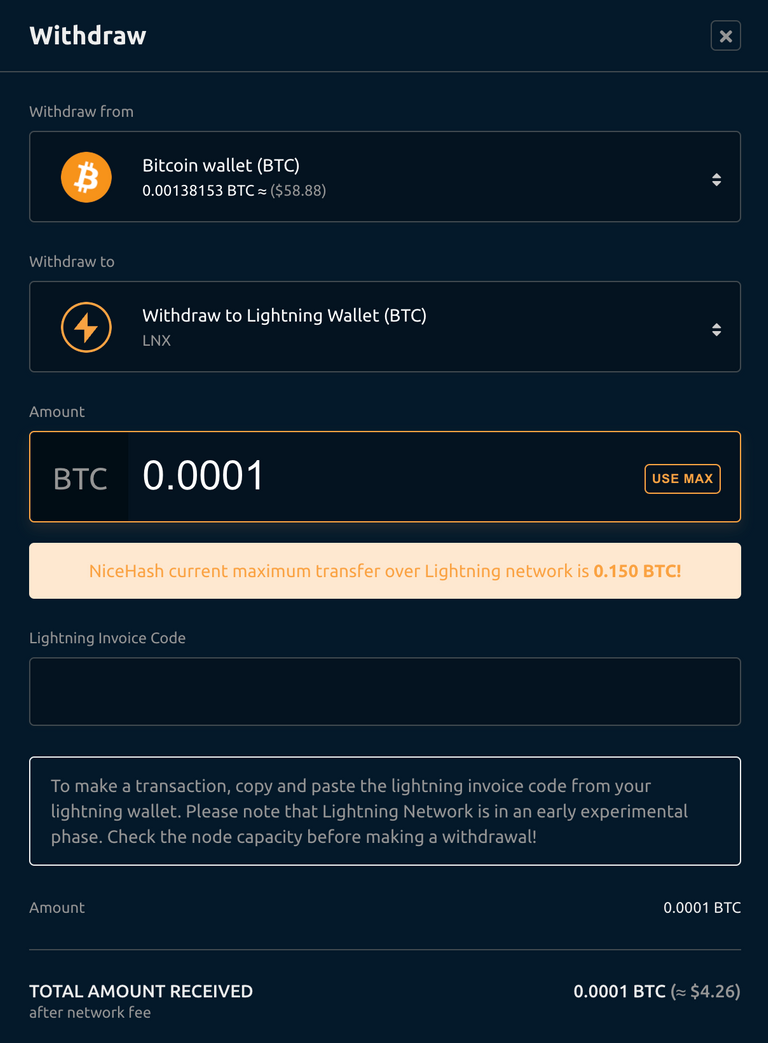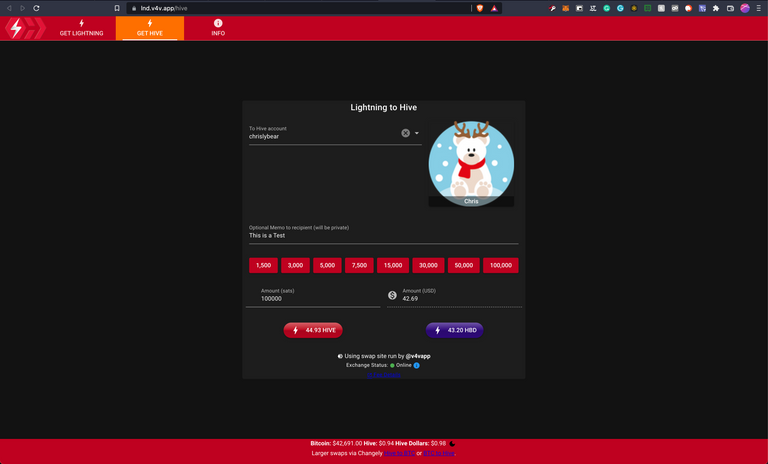 Screenshot von ind.v4v.app/hive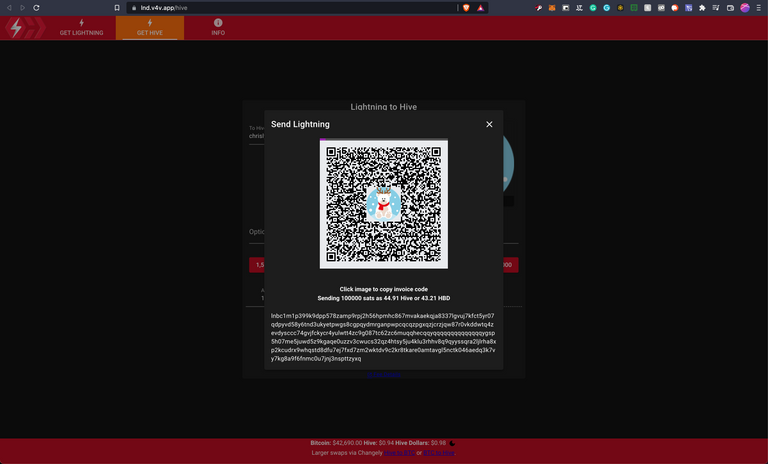 Screenshot von ind.v4v.app/hive
If you clicked on HIVE or HBD, a QR code will appear with your profile picture in the middle. Just click on the picture and your INVOICE will be copied. The Invoice is the transaction address, this is needed so that the network knows where the transaction should go!
Wenn ihr auf HIVE oder HBD geklickt habt, erscheint ein QR-Code mit eurem Profilbild in der Mitte. Klickt einfach in das Bild, und euer INVOICE wird kopiert. Bei dem Invoice handelt es sich um Transaktionsadresse, diese wird benötigt, damit das Netzwerk weis, wo die Transaktion hingehen soll!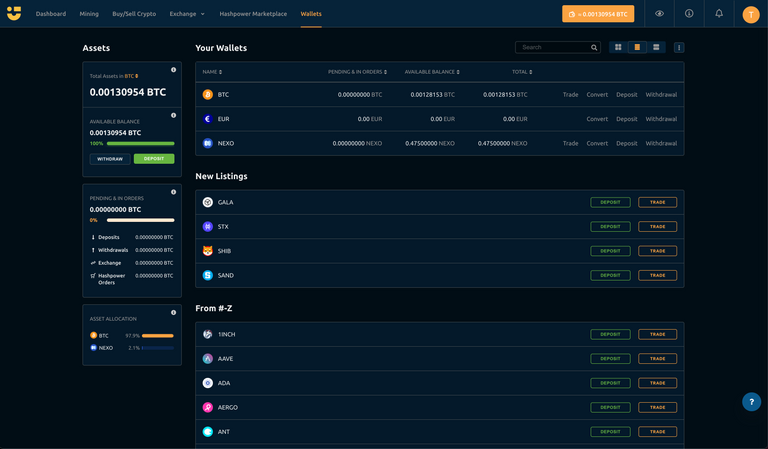 Screenshot of Nicehash
Now we have to go to our Nicehash-Wallet and click on "Withdrawal"
Nun müsst ihr die Nicehash-Wallet Webseite aufrufe. Dort klickt ihr auf "Withdrawal".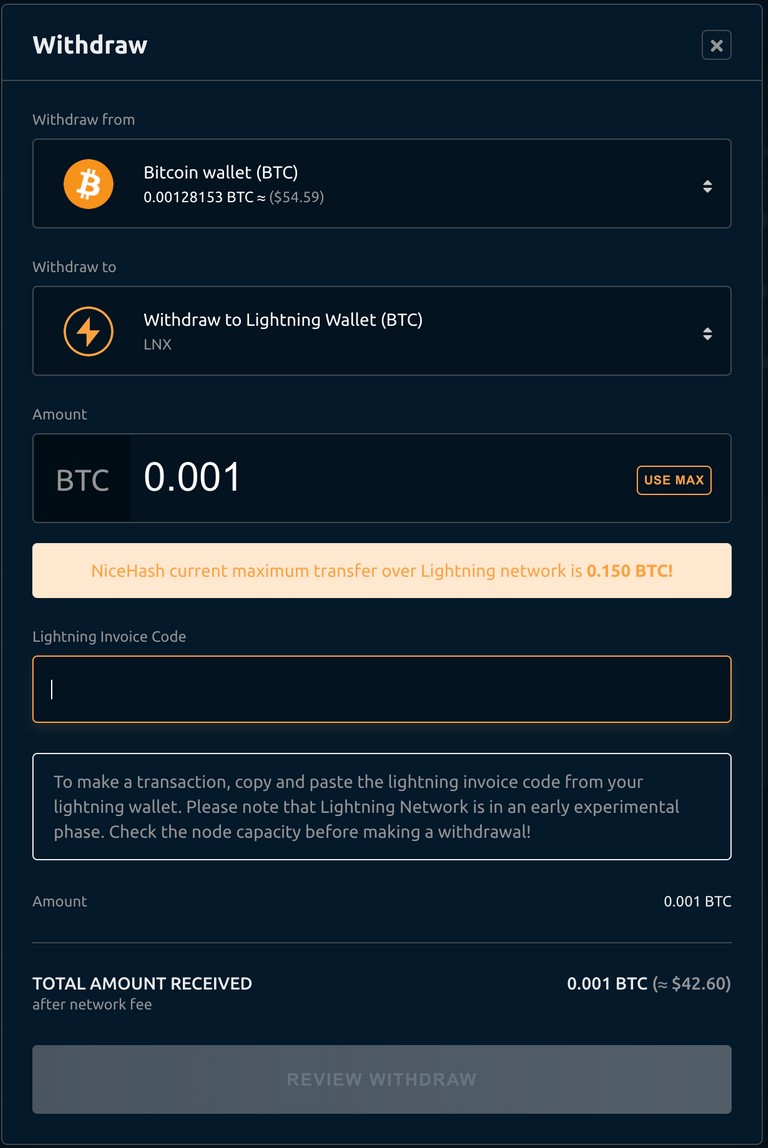 Screenshot from Nicehash
A new window opens where we select "Withdraw to" "Withdraw to Lightning Wallet (BTC)". Now we have to select the same amount as on ind.v4v.app/hive. In my case 100000 or 0.001 BTC! This is important because your Invoice is for this amount! If you have entered only 20000 above, you must now also enter 0.0002! Now copy your Invoice Code from your clipboard. As a reminder just click on the QR-Code from ind.v4v.app/hive and it will be copied to your clipboard!
Click on "Review Withdraw".
Es öffnet sich ein neues Fenster dort wählen wir bei "Withdraw to" "Withdraw to Lightning Wallet (BTC)" aus. Jetzt müssen wir den selben Betrag wie auf ind.v4v.app/hive auswählen. In meinem Fall 100000 bzw. 0.001 BTC! Das ist wichtig, da euer Invoice auf diesen Betrag lautet! Habt ihr oben nur 20000 eingegeben müsst ihr jetzt auch 0.0002 eingeben! Aus eurer Ablage kopiert ihr nun euren Invoice Code. Zur Erinnerung einfach auf den QR-Code von ind.v4v.app/hive klicken und er wird in eure Zwischenablage kopiert!
Klickt auf "Review Withdraw".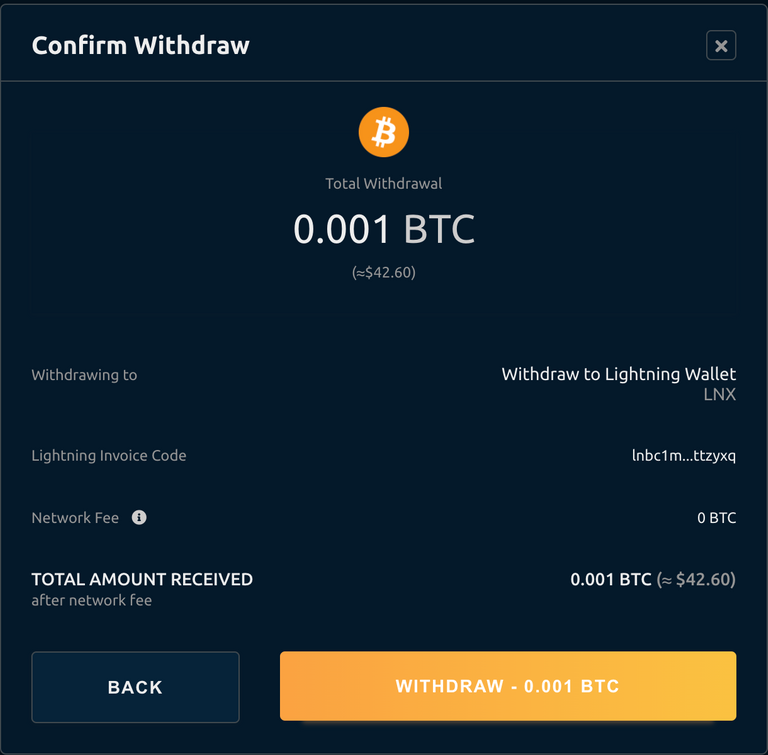 Screenshot from Nicehash
Now you have to confirm the transaction! As you can see the Nicehash transaction fees are 0! You can check the transaction fees of v4v.app here
https://lnd.v4v.app/info
(At the time of this post: 200 Sats + 0.8%)
Jetzt müsst ihr die Transaktion noch bestätigen! Wie ihr seht sind die Transaktionsgebühren von Nicehash 0! Die Transaktionsgebühren von v4v.app könnt ihr hier nachschauen
https://lnd.v4v.app/info
(Zur Zeit dieses posts: 200 Sats + 0.8%)

Screenshot from my HIVE Wallet
After only a few seconds/minutes, Nicehash sometimes needs some time, the HIVE's are on your account!
Nach nur wenigen Sekunden/Minuten, Nicehash brauch manchmal etwas Zeit, sind die HIVE's auf eurem Konto!

Thanks for stopping by!
---
---