WORDS ON MARBLE: I AM NOT GIVING UP NOW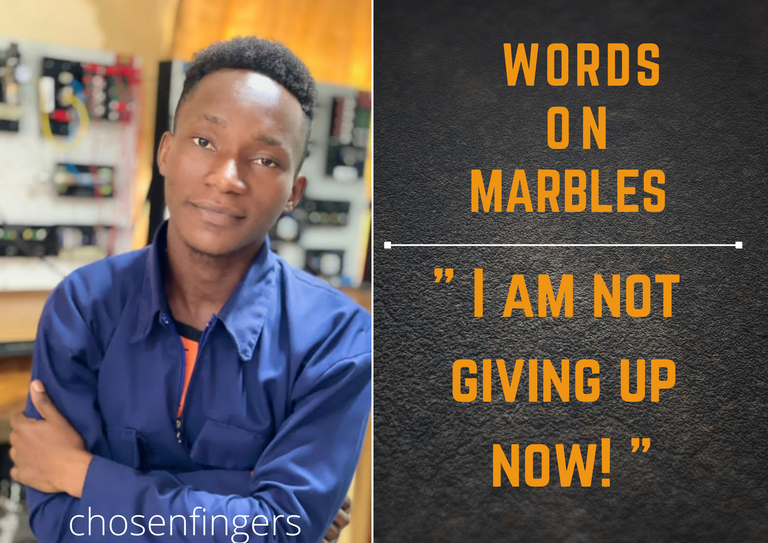 Many people have given up on their dreams, goals and aspirations because at times, we find nothing to draw inspiration and strength from. No one really cares until that final blow and then we wonder how it all happened in the first place.
The truth is everyone at a point, feels like throwing in the towel and just giving up.
We ain't superhumans. Don't be surprised to know that that very jovial and always vibrant friend might even have suicidal thoughts.
I remember hearing a true life experience from a friend whose hostel mate in his university committed suicide and before that wrote on his walls boldly "Life finally won"
Before this sad experience, this young man was known to be the hottest guy in his hostel, very happy and full of life.
This begs me to wonder why the sudden change?
I will always advocate that we have accountability partners, people we can share bothering issues with, seek help and get advice from.
No man is an Island. We all need someone to lean on someday.
I spoke with a close friend yesterday after having a somewhat depressing weekend. I am naturally a logical person who loves perfection. So, most times I sit down to analyze things a lot and it can sometimes yield negative reactions especially when plans are not met. This can make me a bit withdrawn and sad.
My close friend was a bit surprised though (judging from my sanguine nature 😂) but after talking and counselling, she prayed for me. That was the soothing part of the whole discussion.
This early morning, I woke up with a burden in my heart to write to everyone out there who also feels like it's over and life has finally overcome. I decided to write these words to reach out to people here who feels overwhelmed in that present situation or challenge.
I tag it " WORDS ON MARBLES: I AM NOT GIVING UP NOW"
WORDS ON MARBLES: I AM NOT GIVING UP NOW
Many times I want to give up
I want to throw in the towel,
hang my boots and never look back,
but somehow strength comes
but I fear that one day strength might not come anymore
And I might give up everything,
Including my Ghost.

Oh! Strength,
why do I feel you're leaving me so soon
And like my lovers,
you lead me on for nothing.
Like a woman with butterflies in her eyes,
You've kept my heart beating so fast
and yet I see no light at the end of this tunnel.
What more is left of this unending journey,
if my roses turn pale and the sun doesn't smile at me anymore.

These thoughts cling to me daily
As I watch the clock tick
but life has taught me that hope is the currency for tomorrow.
Without hope, I lose foresight of what's to come.
Without hope and faith in substances not yet seen,
life becomes meaningless.
I mean, What's there to live for?

So, even when it doesn't look like it,
even when my clouds seem empty
and winter season is not near,
I will keep pushing my dreams,
goals and aspirations till they birth forth.
I will always remember that
I am pregnant and
nations will draw from my well,
they will come bearing gifts.
No matter what, my child will birth forth.
I am not giving up now
and neither will I fall asleep
till my Night watch is over.

Oh! I'll keep shouting on the mountaintop
till my voice is heard
and men reckon with me,
I'll keep my running shoes
and race with time.
Yes! It doesn't look like it now
but who knows what tomorrow brings?
Who can predict his end?

I hold on to that assurance that lies within me
My hope and faith are renewed.
I will look up to the freedom that lies ahead
For I am no longer afraid of the unknown,
I AM NOT GIVING UP! NOW OR EVER!
Finally...
I hope this helps rekindle your lost hope and inspires you to continue chasing that dream. See you at the top🥂
Much love😍
---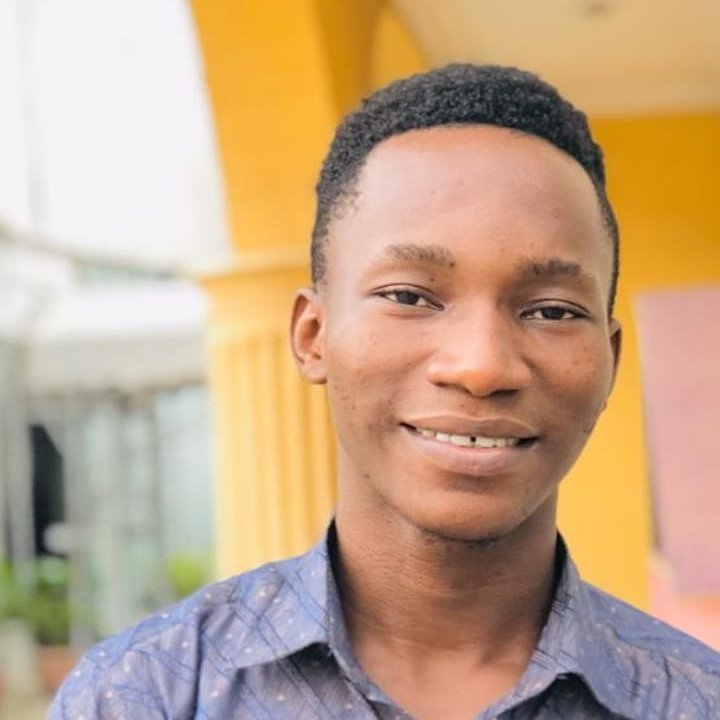 I am @chosenfingers, a young Nigerian studying Mechatronics Engineering, your favourite blogger, content writer, love doctor 🤗 and friend. My main purpose here on Hive is to impact as many as possible with the right knowledge through mind-blowing, educational content. I hope my blog reaches people far and near thinking of giving up their dreams and help rekindle their lost hope.

Please don't forget to share on any platform and reblog. Much love😍

Discord: chosenfingers#7582
---
---