MY APPLICATION TO NEWBIE INITIATIVE
Hello friends, I am back again.. happy to hear from me right?😃
Well, I got introduced to a newbie initiative platform and here is my application.
You wanna know more about this platform right? join me on this smooth ride🤝
ABOUT MYSELF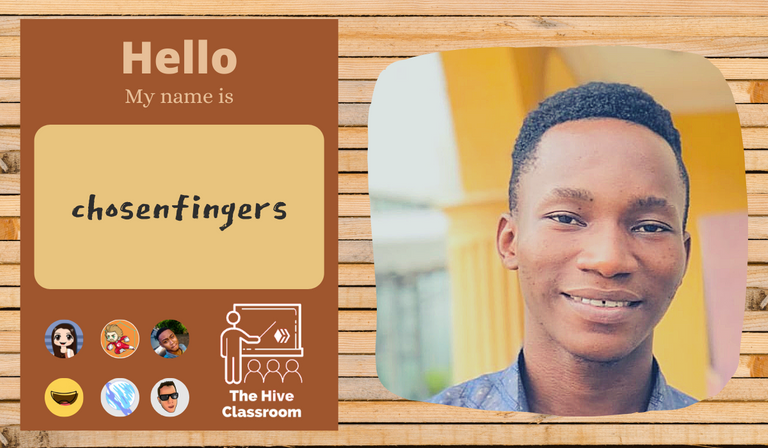 My name is Alexander Chosen p.k.a chosenfingers on this wonderful platform. I am a newbie here on hive with a promising blogging future😇
You want to know more about me right? Check out my introductory post here using this link:
HOW DID I GET TO KNOW ABOUT HIVE
I got to know about hive through my good friend @starstrings01 who I am greatly indebted to for introducing me to this great community with lovely people. I remember how eager I was to join hive when he told me about it because I saw it as an opportunity to connect with more people all over the world and share my ideas and thoughts. So far, considering the support and love I have received I am happy and hungry to connect with more people but limited in capacity as a first timer thus the need for joining this newbie initiative platform.
I made my first post 2 days ago and thanks to my new friends and the hive community for her support. I started as usual with a reputation of 25 and currently I have a reputation of 48 and 0 hive.
MEETING YOUR EXPECTATIONS
My niche will be centered on issues, stories and facts in specific areas such as science and technology, education systems, book reviews, love and relationship discussions, music among others.
In other to live up to this expectation, I solicit for your active participation, likes, votes, re-blogs and inspiring comments.
Stay tuned here for more updates and post.
# MY REASON FOR JOINING THE NEWBIE INITIATIVE
My reason for joining this newbie initiative is to equip myself with the necessary knowledge about the hive community, how to actively post engaging contents and attract lots of new friends. Basically, joining this initiative will greatly help me in achieving my hive goals as the saying goes
"A day with a mentor is far better than a thousand year alone".
Kudos to the great minds behind this initiative. Thanks for the platform and I look forward to connecting with new friends.
Don't forget to like, share, comment and stay tuned for more engaging post. Much love😍
---
---