Weak In My Own Weakness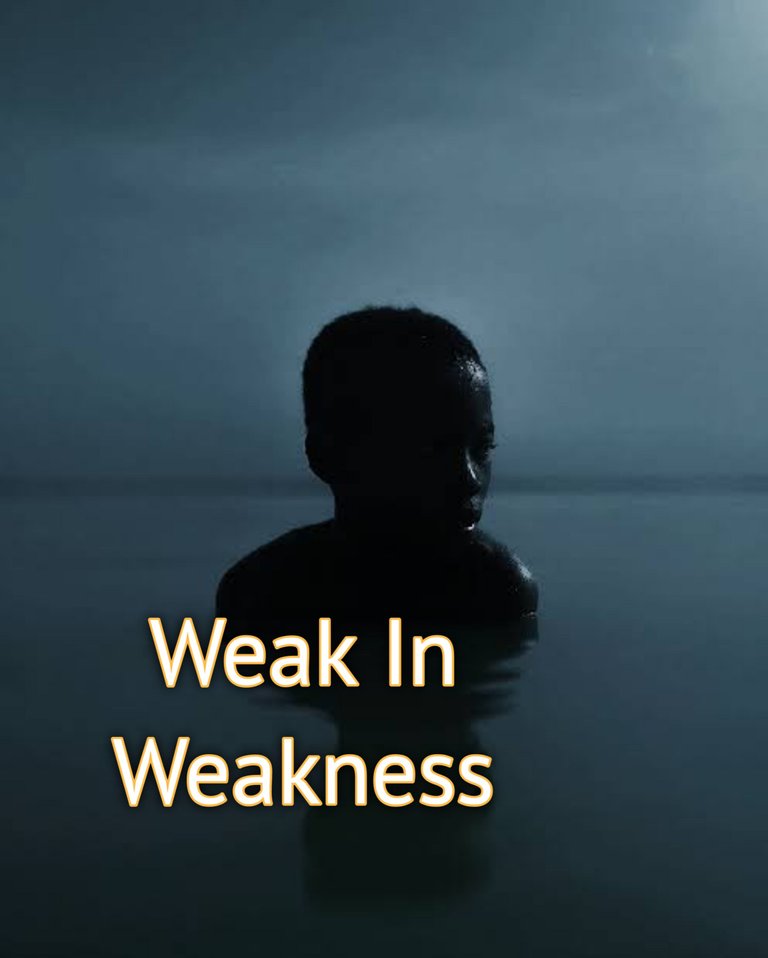 Weak In My Own Weakness
I always saw anguish in his eyes whenever he looked at me. I didn't know why it was there until I turned twelve, by then I was old enough to understand what was really going on around me.
Papa had always been a very strong man, strong in strength and strong in character. Before entering adulthood he had been given the title "Kahuna The Great" which was reserved for men who had done exploits in the village. He had singlehandedly killed the great Jaguar odindin that had been terrorizing our village for a very long time. Papa even gave advice that led to the peace treaty with the neighbouring village that had threatened to wipe us out.
Every one respected papa and no day passed without villagers paying homage to him. His life had been to the envy of other men, every one wanted to be like him and even old women told of his tales under the orika tree where young children gathered round at night to listen. Rumors had it that our family the Kufres were direct descendants from the great god "JADA", that explained why strength always lied in our lineage.
Papa had been gifted seven amazing wives and none of them had been able to give him a male child for twenty years. He had offered various sacrifices to JADA but all was futile. Years went by and all he got were more and more female children, each one more beautiful than the other. He loved them so much but none of them would be able to carry on his legacies. He had been frail and hopeless until my mother had me.
It had been a great day, a day worthy of celebration. The whole village of ATAMPA came together to celebrate the birth of the great son of Samson Kufre the great kuhana. Stories travelled far and wide about the son that was going to be greater than his father.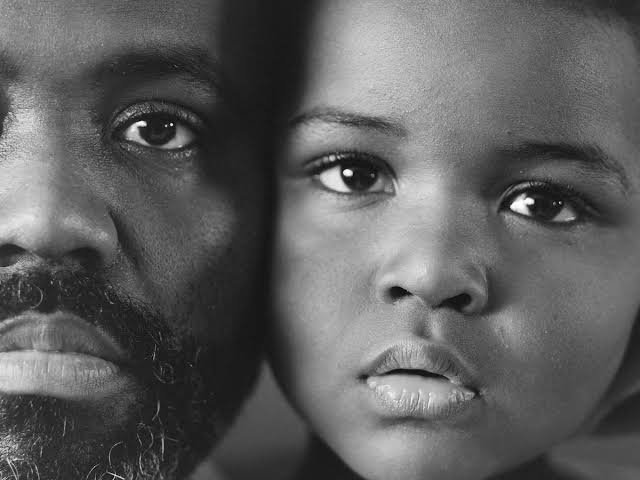 Papa loved Me too Much
I had been showered with a lot of love and attention from everyone, especially from papa who always wanted me by his side. Each time he told me stories about his father and his father before him. Sometimes he even took me on hunting expeditions as he showed off his strengths.
This had gone on until I turned seven, it was then things started to change. I started to notice the way papa looked at me, I wasn't mistaken, I could see the anguish and disappointment in his eyes. I even went on to ask mama what was going on but she just told me I was seeing things, that I shouldn't for once doubt the love papa had for me.
I couldn't understand what was going on, but slowly I started to see that I had a problem. I noticed that I was weak and too fragile, my hands and legs were skinny like they were going to break, the only thing that stood out was my big head. I also noticed I had a problem with my speech, it took me a while to construct sentences in my head and say them out. Other kids had laughed at me and when I had stood up in protest, I was severely beaten and bruised.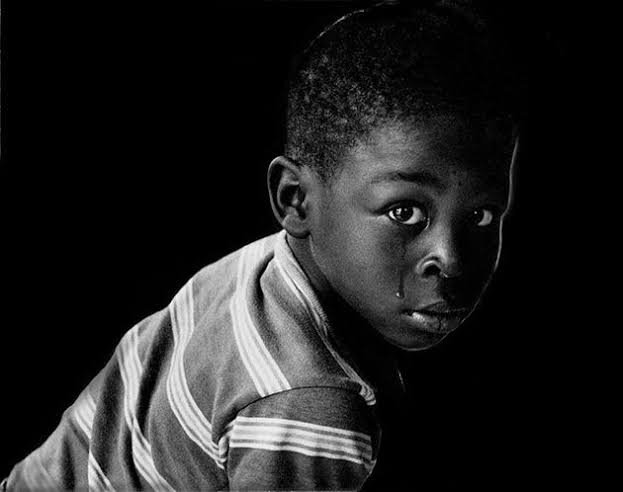 I Cried bitterly
When Papa saw me in my hopeless state, he shook his head and said I wasn't any son of his, I was too weak to be called his son. I had wept that night, seeing no reason why I was made to suffer for my frailty. I had no hand in creating myself and I certainly couldn't change how I was.
I became the disappointment of the family, and it got worse by the day. Each time, my siblings would harshly compare me with other boys in the village and they would poke me knowing I wasn't going to be able to fight back. I had hated myself even more, and had found solace in only my company, I had no friends and the only person who comforted me was Mama and the amazing drawings that soon hung on the walls in my room.
One night, after a heated arguement with Papa, I had had enough, it was all going to end. I proceeded to my room very angry, looked under my bed and brought out the long hunting rope papa used to use. I was going to take my own life and rid myself off the shame and pains that had slowly eaten me up. After leaving mama a note, I had tied the rope in place, tied it around my neck and was ready to kick off the stool when I heard a weak scream, I turned and realized it was Mama. I couldn't fight off the tears that had threatened to blind me, seeing how helpless she looked made my heart melt. I had been too weak in my own weakness.
Thank you for taking time to read this. This is my entry for the #pob-wotw by @calumam and @scholaris
---
Posted via proofofbrain.io
---
---