Are you a dCity player? My dCity update!
Everything is uncertain in life and actually that is the life. We don't know what is going to be happening next moment. The next moment can be fun, enjoyable, sad, depressing...we don't know actually! Last month, my Metamask wallet was compromised, and I lost a sizable investment. Recently in past few days market is crashed and almost every investor's portfolio shrieked. I was really perplexed how to manage the things! But everything is not in our hand and getting panic in such situations makes the situation worse.
---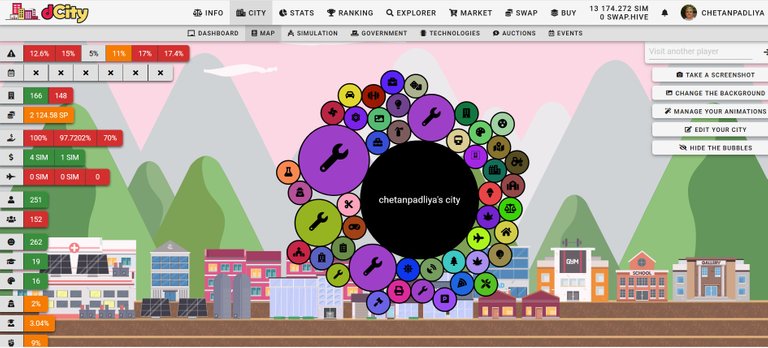 ---
My dCity
So I decided to divert my mind, and started to look towards gaming which I was thinking to start from long time. I used to play City Villa game on Facebook in past so started to explore dCity game on Hive blockchain. I found it quite interesting but different from city villa game.
It is a card game, and we have to collect different cards to build our city. You are a Mayor of your city, and it's upon you how you manage your city. This game needs some investment to buy cards. You have to increase the population of the city, employ the people, establish hospital, school, stadium, supermarket, art gallery, police station and so many things which are available in real world. There are possibilities of crime, natural disaster, pandemic, economic crises, riot etc.
In the long run, your city income will also increase, and it all depends on how you develop and manage your city. I noticed that my city is growing but due to income tax city income was showing negative, I didn't know how to fix that? Then I asked query in discord server, and I was suggested to set up a law firm in the city. I bought a law firm and got an income tax refund. Now city income is showing positive. Thus, it becomes interesting as we learn and play :-)
It is a simulator game and become interesting as you learn and develop your city. I am in a learning process and in the process of growing my city.
---
Are you a city player? If yes, get connected to help each other.
---

---

---
---
---