Argentina Can Now Seize Digital Currency Avoiding Tax
Governments around the world have spent big over the last 2 years, spending they could hardly afford but did it anyway. The spending coupled with the shut down of global supply chains is starting to manifest in consumer price inflation even in developed nations. As governments try to plug the hole in their balance sheets they will look to all sorts of tax ideas and financial engineering.
One country that has been pretty famous for mishandling its obligations and defaulting several times is Argentina. Their failure to grow and pay off debts has seen their currency take the brunt of the pain and in turn, leave many citizens poorer.
In previous years, we've seen Argentina outlaw US dollar holdings to force citizens into the local currency so they can continue to debase and extract people's wealth over time.
The introduction of bitcoin
Prior to bitcoin, apart from holding physical gold or physical foreign currency, there was not much you could do to escape the debasement and increased taxes. Once bitcoin came around it provided an escape valve for some of that purchasing power to find a home outside the system and thus curb the government's ability to extract wealth.
If you used bitcoin as it was intended, to buy and hold your wealth in a method where you hold your own keys, you have nothing to worry about, you've created no taxable events and even if you did, there's no way they can take it from you, short of physical force.
The problem is very few use bitcoin as it is intended and even more are creating mountains of taxable events that they think they can get away with because it's new tech. The answer to this is a resounding no, if you're trading on exchanges, if you're not using non-KYC services, if you've tied your identity to an on-chain wallet in any way, you're pretty much exposed to tax obligations.
Tax on digital currencies are coming for you
We're not getting news out of the Argentinian Tax Authority (AFIP) that they will now be able to confiscate the assets that taxpayers have in digital wallets. If a citizen has tax obligations that they have not reported themselves or settled in fiat, these debts can be used as a means to either seize your funds from an exchange or your bank account.
Not only are your funds up for grabs but also other investments such as vehicles, loans to third parties, houses, and cars can be seized to settle your unpaid taxes from your cryptocurrency gains.
I've seen a lot of chatter online from crypto bros thinking they're too smart by a half that they can avoid taxes, but as governments get desperate they will continue to close the loops and funnel you into the abitur for slaughter.
You either hand over your pound of flesh or you rot in a jail cell.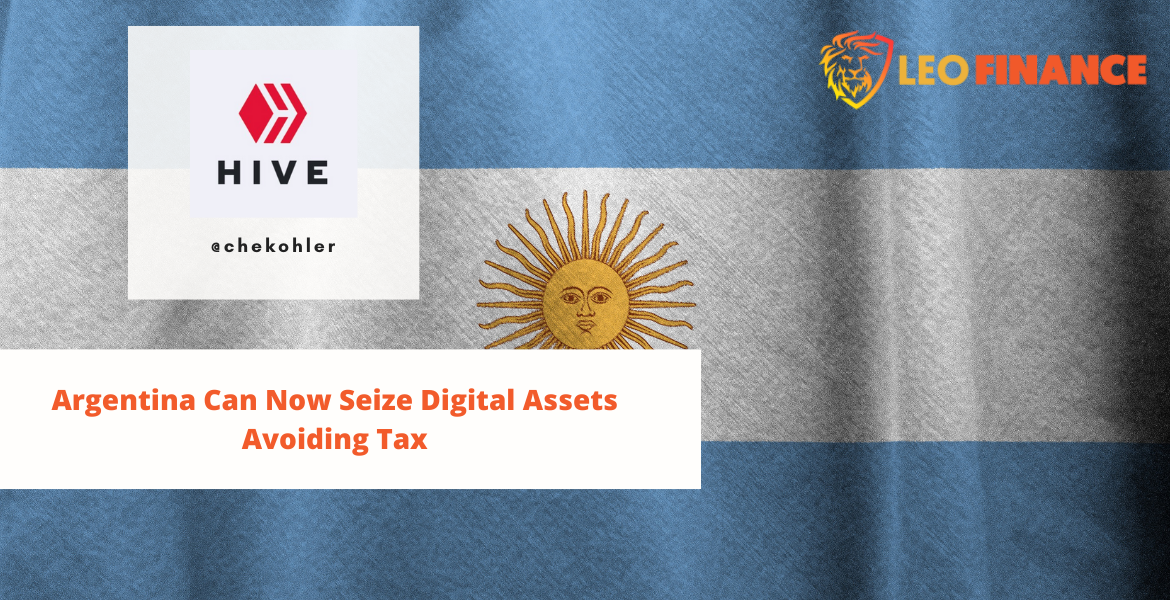 The Argentinian Tax Authority is not some rink a dink operation and revealed that it has begun data collection based on these regulatory measures and will force financial institutions to give up customer information when required by law.
Apparently, 9,800 taxpayers whose digital accounts have already been flagged for confiscation as Argentina look to aggressively stamp out cryptocurrency tax avoidance.
This newly approved procedure has already struck up deals with 30 digital wallets that handle the national fiat currency in the country, such as Bimo, and Ualá for the automatic seizure of funds.
However, the important target for the Argentinian tax authority is Mercado Pago, the digital wallet of Mercadolibre, a bitcoin-friendly retail unicorn, that allows debtors to store their savings away from tax authorities.
Even if you are using a Non-KYC exchange and you're not using your own node to conduct transfers you're trusing a node of a centralised service provider like your wallet providers node, that data can always be used to trace your funds and since most people don't care too much about privacy, most would have easily left a doxing trail to follow.
1, 2 tax mans coming for you
If your funds are not stored on a centralized service or a custodial wallet then your cryptocurrency will not be the first target when collecting tax debt. First will confiscation of more liquid assets such as cash or physical assets. Only when these funds are not available or not enough to cover debts will the tax authorities pursue other assets.
Sources:
Have your say
What do you good people of HIVE think?
So have at it my Jessies! If you don't have something to comment, "I am a Jessie."
Let's connect
If you liked this post, sprinkle it with an upvote or esteem and if you don't already, consider following me @chekohler and subscribe to my fanbase
| Safely Store Your Crypto | Deposit $100 & Earn $10 | Earn Interest On Crypto |
| --- | --- | --- |
| | | |
---

Posted Using LeoFinance Beta
---
---