My Favorite Songs from Khalid.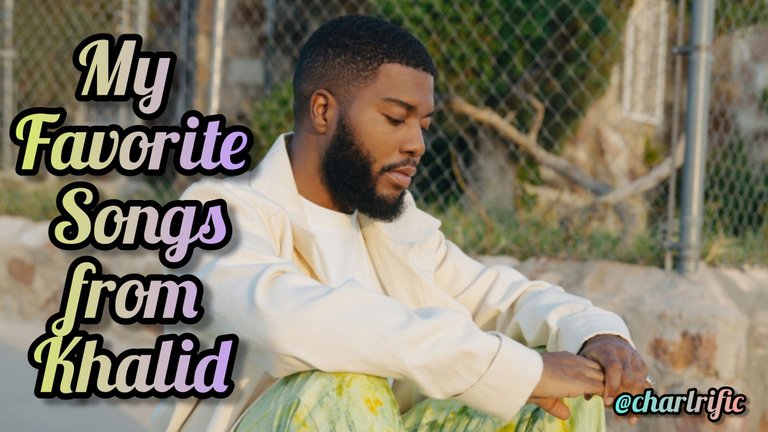 Hello music lovers 😊!
This is my first time making a post here in the community and I sure am excited to do so.
Listening to good music is something that I really enjoy doing all the time and it really does make me happy that the blockchain has provided an opportunity for us music lovers to appreciate the beautiful existence.
Khalid who happens to be one of my favorite male artists is a talented American singer and songwriter who rose to fame in 2017 after he released his debut studio album; American Teen. His genres are mostly R&B and Pop and he has such amazing vocals.
His voice transitions effortlessly from low to high tones between verses and I really find it fascinating.
Today I'll be sharing with us, a few of my favourite songs from Khalid, It definitely wasn't easy to decide what songs to select 😅 but I really hope you enjoy!😁

Now, "Last Call" is a song I that I can't help but constantly put on repeat 😌. You've just got to love the way the song starts off with the faint sound of the drum machine and keyboards before the soothing vocals and the bass kick in, damn!... absolutely satisfying.
The lyrics of this song are kind of confusing but when you listen deeply you realize that Khalid tells a great story with "Last Call". In this song, he takes a look back at his journey to his career success, while also adopting a new mindset and convincing his potential love interest to join him on a new journey. He expresses that it is fine to reminisce, but we need to have a sense of urgency about fulfilling our dreams while we have time to do so.
Khalid is also expressing that we all can take a little time to admire our accomplishments, but we need to keep it moving and determine what's next.

This is yet another beautiful song by Khalid and one that almost all of us can relate to at difficult times.
It's a song that really brings me comfort and upliftment at my lowest times. The lyrics are simple but stunning, always taking away my stress with some wonderful lines that tells us about huge changes coming our way, but that we'll be fine through it all.
The music video is also very fantastic and futuristic which matches the lyrics perfectly.

This one i a song that always triggers me to get up and dance🙃. It seems to be a disco-infused R&B song where he makes a convincing offer for us to spend a beautiful Wednesday night😅.
Adding to the warm energy of the song, he lyrically confesses his love for someone with the runaway energy that gets a hold of you when you think of them. It's such an amazing sound that I really do hope we get to hear more from Khalid with this forthcoming new music.

It's funny how a few years back, I never liked Khalid one bit but with time, I began to listen to more of his music and I've now become his biggest fan 😝. Anyways, I'm just glad I eventually got to discover how talented he really is.
So, do you enjoy listening to Khalid too? Please do let me know in the comments 😊.
Thanks for stopping by and have a nice week!
Lead image from Here and edited with Inshot.
---
---