Topper para torta "Feliz día mamá" | DIY con hojas secas de maíz [Esp-Eng]
Saludos para todos los amantes de las artes manuales! Me e vuentro hoy compartiendo una idea que tuve para hacer un topper para tortas especial para mamá. Se acerca el día de las madres y podemos sorprenderla con un detalle especial hecho a mano y con amor, utilizando hojas secas de maíz. Acompáñenme y les enseño el paso a paso de este bello proyecto.
Greetings to all craft lovers! I am sharing today an idea I had to make a special cake topper for mom***. Mother's day is coming and we can surprise her with a special handmade detail made with love, using dried corn leaves. Join me and I will show you the step by step of this beautiful project.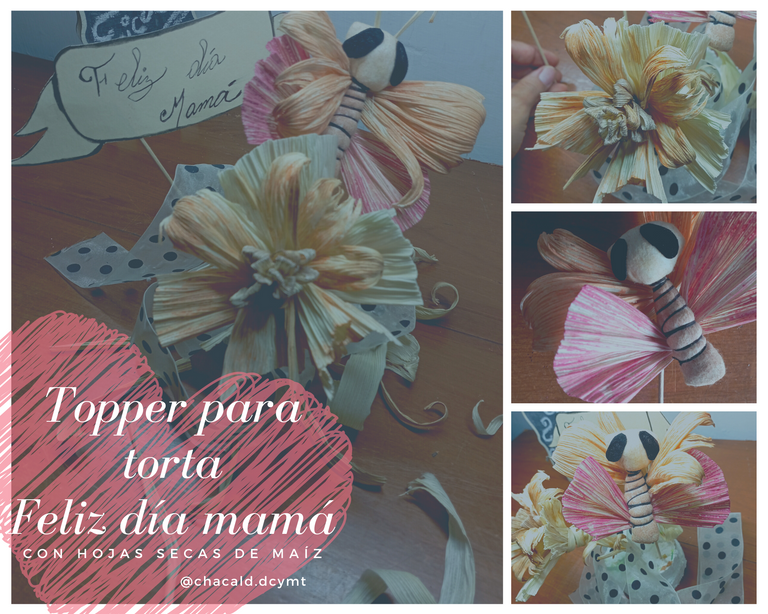 Happy Mother's Day | DIY cake topper with dry corn husks
Materiales:
-Hojas secas de maíz
-Acuarelas
-Pincel grueso
-Tijera
-Hilo volor negro
-Toallita húmeda, reciclada
-Algodón
-Palitos de brochetas
-Cartulina amarilla
Materials:
-Dried corn husks
-Watercolors
-Thick brush
-Scissors
-Black yarn
-Recycled wet wipe
-Cotton
-Skewer sticks
-Yellow cardboard
---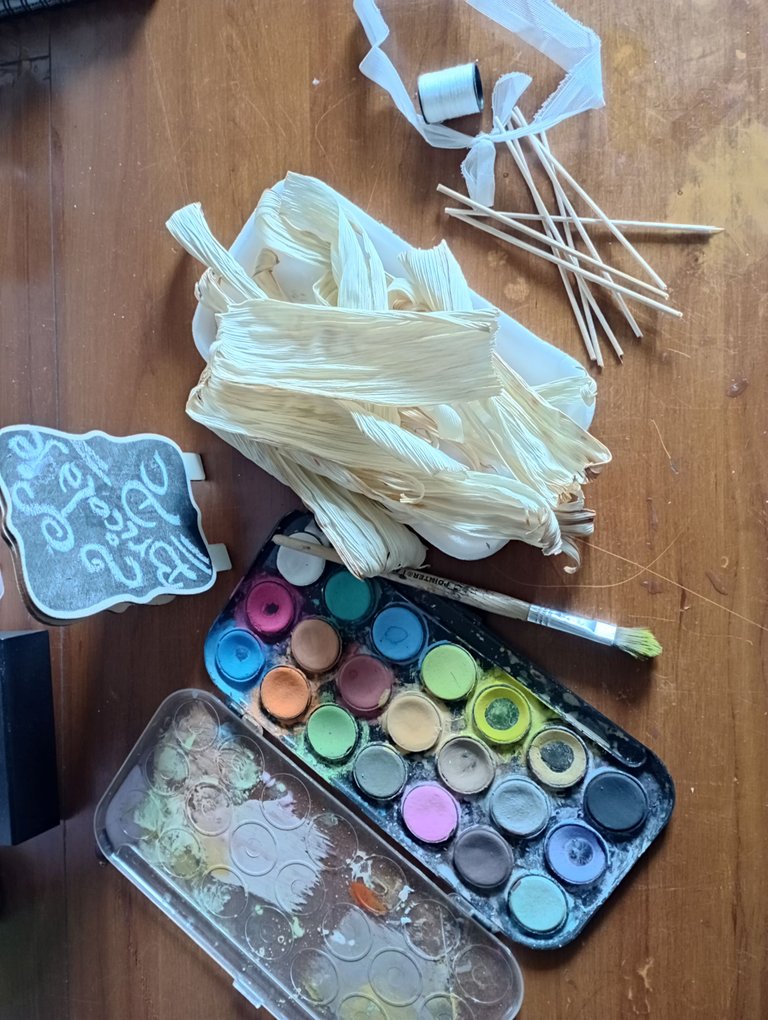 ---
A mi mamá le gustan las flores y las mariposas, por lo que decidí hacerle una se villa mariposa von las hojas secas del maíz. Después de retirar las hojas donde viene envuelta la mazorca de maíz, puse a secar por 3 días al sol las hojas y vomo resultado tenía una excelente materia prima para mi topper.
My mom likes flowers and butterflies, so I decided to make her a butterfly topper out of dried corn husks. After removing the leaves where the corn cob is wrapped, I put the leaves to dry for 3 days in the sun and as a result I had an excellent raw material for my topper.
Elaboración de la mariposa
-Primero hice un par de alas cortando una hoja de maíz a la mitad.
Elaboration of the butterfly

-First I made a pair of wings by cutting a corn husk in half.
-Con el pincel pasamos acuarela de color rojo y naranja con lo que serán las alas.
-With the brush we pass red and orange watercolor with what will be the wings.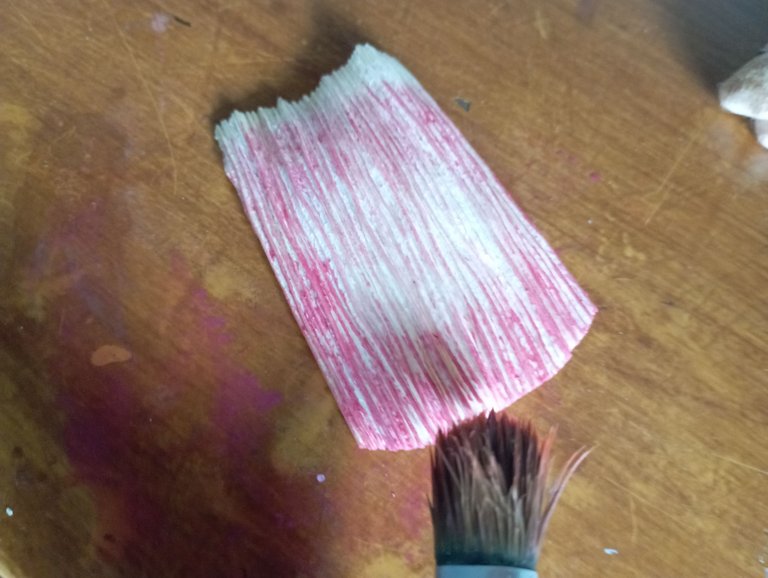 -Tomamos cada ala por la parte inferior y vamos a sujetar con hilo.
-We take each wing by the lower part and we will fasten it with thread.
-Tomamos la toalla reciclada (lavada y seca) y vamos a rellenar con el algodón para hacer lo que será el gusano de la mariposa.
-We take the recycled towel (washed and dry) and we are going to fill it with the cotton to make what will be the butterfly worm.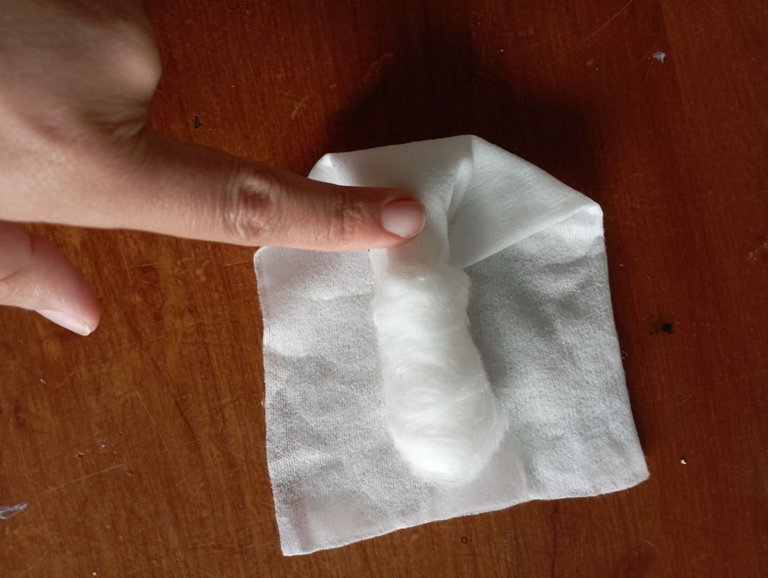 -Con hilo de color negro, vamos a las roscas del gusano hasta que quede de la siguiente manera:
-With black thread, we go to the threads of the worm until it looks like this: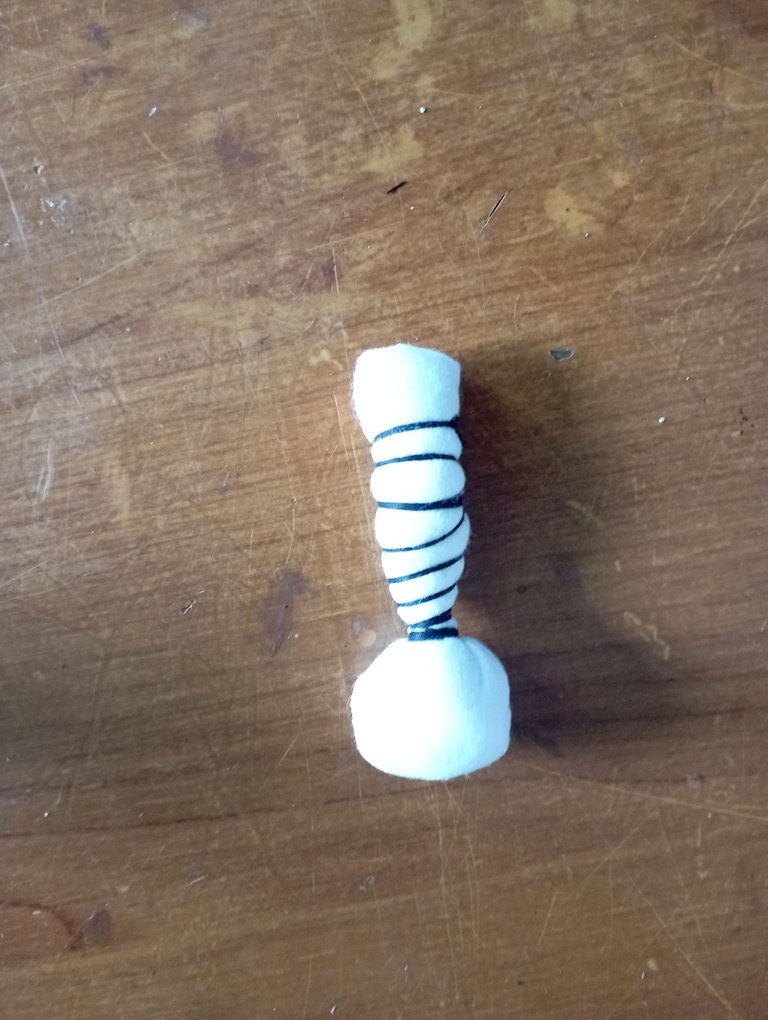 -Con el pincel y acuarela de color café, vamos a dar color al gusano. Cortamos en fieltro o tela un par de ojos y los pegamos en la parte mas gruesa del gusano.
-With the brush and brown watercolor, we are going to color the worm. Cut a pair of eyes out of felt or fabric and glue them to the thickest part of the worm.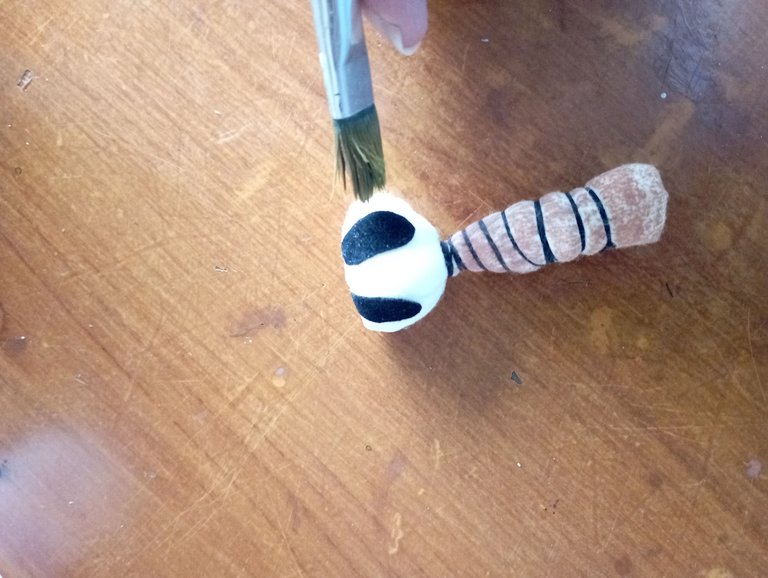 -Pegamos el gusano a un palito de brocheta y pegamos las alas detras para que quede de la siguiente manera:
-Glue the worm to a skewer stick and glue the wings on the back so that it looks like this: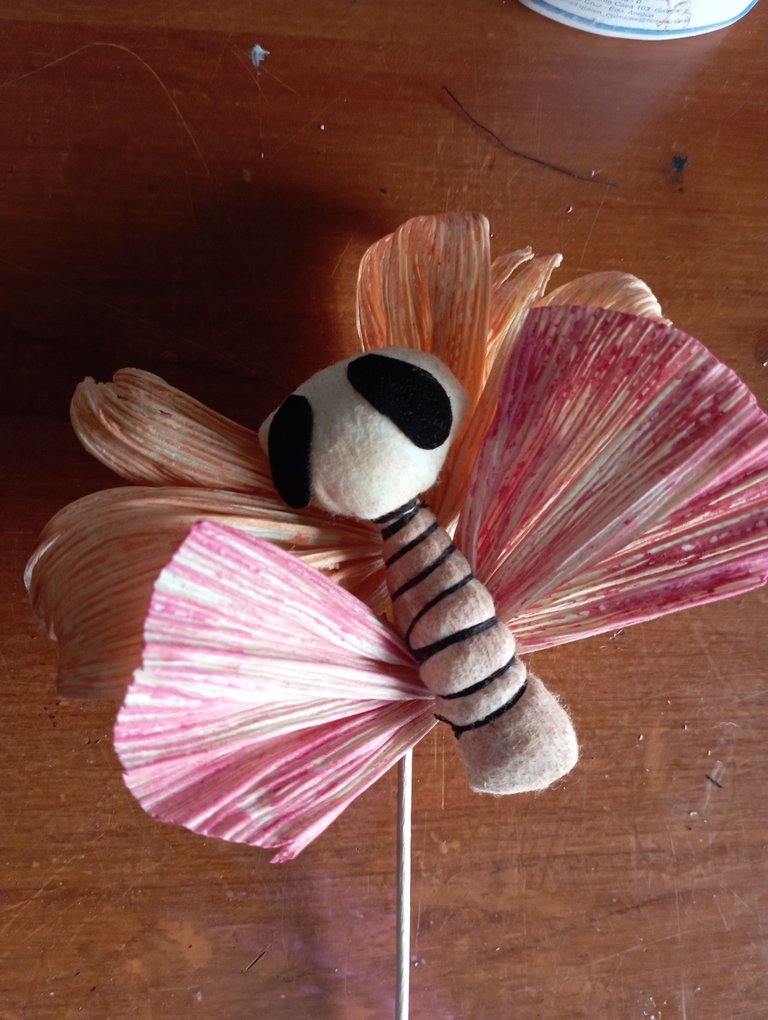 Elaboración de la flor
-Tomamos 3 hojas secas de maíz y las vamos a amarrar con hilo en el centro para hacer 6 petalos. Los sujetamos del centro uno sobre otro.
-Take 3 dry corn husks and tie them with thread in the center to make 6 petals. We hold them in the center one on top of the other.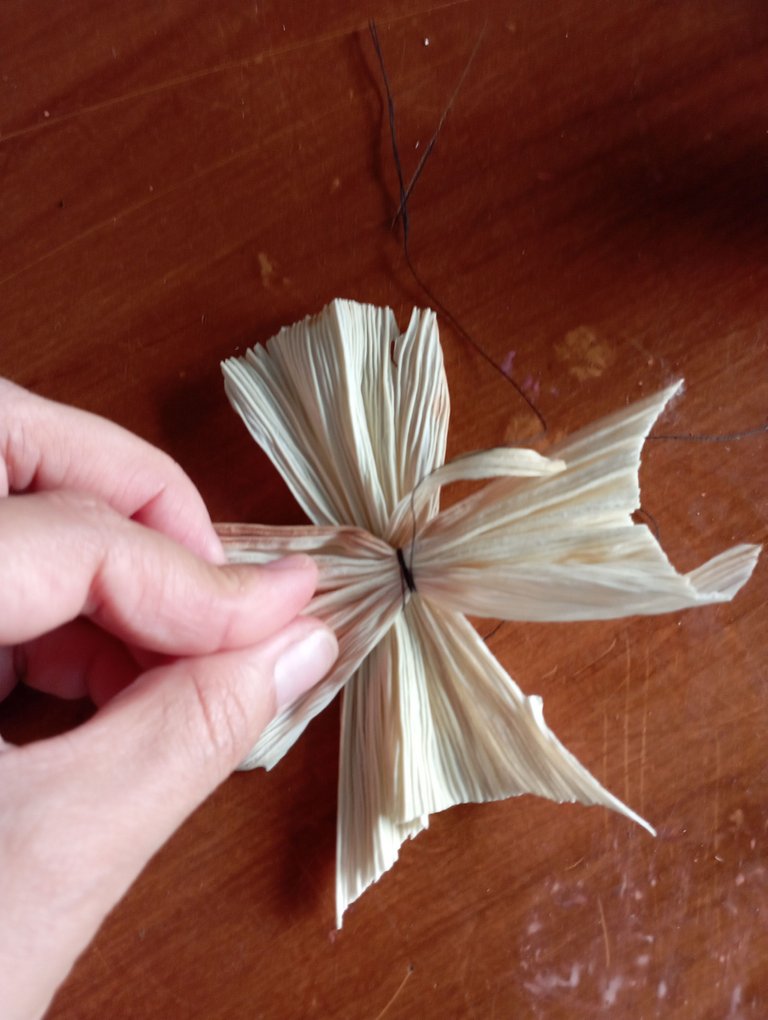 -Con el pincel vamos a pasar acuarela color naranja por los petalos, en la parte visible.
-With the brush we are going to pass orange watercolor on the petals, in the visible part.
-Luego tomamos una hoja seca de maíz y la rasgamos en tiras.
-Then we take a dry corn husk and tear it into strips.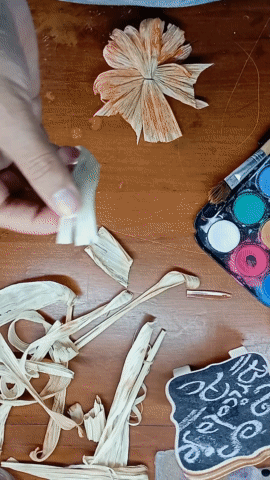 -Una vez que tenemos 4 tiras rasgadas,vamos a amarrar en un palito de brocheta formando pequeños petalos. Debe ser de la siguiente manera:
-Once we have 4 torn strips, we are going to tie them on a skewer stick forming small petals. It should be as follows:
-Damos unas pinceladas de color marrón sobre los petalos del centro que acabamos de hacer.
-We give a few strokes of brown color on the petals of the center that we have just made.
-Por último, atravesamos los petalos con el patilo de brocheta al que amarramos los pequeños petalos que pintamos de marrón. Y así debe quedar nuestra bella flor.
-Finally, we go through the petals with the skewer duck to which we tie the small petals that we painted brown. And so should be our beautiful flower.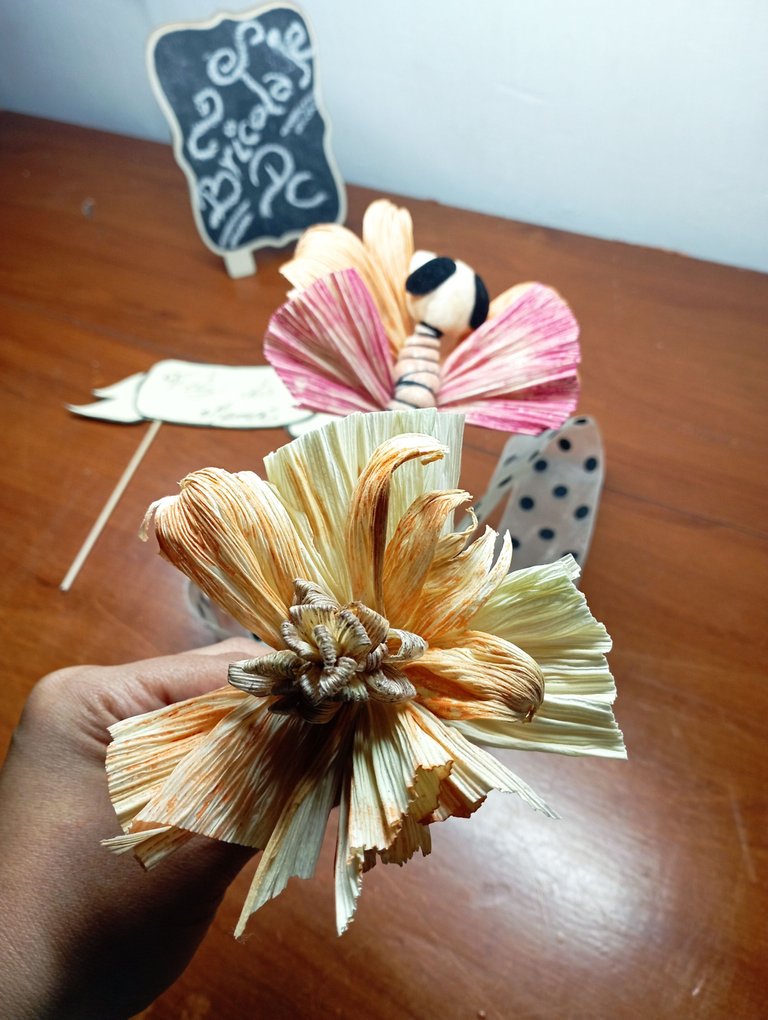 -En la cartulina, escribí el mensaje "Feliz día mamá", lo pegué a 2 palitos de brocheta. Y así fue como quedaron mi Topper:
-On the cardboard, I wrote the message "Happy Mother's Day" and glued it to 2 skewer sticks. And that's how my Topper turned out:
Este es un hermoso proyecto, muy económico y que seguro va a sorprender. Te invito a que te animes a realizarlo. Así se veía sobre la torta que hice para mi mamá @tere.alv con todo mi cariño.
This is a beautiful project, very economical and sure to surprise. I invite you to do it. This is how it looked on the cake I made for my mom @tere.alv with all my love.
Espero les guste y nos vemos en una próxima oportunidad. Saludos!
I hope you like it and see you next time. Greetings!
---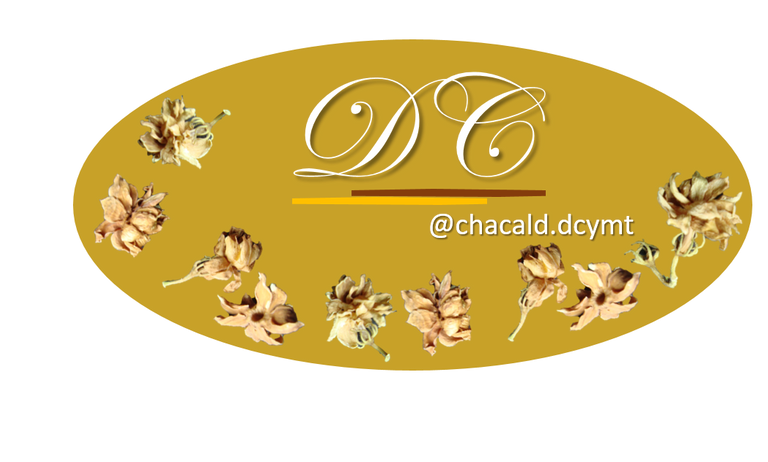 Original content by the author.
Resources: App: Canva / Giphy || 📷 Redmi 10 Smartphone
Translation done with Deepl.com
✿ All Rights Reserved || © @chacald.dcymt // 2020-2022 ✿
💌 Discord: chacald.dcymt#3549
_
Contenido original del autor.
Recursos: App: Canva / Giphy || 📷 Redmi 10 Smartphone
Traducido con Deepl.com
✿ Todos los Derechos Reservados || © @chacald.dcymt // 2020-2022 ✿
💌 Discord: chacald.dcymt#3549
---
---