Rising Star : 300,000 Starbits The Hard Way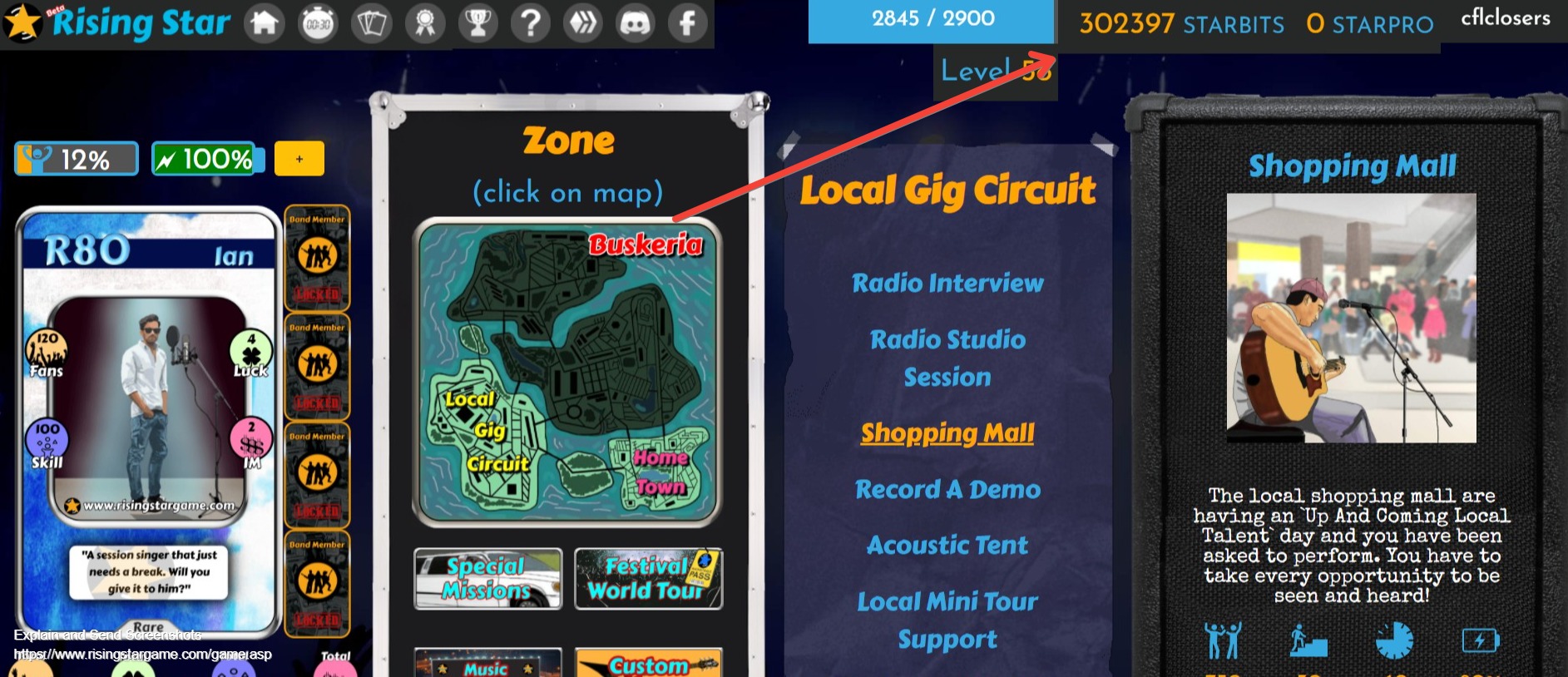 It was day 1 of the Splinterlands SPS drop when I decided that I wanted to make sure I didn't miss out on @risingstargame just in case.
I hadn't taken advantage of Splinterlands even though I was aware of it before it started and bought a few starter packs (Alpha Cards). I always felt bad about it but I didn't understand the game.
The SPS drop had me feeling bad about all that I left on the table by not doing my daily quests so I wanted to jump into Rinsing Star and do the missions. Not only because it is free to play but you know, just in case it got popular.
This game was also confusing to me but I started pressing buttons simply because I didn't do that with Splinterlands. I started with the free Illegal Busking missions and worked my way through the FAQs.
The game didn't make sense to me but I was earning starbits and a few of the rewards that came with just doing missions in general. I set my sites on the million dollar missions but didn't quite know how to get there. But it seemed to be a good goal.
I didn't buy any packs at first and just leveled up. Things were moving pretty fast. I was earning starbits and moving up in the levels towards a few of the free rewards listed on the site.
But, I finally fomod into some packs and got a few NFTS that helped me once I hit the levels where ego mattered. If you don't understand what I'm talking about, that's ok. If you play you will learn.
I think I bought $30 worth of packs and that has given me enough to contantly mine and move forward but I think I'm being inefficent. I'm currently on level 59 and stuck on Local Mini Support missions.
I need to get to level 75 to start doing Band Audition missions and at the rate I'm going it will take forever. I'm wondering what others are doing to move through the game faster and earn more.
My first 100,000 starbits was quick. Just lots of mining but the more I do it, the slower it's getting. I just 300,000 starbits but I feel like I earned the hard way.
I see lots of posts about @risingstargame but I can't really decipher what the most efficient form of gameplay is. I'd love to read your thoughts and strategies in the comments. I'm not opposed to investing into the game if I can see some growth.
Posted Using LeoFinance Beta
---
---