A walk through a village open to the sea: Rinlo (Galicia-Spain) (ESP/ENG)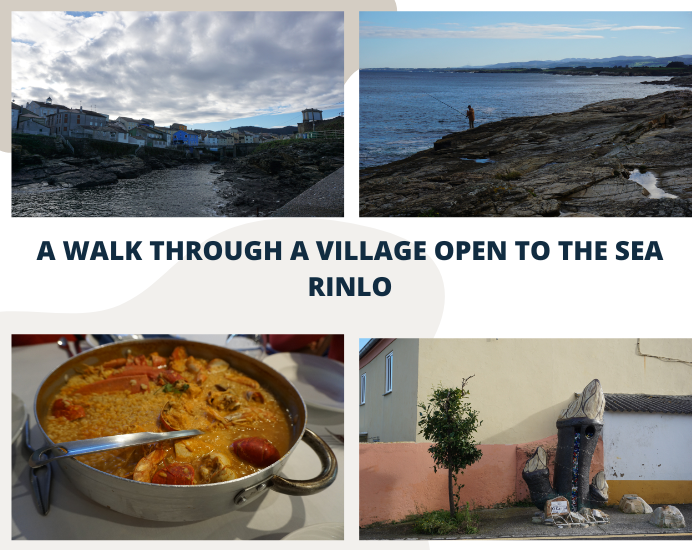 Saludos amigos
Hoy es miércoles y como marca la tradición desde hace ya varias semanas es un buen momento para cumplir con el ritual del reto planteado por @tattoodjay y publicar un paseo que hayamos dado, aunque no fuese un miércoles el día que lo hayamos dado con la etiqueta #wednesdaywalk.
En el día de hoy quiero presentaros el paseo que di la semana pasada durante mis vacaciones por un pequeño pueblo marinero de Galicia llamado Rinlo, que está situado a pocos kilómetros de Ribadeo en plena costa cantábrica.
En el día de hoy quiero presentaros el paseo que di la semana pasada durante mis vacaciones por un pequeño pueblo marinero de Galicia llamado Rinlo, que está situado a pocos kilómetros de Ribadeo en plena costa cantábrica.
Rinlo es un pueblo donde la mayor parte de las casas que forman el pueblo se concentran en uno de los márgenes del puerto pesquero.


Greetings friends
Today is Wednesday and as tradition dictates for several weeks now, it is a good time to comply with the ritual of the challenge posed by @tattoodjay and publish a walk that we have taken, even if it wasn't a Wednesday, with the hashtag #wednesdaywalk.
Today I want to show you the walk I took last week during my holidays in a small fishing village in Galicia called Rinlo, which is located a few kilometres from Ribadeo on the Cantabrian coast.
Today I want to show you the walk I took last week during my holidays in a small fishing village in Galicia called Rinlo, which is located a few kilometres from Ribadeo on the Cantabrian coast.
Rinlo is a village where most of the houses that form the village are concentrated in one of the margins of the fishing port.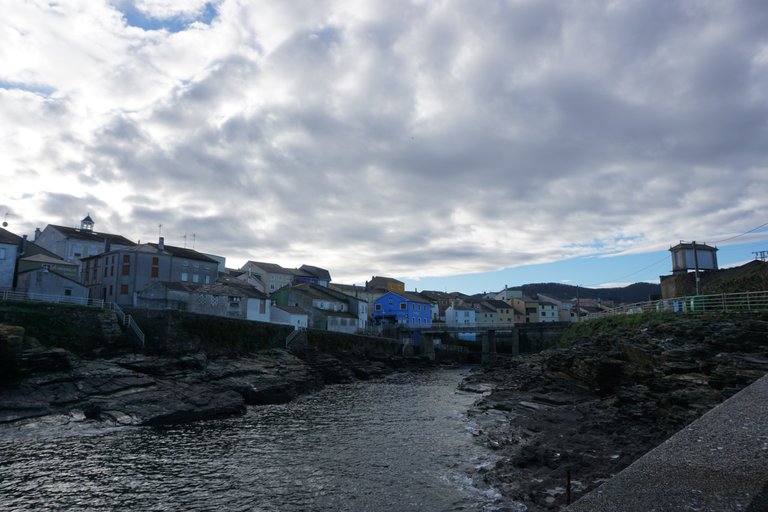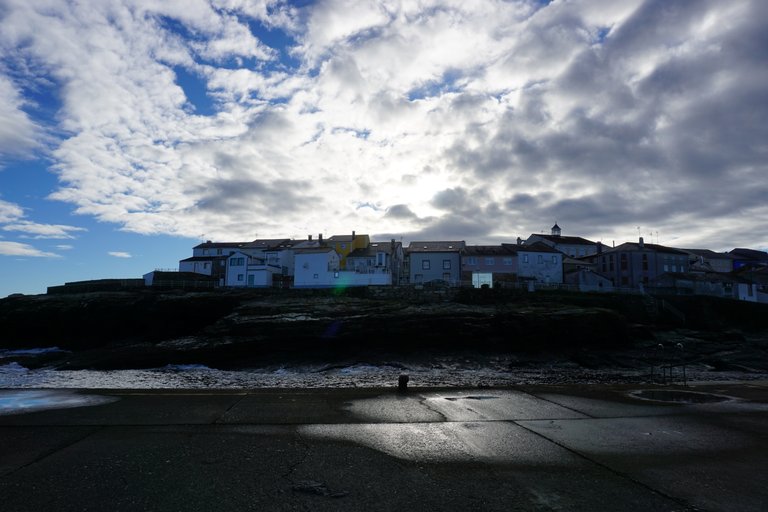 Para realizar este paseo y visita a este pueblo, yo dejé mi vehículo a la entrada del pueblo junto a la iglesia de San Pedro, que es una iglesia de comienzos del siglo XX de estilo neogótico.
For this walk and visit to this village, I left my car at the entrance of the village next to the church of San Pedro, which is a neo-gothic church from the beginning of the 20th century.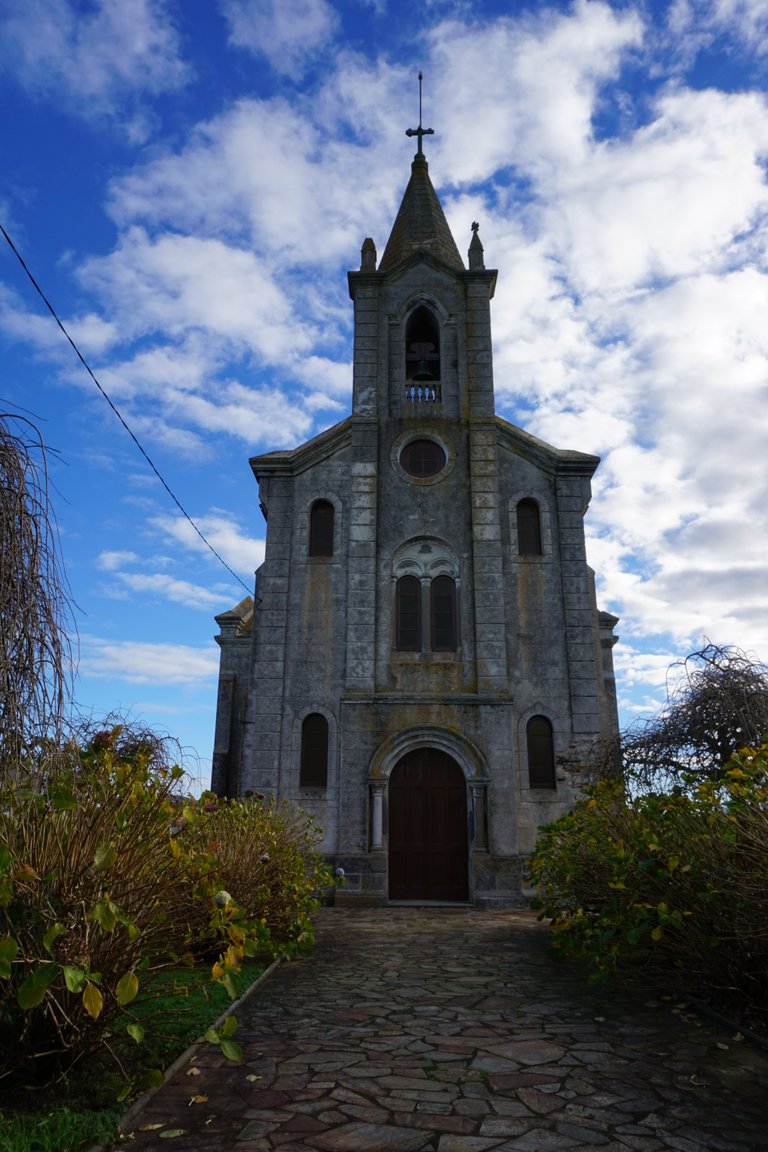 Desde la iglesia, me dirigí posteriormente hacia el puerto y su paseo marítimo, pero antes de llegar llamó mi atención este muñeco de nieve construido con neumáticos y un contenedor especial para el reciclaje de tapones de plástico en forma de percebe.
From the church, I then headed towards the port and its promenade, but before arriving, my attention was drawn to this snowman built with tyres and a special container for recycling plastic caps in the shape of barnacles.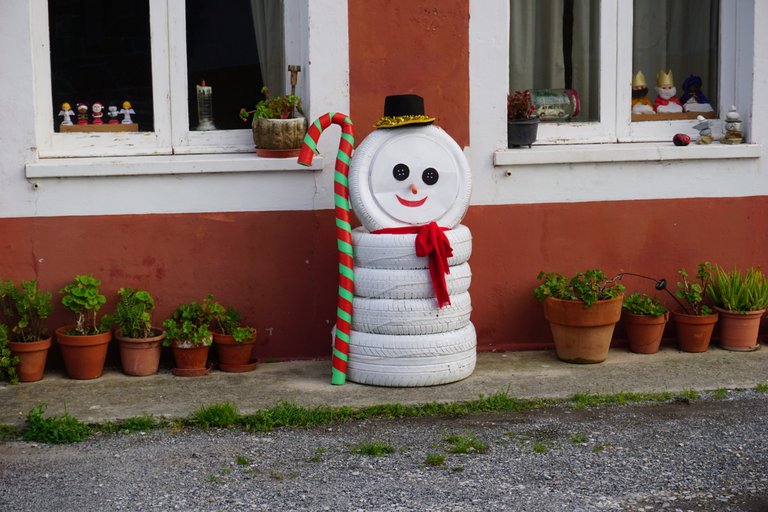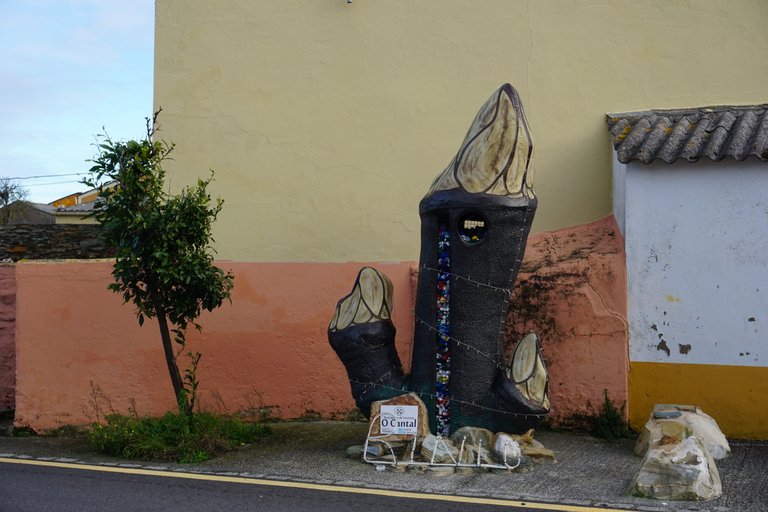 Os preguntaréis, ¿Por qué un contenedor de reciclaje en forma de percebe?
Pues la explicación es que en este pueblo marinero a finales del mes de julio y/o finales del mes de agosto se celebra unas jornadas gastronómicas de este preciado y sabroso marisco que es un reclamo turístico importante para toda la zona de la costa de Lugo y también para la vecina costa occidental de Asturias. Para que os hagáis una idea de la importancia que tiene la gastronomía del percebe y de los mariscos en general, en este pueblo, en pleno puerto, en una de las casetas, los amantes como yo del arte urbano, pueden encontrarse un hermoso mural en honor a las mujeres marineras que recolectan este marisco desde hace muchas décadas.
You may ask, why a recycling container in the shape of a barnacle?
Well, the explanation is that in this fishing village at the end of July and/or the end of August there is a gastronomic festival of this prized and tasty seafood which is an important tourist attraction for the whole area of the coast of Lugo and also for the neighbouring western coast of Asturias. To give you an idea of the importance of the gastronomy of barnacles and seafood in general, in this town, right in the port, in one of the stalls, lovers like me of urban art can find a beautiful mural in honour of the seafaring women who have been harvesting this seafood for many decades.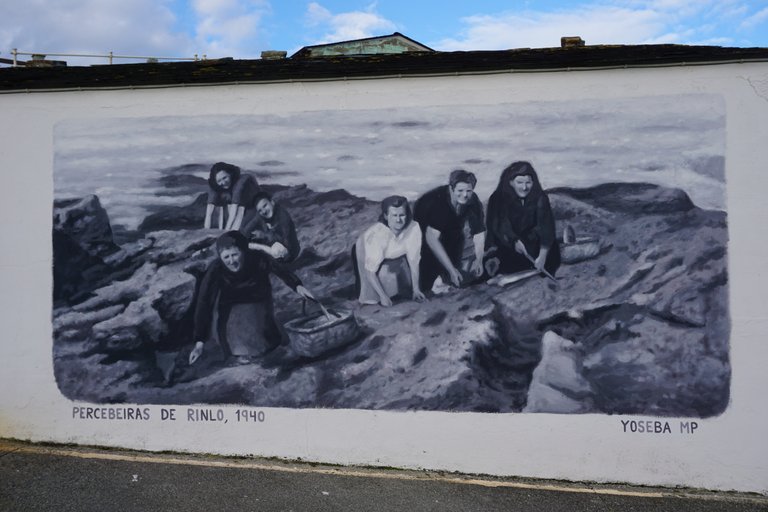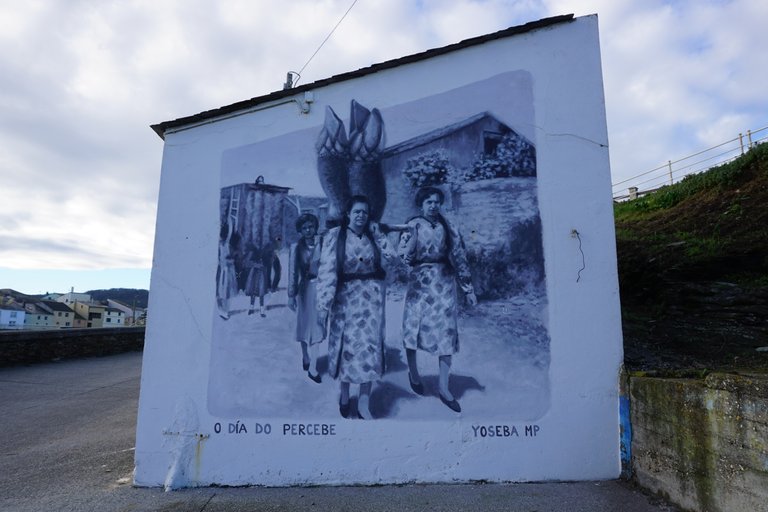 Continuando mi paseo y adentrándome en el pueblo, uno va a encontrarse con estrechas carreteras y calles en las que uno en todo momento puede estar escuchando el atrayente rugir del mar. De hecho, ese rugir del mar me hizo desviarme de mi camino original y me invitó a asomarme al puerto y contemplar como el mar rompía, aunque no con mucha fuerza, contra uno de los faros de señalización de la entrada al puerto.
Continuing my walk and going deeper into the village, one will find narrow roads and streets where one can always hear the alluring roar of the sea. In fact, that roar of the sea made me deviate from my original path and invited me to look out over the harbour and watch the sea break, albeit not very strongly, against one of the lighthouses at the entrance to the harbour.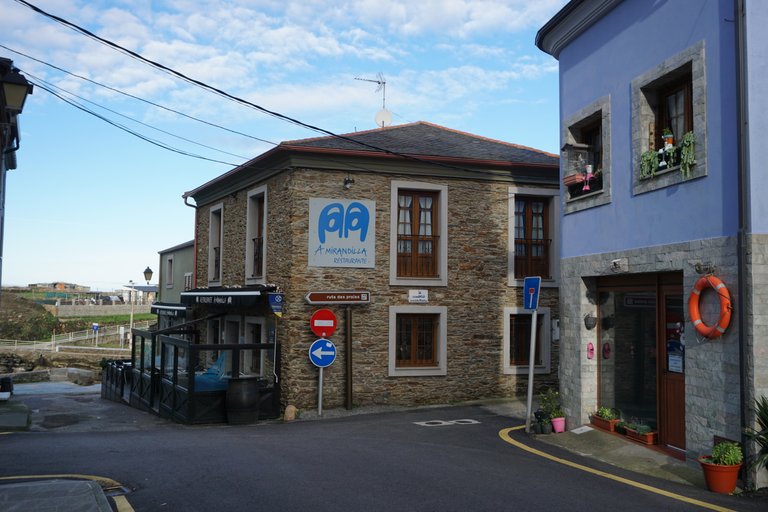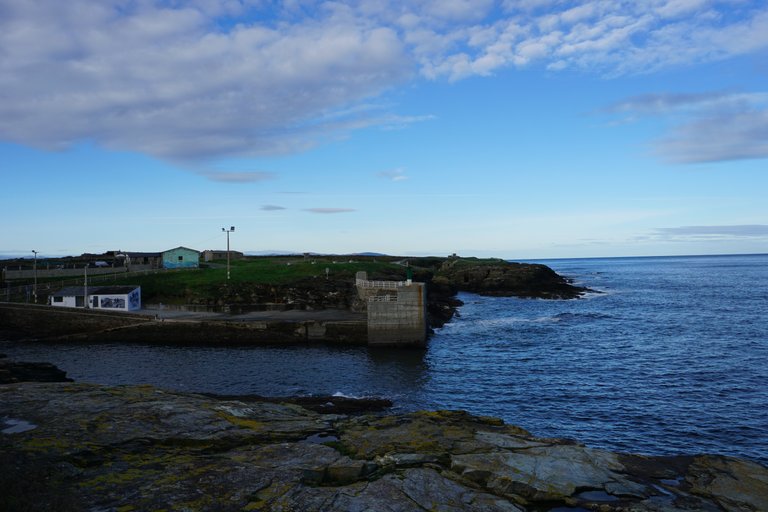 Otro atractivo de este pueblo es que uno puede hacerse unas buenas rutas de pie por toda la costa viendo hermosos acantilados acompañados por el sonido de las gaviotas y del mar, de forma que un urbanita adoptado regresa a los recuerdos de adolescencia cuando vivía en un pueblo marinero similar a Rinlo pero en la vecina costa de Asturias.
Another attraction of this village is that one can take some good walking routes along the whole coastline, seeing beautiful cliffs accompanied by the sound of the seagulls and the sea, so that an adopted urbanite returns to memories of adolescence when he lived in a fishing village similar to Rinlo but on the neighbouring coast of Asturias.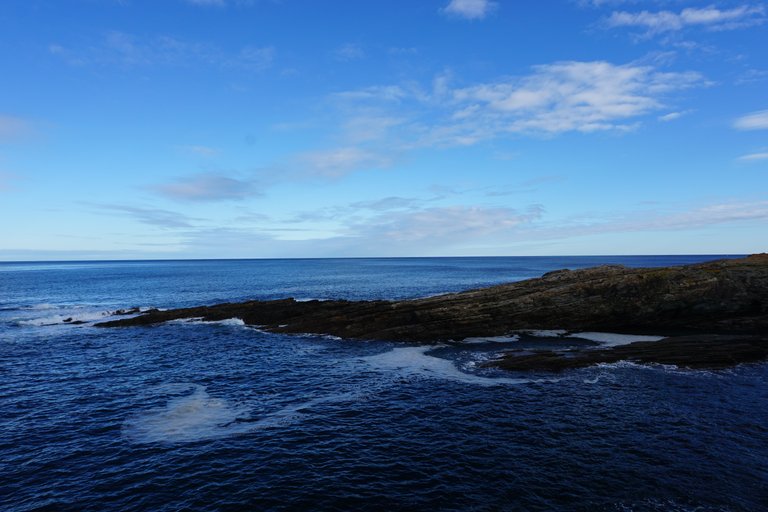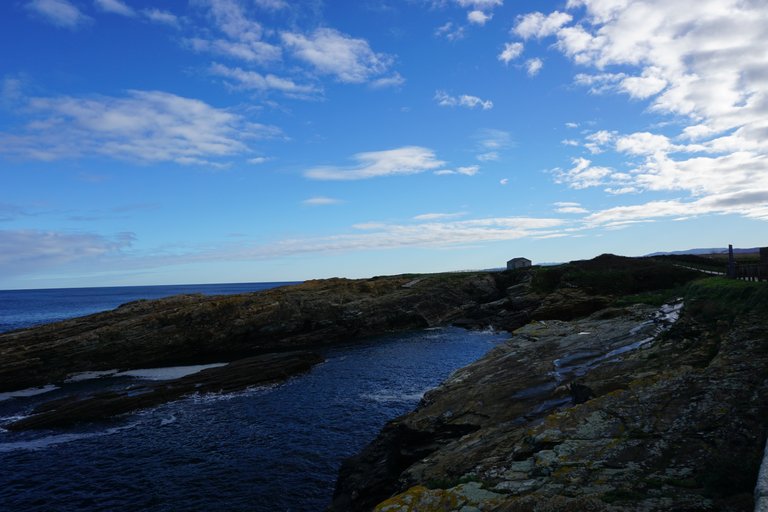 Posteriormente, atraído por una extraña edificación que vía a lo lejos en pleno acantilado, decidí regresar de nuevo a pleno pueblo y me dispuse a dar un paseo hasta aquella edificación. Cuando llegue allí, vi que era una antigua cetárea de mariscos. Para aquellos, que no conozcan lo que es una cetárea, les explico que es una especie de piscifactoría pero con dos peculiaridades diferenciadoras. La primera diferencia es que en una cetárea generalmente se conserva viva las especies previamente capturadas en su medio salvaje, mientras que en una piscifactoría generalmente se cría la especie desde que es una larva. La segunda diferencia, es que generalmente las piscifactorías son de peces y las cetáreas suelen dedicarse al marisco. En concreto, la cetaria que os muestro es una cetárea de centollo, nécora, langosta y bogavante.
Later, attracted by a strange building in the distance on the cliffs, I decided to return to the village and set out for a walk to the building. When I got there, I saw that it was a seafood farm. For those of you who don't know what a seafood farm is, let me explain that it is a kind of fish farm, but with two differentiating peculiarities. The first difference is that in a cetarea farm, the species previously caught in the wild are generally kept alive, while in a fish farm the species is generally reared from the time it is a larva. The second difference is that fish farms are generally fish farms and the cetareas are usually dedicated to seafood. Specifically, the cetaria I am showing you is a cetárea of spider crab, crab and lobster.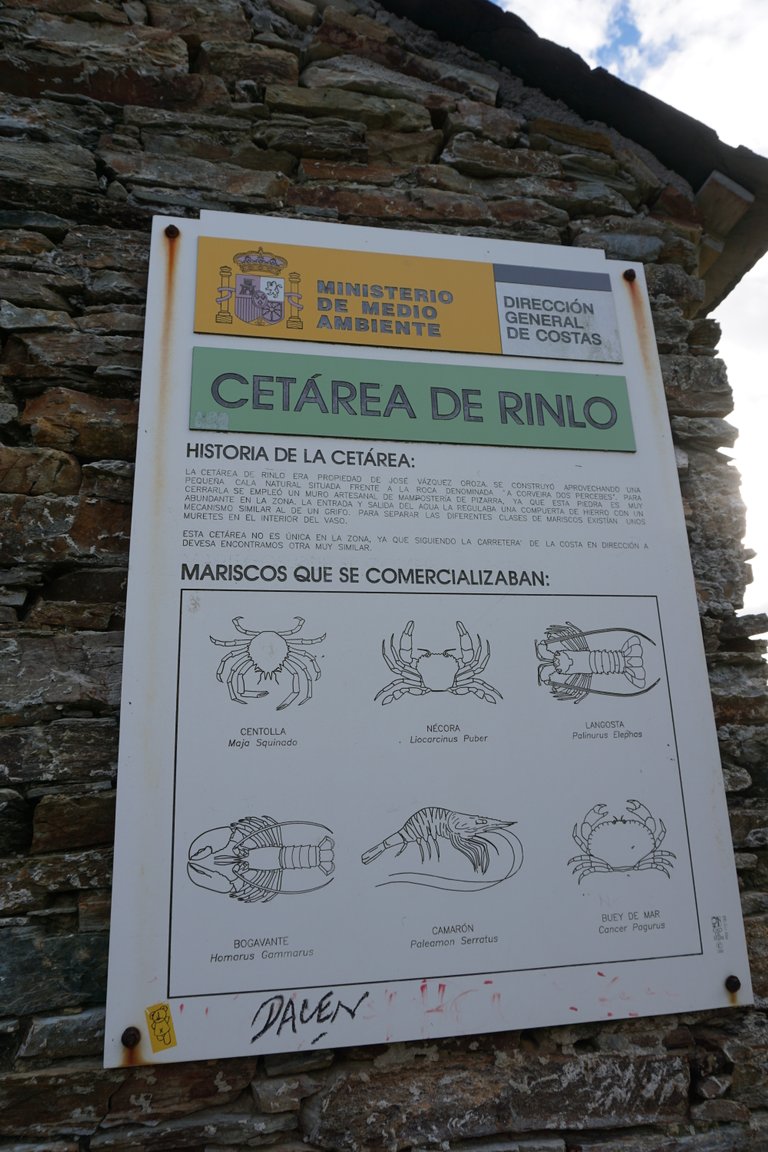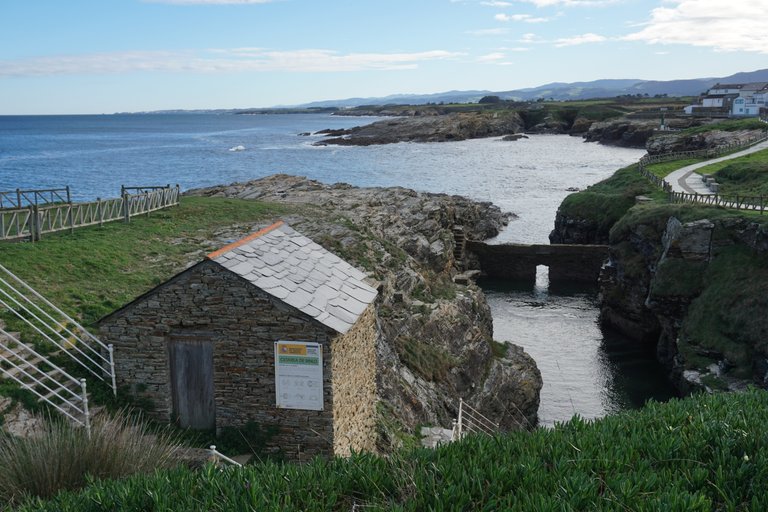 Una vez visitada la cetárea, al girarme vi desde el mirador a lo lejos que una persona estaba pescando en el acantilado. Como amante a la pesca que soy no pude resistirme y decidí continuar caminando hasta las inmediaciones del acantilado donde estaba pescando un hombre de mediana edad y contemplarle durante unos minutos con la esperanza de poder tomarle una foto pescando alguna de las maravillosas especies que el mar cantábrico cría con cariño. Sin embargo, no tuvo el pescador suerte el tiempo que estuve allí.
Once I had visited the cetárea, when I turned around I saw from the viewpoint in the distance that a person was fishing on the cliff. As the fishing lover that I am, I couldn't resist and decided to continue walking to the cliff where a middle-aged man was fishing and watch him for a few minutes in the hope of being able to take a photo of him fishing for one of the marvellous species that the Cantabrian sea lovingly nurtures. However, the fisherman was not lucky for the time I was there.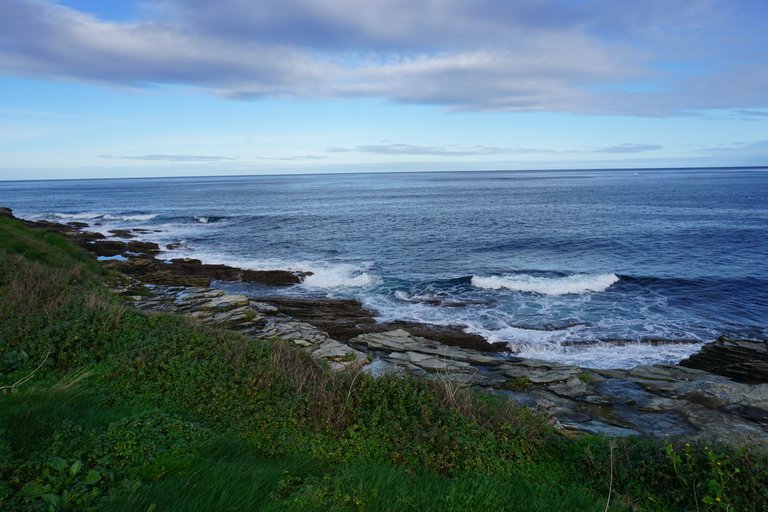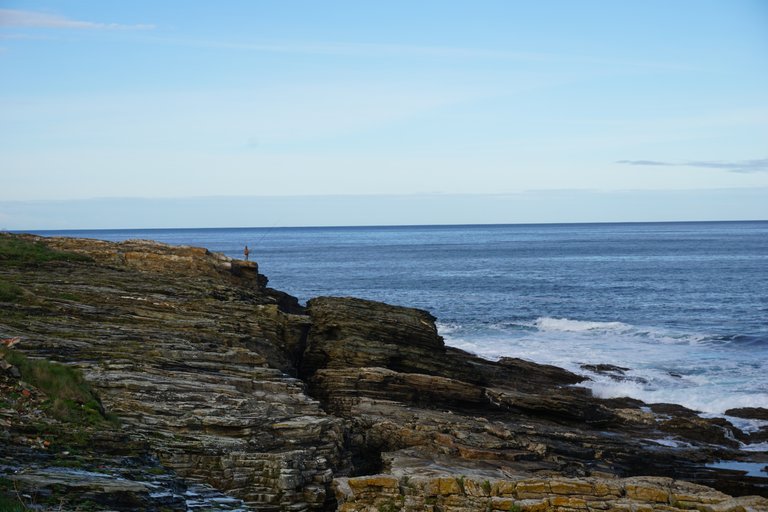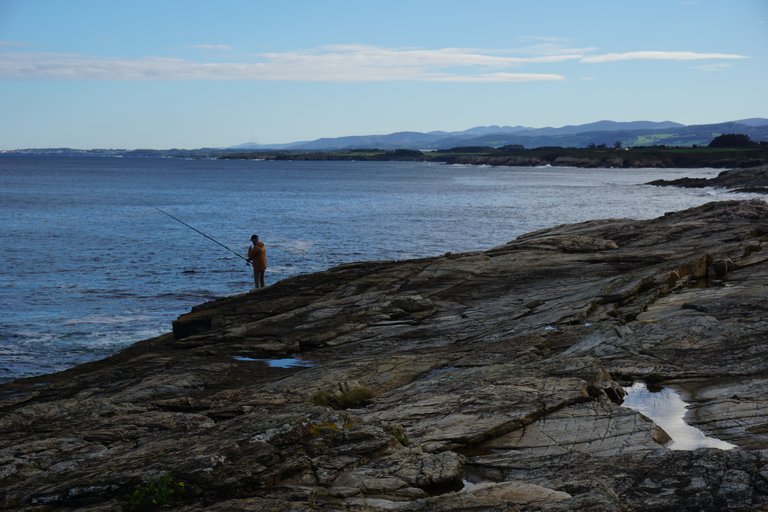 Desde el mismo puesto donde estaba pescando el pescador, pude divisar el antiguo edificio de la antigua cetárea natural de Rinlo que fue una de las primeras que hubo en España.
From the same spot where the fisherman was fishing, I could see the old building of the old natural cetarean of Rinlo, which was one of the first in Spain.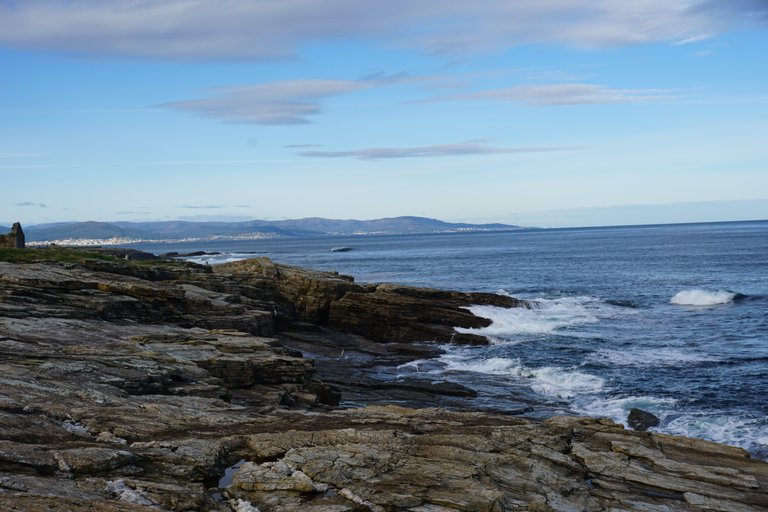 Y con tanta cetárea y hablando de langostas y bogavantes os estaréis preguntando si estos mariscos son típicos en los restaurantes de Rinlo. Pues tengo que deciros que en el restaurante La Cofradia de Rinlo os podéis comer los mejores arroces con mariscos de España. Os lo asegura un amante del buen comer y que ha recorrido casi todo el litoral de España y como muestra este espléndido arroz caldoso con bogavante que había comido unos días antes con uno de mis amigos y su hijo. ¿A que es irresistible?. Pues el sabor aún más.
And with so much cetarea and talking about lobsters and lobster, you may be wondering if these seafoods are typical in Rinlo's restaurants. Well, I have to tell you that in the restaurant La Cofradia de Rinlo you can eat the best rice dishes with seafood in Spain. This is assured by a lover of good food who has travelled almost the entire coast of Spain and as a sample of this splendid rice with lobster that I had eaten a few days before with one of my friends and his son. It is irresistible, isn't it? Well, the taste is even more irresistible.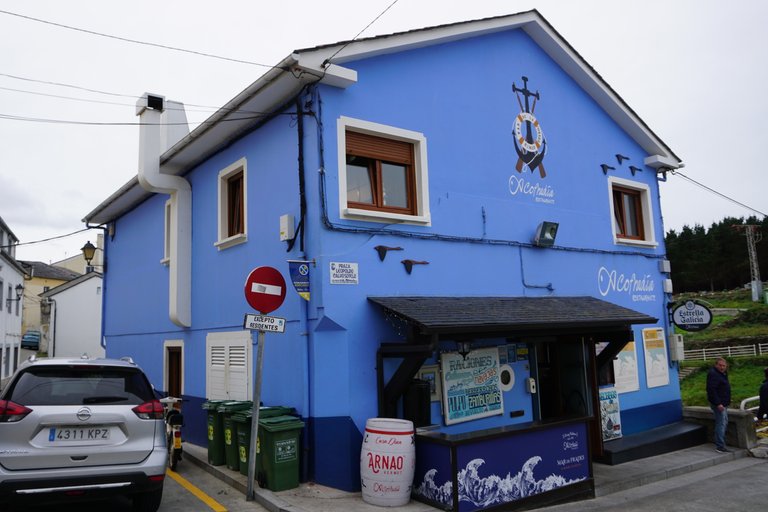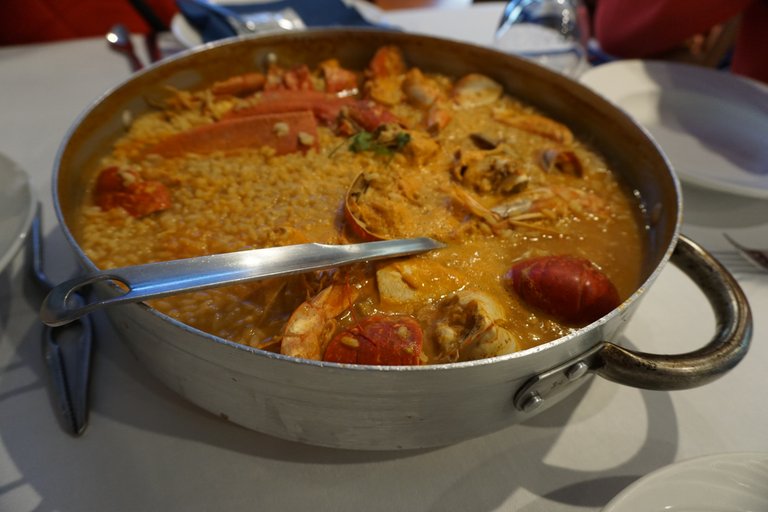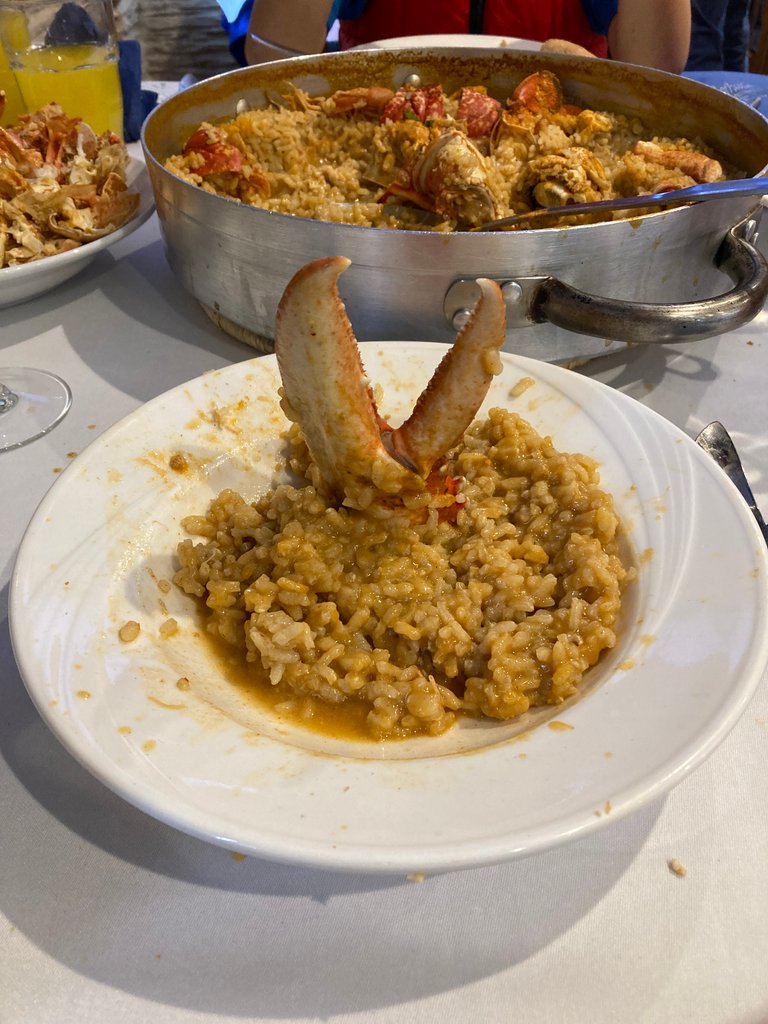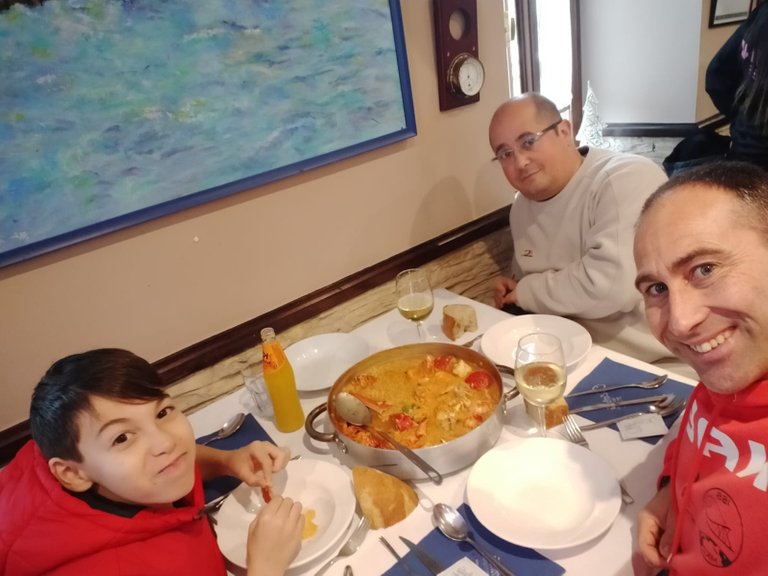 Pues ya sabéis, si visitáis la costa occidental de Asturias o la costa de Lugo para ir a la famosa playa de las catedrales con sus impresionantes bóvedas erosionadas por el mar, no dudéis ni un segundo en ir a Rinlo y daros un paseo y comer unos buenos percebes o un arroz con marisco.
Un saludo
So now you know, if you visit the western coast of Asturias or the coast of Lugo to go to the famous beach of the cathedrals with its impressive vaults eroded by the sea, do not hesitate for a second to go to Rinlo and take a walk and eat some good barnacles or rice with seafood.
Best regards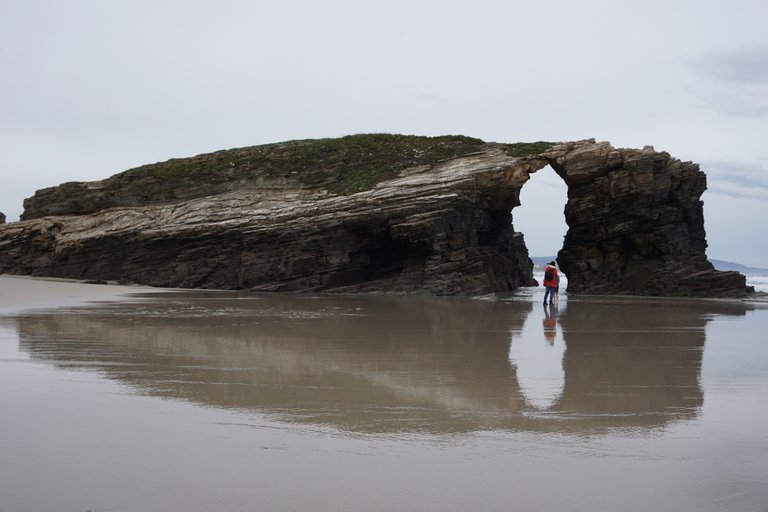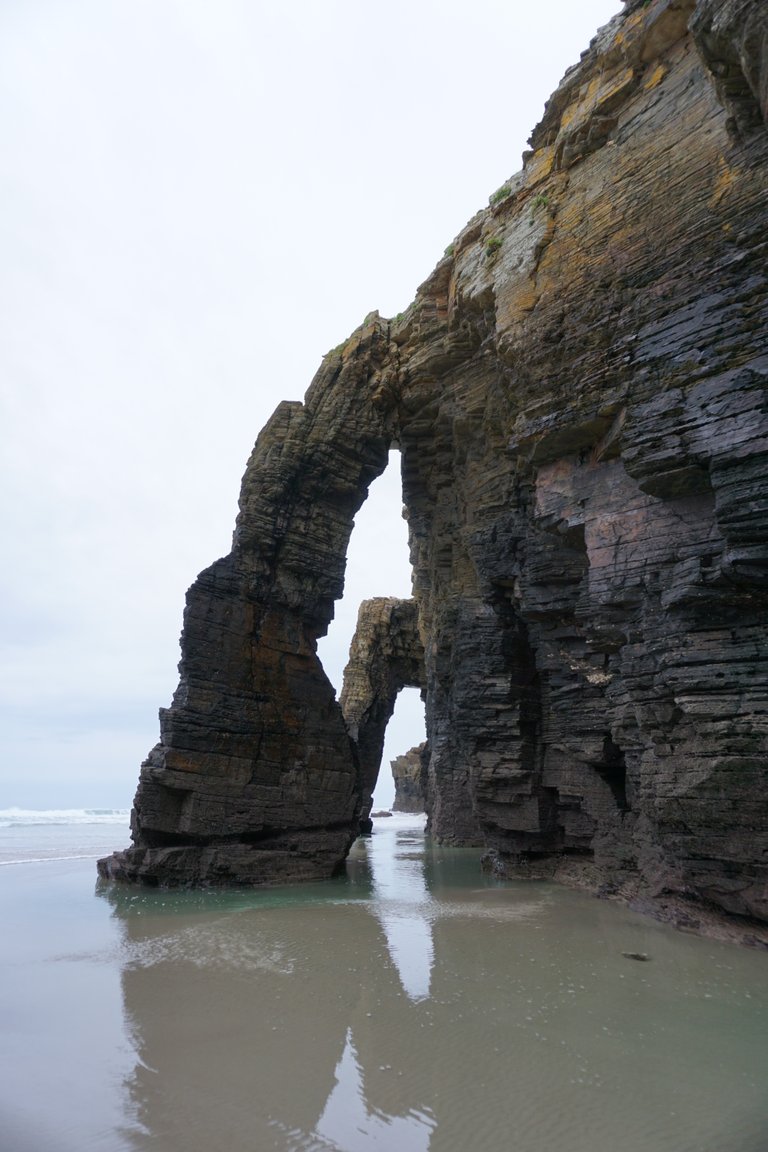 Own photograph taken with my camera Sony Alpha 6000L.
Cover, separators and banner created with www.canva.com (free version).
Translated with www.DeepL.com/Translator (free version).

---
---