SNOWBASIN SUNRISE
I woke up this morning around 6:30 am, which I never do on the weekends, and I couldn't go back to sleep so I laid there in my bed on the floor (I have covid so my wife made me sleep on the floor, which is fine, it's like camping for me) and thought "I should go shoot sunrise at Snowbasin." But then I grabbed my phone and started catching up on a Twitter group chat. Then I asked the group if I should get up to go shoot sunrise and both @sarahlyndsay and Scott Sherman replied and said to go. That was all I needed.
The challenge was to get up and get ready without waking up my wife. She's not a morning person and can get pretty cranky if I wake her up. Fortunately, I've perfected the middle of the night sneak-out (that sounds worse than intended) from years of getting up early or coming home late from photography outings.
I got up, threw some clothes on, grabbed my camera bag, and headed out, but first I had to grab my tripod out of my car (I would be taking my wife's car).
Crap.
I left my tripod at work, guess I'm gonna have to shoot handheld with a high ISO.
Ok, no problem, grab my wife's keys and get going.
Crap.
Can't find her keys anywhere.
Decision time. Wake her up and ask where her keys are or crawl back into my sleeping bag on the floor. First, I'll do one last sweep of the typical locations. Counter, nope. Hook by the fridge, nope. Shelf in our bedroom, nope. Dresser in closet, nope. All hope was lost until....I spotted the keys next to our bathroom sink. Yes! No waking up the wife.
Off I go.
Got up to the location I had in mind, problem is in the the winter there's not much room to pull off the highway so I drive into the snowbank as much as I could, grab my camera bag and head up the hill to the first spot. The snow was hard packed and solid to walk on, which made it nice.
As I crested the small hill I spotted my first comp. This fence made for a good foreground element, but it kinda leads the eye away from the mountain scene in the background. I took a handful of photos and then decided to head to another spot that would give me a better view of the mountain range.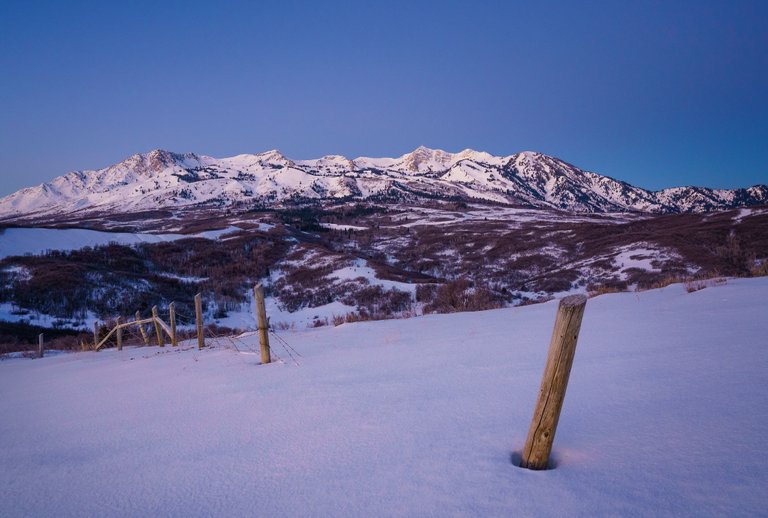 Sony A7RIII, 24mm, f/5, ISO 800, 1/25s, handheld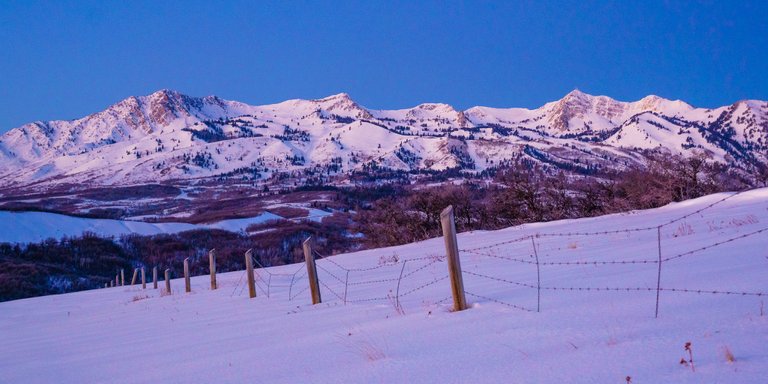 Sony A7RIII, 35mm, f/4, ISO 640, 1/50s, handheld
---
LOCATION #2
I ran down the hill, which is often used for sledding, back to my car then hurried off back down the road to the second location. Once again, not a lot of room to pull off the road so I drove into the snow bank as best I could to get off the road.
This hill was a much shorter climb and I quickly grabbed my camera and started shooting. I was constantly switching between my 16-35mm and my 70-200mm because one was too wide and the other was too tight. This is one of those rare instances that I wish I had my 24-70 again.
I'm rambling so here's a bunch of photos that I captured. A large reason that I got up this morning is that I've got a friend who's expressed to me her interest in having a large print of Snowbasin in her house. I think she's got some good options here.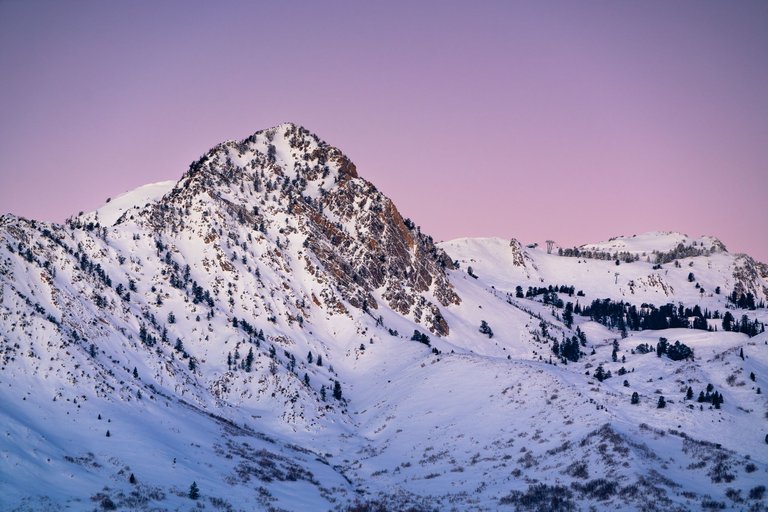 Strawberry Peak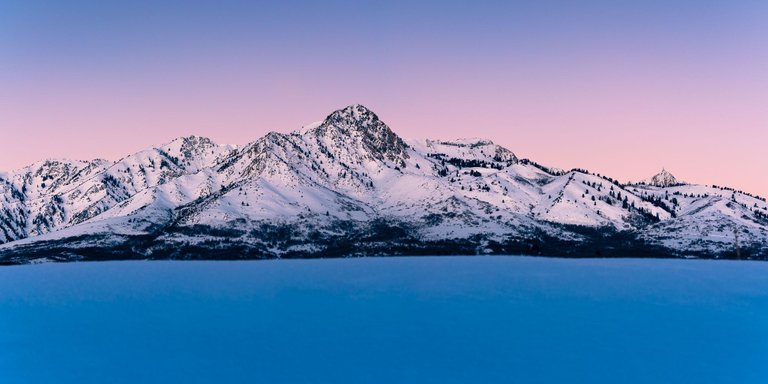 Alpenglow with the Belt of Venus


Just as the sun was rising and licking the peaks


A bit more sun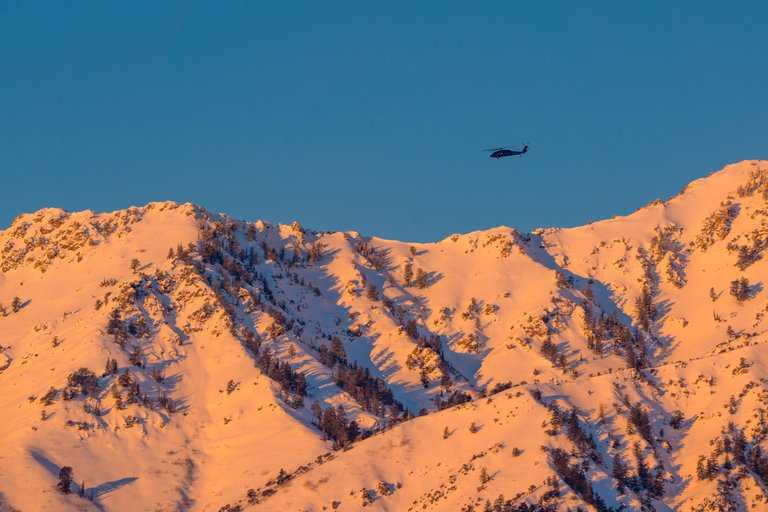 Helicopter doing a fly by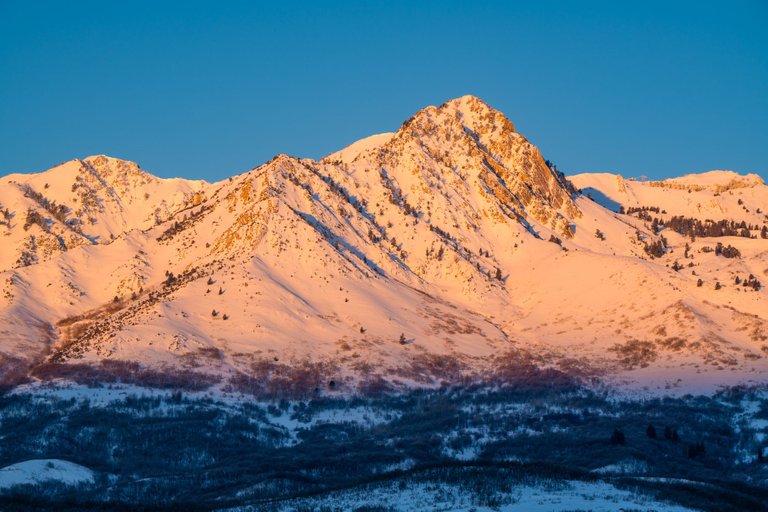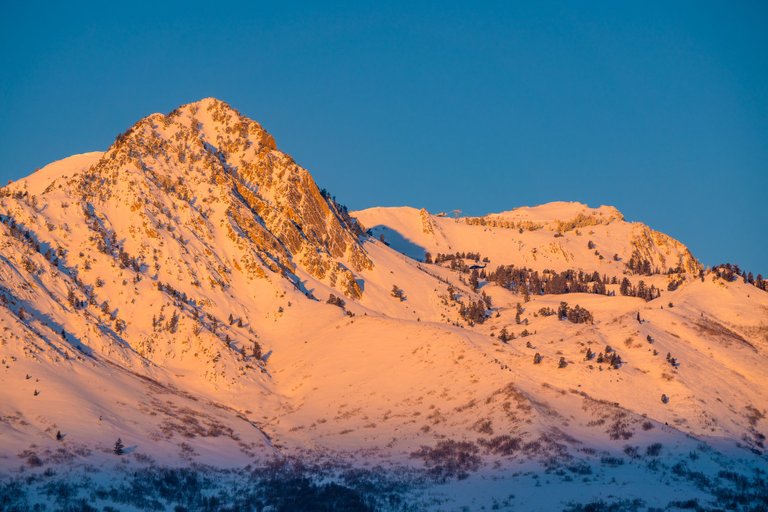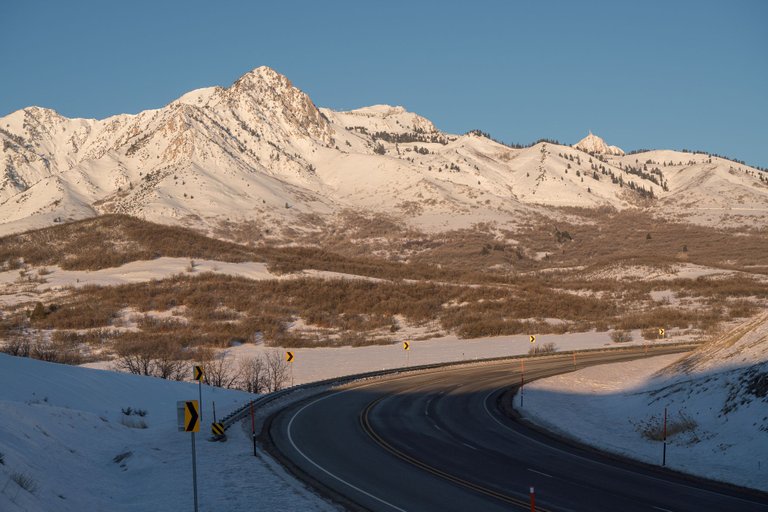 Was heading home and saw this comp so I pulled over and grabbed a shot. I'm gonna come back at night and do some car trails here.
---
---