The enchantment of nature: a collection of photographs [ENG/ESP]
Hello everyone! Today I bring an article dedicated to nature, specifically photographic captures of different flowers, which I have found along a short photographic path. So let's get started with it!
¡Hola a todos! El día de hoy traigo un artículo dedicado a la naturaleza, específicamente capturas fotográficas de distintas flores, que he encontrado a lo largo de un breve camino fotográfico. Así que ¡Empecemos con ello!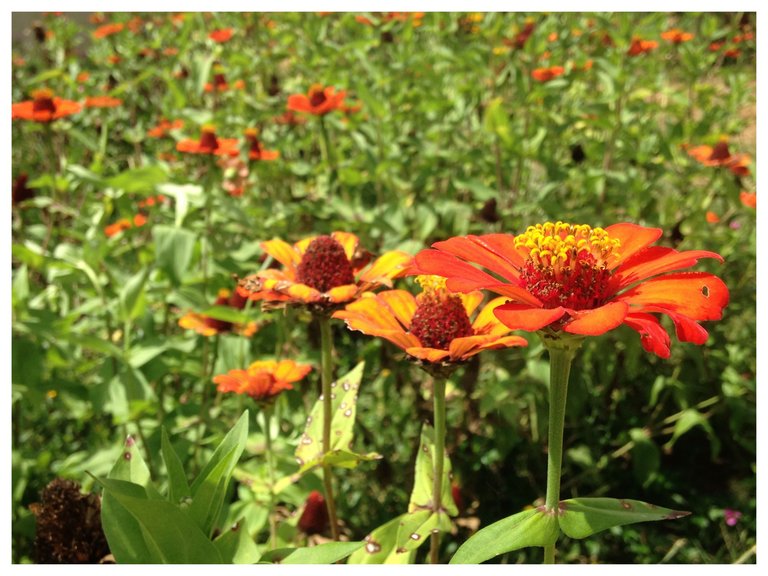 The first photograph you see on screen is about the Carnation Flower, also known by its scientific name Zinnia Angustifolia. The main characteristic of this flower is its strong pigmentation. They are really attractive as they can be recognized from far away thanks to their fluorescence. They are quite common in tropical places like Venezuela and the way to grow them is quite simple as they do not require too much care. This photo was taken in the beautiful garden of my mother-in-law, who had a large field in Caruachi, Bolivar state, Venezuela. By that time they were in bloom and I wanted to capture the beauty of her garden, the warm sunlight and a reflection of how it feels to live in a field. Sometimes life in the countryside can be hard but it has its satisfactions. And even though they are small, I find them charming, like little suns of red, yellow and orange. They also dance to the sound of the wind.
La primera fotografía que ven en pantalla se trata de la Flor de Clavelón, también conocida por su nombre científico Zinnia Angustifolia. La característica principal de esta flor es su fuerte pigmentación. Son realmente atractivos pues se pueden reconocer desde lejos gracias a su fluorescencia. Son bastante comunes en lugares tropicales cómo Venezuela y la forma de cultivarlas es bastante sencilla ya que no requieren de demasiado cuidado. Esta foto la he tomado en el bello jardín de mi suegra, quién tenía un gran campo en Caruachi, estado Bolívar, Venezuela. Para ese tiempo estaban floreciendo y quise capturar la belleza de su jardín, la cálida luz del sol y un reflejo de como se siente vivir en un campo. Algunas veces la vida en el campo puede ser dura pero tiene sus satisfacciones. Y aunque son pequeñas, me parecen encantadoras, como pequeños soles de color rojo, amarillo y naranja. Además bailan al son del viento.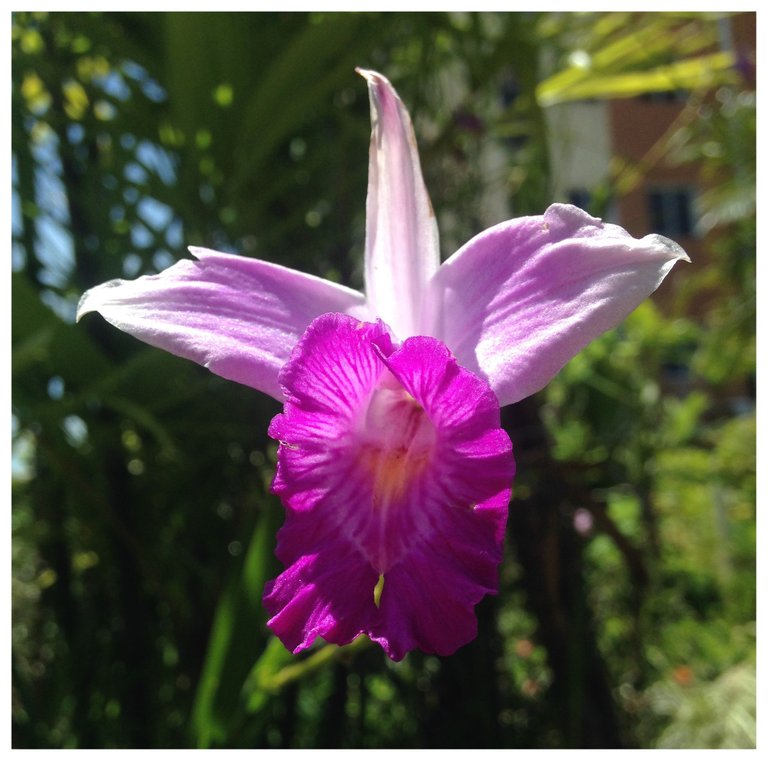 The following photograph features the Orchid, one of the most famous flowers in Venezuela. The Orchid of the genus Cattleya Mossiae, is the national flower and symbol of Venezuela and it is common to find it in humid places nestled among the trees. I tried to find information about which species of orchid is the flower that I have taken a picture of but, I could not give an accurate answer, the one that most resembled is the Cleistes rosea. Just as a fact, there are about 2500 species of orchids. Apparently this one is semi-terrestrial and can be very resistant to abrupt temperature changes. The photograph in question was taken in a farm located in the state of Carabobo, Venezuela, specifically in El Chuponal. There, the owner of the farm had a lot of plants and his orchids seemed to me hypnotizing. This one does not look like the common orchid, it is rare and of great beauty.
La siguiente fotografía tiene como protagonista a la Orquídea, una de las flores más famosas en Venezuela. La Orquídea del género Cattleya Mossiae, es la flor y símbolo nacional de Venezuela y es común encontrarla en lugares húmedos acurrucada entre los árboles. Intente encontrar información sobre que especie de orquídea es la flor a la que le he tomado foto pero, no pude dar con una respuesta certera, la que más se parecía es la Cleistes rosea. Sólo cómo dato relevador, existen alrededor de 2500 especies de orquídeas. Al parecer esta es semi-terrestre y puede tener una gran resistencia a los cambios abruptos de temperatura. La fotografía en cuestión la he tomado en una finca ubicada en el estado Carabobo, Venezuela, específicamente en El Chuponal. Allí, el dueño de la finca tenía muchísimas plantas y sus orquídeas me parecían hipnotizantes. Está no se parece a la orquídea común, es rara y de gran belleza.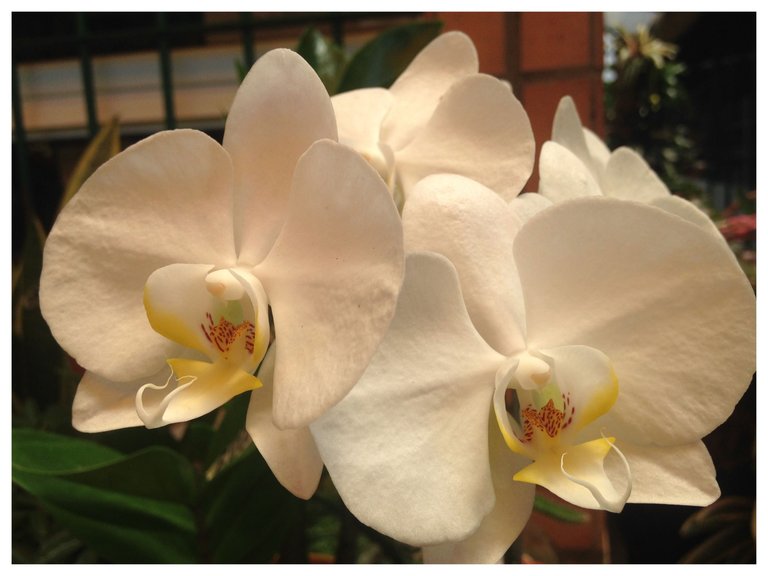 This photograph also belongs to an orchid, taken in the same farm where I took the previous photograph. This orchid belongs, it seems, to the genus Dendrobium, which means that they are the typical orchids that grow on tree trunks. Although, this one does not seem to be in a tree but rather in a pot so it is possible that it is another genus. It caught my attention that it was totally white, with thick, large petals. It was so white that it appeared to be illuminated. Perhaps with a few spots in its center. It is one of my favorite photographs in this compilation.
Esta fotografía pertenece también al de una orquídea, tomada en la misma finca donde tomé la fotografía anterior. Esta orquídea pertenece, tal parece, al género Dendrobium, lo que quiere decir que son las típicas orquídeas que crecen en los troncos de los árboles. Aunque, esta no parece estar en ningún árbol sino más bien en una maceta por lo que es posible que sea otro género. Llamó mi atención el hecho de que era totalmente blanca, con pétalos gruesos y grandes. Era tan blanca que parecía estar iluminada. Quizá con algunas manchas en su centro. Es de mis fotografías favoritas en este compilado.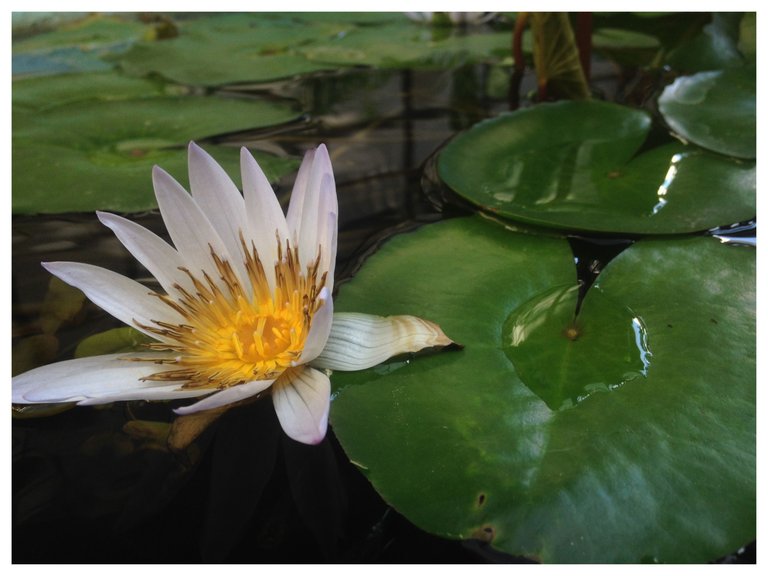 The next photograph is of a Water Lily flower. This photograph is special to me because I took it in a doctor's office where they had a pond with fish and water flowers. At that place and time, my friend Paola Marquez was being treated for her pregnancy. The arrival of little Maximiliano changed their lives completely and just like this beautiful lily, I could only see the little baby as a gift from nature, small and precious.
La siguiente fotografía es la de una flor Lirio de Agua. Esta fotografía es especial para mí pues la tomé en un consultorio médico dónde tenían un estanque con peces y flores de agua. En ese lugar y momento, mi amiga Paola Márquez, estaba siendo atendida por su embarazo. La llegada del pequeño Maximiliano cambió sus vidas por completo y al igual que este bello lirio, solo podía ver al pequeño bebé como un regalo de la naturaleza, pequeño y precioso.
The last photograph of this compilation is a beautiful butterfly that I captured in the same way in my mother-in-law's field. She was fluttering happily in her garden and with great delicacy I approached her to capture this image. It was one of my first photographs, because at that time I was taking a photography course at the university and I had a lot of enthusiasm to go out and take pictures of everything and everyone. As you may notice the lighting is natural and seems to be a bit overexposed. However, I liked the way it turned out.
La última fotografía de esta recopilación, se trata pues de una hermosa mariposa que capture de igual forma en el campo de mi suegra. Ella se encontraba revoloteando muy felizmente por su jardín y con mucha delicadeza me acerque para capturar está imágen. Fue una de mis primeras fotografías, pues para ese momento estaba cursando una materia de fotografía en la universidad y tenía mucho entusiasmo para salir y tomar fotos a todo y a todos. Cómo podrán notar la iluminación es natural y parece estar un poco sobre expuesta. Sin embargo, me ha gustado como ha quedado.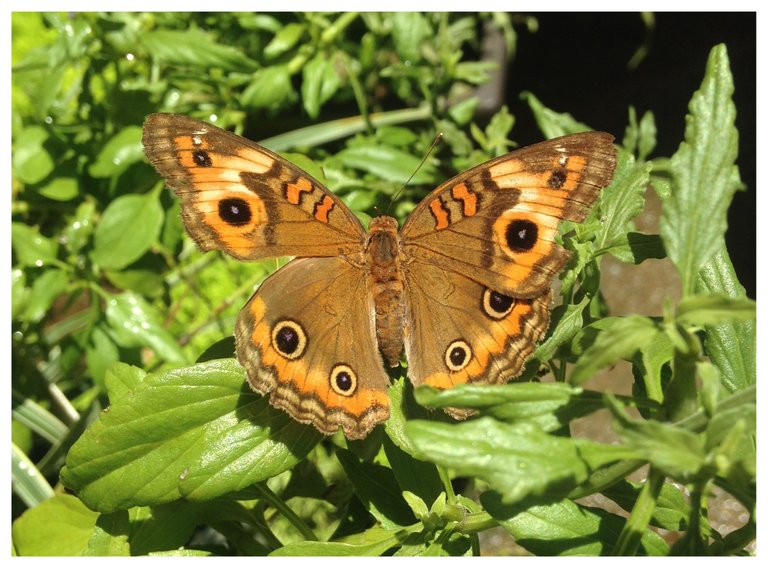 I can only tell you, my friends, that photography is nothing more than an exercise in contemplation and visual training, that with a proper handling of theory and equipment, anyone can take great pictures. I invite you to take pictures around you, about anything, you will find that there are things that before went unnoticed but that will take shape and meaning as you get into this taste. Without more to say, thank you very much for stopping by, a big hug.
No me queda más que decirles amigos mío, que la fotografía no es más que un ejercicio de contemplación y de entrenamiento visual, que con un debido manejo de su teoría y de los equipos, cualquiera puede hacer grandes fotografías. Los invito a hacer fotografías a su alrededor, sobre cualquier cosa, encontrarán que existen cosas que antes pasaban desapercibidas pero que cobrarán forma y sentido conforme se adentren a este gusto. Sin más que decir, muchas gracias por pasar, un fuerte abrazo.
---
---