Haddaway - What Is Love (Vocal cover by @carminasalazarte) [ENG/ESP]
---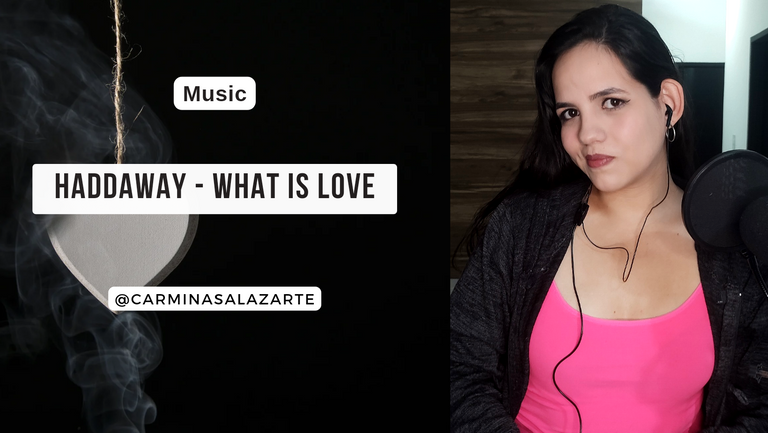 English Version
Hello to everyone in the Music community! Today to celebrate this Saturday night, I bring a memorable song from the 90's eurodance genre. It is of course 'What is love' by the singer Haddaaway. A song that was and still is a classic for its style and rhythm so infectious. So I hope you enjoy this rendition as much as I did.
The song was released as a single in 1993, in vinyl format. The success of the song was such that it reached number one in the United States, Austria, Belgium, Switzerland, Norway and other European countries. With its simple lyrics about love, the correspondence of love and experiencing a real situation of mutual love (and that it doesn't hurt), it became a slogan that was repeated for several years. In addition, Nestor's powerful voice and the chorus of voices booming through the speakers, make it simply mesmerizing.
I wanted to bring this song because I like it a lot and it is also an opportunity for me to experiment a bit. Although the song is adapted for a male voice, I made the effort to adapt it to my own. As I have done on other occasions, sometimes it can be a little strange because it doesn't always look good and I have to give up on the project. Anyway, I hope you enjoy it. Run to see the video and I look forward to hearing your opinions. Thank you very much of course for stopping by and supporting my work. I send you a big hug and happy weekend.
Versión en Español
¡Hola a todos en la comunidad de Music! El día de hoy para celebrar este sábado por la noche, traigo una canción memorable del género eurodance de lo años 90's. Se trata por supuesto de 'What is love' del cantante Haddaaway. Un tema que fue y sigue siendo un clásico por su estilo y ritmo tan contagioso. Así que espero que disfruten tanto como yo de esta interpretación.
La canción fue lanzada como un sencillo en 1993, en formato de vinil. El éxito de la canción llegó fue tal que llegó a número uno en Estados Unidos, Austria, Bélgica, Suiza, Noruega y otros países de Europa. Con su letra sencilla sobre el amor, la correspondencia del mismo y el experimentar una situación real de amor mutuo (y que este no duela), se convirtió en un eslogan que se repitió por varios años. Además, la potente voz de Néstor y el coro de voces que retumba a través de los parlantes, lo hacen simplemente hipnotizante.
Quise traer está canción porque me gusta bastante y es una oportunidad también para mí de experimentar un poco. Aunque la canción esta adaptada para una voz masculina, hice el esfuerzo de adaptarla a la mía. Cómo en otras ocasiones he hecho, a veces puede ser un poco extraño pues no siempre queda bien y debo desistir del proyecto. De final forma, espero que lo disfruten. Corran al ver el vídeo y espero por sus opiniones. Muchísimas gracias por supuesto por pasar por aquí y apoyar mi trabajo. Les envío un fuerte abrazo y feliz fin de semana.
Lyrics/Letra
What is love?
Baby, don't hurt me
Don't hurt me no more

Baby, don't hurt me
Don't hurt me no more

What is love?
Yeah, yeah
(Ooh, ooh)

I don't know why you're not there
I give you my love, but you don't care
So what is right?
And what is wrong?
Gimme a sign

What is love?
Baby, don't hurt me
Don't hurt me no more
What is love?
Baby, don't hurt me
Don't hurt me no more
(Whoa, whoa, whoa, whoa, oh-whoa, whoa, ohh, ooh)
(Whoa, whoa, whoa, whoa, oh-whoa, whoa, ohh, ooh)

Oh, I don't know, what can I do?
What else can I say, it's up to you
I know we're one
Just me and you
I can't go on

What is love?
Baby, don't hurt me
Don't hurt me no more
What is love?
Baby, don't hurt me
Don't hurt me no more
(Whoa, whoa, whoa, whoa, oh-whoa, whoa, ohh, ooh)
(Whoa, whoa, whoa, whoa, oh-whoa, whoa, ohh, ooh)

What is love?
(Ooh, ooh, ooh)
What is love?
(Ooh, ooh, ooh)

What is love?
Baby, don't hurt me
Don't hurt me no more

Don't hurt me
Don't hurt me

I want no other, no other lover
This is our life, our time
When we are together, I need you forever
Is it love?

What is love?
Baby, don't hurt me
Don't hurt me no more
What is love?
Baby, don't hurt me
Don't hurt me no more
Yeah, yeah
(Whoa, whoa, whoa, whoa, oh-whoa, whoa, ohh, ooh)
(Whoa, whoa, whoa, whoa, oh-whoa, whoa, ohh, ooh)

What is love?
Baby, don't hurt me
Don't hurt me no more
What is love?
Baby, don't hurt me
Don't hurt me no more

(Huh-huh, huh-huh)
Baby, don't hurt me
Don't hurt me no more
(Huh-huh, huh-huh)
Baby, don't hurt me
Don't hurt me no more
What is love?

Credits/Créditos

Artist/Artista: Haddaway
Song/Canción: What is love
Album/Álbum: Haddaway
Year/Año: 1993

Music track used in the following source

---
▶️ 3Speak
---
---