🌏¿Qué prefieres a la hora de salir?🌏 Iniciativa de @medicenbecky. [Spa-Eng]. Por @carla.spain
💖💕¡Feliz día Amigos!💖💕
---
💖💕 Have a nice day friends!💖💕
---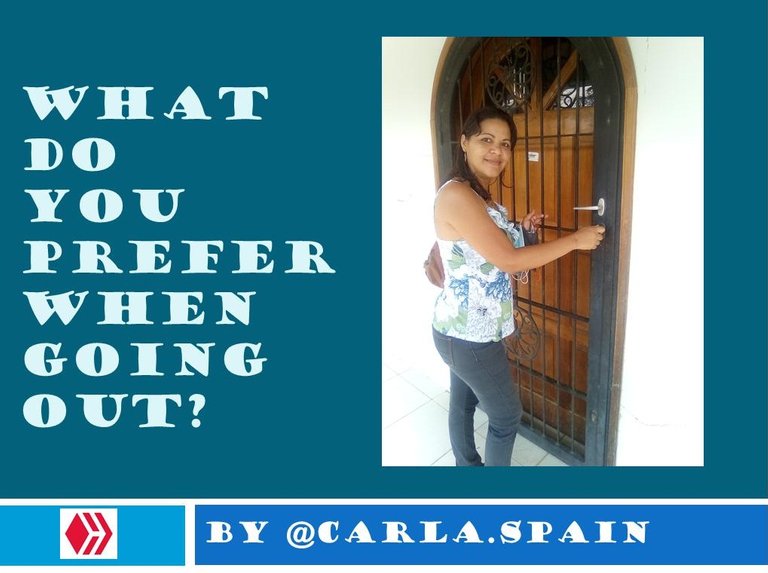 ---
Bienvenidos Hivers. Es un gusto escribirles en apoyo a esta divertida iniciativa que nos trae la amiga
@medicenbecky
, a quien envío un saludo especial. Me gusta participar porque es muy entretenido escoger entre las opciones y explicar el por qué, así confirmo una vez más mis preferencias y nos da la oportunidad de conocernos.
Welcome Hivers. It is a pleasure to write to you in support of this fun initiative that our friend
@medicenbecky
brings us, to whom I send a special greeting. I like to participate because it is very entertaining to choose between the options and explain why, so I once again confirm my preferences and give us the opportunity to get to know each other.
---

---
Ciertamente cuando estamos en plan de salida cada quien tiene sus preferencias y su manera de hacer las cosas, siempre por supuesto con la intención de pasarla bien y disfrutar el momento. Por eso aquí les comento lo que prefiero a la hora de salir.
Certainly when we are on the exit plan, each one has their preferences and their way of doing things, always of course with the intention of having a good time and enjoying the moment. That's why here I tell you what I prefer when it comes to going out.
---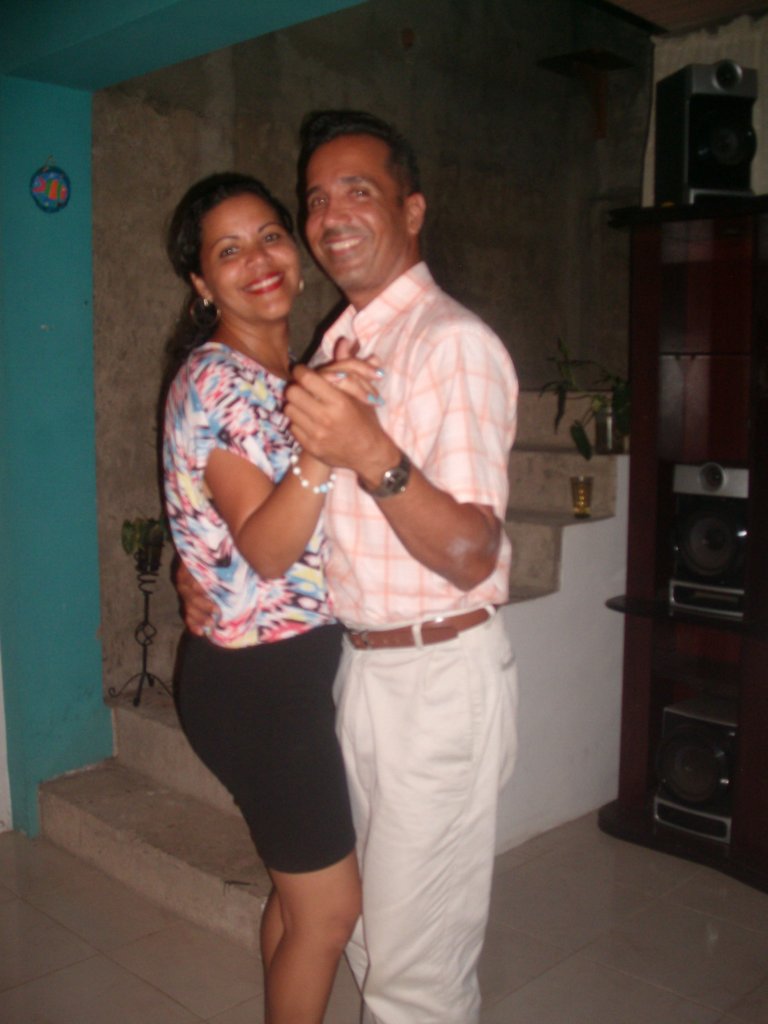 ---
1. ¿Plan de fiesta el sábado o quedarte en casa viendo Netflix?
---
Me gusta más el plan de fiesta porque el baile es una de mis actividades de entretenimiento favoritas, así que es una buena oportunidad para darle rienda suelta a mis piernas con diferentes ritmos. Además es una excelente terapia para drenar el estrés o el cansancio mental que pueda tener.
1. Plan to party on Saturday or stay home watching Netflix?
---
I like the party plan better because dancing is one of my favorite entertainment activities, so it's a good opportunity to unleash my legs with different beats. It is also an excellent therapy to drain stress or mental fatigue that you may have.
---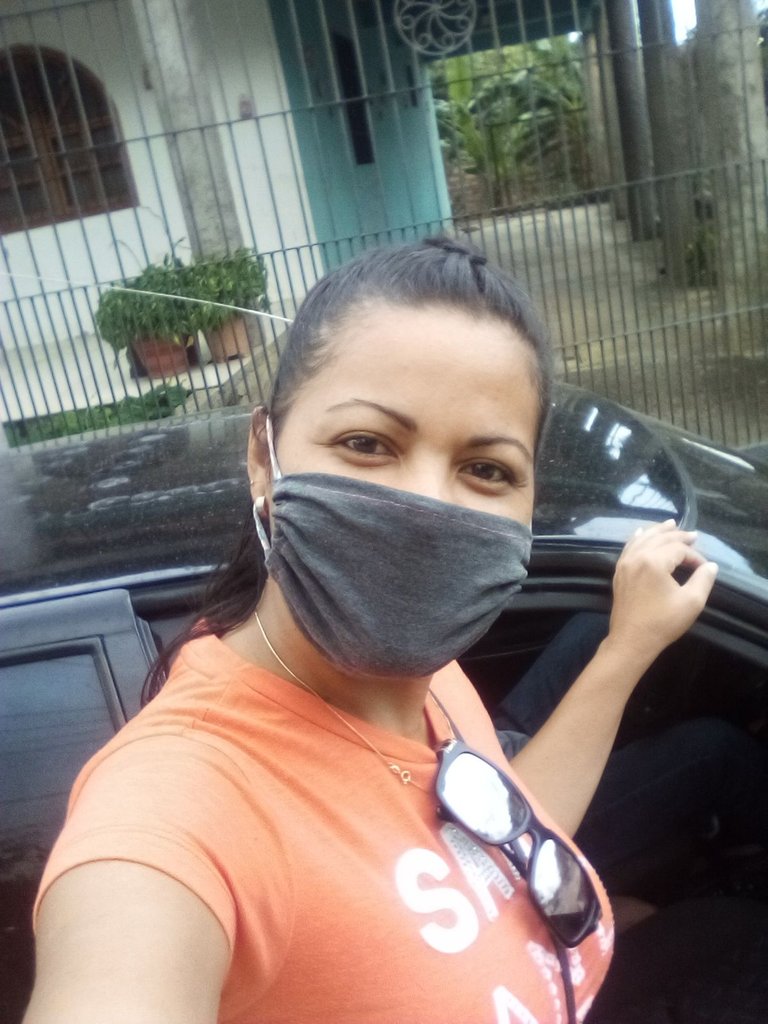 ---
2.¿Salir en carro o en moto?
---
Prefiero salir en carro de día o de noche, con lluvia o con sol, el vehículo 4 puertas es lo más cómodo y seguro para mí. La moto sería una opción eventual o de emergencia.
2.Go out by car or motorcycle?
---
I prefer to go out by car day or night, rain or shine, the 4-door vehicle is the most comfortable and safe for me. The motorcycle would be an eventual or emergency option.
---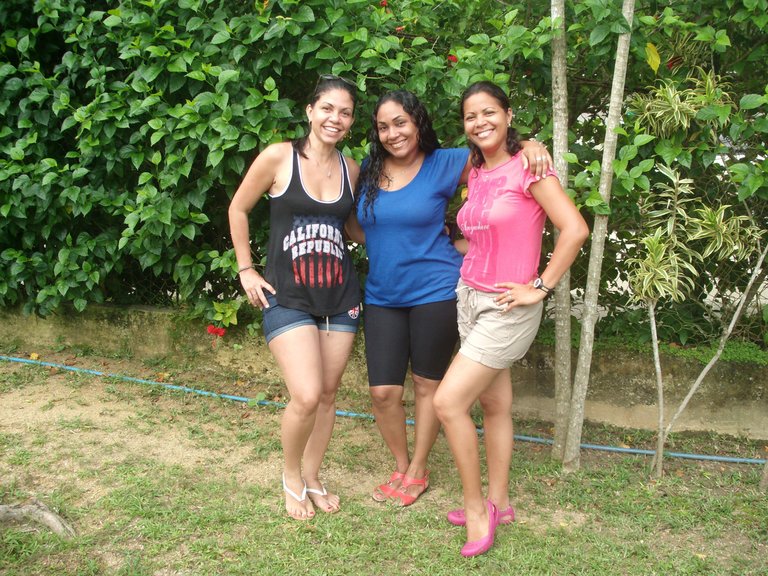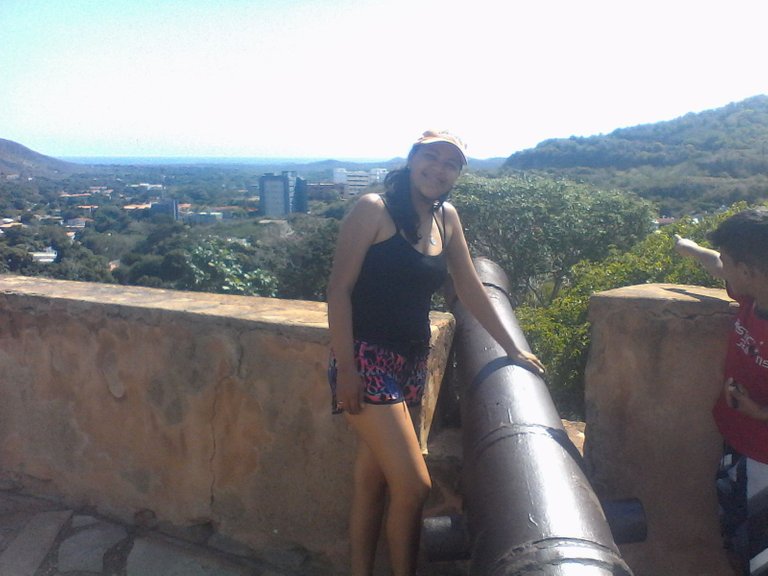 ---
3.¿Pantalón largo o shorts?
---
Tiendo a usar más shorts cuando voy de paseo. Son más cómodos, muy prácticos, frescos y combinables. No me gusta salir a todas partes con pantalones largos, todavía me gusta lucir mis piernas.
3. Long pants or shorts?
---
I tend to wear more long pants or shorts than shorts. I have few of the shorts and I use them exclusively to go to the beach. I don't like going anywhere in shorts.
---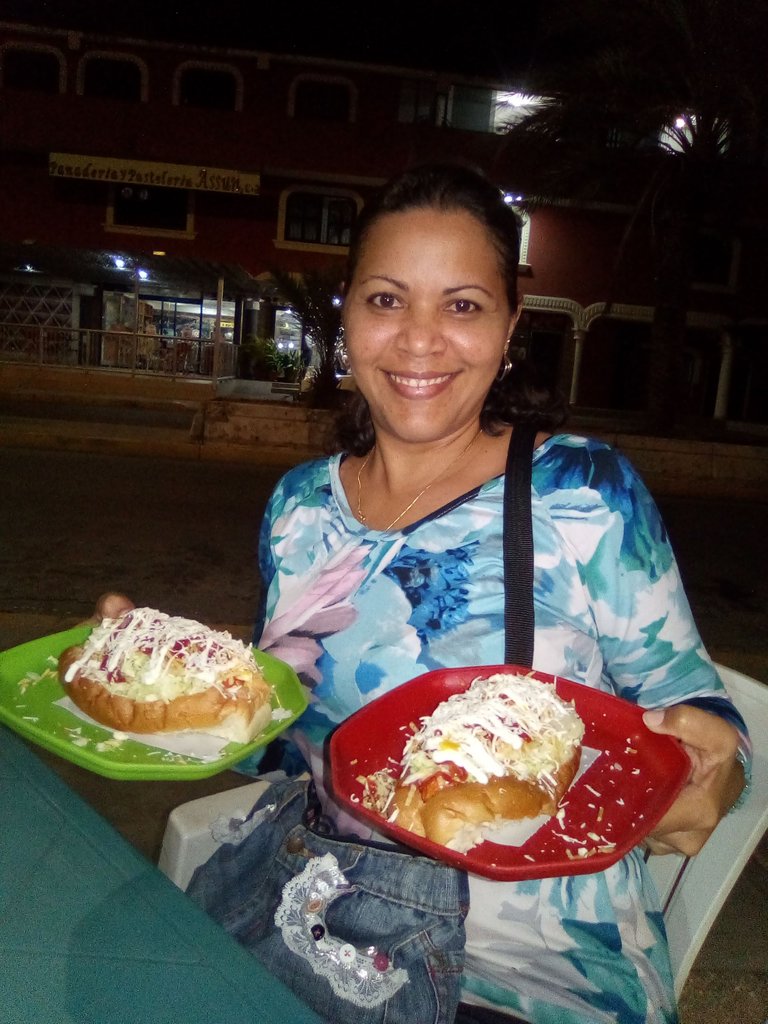 ---
4.¿Puesto de hamburguesas o puesto de mariscos?
---
El puesto de hamburguesas sería mi parada, aunque no sea precisamente eso lo que consuma. Acá en la isla la mayoría de esos puestos venden también perro caliente, pepitos y hasta pizzas. Los puestos de mariscos se ubican específicamente en las playas y no son las rutas más accesibles.
4.Burger stand or seafood stand?
---
The hamburger stand would be my stop, even if that is not exactly what I consume. Here on the island, most of those stalls also sell hot dogs, pepitos and even pizzas. Seafood stalls are specifically located on the beaches and are not the most accessible routes.
---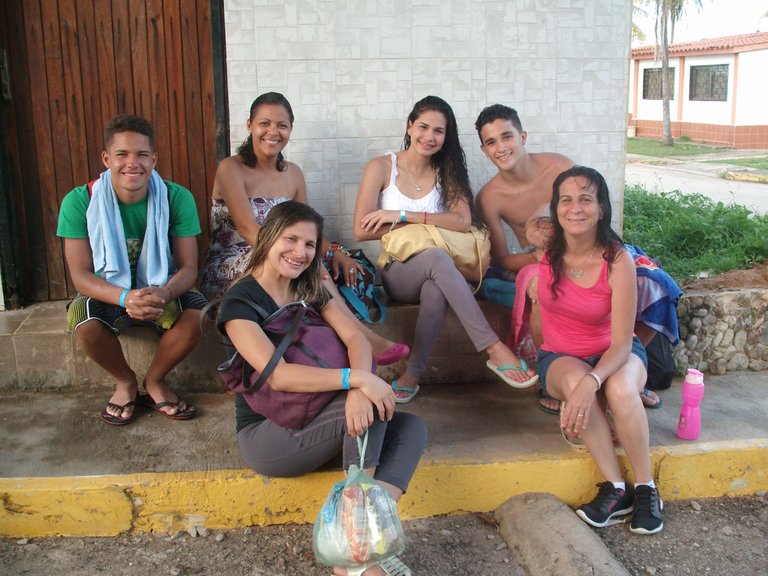 ---
5.¿Plan con amigos o pareja?
---
Los amigos son la compañía ideal para disfrutar porque se hacen los grupos, y en ese grupo puede estar incluida mi pareja y sus amigos o amigos en común. El disfrute es mayor en compañía de varios y esas salidas son mis favoritas, el ruido, las risas, la música, la bebida, el dominó, los cuentos y más.
5.Plan with friends or partner?
---
Friends are the ideal company to enjoy because groups are made, and that group may include my partner and their friends or mutual friends. The enjoyment is greater in the company of several and those outings are my favorites, the noise, the laughter, the music, the drink, the dominoes, the stories and more.
---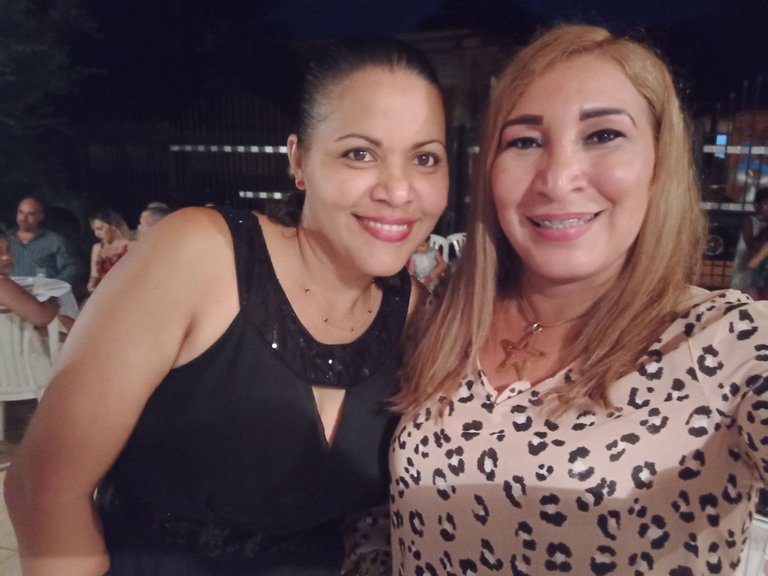 Foto propiedad y cortesía de mi amiga Wendy Hurtado
---
6.¿Maquillaje glamour o básico?
---
El maquillaje básico es mi opción más cómoda y rápida. El maquillaje glamour es para ocasiones muy específicas y por lo general nocturnas. Así que mi maquillaje al salir se basa en protector, polvo, delineador, rímel y labial.
6.Glamor or basic makeup?
---
Basic makeup is my fastest and most comfortable option. Glamor makeup is for very specific occasions and usually at night. So my makeup when going out is based on protector, powder, eyeliner, mascara and lipstick.
---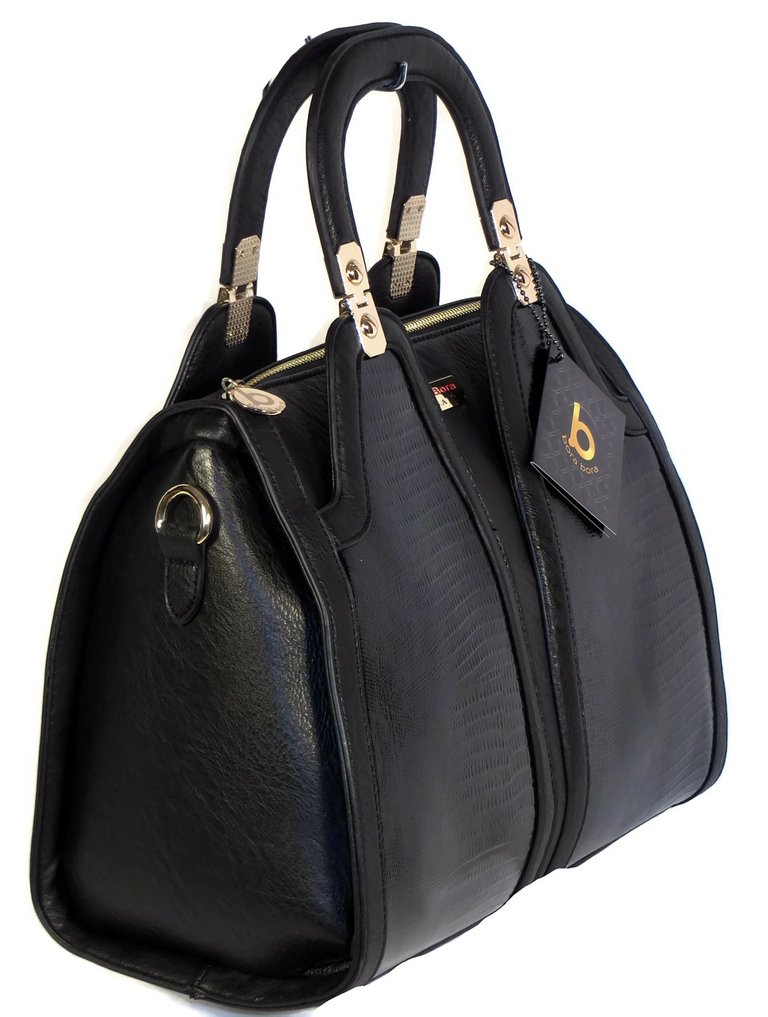 Fuente
---
7.¿Mochila o cartera?
---
La cartera es lo ideal para mí, es más combinable con los tipos de atuendo que uso con frecuencia. Y me gustan las carteras grandes porque puedo llevar más pero últimamente por motivos de comodidad y practicidad he tenido que aprender a usar carteritas pequeñas, tipo bandoleros.
7. Backpack or purse?
---
The wallet is the ideal for me, it is more combinable with the types of clothes that I wear frequently. And I like large wallets because I can carry more but lately for reasons of comfort and practicality I have had to learn to use small purses, type bandoliers.
---
Fuente
---
8. ¿Tenis o flats?
---
Los tenis son mis preferidos, porque no son planos ni altos. Son más cómodos y así puedo tener mis pies más descansados en caso de que la jornada sea más larga de lo esperado. Son además muy combinables y se pueden usar con varios tipos de atuendos, shorts, bermudas o jeans.
8. Tennis or flats?
---
The tennis shoes are my favorites, because they are not flat or high. They are more comfortable and so I can have my feet more rested in case the day is longer than expected. They are also very combinable and can be used with various types of outfits, shorts, Bermuda shorts or jeans.
---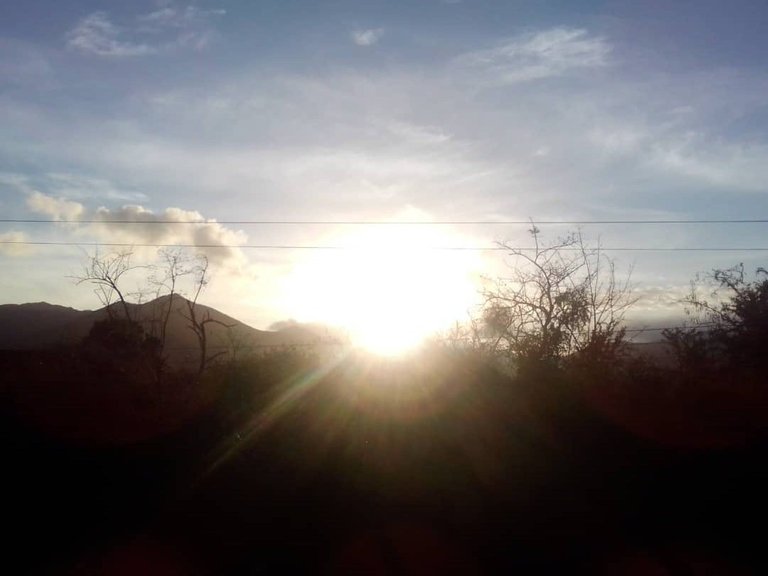 ---
9.¿Salir de día o de noche?
---
La claridad del sol nos permite hacer más cosas, estar más activos y resolver asuntos pendientes. A menos de que se trate de una ocasión especial, una salida o una emergencia, la noche la invierto en descansar.
9. Going out during the day or at night?
---
The clarity of the sun allows us to do more, be more active and resolve pending issues. Unless it is a special occasion, an outing, or an emergency, I spend the night resting.
---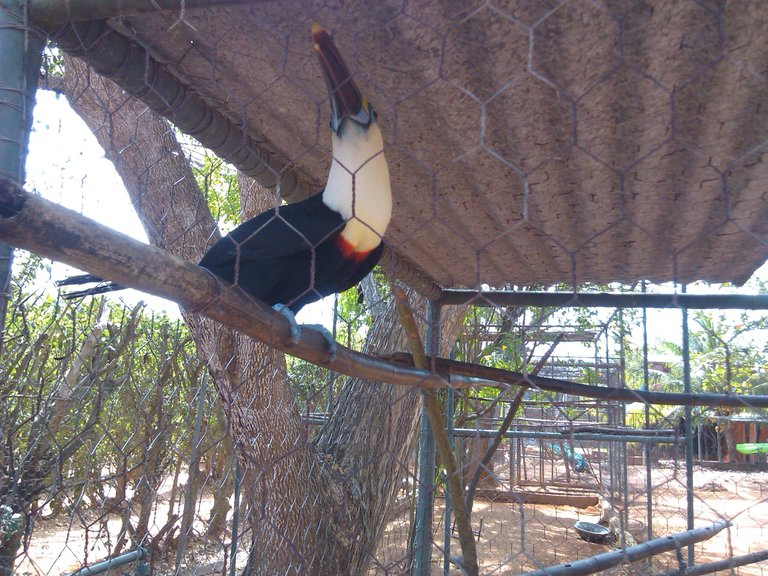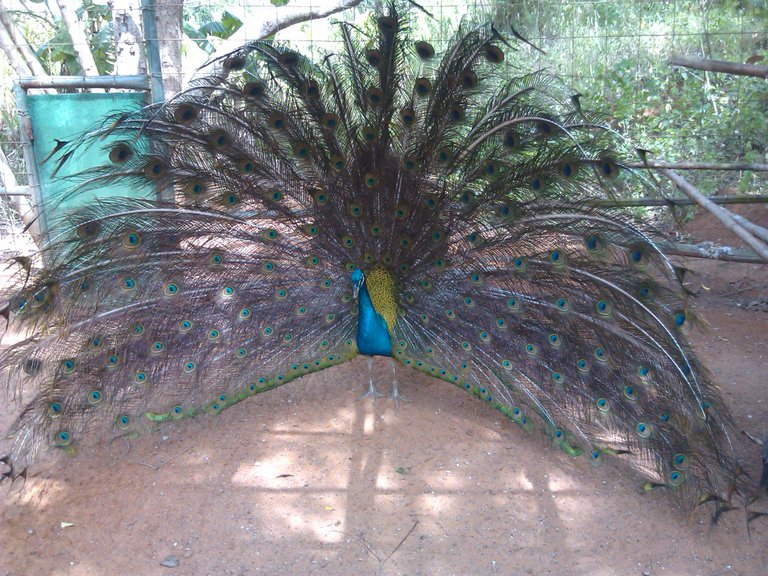 ---
10.¿Museo o zoológico?
---
El zoológico llama más mi atención porque me encantan los animales y conocer datos curiosos de su naturaleza. Hay muchísimos animales que he visto de cerca y otros que quisiera conocer. He visitado pequeños zoológicos aquí pero me gustaría algún día visitar un zoológico grande fuera del país. Si visito algún museo me gustaría que fuera de animales, como es el caso del museo marino ubicado aquí en la isla y tuve la oportunidad de conocer, me encantó.
10. Museum or zoo?
---
The zoo attracts my attention more because I love animals and learn curious facts about their nature. There are many animals that I have seen up close and others that I would like to know. I have visited small zoos here but would like to one day visit a large zoo outside the country. If I visit a museum I would like it to be about animals, as is the case with the marine museum located here on the island and I had the opportunity to meet, I loved it.
---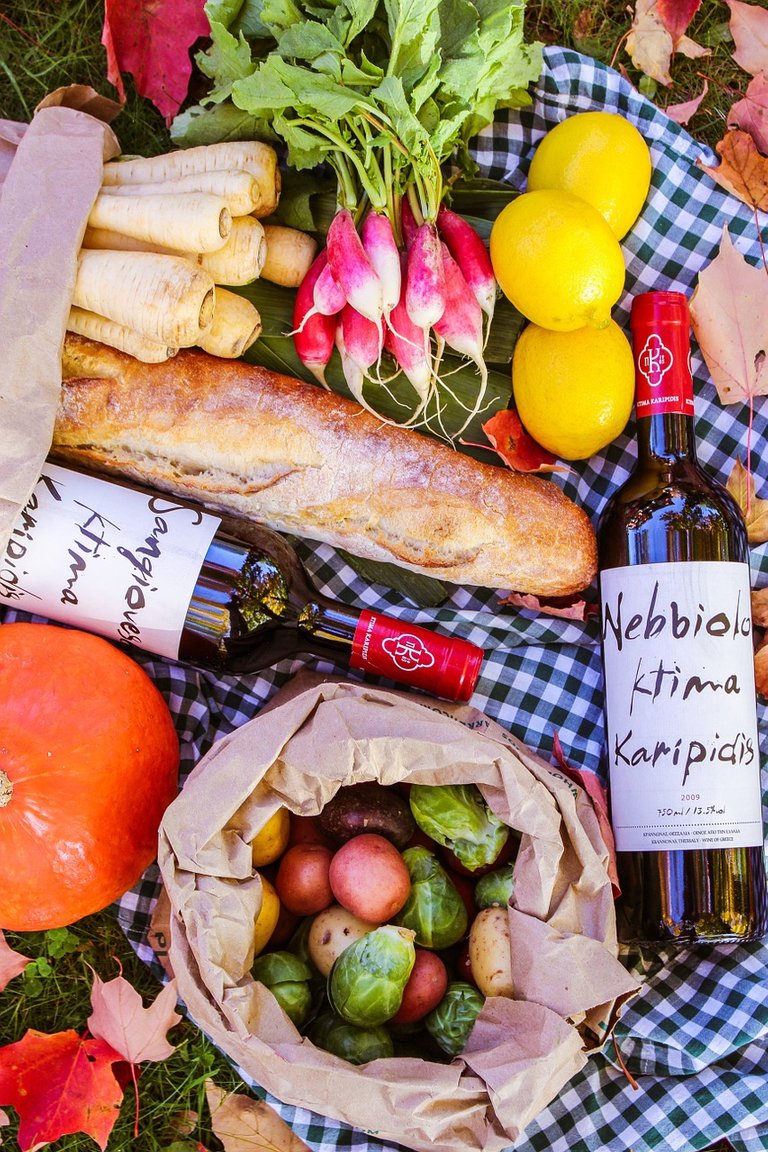 Fuente
---
11.¿Te preparas un día antes de salir o solo improvisas?
---
No me gustan las improvisaciones en ningún caso, las veces que me ha tocado improvisar por alguna razón ha sido a disgusto. Me gusta planificar mis cosas y aún más las salidas para evitar malos ratos e incomodidades. Me parece que es importante hacer y llevar lo necesario.
11. Do you prepare a day before going out or do you just improvise?
---
I do not like improvisations in any case, the times I have had to improvise for some reason it has been unpleasant. I like to plan my things and even more the outings to avoid bad times and discomfort. It seems to me that it is important to do and carry what is necessary.
---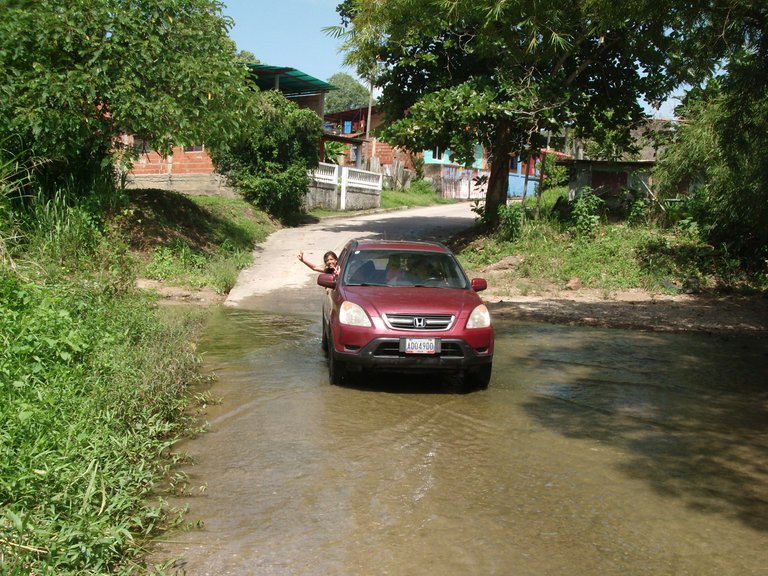 ---
12.¿Viaje largo o corto?
---
Me parecen más divertidos los viajes largos aunque se pudieran tornar cansones. Pero así se comparte más y aparecen más momentos divertidos, el entretenimiento es más prolongado, y para tomar fotos es ideal.
12. Long or short trip?
---
Long trips seem more fun to me even though they could get tiring. But this way more is shared and more funny moments appear, the entertainment is longer, and for taking photos it is ideal.
---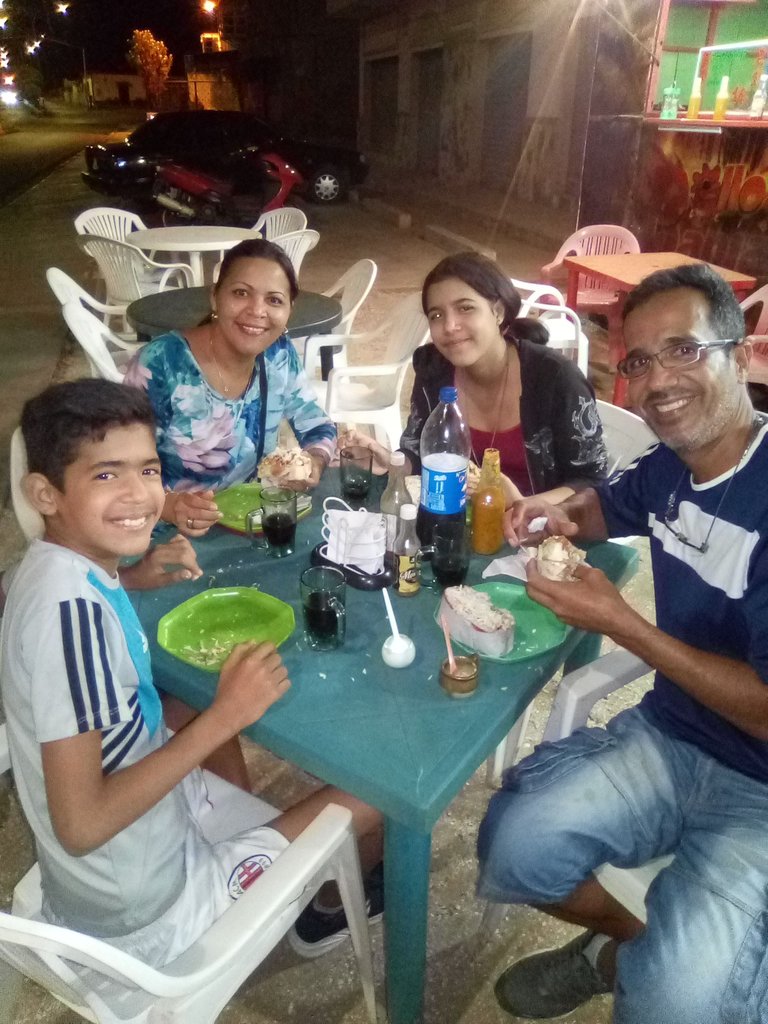 ---
13.¿Ir a comer o solo pasear?
---
Ir a comer es mejor. No me gusta solo pasear sin consumir nada en el trayecto. Ingerir algún alimento es casi obligatorio, si no es considerado un paseo incompleto.
13. Go to eat or just go for a walk?
---
Going to eat is better. I do not like just walking without consuming anything on the way. Eating some food is almost mandatory, if it is not considered an incomplete walk.
---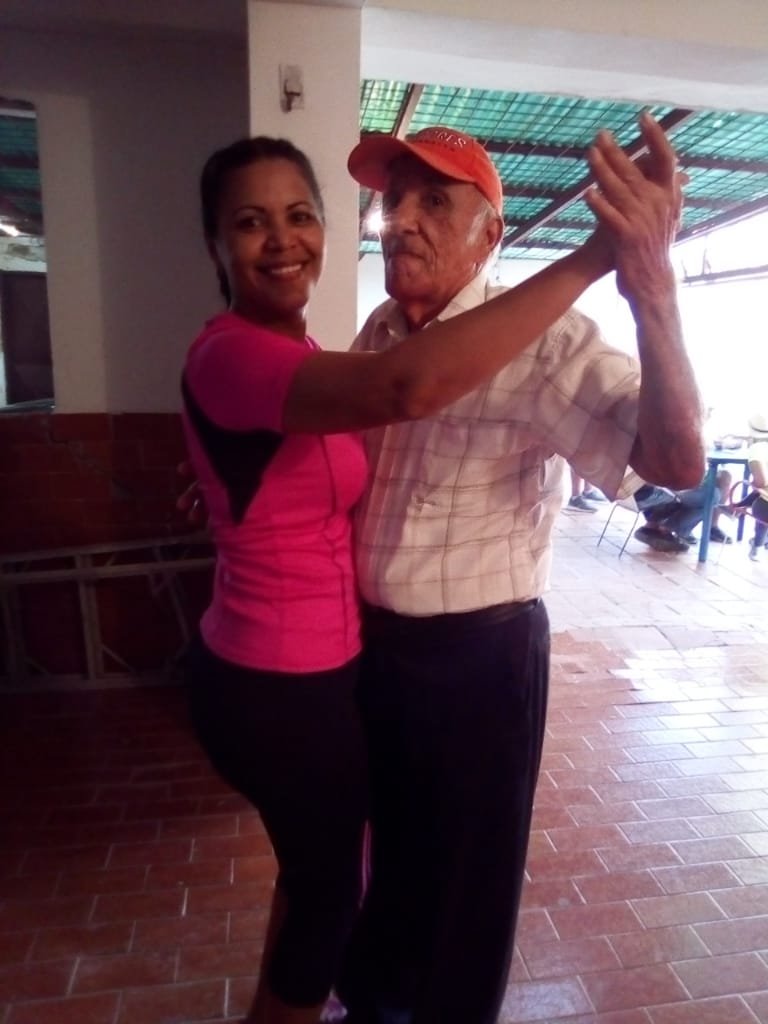 ---
14.¿Karaoke o baile?
---
Aunque no me niego a cantar y también me gusta como entretenimiento, mi favorito es el baile. Desde pequeña me gusta mucho bailar, no hay fiesta que me quede sentada. De hecho mi esposo no sabía bailar y tuvo que aprender porque en cada fiesta yo buscaba con quien hacerlo. No es posible para m, incluso estando en casa, oír un ritmo que me gusta y no bailar aunque esté sola.
14. Karaoke or dancing?
---
Although I do not refuse to sing and I also like it as entertainment, my favorite is dancing. Since I was little I really like to dance, there is no party that I just sit around. In fact, my husband did not know how to dance and had to learn because at each party I was looking for someone to do it with. It is not possible for me, even when I am at home, to hear a rhythm that I like and not dance even when I am alone.
---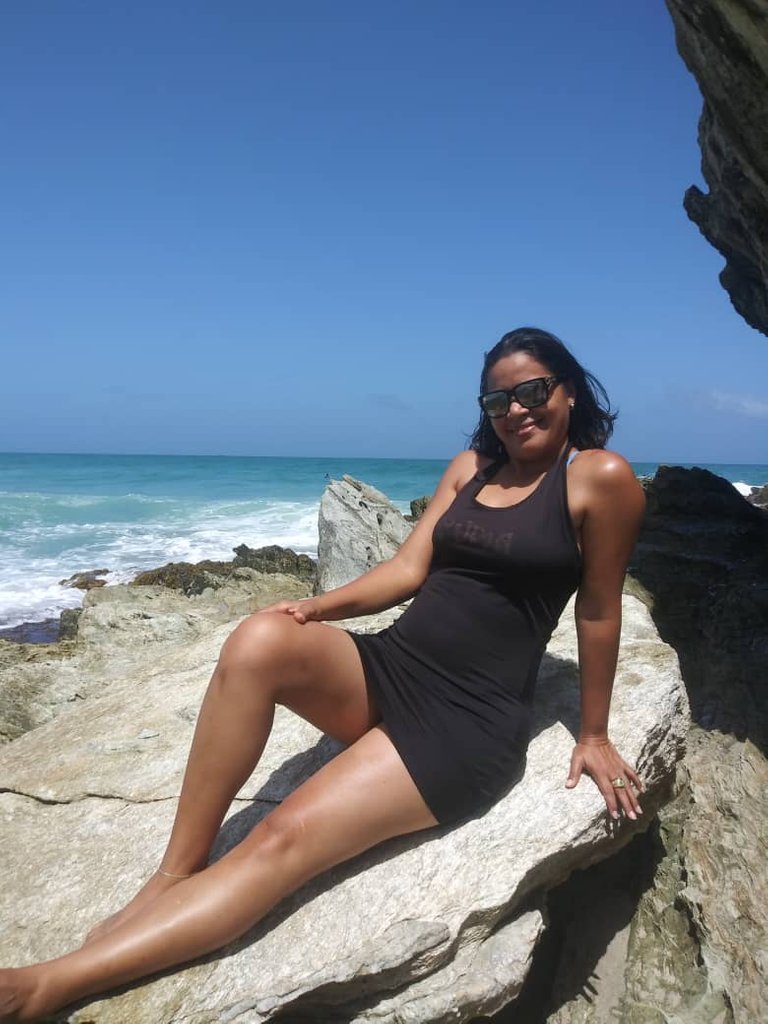 ---
15.¿Haces fotos de todo lo que ves o solo disfrutas el momento?
---
Desde que pertenezco a Hive, tomo más fotos que de costumbre, siempre me ha gustado fotografiar, pero cuando se trata de disfrutar me tomo mi tiempo y suelto la cámara. En cada ocasión hay tiempo para todo, no tenemos por qué perdernos la diversión por tomar las fotos.
15. Do you take photos of everything you see or do you just enjoy the moment?
---
Since I have been with Hive, I take more photos than usual, I have always liked to photograph, but when it comes to enjoyment I take my time and put the camera down. Every time there is time for everything, we don't have to miss out on the fun taking photos.
---

---
Bien amigos hasta aquí mi participación de hoy, una vez más disfrute escribiéndoles. Espero que hayan disfrutado leyendo mis respuestas. Espero verlos en una próxima oportunidad. Las fotos en esta publicación son de mi propiedad.
Well friends so far my participation today, once again I enjoyed writing you. I hope you enjoyed reading my answers. I hope to see you in the next opportunity. The photos in this publication are my property.
---

---
---