PAMPLONA Encierros de San Fermín: una fiesta única
NOTE: The Italian version is after the English one
On 11 July 2018 I had the opportunity to participate in a truly exciting show, which I had heard so much about: the Fiestas de San Fermin in Pamplona.
The awakening was in the middle of the night, around 4am: my family and I wanted to be on time at the Plaza de Toros in Pamplona so as not to miss any moment of the euphoria of the party.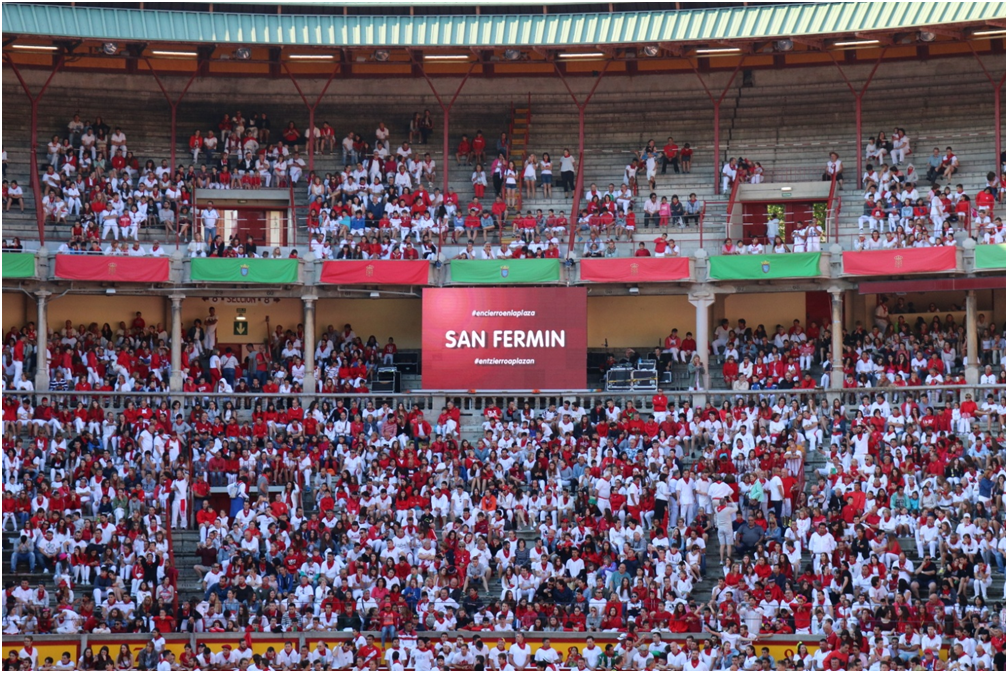 At 6 in the morning the square was already packed, all dressed in white and red with the inevitable "pañuelo rojo", a red scarf around the neck, which is the emblem of the party.
Everyone sang their hearts out and drank beer. The orchestra accompanied the party with traditional and modern music.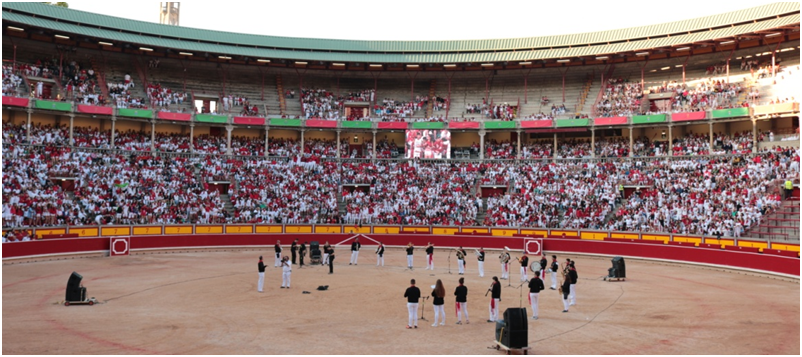 At 8 o'clock in the morning the doors of the Santo Domingo courtyard opened and hundreds of people started running in front of the bulls for 825 meters along the streets of Pamplona until they reached the Plaza de Toros in an average time of less than three minutes .
The audience waited looking at the monitors.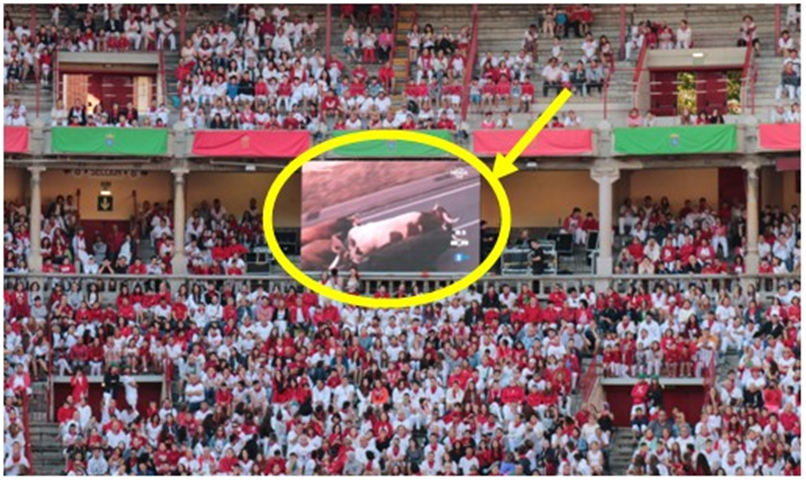 Here the first brave runners arrived in the square ...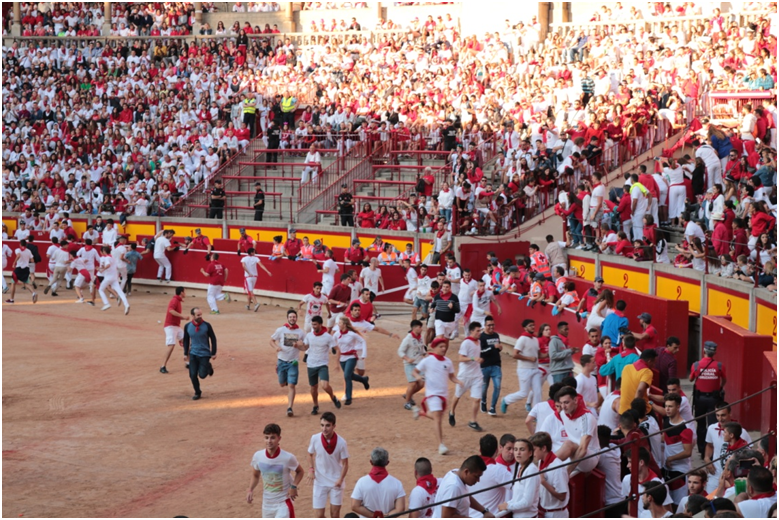 ... followed by the bulls but they are let out.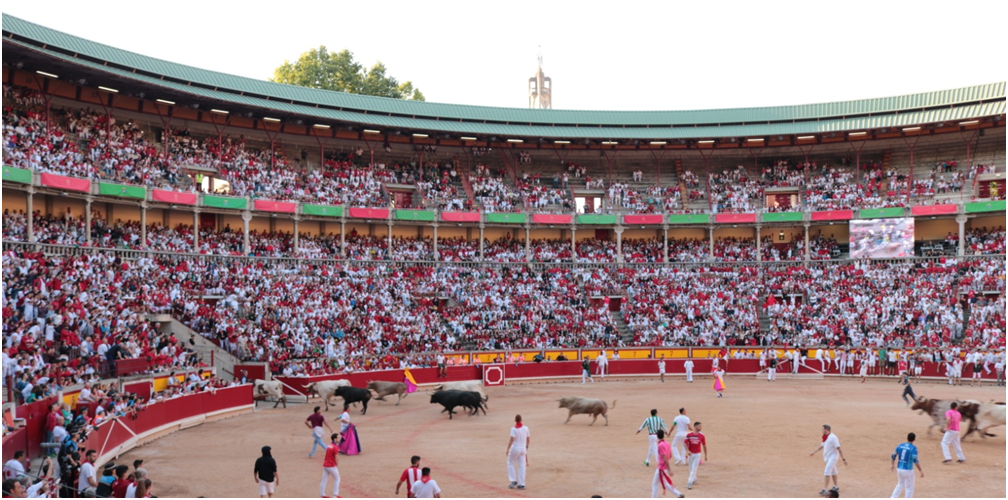 After the Encierro, the arena was filled with daring and courageous people who want to continue having fun.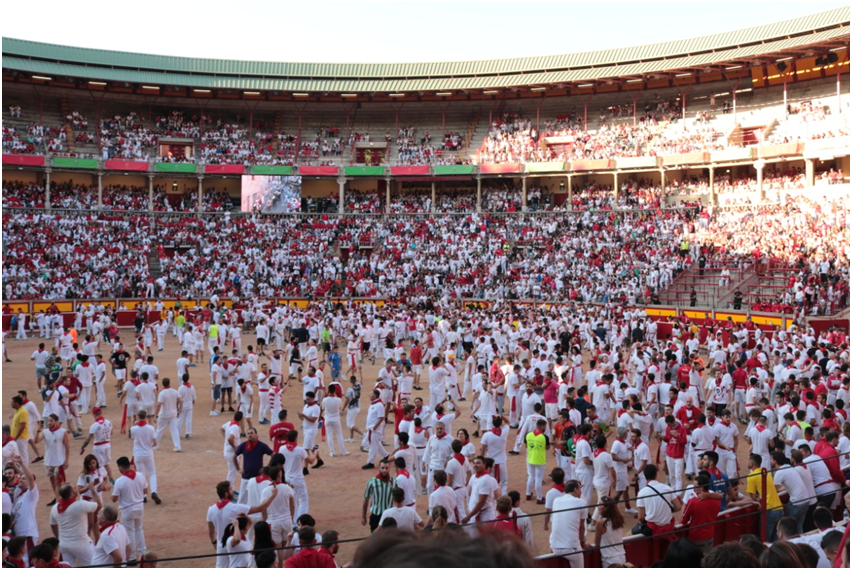 After a short time, in fact, in the Plaza de Toros some "vaquillas" were released, young heifers with protruding horns, but not pointed like those of bulls.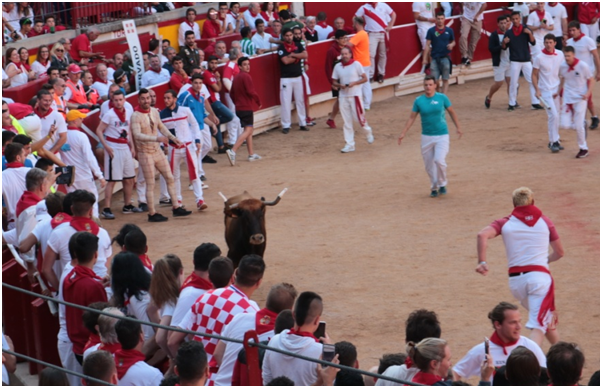 The runners enjoyed taking on them and fleeing their attacks.
Certainly, on some occasions we got really scared because the vaquillas did not joke at all and crowned the brave young people by lifting them off the ground and dragging them away, as you can see from the photos I took with my Canon EOS 750 D.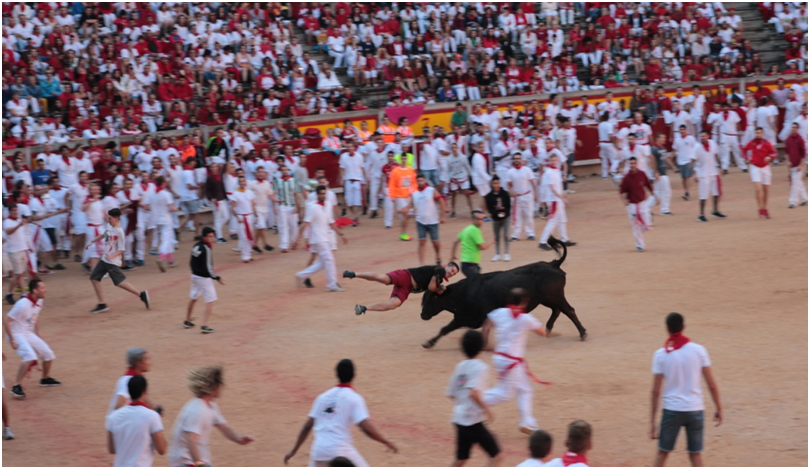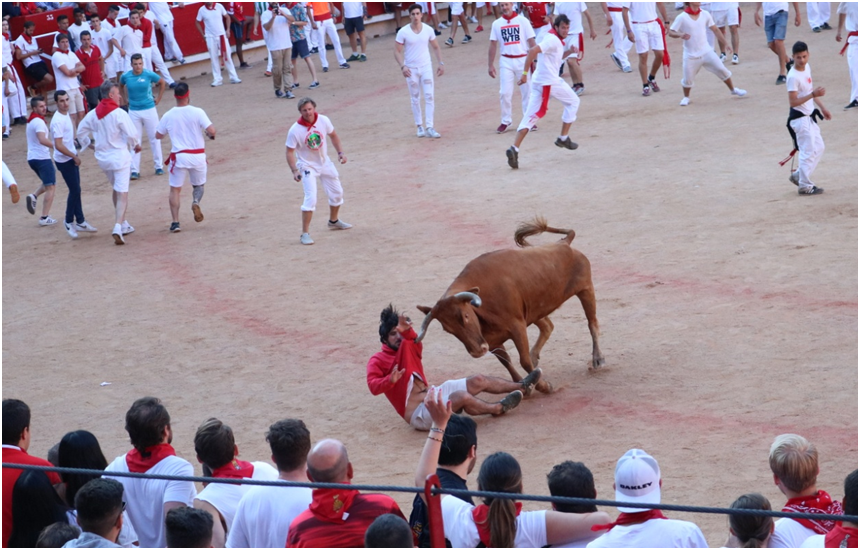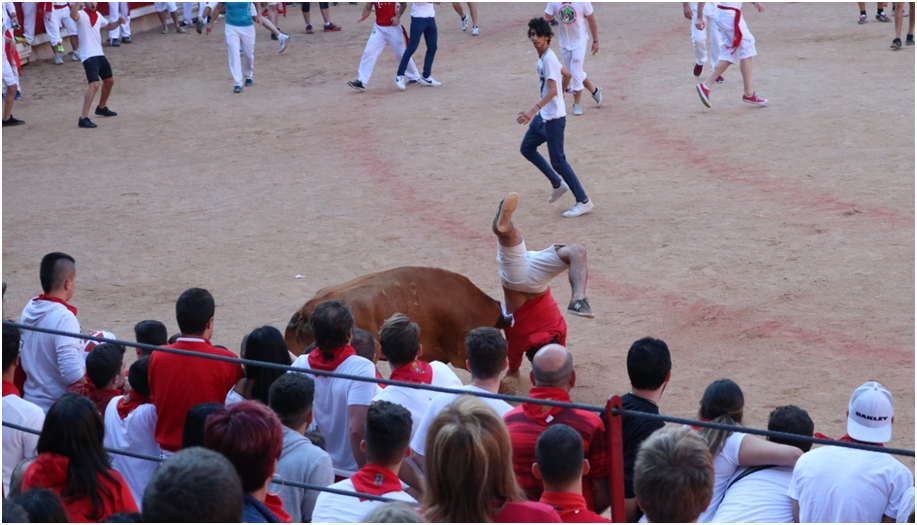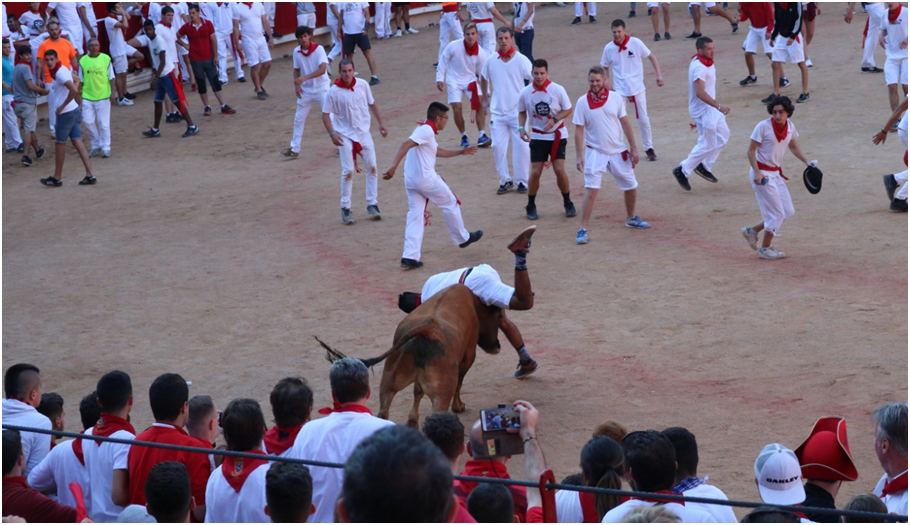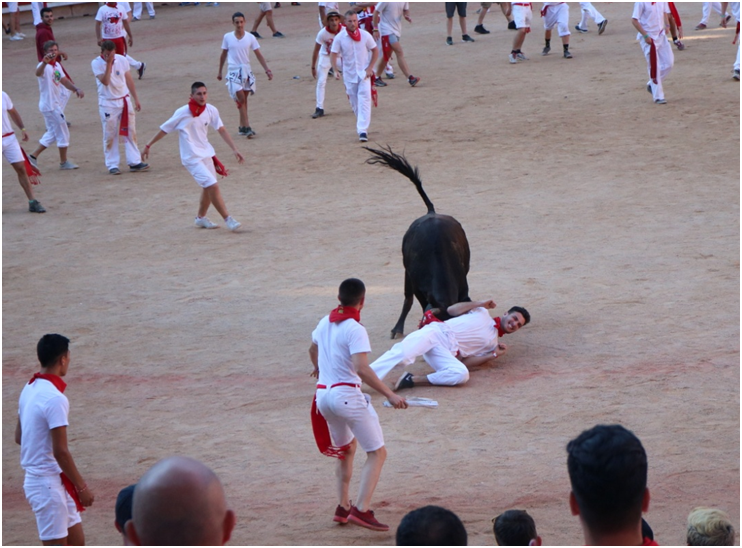 Fortunately, there were no incidents and everything was carried out in tranquility and fun.
At the end we continued to celebrate in the city, after the typical breakfast with churros and hot chocolate.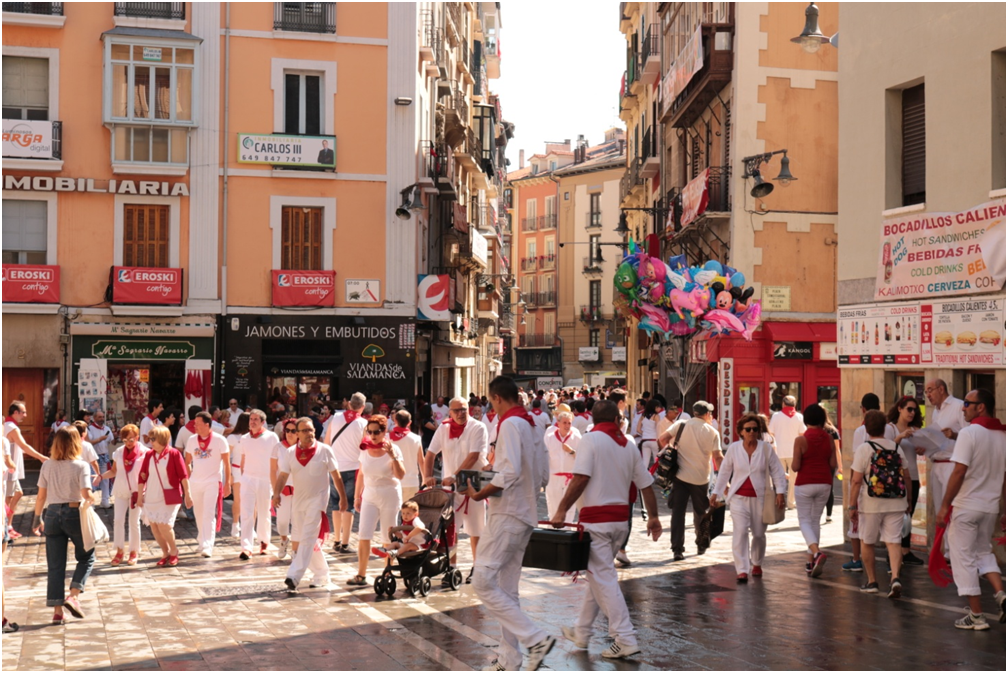 It was truly an exciting and fun experience that I recommend for all ages.
In the years 2020 and 2021 the festival was suspended due to the Covid 19 pandemic.
I hope that this year we can return to live together and to celebrate the Encierro de San Fermin again.
I would like to point out that the photos are all my property.
Thank you for reading
ITALIAN VERSION
PAMPLONA
Encierros de San Fermín: una fiesta única
L'11 luglio 2018 ho avuto l'occasione di partecipare ad uno spettacolo davvero emozionante, di cui avevo tanto sentito parlare: las Fiestas de San Fermin a Pamplona.
Il risveglio è stato in piena notte, verso le 4: io e la mia famiglia volevamo essere puntuali alla Plaza de Toros di Pamplona per non perdere nessun momento dell'euforia della festa.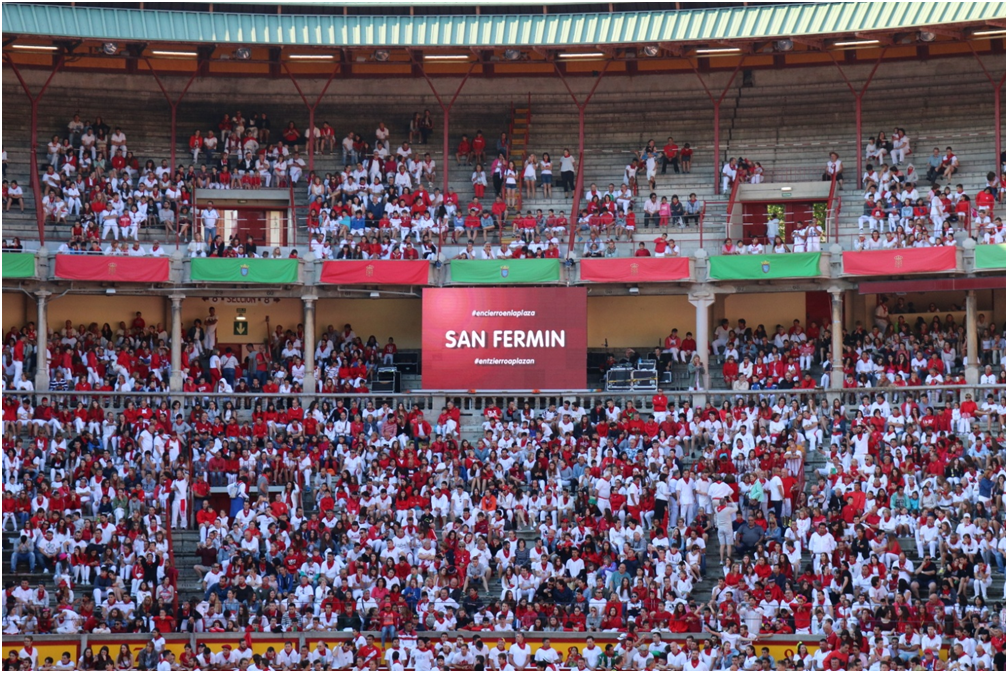 Alle 6 del mattino la piazza era già gremita, tutti vestiti di bianco e rosso con l'immancabile "pañuelo rojo", ovvero un foulard rosso attorno al collo, che è l'emblema della festa.
Tutti cantavano a squarciagola e bevevano birra. L'orchestra accompagnava la festa con musiche tradizionali e moderne.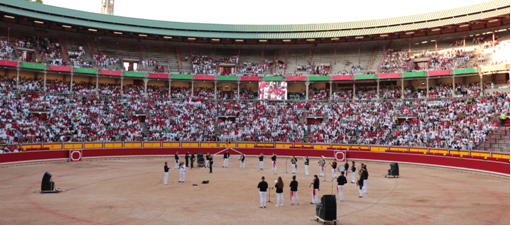 Alle 8 in punto del mattino si sono aperte le porte del cortile di Santo Domingo e centinaia di persone hanno iniziato a correre davanti ai tori per 825 metri lungo le strade di Pamplona fino ad arrivare alla Plaza de Toros in un tempo medio inferiore ai tre minuti.
Il pubblico attendeva guardando i monitor.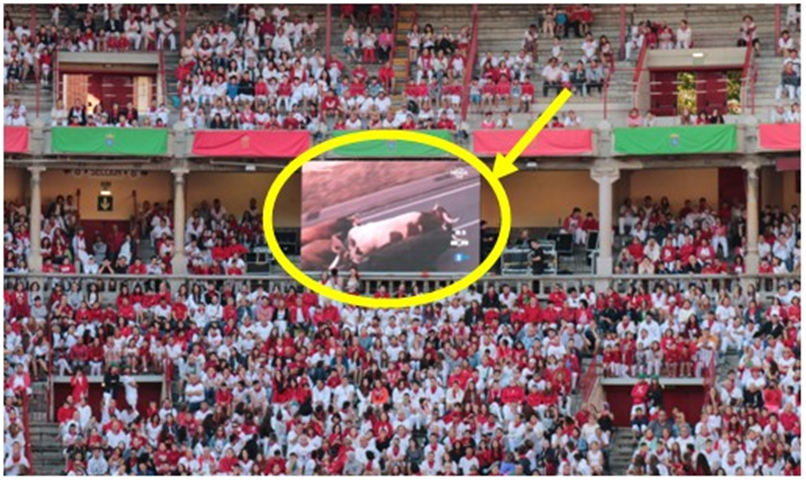 Ecco che sono arrivati in piazza i primi coraggiosi corridori…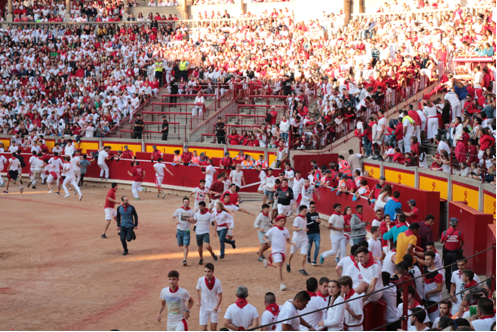 …seguiti dai tori che però vengono fatti uscire.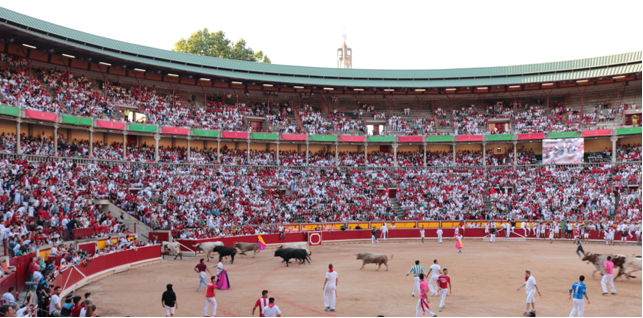 Terminato l'Encierro, l'arena si è riempita di persone audaci e coraggiose che desiderano continuare a divertirsi.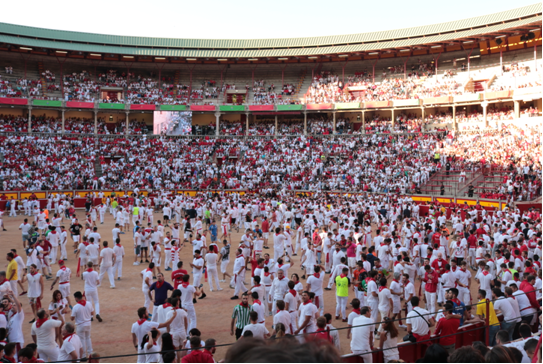 Dopo poco tempo, infatti, nella Plaza de Toros sono state liberate alcune "vaquillas", ovvero giovani giovenche con corna sporgenti, ma non appuntite come quelle dei tori.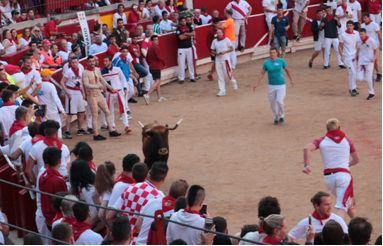 I corridori si sono divertiti ad affrontarle e a fuggire ai loro attacchi.
Sicuramente, in alcune occasioni ci siamo davvero spaventati perché le vaquillas non scherzavano affatto e incornavano i giovani coraggiosi sollevandoli da terra e trascinandoli lontani, come potete vedere dalle foto che ho scattato con la mia Canon EOS 750 D.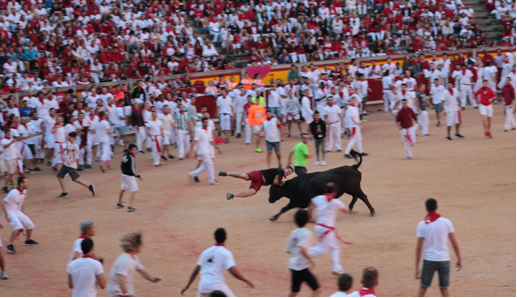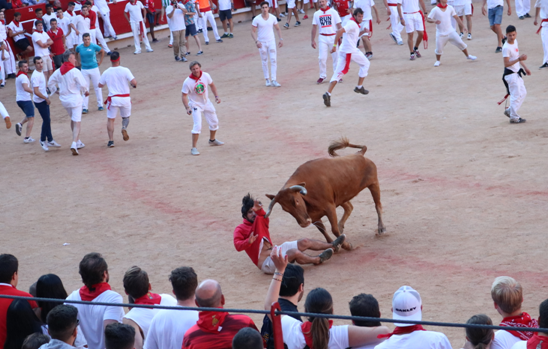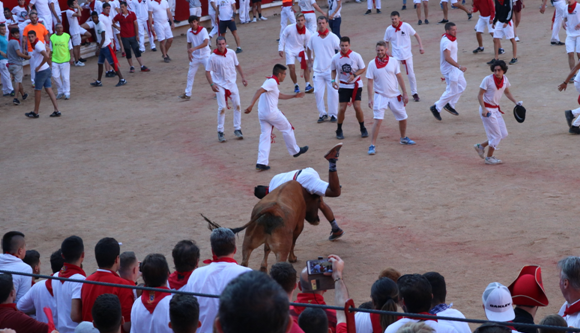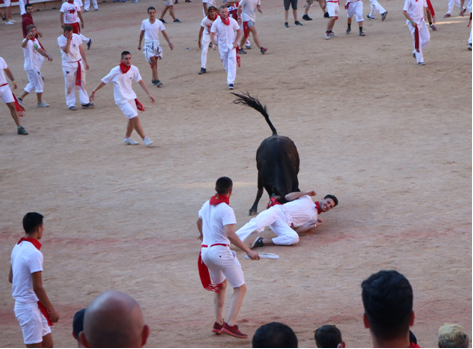 Per fortuna, non ci sono stati incidenti e tutto si è svolto in tranquillità e divertimento.
Al termine abbiamo continuato a festeggiare in città, dopo la tipica colazione con churros e cioccolata calda.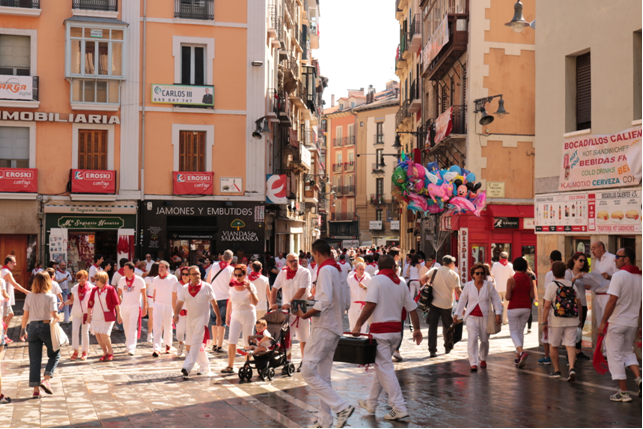 E' stata davvero un'esperienza emozionante e divertente che consiglio ad ogni età.
Negli anni 2020 e 2021 la festa è stata sospesa a causa della pandemia Covid 19.
Spero che quest'anno possa si possa ritornare a vivere insieme e a festeggiare ancora l'Encierro de San Fermin.
Ci tengo a precisare che le foto sono tutte di mia proprietà.
Grazie della lettura
---
---