Hive Open Mic 130 | Sesión 36 - Naty Peluso/ Bizarrap | cover by @callmeenjoy
---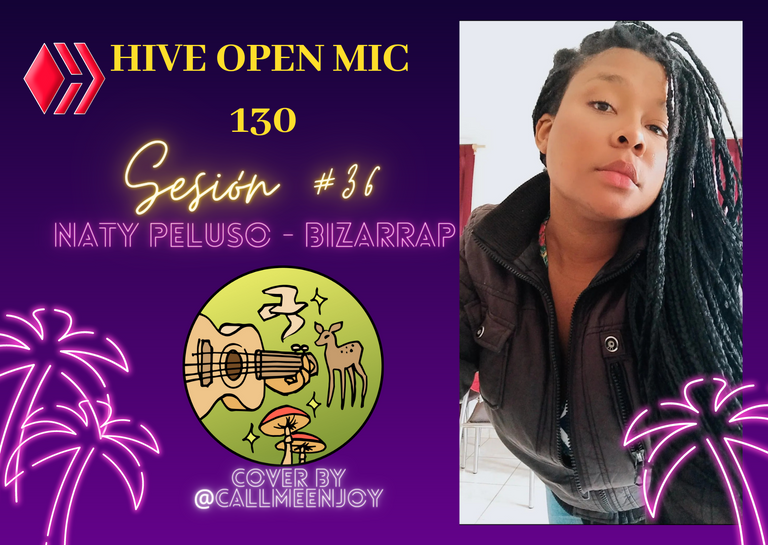 Hola A toda esa gente hermosa que hace vida en esta comunidad de Hive Open Mic.
Me encanta esta semana por el tema de frestyle y creatividad, desde hace un tiempo ya estaba esperando que colocarán este tema.
Me encanta nati peluso es un artista Argentina que por lo menos yo conocí hace poco, precisamente con esta canción que traigo para ustedes el día de hoy.
Espero que les guste y sea de su agrado. Love Joy.
Hello To all those beautiful people who make life in this Hive Open Mic community.
I love this week for the theme of freshness and creativity, for some time now I was waiting for this song to be posted,
I love Nati Peluso is an artist from Argentina that at least I met recently, precisely with this song that I bring to you today.
I hope you like it and I hope you like it. Love Joy.
LETRA/LYRICS
Naty Peluso-Bizarrap
"Sesión #36"
Letra
🎶
Qué buena vista tenes cuando me pones a cuatro patas
Si se entera de esto mi papá, te mata
No te doy las gracia' pa' que me diga' ingrata
Mírame suave que soy frágil y tan dulce, una mina delicada
Este es mi método, gordo, agárrate
Mira mi truco, be careful, no te maté'
Cocino tuco, tuqui, tomate
Con mi "Mmm-hmm" yo genero debate
Manda mensaje, dice que dice
Pero después no hace ni "Mmm"
Cuando me escribe suena valiente
Pero de frente no dice ni "Mmm"
Manda mensaje, dice que dice
Pero después no hace ni "Mmm"
Cuando me escribe suena valiente
Pero de frente no dice ni
Una perra (mmm) sorprendente (uh)
Curvilínea y elocuente
Magnificamente colosal
Extravagante y animal (ah)
La que sabe se aprovecha
A tu cucu yo le doy mecha
Que te guste es normal
Me buscaste, lo vi en tu historial
No puedo evitar ser maravillosa
Dame la golosina, que estoy golosa (prr)
Soy un desayuno continental (mmm)
Tienen que escucharme con delantal
Nene, tu novia se puso pegajosa
Venime de frente, arreglamo' las cosa'
Hago un delivery descomunal
Ladro que ladro, no tengo bozal
Manda mensaje, dice que dice
Pero después no hace ni "Mmm"
Cuando me escribe suena valiente
Pero de frente no dice ni "Mmm" (uh, wuh, uh, wuh)
Manda mensaje, dice que dice
Pero después no hace ni "Mmm"
Cuando me escribe suena valiente
Pero de frente no dice ni
Quiero ver a esos gallito' matando a una cucaracha (ja)
Con dos caramelito' el nene se me empacha
Pa' decir la verdad no necesito estar borracha
Tu honestidad barata no me baja la bombacha
Esta muchacha e' clara y concisa
Tengo de tu pizarra la tiza
Le saqué la visera al Biza
Vendo mi alma por una pizza
I'm a, I'm am a, I'm a nasty girl, fantastic
Este culo es natural, no plastic
Lo que toco lo hago bombastic
Todo' eso' gile' a mí me la mastic-
I'm a nasty girl, fantastic (wuh)
Este culo es natural, no plastic (wuh)
Lo que toco lo hago bombastic (wuh)
Todo' eso' gile' a mí me la mastic- (ah)
Motherfuckin' lady stunts
Motherfu-motherfuckin' lady st-tu-tunts
Motherfuckin' lady stunts
Motherfu-motherfuckin' lady
What a good view you have when you put me on all fours.
If my daddy finds out about this, he'll kill you
I don't give you the grace to tell me you're ungrateful
Look at me soft I'm fragile and so sweet, a delicate girl
Here's my method, fat man, hold on
Look at my trick, be careful, I didn't kill you'.
I cook tuco, tuqui, tomato
With my "Mmm-hmm" I generate debate
He sends messages, he says he says
But then he doesn't even "Mmm"
When he writes me he sounds brave
But then he doesn't even say "Mmm" when he writes to me
He texts, he says he says
But then he doesn't even "Mmm"
When he writes me he sounds brave
But from the front he doesn't even say
An amazing (mmm) bitch (uh)
Curvaceous and eloquent
Magnificently colossal
Extravagant and animal (ah)
The one who knows how to take advantage
I'll give your cuckoo a wick
That you like it's normal
You looked for me, I saw it on your chart
I can't help but be wonderful
Give me the candy, I've got a sweet tooth (prr)
I'm a continental breakfast (mmm)
You gotta listen to me in an apron
Baby, your girlfriend got sticky
Come at me head on, let's get it together
I make a huge delivery
I'm barking, I'm barking, I'm not muzzled
He texts, he says he says
But then he doesn't even say "Mmm"
When he writes me he sounds brave
But from the front he doesn't say "Mmm" (uh, wuh, uh, wuh)
He texts, he says he says
But then he doesn't even "Mmm" (uh, wuh, uh, wuh)
When he writes me he sounds brave
But from the front he doesn't even say
I want to see those cockerel' killing a cockroach (ha)
With two caramelito' the baby gets me soggy
To tell the truth I don't need to be drunk
Your cheap honesty won't bring my panties down
This girl is clear and concise
I got the chalk from your chalkboard
I took the visor off the Biza
I sell my soul for a pizza
I'm a, I'm am a, I'm a nasty girl, fantastic
This ass is natural, not plastic
What I touch I make bombastic
All' that' gile' to me I chew-
I'm a nasty girl, fantastic (wuh)
This ass is natural, not plastic (wuh)
What I touch I make bombastic (wuh)
All that gile' gile' to me I chew- (ah)
Motherfuckin' lady stunts
Motherfu-motherfuckin' lady st-tu-tunts
Motherfuckin' lady stunts
Motherfu-motherfuckin' lady
---

---

Translated with DeepL.com

Cover Banner edited in canva.com

---
---
▶️ 3Speak
---
---