Toxic - Britney Spears / cover by @callmeenjoy 💜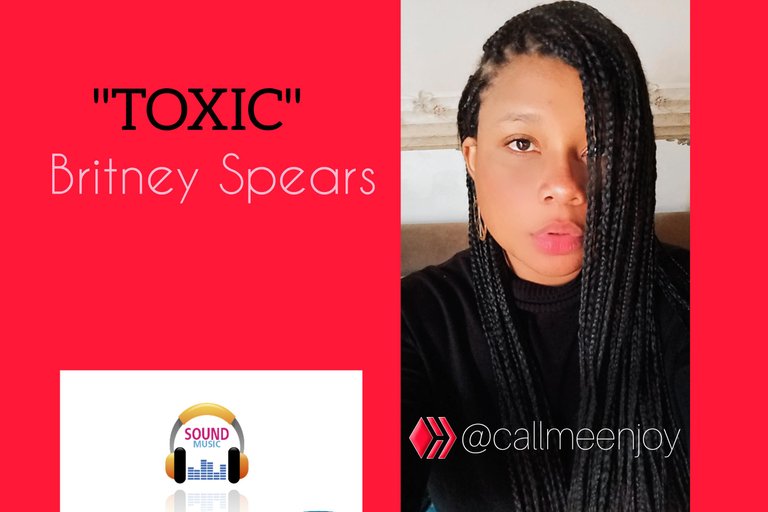 ---
Buenas noches Hivers musicales!!!
Hoy me transporté, me fui a mi época de adolescente, esa época dónde no me perdía ni un programa que transmitían en MTV que se llamaba " Los 10 Más Pedidos" que emoción cuando llegaba esa hora, porque fijo me quedaba pegada esperando los vídeos que más estaban pegados en la época, me deleitaba cantando y bailando al ritmo de Britney, Madonna, Christina Aguilera.
Hoy quise viajar en el tiempo y traer está interpretación con mucho cariño para todos, gracias por abrir mi blog.
Good evening musical Hivers!
Today I was transported, I went to my time as a teenager, that time where I did not miss a program that was broadcast on MTV called "The 10 Most Popular" what a thrill when that time came, because I was stuck waiting for the videos that were most stuck at the time, I was delighted singing and dancing to the rhythm of Britney, Madonna, Christina Aguilera.
Today I wanted to travel back in time and bring this interpretation with much affection for everyone, thanks for opening my blog.
Baby, can't you see I'm calling?
A guy like you should wear a warning
It's dangerous, I'm falling
There's no escape, I can't wait
I need a hit, baby, give me it
You're dangerous, I'm loving it
Too high, can't come down
Losing my head, spinnin' 'round and 'round
Do you feel me now?
With a taste of your lips, I'm on a ride
You're toxic, I'm slippin' under
With a taste of a poison paradise
I'm addicted to you
Don't you know that you're toxic?
And I love what you do
Don't you know that you're toxic?
It's getting late to give you up
I took a sip from my devil's cup
Slowly, it's taking over me
Too high, can't come down
It's in the air and it's all around
Can you feel me now?
With a taste of your lips, I'm on a ride
You're toxic, I'm slippin' under
With a taste of a poison paradise
I'm addicted to you
Don't you know that you're toxic?
And I love what you do
Don't you know that you're toxic?
Don't you know that you're toxic?
Taste of your lips, I'm on a ride
You're toxic, I'm slippin' under
With a taste of a poison paradise
I'm addicted to you
Don't you know that you're toxic?
With a taste of your lips, I'm on a ride
You're toxic, I'm slippin' under (toxic)
With a taste of a poison paradise
I'm addicted to you
Don't you know that you're toxic?
Intoxicate me now, with your lovin' now
I think I'm ready now, I think I'm ready now
Intoxicate me now, with your lovin' now
I think I'm ready now
---
Cariño, ¿no ves que te estoy llamando?
Un tipo como tú debería llevar una advertencia
Es peligroso, estoy cayendo
No hay escape, no puedo esperar
Necesito un golpe, nena, dámelo
Eres peligroso, me encanta
Demasiado alto, no puedo bajar
Perdiendo la cabeza, dando vueltas y vueltas
¿Me sientes ahora?
Con el sabor de tus labios, estoy en un viaje
Eres tóxico, me estoy deslizando bajo
Con el sabor de un paraíso envenenado
Soy adicto a ti
¿No sabes que eres tóxico?
Y me encanta lo que haces
¿No sabes que eres tóxico?
Se hace tarde para dejarte
Tomé un sorbo de mi taza del diablo
Lentamente, se está apoderando de mí
Demasiado alto, no puede bajar
Está en el aire y está por todas partes
¿Puedes sentirme ahora?
Con el sabor de tus labios, estoy en un viaje
Eres tóxico, me estoy deslizando bajo
Con el sabor de un paraíso envenenado
Soy adicto a ti
¿No sabes que eres tóxico?
Y me encanta lo que haces
¿No sabes que eres tóxico?
¿No sabes que eres tóxico?
El sabor de tus labios, estoy en un viaje
Eres tóxico, me estoy deslizando bajo
Con el sabor de un paraíso envenenado
Soy adicto a ti
¿No sabes que eres tóxico?
Con el sabor de tus labios, estoy en un viaje
Eres tóxico, me estoy deslizando bajo (tóxico)
Con el sabor de un paraíso envenenado
Soy adicto a ti
¿No sabes que eres tóxico?
Intoxícame ahora, con tu amor ahora
Creo que estoy listo ahora, creo que estoy listo ahora
Intoxícame ahora, con tu amor ahora
Creo que estoy listo ahora
---

---
---
▶️ 3Speak
---
---