Sunday Song - Así no te amará Jamás - Amanda Miguel | cover by @callmeenjoy
---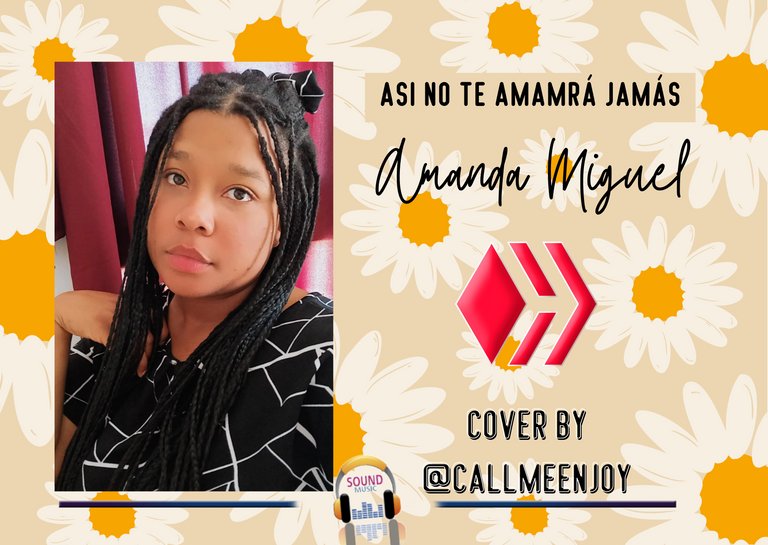 No sé que se siente que te rompan el corazón pero cuando voy a interpretar me meto en el papel de cada palabra de lo que está compuesta la canción.
Verdaderamente esta es una letra qué le llega a cualquier persona, qué te abandonen aún amando a esa persona incondicionalmente debe doler en el alma y aunque no sé que se siente no Se lo deseo A nadie.
Ayer una persona cercana a mí me comentaba que le sucedió esto y pues hoy amanecí con ganas de traer esta canción para ustedes el día de hoy, Y por supuesto para la comunidad de Sound music, así que se las traigo con mucho cariño. Joy.
I don't know what it feels like to have your heart broken but when I go to interpret I get into the role of each word of what the song is composed of.
Truly this is a lyric that touches any person, to be abandoned even if you love that person unconditionally must hurt in your soul and although I don't know what it feels like I don't wish it on anyone.
Yesterday a person close to me told me that this happened to him and today I woke up wanting to bring this song to you today, And of course for the community of Sound music, so I bring it to you with love. Joy.
LETRA/LYRICS
Amanda Miguel
"Así No Te Amará Jamás"
🎶
Yo sé que a tus amigos vas diciendo
Que ya no te importa más de mí
El tiempo al lado mío es un capitulo concluido sin final feliz
Yo sé que a esa mujer a quien le das
Lo que jamás quisiste darme a mí
Se atreve a comentar que yo no tengo dignidad
Que me tiene piedad
Ah ah ah ah
Tal vez yo deba resignarme y no llamarte más
Tal vez yo deba respetarme y no rogarte más
Tal vez deba dejar con toda dignidad
Que vivas un romance más
No sé quien de los dos es el que esta perdiendo más
No sé si te das cuenta con la estúpida que estás
Yo sé que no podrá quererte como yo
Así no te amarán jamás
Tal vez yo deba resignarme y no llamarte más
Tal vez yo deba respetarme y no rogarte más
Tal vez deba dejar con toda dignidad
Que vivas un romance más
No sé quien de los dos es el que esta perdiendo más
No sé si te das cuenta con la estúpida que estás
Yo sé que no podrá quererte como yo
Así no te amarán jamás
I know that you're telling your friends
That you don't care about me anymore
The time by my side is a chapter concluded without a happy ending
I know that to that woman to whom you give
What you never wanted to give me
She dares to comment that I have no dignity
That she has pity for me
Ah ah ah ah ah ah
Maybe I should resign myself and not call you anymore
Maybe I should respect myself and not beg you anymore
Maybe I should leave with all dignity
That you live one more romance
I don't know which one of us is losing more
I don't know if you realize how stupid you are
I know she can't love you like I do
That way you'll never be loved
Maybe I should resign myself and not call you anymore
Maybe I should respect myself and not beg you anymore
Maybe I should leave with all dignity
That you live one more romance
I don't know which of us is the one who is losing more
I don't know if you realize how stupid you are
I know she can't love you like I do
That way you'll never be loved
---

---

Translated with DeepL.com

Cover Banner edited in canva.com

---
---
▶️ 3Speak
---
---