Harold y el recogelatas (Relato) [Es-En]
Saludos amigos de Hive. Agradecido una vez más de poder compartir con ustedes un relato ficticio cargado de un gran mensaje de afecto y reflexión que espero puedan disfrutarlo tanto como yo lo hice al escribirlo.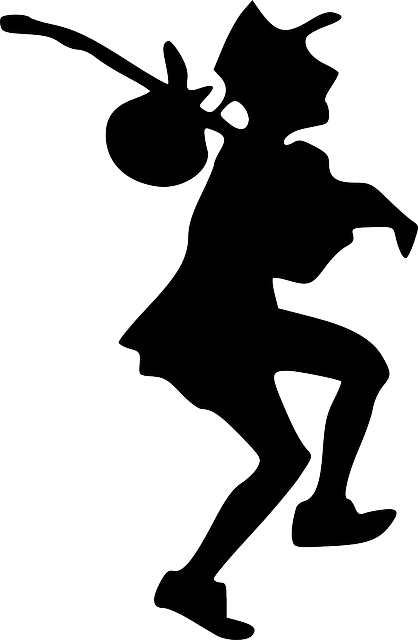 pixabay by Clker-Free-Vector-Images
Harold era un hombre que desde que nació parecía haber tenido todo lo que se necesitaba para triunfar en la vida. Provenía de una familia altamente reconocida a nivel nacional, y esto le abría las puertas de par en par en cualquier lugar a donde iba. Como hijo único, disfrutó de toda la atención de sus padres y familiares cercanos, quienes con cariño y dedicación le fueron mostrando el camino que lo podía llevar a un exitoso destino.
Después de una fugaz etapa de estudios llenos de elogios, becas y diplomas, por fin Harold llegó a la universidad. A pesar de tener un deseo y un don innato por el estudio de las plantas, solo por querer complacer los deseos de sus padres decidió estudiar la misma carrera de su papá en el campo de la ingeniería, emprendiendo una prometedora meta que pronto se convertiría en el más profundo debacle y que marcaría su vida de una manera muy significativa.
A pocos meses de haber iniciado sus clases, ya Harold sentía la carga emocional de asistir a la misma universidad de su padre, donde tenía que demostrar que estaba a la altura de las expectativas que se generaron debido a la reputación que lo precedía. El honor y el prestigio de la familia estaban en juego, y esto se convirtió en algo tan exigente para él, que de inmediato tuvo el efecto inesperado en su desempeño como estudiante.
Harold fue cediendo a la presión, y con esto, le abrió paso a cosas que al momento parecían ser esa válvula de escape que tanto necesitaba. Las drogas y el alcohol se fueron apoderando de él, a la vez que empezaba a faltar a clases y a reprobar sus exámenes, y dicho deterioro fue haciéndose más y más evidente, que al poco tiempo Harold tuvo que ser expulsado de la universidad. Aquel joven de futuro prometedor se convirtió en la vergüenza de una familia que solo le dio la espalda para resguardar el poco prestigio que les quedaba.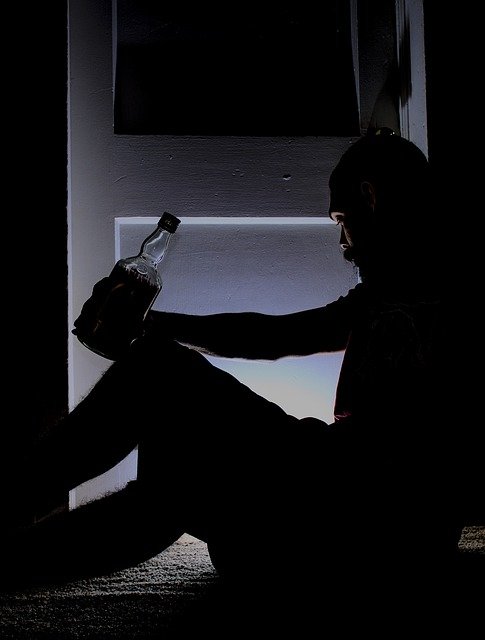 pixabay by guard113
El pasar de los años en la vida de Harold fue tan despiadado como contundente, echándose al abandono y a una vida llena de inmoralidad, vicios y desdicha. En cuestión de tiempo, aquel hombre que en algún momento tenía un claro propósito en la vida ahora vagaba en un mar de pobreza e infelicidad que paso a paso lo estaban encaminando a un desenlace fatal.
El exceso de alcohol y de las drogas lo llevó a una condición totalmente deprimente que casi le costó la vida, algo que Harold hasta parecía desear ante la ausencia de motivación alguna que lo pudiera levantar. Para este hombre, ya su vida no tenía ni sentido ni valor, ya no había nada que le pudiera dar algún rayo de luz o de esperanza. Todas las tardes solía ir a un parque solitario y casi abandono, donde día a día se preguntaba cuanto más tenía que sufrir.
Y fue en una de esas tardes en las que Harold, quien se encontraba entre gemidos y llanto, logró divisar a lo lejos algo que parecía ser como un espantapájaros, un hombre viejo y jorobado, algo desaliñado en su vestir, con un saco en la mano y una sonrisa que era su más grande carta de presentación.
"¿Quién es usted?" –Preguntó Harold mientras aun secaba sus lágrimas-.
"Yo soy el recogelatas" –Respondió aquel señor que no dejaba de sonreír-.
Y mientras ese misterioso hombre se marchaba al son de las latas que iba recogiendo y metiendo en su saco, Harold se sentía algo desconcertado por la actitud de aquel hombre con su extraña sonrisa. "¿Cómo se puede ser tan feliz siendo tan solo un recogelatas?" –Era ahora el gran dilema que no lograba conciliar Harold en su cabeza-.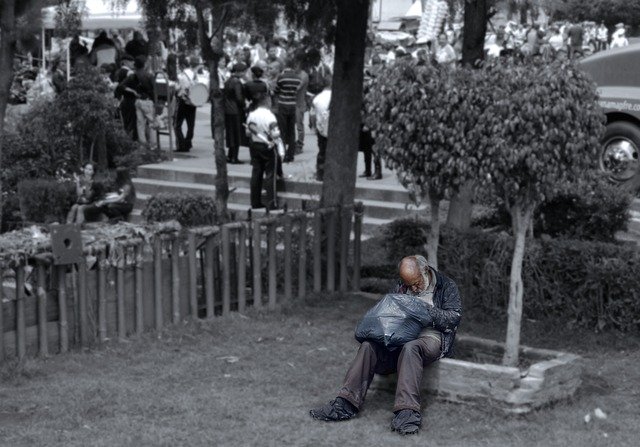 pixabay by Fjnezz
Así que al día siguiente, inquietado por la aparición de aquel desconocido, Harold decidió ir nuevamente al parque con la firme intención de encontrarse con quien se hacía llamar "el recogelatas". Y después de varias horas, al fin llegó, y sin perder más tiempo Harold se le acercó y le preguntó:
"¿Por qué se siente tan sonriente y feliz? ¿Acaso le gusta llevar tanta basura en ese saco?".
"No es basura, mi querido amigo. Son solo latas que llevo a mi casa para mi gran proyecto. Y realmente mi felicidad es tan evidente porque este es un trabajo que llevo haciendo desde hace muchos años y con el cual me siento motivado a seguir viviendo". –Respondió con total convicción aquel sabio recogelatas-.
Y luego añadió:
"Si lo deseas, algún día te llevaré a mi casa para hablar de mi proyecto".
Fueron muchos sentimientos encontrados los que intrigaban a Harold después de ese segundo contacto con ese viejo recogelatas. No lograba entender la armonía que encontraba en las palabras de aquel extraño señor, ni como una persona que al parecer no tenía nada tenía hasta un proyecto en marcha. "Tengo que descubrir que está tramando este hombre" –Fue el pensamiento que más se repitió en la mente de Harold aquella noche-.
Solo un par de días pasaron para que Harold y el recogelatas se encontraran en el parque.
"me gustaría poder visitarlo algún día y así poder conocer el proyecto en el que está trabajando" –Dijo Harold con más curiosidad que interés-.
"Si no hay algún inconveniente, podemos ir ahora mismo"- Replicó el recogelatas con mucha alegría-.
Y así se fueron los dos por un camino muy largo y boscoso, desconocido para Harold quien por primera vez llegó a temer por su vida al ceder a la propuesta de aquel extraño. Ya después de caminar por casi una hora, llegaron a lo que parecía ser un basurero. Unas láminas de zinc sostenidas por grandes estacas era el simulacro de una casa que parecía ser mecida por el viento, y un enorme y largo tronco en medio del lugar ofrecía sus servicios como el más cómodo sillón.
"¡Bienvenido a mi hogar!" –Exclamó con una gran sonrisa mientras lo invitaba a pasar-.
Harold se sentía desconcertado al ver las condiciones en las que aquel hombre vivía y de como hacía para poder sobrevivir. Aun en su asombro, Harold no olvidó el motivo de su visita. "¿Y dónde está tu gran proyecto?" –Preguntó sin más demora-.
De inmediato el recogelatas lo llevó a un depósito que estaba justo al lado de lo que era su hogar, y fue entonces cuando Harold pudo ver ante él una enorme montaña de latas que no tenía fin. "Con todo esto pienso construir un puente" –Dijo el recogelatas orgulloso de su labor.
"¿Un puente? ¡Eso es imposible!" –Enseguida replicó Harold-.
"Muchas cosas son imposibles, hasta que las haces realidad" – expresó el recogelatas sin vacilar-.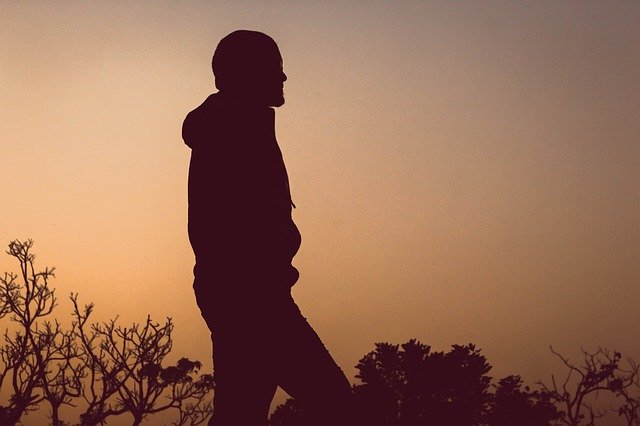 pixabay by T_ushar
Esas palabras despertaron una extraña sensación en Harold, quien ahora admiraba la determinación de un hombre a salir adelante por sus sueños y su anhelado proyecto. Y aquello se convirtió en algo por lo que Harold ahora también estaba interesado, no tanto por el puente como tal, sino porque en aquel entusiasta señor recogelatas había encontrado un amigo que jamás había tenido.
Todas las tardes Harold esperaba en el parque al hombre recogelatas para saludarlo y preguntarle sobre su proyecto, y en muchas ocasiones se ponía a recoger latas con él mientras caminaban a casa. Entre cuentos y anécdotas, aquellos dos hombres pasaban un rato agradable que a veces terminaban sentados en el largo tronco de sillón disfrutando de pan y café que Harold gustosamente preparaba para su amigo.
Extrañamente durante dos días, Harold se quedó esperando a su viejo amigo que no se asomaba por el parque. Ansioso por no saber de él, decidió llegar hasta su hogar, y justo al entrar lo primero que vio fue a aquel hombre un tanto rezagado y con muestras de dolor.
"A veces me siento muy cansado y prefiero reposar en mi casa. Desde hace mucho un doctor me mencionó que era una enfermedad muy grave y que solo me quedaban pocos años de vida, pero lo cierto es que ya han pasado más de treinta años de ese diagnóstico". –Y aun estando Harold sin asimilar esa respuesta, el recogelatas añadió:
"¿Viste cómo está quedando el puente?"
Harold no quería aceptar que su viejo amigo estaba muy enfermo, a la vez que no entendía la referencia a un puente que no existía y que quizás era el delirio de un hombre que empezaba a agonizar. Ese día Harold no se apartó del señor recogelatas, y aunque insistentemente le pidió para llevarlo a casa, este prefirió no abandonar su hogar ni mucho menos alejarse de su proyecto.
Harold no pudo conciliar el sueño esa noche, y por primera vez en su vida sintió interés genuino por el bienestar de alguien más. Se convirtió en un hombre que ya no andaba errante en sus penas y encontró una motivación por la felicidad de alguien más.
Una mañana lluviosa y copiosa subió el telón de un día que Harold nunca más olvidaría. Desesperado por saber de su viejo amigo, tomó sus cosas, algo de comida y un paraguas, y aun sin escampar fue a la casa del recogelatas. Mientras más se acercaba al lugar, más su pecho se apretaba y angustiaba por saber de su amigo a quien anhelaba ver. La figura de un hombre acostado en el sillón de madera era lo que Harold iba revelando a medida que se aproximaba a su destino.
Su amigo el recogelatas yacía profundamente dormido y sin respirar, con el saco de un lado y una extraña sonrisa que firmaba la más triste de todas las despedidas. Quebrado por sus sentimientos, Harold cedió al dolor de su alma, y sus lágrimas llegaron a ser más que las gotas de lluvia que esa mañana empañaron su vida. Casi sin fuerzas y con el llanto destrozado, Harold se negaba a dejar a su viejo amigo, cuando de pronto una tímida brisa desprendió una hoja que pendía en una de las manos del recogelatas, con una nota que decía:
"Amigo Harold, gracias por llegar a mi vida. El puente es todo tuyo. Te lo dejo a ti, para que nunca dejes de sonreír y seas tan feliz como yo lo fui".
Aquellas palabras marcaron un antes y un después en la vida de Harold, un hombre que ahora estaba determinado por rescatar su alma que por mucho tiempo padeció sin sentido y llena de vacío. Bastó un poco de tiempo para que Harold retomara sus estudios, ahora en la carrera que le gustaba y el cual lo llevó a un trabajo de gran alegría y satisfacción propia que jamás pensó que lograría alcanzar. No necesito de aquel prestigio que un apellido le daba, ya que con su dedicación se forjó su propio legado al lado de una mujer y un hijo que llegaron a ser su más grande apoyo y adoración.
Han pasado los años, y Harold continua yendo al mismo parque donde una vez llegó a conocer a ese personaje inolvidable. Entre recuerdos y lágrimas cruzadas, Harold sigue pensando en su amigo el recogelatas, y más en aquel regalo que este le dejó: el puente. "¿Qué significaba realmente esto para él y para mí? ¿Acaso se trataba de la motivación que ese hombre tenía y que ahora logró poner en mí? ¿O más bien se trató de aquella amistad que marcó un ayer y un hoy en mi vida?".
El ruido de las latas que caen una sobre otra, hacen un eco retumbante en el corazón de Harold, quien anhela algún día poder encontrarse a su viejo amigo, ese sonriente y alegre personaje que llegó a ser un verdadero puente en la vida de un hombre que en el sueño de un recogelatas encontró el tesoro más grande que puede existir: el propósito de vivir y de ser feliz.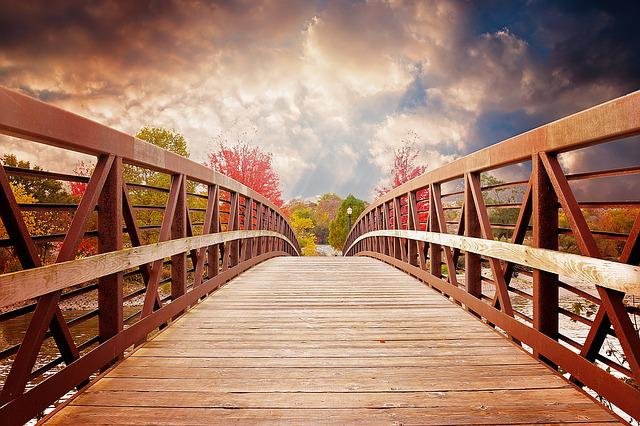 pixabay by esudroff
Gracias por darle vida a mi publicación al dedicarle tu tiempo y atención.
Hasta pronto.
ENGLISH VERSION
Greetings friends of Hive. Grateful once again to be able to share with you a fictitious story loaded with a great message of affection and reflection that I hope you can enjoy as much as I did writing it.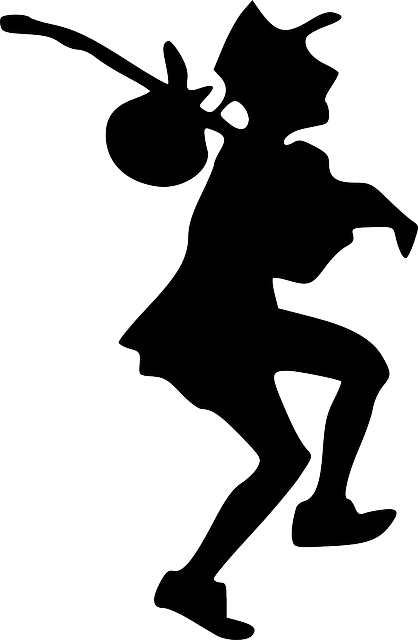 pixabay by Clker-Free-Vector-Images
Harold was a man who from birth seemed to have had everything it took to succeed in life. He came from a family that was highly recognized nationally, and this opened wide doors for him wherever he went. As an only child, he enjoyed the full attention of his parents and close relatives, who with love and dedication showed him the path that could lead him to a successful destiny.
After a fleeting period of studies full of accolades, scholarships and diplomas, Harold finally made it to college. Despite having an innate desire and gift for the study of plants, just to please his parents' wishes, he decided to study the same career as his father in the field of engineering, undertaking a promising goal that would soon become the most profound debacle and that would mark his life in a very significant way.
A few months into his classes, Harold was already feeling the emotional burden of attending the same university as his father, where he had to prove that he lived up to the expectations that were generated because of the reputation that preceded him. The family's honor and prestige were at stake, and this became so demanding for him that it immediately had the unexpected effect on his performance as a student.
Harold was giving in to the pressure, and with this, he gave way to things that at the time seemed to be that escape valve he so desperately needed. Drugs and alcohol were taking over him, while he began to miss classes and fail his exams, and this deterioration became more and more evident, and soon Harold had to be expelled from the university. That young man with a promising future became the shame of a family that only turned its back on him to protect the little prestige they had left.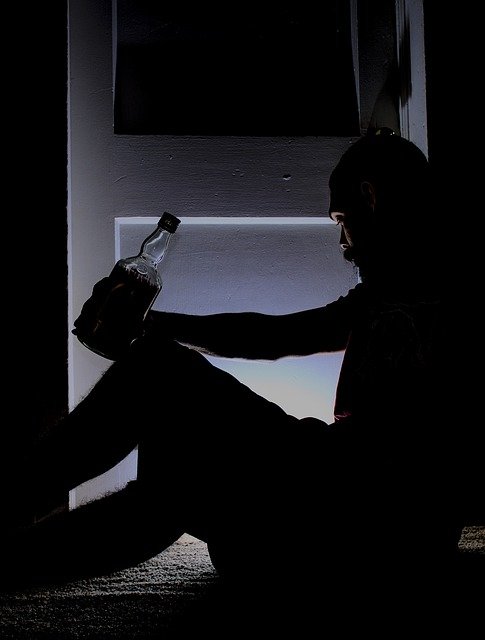 pixabay by guard113
The passing of the years in Harold's life was as merciless as it was forceful, casting him into abandonment and a life full of immorality, vice and unhappiness. In a matter of time, the man who once had a clear purpose in life was now wandering in a sea of poverty and unhappiness that step by step was leading him to a fatal outcome.
The excess of alcohol and drugs led him to a totally depressing condition that almost cost him his life, something that Harold even seemed to desire in the absence of any motivation that could lift him up. For this man, his life no longer had any meaning or value, there was nothing that could give him any ray of light or hope. Every afternoon he used to go to a lonely and almost abandoned park, where day after day he wondered how much more he had to suffer.
And it was on one of those afternoons that Harold, who was in between moans and cries, managed to make out in the distance something that seemed to be like a scarecrow, an old and hunchbacked man, somewhat disheveled in his dress, with a sack in his hand and a smile that was his greatest calling card.
"Who are you?" -Harold asked while still wiping away his tears.
"I am the can-collector" -answered the man who kept smiling-.
And while that mysterious man was leaving to the sound of the cans that he was collecting and putting in his sack, Harold felt a little disconcerted by the attitude of that man with his strange smile. "How can you be so happy being just a can collector?" -That was now the great dilemma Harold could not reconcile in his head-.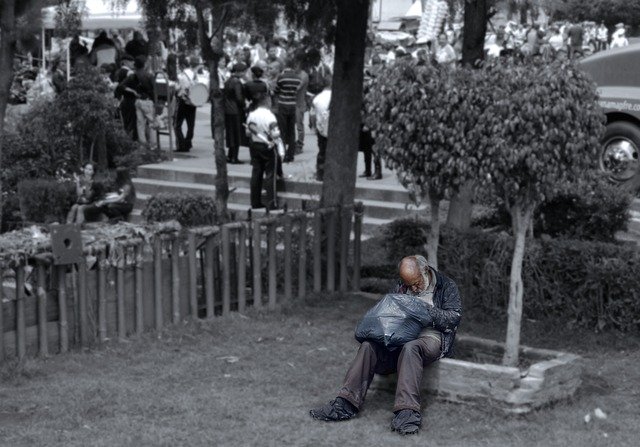 pixabay by Fjnezz
So the next day, disturbed by the appearance of that stranger, Harold decided to go to the park again with the firm intention of meeting the man who called himself "the can-collector". And after several hours, he finally arrived, and without wasting any more time Harold approached him and asked:
"Why do you feel so smiling and happy, and do you like to carry so much garbage in that sack?".
"It's not trash, my dear fellow. It's just cans that I'm taking home for my big project. And really my happiness is so evident because this is a job that I have been doing for many years and with which I feel motivated to continue living." -That wise can collector answered with total conviction.
And then he added:
"If you wish, some day I will take you to my house to talk about my project".
There were many mixed feelings that intrigued Harold after that second contact with the old can-collector. He could not understand the harmony he found in the words of that strange gentleman, nor how a person who apparently had nothing even had a project underway. "I have to find out what this man is up to" -That was the thought that kept repeating in Harold's mind that night-.
Only a couple of days passed before Harold and the ratcatcher met in the park.
"I'd like to visit him someday so I can learn about the project he's working on," Harold said with more curiosity than interest.
"If there is no inconvenience, we can go right now"- replied the can-collector with a lot of joy-.
And so the two went down a very long and wooded road, unknown to Harold, who for the first time came to fear for his life when he gave in to the stranger's proposal. After walking for almost an hour, they arrived at what seemed to be a garbage dump. Some zinc sheets supported by large stakes was the simulacrum of a house that seemed to be rocked by the wind, and a huge and long trunk in the middle of the place offered its services as the most comfortable armchair.
"Welcome to my home!" -she exclaimed with a big smile as she invited him in-.
Harold was puzzled to see the conditions in which the man lived and how he managed to survive. Even in his amazement, Harold did not forget the reason for his visit. "And where is your big project?" -he asked without further delay-.
Immediately the can collector took him to a warehouse that was right next to what was his home, and it was then that Harold could see before him a huge mountain of cans that had no end. "With all this I plan to build a bridge," said the can collector, proud of his work.
"A bridge? That's impossible!" -Harold retorted.
"Many things are impossible, until you make them come true," said the can collector without hesitation.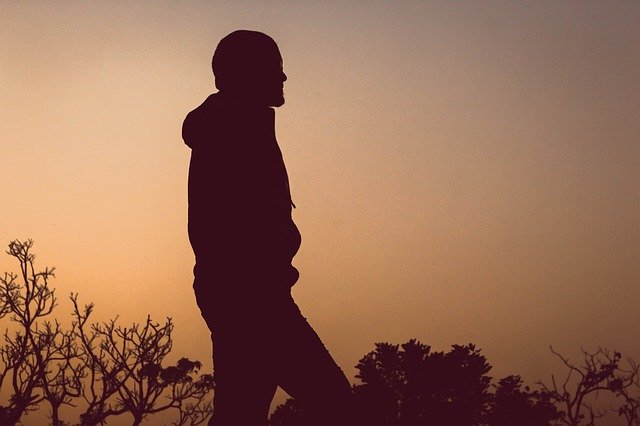 pixabay by T_ushar
Those words awakened a strange feeling in Harold, who now admired the determination of a man to go forward for his dreams and his longed-for project. And that became something Harold was now also interested in, not so much because of the bridge as such, but because in that enthusiastic can-collector he had found a friend he had never had before.
Every afternoon Harold would wait in the park for the can man to greet him and ask him about his project, and on many occasions he would pick up cans with him as they walked home. Between stories and anecdotes, those two men would spend a pleasant time that sometimes ended up sitting on the long log couch enjoying bread and coffee that Harold would gladly prepare for his friend.
Strangely for two days, Harold was left waiting for his old friend who did not show up at the park. Anxious not to hear from him, he decided to make his way to his home, and just as he entered the first thing he saw was that man somewhat straggling and showing signs of pain.
"Sometimes I feel very tired and I prefer to rest at home. A long time ago a doctor told me that it was a very serious disease and that I only had a few years to live, but the truth is that it has been more than thirty years since that diagnosis". And even though Harold still could not assimilate that answer, the can-collector added:
"Did you see how the bridge is coming along?"
Harold did not want to accept that his old friend was very ill, and at the same time he did not understand the reference to a bridge that did not exist and that perhaps it was the delirium of a man who was beginning to agonize. That day Harold did not leave Mr. Can Picker's side, and although he insistently asked him to take him home, the latter preferred not to leave his home, much less to move away from his project.
Harold could not sleep that night, and for the first time in his life he felt a genuine concern for someone else's welfare. He became a man who no longer wandered in his sorrows and found motivation for someone else's happiness.
One rainy, muggy morning raised the curtain on a day Harold would never forget. Desperate to hear from his old friend, he grabbed his things, some food and an umbrella, and even without a shower, went to the can picker's house. The closer he got to the place, the more his chest tightened and he was anxious to know about his friend whom he longed to see. The figure of a man lying on the wooden couch was what Harold was revealing as he approached his destination.
His friend the can-collector lay sound asleep and not breathing, with his coat on one side and a strange smile that signed the saddest of all farewells. Broken by his feelings, Harold yielded to the pain of his soul, and his tears became more than the raindrops that morning marred his life. Almost without strength and with shattered tears, Harold was refusing to leave his old friend, when suddenly a timid breeze released a leaf that hung in one of the can picker's hands, with a note that read:
"Friend Harold, thank you for coming into my life. The bridge is all yours. I leave it to you, so that you will never stop smiling and be as happy as I was".
Those words marked a before and after in Harold's life, a man who was now determined to rescue his soul that for a long time suffered senselessly and full of emptiness. It only took a short time for Harold to resume his studies, now in the career he loved and which led him to a job of great joy and self-satisfaction that he never thought he would achieve. He did not need the prestige that a family name gave him, because with his dedication he forged his own legacy with a wife and son who became his greatest support and adoration.
Years have passed, and Harold continues to go to the same park where he once got to know that unforgettable character. Between memories and crossed tears, Harold still thinks about his friend the ratcatcher, and more about that gift he left him: the bridge. "What did it really mean to him and to me? Was it about the motivation that man had and that he now managed to put in me? Or was it more about that friendship that marked a yesterday and a today in my life?".
The sound of the cans falling one on top of the other echoes in Harold's heart, who longs one day to meet his old friend, that smiling and cheerful character who became a real bridge in the life of a man who, in the dream of a can-collector, found the greatest treasure that can exist: the purpose of living and being happy.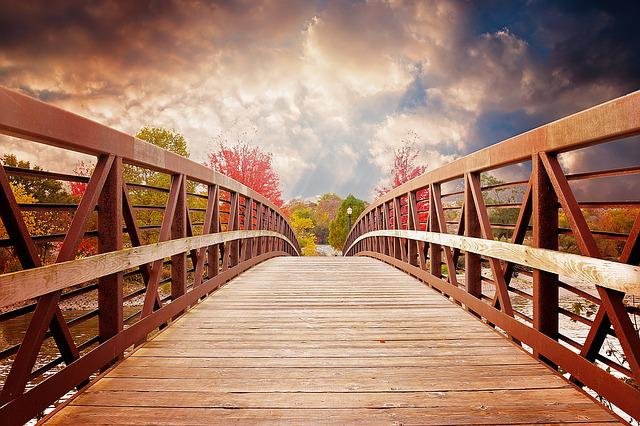 pixabay by esudroff
Thank you for giving life to my publication by dedicating your time and attention to it.
See you soon.
---
---