Horror in the 1990s: The First Power (1990)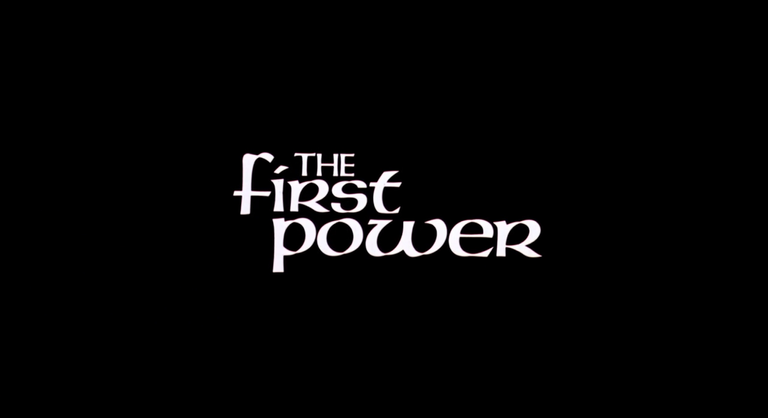 Here we go folks, time for some fun
Image courtesy of the original media and captured by myself
---
The First Power (1990)

Director: Robert Resnikoff
Writer: Robert Resnikoff

Starring

Lou Diamond Phillips
Tracy Griffith
Jeff Kober
Mykel T. Williamson
Elizabeth Arlen

Classification

R
98 minutes
source

---
Introduction
I'm attempting to tread a path least travelled in the 1990s. A decade with some interesting films within the horror genre but pales in comparison to the previous one in my humble opinion. You won't have to dig too deep to find interesting subject matter but the genre was on the decline. Those that have enjoyed horror will always find something to watch and when they can't you simply move backwards in years until you hit something that strikes your fancy.
Today we're dealing with a killer who's spirit has returned after death to continue his killing. Standard genre fare or something a little more?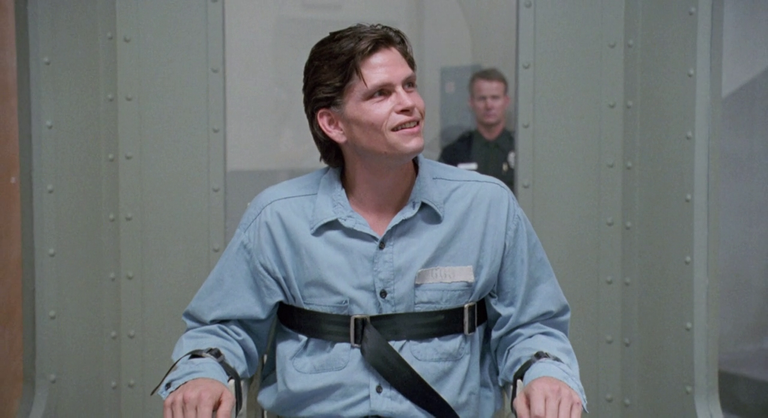 You must be evil if you're smiling in the gas chamber
Image courtesy of the original media and captured by myself
---
Plot
The setting is Los Angeles, California and our brave protagonist Detective Russell Logan (Lou Diamond Phillips) is on the hunt for a serial killer known as the Pentagram Killer, Patrick Channing (Jeff Kober). The prolific killer is caught by the hands of Logan with the aid of his team and Tess Seaton (Tracy Griffith), a psychic. He's convicted and put to death against the behest of Miss Seaton. Channing doesn't remain dead for long as his spirit returns with some help from his good friend Satan.
There are three powers that one can obtain from God or Satan. The third power is possession. The second power is clairvoyance. The first power is resurrection.
Will Detective Logan, the LAPD and Tess be able to stop the even more powerful and seemingly unstoppable Patrick Channing?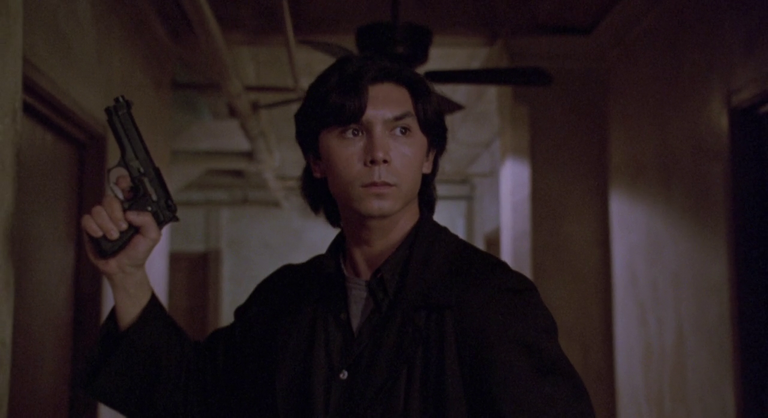 Detective Logan and his mullet will find his man, spirit or whatever he is no matter what
Image courtesy of the original media and captured by myself
---
Analysis
This film has always stuck with me over the years. There's something genuinely eerie about the entire affair.
The opening theme music by Stewart Copeland is a creepy usage of stark piano notes, drums and bells being rung. Strange stretched organic sounds further add to this distorted landscape of sound. I'll never forget the first few notes as goosebumps appear each time and every time.
There are scenes that remind me of other films such as The Terminator, The Exorcist and The Amityville Horror at times while still remaining a unique experience.
The use of light and shadow is effective throughout. This is horror so we'll need some darkly lit areas and night shots. Numerous shots of candle lit sets, churches and sewers fill the film and fit the tone nicely in the otherwise bright and sunny Los Angeles.
The use of groan worthy humor often makes an appearance. At times hammy with its own special charm. Dialogue and characters do add that levity be it intended or not.
Playing with the sanity of all characters is a fun aspect that appears often. A room filled with bloody pentagrams or hearing voices of the killer. Is it real or imagined?
The stunt work is fabulous here. No cg and all practical. Car chases, car flips, jumps from buildings, full body burns, water, fire and explosions are all littered throughout. You'll never be taken out of the film like the modern day trappings of cg fests that bore me to tears.
The pacing and editing work well here and never annoy or frustrate. The length is acceptable within the genre and thankfully doesn't overstay its welcome.
The blood and gore is kept to an acceptable limit here. Nothing over the top but we do see some of the carnage left in the wake of the killer. Inventive kills and scenarios of those he dispatches once he's back at it again.
I love the lack of political correctness in this era. Certain scenes stick out like a sore thumb when viewed through the prism of today. Some of these lines of dialogue do make me laugh as we move forward in time with everything that is entailed with that.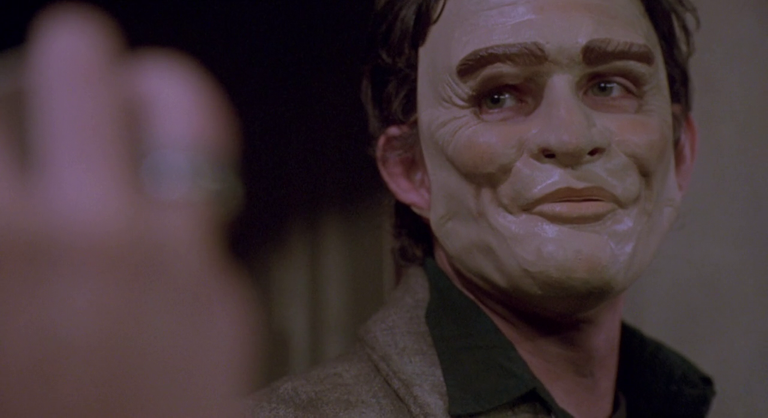 Flashbacks of a horror icon with the initials MM come to mind for no apparent reason
Image courtesy of the original media and captured by myself
---
Closing words
A guilty pleasure of mine? Yes and might be one of yours for all I know. Those coming in with modern sensibilities will no doubt dismiss this film. The subject matter has been dealt with after this film and probably outdone by later films within this mold.
Standard genre fare? Yes, all the tropes are present here for all to see. The high strung police officer, the sadistic killer, the psychic, visions, strange killings, a catchphrase and a great theme. I'd like to think this all melds together into something memorable for those who enjoy this fare.
The film did not set the world on fire but did leave an impression on me. Lou Diamond Philips was a relatively known commodity at the time and this is what initially peaked my interest. Seeing him in a horror movie sounded like a great idea and it was.
A police procedural with a supernatural spin is what's in store for the viewer that watches this. The horror appreciator will find a rough around the edges film with some interesting concepts. Possession, the nature of the wandering soul and potential complete resurrection all appear possible from the evil side of life.
See you around buddy boy.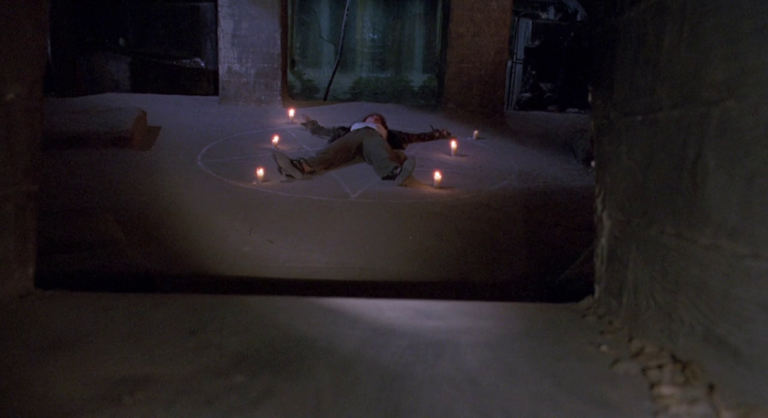 Never a good look to be found bound and spreadeagle on a pentagram
Image courtesy of the original media and captured by myself
---
Extras
Thank you for reading and I thought I'd spice up my formatting. I prefer to dump my brain out into written form without being caught in all the structural hangups that end up costing myself more time than writing the article itself. I still require paragraphs as a bare minimum or I can't read anything of length as that's the format I often encounter in the writings found on the internet. I prefer a spartan approach as the written word is King and always will be to me above all else. KISS, keep it simple stupid is my mantra and that will never change.
There are so many challenges I can barely keep up. You can never have enough horror films in my opinion and I love hearing about the thoughts from others.
@badnewsbeards initiative is taking off so everyone better visit and take part while you still can. The more exposure the better!
Thanks for running your initiative @wiseagent
---
Trailer

A trailer that spoils most of the movie sadly but a great synopsis for those with two minutes to spare. Most of the memorable scenes are thrown in here haphazardly to grab the attention of the viewer. I hate when this happens and is the reason why I rarely watch them until I've seen the film in question or at all.
---
---