Around The World: Challenge - #6/3 EVALUATION (vyhodnocení)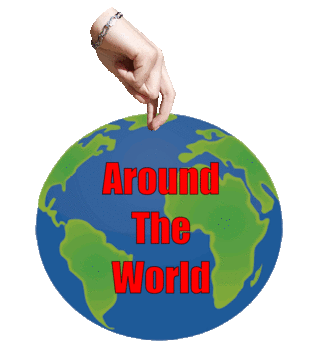 (Google translate from Czech)
V jednom minulém vyhodnocení (3/3) jsme podnikli dlouhý let směrem na východ. Dnes začneme opět v Praze, ale poletíme na západ :-)
In one last evaluation (3/3), we took a long flight to the east. Today we will start again in Prague, but we will fly west :-)
---
---
Vítejte u vyhodnocení šestého kola fotografické soutěže pro všechny uživatele Hive
Welcome to the evaluation of the sixth round of the photo competition for all Hive users
𝓐𝓻𝓸𝓾𝓷𝓭 𝓣𝓱𝓮 𝓦𝓸𝓻𝓵𝓭
---
---
Vítám vás jménem "cestovní kanceláře" ATW na palubě leteckého speciálu.
Podnikneme spolu let kolem světa. Podíváme se na pět míst ve třech světadílech. Doufám, že sebou máte opalovací krém, plavky a svetry :-).
Pohodlně se usaďte, náš let právě začíná.
První místo jen tak přeletíme stejně, jako to udělal
@godfish
. Pod vámi vidíte
hrad Karlštejn
, který nechal postavit římský císař a král Český Karel IV., blahé paměti. Tato fotografie vynesla svému autorovi
první cenu
(1.5 HBD + 60 AFIT)
Welcome on behalf of the "travel agency" ATW on board the air special.
We take a flight around the world together. Let's look at five places on three continents. I hope you have sunscreen, a swimsuit and sweaters :-).
Sit comfortably, our flight is just beginning.
We will just fly over the first place just like
@godfish
did. Below you you can see
Karlštejn Castle
, which was built by the Roman emperor and King Bohemian Charles IV., A happy memory. This photo won its author the
first prize
(1.5 HBD + 60 AFIT)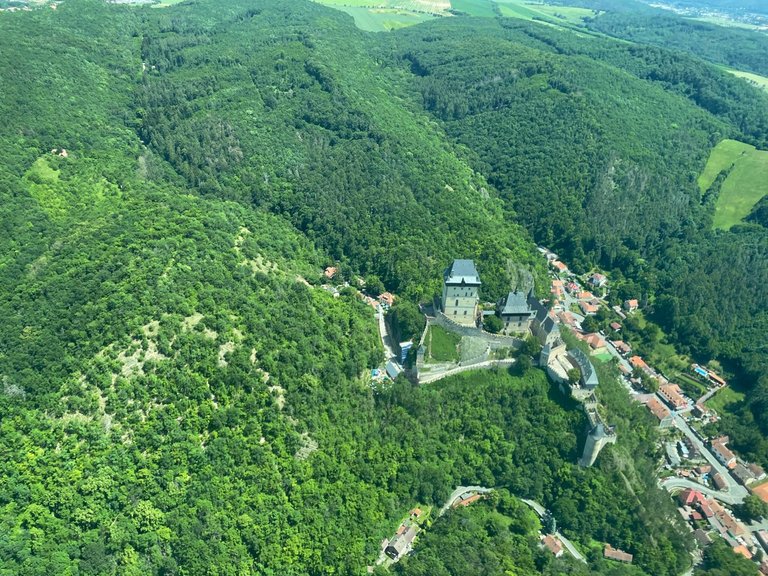 ---
Čeká nás dlouhý let. Další místo, které navštívíme se totiž nachází skoro na konci země. Připravte si teplé oblečení. I když přistaneme v Ohňové Zemi u
laguny Esmeralda
, je na tomto jižním konci Argentiny poměrně chladno :-). Děkujeme za pozvání od
@jlufer
. S radostí mu předávám
druhou cenu
(1 HBD)
We have a long flight ahead of us. The next place we visit is located almost at the end of the country. Prepare warm clothes. Even though we land in Tierra del Fuego near the
Esmeralda Lagoon
, it is quite cold at this southern end of Argentina :-). Thanks for the invitation from
@jlufer
. I am happy to present him with the
second prize
(1 HBD)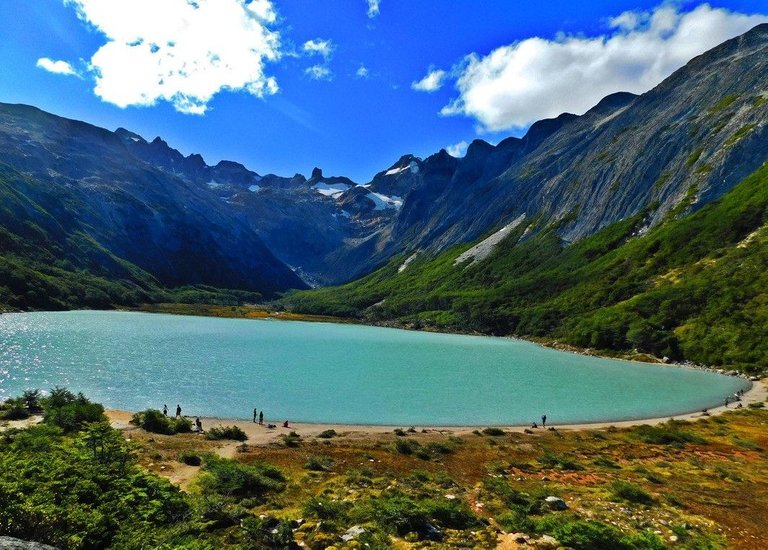 ---
Po chladném jihu nás čeká let do teplých krajů. Zde přijdou vhod plavky a opalovací krém :-).
@tommyl33
nás totiž pozval do Vietnamu, na místo zvané
Ha Long Bay
. Již na nás čekají místní loďky, aby nás provezly kolem skalnatých ostrůvků. Nevím, kolik taková plavba stojí, ale autor tohoto snímku obdržel
třetí cenu
(0.5 HBD)
A flight to the warm regions awaits us in the cold south. Swimwear and sunscreen will come in handy here :-).
@tommyl33
invited us to Vietnam, to a place called
Ha Long Bay
. Local boats are already waiting for us to take us around the rocky islands. I don't know how much such a cruise costs, but the author of this picture received the
third prize
(0.5 HBD)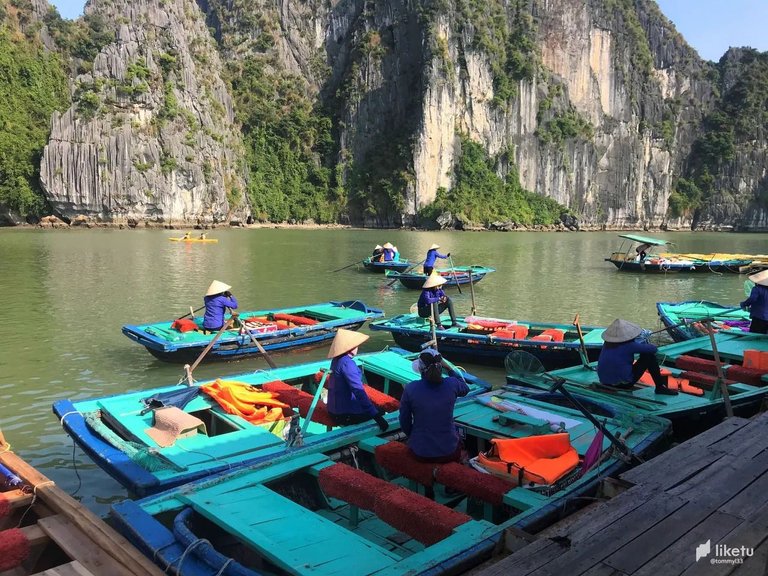 ---
Opouštíme exotické kraje a vracíme se zpět do Evropy. Přistaneme nedaleko polských Katovic. Autor fotografie
@merthin
nás pozval na západ slunce u řeky
Czarna Przemsza
. Neudal sice přesné místo, ale i tak si u poroty "vybojoval"
speciální cenu
(1.7 HBD + 100 AFIT) :-)
We leave exotic regions and return to Europe. We will land near Katowice, Poland. Photo author
@merthin
invited us to the sunset by the river
Czarna Przemsza
. He didn't give the exact place, but he still "won" a
special prize
with the jury (1.7 HBD + 100 AFIT) :-)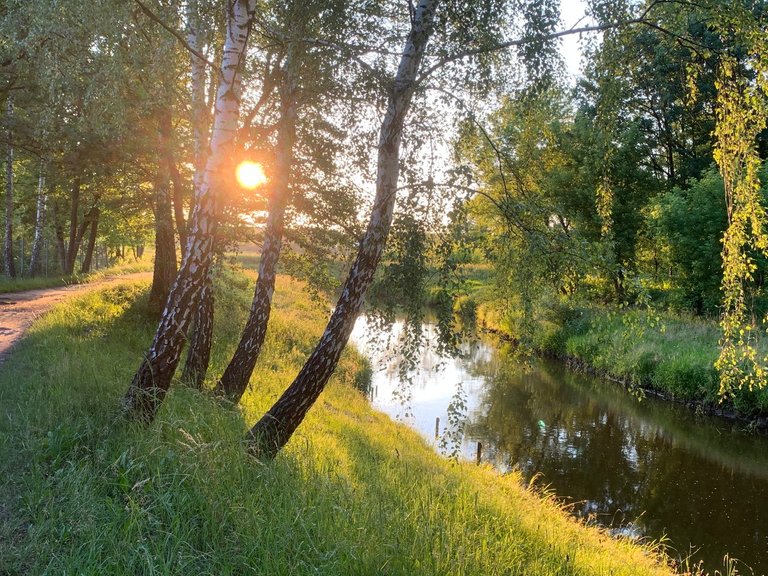 ---
Poslední místo, které uvidíte před přistáním, je pohled na
Prahu
z místa Dívčí hrady. Autor fotografie
@phortun
si zvolil neobvyklý pohled a obdržel za to druhou
třetí cenu
(0.5 HBD)
The last place you will see before landing is a view of
Prague
from the place Dívčí hrady. Author of photo
@phortun
chose an unusual view and received the second
third prize
(0.5 HBD)
---
---
Těší mne, že jste použili letecký speciál "cestovní kanceláře ATW" a těším se spolu s vámi na další let.

Blahopřeji všem autorům fotografií k získaným cenám a děkuji jim za jejich pozvání na zajímavá místa.
I'm glad you used the flight special "ATW travel agency" and I'm looking forward to the next flight with you.

I congratulate all the authors of the photos for the awards they received and thank them for inviting them to interesting places.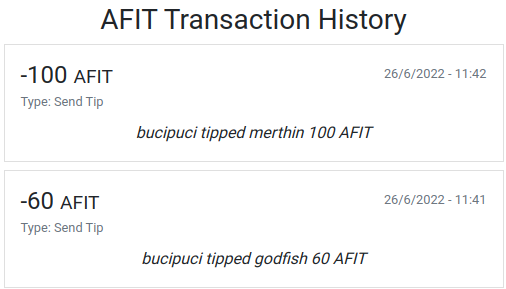 Speciální poděkování porotě ve složení:
Special thanks to the jury consisting of:
@loulou1987, @petrvl, @xlisto, @zirky, @jjprac, @godfish, @hairyfairy, @birdwatcher


Máte zájem o tuto soutěž, ze které ještě nikdo neodešel bez odměny?
V tom případě klikněte na konci článku na logo (gif) soutěže a přečtěte si pravidla pro účast na soutěži :-).
Are you interested in this competition, from which no one has left without a reward?
In that case, click on the logo (gif) of the competition at the end of the article and read the rules for participating in the competition :-).




created by @xlisto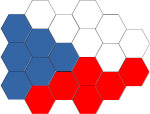 Poznámka:
Uvedené fotografie jsou vlastnictvím hodnocených autorů.
Note:
These photos are the property of the rated authors.
---
---