Share your Battle Weekly Challenge (Wave Runner) - My entry

Hey everyone,
I'm currently addicted to Splinterlands once again. I haven't played for a long time and just started playing a couple of weeks ago but I am instantly hooked once again.
@splinterlands is now holding the weekly Share your Battle contest and I thought it would be fun to take part. If you also want to participate, have a look here for more information.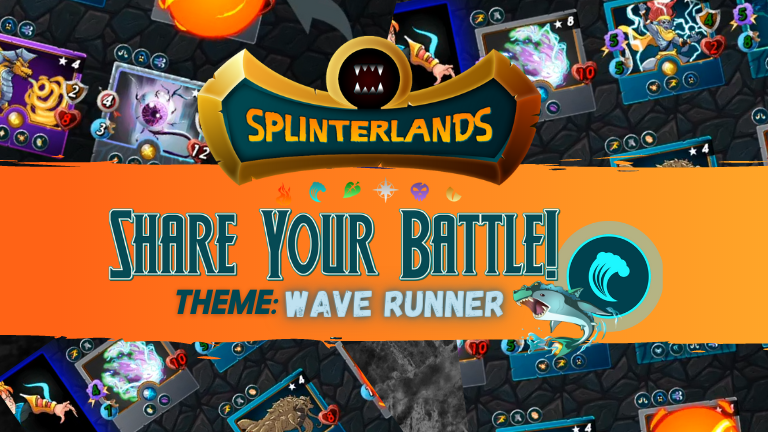 Source
My lineup
---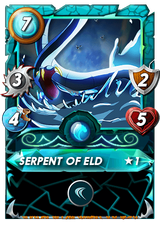 The Serpent of Eld is a good front row card in my opinion. The card has 5 health and 2 armor and can therefore take a lot of damage. In addition, it does a lot of damage itself with 3 Melee attack and hence is great for protecting the cards behind it. A Speed of 4 is another advantage of the Serpent of Eld.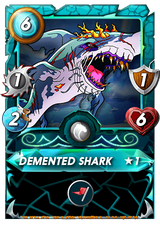 I've placed the Demented Shark in second position because it is also a really strong monster that won't be defeated that easily. I like the Demented Shark a lot, especially because he adds one Melee attack to all friendly monsters which can help a lot. In my case he added +1 attack to each of my cards except the Crustacean King. What I don't really like is his attack of only 1 but he's still a strong card which improved my lineup a lot. I don't play this card a lot but in this case it was really helpful.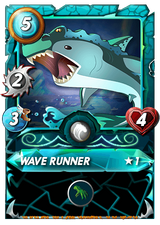 Then there's the Wave Runner. He's the main card of this weeks contest, so I had to include him. I placed him on third position because he only has 4 health. This way he was protected by the Serpent of Eld and the Demented Shark, so he wouldn't be defeated instantly. I like this card a lot but you have to make sure that you don't place him in front.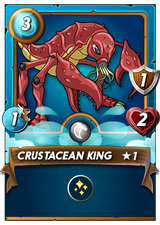 Last but not least I have chosen the Crustacean King. I actually use this card almost every time I fight with the water team because I love his ability to heal the first card every round. He healed my Serpent of Eld which helped me out a lot, so he was a good addition to my team.
---
The Fight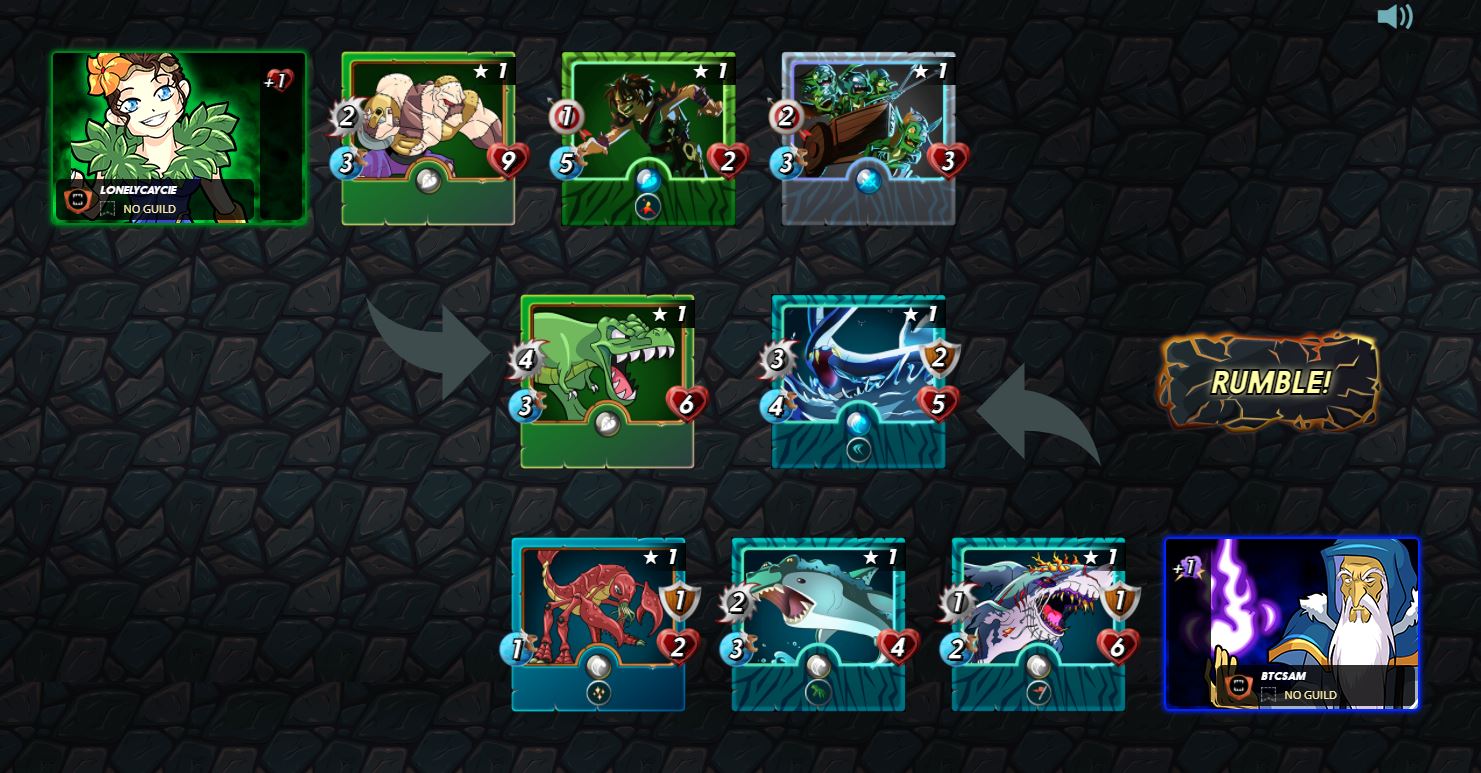 I fought against @lonelycaycie who is quite new to the game (battling since August 2021) but already played more than 1,600 matches which is impressive. She was playing with the earth team and used the Rexxie in first position, followed by a Flesh Golem, Child of the Forest and Goblin Chariot.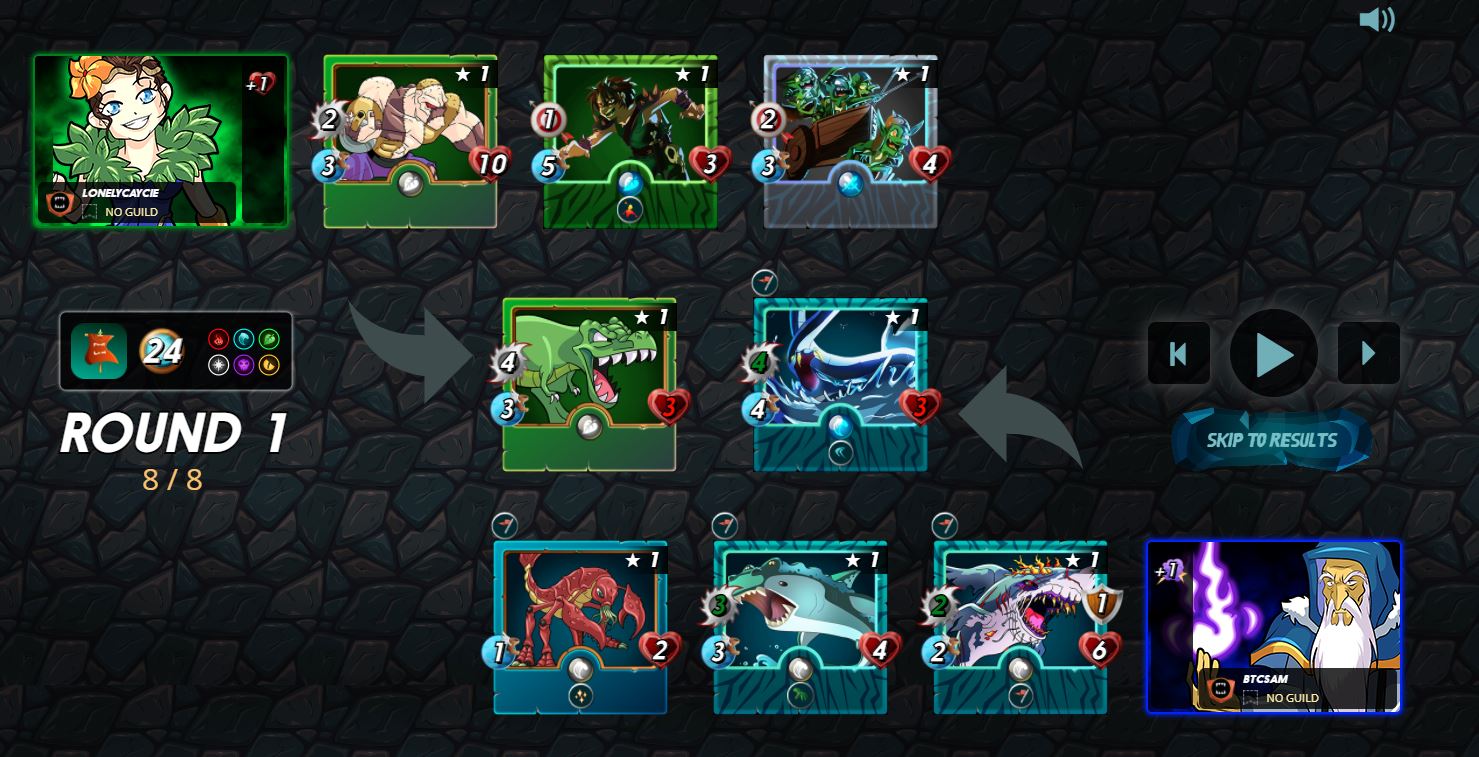 In the first round I was able to do a lot of harm, especially to the Rexxie. At the same time my Serpent of Eld had to take a lot of damage but fortunately was healed by the Crustacean King.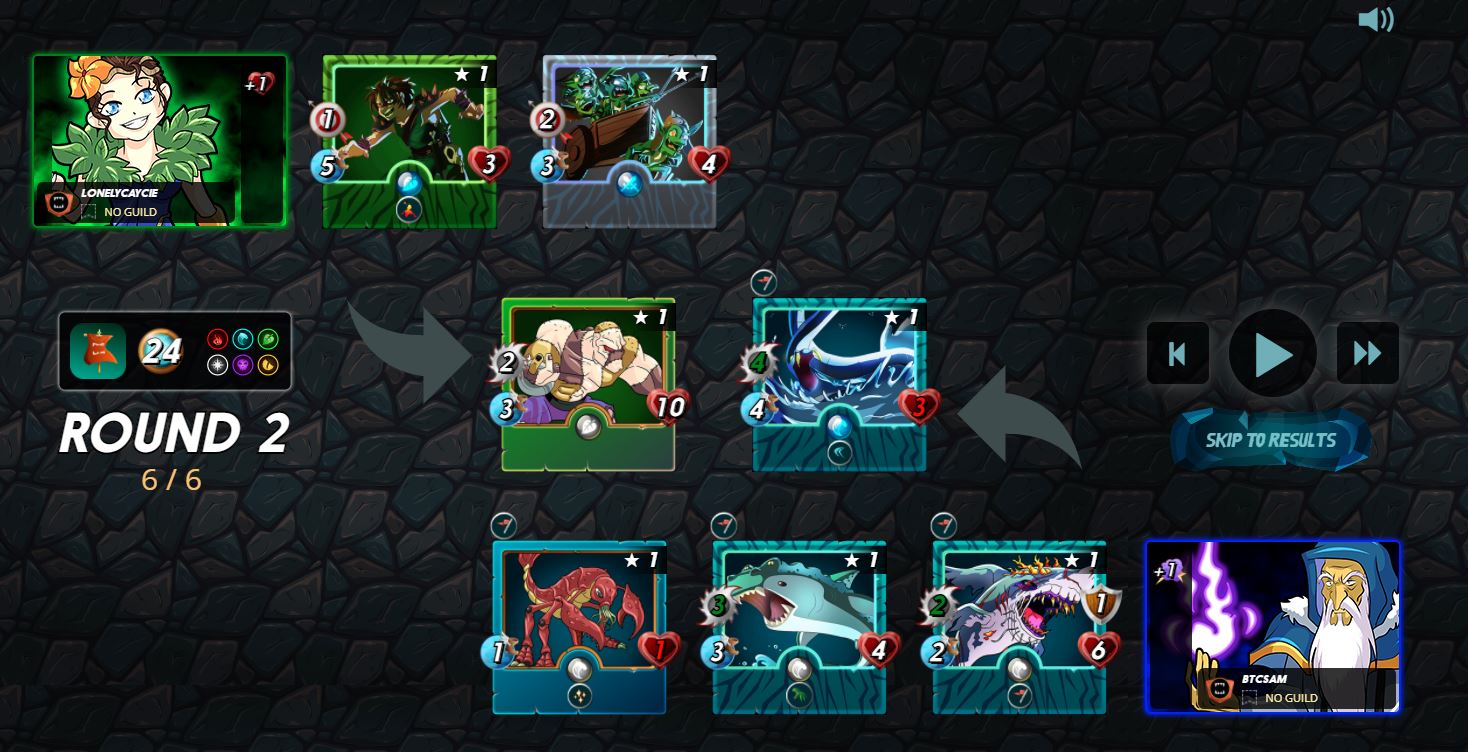 Round 2 went pretty good for me, the opposing Rexxie was defeated and although my Serpent of Eld was hit by the Flesh Golem it stayed at 3 health because it was healed again.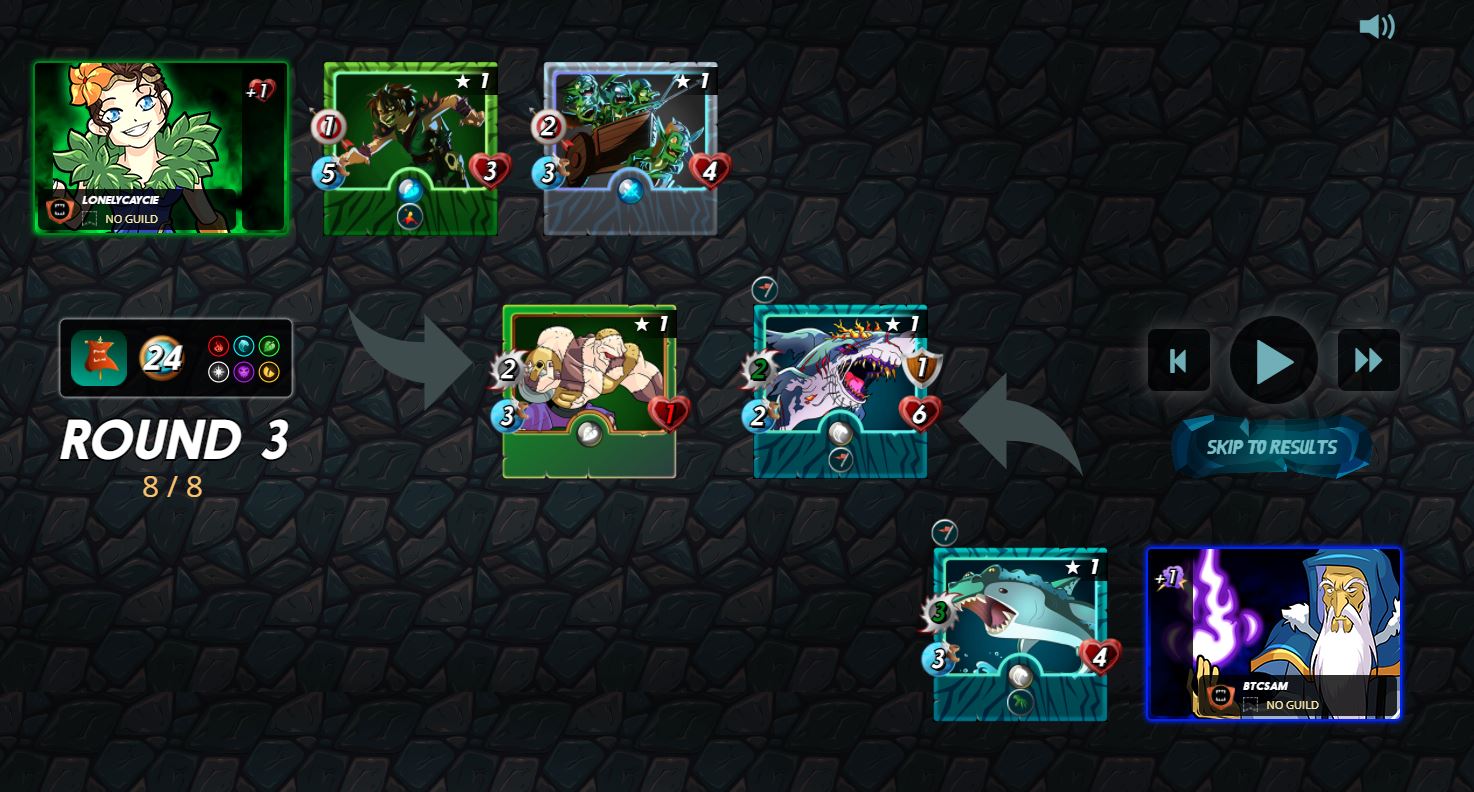 Round 3 was okay: I lost my Crustacean King and the Serpent of Eld but also deployed some massive hits.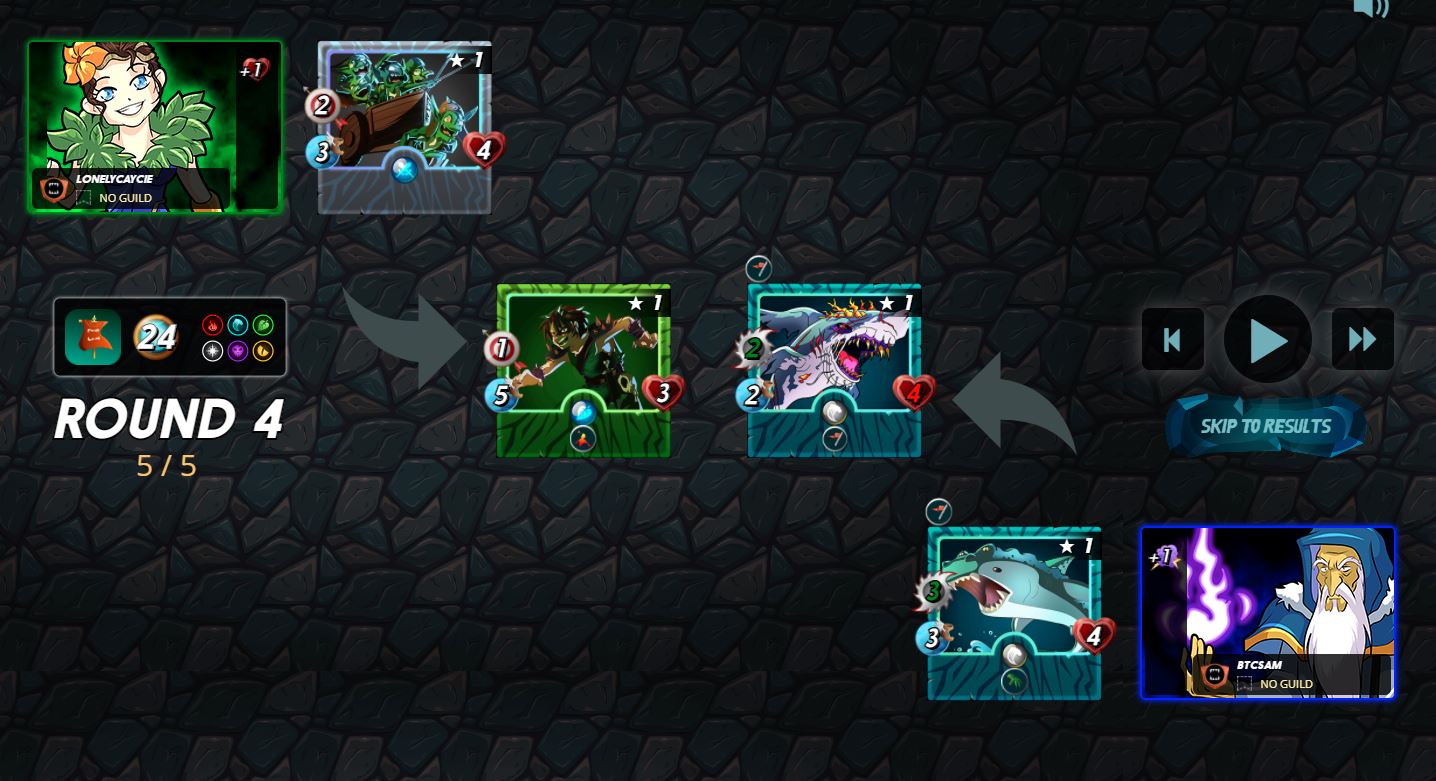 Once the Flesh Golem was defeated in round 4 the game was decided and I could finish the game within rounds 5 and 6.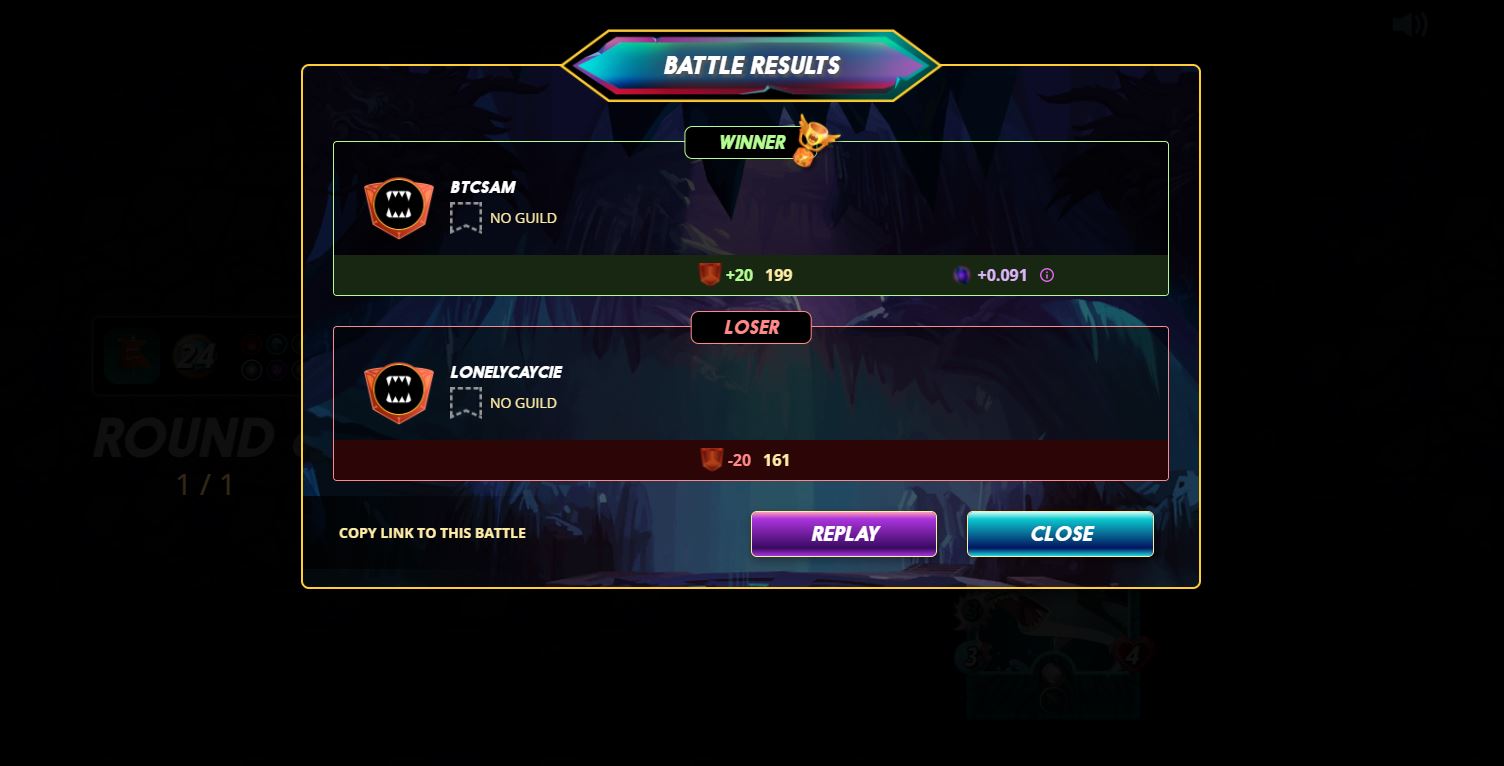 If you want to see the game on the Splinterlands site you can do so by clicking here.
Did my strategy work?
Well, at least I won the game but it was not a perfect match. I think I used the Wave Runner well because it could attack without taking any damage. The Serpent of Eld up front also worked wonderfully and did a lot of damage. Since he was healed again and again by the Crustacean King, he was able to fight for a long time. The Demented Shark in position two was also very strong and could support the other cards. So all in all, my plan worked out well.
The only problem was that the Wave Runner couldn't attack in the beginning because it was placed on third and not second position. Because the card has the Reach ability it can attack from second and not from third position. So I guess I will change that in the future and will place the Wave Runner in the second spot.
Do I like the WAVE RUNNER?
I think the Wave Runner is a cool card that can support a lineup with its speed and reasonable attack strength. It should be placed on second place or behind that because it has not much health and has the reach ability, which is why it can attack from the second position of the team. With a strong card in front of it, it can be a good call to use the Wave Runner.
Thanks for reading and I hope to see you in one of my following posts again.
Cheers ✌
---
---