Cycling to Rice Paddy in Hoi An, Viet Nam

Why did I cycle here?
Where are you now, my dear friends? Let's me guess.
You are probably living in the city and sometimes being around modern buildings. I am as well. I was born in a small village in north Vietnam where every day I used to ride a bike along the rice field to go to my secondary school. Now, while studying in Da Nang city in Viet Nam, It is beautiful and has super friendly people here, sometimes, I still feel a bit missing something I was familiar with. Then, I finally realized that I miss the rice field which is full of peace with the smell of rice before harvesting and I know that it's time for me to be back to nature.
That made me decide that I would cycle to the rice paddy in Hoi An, Quang Nam to enjoy it. My friend and I planned to cycle the day before to have a chance to see the sunrise the next day. It is about 30km cycling from Da Nang to Hoi An, Quang Nam and normally takes around 2 hours. But in fact, This trip took me around "5 hours" to get there. Keep reading and I will tell you why. Haizz. Am I a turtle?
How was the journey to ride there?
At 5 pm, we started to ride from Da Nang. However, We did not go like Google Maps or take the highway. We wanted to go around so we just chose the alleyways. In Vietnam, you would see lots of alleys or small corners because Vietnamese houses are quite small and close to their neighborhood. And you might know the results here. We got lost and had to find the way out. The funny thing is when you want to discover something, some unexpected things come out and surprise you. While finding the way out, We went through a really big graveyard which I am always scared of and my imagination started to boom with pictures of ghosts. I cannot take the photos to describe where I went but you know how I felt that time if you were also scared of ghosts. I just wanted to faint but have to try hard to get out of it as fast as I can. After that, we got lost again when we faced the long wall and couldn't see the way out on the google map because of the darkness. After 5 hours of "wandering around", we eventually reached the hostel in Hoi An " Lovely Home" which has a lovely and friendly host.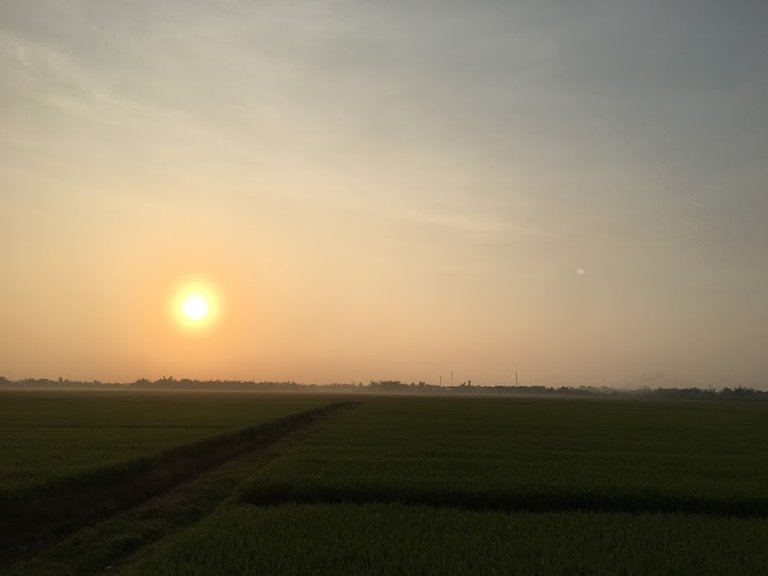 Enjoy the rice paddy and the morning air
The whole night was gone, we woke up at 4:30 am to prepare to cycle. Our next destination is "Xomchieu" Cafe which is near the rice paddy. On the way, we also took time to enjoy the rice field because in Hoi An, Quang Nam, my first impression was that the locals still keep the simple beauty of the countryside, the old houses, and rice fields. We were also lucky that this was the time of harvesting rice when the color of the field turned yellow and the smell was so refreshing in the morning, even you can imagine the bowl of sticky rice already cooked in front of you. In rural areas, you can easily see water buffalos and one to two young people go behind their animals to watch them. Life here is slow and people work their daily tasks surrounded by nature though it is hard-working, everyone seems very happy and satisfied with what they have.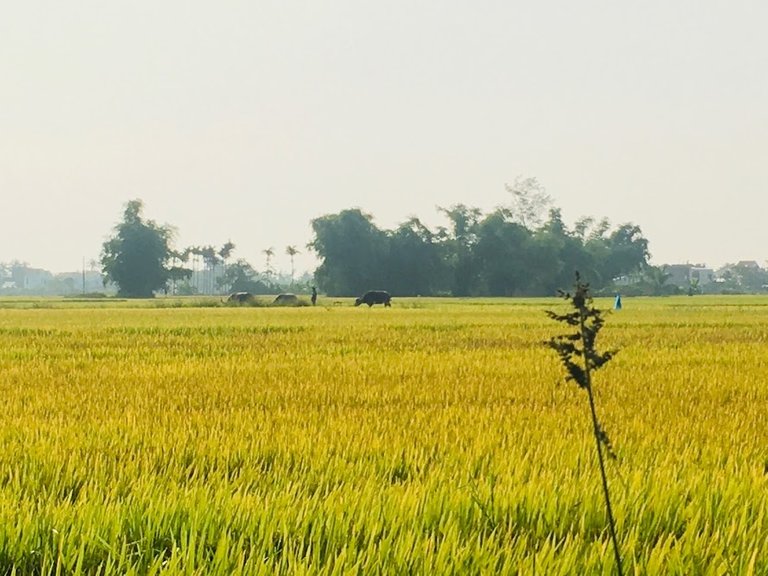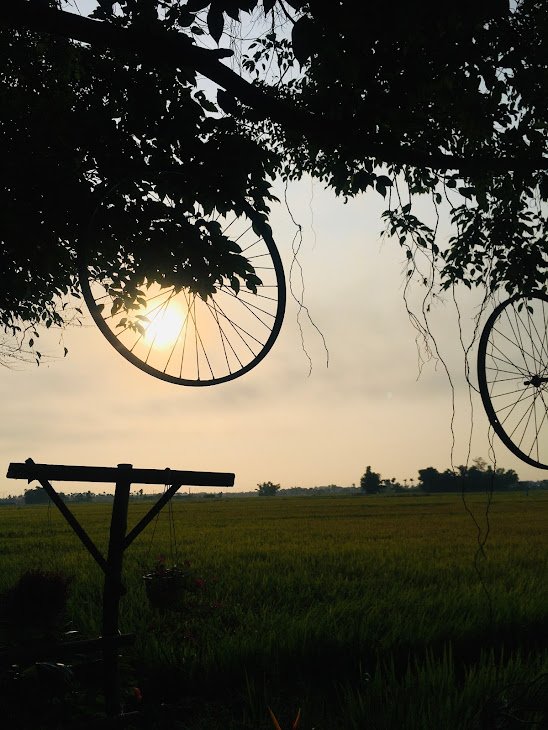 Childhood was back
When we got there, we ordered 2 favorite drinks - Mango smoothies and had time to take some photos with my bike and also enjoy the fresh air. Then, of course, I absolutely played the swing. It was made beautifully, which reminded me of my childhood at home. Its rope was hung on the trees and used a car tire as a flat chair. "Xomchieu" cafe also has some pinwheels, beautiful flowers, which is so great. This is one of my favorite cafes in Hoi An, Quang Nam. It was peaceful and relaxing, we had a great talk in the early morning.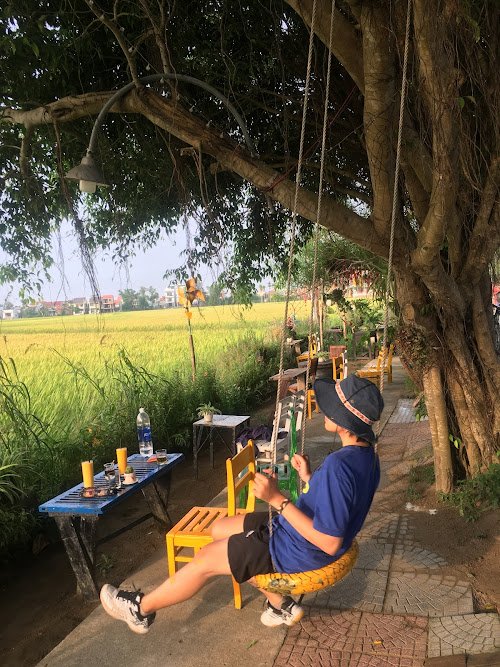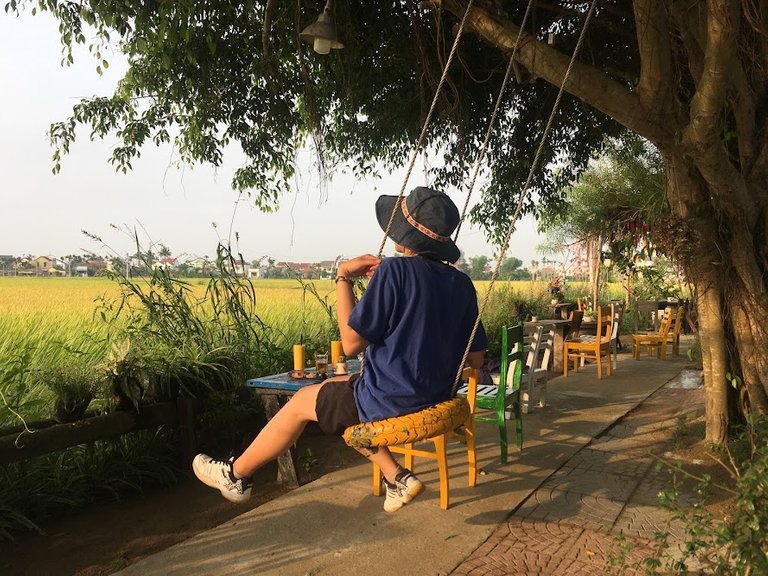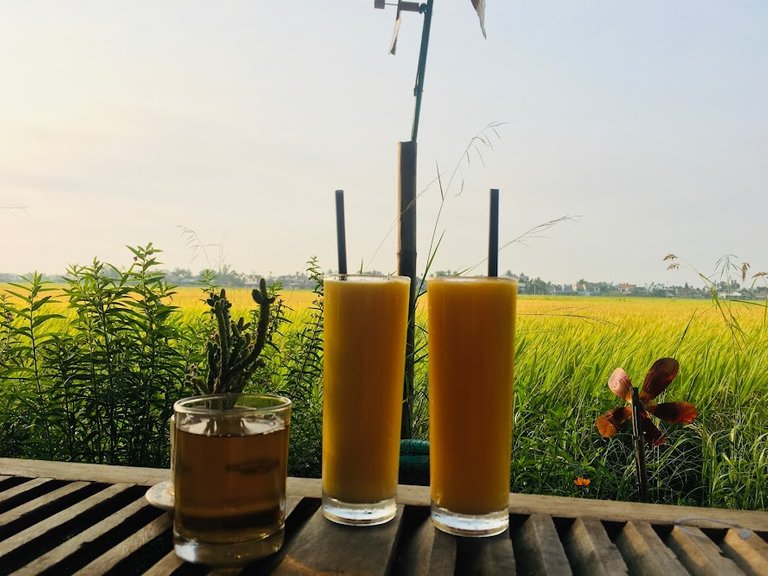 Goodbye and be ready for a day!
At 7 am, when the sun came up, we were ready to go back to Da Nang because I had class at 10 am. We saw beautiful Zucchini trees outside. I was so excited to shoot some photos there. It was fun to wake up early in one place, enjoy it and be back during the day. At the end of the cycling trip, we realized that our leg skin was changed color into a little brown but it was worth it.
Hope you also find some places like this to enjoy and charge your energy before the working day!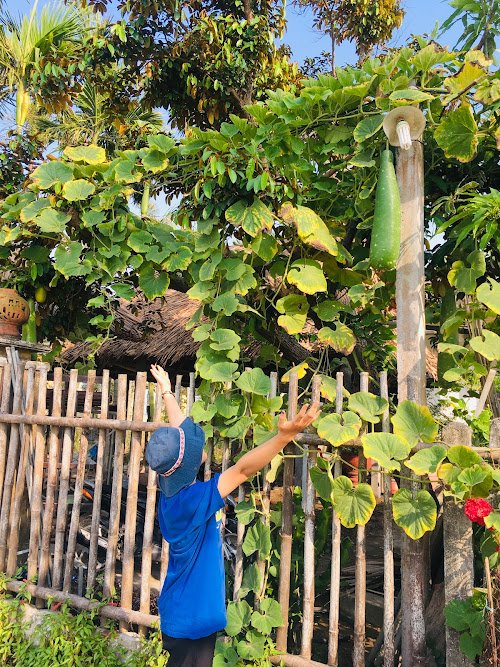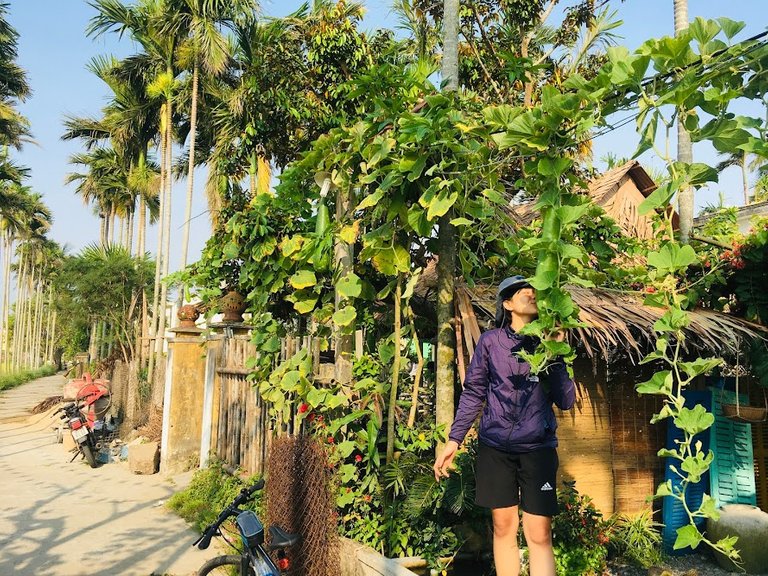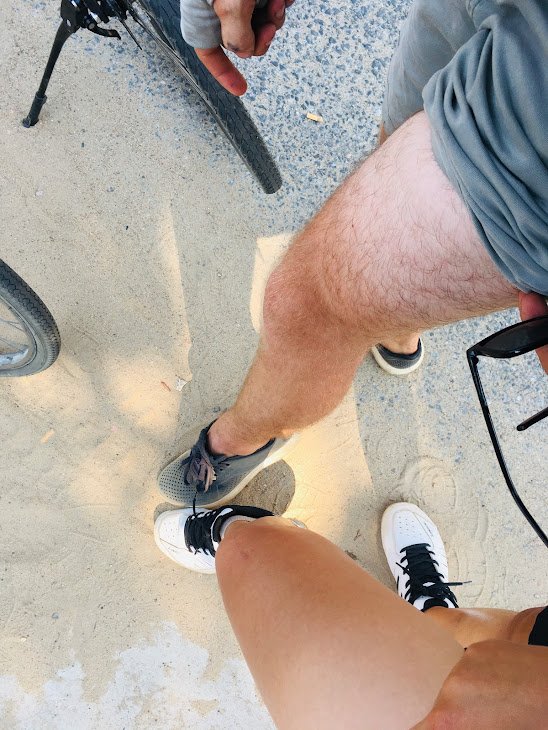 Thank you for reading my little journey!
---
---