My Three Day Journey to An Abandoned Amusement Park in Hue, Viet Nam

This 3-day adventure challenged me and made me stronger.
Has there ever been anything that you really wanted to do, but you couldn't help but question if you could really do it?
Well, this was my experience. It scared me so much that I even backed out an hour before the trip. I texted the group that I wouldn't be able to make it, but changed my mind last minute and decided to join. I didn't want to regret not coming and I am so happy I did as this experience was one of the best of this year.
What was the experience? A 100km trip from my home in DaNang, Vietnam to Hue city. But this wasn't just any trip. In fact, I've already made this journey by motorbike and by train. However, this time would be very very different as this time I would be making this entire trip by bicycle. I kept thinking to myself, "Can I really do this?", "It is so far!". Not to mention the journey started with a trip over Hai Van Pass, a steep 21 km mountain between the 2 cities. This is something I've never done before but I wanted to get out of my comfort zone and try new things and this was my way to do it.
Here was our trip's itinerary:
April 17: Evening cycle to a hostel near Hai Van Pass
April 18: 4 AM Cycle Hai Van Pass and on to Hue
April 19: Explore Hue
April 20: Bus back to Da Nang
Day 1: Hai Van Pass was waiting for me
I woke up at 4 am to fresh morning air and a sky filled with stars. This felt very special as I haven't seen this since I left my village and moved to Da Nang city. As always, my favorite paths are through the alleyways. We tried to find the smallest and most interesting ones which lead to many deadends and redirections. Unknowingly, we stumbled upon a beautiful portion of the beach just as the sun was peeking above the water. It was stunning and beautiful. Mother nature was welcoming us by the beautiful sunrise on our first day. What a way to start the day! While we were there, people started to trickle out of their homes, doing exercises, going to the market, and others just sitting in front of the small cafes. I love to watch people, how about you?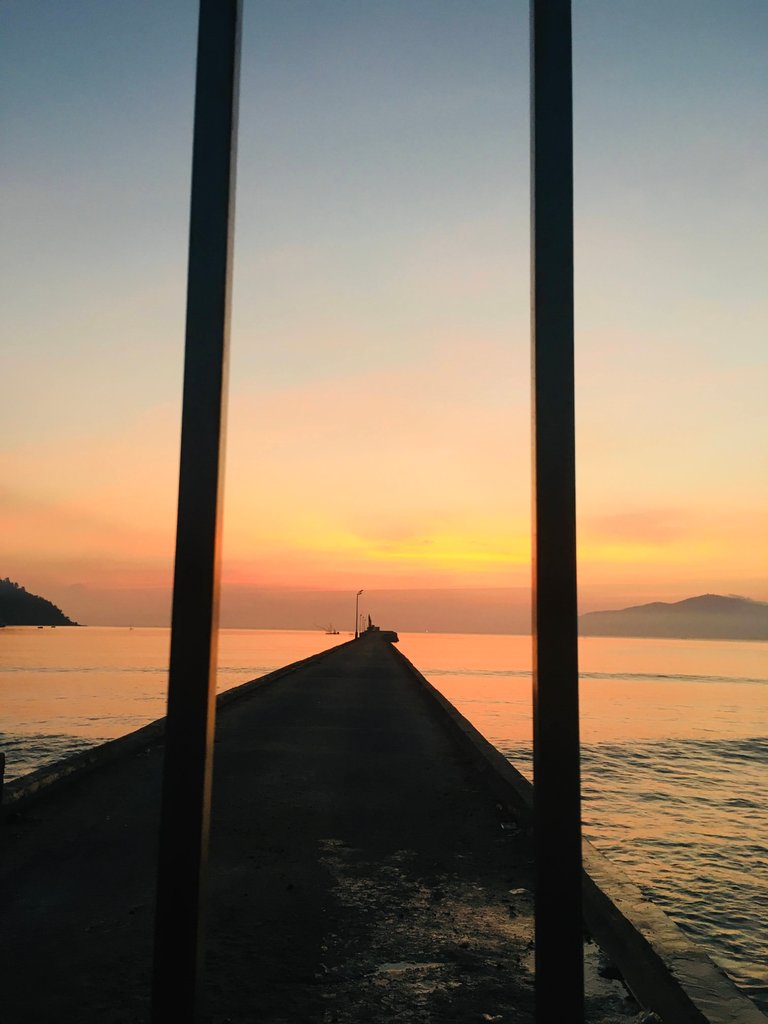 We chased the sun towards the mountain as it climbed higher in the sky. We finally arrived at the foot of Hai Van Pass. I was ready and excited to ride the next 10 km-long steep roads up the mountain. During the journey, I had to rest many times, get water, and keep going. At one point, I was so tired, I had to stop cycling and walk my bike up as the sun got hotter and hotter. I began to question if I should have agreed to this challenge after all. "Why do I have to cycle when I could have just driven here so easily?". But I silenced this voice by going slowly and focusing on nature. By going slowly, I was able to enjoy the scenery more than ever before. I could really appreciate every detail, each blade of grass, each beautiful tree, and colorful wildflower. More than that, I learned how to be patient to just get through this. I went slow and steady and when I finally did get to the top. It was so worth it and I felt great!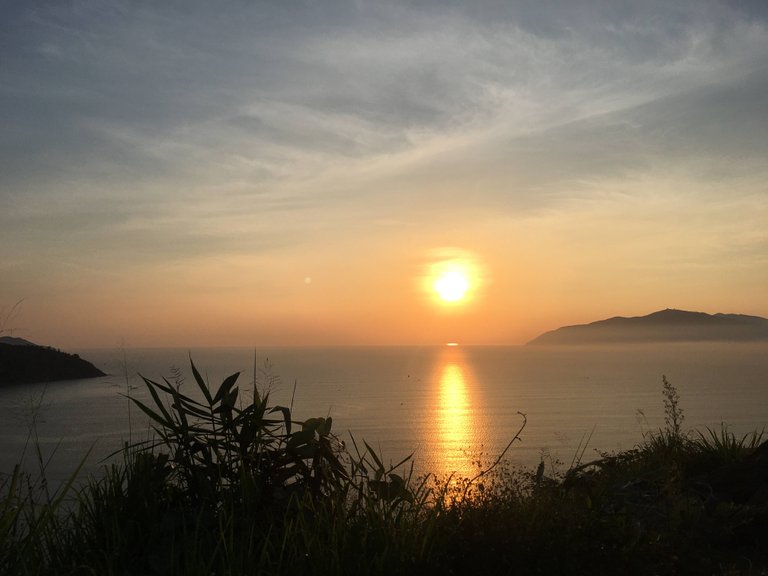 Now, in my friend's words, it was "time to enjoy!". After 3 hours of difficult climbing, it was time for our reward, a 15-minute effortless glide down the mountain. The wind passed by my face cooling me from the hot sun. I felt connected to nature and as if everything had been worth it. But despite our progress, we still had 80km ahead of us. Sometimes, the excitement can release all the tiredness and difficulties though and we were all excited about the destinations we would explore along the way.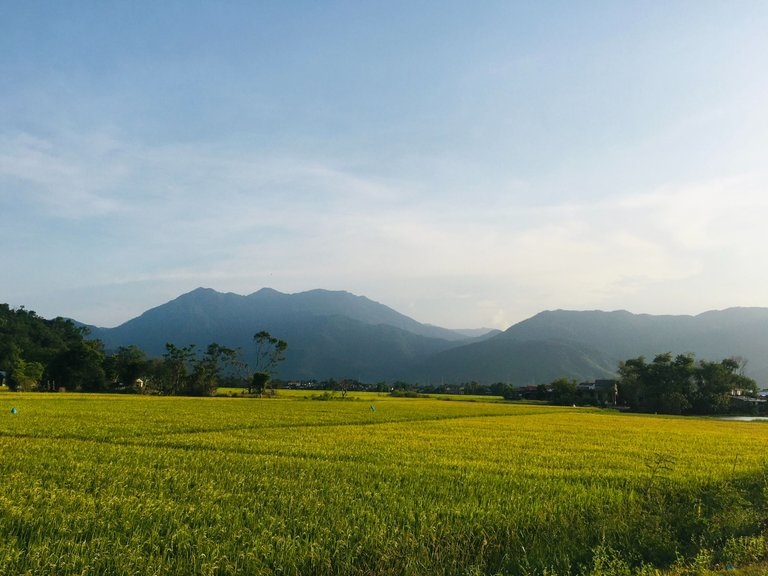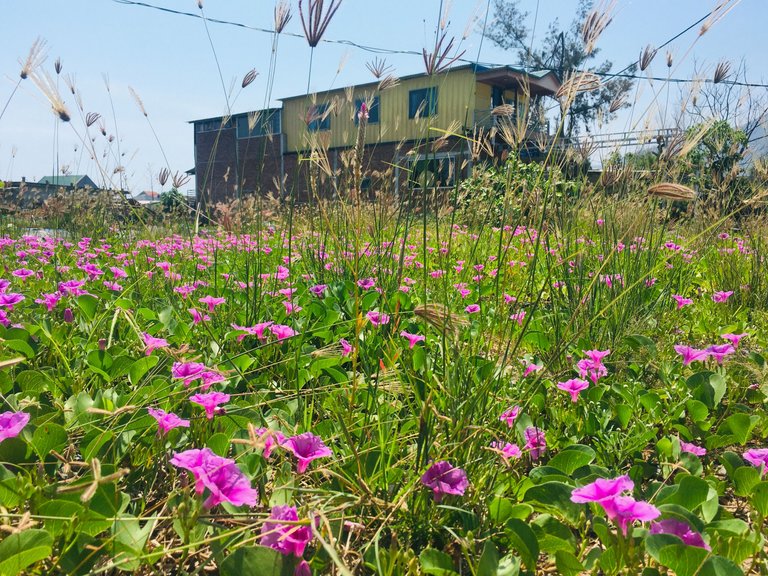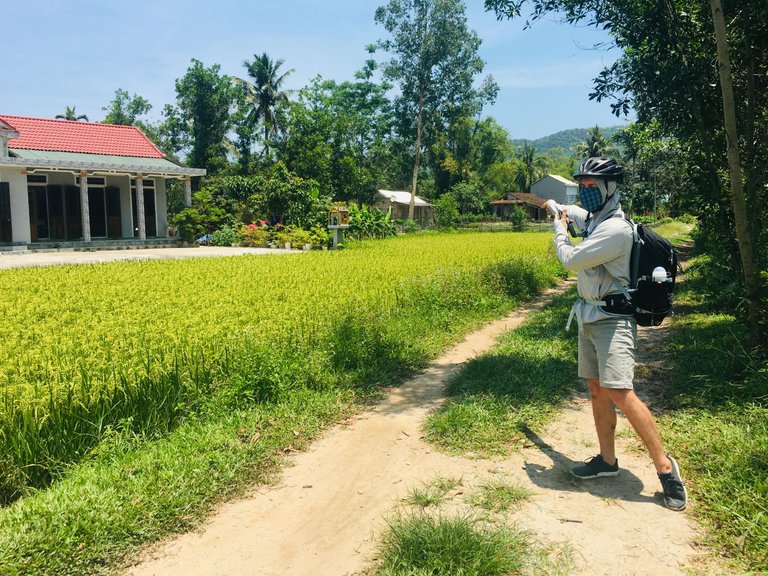 A whole day cycling
We decided to avoid the main roads and take our entire route via alleyways which made our distance so much more, but made our journey an adventure. We went through green stretches of rice fields, winding rivers, and towering mountains and said "hello" to the kids along the way. If you ever decide to visit Vietnam, everyone is so friendly and will say hello to you.
I loved seeing the houses and villages in central Vietnam.The communities are connected and friendly and all of the kids played together. It seems like the perfect atmosphere for a memorable childhood.
A popular business along this route was cafe vongs, or hammock cafes. These are small coffee shops where you can enjoy your coffee, coconut, or sugar cane juice inside of a hammock and rest. One of my favorite moments happened at one of these cafes. It was hidden within the trees and so relaxing and peaceful.
We journeyed slowly through the streets and alleyways stopping here and there to check out the scenery and slowly the sun drooped and darkness overcame us. It was a whole day of laughing and adventures. We finally arrived at our hostel in Hue at 9 PM officially completing our 15-hour cycle. We were so proud of ourselves.
Day 2: Exploring Abandoned Park at night with friends
We had finally arrived in the city of Hue! In the morning we met up with another of my friends at the park where we meditated and went to a beautiful vegan restaurant which is very small and cute. I have a habit that if I find a song that I like, I will listen to it 100 times over again. At this particular moment, my favorite song was "Pumped Up Kicks" by Foster The People. I am sure the waitress was sick of us by the end after asking her to play this song over and over again. It wasn't until the 5th time that my friends even realized what was happening and so that song became the sound of our trip for the day. We turned that song on all of the time and sang together.
It was hot during the day so we found a cozy cafe to relax in. I spent my time sipping on my mango smoothie, reading my favorite books, and playing the Kalimba while my friends were getting some work done.
One thing that Hue city is famous for is their salt coffee, so we went to a second cafe to have a try. I have not tried salt coffee in other places to compare, but I must say that it was quite good. I waited until 5 PM to start my adventure to the abandoned water park.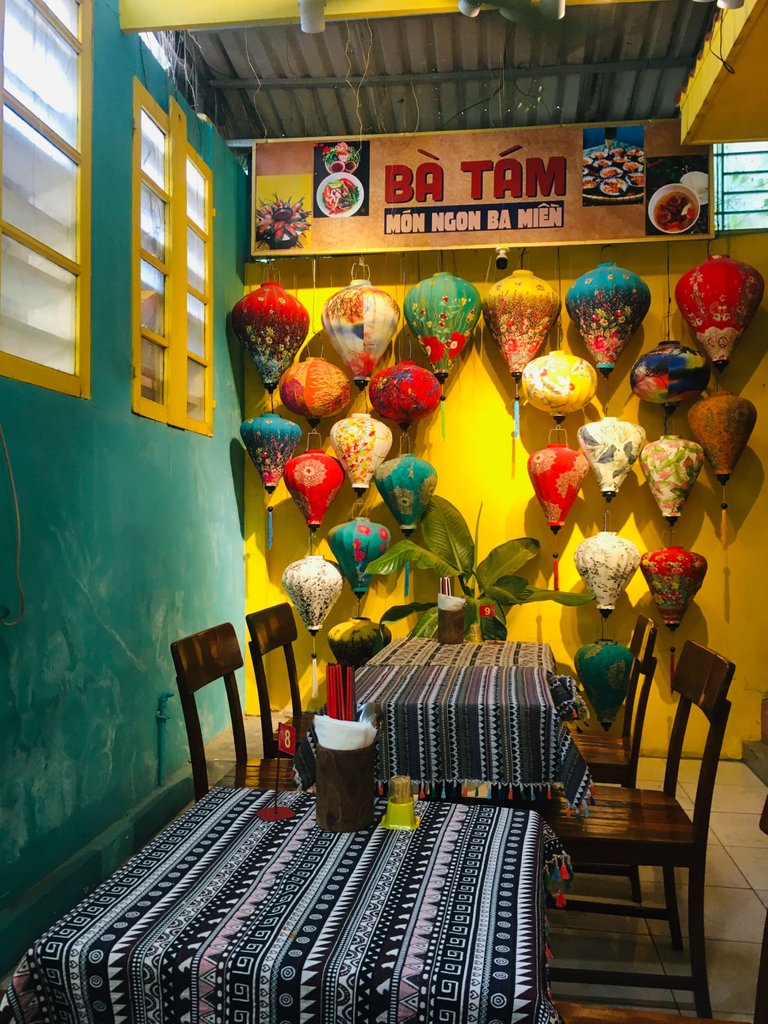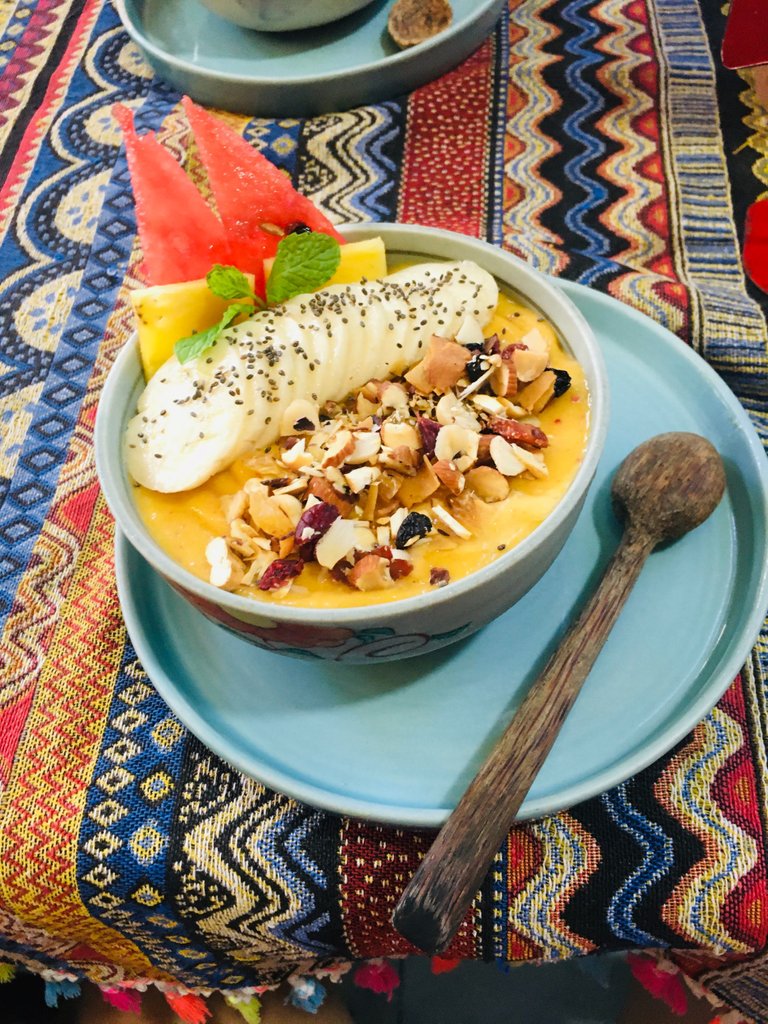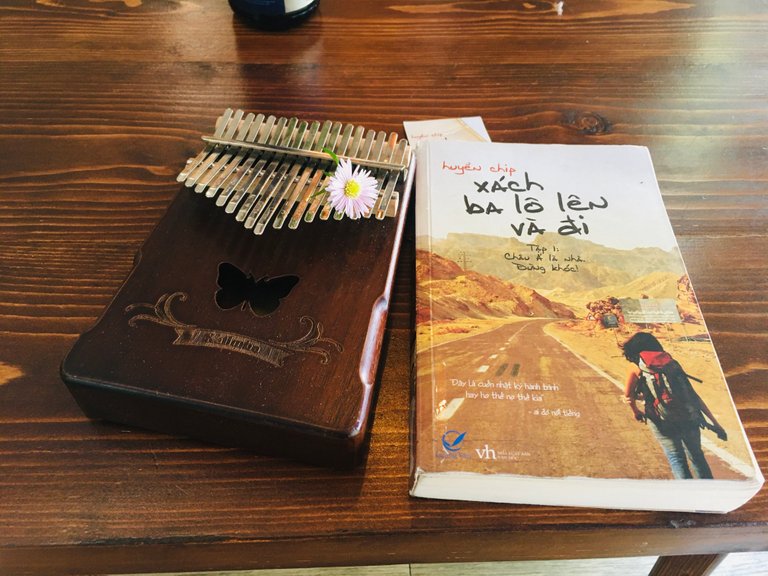 The abandoned park started construction in 2004 and the project cost over 30 million dollars. However, for unknown reasons, production stalled and it was never completed. Many locals believe that the park is cursed and haunted. And what better time to explore a cursed and haunted abandoned water park? After the sun goes down… of course.
We arrived when the sun was setting. With the chipped paint and graffitied debris, it looked very scary even in the daylight. I am very scared of ghosts and I decided that this was my chance to face my fears. The first thing we saw was a massive, terrifying dragon statue. If I had been alone, I surely would have run out of there. Luckily, my friends were always behind me and we explored inside. We continued despite being low on gas and our cellphones were dying (a critical point as they were our only sources of light). It was completely deserted, and very quiet. We could hear every sound very clearly and we had a fun time clapping and listening to the echoes. The last ray of sun atlas peaked below the trees and we were submerged in complete darkness. I decided I wanted to go home, but my friends said why not continue to explore. We still had 2 parts remaining. My curiosity overcame my fear and I agreed.
We drove further through the overcut forest and broken path until we found a waterslide. As we found our way up to the entrance of the slide, we saw some fireflies which I had not seen in such a long time. We decided to have some fun at the moment and take some funny and scary photos to remember our trip. We also cranked up "Pumped Up Kicks", our theme song of the trip, and danced around. We felt the energy of our youth and really enjoyed the moment together. This trip had helped our friendship to strengthen as we had time to talk and have these new experiences together.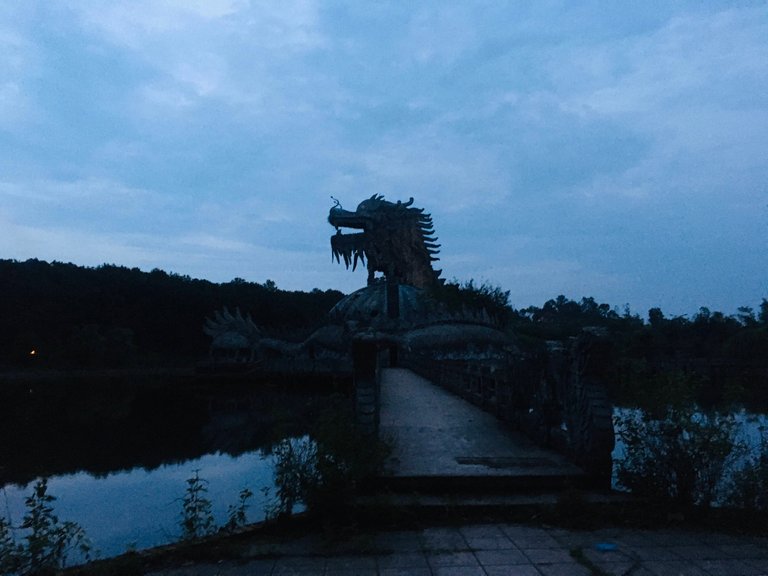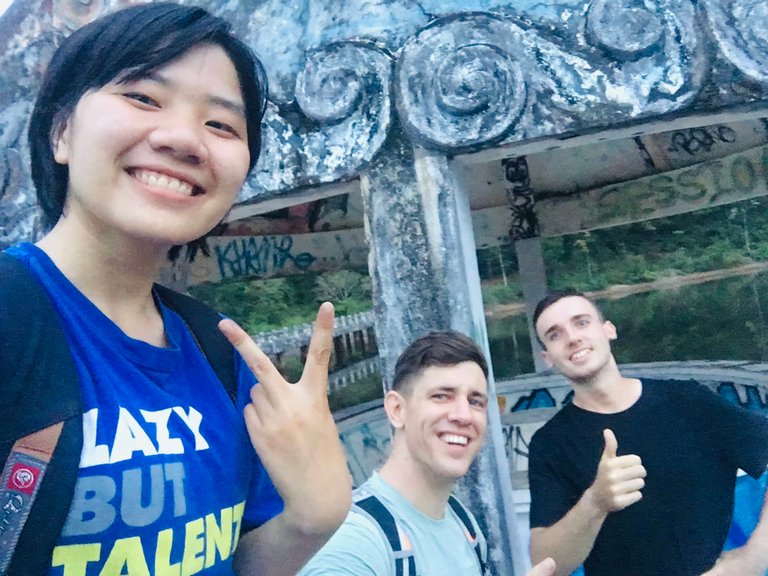 Day 3: Hue in the morning
Whenever I visit Hue, I can't help but admire the slow pace and traditional culture. The city has experienced many historical events in the past where Vietnamese kings chose to build their palaces. Because of this, the city is full of unique architecture and rich culture. Hue people are friendly and honest. They have a very unique accent which at times I can not understand despite the fact that I am Vietnamese and live in the neighboring city. Being someplace so different made me feel like I was in another world… one where I could do everything slowly and there was no need to rush as if I had all the time in the world.
We woke up at 5:30 AM to enjoy our last day. We went out to enjoy a beautiful sunrise and see its reflection on the water. Then we cycled around the city to see Truong Tien bridge and explore some more alleys.
In the afternoon we took the bus back to DaNang. Along the way, I had time to look back at all the places that we had cycled through and felt really grateful for what I had experienced. I will try and always remember this trip. It was not just a great journey but also a great memory of a connection with friends.
Thank you so much for reading my post.
If you ever come to visit Vietnam and are looking for the experience of a lifetime, I recommend this same journey to you. I would love to see your experiences and your great memories.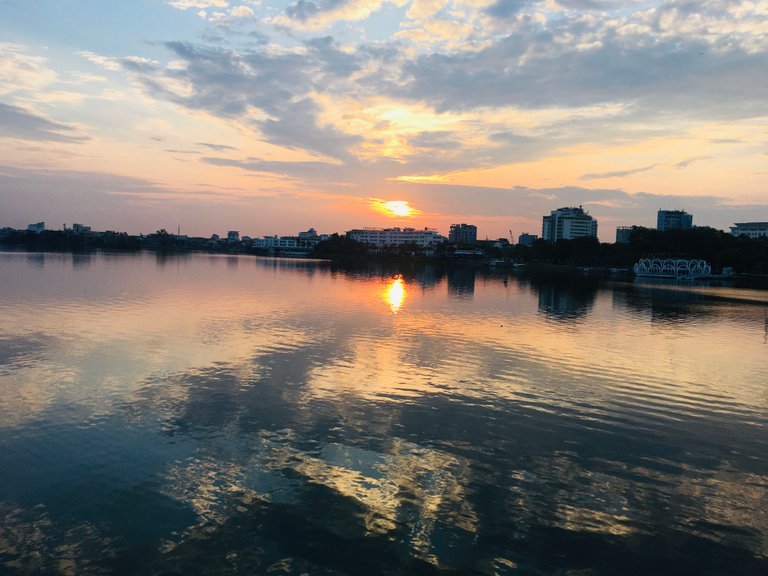 Thank you for your reading my post!
---
---