Splinterlands Art Contest Week 213 - Ilthain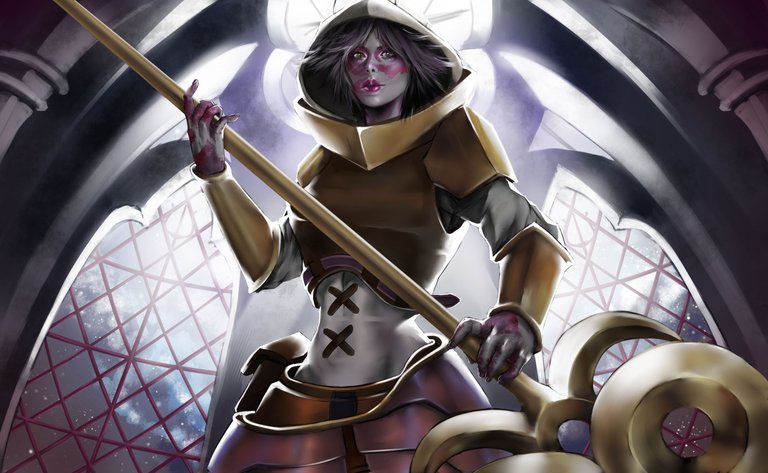 Que pasa gente, como estan? sean bienvenidos a un nuevo post, esta vez mi primer fan art de ILTHAIN, esta carta desde que salió me ha llamado muchísimo la atención, algo tiene que me dejo atrapado desde que la vi, decidí leer toda su historia y justo como lo esperaba había sido una heroína, fue tan venerada por su pueblo que obtuvo el titulo de santa en el primer año de su fallecimiento, así mismo sin ningún tipo de razón o explicación algo o alguien trabajo a la vida a ILTHAIN, pero con un virus que estaba carcomiendo su piel poco a poco, por eso tiene tantas manchas moradas.
What's up people, how are you? welcome to a new post, this time my first fan art of ILTHAIN, this letter since it came out has caught my attention, something has left me trapped since I saw it, I decided to read its entire story and just as I expected it had been a heroine, she was so revered by her people that she obtained the title of saint in the first year of her death, likewise without any reason or explanation, something or someone brought ILTHAIN to life, but with a virus that was eating away his skin little by little, that's why he has so many purple spots.
Process / Proceso
El boceto de este fan art fue bastante complicado, no estoy acostumbrado hacer este tipo de poses, pero por eso mismo fue que decidí hacerla de esta forma, quiero ir practicando este tipo de escenarios y cuerpos, todavía estoy en un nivel muy básico pero creo que voy muy bien encaminado a lo que quiero lograr hacer, desde ayer tengo cierto malestar en el cuerpo, supongo que es alguna especie de fiebre, fue bastante cansado hacer el pintado así, pero se logro.
The sketch of this fan art was quite complicated, I'm not used to doing this type of poses, but that's why I decided to do it this way, I want to practice this type of scenery and bodies, I'm still at a very basic level but I think that I am very well on the way to what I want to achieve, since yesterday I have some discomfort in my body, I suppose it is some kind of fever, it was quite tiring to do the painting like that, but it was achieved.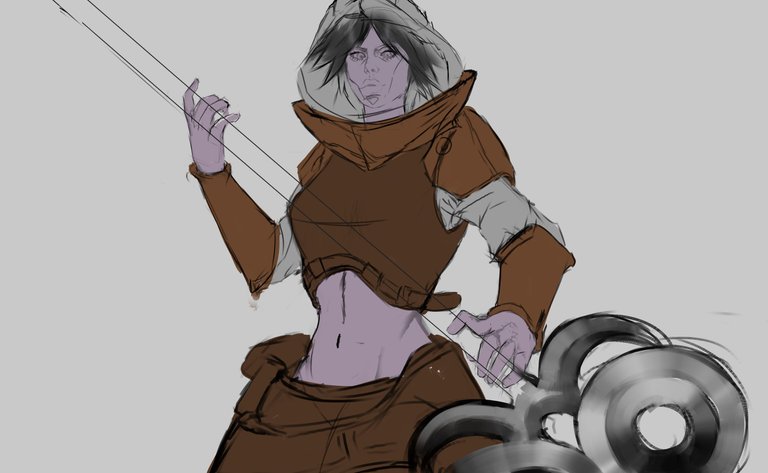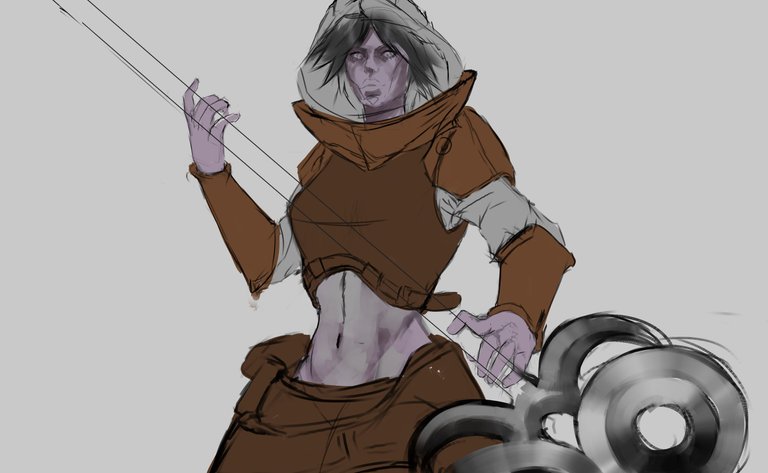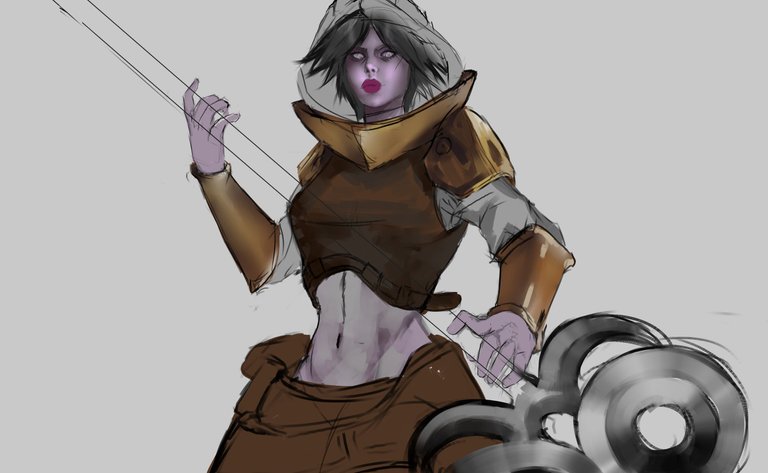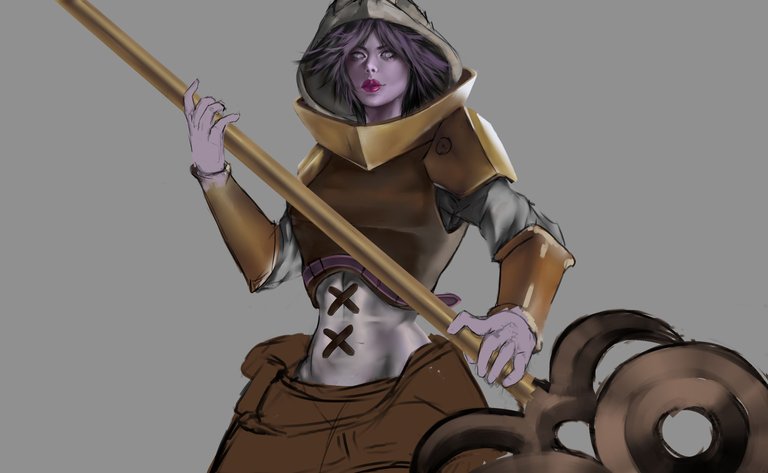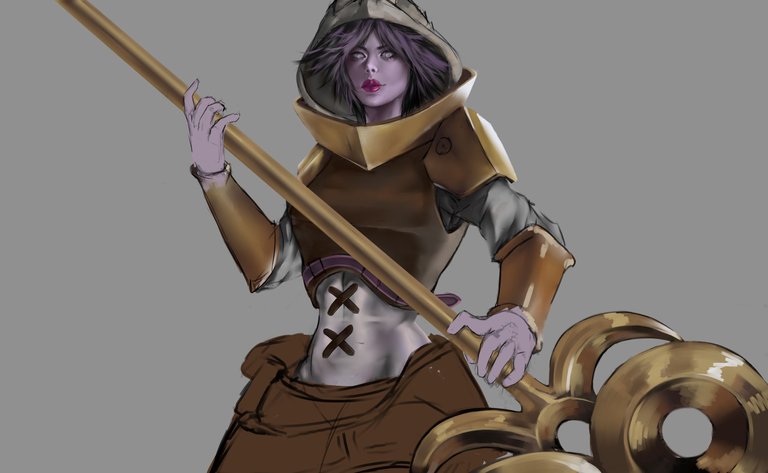 Lo primero que renderice en mi fan art fue el rostro junto al cabello, la verdad fue complicado hacerlo de esta forma, estuve mucho rato probando los colores y y la posición de los ojos, asi mismo estaba pintando todas las partes oro que tiene su armadura pero por lejos lo mas complicado fue pintar su báculo, es demasiado largo y con tonalidades al menos así lo quise hacer, similares al oro, igual las cuchillas redondas que tiene.
The first thing I rendered in my fan art was the face next to the hair, the truth was it was difficult to do it this way, I spent a long time testing the colors and the position of the eyes, I was also painting all the gold parts that his armor has but By far the most complicated thing was painting his staff, it is too long and with shades at least that's what I wanted to do, similar to gold, just like the round blades it has.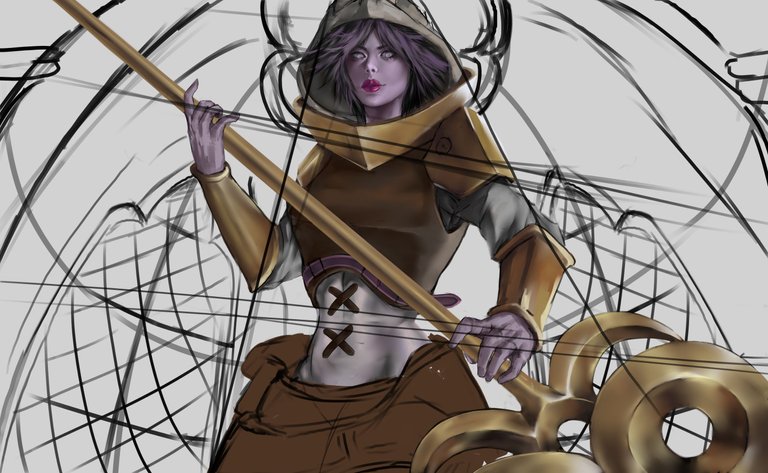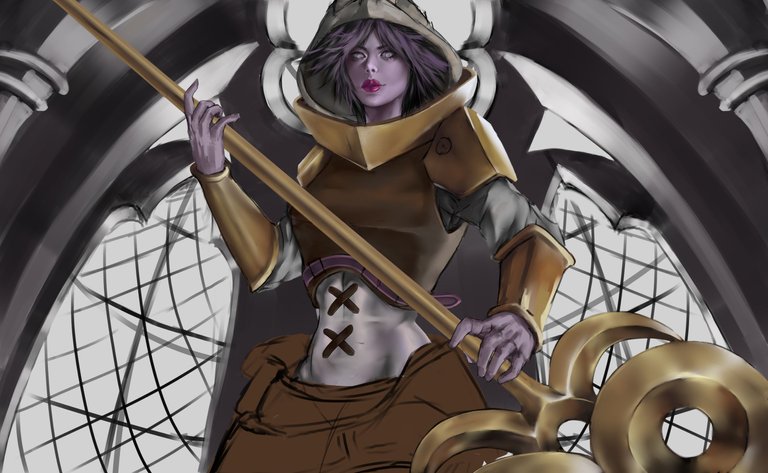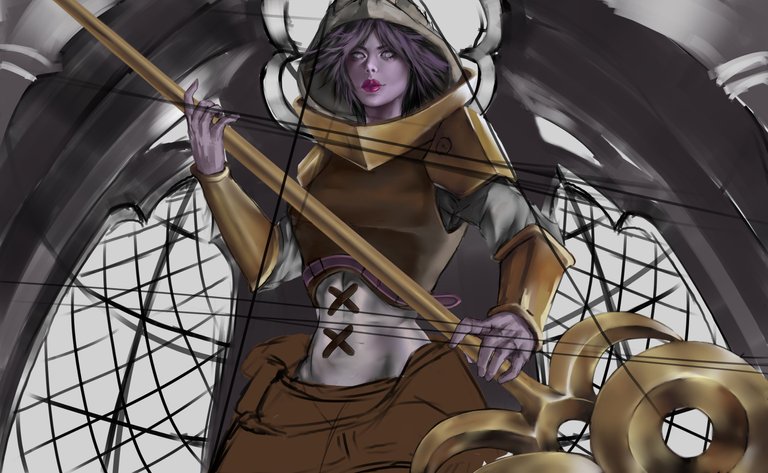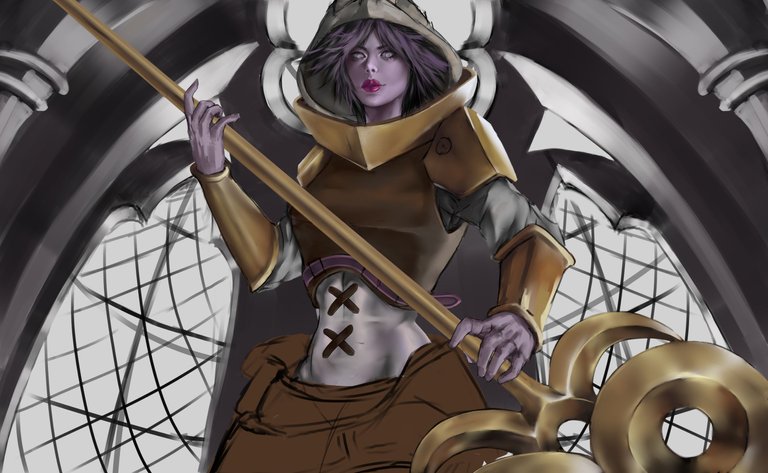 Hoy por la mañana se me ocurrio hacer una especie de iglesia o templo donde descansaba el cuerpo de Ilthain, fue mas complicado de lo que parece, tampoco estoy acostumbrado hacer construcciones xD hoy tuve que adaptarme y ser lo mejor que puse un todo terreno, una vez termine de colocar el trabajo de luces comencé con el coloreado de la piel, ya que como mencione antes tiene una especie de peste que hace que su piel de vaya tornando morada.
Today in the morning it occurred to me to make a kind of church or temple where Ilthain's body rested, it was more complicated than it seems, I'm not used to making constructions either xD today I had to adapt and be the best I put on an all-terrain vehicle, a Once I finished placing the light work I started with the coloring of the skin, since as I mentioned before it has a kind of plague that makes its skin turn purple.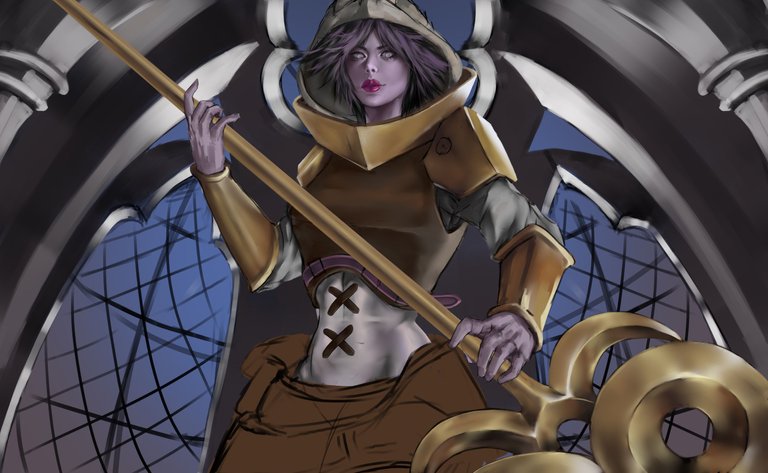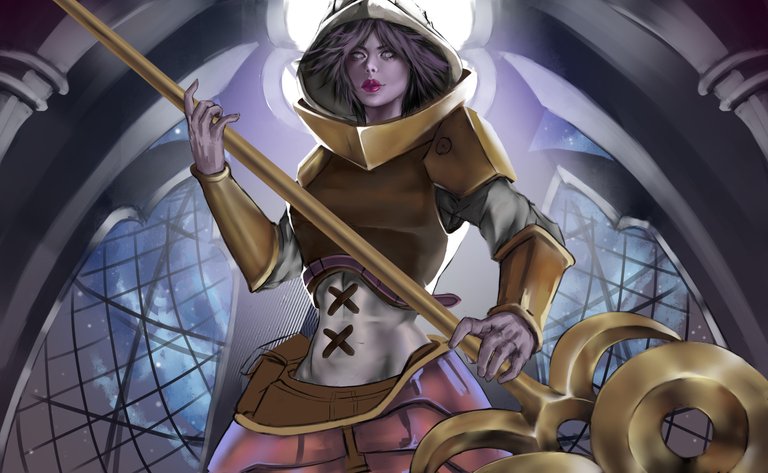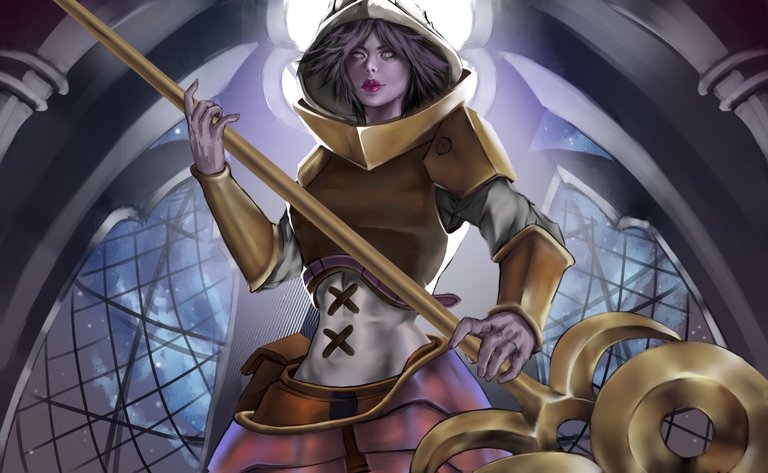 Desde este punto tuve que hacer muchas correcciones con las sombras y las luces en las manos, en todo el cuerpo, incluso en el arma y demás, asi mismo mientras escribía el post decidí modificar algunas sombras y brillos que tenia en el cuerpo, sin duda ha sido uno de mis fan arts mas exigentes xD ya verán los demás!
From this point I had to make many corrections with the shadows and lights in the hands, in the whole body, even in the weapon and others, also while I was writing the post I decided to modify some shadows and highlights that I had in the body, without a doubt It has been one of my most demanding fan arts xD others will see!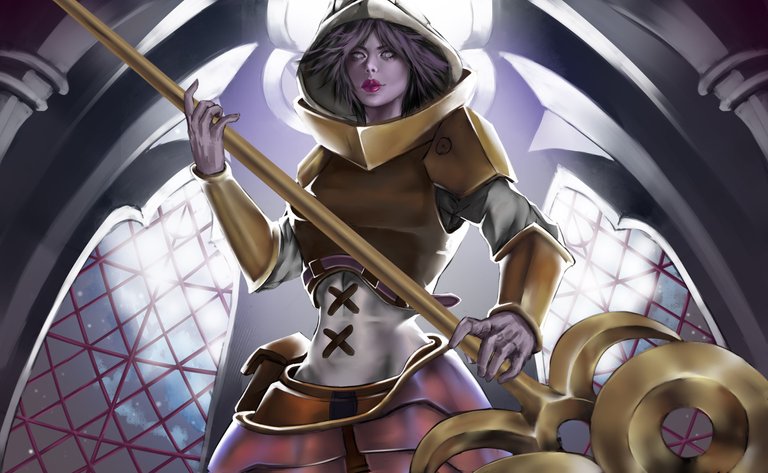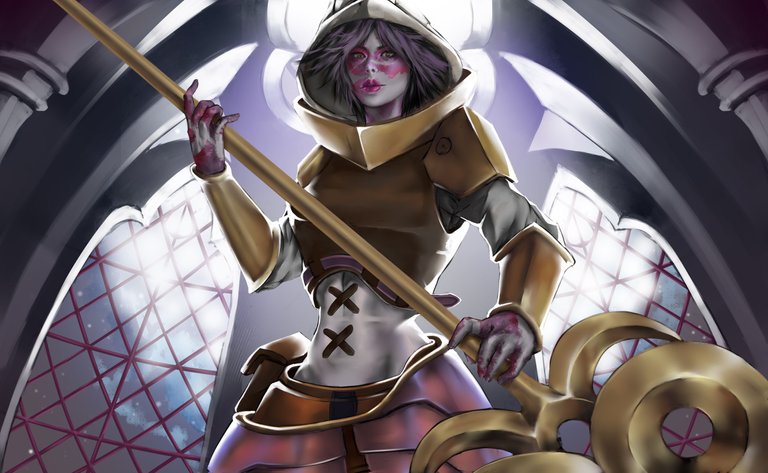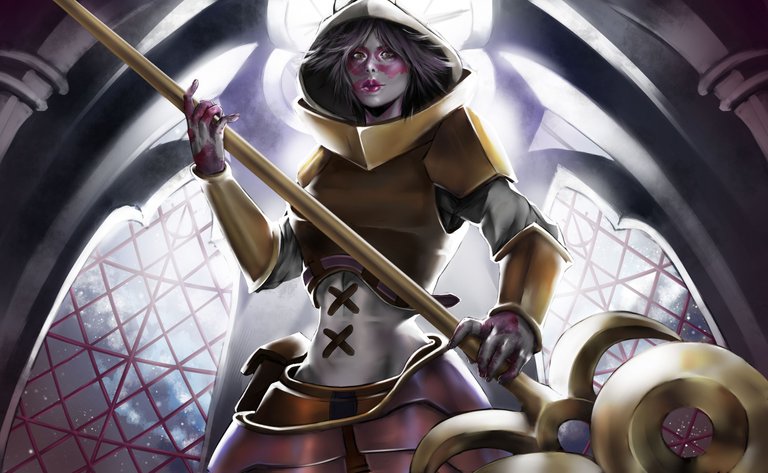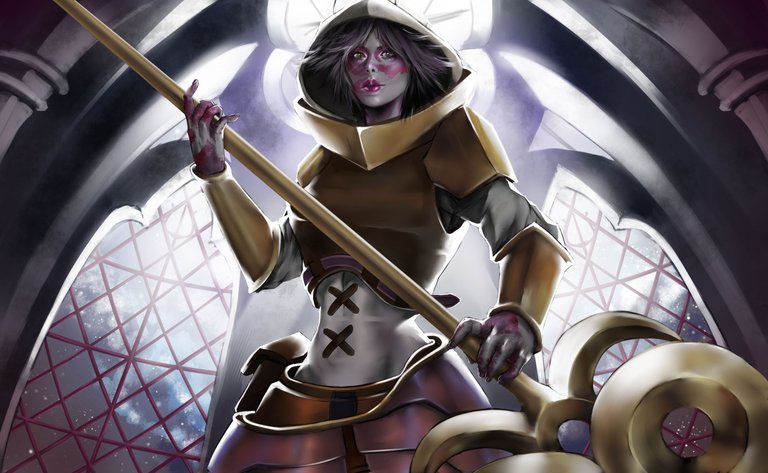 Este fue todo el post, gracias por haber llegado hasta aquí, hasta la próxima!
This was the entire post, thanks for getting here, until next time!
---
---