A touch of the market
The poet once said that he stood in front of a blank sheet of paper and didn't know how to start writing poetry. Although I shouldn't I still compare myself to him, the poet, when I say that I sat for a long time staring into the glowing white of the laptop screen and didn't know how to start, worse, I didn't know what to write, although I had the theme, I had prepared myself with a bunch of photos...
It's Friday evening, if it's Friday that means it's #MarketFriday. This is my first time writing in this community. Yes, really. I've written in the #marketfriday challenge maybe hundreds of posts over the last four years but never in the community. I don't know why I can't associate the concept of #marketfriday with a community, I don't know why I don't like to think of it as a community! Because it's a much bigger community than other communities because I don't think there's even one fellow platformer who hasn't been to the market at least once in their life and bought something. The #marketfriday tag should be as widespread as the #proofofbrain tag, as we all have a brain, so we all have a penny in our pocket that we can't wait to buy something with...
So I think, in a way, in my head that may not protect a brain, I think that a community, which is supposed to bring together people with the same interests, is actually a downgrading of the concept of #marketfriday and unfair to the very many who should have joined the community and they don't know it. A challenge would be an excuse for them!
You must think I'm going mad, @dswigle forgive me!
I hope I'm not crazy and that everything I've said is due to the fact that I'm sitting in front of the shiny white screen of my laptop and I don't know how I'm going to write something about the market today, Friday. Because I'm bored with the same pattern I've used so far, bored with the repeated scenario of going shopping and then using an ingredient to cook something. I've long wanted to change something, primarily to try to tell the story more concisely, more succinctly. Time has become increasingly precious to me and, I'm sure, to everyone else.
Denise, if you are reading this post then you definitely know who Denise is, she kills me with the way she writes, with the poetry and balance of her posts, with her knack for using a few photos that are so beautiful, expressive that they really elevate the quality of her posts, with her eclectic and concise style.
I tried to write the same and couldn't. I couldn't! Just as I couldn't write for #leofinance, although I was interested in finance, I worked in finance. Just as I couldn't write for #proofofbrain, even though I had the data that some brain would be in me! I don't get it!
Well, I feel better that I said all that, it came out of me, I feel lighter and ready to work.
I like that I want to be more concise and I wrote a 500-word introduction! The table of contents should now be at least 2000 words and another 500 words for the conclusion...
Scared you, didn't I? You don't need to be scared, because it won't be!
It's just beginning...
A little touch of the market!
An exercise in conciseness.
Two parks, a flower shop and a confectionery, a market and a hairdresser!
I start with the hairdresser who will not be seen at all in this story, but without whom nothing would have happened. The hairdresser where my wife goes is far from our home but very close to two places dear to me. The circus park, with its famous pond full of lotuses and a small flower shop where I usually buy flowers and cuttings.
Circus Park
I don't want to be about lotuses again, I've written about them too many times. I want it to be about the park, ignoring the lotuses.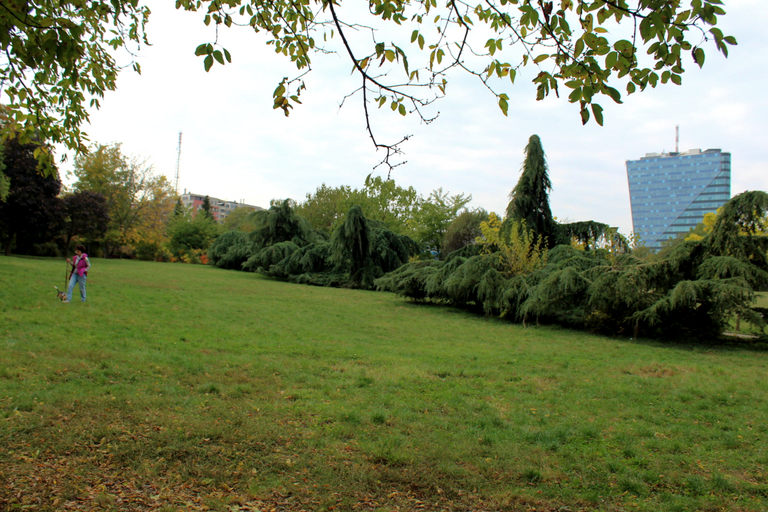 I like this park very much because it reminds me very much of a park I love very much, a park I've never been to and don't even know the name of. All I know is that it's in London and I saw this park in the movie Blow-Up.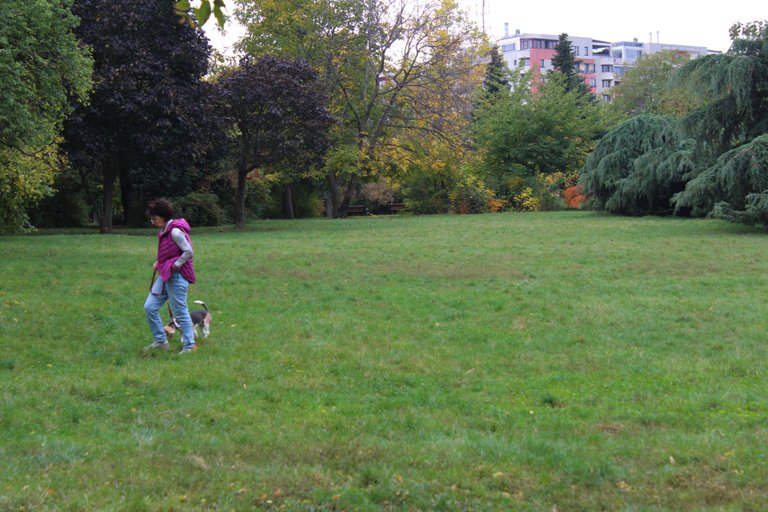 Blow-up is (or was) a process in photography whereby a frame is enlarged. As in the photos above. Below, a few images from the film, my all-time favorite film.
Whenever I go to the circus park I remember this movie. I love looking at the people, the birds, the trees, and the flowers.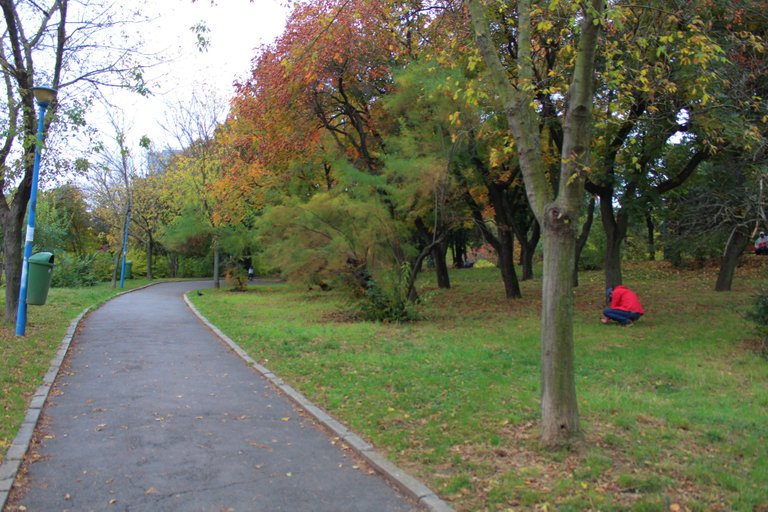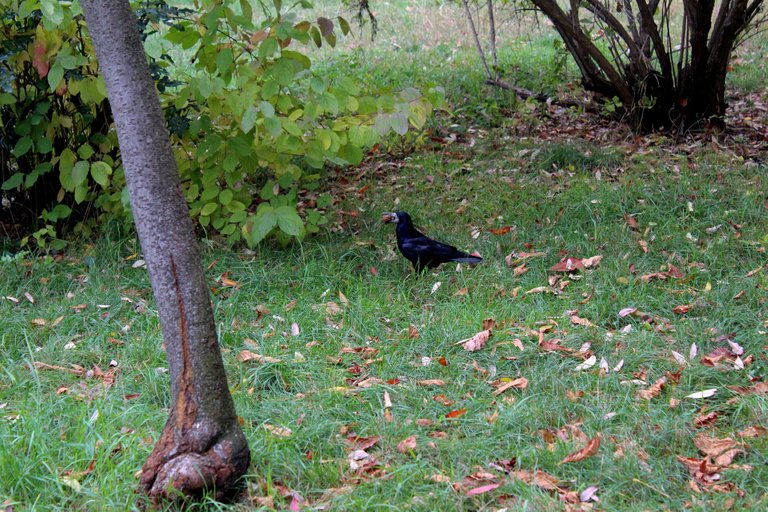 A thin line, an alley, divides the city, the traffic on one side and the park on the other.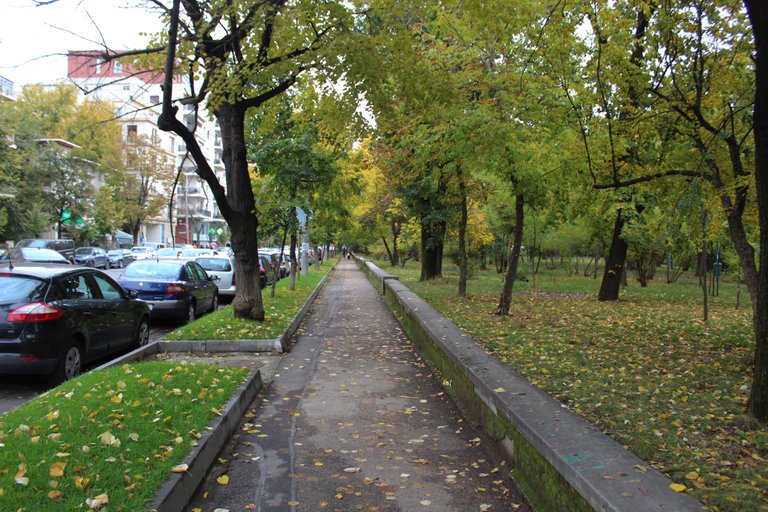 Just a simple crossing of the street and I get to...
Florist - Tria's Florist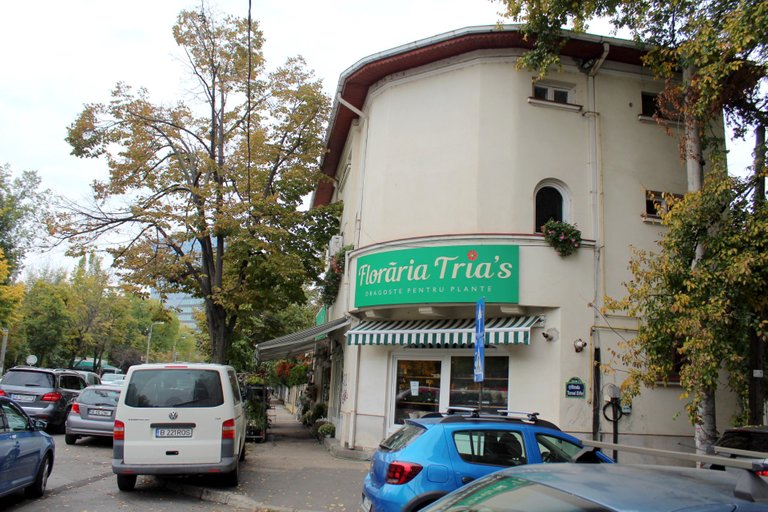 A small family business with the shop on the ground floor of the villa and most of the merchandise in front of the shop.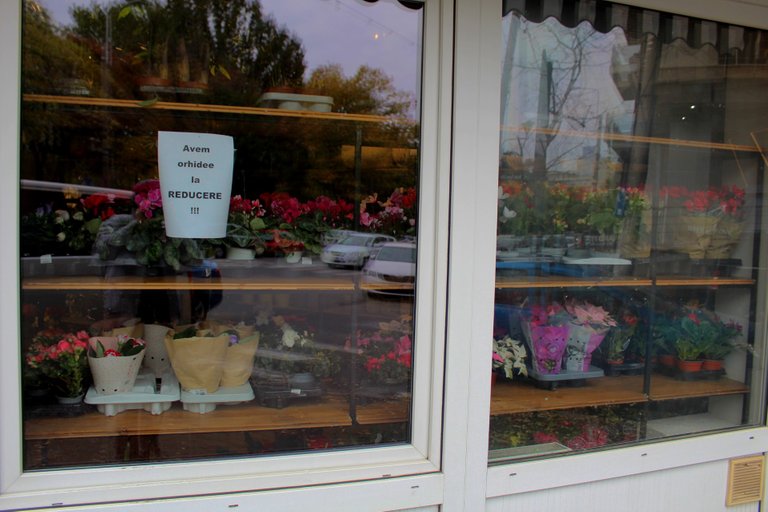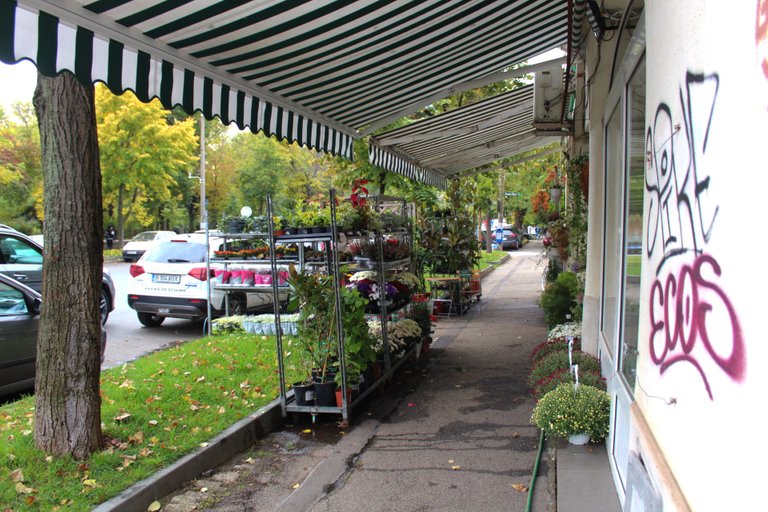 A few shelves with flowers, very well placed in front of passers-by, who not only enjoy the view but also buy something. I almost always buy.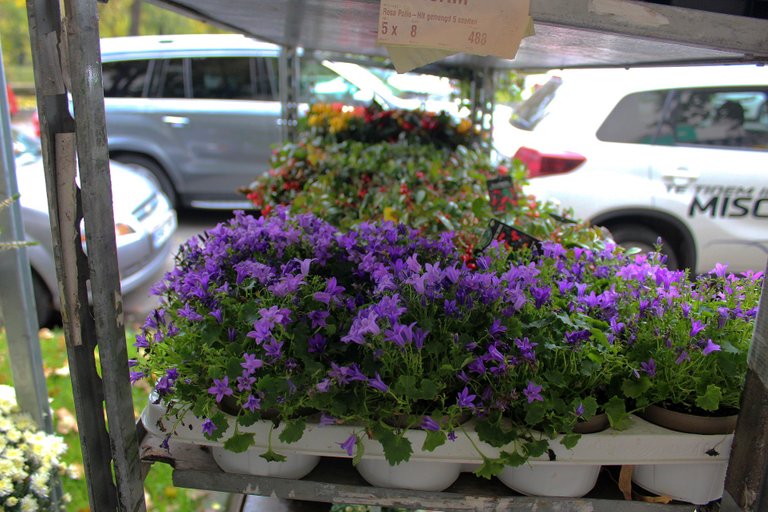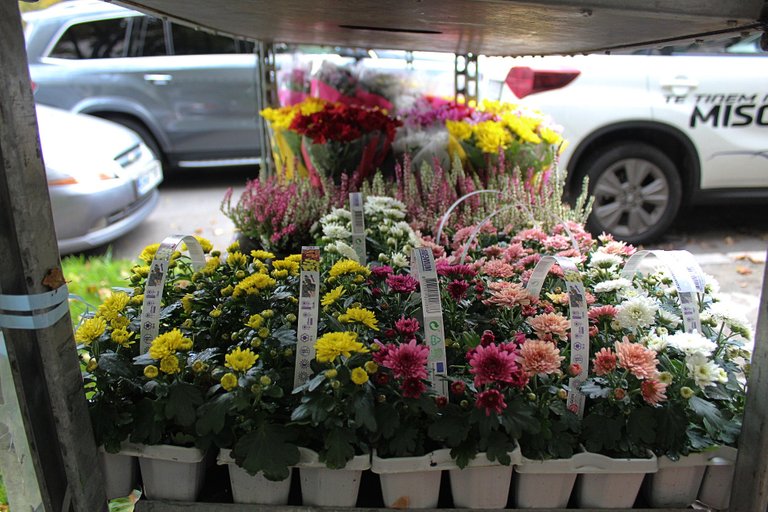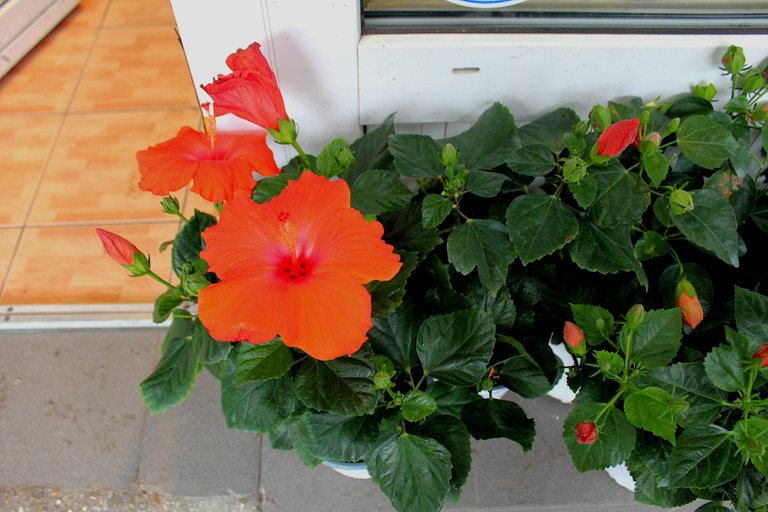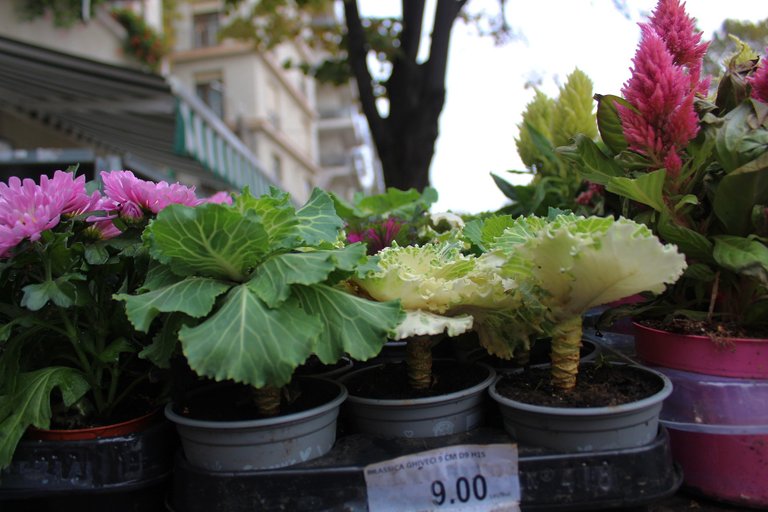 I didn't buy it today. Because winter is coming and I don't have room in the house for more flowers.
In the meantime, the hairdresser did his job and we were able to leave that part of town. To look for a cookie and a cappuccino. Actually, we didn't look, we went for sure, we went to our favorite confectionery. Which wasn't far from there.
Maria confectionery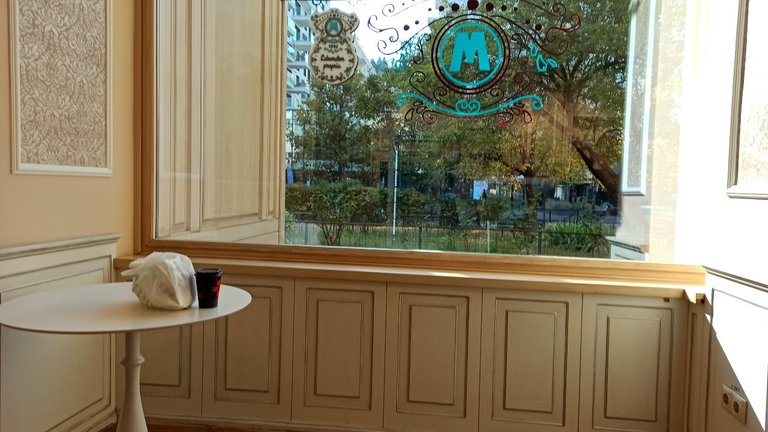 Unfortunately, due to wave four of the pandemic, we can no longer sit in the confectionery, the chairs have been removed and the interior looks desolate. I'm so sorry. I bought cookies for home and coffee to go.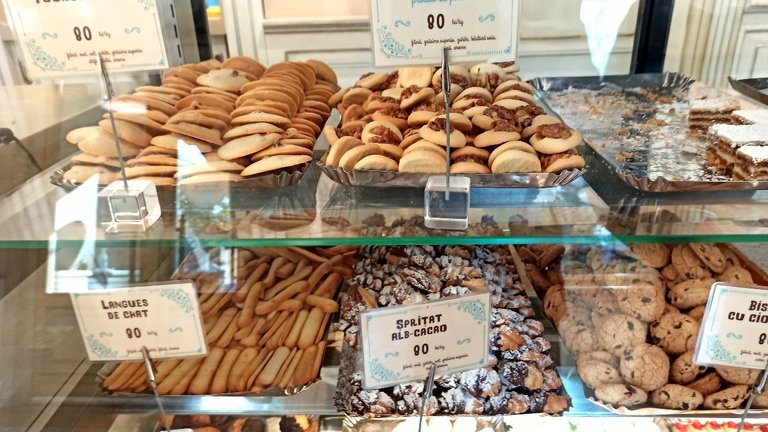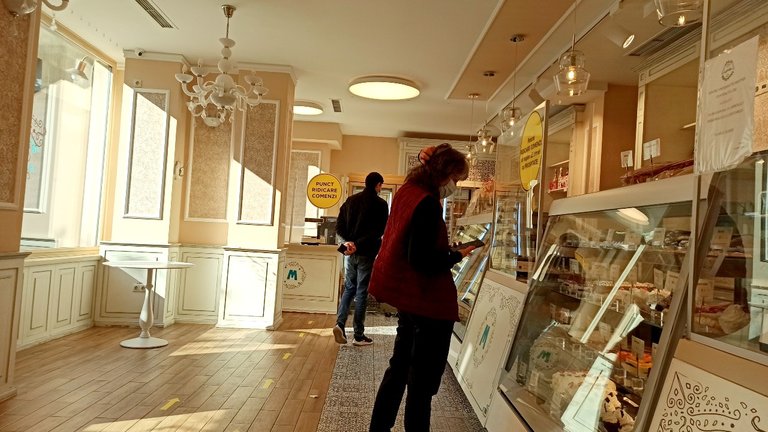 Very close to the confectionery has grown what wants to be a City for Bucharest. A financial district. A district of banks and multinational headquarters, with buildings over twenty stories high. A small height compared to buildings in other cities of the world. But there is an explanation for the fact that such buildings have only recently been constructed. Bucharest is the city with the highest seismic risk in Europe.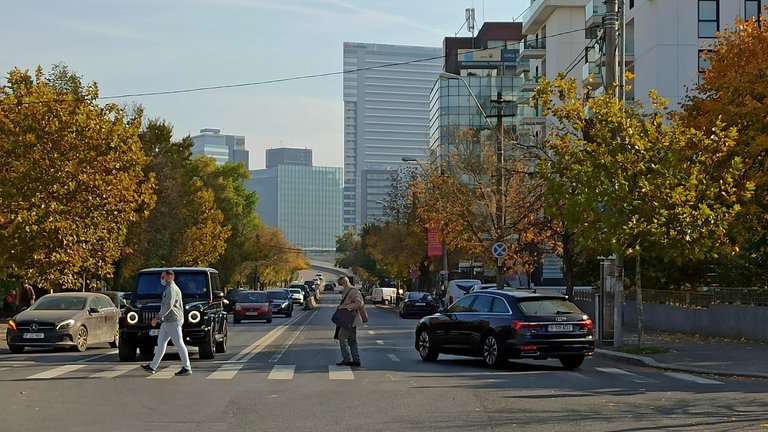 I've only had one earthquake. In 1977 it was 7.4 Richter and over two thousand people died in Bucharest.
If the confectionery is not what it used to be and not because of it, just because of the restrictions, the park that is very close is the biggest and most beautiful in the city, in Bucharest. Herastrau Park. Of course, it couldn't be missed and we took another walk. Because in the first park I walked alone, now my wife has to walk too!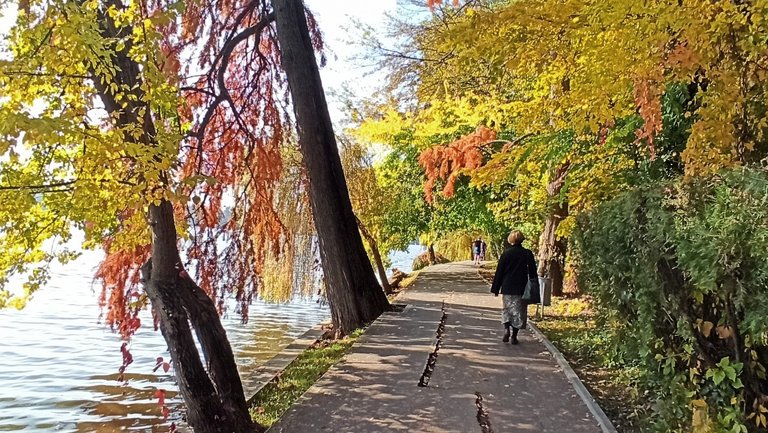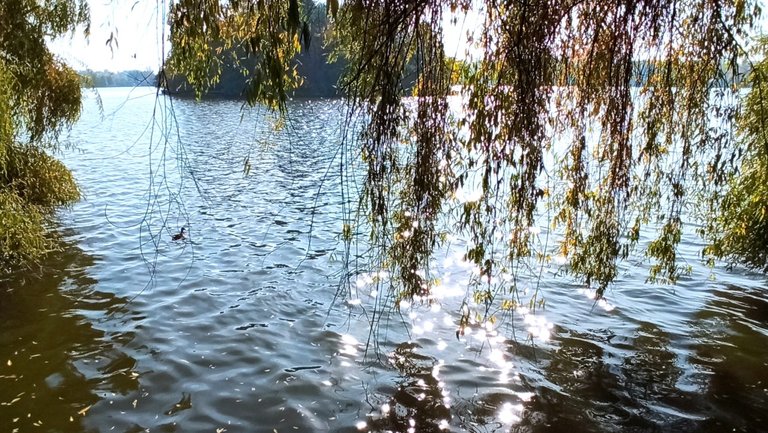 Such a beautiful autumn day! At first, autumn scared us with almost a month of rain but now it's gorgeous. The walk through the park wasn't too long because being the first day of the weekend, it was mandatory to get to the market. Friday is market day. Hard to get there though, the traffic in the city is infernal.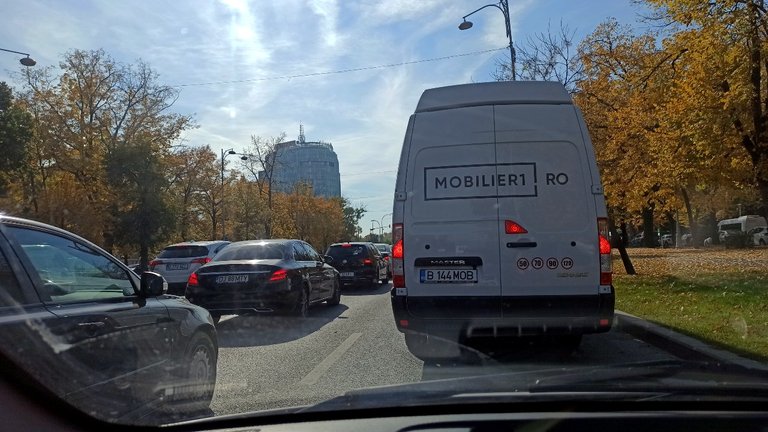 More than half an hour for a few kilometers. Finally, this is a hard problem to solve in my town. Now I can only ignore it and enjoy the market. In the market, another problem, hard to photograph. Rather than see the angry faces of the vendors, I'd rather give up taking pictures. I took a few though, as proof that I was there.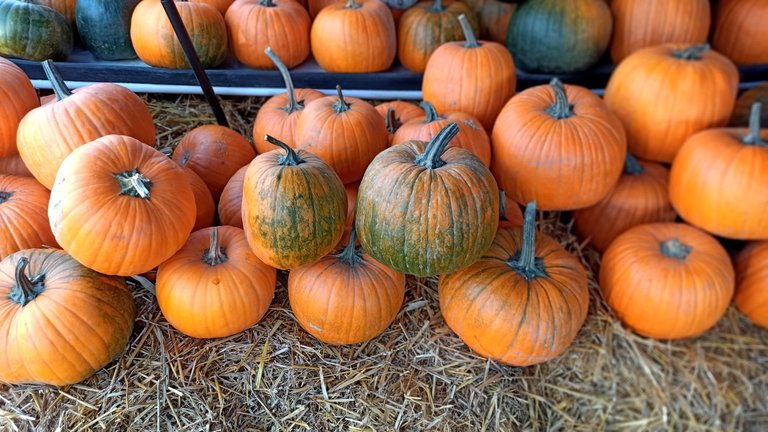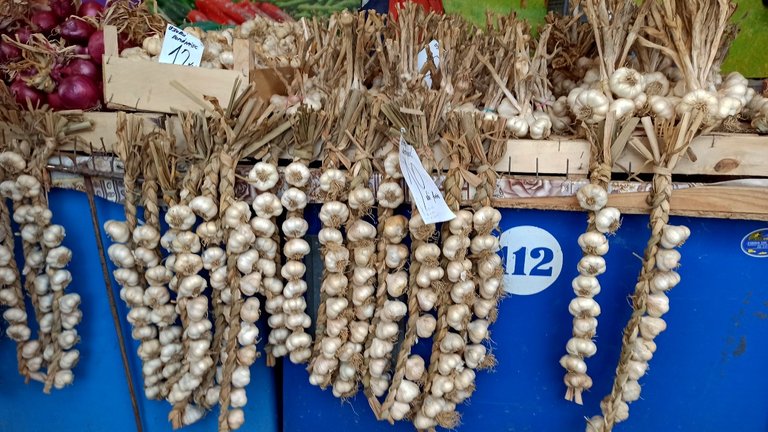 Friday is a beautiful and expected day. It was a full and pleasant day. Lots of movement and a little touch of the market. Because it's the day we go to the market.

I wanted it to be the beginning of a change. I wanted it to be a different way of arranging and constructing the post. More concise, faster. It was just... the opposite! Still, I'm glad I expressed my desire for change. It will even force me to change, as times change.

A real market can only be if there is a flower, a specially placed flower. Now there happened to be several flowers but the following one, an arrangement, was inspired by Van Gogh's painting, Sunflowers. And paintings sell, don't they?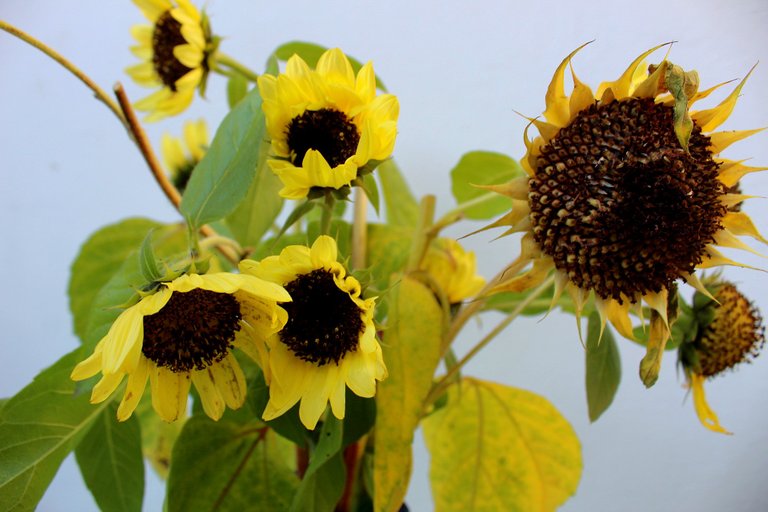 For #marketfriday and #alwaysaflower by @dswigle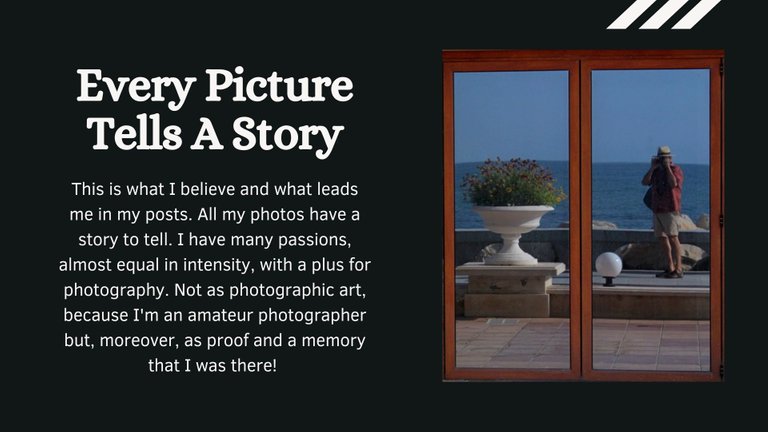 ---
---