Ghost in the Shell - A Picture is Worth a Thousand Words - 1/11/2022
---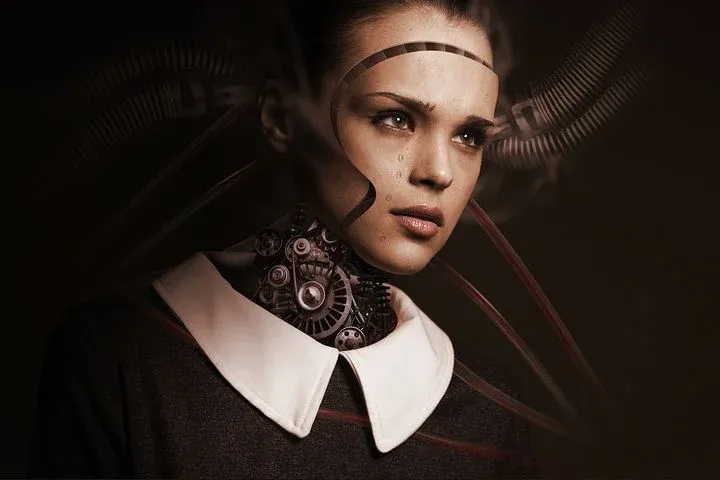 ---
What I see
A female android connected to what seems to be like power and fluid tubes. It seems like she (it?) is in the process of being manufactured or in maintenance.

What I feel
A sense of peace surprisingly. I do not feel any sense of danger. It feels like this android was made to serve and protect humans, hence its female appearance and simple dressing.
---
The gentle hum of processor units running and the constant whirr of machinery stood in contrast to the otherwise nearly empty room. A lone seat stood in the middle with all manner of tubings and wires connected to it's occupant - a single female covered under white sheets.
The whirring finally stopped as the tubes and wires retracted back into the ceiling. The sheets fell away to reveal the entirety of the female's body which was made entirely of metal.
The female stood up, and although seemingly nonplussed about her situation, quickly composed herself. She gingerly stepped forward and took a few steps, trying to get used to her gait as she made her way to a freshly pressed uniform in the corner of the room.
She slipped the uniform on, the crisp smell of freshly ironed clothing contrasting with her cold metallic body, and gave a sigh of relief as she felt a sense of familiarity and routine. She had never thought that the simple daily action of putting on her uniform would bring her so much comfort now.
Fully dressed by now, she stared into her reflection on the mirrored walls. She still looked the same as before, with the uniform covering up her entire body leaving only her neck and head exposed. After donning her boots and slipping on her gloves, she almost felt normal again. It was as if nothing had changed.
She had no time to wonder about the normality of things however, as the doors opened and a team of men in white coats quickly ushered her into another room.
This new room was in stark contrast to the previous room. Instead of mirrored walls and shiny white floors, this was a stony and sandy place, resembling a battlefield obstacle course. An entire company of huge burly soldiers, armed to the teeth, were spaced out throughout the course.
Trust them to get down to business so quickly she thought. She bounded off at full sprint, charging head-on into the battlefield. Easily clearing the walls and pits around the teams of soldiers who were hunkered in their defensive positions, she tore into their formations and threw them into disarray as she quickly disarmed them and took them out - barehanded.
Team after team of elite soldiers were taken out at each and every station of the obstacle course with an almost stone cold efficiency. Even she was surprised at the alarming alacrity in which she dispatched of them. They were the nation's best, the elite forces among the elite, and yet, they seemed to be like flies in her path, being swatted away with impunity.
Before she knew it, there was no one left standing in her path. She gazed at her own body in amazement as she felt the thrill of battle coursing through her veins. A most curious feeling she thought, seeing as she no longer had any such veins in her body to speak of.
As she turned to the doorway, she noticed more men entering the room, congratulating each other. All the bigwigs here to take credit again, she thought to herself, how typical of them. She walked purposefully towards them and stood in front of them, arms akimbo, her stony eyed gaze washing over them.
A silver haired man with a thick bushy moustache, cigar in his mouth and 5 stars emblazed onto his shoulder epaulettes finally turned to her.
"Congratulations Doctor Abigail. It seems that your creation - you yourself, was a success. You are the first successful cybernetic human and have just singlehandedly won us the arms race. Your country thanks you for your service."
---
---
---