Days of Our Hive.PIZZA Lives: You've Put a Stake Through my PIZZA Heart! 💘🍕💘🍕💘🍕 BIG STAKING NEWS!

---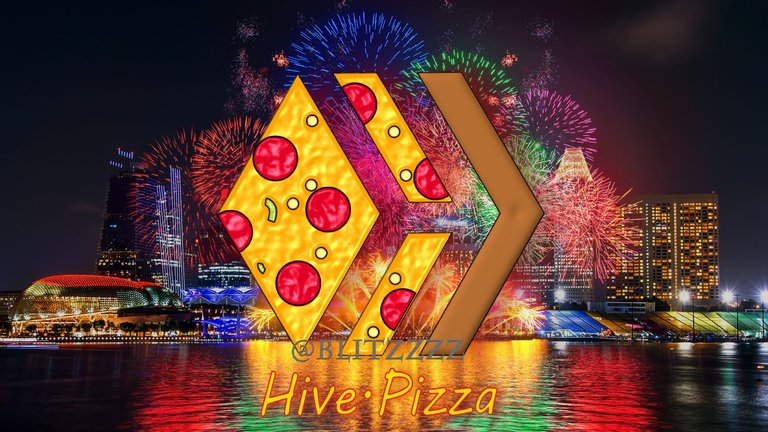 ---
Hello PIZZA fans who read this for their almost daily frequent PIZZA Discord updates.
First off! As per a great idea from a comment posted on one my nearly daily posts about PIZZA, I've decided to name my updates "DAYS OF OUR HIVE.PIZZA LIVES" 😂😂😂 seeing as how the events are quite soap opera-ish at times. So for the time being, I'll keep this as the title headline.
If you've been attentive in PIZZA, you'd have noticed some BIG HINTS being dropped in the past few days. Stay tuned and let me bring you up to speed as you catch up on all those... which will lead into the BIG REVEAL !!! 🍕🍕🍕
---
Never fear! Catch up on what you've missed with my brief (and hopefully entertaining) updates on the ins and outs of the PIZZA DISCORD🎉🥳🎊
As a BIG FAN of 🍕PIZZA🍕, I always suggest joining PIZZA DISCORD if you need a quick pickmeup. 👍 It's a friendly and helpful community with regular EVENTS, AIRDROPS of various crypto tokens, discussions of several GAMES on HIVE (Splinterlands, Rising Star, HashKings, Exode...), MUSIC, and even bits of FINANCE ... well I think you get the idea 😄

Following the Breadcrumbs Trail

Pretty much like Tom Thumb who left a trail of crumbs, here's the list of hints that were dropped every so often throughout the day.
A seemingly casual question by @szmobacsi lead to quite a chain of responses!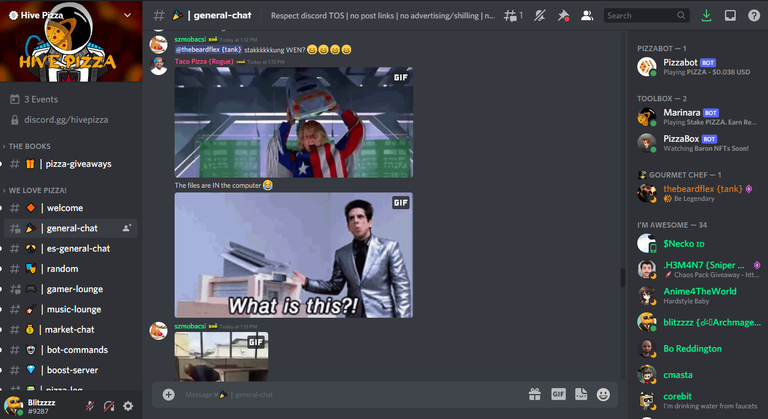 Ooh, looks like a FIRM DATELINE from the man @thebeardflex !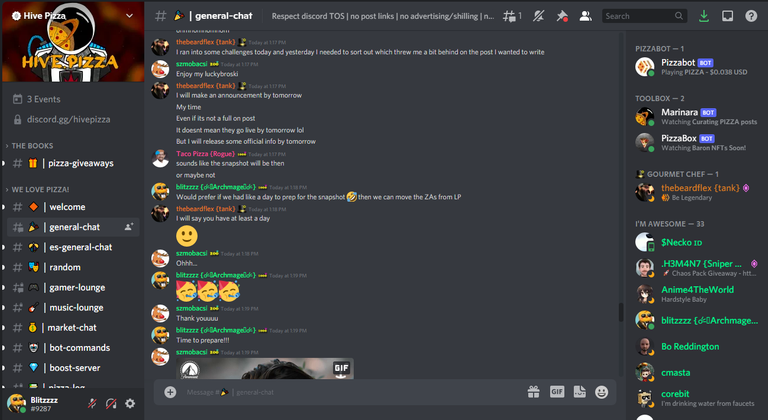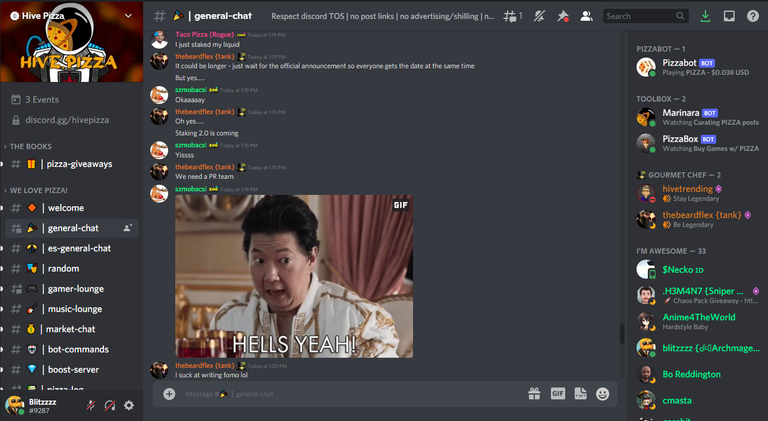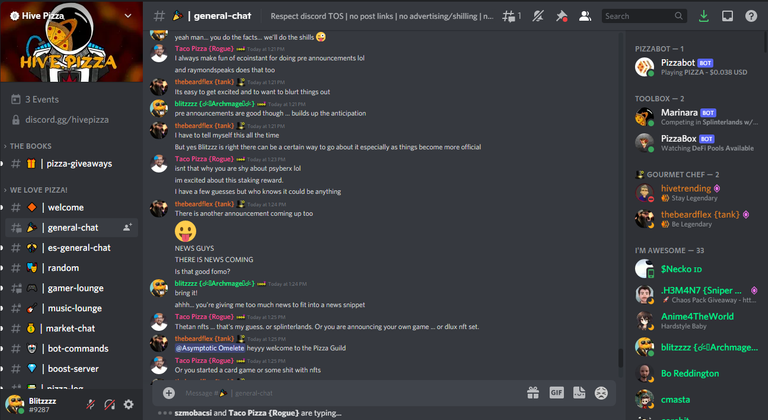 Lots of other plans for the entire year too! I AM STOKED! Big plans for PIZZA! PIZZA TO THE MOON! 🍕🚀🍕🚀🍕🚀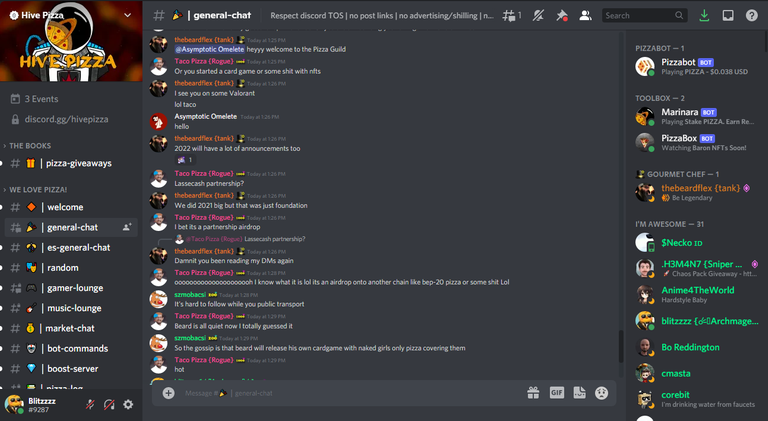 🔐🔐🔐Friendly Reminders?🔐🔐🔐

A response from out of nowhere to a seemingly innocent question again. Seems like our friendly neighborhood Bearded Pizza Boss is bursting with excitement and has to let out some hints every now and then! 🤣
Rantree's comment on his small bits of PIZZA earnings everyday brought this response! 😜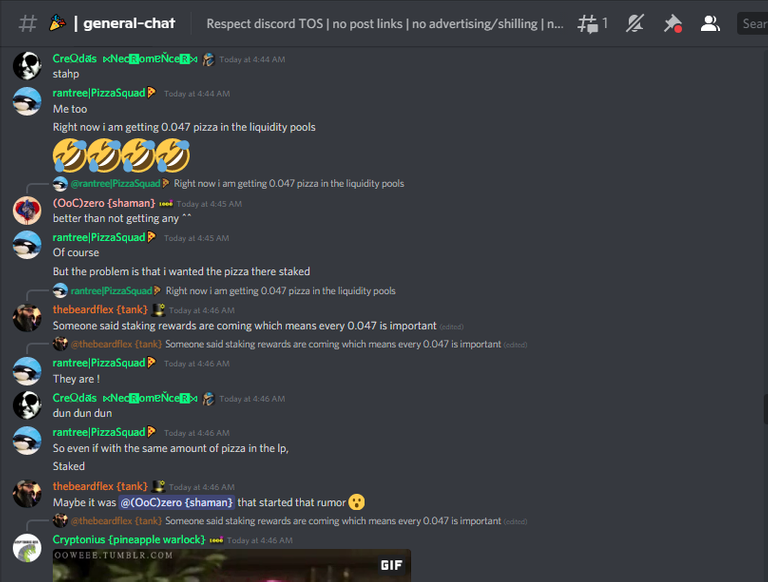 LOCK IT UP!!! You know what to do with your $PIZZA now. 😉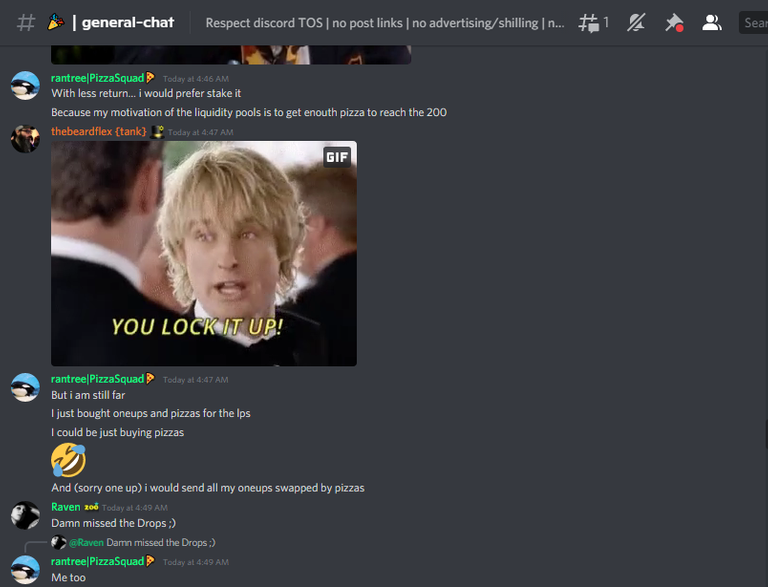 More "not so subtle" hints being given? By now, anyone who has read all these messages should know what to do. Right? 😜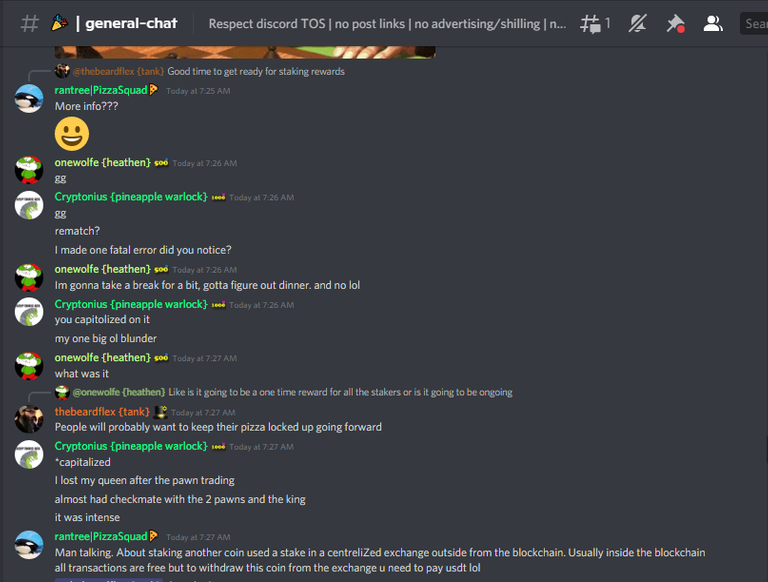 🍕📰IT'S OFFICIAL! PRESS RELEASE!📰🍕

Out of nowhere awhile ago.... BAM! A SUDDEN OFFICIAL ANNOUNCEMENT HAS BEEN MADE!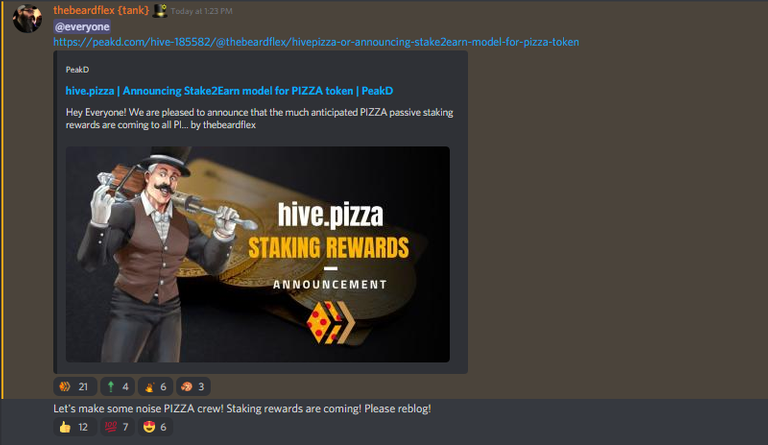 This is what we've all been waiting for! HIVE.PIZZA STAKING REWARDS ANNOUNCEMENT!!!
This is now an official News Release from PIZZA, fresh out of the oven. It details all the information and benefits for Staking PIZZA, which starts THIS SUNDAY!
Here's the link to the official release news, so all you readers can pour over the details on your own.
https://peakd.com/hive-185582/@thebeardflex/hivepizza-or-announcing-stake2earn-model-for-pizza-token

🎉🎉🎉There's More to Come in 2022🎉🎉🎉

Hopefully you've read the official OFFICIAL PIZZA STAKING ANNOUNCEMENT by now. There're still more phases to go with alot more planned for 2022. Good times ahead for all holders of 🍕$PIZZA🍕.
Not Financial Advice - but now's the time to get in if you haven't yet already. (or you could hold off more, whilst I scoop up alot more of the cheap $PIZZA on the market 😉💰🍕)

✨✨✨Upcoming Events✨✨✨

Over at PIZZA DISCORD, there are always loads of planned Events lined up (and even impromptu ones).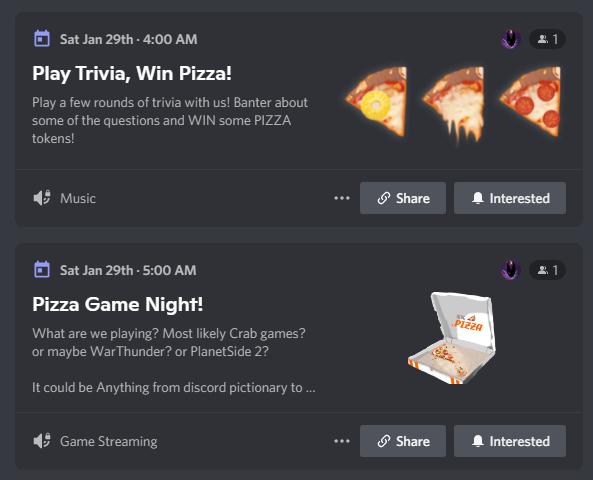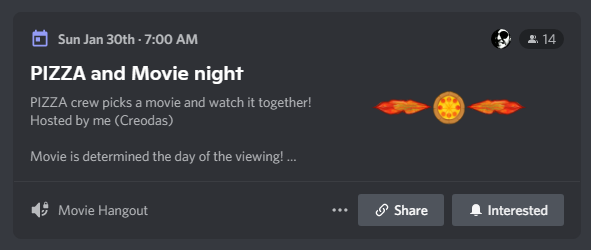 🎁🎁🎁Current Contests & Giveaways🎁🎁🎁

Alot of FREE prizes up for grabs at the moment too! Don't miss out! 🎁🎁🎁💰💰💰 What are you waiting for? It's all here in the PIZZA DISCORD.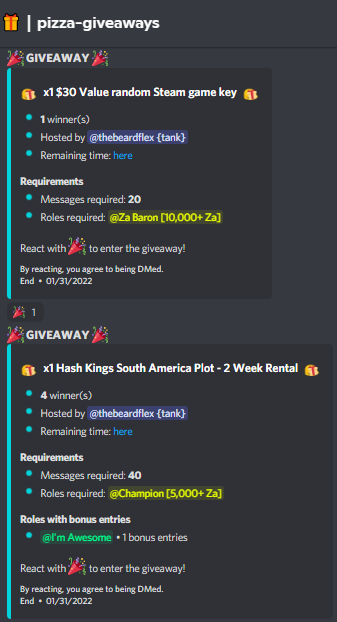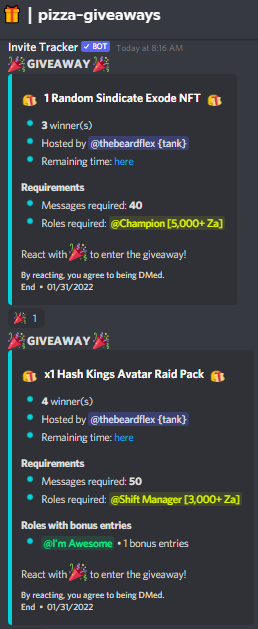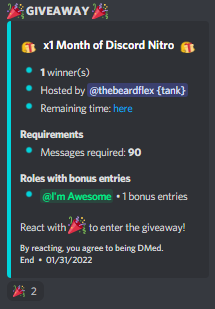 🏁🍕That Rounds It Up🍕🏁

PIZZA is an active gaming and creative arts crypto community on the HIVE blockchain. Popular games on HIVE like SPLINTERLANDS, RISING STAR, EXODE, HASHKINGS have their own PIZZA communities here.

Don't miss out more events that are always being organised. Join the PIZZA DISCORD. Even if you aren't interested in the 💰🍕🎁GIVEAWAYS & AIRDROPS💰🍕🎁, there is a vibrant and friendly community there awaiting you.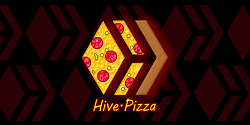 CLICK THIS LINK TO JOIN PIZZA DISCORD!!!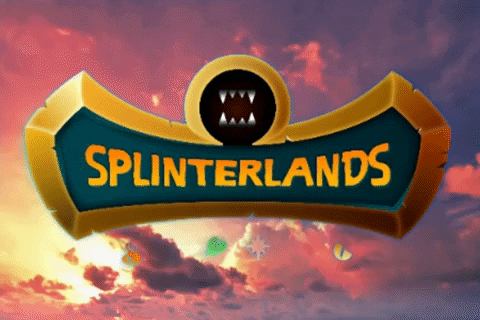 Here's to wishing everyone all the best for the upcoming week 🎉🍀.
To any new players who wish to explore the world of Splinterland, do feel free to sign up with my REFERRAL LINK 😊.

---
---