Days of Our Hive.PIZZA Lives: Trivia & Gartic. The Lone Ranger Corps take on Edward Scissorhands! ✂️🤠✂️
---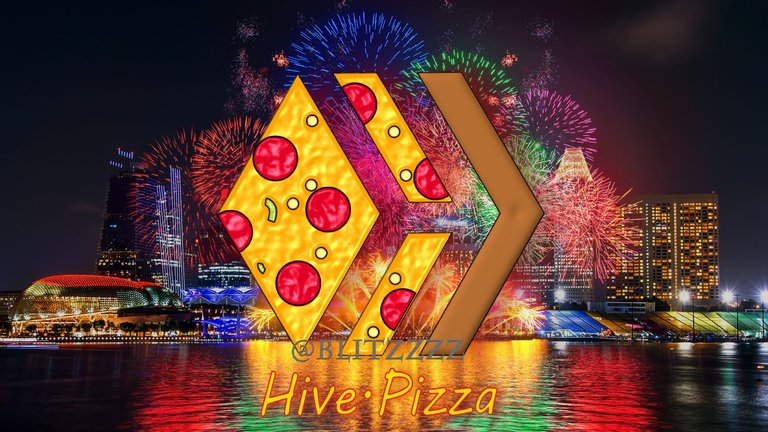 ---
TGIF and WEEKENDS (depending on which time zone you're in) means its full of our weekly events on PIZZA Discord! I bring to you a report on our most recent events which just took place today! Pizza Trivia and Game Night!
(BTW, if you missed my previous article, or the official PIZZA announcement, PIZZA has recently announced STAKING REWARDS! CLICK HERE FOR THE DETAILS)
---
Never fear! Catch up on what you've missed with my brief (and hopefully entertaining) updates on the ins and outs of the PIZZA DISCORD🎉🥳🎊
As a BIG FAN of 🍕PIZZA🍕, I always suggest joining PIZZA DISCORD if you need a quick pickmeup. 👍 It's a friendly and helpful community with regular EVENTS, AIRDROPS of various crypto tokens, discussions of several GAMES on HIVE (Splinterlands, Rising Star, HashKings, Exode...), MUSIC, and even bits of FINANCE ... well I think you get the idea 😄

💭💡📝Pizza Trivia💭💡📝

Clicking on the "join event" button surprisingly brought us to the Music channel instead 😄🎤🎵🎶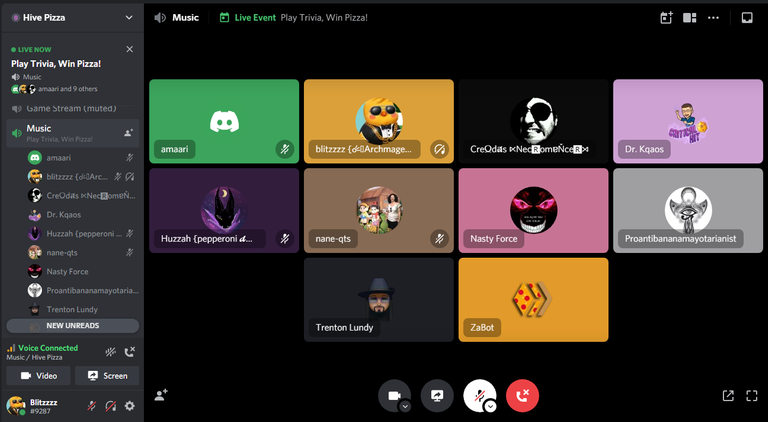 Event is starting! What is this? We have a new host(ess) today! @huzzah instead of the usual @thebeardflex 😱😜
Tricky question for the first Trivia of the night! And as usual, the first few questions always catch most of the crowds unawares. That means a bigger share of the pie for the early birds!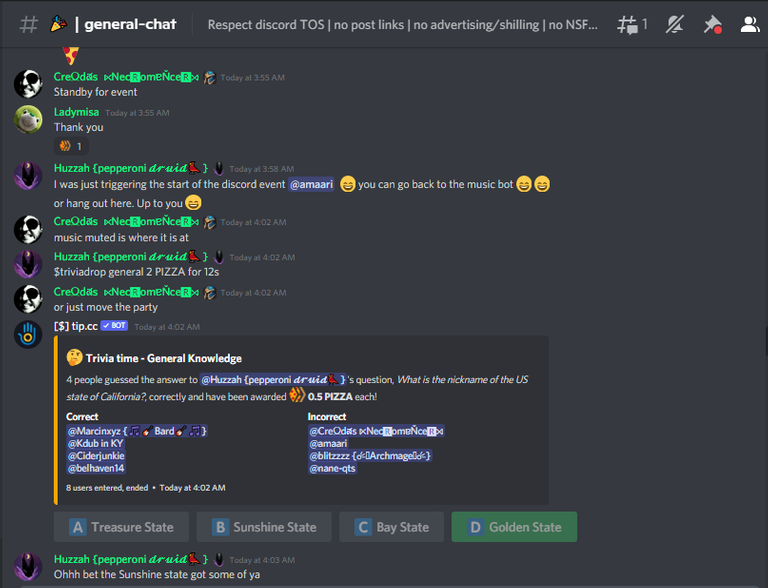 🤠Our First Lone Ranger of the Night🤠

Wyverns VS Dragons 😉 Previous regular participants already know the answer to this repeat question. Or at least those who've read my Pizza Event Recap posts too.
Congratulations to @nastyforce! (i hope i tagged the correct person in HIVE, same nick as per discord 😅) Our first Lone Ranger of the night! 🤠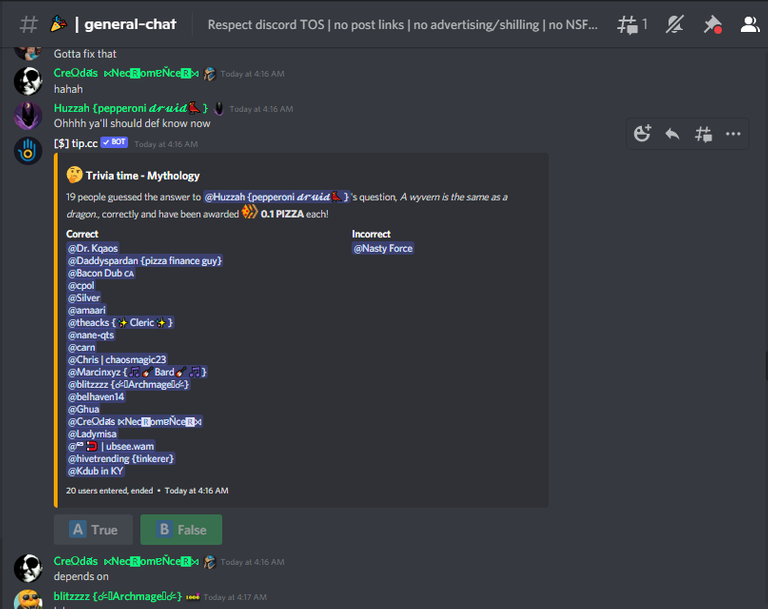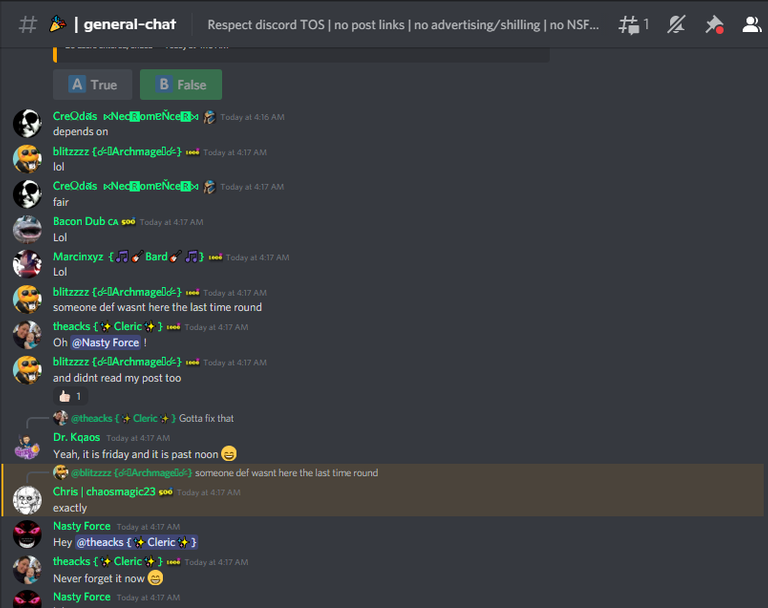 Not to be outdone however, @wanderingmoon quickly joined the ranks of the Lone Ranger Corps just minutes later! 🤠 But the 🔫AK-47🔫 my Pizza fam! How can you not have heard of it! 😱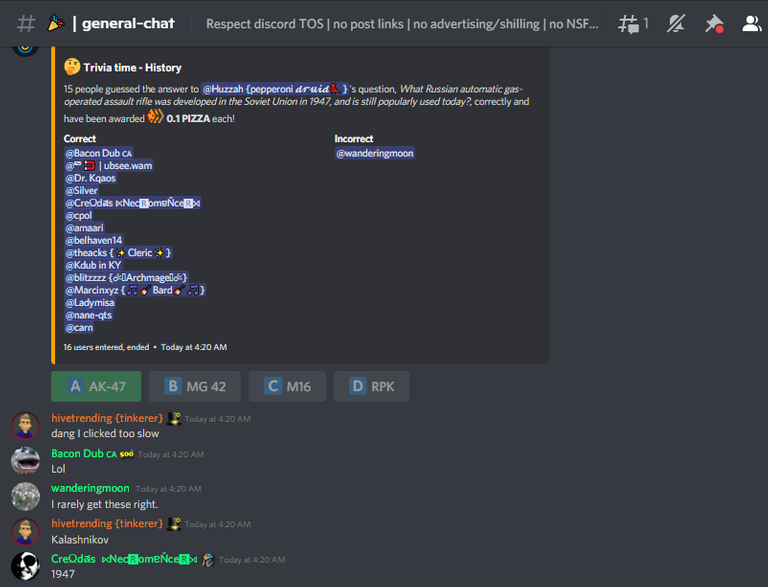 Not too bad having people in the Lone Ranger Corps though, everyone gets some extra $PIZZA as pity drops. 🤑


✂️✂️Edward Scissorhands✂️✂️

Looks like some of our Pizza members are unfamiliar with the movie classic Edward Scissorhands ✂️😱✂️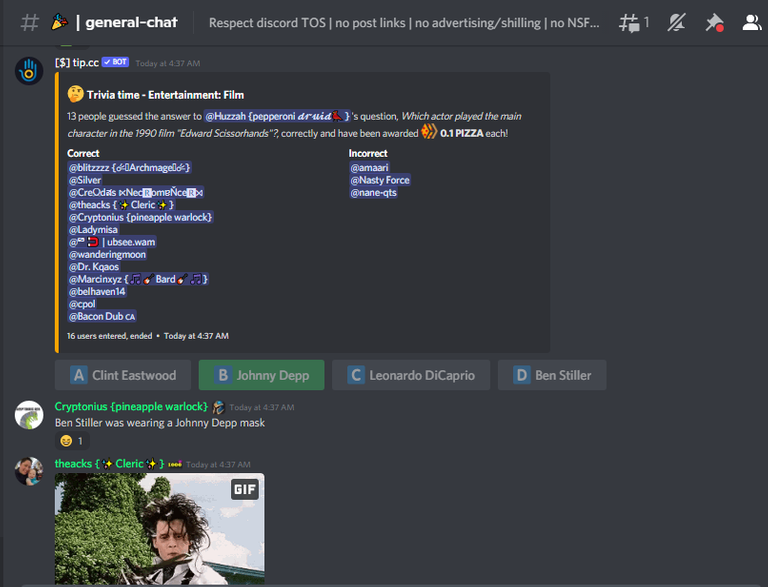 No worries! As per @huzzah 's suggestion - @creodas! We've got the candidate for the next Movie Night 😉

@theacks doesn't believe in voting for the movie. I believe people should be given the illusion of choice 😜, there will be only one candidate at the ballot box!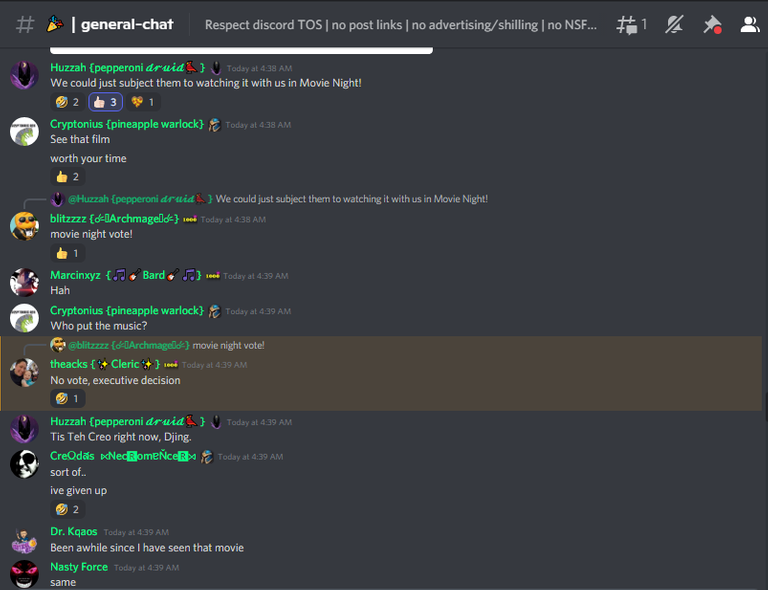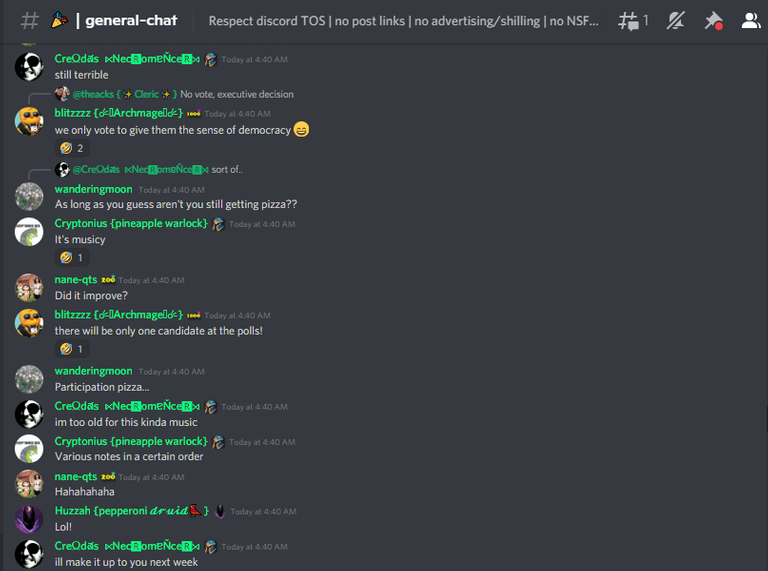 🏁🎁Wrapping up Trivia Night🏁🎁

Last question was about the 1st ever San Diego Comic-con. PIZZA definitely doesn't know much about Comic-con origins. 😜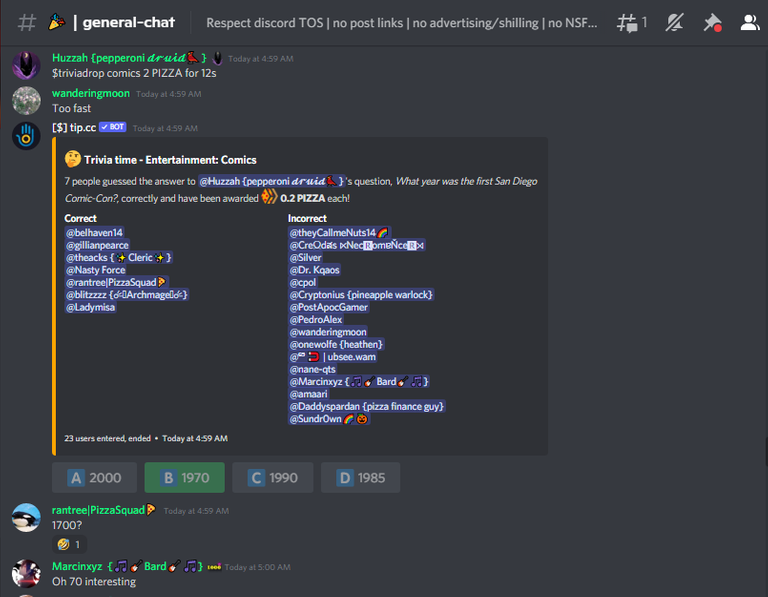 And that's a wrap for Trivia! Many thanks for @huzzah for taking the place of @thebeardflex to host today. Any thank you to all our participants too!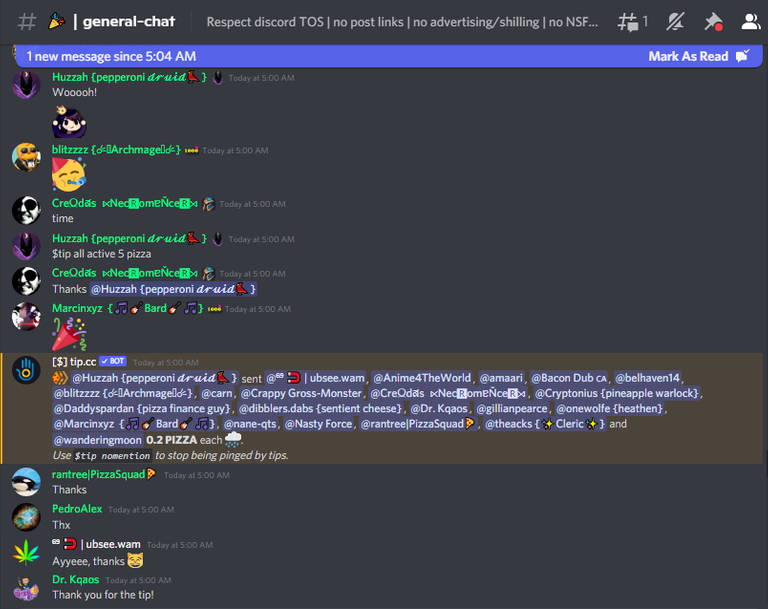 ✏️🎨🖼️Next Up - GARTIC✏️🎨🖼️

Following the success of last week's Gartic game event, we're giving it another go for Pizza Game Nights!
@huzzah starts with the hosting again.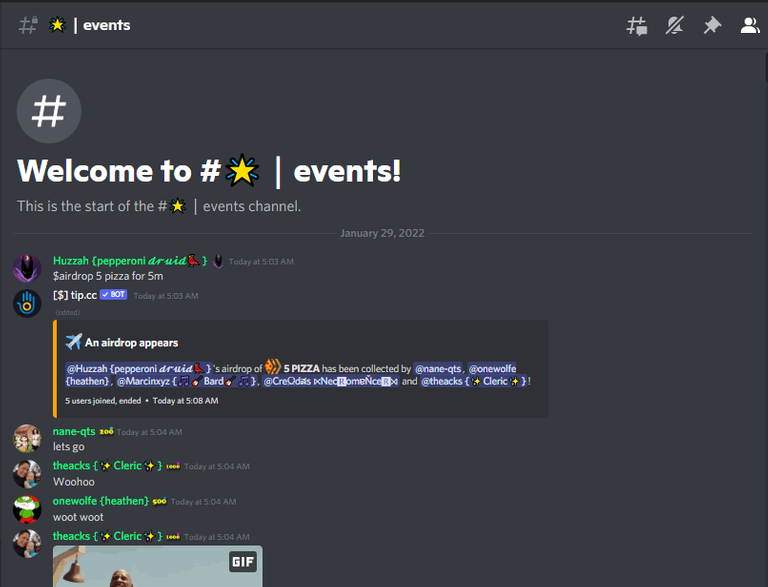 But what's this? @thebeardflex sudden reappears! Welcome back!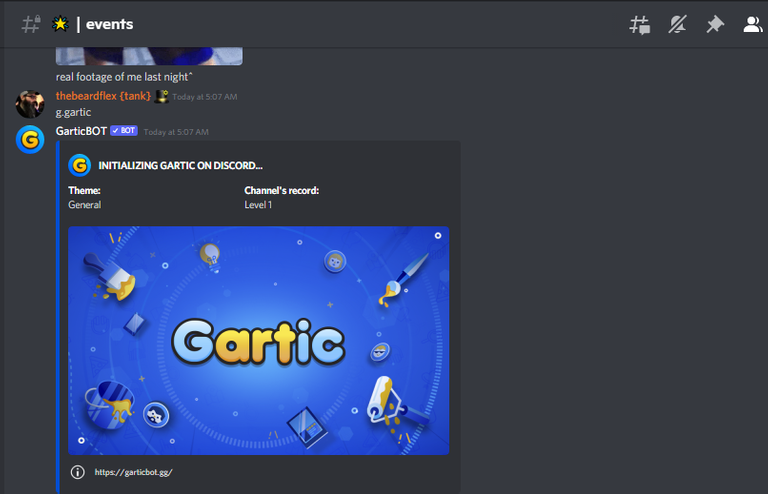 First blood of the night goes to @theacks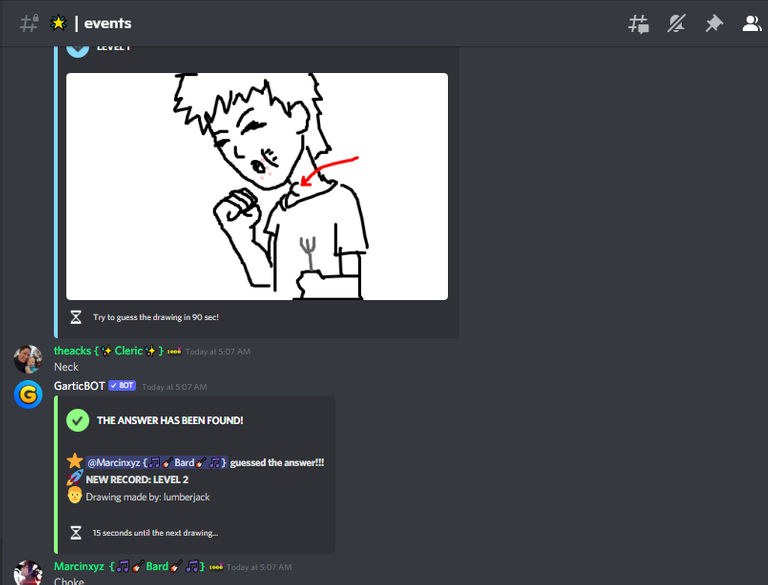 As always, I'm really bad in this game. Fingers are too slow! But I finally managed to score 1 point! All thanks to Snoopy! 🐶🐶🐶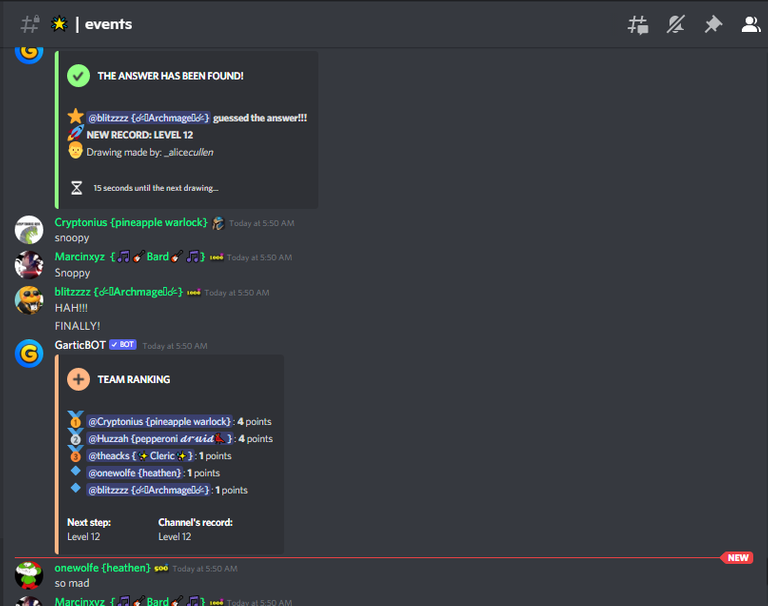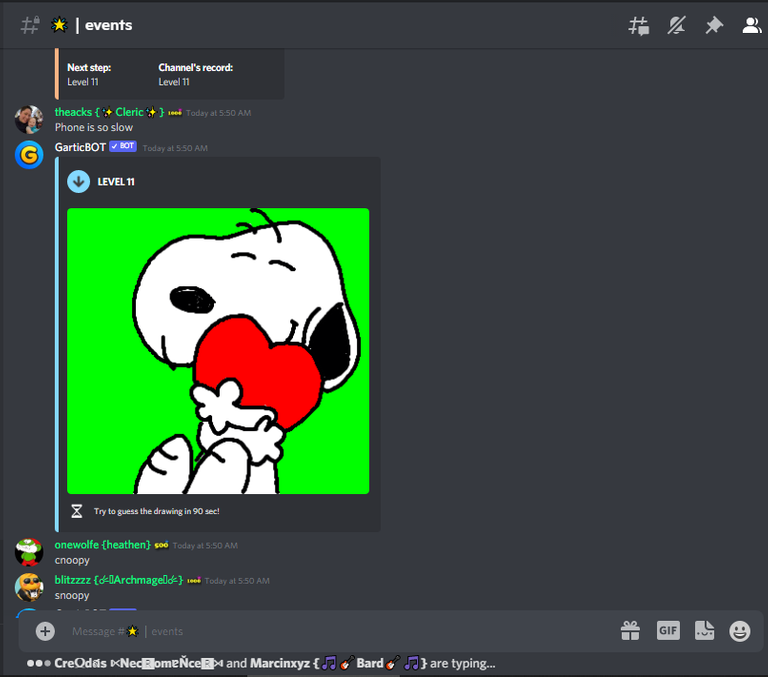 A 2nd point for me today! I just beat my previous week's record! 🥳🎉 Go Daffy Duck! 🦆🦆🦆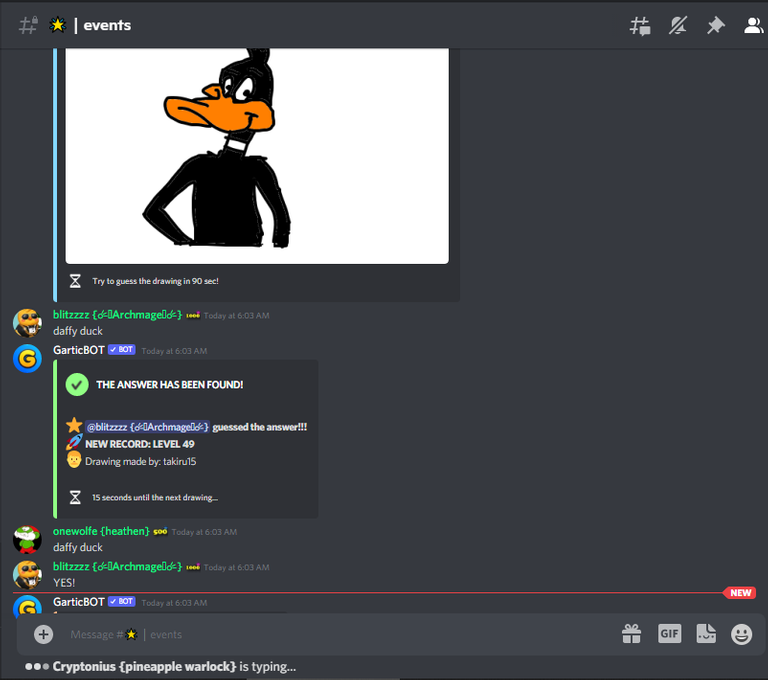 @huzzah dominates in this game. Her fingers are lightning fast! And... a NEW RECORD in Gartic for Pizza! We actually beat it and completed the round entirely.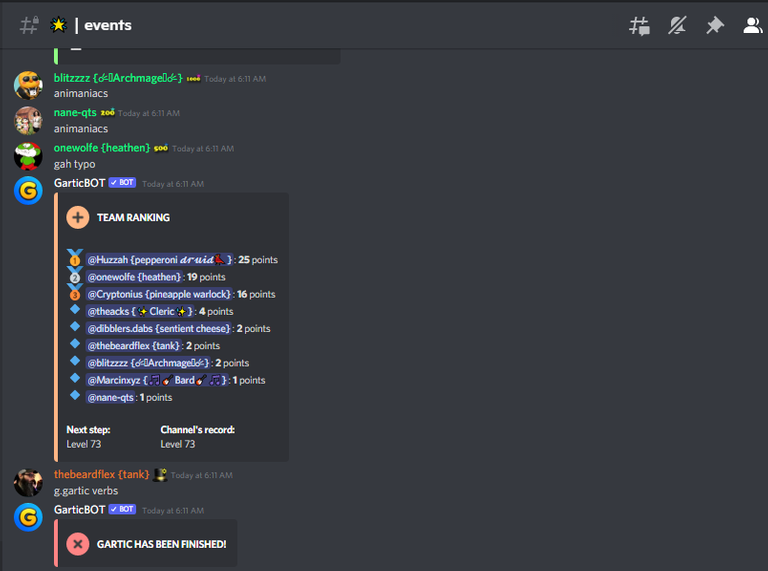 PIZZA is good at cartoons. As for the category verbs.... 💬💬💬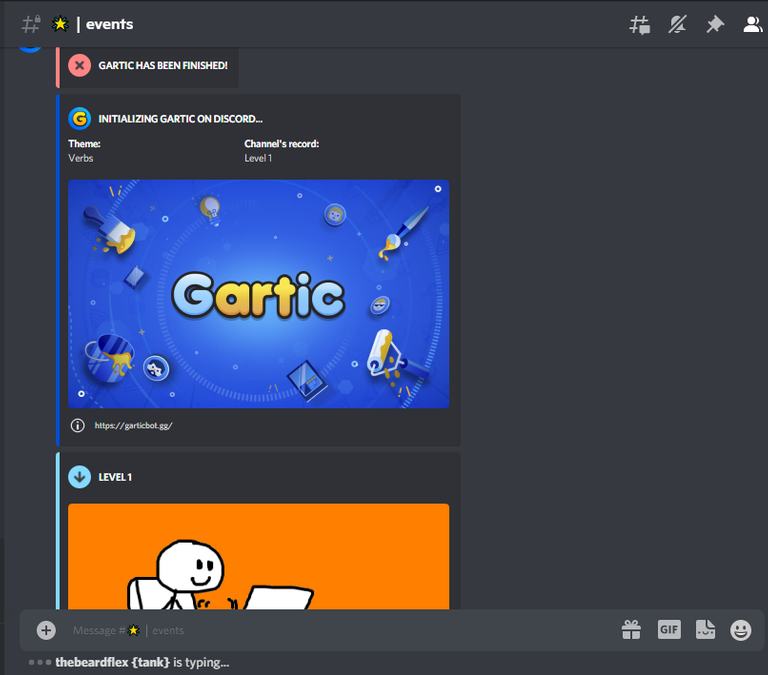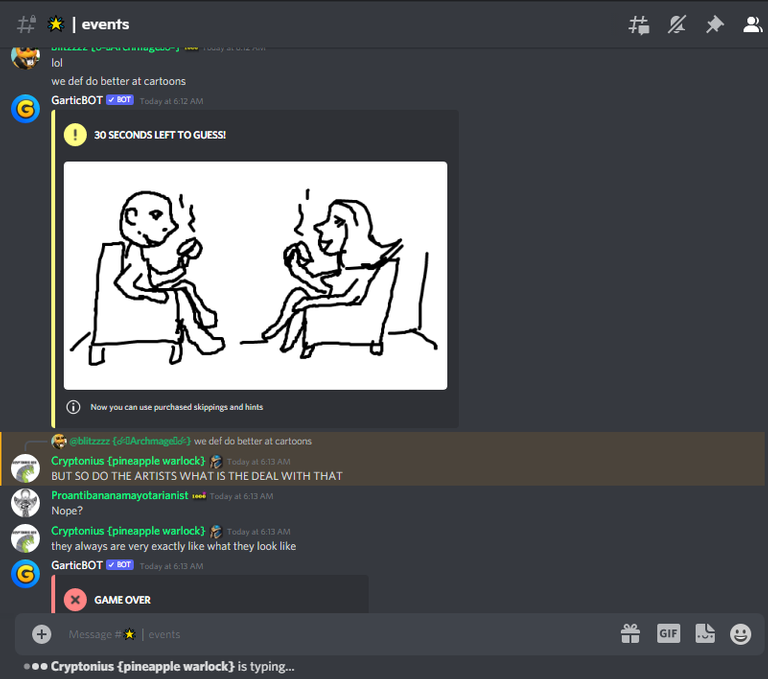 Well, 1 question was all we managed to answer before we were all defeated! 💀💀💀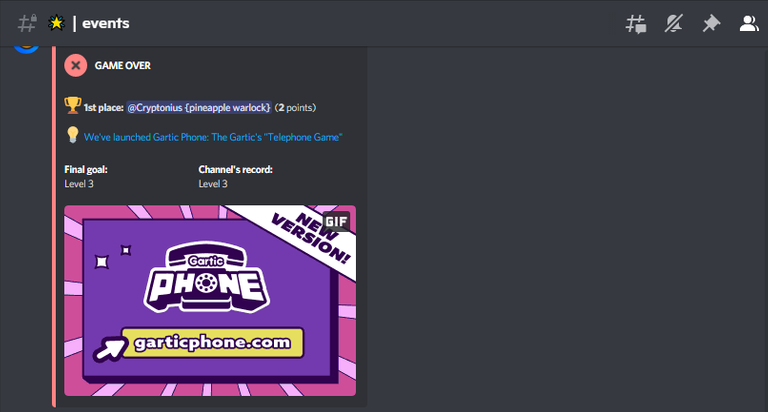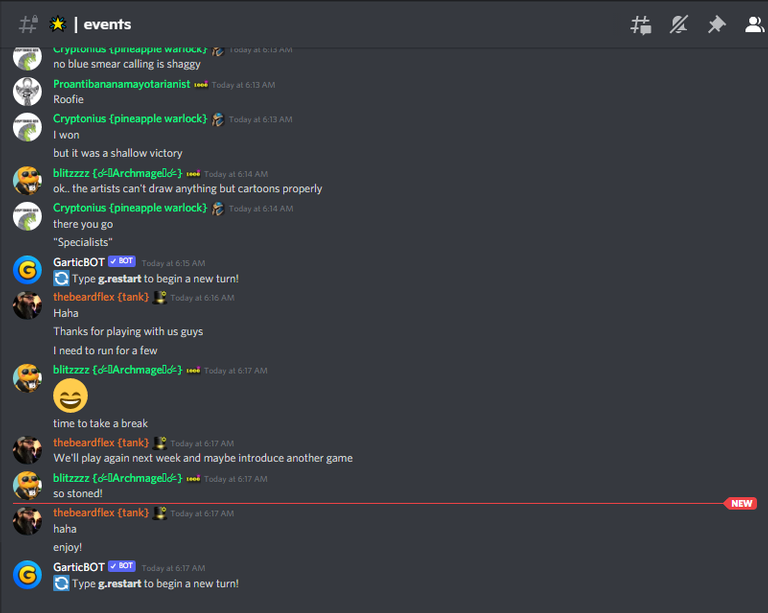 All in all, this was another fun weekend event for PIZZA. Hopefully if you read this, you will decide to join us (if you haven't already 😉).

✨✨✨Upcoming Events✨✨✨

Over at PIZZA DISCORD, there are always loads of planned Events lined up (and even impromptu ones).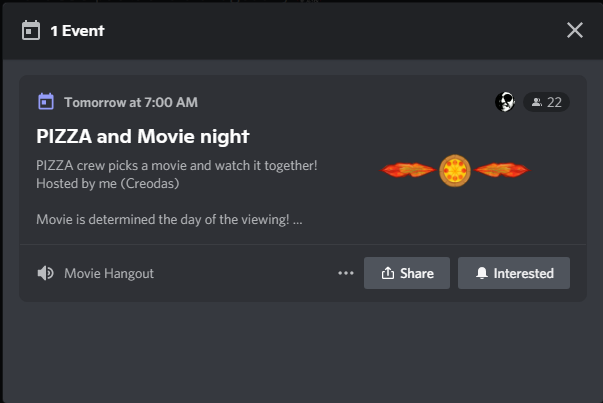 🎁🎁🎁Current Contests & Giveaways🎁🎁🎁

Alot of FREE prizes up for grabs at the moment too! Don't miss out! 🎁🎁🎁💰💰💰 What are you waiting for? It's all here in the PIZZA DISCORD.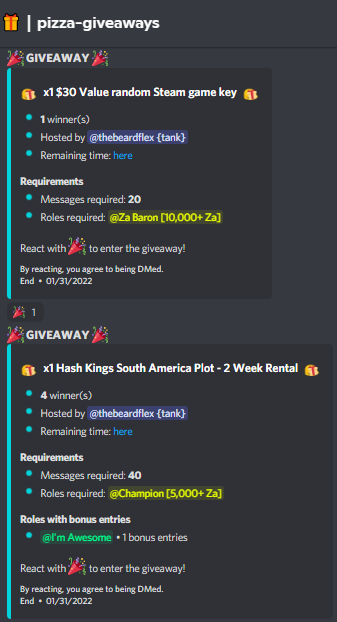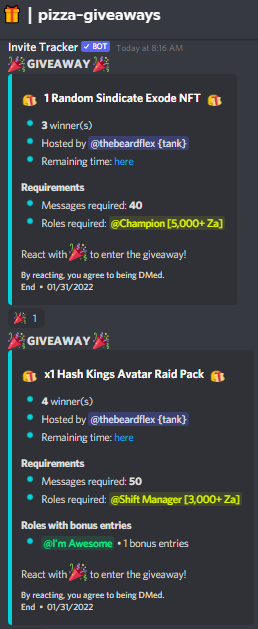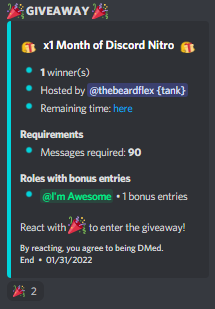 🏁🍕That Rounds It Up🍕🏁

PIZZA is an active gaming and creative arts crypto community on the HIVE blockchain. Popular games on HIVE like SPLINTERLANDS, RISING STAR, EXODE, HASHKINGS have their own PIZZA communities here.

Don't miss out more events that are always being organised. Join the PIZZA DISCORD. Even if you aren't interested in the 💰🍕🎁GIVEAWAYS & AIRDROPS💰🍕🎁, there is a vibrant and friendly community there awaiting you.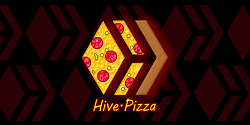 CLICK THIS LINK TO JOIN PIZZA DISCORD!!!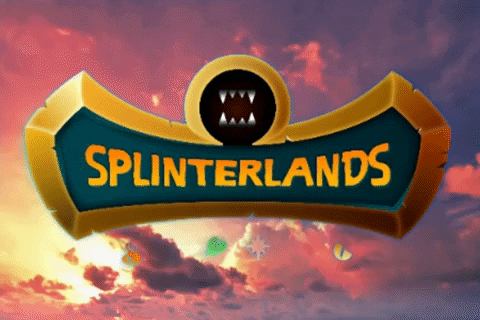 Here's to wishing everyone all the best for the upcoming week 🎉🍀.
To any new players who wish to explore the world of Splinterlands, do feel free to sign up with my REFERRAL LINK 😊.

---
---