Days of Our Hive.PIZZA Lives: Trivia & Gartic. The Curious Case of the Missing Beard. 🔎🧔🏻🔍🔎🧔🏻🔍🔎🧔🏻🔍
---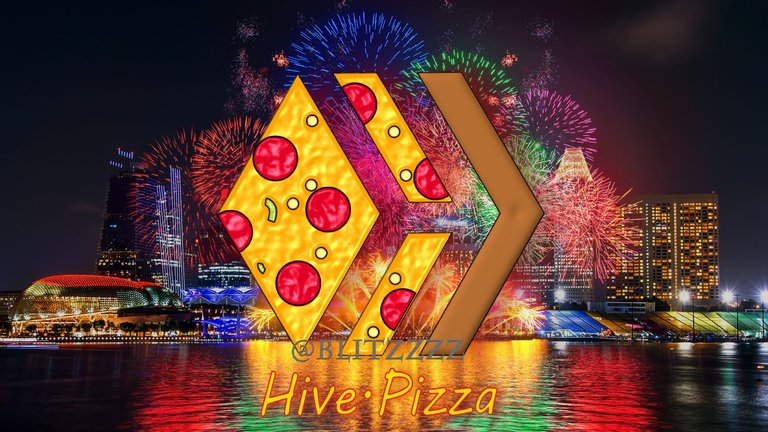 ---
TGIF! The weekend is upon us yet again! And with this, its events galore with PIZZA! 🍕🍕🍕 Today, we've got our weekly Trivia Night followed up with Games Night! So here's what you've missed! (Although, I do encourage everyone to join in if you can next time! Lots of fun and 🍕🍕🍕$PIZZA🍕🍕🍕 to be won!)
---
Never fear! Catch up on what you've missed with my brief (and hopefully entertaining) updates on the ins and outs of the PIZZA DISCORD🎉🥳🎊
As a BIG FAN of 🍕PIZZA🍕, I always suggest joining PIZZA DISCORD if you need a quick pickmeup. 👍 It's a friendly and helpful community with regular EVENTS, AIRDROPS of various crypto tokens, discussions of several GAMES on HIVE (Splinterlands, Rising Star, HashKings, Exode...), MUSIC, ART, and even bits of FINANCE ... well I think you get the idea 😄

⏰⏳Tick Tock, Waiting for the Countdown⏰⏳

The regular PIZZA crowd are well accustomed to and primed for Trivia to start by now. Seems like @thebeardflex is running a tad bit late today though ⏰⏳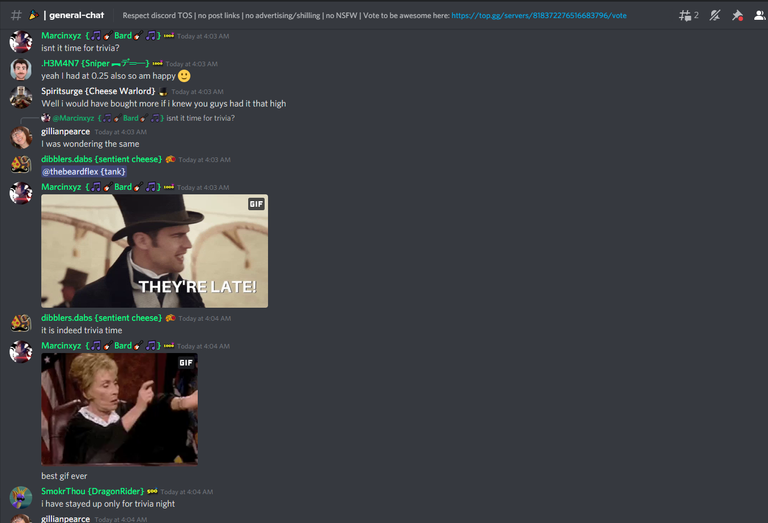 @h3m4n7 @smokrthou Yup my 2 friends in the same timezone as I am... all 3 of us are probably playing with our eyes half closed 🥱😴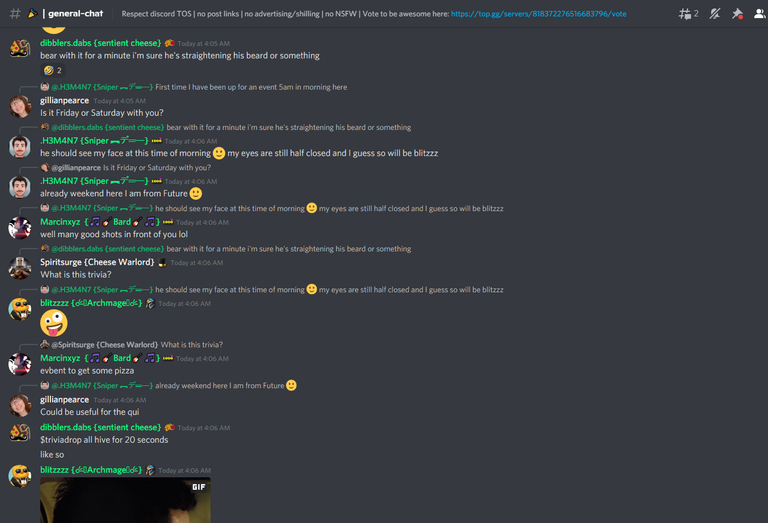 @dibblers.dabs has decided to get some Trivia going first! 🥳🥳🥳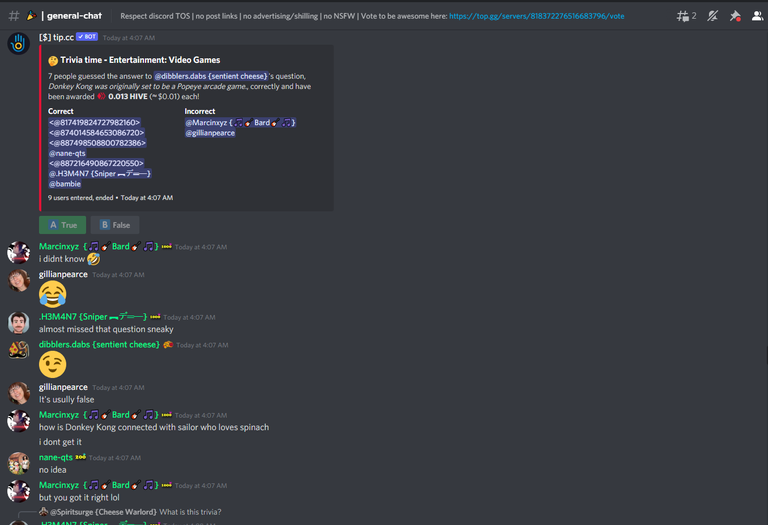 Wow.. a perfect score? 💯💯💯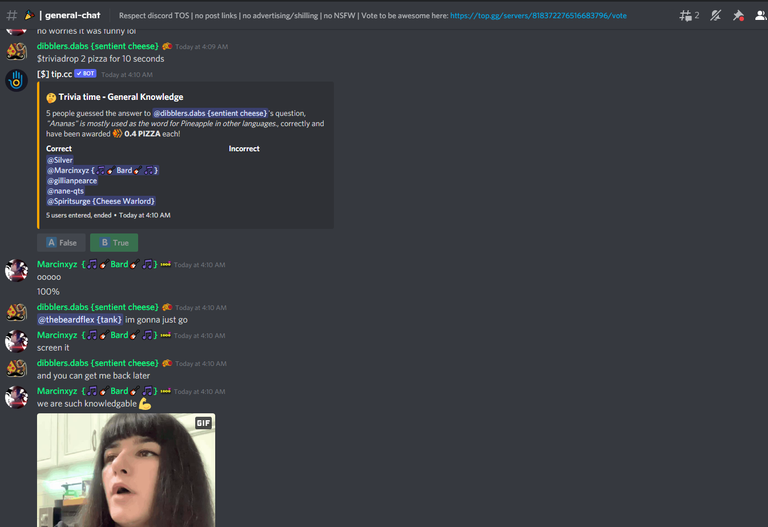 And the main man finally shows up!!! 😁😁😁 But its ok. The PIZZA Family loves you, even if you were stuck at work. @dibblers.dabs has officially taken charge today! 👑👑👑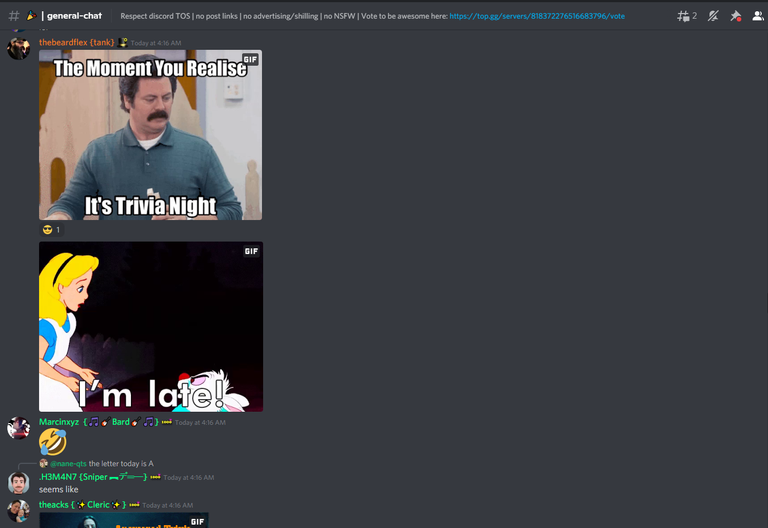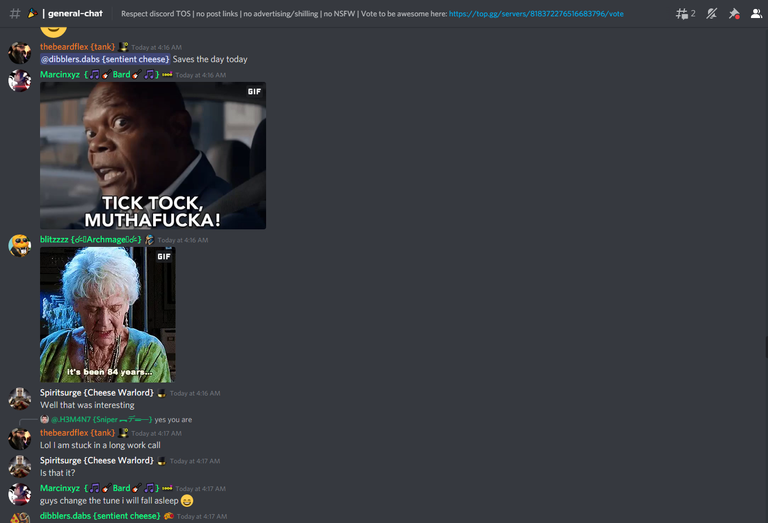 🏁Let the Games Begin!🏁

The games have only just begun and we've already got 2 SOLO WINNERS scooping up all the spoils for themselves! 😱🍕👍🏻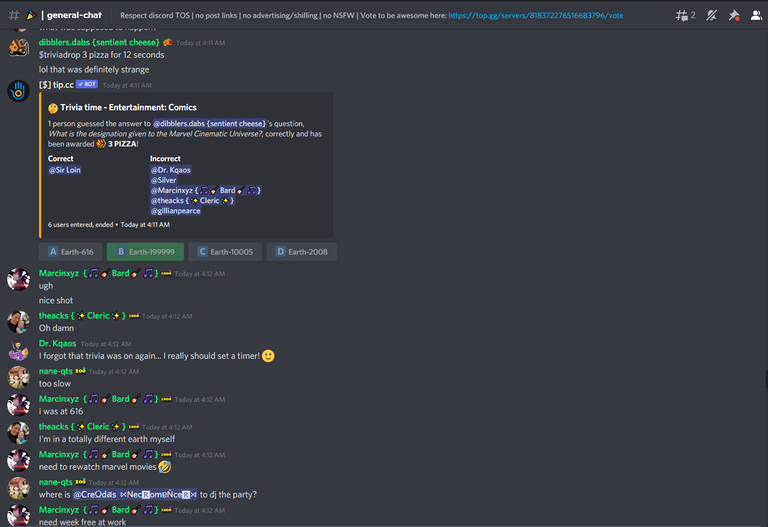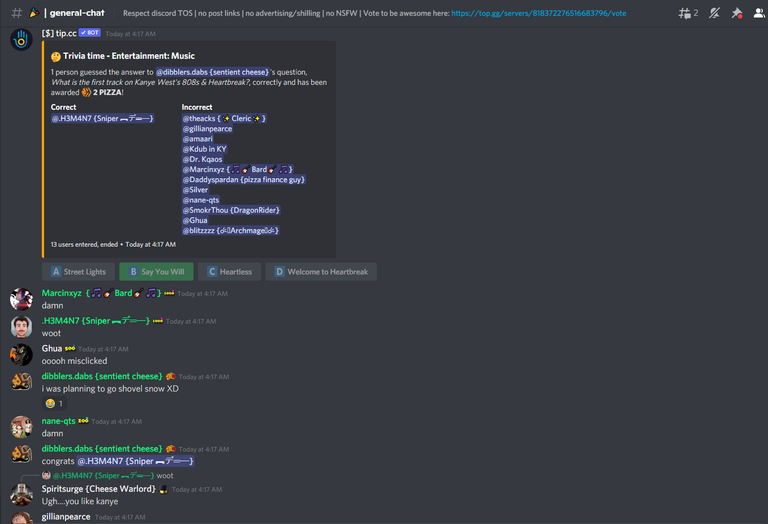 Our first SOLO incorrect answer of the night! Silver!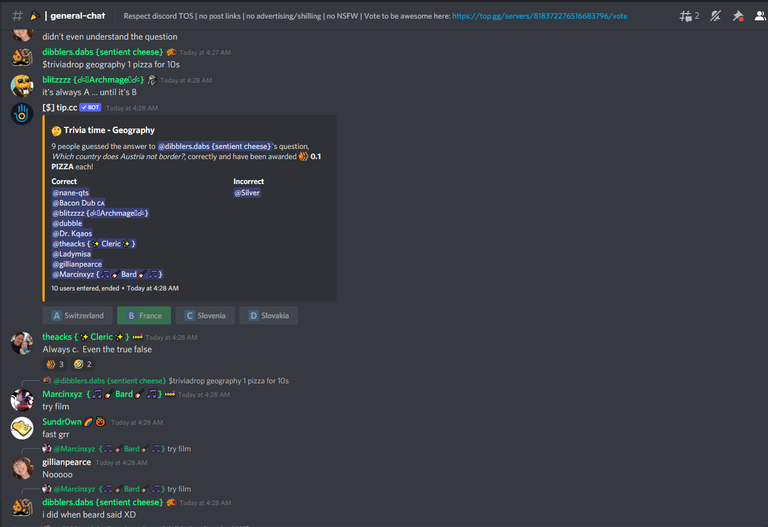 Who immediately recovers with a SOLO WIN. 😱🍕👍🏻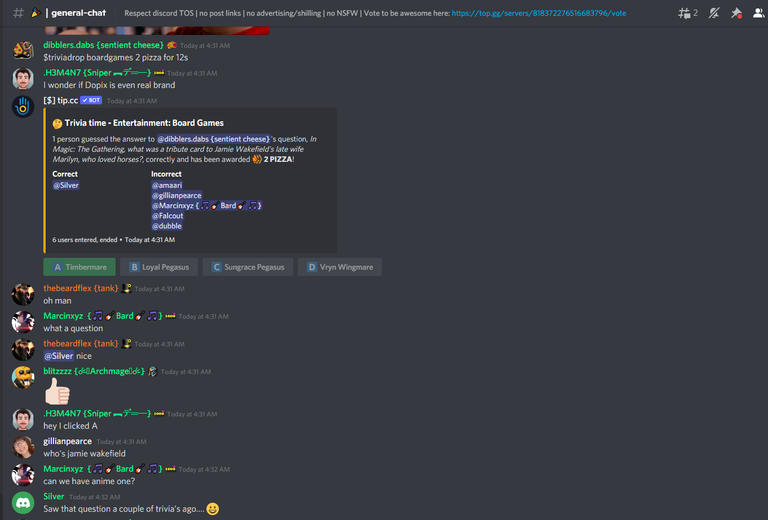 @dibblers.dabs teases everyone with a lightning fast question which ended before anyone even finished reading. ⚡⚡⚡ Shows how engrossed everyone is.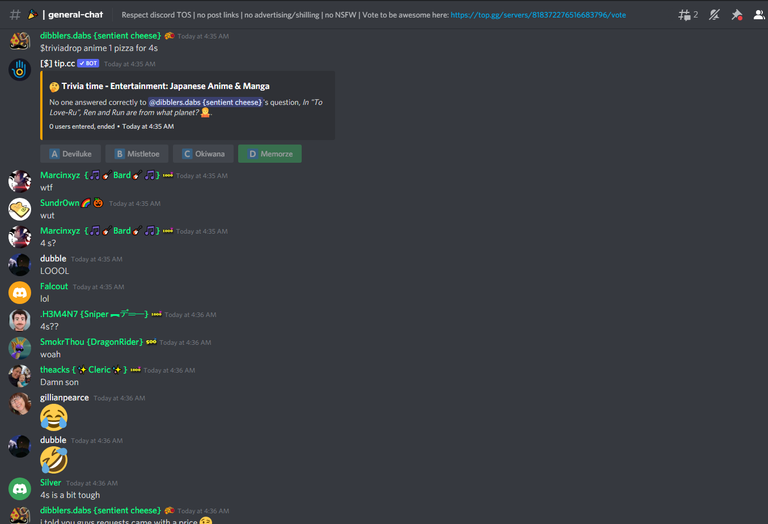 We've got 1 more SOLO win and loss for the night! @kqaosphreak & @smokrthou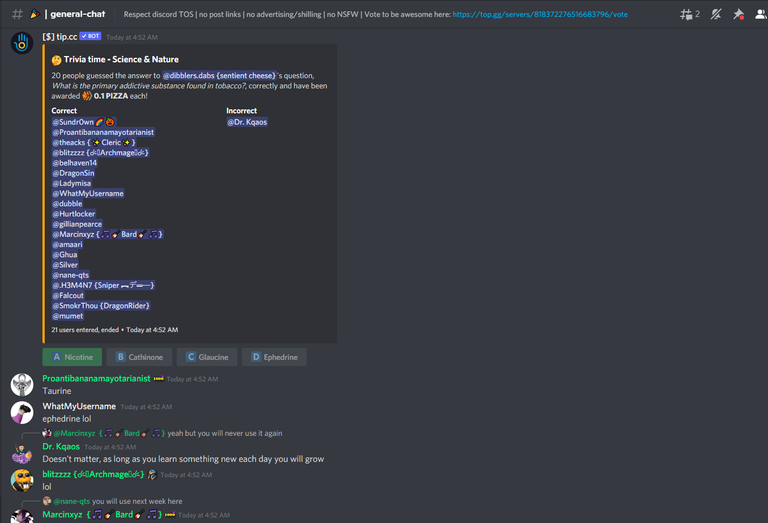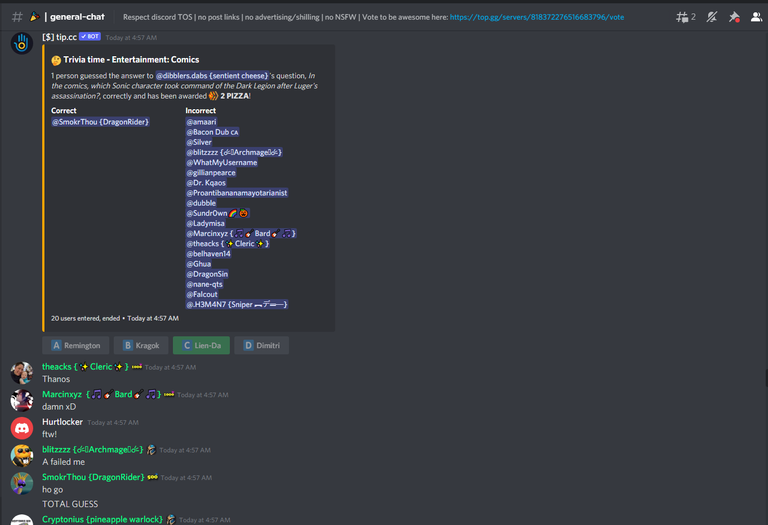 And... THAT'S IT FOR PIZZA TRIVIA NIGHT! On to Games Night next!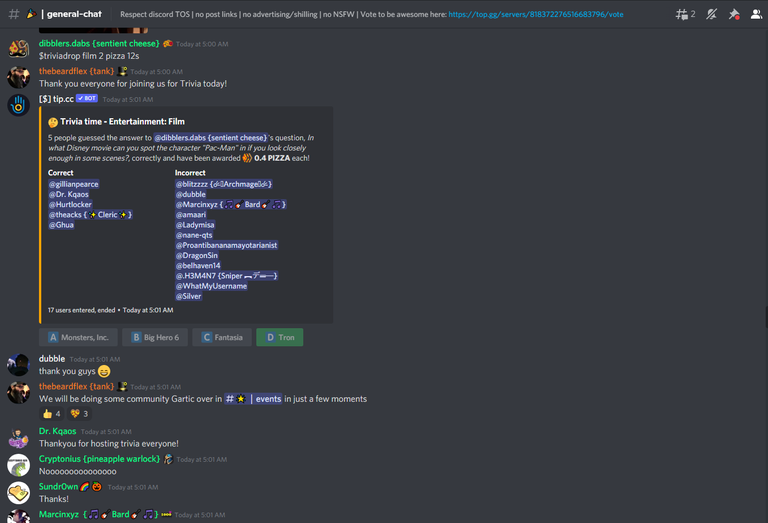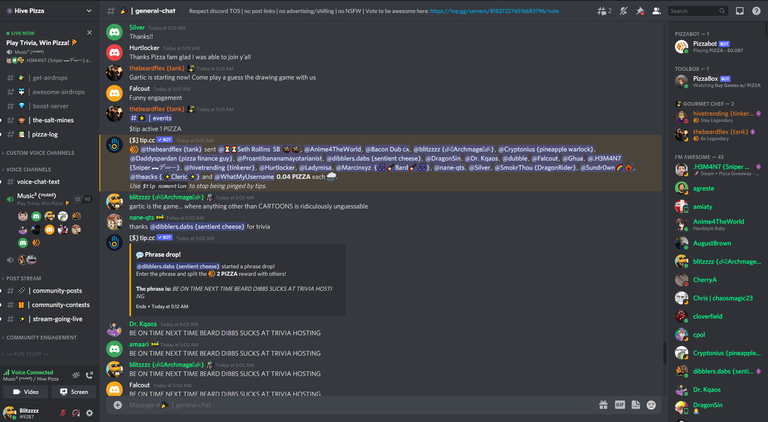 ✏️🖼️💭Games Night - GARTIC!✏️🖼️💭

Gartic again for Games Night! The Pictionary clone with horrible horrible artists!
And here's the FIRST picture of the night for GARTIC!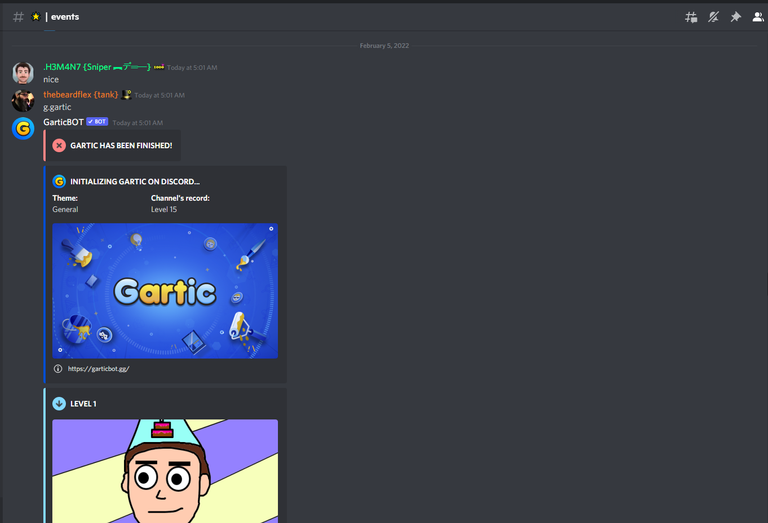 Here we go!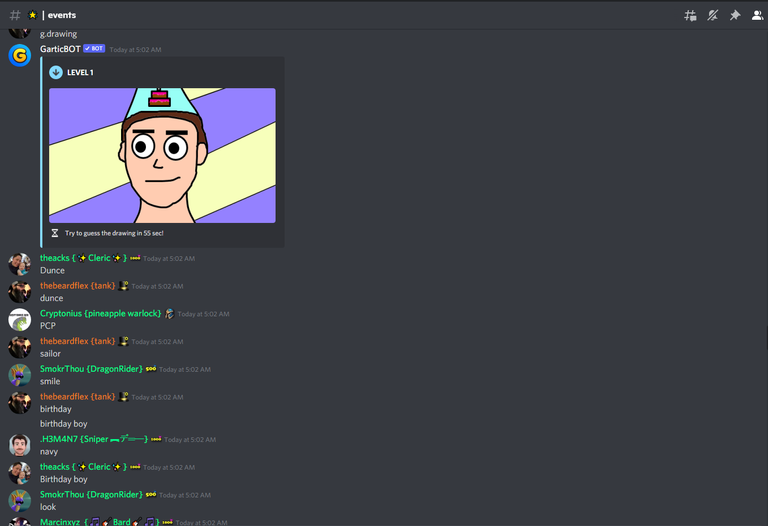 Hmmm... all getting it wrong...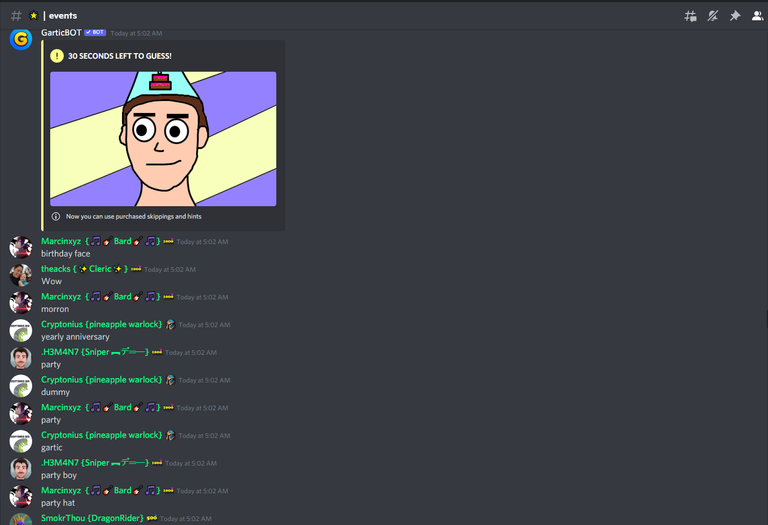 Still more and more wrong answers!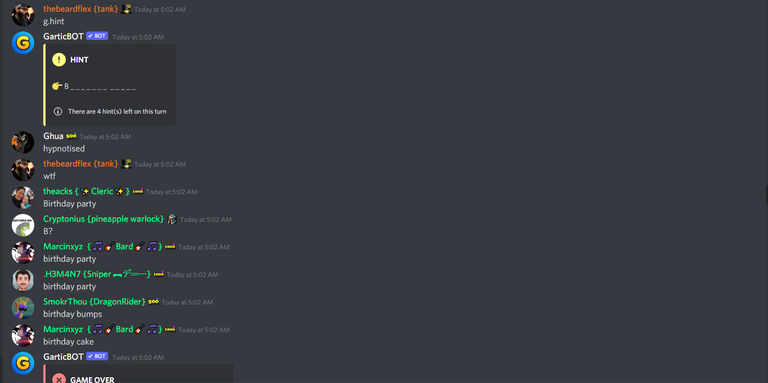 LOL! Welcome to GARTIC! PIZZA has FAILED AT THE VERY FIRST MISSION!!! 🤣🤣🤣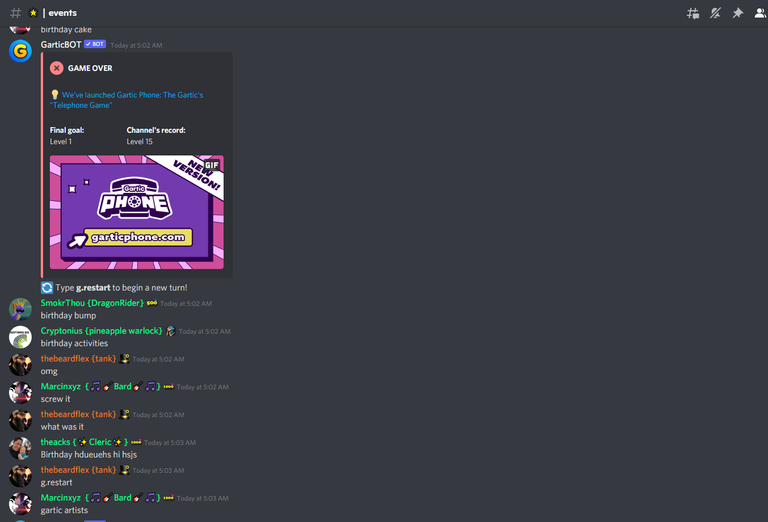 ---
OK, we've gotta restart again. With much better results this time. @h3m4n7 getting the first points of the night!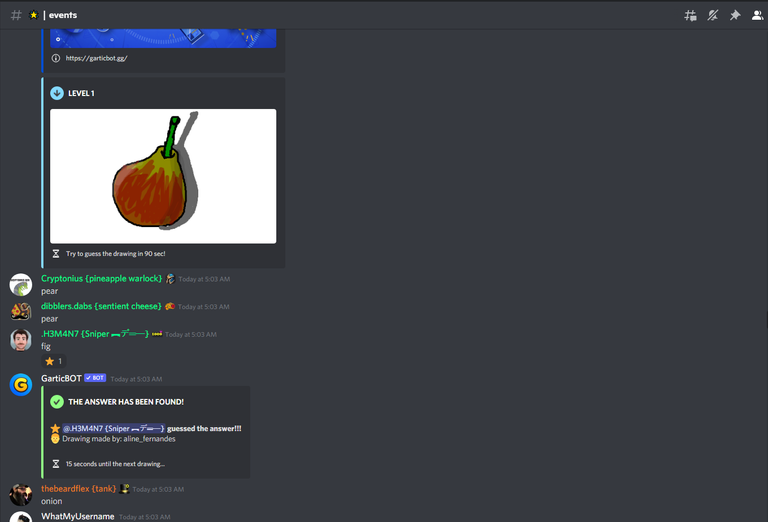 ---
Looks like the easiest clue in the world... doesn't it? It is definitely a COW.... oh wait what?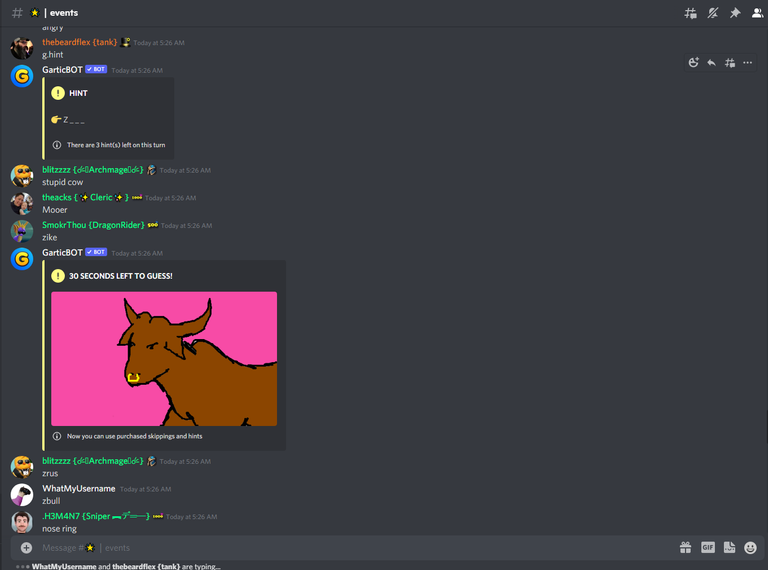 Almost on the verge of being eliminated again, @thebeardflex comes up with the answer! ZEBU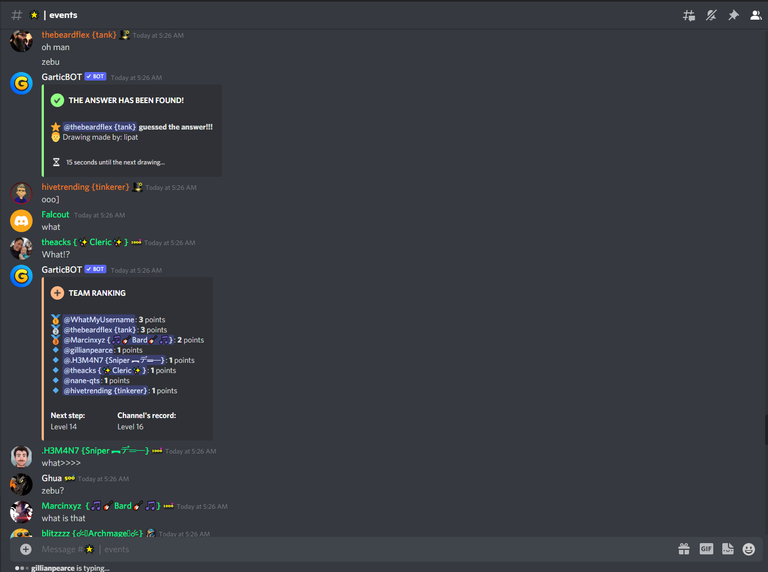 What the heck is a ZEBU?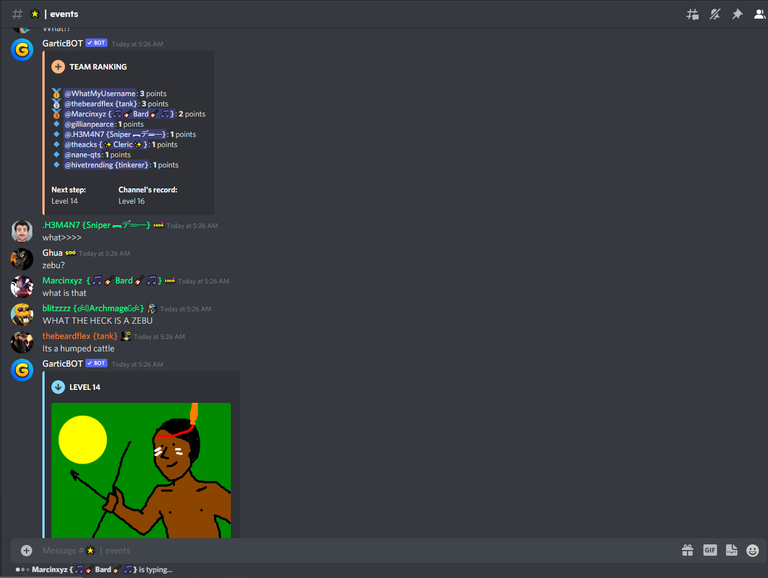 TskTskTsk @h3m4n7 and @smokrthou ... it's local to India and we ended up having @thebeardflex giving us the answer for this instead of either of you. 🤯🤯🤯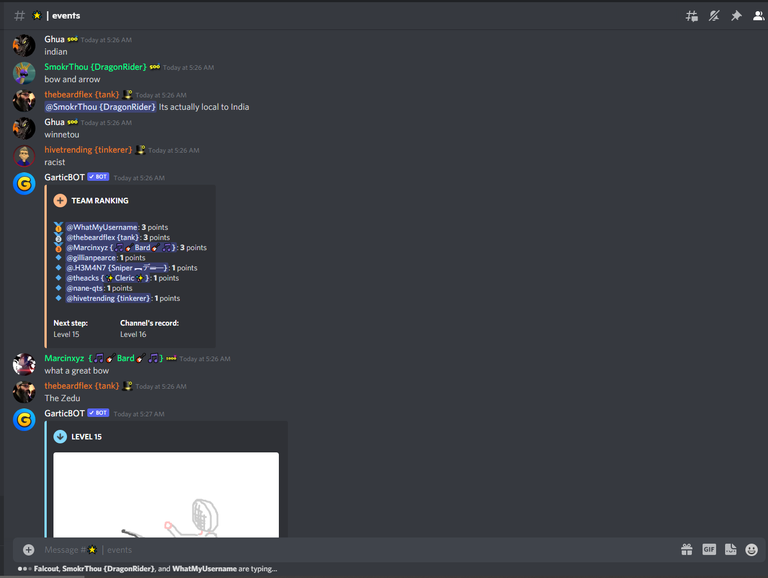 ---
Sigh... this would turn out to the be last GARTIC quiz of the night. And it obviously stumped us all again. Any pros with the answer to this, please leave it in the comments or message me on discord. 😉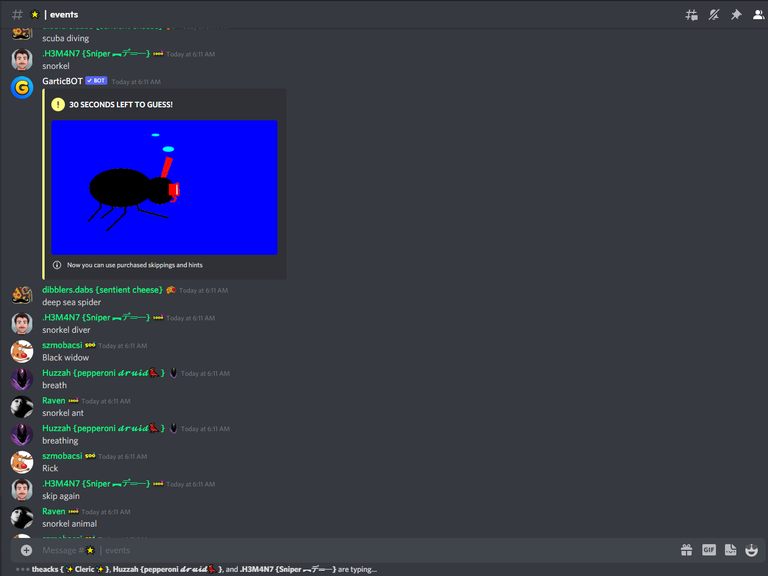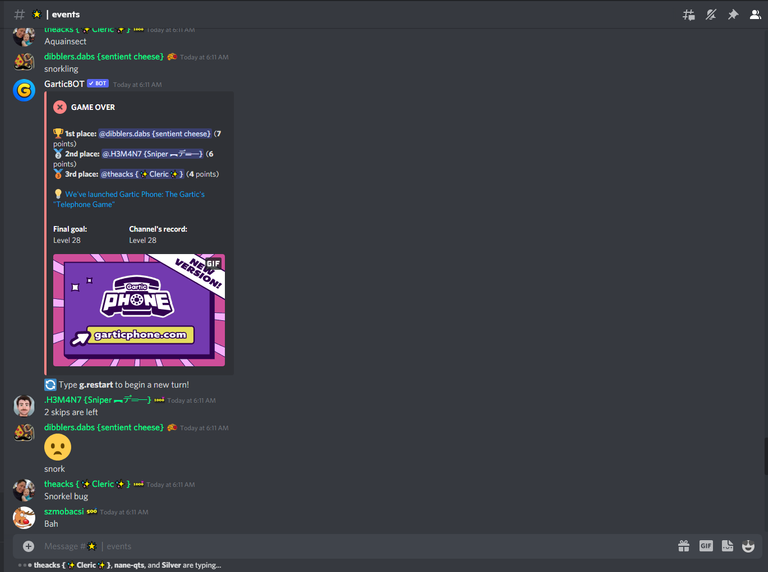 ---

🎭🎭🎭All Good Things Must Come to an End🎭🎭🎭

Big thanks to everyone who showed up! I think we all enjoyed ourselves. Playing these kind of games are a great way for the community to bond. And I've got to say, our PIZZA community is really tight! 🤝🤝🤝
There are still more events which are upcoming, so do check out the upcoming events section which I've put below, or join the PIZZA DISCORD to get the latest events update. (in case I've missed something)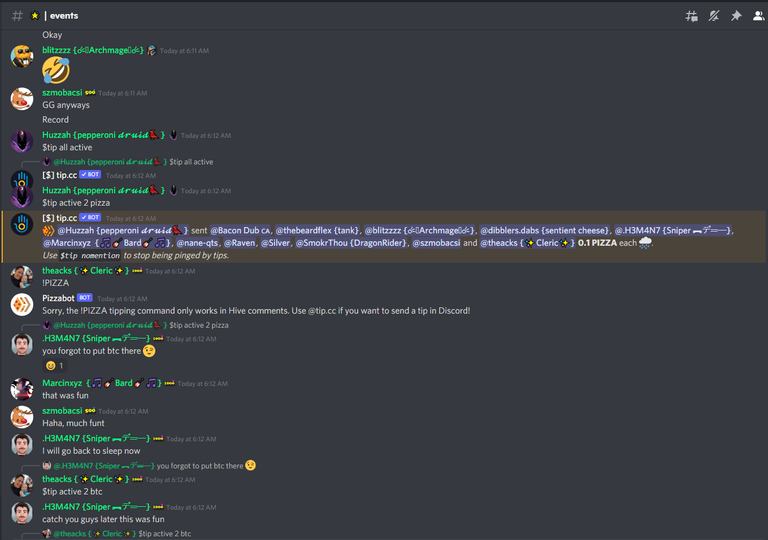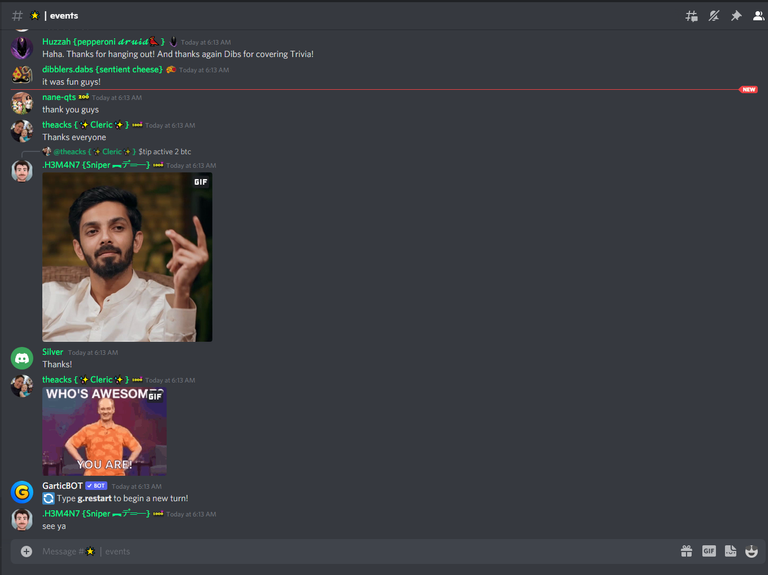 ✨✨✨Upcoming Events✨✨✨

Over at PIZZA DISCORD, there are always loads of planned Events lined up (and even impromptu ones).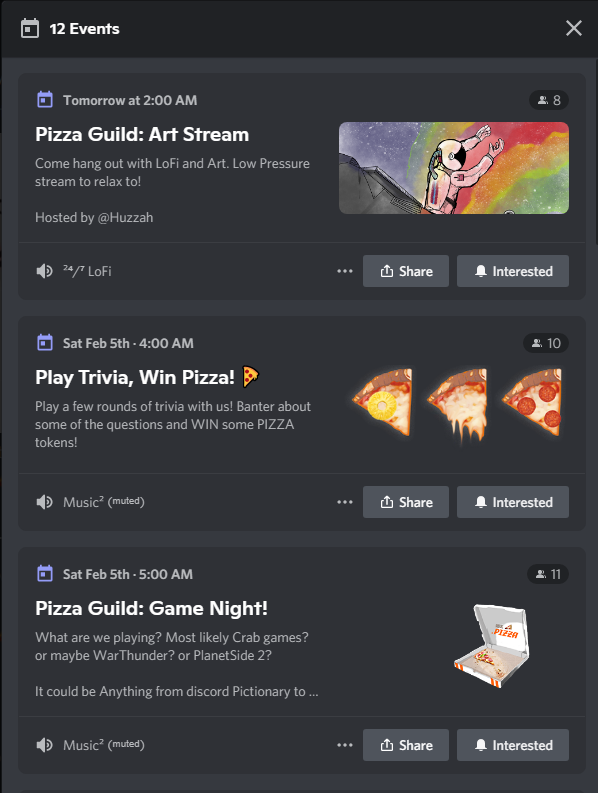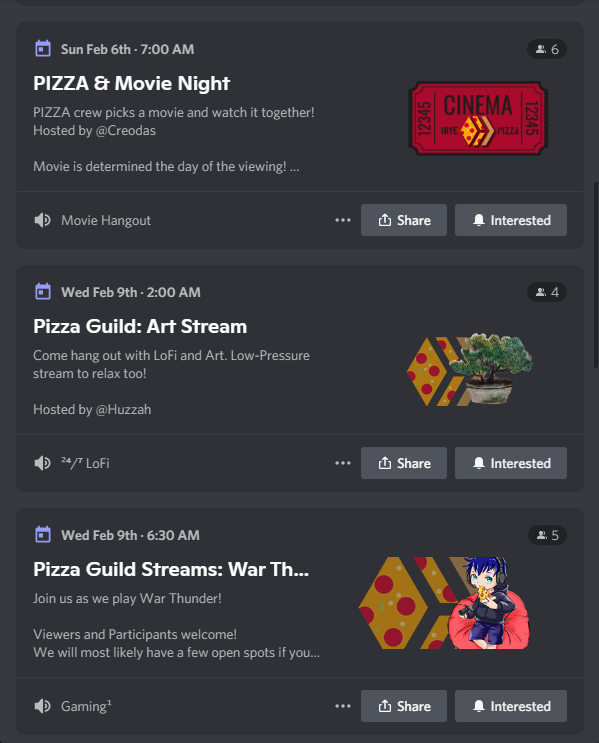 🎁🎁🎁Current Contests & Giveaways🎁🎁🎁

Alot of FREE prizes up for grabs at the moment too! Don't miss out! 🎁🎁🎁💰💰💰 What are you waiting for? It's all here in the PIZZA DISCORD.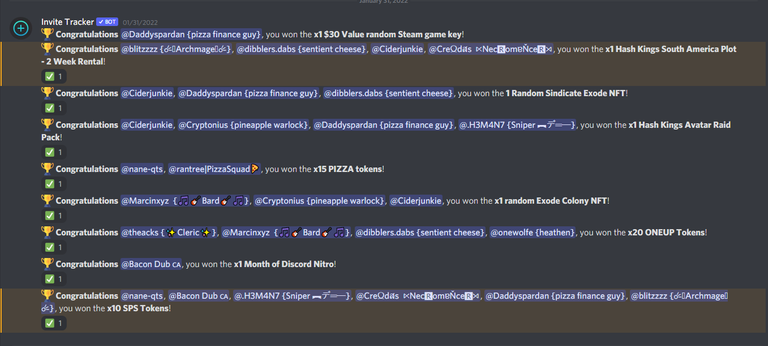 🏁🍕That Rounds It Up🍕🏁

PIZZA is an active gaming and creative arts crypto community on the HIVE blockchain. Popular games on HIVE like SPLINTERLANDS, RISING STAR, EXODE, HASHKINGS have their own PIZZA communities here.

Don't miss out more events that are always being organised. Join the PIZZA DISCORD. Even if you aren't interested in the 💰🍕🎁GIVEAWAYS & AIRDROPS💰🍕🎁, there is a vibrant and friendly community there awaiting you.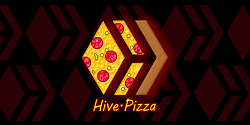 CLICK THIS LINK TO JOIN PIZZA DISCORD!!!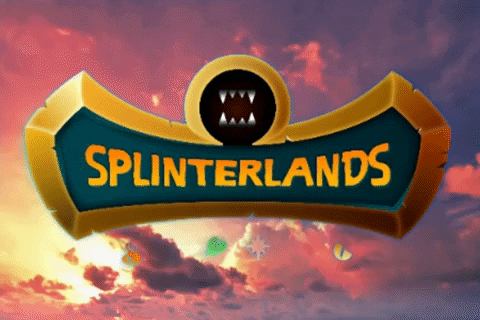 Here's to wishing everyone all the best for the upcoming week 🎉🍀.
To any new players who wish to explore the world of Splinterlands, do feel free to sign up with my REFERRAL LINK 😊.

---
---