Days of Our Hive.PIZZA Lives: $PIZZA Carpet Bombing Run! Bombs Away! ⏳🛩️💥🍕💸
---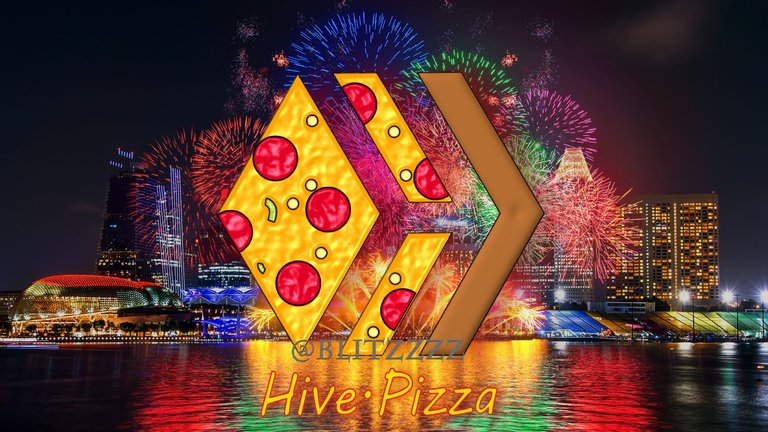 ---
Hello PIZZA Fans! This is an update report covering the past 2 days. The chain of events took slightly longer than I anticipated. Regardless, better late than never! 😜 You really DO NOT WANT TO MISS THIS! 🍕🍕🍕💸💸💸
(BTW, if you missed my previous article, or the official PIZZA announcement, PIZZA has recently announced STAKING REWARDS! CLICK HERE FOR THE DETAILS)
---
Never fear! Catch up on what you've missed with my brief (and hopefully entertaining) updates on the ins and outs of the PIZZA DISCORD🎉🥳🎊
As a BIG FAN of 🍕PIZZA🍕, I always suggest joining PIZZA DISCORD if you need a quick pickmeup. 👍 It's a friendly and helpful community with regular EVENTS, AIRDROPS of various crypto tokens, discussions of several GAMES on HIVE (Splinterlands, Rising Star, HashKings, Exode...), MUSIC, and even bits of FINANCE ... well I think you get the idea 😄

📣⚔️🛡️A Call to Arms📣⚔️🛡️

PIZZA CREW ASSEMBLE! 😄🍕
Yup. What better way to disseminate news about the Staking announcement than by using our entire Pizza family as the couriers!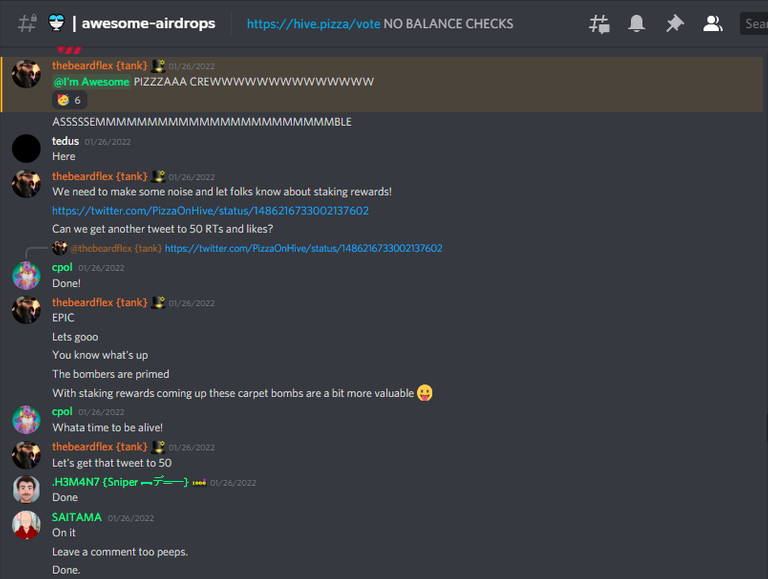 A flurry of retweets went out, spreading the news far and wide. 🐤🐤🐤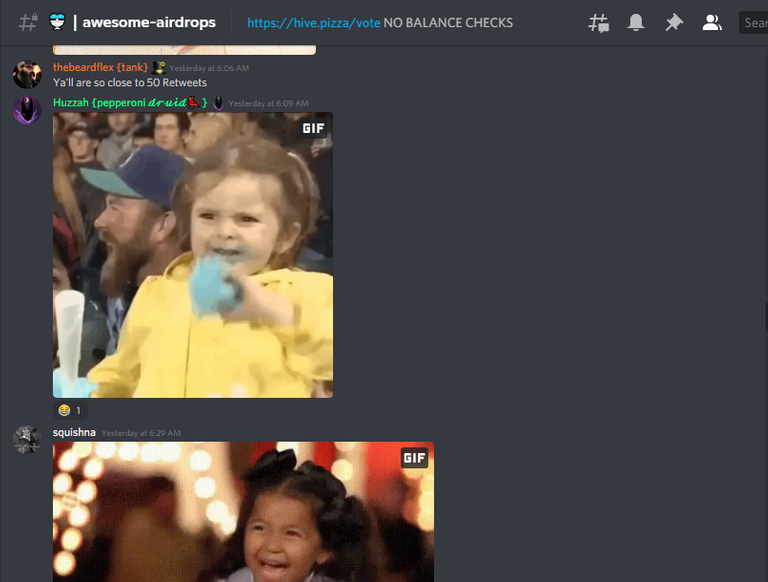 BUT, WHAT HAPPENS AT 50 RETWEETS? Oh my @squishna 😉, you've obviously not experienced the PIZZA CARPET BOMB before.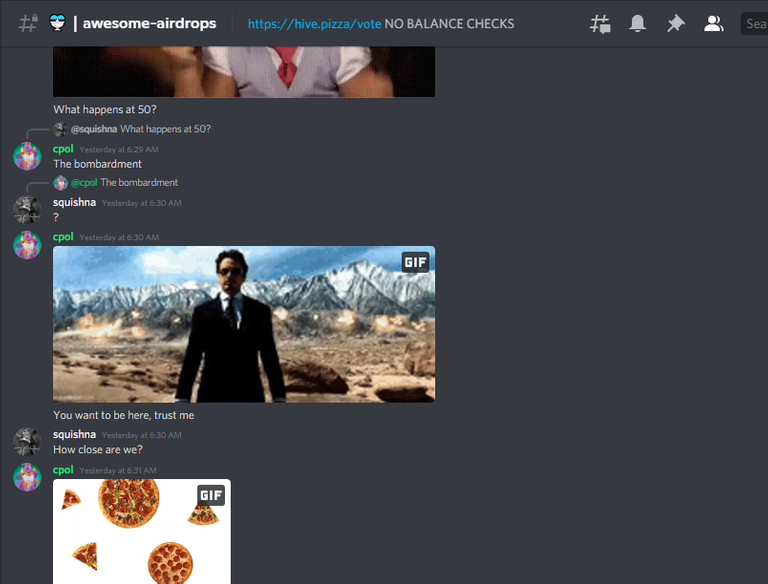 So near yet so far. How on earth did we get 51 likes but only 44 retweets? 😅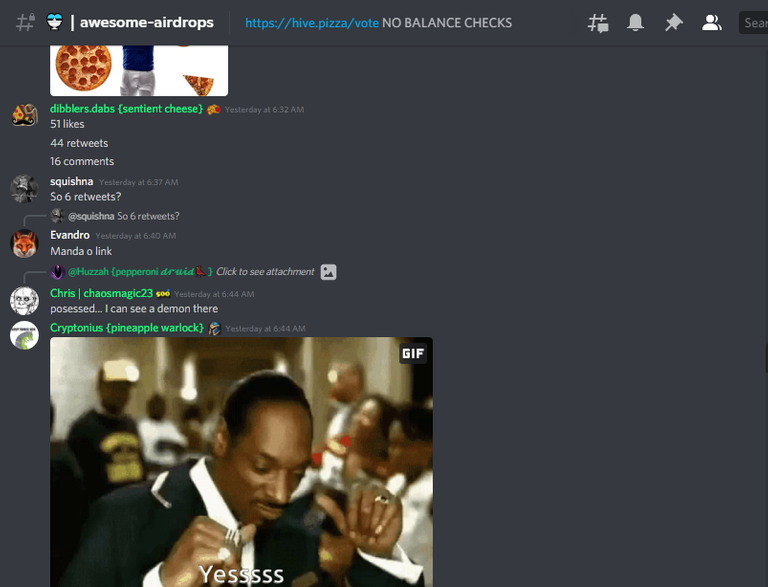 Some guild members like @gwajnberg put in extra effort to canvass the last few votes! 👍 Thumbs up for your dedication! 👍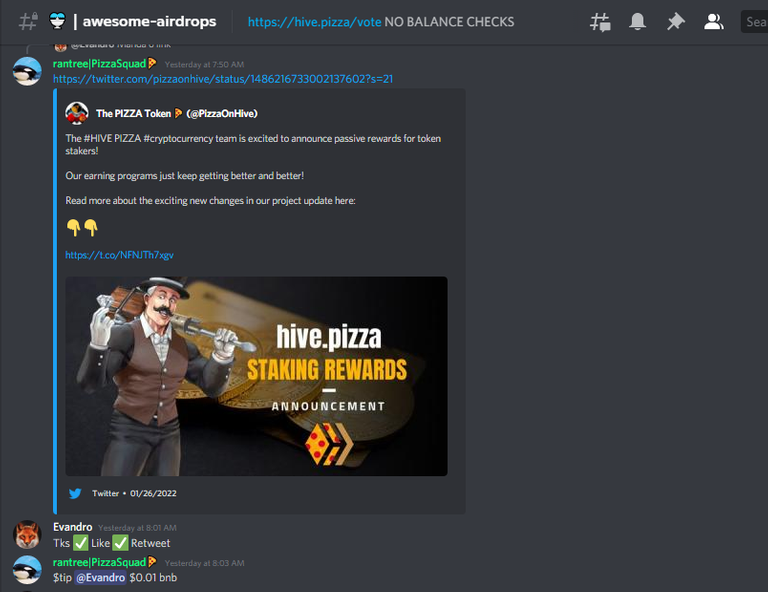 🎉🎊🥳We FINALLY DID IT!🎉🎊🥳

That last tweet finally achieved! 🎉🎊🥳
BUT, even robots like @thebeardflex need some downtime to recharge. And everyone had to wait till the next day for the PIZZA BOMBING RUN! 🍕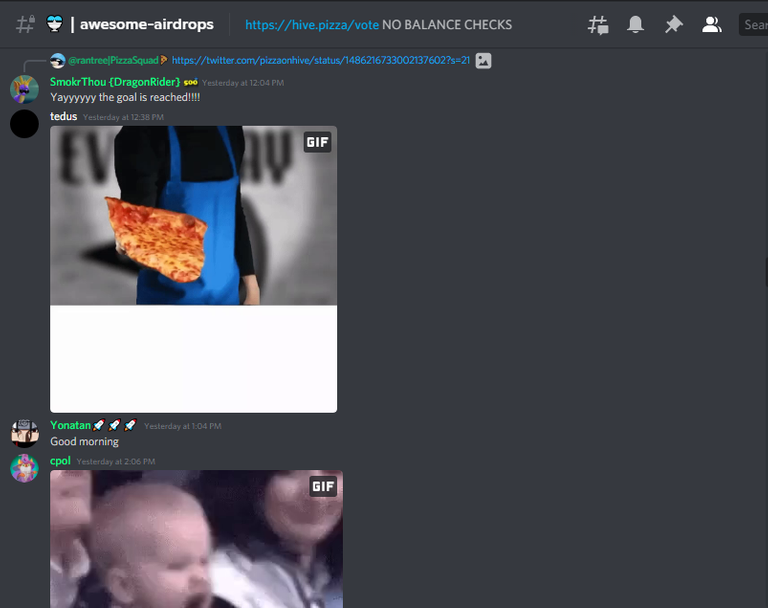 💥🛩️⏳Bombing Run - Target Acquired - Countdown Begins💥🛩️⏳

It definitely wouldn't be fair for everyone having put in the effort to miss out on this PIZZA Bombing Run. So, a slight reschedule in timing allows everyone to have a chance to join in. 👍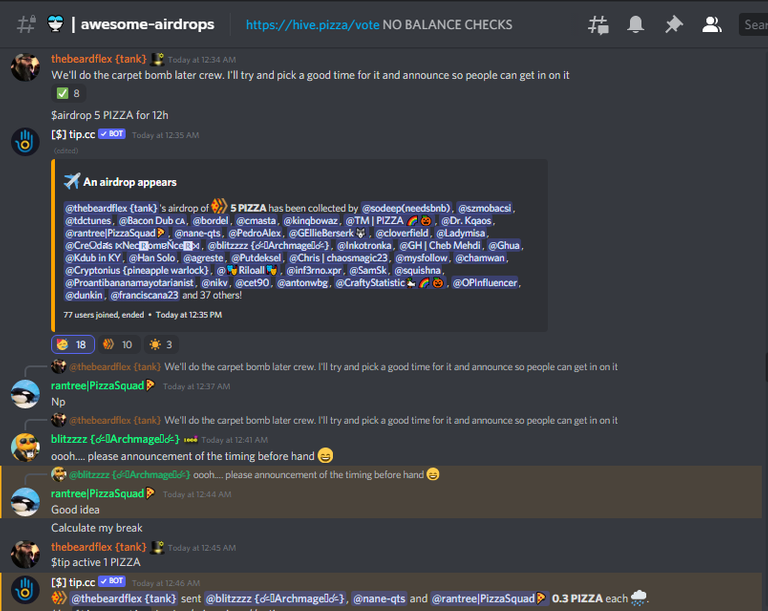 AND HERE IT IS! A time has been set! The bombers have taken off and are approaching the target. Counting down to an epic flow of PIZZA of CHEESY proportions! 🍕🧀🍕🧀🍕🧀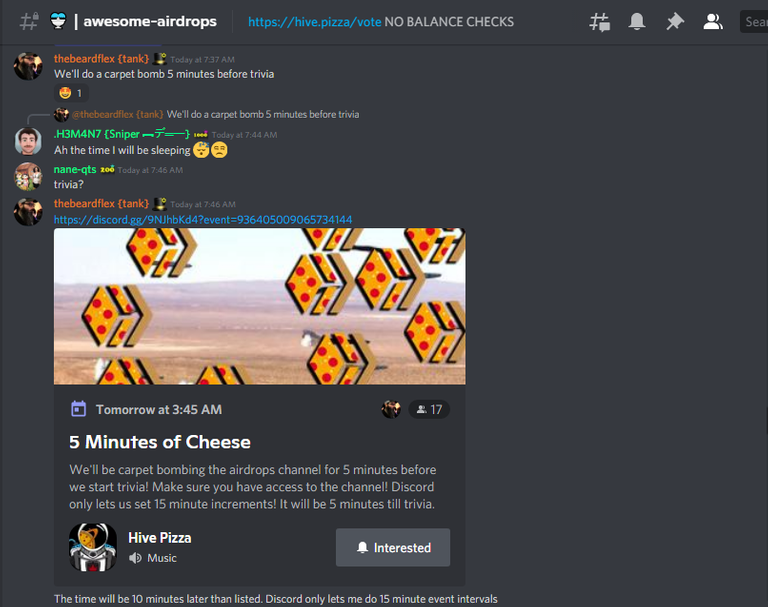 Troops Ready and Waiting

The PIZZA horde is hungry and awaiting!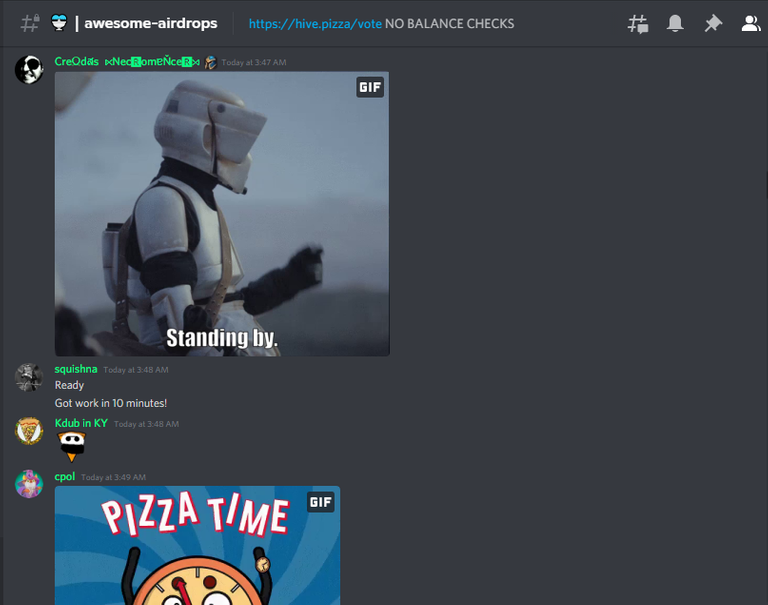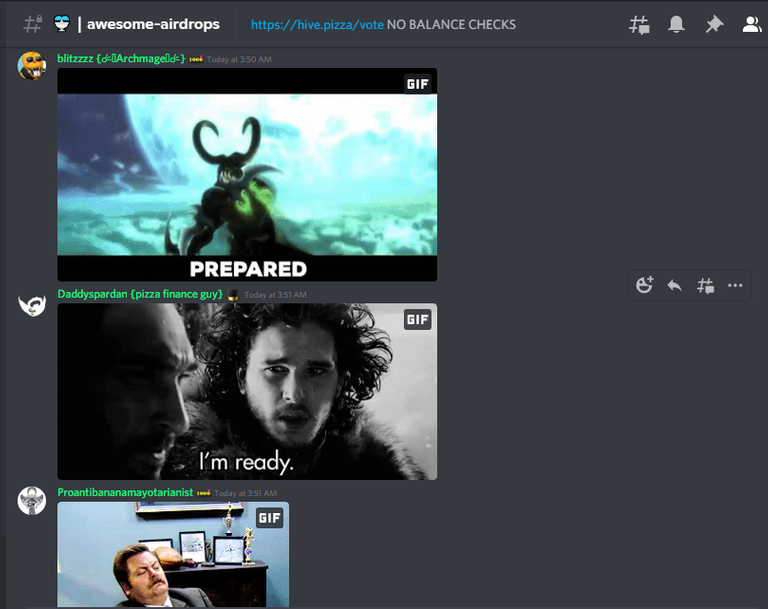 The Bombers are away!!!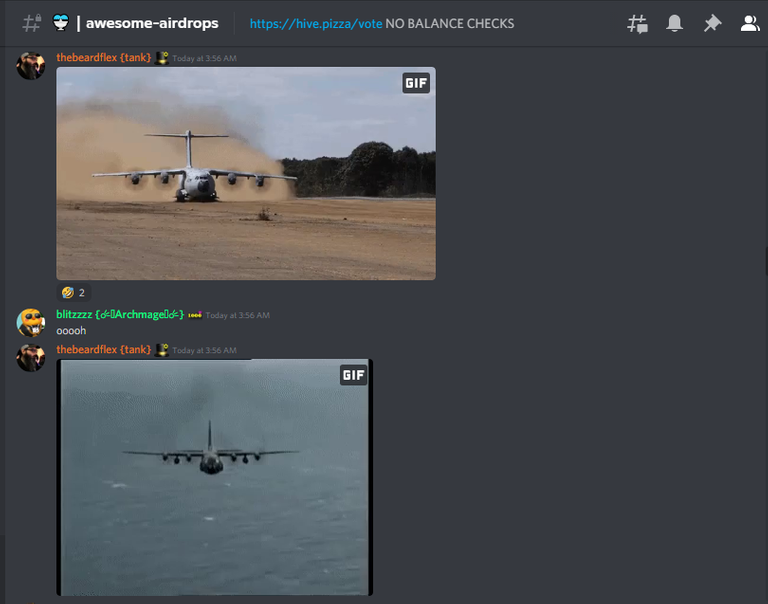 🍕💥This is what the PIZZA Carpet Bomb looks like🍕💥

For all those who were wondering what the carpet bombing run is... 🍕💥🍕💥🍕💥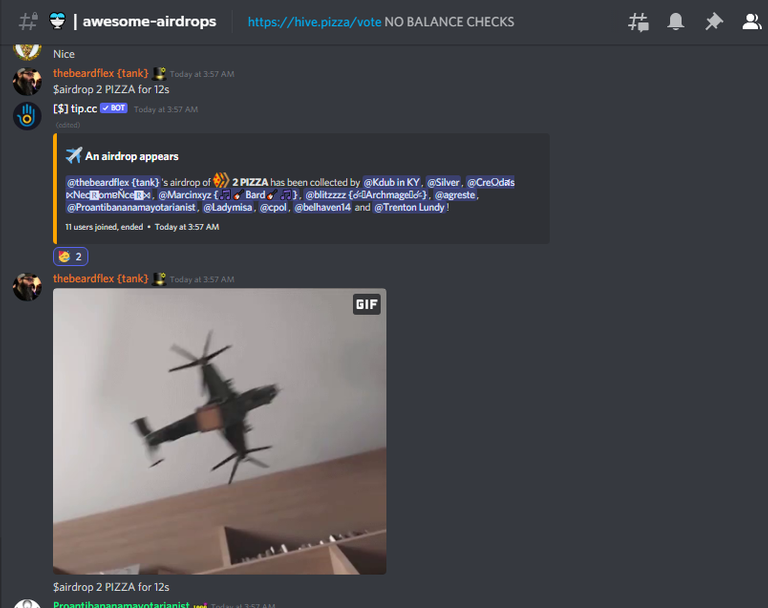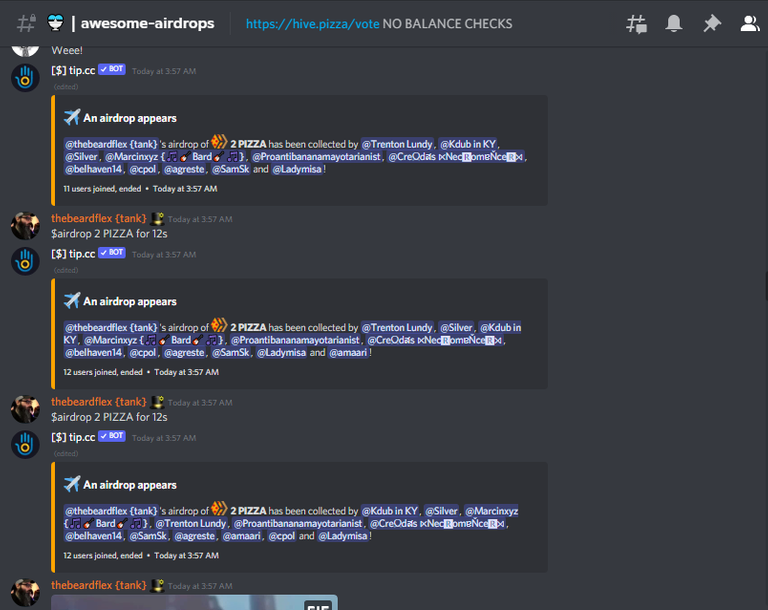 5 Full Minutes of NON-STOP $PIZZA raining down from the heavens! As much as you could pick up! 🤑🤑🤑🍕🍕🍕 I did say you wouldn't want to miss this right? 😜

Mission Accomplished

With that, we've come to the end of the PIZZA bombing run. Don't forget to join in the retweets and bathe in the $PIZZA streaming down from above next time! 😄 With the end of one event - we're lead to another! TRIVIA TIME! (But that's a report for later on. Now I'm off to take part in the current events myself) 🤣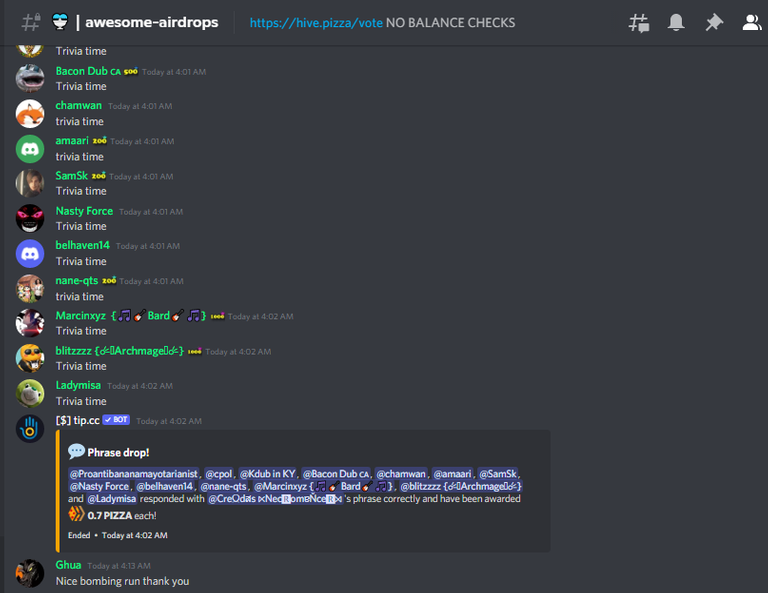 ✨✨✨Upcoming Events✨✨✨

Over at PIZZA DISCORD, there are always loads of planned Events lined up (and even impromptu ones).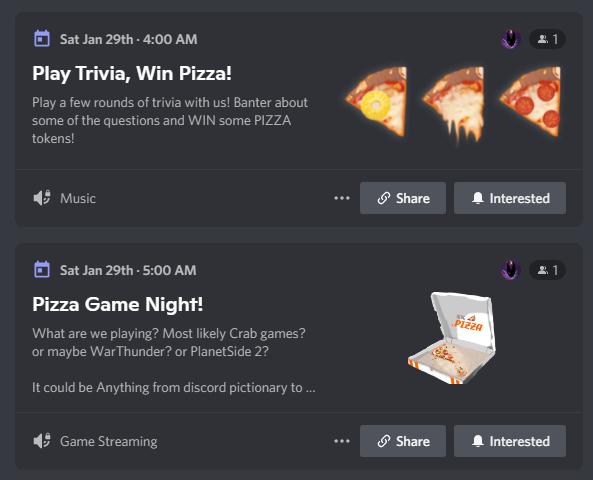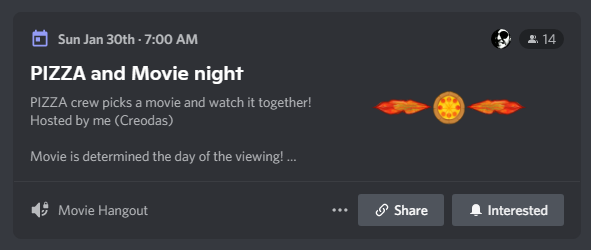 🎁🎁🎁Current Contests & Giveaways🎁🎁🎁

Alot of FREE prizes up for grabs at the moment too! Don't miss out! 🎁🎁🎁💰💰💰 What are you waiting for? It's all here in the PIZZA DISCORD.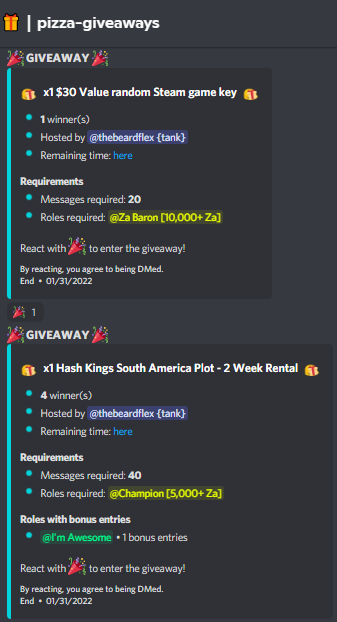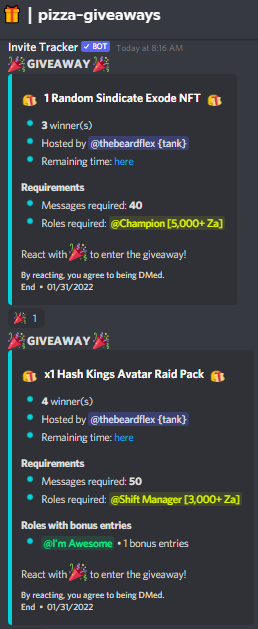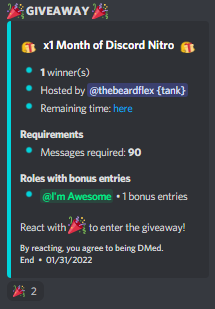 🏁🍕That Rounds It Up🍕🏁

PIZZA is an active gaming and creative arts crypto community on the HIVE blockchain. Popular games on HIVE like SPLINTERLANDS, RISING STAR, EXODE, HASHKINGS have their own PIZZA communities here.

Don't miss out more events that are always being organised. Join the PIZZA DISCORD. Even if you aren't interested in the 💰🍕🎁GIVEAWAYS & AIRDROPS💰🍕🎁, there is a vibrant and friendly community there awaiting you.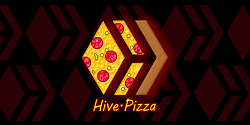 CLICK THIS LINK TO JOIN PIZZA DISCORD!!!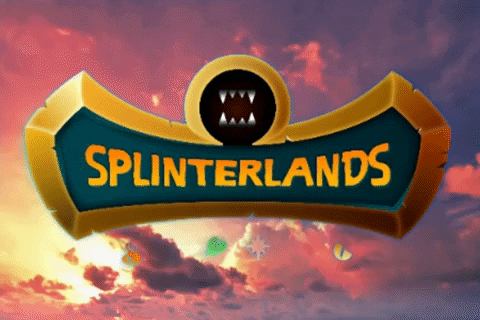 Here's to wishing everyone all the best for the upcoming week 🎉🍀.
To any new players who wish to explore the world of Splinterland, do feel free to sign up with my REFERRAL LINK 😊.

---
---