NEWBIES INITIATIVE TASK 1- MY HIVE GOALS FOR THE NEXT 3 MONTHS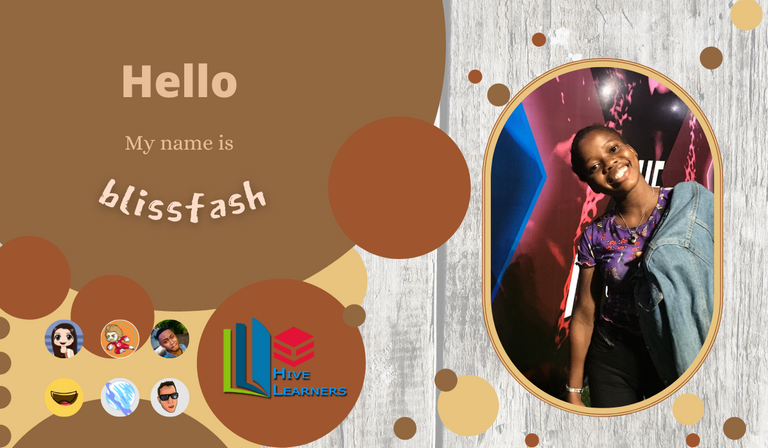 Hello Everyone!
I'm so happy to be accepted into the newbies initiative program, I would love to thank @newbies-hive and @hive-learners team for giving me this life changing opportunity.
This is the first task of the initiative and This is my own view of the task.
We were given three important Hive goals questions to answer. I believe this is very important, because without goal you might find it hard to thrive in the platform, you will just be like someone without direction,and you will not accomplish much. So this is a good task to start with.
I would try mu best to make this goals clear and achievable, so let's go!
1.What are your Hive goals by the end of the Initiative in terms of Hive Power, followers,comments & engagements
This question is very important, and you must know what you would like to achieve in the next three months.
I have already written down mine, these are what I am going to achievement in the next three months
-Hive reputation (HR): one my goal is to have a reputation of 60.
My HR currently is 49, getting to 60 will be a very huge success for me, so there's a lot of work to be done.
-Hive power(HP) my goal is also ti have a hive power of 200HP. Currently I have a very low HP, it below 10HP, I believe if I put in effort I Will get there.
Followers, Comments and Engagement
Followers: followers are
Very important, it shows you are adding value to the community.
My goal is have a minimum of 100 followers in the next month. Having 100 genuine and mutual followers will be great for me.
Comments: I would love to make at least 1000 comments and also receive more than than that too.
Engagements: My goal is to participate in as many contests, challenge and topics in the community of my interest.
How do you plan to achieve them?
Hive Reputation (HR): This might sometimes look unpredictable, because it is like an award given to you by @hivebuzz, but it is still a reward for effort. Always adding value to the platform would be my number one priority, creating content on a daily basis and receiving upvotes and comments will help me get there, so I have to be creative in order to create good contents that people will love to read and react to it positively, I believe this will really increase my reputation.
-Hive power(HP): This part need to be give enough effort,because without HP you will not be able to have more power over the platform, so attention need to be given. I would try best find out what top curators need to curate a post, I will study curation method and find out how they would want a post to be and how the value should be added in the platform, this very important because without the help and encouragement of this top curators, you would not get enough rewards for your valuable contents. So good work need to be done first on research going on to create a good content, that will amount to good reward. Doing this I so much believe I will get there. And also powering up as much hive would go a long way in achieving this goal. I would stake and also delegate my HP on order to get more good returns too.
-Followers,Comments, Engagements:
I believe good relationship is very important, especially for a platform like Hive, so I will be using the * law of cause and effect*, *give and it shall be give unto you. I will try my best to engage with my fellow members of the platform, commenting on each I could lay eyes,encouraging them, with this they can also respond to mine too and will grow together, I Will not be taking this for granted, because without this relationship it will be really tough to make through on your own, I wany to be friends with all so that they will be friends with me, by this we can grow together.
*Other things I would love to avoid is breaking rules of communities, abuse, and plagiarism. I would try my best to avoid this at all cost."
What challenges do you think you may likely face trying to attain these goals?
Really as much I would love to acheieve these goals, some challenges may set in, some I can handle and some might be beyond my power. What are these challenges?
Time: Time is one most valuable commodity. In achieving these goals you need time, which sometimes might not be enough, because you also have to take care other problems in your life, as a newbie you need time to grow in this platform, but combing this with your daily activities may be difficult to handle sometimes. But let's see how it goals.
Motivation: In a situation where you put in all these efforts and did not see the result you expecting can be so sad, this might make you feel your efforts are not being appreciated and valued.
Funding: In order to stay active on Hive you need internet connection, a situation where you don't have enough money to afford can also be a problem.
Power supply: You need a good power supply to stay active with your system or phones, In where I live power supply is unpredictable and very low, this will really retardate my progress.
So guys hope I have been able to make goals clear, it is now time I should work towards achieving them, but I cannot dot it without the love and support from you guys. So let's do this together.
I would like to say thank you to the team behind this initiative @hive-learners and @newbies-hive and also supporting curators @lazy-panda and @theycallmedan, you guys are the best, continue the good works.
---
---