This ramen spot was so good I was forced to google them!
The obsession with Ramen may have well begun when the TV still had "cable" channels and Thursday afternoons were the most exciting day of the week after coming home from school. Back then I didn't know that the cartoons aired were called "anime", and the delicious food they ate from bowls was called ramen.
There is a good chance I would e sitting on the floor and drooling over a good bowl of animated ramen. Only years later would the food business really kick off in the country and would I officially be introduced to ramen. And that is where the hunt began, for the best real ramen.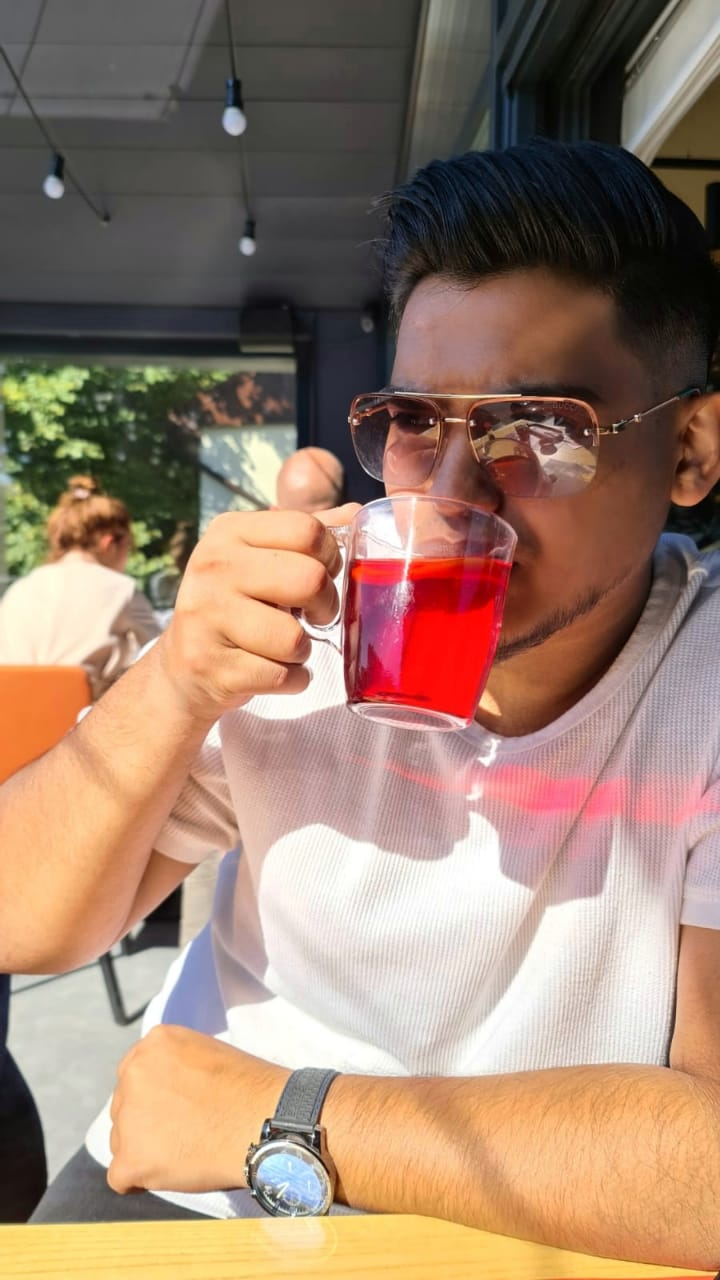 Yes, I have shared quite a few different Asian restaurants on my blog so far. But this...this was different!
From the moment I walked in to the restaurant and was greeted by a native Japanese who spoke in Russian, to the moment I was shown my table and took a seat in the balcony dining from where I could look over the famous avenue of Kharkiv city, I was completely blown.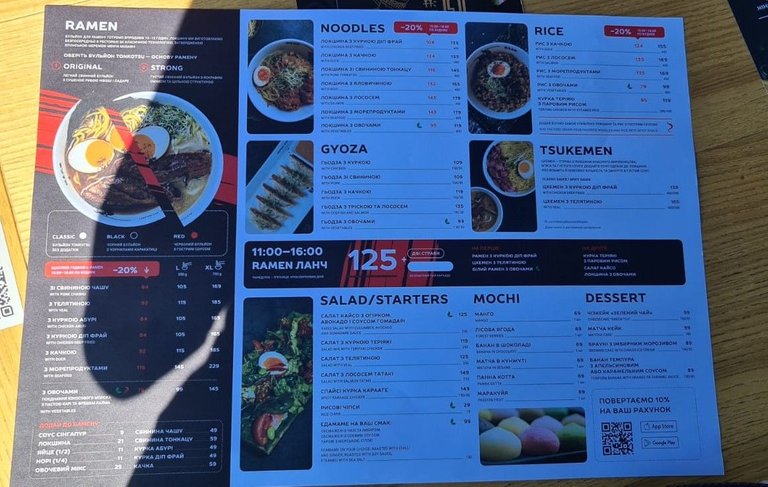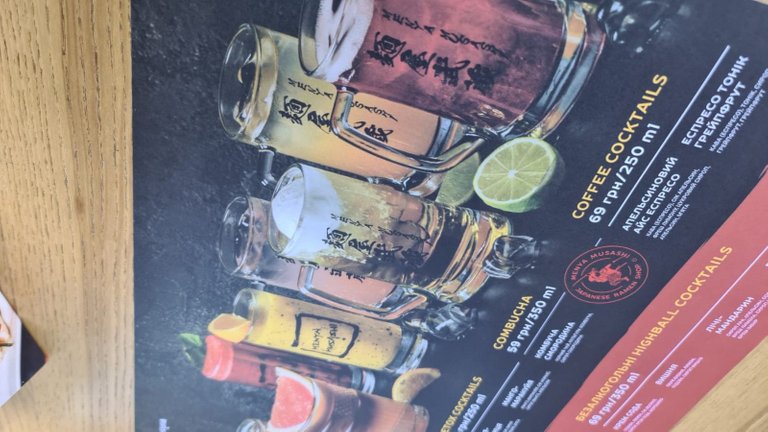 The menu didn't have anything extra ordinary, per se. All the similar gliter and shine you would see in any aspiring Asian restaurant in the city. Except that there was no overcompensation. So why were they not overzealously overselling their stuff?
The first thing on the menu that caught my eye was the collection of gyoza they offered. I think this is the only place that has 5 different flavors of gyoza to serve. Apart from that, there was the tsukemen. This must be the only place in Kharkiv that is selling tsukemen. Havent seen that around anywhere.
There is an entirely separate menu for rolls and sushi sets. I was here for the ramen, so the sushi could wait for another time. Hopefully a long time since I am not in the mood for sushi anymore.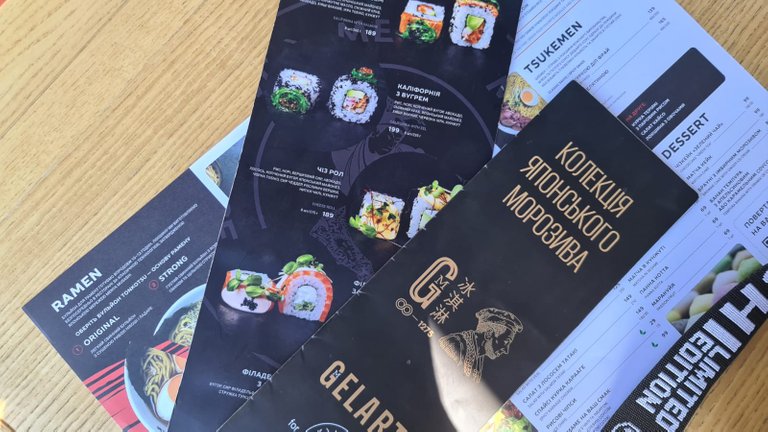 There was a lot to choose from. Not in a bad way. Most places have just noodles or rice, a sushi menu and then an absurd list of fusions. Remember the sushirito? It wasn't bad at all. In fact, I remember enjoying the sushirito a lot.
The ramen was obviously Menya Musashi's best seller. There is a separate section dedicated to the ramen collection and a lot of the elements within the predetermined ramen can be altered to make them feel more individually catered.
Now all we have to do is respect my tummy's capabilities and hold myself back from ordering one of everything. In my defense, I only do it when I am super excited. Rice, noodles, gyoza, tsukemen, salads...what should I do?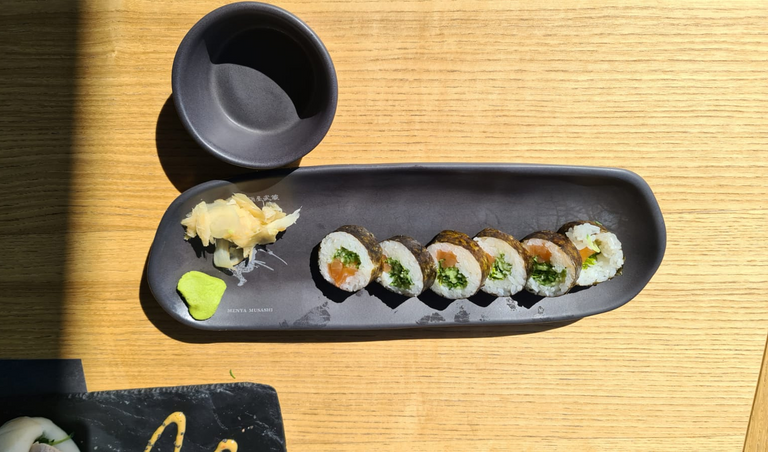 Enter "Ramen Lunch".
A heart shaped wasabi alongside futumaki with another meal on the way and a cup of hot Karakade tea. To be fair, it was lunch time. The offer stated that I could get to choose from any of the ramens and get a starter as well as a drink. I think that may be a tiny version of "order one of everything".
As mouthwatering as the futumaki looked, and as tempting did the heart-shaped wasabi was, I could not bring myself to take that for starters. I went with something else. Something that would completely blow my mind and make me look up "Menya Musashi" on google.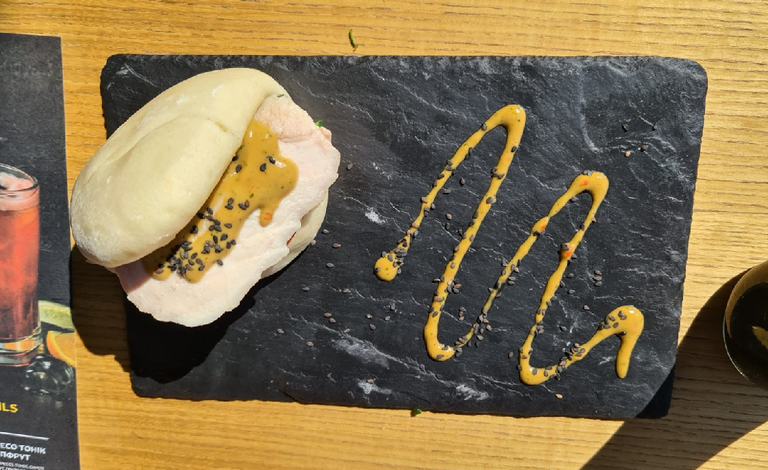 "That smile....that is where everything went wrong..."
Except, it was a sandwich and not a smile. This simple sandwich which would otherwise feel like a lackluster attempt at stimulating salivation was a jaw dropper. Incredible and unreal.
Bun, slice of chicken breast, drizzle of sauce, a pinch of herbs, and a slice of tomato. I have had kebabs in the same bun that left me feeling unsatisfied. But the balance in this sandwich was incredible.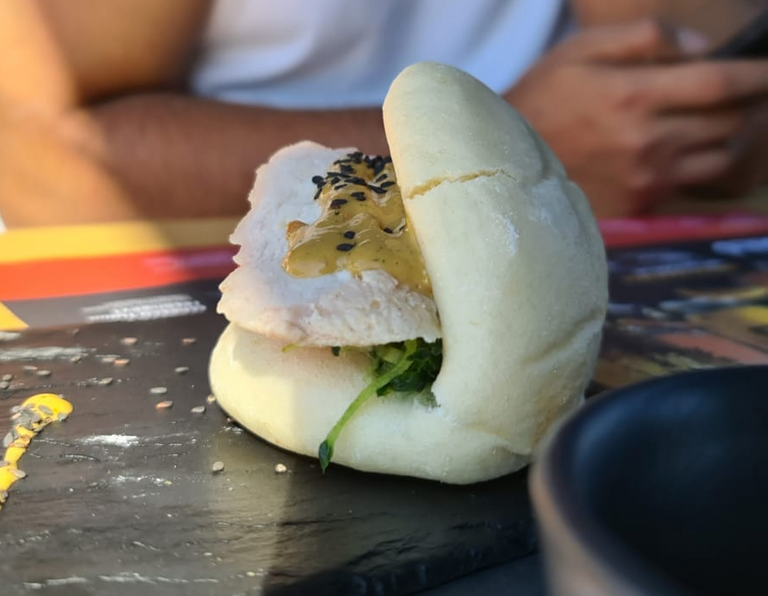 One bite into this and I already knew I was in love. I could not believe that something that looked so simple, and gave off a bland vibe could be so delish. The more I think about it, the more I wonder about its secrets. Maybe it it is the proportion of the juciness to the bun. Maybe it is the flavor of the sauce against the blandness of everything else. But each time, I only end up liking it more and more...
---
As it turns out, Menya Musashi has left many speechless as it has left me. They are a worldwide chain and quite popular too. Previously, they were in Ukraine only in Kiev. This is their first time outside Kiev.
They have branches in the US, UK, Thailand, Poland, Japan, Singapore all adding up to over 1000 restaurants. Next time I go UAE I know where to grab some ramen.
Speaking of...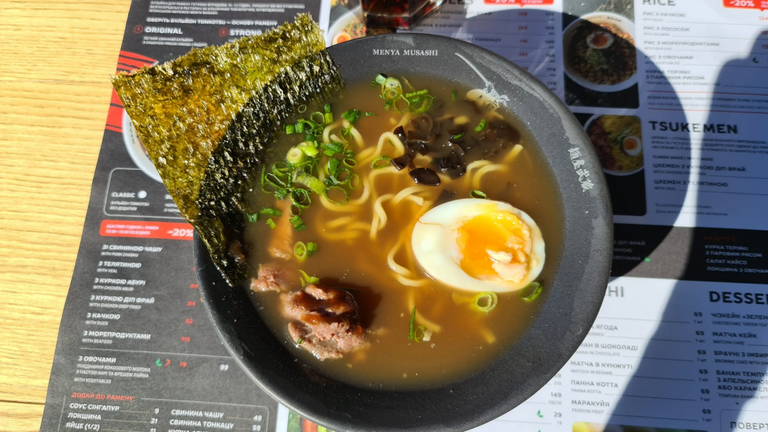 The beef ramen. Evidently the menu in the Kharkiv branch hasn't still started featuring everything. I was told the choices are limited until the next quarter where the numbers will be reviewed and more items will be added.
What do you see? Seaweed, half-boiled egg, spring onions, yadi yada. The muddy broth was incredible. So rich and flavorful. Freshly chopped veggies but no brown half-boiled egg. Where is the sad face emoji? The thinly sliced beef that soaked up the broth and melt like a sponge. What an experience!
Finally there is now a place in Kharkiv where I could imagine myself diving into a steaming hot ramen bowl and recreate those incredibly beautiful animated scenes from my childhood.
---

Follow me on twitter and instagram
---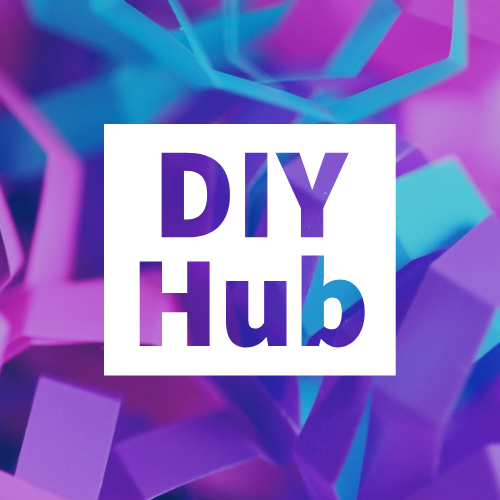 Affiliate links

Exode
Huobi. Earn upto $170 with my link.
Appics
Splinterlands
Actifit
Binance
Ionomy
Cryptex

---
---