Mi experiencia con Terra-Luna - My Experience with Terra-Luna

todos saben que actualmente el mercado de las criptomonedas ha estado a la baja durante varias semanas y aunque a recuperado algo aun esta por debajo de los niveles anterior ya sea en precios como su capitalización de mercado además lo sucedido con Terra-Luna que ha afectado a todos en general incluyendo el Bitcoin además incluso nuestro ecosistema HIVE también fue golpeado por esta razón.
Everyone knows that currently the cryptocurrency market has been down for several weeks and although it has recovered somewhat it is still below the previous levels either in prices or market capitalization and what happened with Terra-Luna has affected everyone in general including the Bitcoin and even our HIVE ecosystem was also hit for this reason.
hace un año y un poco mas se me acerca un buen amigo donde me explica que ha estado invirtiendo en criptomonedas le estaba yendo muy bien donde había descubierto una joyita llamando Terra-Luna y me invita a invertir yo ni corto ni perezoso lo haga por supuesto con una pequeña investigación aunque desconocía muchos aspecto del ecosistema pero lo poco que había visto me convenció de invertir.
A year ago and a little more a good friend approached me where he explained that he had been investing in cryptocurrencies and was doing very well where he had discovered a jewel called Terra-Luna and invited me to invest and I did it of course with a little research although I did not know many aspects of the ecosystem but the little I had seen convinced me to invest.
ahora mi inversión en ese momento Terra-Luna estaba llegando a los 5$ y como mi presupuesto era muy limitado solo me permitía comprar 3 monedas de Terra-Lunapara ese momento tenia un problema con Binance por lo cual hice la compra por medio de KuCoin.com cual es muy parecida a Binance pero sin tantos problemas e incluso puedes operar sin KYC aunque es opcional es recomendable realizar el KYC.
Now my investment at that time Terra-Luna was reaching 5$ and as my budget was very limited only allowed me to buy 3 Terra-Luna coins by that time I had a problem with Binance so I made the purchase through KuCoin.com which is very similar to Binance but without so many problems and you can even operate without KYC although it is optional it is advisable to perform the KYC.


bueno hasta aquí todo a pedir de boca sigo con mi vida hasta cierto punto me olvido de esto pero hasta que Terra-Luna se acerca a los 90$ a finales del año 2021 ustedes me dirá vendiste pues no vendí luego de eso cayo a los 50$ y luego en este año alcanzo máximos histórico superando los 100$ y ustedes me dirá esta vez si vendiste pero lamentable tengo que decir que no.
well so far so good I go on with my life to some extent I forget about this but until Terra-Luna approaches 90$ at the end of the year 2021 you will tell me you sold because I did not sell after that it fell to 50$ and then in this year it reached historical highs exceeding 100$ and you will tell me this time if you sold but unfortunately I have to say that you did not.
porque hice esto para ser honesto no lo se con seguridad incluso si perdí la oportunidad de venderlo en 100$ hubo oportunidad de venderlo en alrededor de 60$ a 30$ pero no quise venderlo hasta que al final no vale actualmente.
why I did this to be honest I don't know for sure even if I missed the opportunity to sell it at 100$ there was opportunity to sell it at around 60$ to 30$ but I didn't want to sell it until the end it is not currently worth it.
si tengo que decir que me paso podría decir que fue la avaricia ya que cuando alcanzo los 100$ yo pensé si esto alcanza los 100$ con facilidad alcanza los 200$ ahora porque no vendí cuando estaba cayendo podría haber sacado ganancia o recuperar algo de las perdidas la respuesta es simple tuve un inconveniente familiar durante la caída de Terra-Luna cuando me entere ya no había nada que hacer además que confiaba que no podía caer tan fácil cuando veías el dinero que tenia dentro de su ecosistema pero solo basto menos 24H para que muriera el proyecto.
if I have to say what happened to me I could say it was greed because when it reached $100 I thought if this reaches $100 it easily reaches $200 now why didn't I sell when it was falling I could have made a profit or recover some of the losses the answer is simple I had a family inconvenience during the fall of Terra-Luna when I found out there was nothing to do besides I was confident that it could not fall so easy when you saw the money it had inside its ecosystem but it only took less than 24 hours for the project to die.
Because the fall of Terra-Luna - Porque la Caída de Terra-Luna:
voy dar un pequeño resumen el problema fue UST una Stablecoin como USDT, USDC O incluso HBD del Hive pero UST no era respaldada como las demás Stablecoin con dinero fiat, criptos, bonos entre otros, sino era respalda por un algoritmo que debía mantener una relación 1 = 1 con el dólar pero con una tremenda debilidad mas un mercado en caída hizo favorable en aprovechar esa debilidad y vulnerar UST mas una manipulación del mercado brutal, debido a la relación con Terra-Luna esta murió.
I am going to give a small summary the problem was UST a Stablecoin like USDT, USDC or even HBD from Hive but UST was not backed like the other Stablecoin with fiat money, cryptos, bonds among others, but was backed by an algorithm that should maintain a relationship 1 = 1 with the dollar but with a tremendous weakness plus a falling market made favorable in taking advantage of that weakness and vulnerating UST plus a brutal market manipulation, due to the relationship with Terra-Luna this one died.
ahora que lo veo fui un tonto en no haberme retirado a tiempo y haber sacado ganancia ya de nada sirve "Terra-Luna vamos a la luna" lo bueno entre todo lo malo es que no perdí grandes cantidades de dinero pero si perdí la oportunidad de gana algo, pero otros que entraron cuando tenia precios históricos no tuvieron tanta suerte me dan malestar pensar que muchas personas perdieron todo o algo peor que pidieron prestamos o invirtieron todos sus ahorros para entrar Terra-Luna incluso suicidio estuve leyendo por esta razón aunque esto ultimo hay que agarrarlo con lupa ya que no están confirmado pero sin duda es muy fuerte la situación.
Now that I see it, I was a fool not to have withdrawn in time and to have made a profit, now it's no use "Terra-Luna let's go to the moon", the good thing among all the bad things is that I did not lose large amounts of money but I did lose the opportunity to earn something, but others who entered when it had historical prices were not so lucky, it makes me sick to think that many people lost everything or worse, that they borrowed or invested all their savings to enter Terra-Luna, even suicides, I was reading for this reason, although this last one has to be taken with a magnifying glass since it is not confirmed, but without a doubt it is a very strong situation.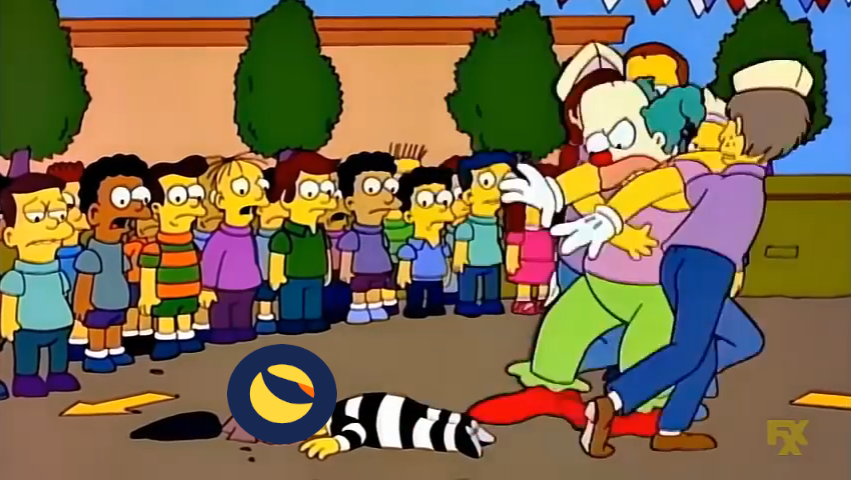 algún consejo que puedo dar es que no haga lo mismo que yo como decía mi abuelo "Más vale pájaro en mano que ciento volando" además no inviertas dinero que no te puedas permitir perder ni pidas prestamos para entrar en criptomonedas o pongas todos los huevos en una sola canasta igualmente si has llegando hasta aquí te doy las gracias por leerme.
Some advice I can give is not to do the same as me as my grandfather used to say "A bird in the hand is better than a hundred in the air" also do not invest money that you can not afford to lose or borrow money to get into cryptocurrencies or put all your eggs in one basket even if you have come this far I thank you for reading me.
NOTE
Translated with www.DeepL.com/Translator(free version)
IMAGES OWNED BY KuCoin.com - CoinMarketCap.com


Posted Using LeoFinance Beta
---
---