A Surprise
I nearly have the most stressful even of the year down to a tee. Buying bloody Christmas presents. A few years ago I threw an idea out there. Let's download an app. Make our list that we would like.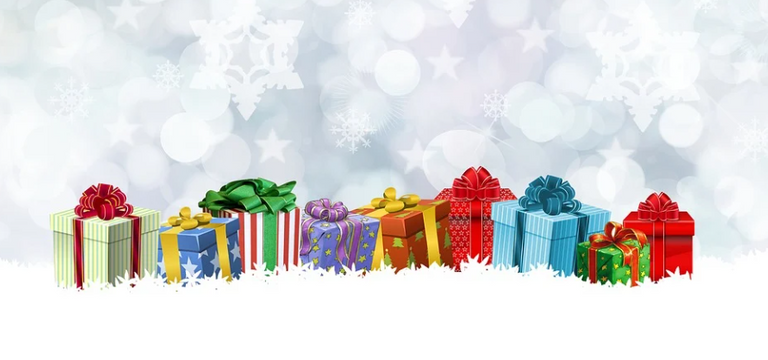 Source
Then the family can tick off the list if they got you the item on you list. So come Black Friday we organise who is buying what for who and then we tick it off using our app.
The website is called gifster and it is after revolutionized the problem of buying someone Links Africa twice. A link to the website can be found here. Below is an example of my list for this year so you can all get an idea of how shockingly boring I am. Dad presents like jocks and socks are actually becoming my thing now.
You can add a little photo as well just for the shits and giggles.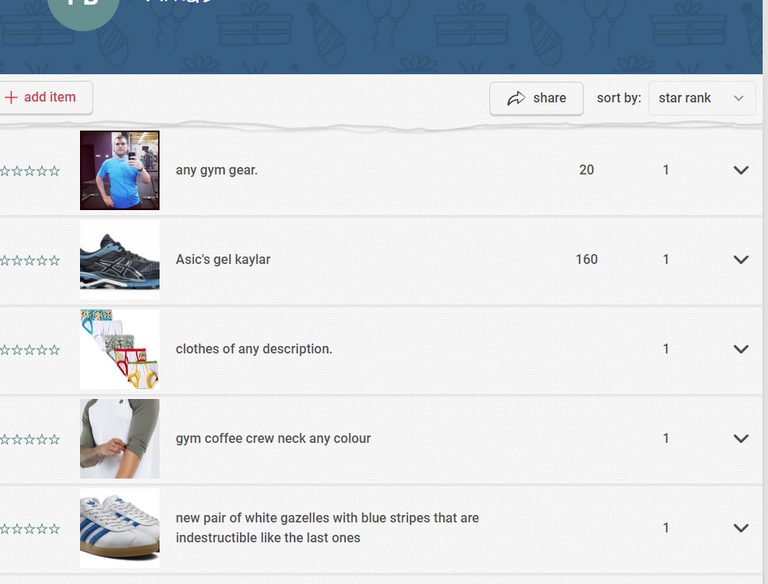 Source
I really want a level 3 summoner in Splinterlands but if I told the family I wanted a Monster card that cost a few hundred quid then they would probably want me commited. Noone one understands us Hive people at all at all.
Bah Humbug you say. On the contrary. Everyone knows what they have to get and we all go off and get it before even December sets in. So you have your presents sorted and can then enjoy a few hot ports with a smug face in front of the fire safe in the knowledge that you have everyone sorted with what they want. But wait , there is one little thing that is bugging me. My wife added she wanted a SURRRRRRRPRISSSEEEE. Probably the worst words that come out of her mouth every November. The fucking surprise. Gifster had everything sorted but now she has to put a spanner in the works with this surprise malarky. Ughhhhh. This is a clear test. And she knows it. The surprise is a test on how the marriage is going. It means everything. So the Surprise has to be romantic, not too big, not not romantic, not too small, a token of our relationship, evidence that I have been listening to her in October and November on what she thinks was nice. But I have not been . I have been posting to strangers on Hive so all her little hints have gone over my head and into sweet sweet Hive Power.
I better start at the big No No's and work my way back. Definitely not a voucher. She loves a voucher but it lacks the personnel touch. Not jewellery, I am buying her this for her main present so I can't buy two of the same type thing. She loves cooking, how about a cookbook. Nope she would knock me out with a cookbook insinuating that the woman belongs in a kitchen. OK OK she has gotten into running lately. How bout some running gear. Nope, it will give the impression I think she's overweight. Perfume, she has a room full of the stuff. We have two small kids. It's not like we are the social butterflies we once were. She has more of the stuff than Saudi Arabia has oil anyway from all my trips home from Germany.
I'm in a pickle. Think Blanchy think. This was the 28th of November and I am sitting here on the 8th December, withered by it all. So I know she likes dressmaking as she made me some pretty slight dresses during my mid life crisis so what better way than to get her one of those subscriptions where they send you a box of goodies on a monthly basis. Blanchy you genius. Why didn't I think of that 2 weeks ago when I had nails and a 20% off Black Friday code. Anyway it's worth paying the bunts for peace of mine and it is slightly romantic that she will get a box once per month for a year.
So I am happy now that is out of the way and I live to fight another November. I have learnt my lesson and I have set an alarm on my phone for the 1st October. "Listen to your wife talk about nice things and take note you fool" This is the past talking. This is a true story as I have actually set the reminder.
---
---