A guide for breathing | The importance of our diaphragm muscle

Greetings fellow Hivers 🤗
---
Hello there fellow hiveans! 🤗 So, today, the opportunity presented itself for me to give a little contribution to Hive overall and specificaly to the #dreemport community, taking advantage of my knowledge and expertise on the human body and motion so far, in order to help others.
I was invited by @samsmith1971 to join the DreemPort Challenge and the next 6 weeks will consist on making a series of tasks to help us achieve our personal goals and healtier lifestyle habits. It's also about supporting and motivating others to do the same so I do hope this post will help others to commit to, at least, one of the tasks.
👁‍🗨 For more information about the DreemPort Challenge read this post 👁‍🗨
Today, dear reader, I will guide you, step by step, not how to breath (note to self - everyone knows how to do that 😎), but how to breathe making the best use of the principal respiratory muscle - our diaphragm. I'll be guiding you to do what is called a diaphragmatic breathing.
I will explain a little bit of the importance of this specific muscle in the next section but feel free to jump right to the Breating exercise - step by step section if you feel like it 😊
Source by Tenor
---
The importance of our diaphragm muscle 🙌
Everyone knows how to breathe right? Otherwise we will be dead. Because breathing is unconscious, controled by our nervous system and brain. We can't just not breathe if we wanted to. Yet, breathing can also be a conscious act and it's benefits are widely reported! From the psycological effects like having a calming and focusing effect, to the physical importance of being a key part of our body posture and motion.
So, dear reader, have you ever seen the diaphragm muscle? Do you know how it moves? Have you ever touched it?
Imagine a parachute with 2 domes. When we breathe with a proper use of the diaphragm the following motion occurs:
Inhale: the ribs expand to the sides, the domes from our parachute flaten and the belly expands as well.

Exale: the reverse process happens. The belly and the ribs both go back in, effortlessly, and the diaphgram goes back up.
I'll use this opportunity by leaving you with a GIF to demonstrate these particular movements. Please note all the expansion that happens when I inhale - it is key for making a good use of our diaphragm 😉 Also, note that there is NO movement on my shoulders.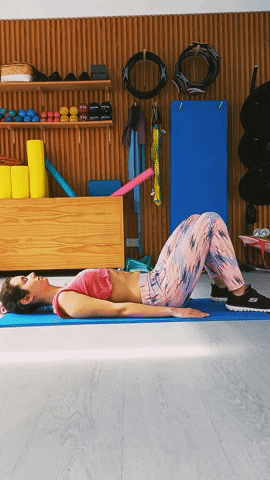 No getting shy on letting those bellies out! One of the reasons that we alter our respiratory pattern is because we are always pulling our stomatchs inwards and locking our abdominal muscles (note to self - they now realize how an unconscious contraction can change so many things 😎).
Dear reader, let's do a little experiment to see if I can get you to feel what I'm talking about.
You see all the expansion it has to happen in our abdomen right? Now, you're probably in a seated position, with your phone or computer. If you're in this position for a while now, it's higly likely that your spine is curved and round. That's ok, don't need to change it. Just indulge that posture and try to breathe to your abdomen...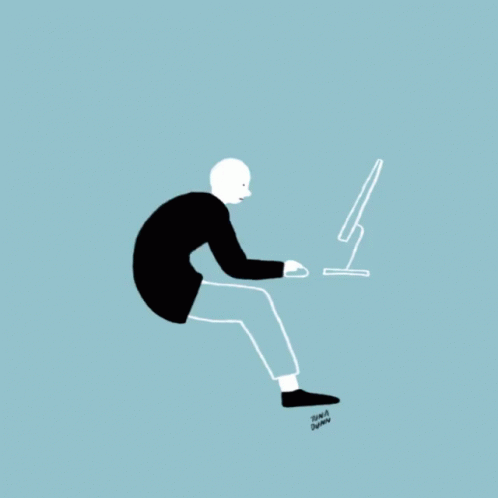 Source by Tenor
You can't right? In a curved position, you also have to move your shoulders as there is no space for your parachute to come down! Now, be seated to a proper position. Both feet well placed on the ground, shoulders down, spine long and tall like you want to grow towards the ceeling. Now breathe! Ahhhhhh ... Sweet freedom right? 😎😎😎
If even in this position you find it's hard to inhale, your shoulders keep moving a lot, or you have a short movement it is possible that you have too much tension on your diaphragm (note to self - now you got them worried!).
Worry not dear reader, as I will throw here a little bonus exercise! I will leave here the instructions for massaging your diaphragm for those that felt like the movement was stuck. It is recommended to do it for 15 minutes.
How to massage your diaphragm:
1 - Lie on the floor like the GIF I shared above.
2 - Place your hands in a shell position with a little lotion or oil
3 - Start on your sternum and go down along your ribs slowly
4 - Always start from the sternum, following the ribcage countour.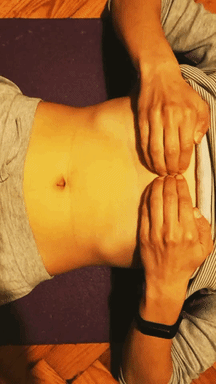 The purpose is to try to enter a bit in your ribcage. It might be a little discomfortable in some areas, specially those ones that are tight or tense. Just adjust the pressure of your hands so it is only a minor or managable discomfort - no need for pain! I do not agree with the "No pain no gain" motto.
You can also add the breathing exercises and it would be even more effective. The idea is to first massage, therefore relax our diaphragm, so afterwards we can recrute its contraction better by inhaling, making a good and complete use of all the muscle range of motion. Contracting but also relaxing and expanding.
There's much more going on in relation of our diaphragm and the pressures inside our abdomen and specially related to our pelvic floor muscles but I don't wanna get to techy and I am already extending myself for the intended content 😆. What can I say, I'm a movement entusiast as well! I can get going for hours non-stop 🙈
My main point here is that, the way we breathe matters. The way our diaphgram muscle is moving and working matters. And our postures and emotions have a major influence on it, having the capability to change how our bodies move.
Feel free to drop any questions you might have in the comment section if I didn't explained it clearly 😊
---
Breathing exercise step by step 🧘‍♂️
Let's get down to business dear reader? 🤗
(Opcional - do the diaphragm massage first)
Find a comfortable position, it can be sitting or lying on the floor. Place some pillows/blankets, if necessary, to make sure your body can relax and you are warm.

Place one hand in your chest and another below your belly button.

Close your eyes if you feel comfortable. If not, fix your gaze on a point in front of you.

Start noticing your breathing. How it feels, the air going in and out, wich hands moves the most. Let the air fill your lungs fully, expand your ribs and belly. Slowly exale.

Start bringing more motion to the hand placed bellow your belly button when you inhale.

Slowly begin to deepen your breathing. If your mind goes on a loop of thoughts try bringing your attention again to the movement of your body and all sensations that your breathing gives you

Enjoy!
---
Final considerations 🙌
That's it for me and this little guide 😊 I really hope this helps someone to do the breathing task from DreemPort Challenge and maybe even more fellow Hivers that want to explore the magic of breathing consciously can enjoy it 😁
Let me know if you have any questions or encountered any dificulty in doing these steps. I'm here for you 😊 Also I'm a bit afraid if I was too techy in explaning since I'm not used to write in English 🙈, but I'm sure I'll get the hang of it as I go 😁
---
The GIFs that aren't sourced are my own and were recorded with my phone Samsung A32
---
---