Unlikely animal relationship. Freshwater crocodile and Broadshell turtle are besties.
Today I thought I'd show you an unlikely pairing of friends that live with us.
People underestimate animals and the relationships they can form.
Fovian, who is the resident large crocodile at the home since Billy left, is a freshwater crocodile from northern Australia. Fovian came to us a couple of years ago now just before the fire and with him came an unlikely friend he had been paired with. Broady the broad-shelled turtle.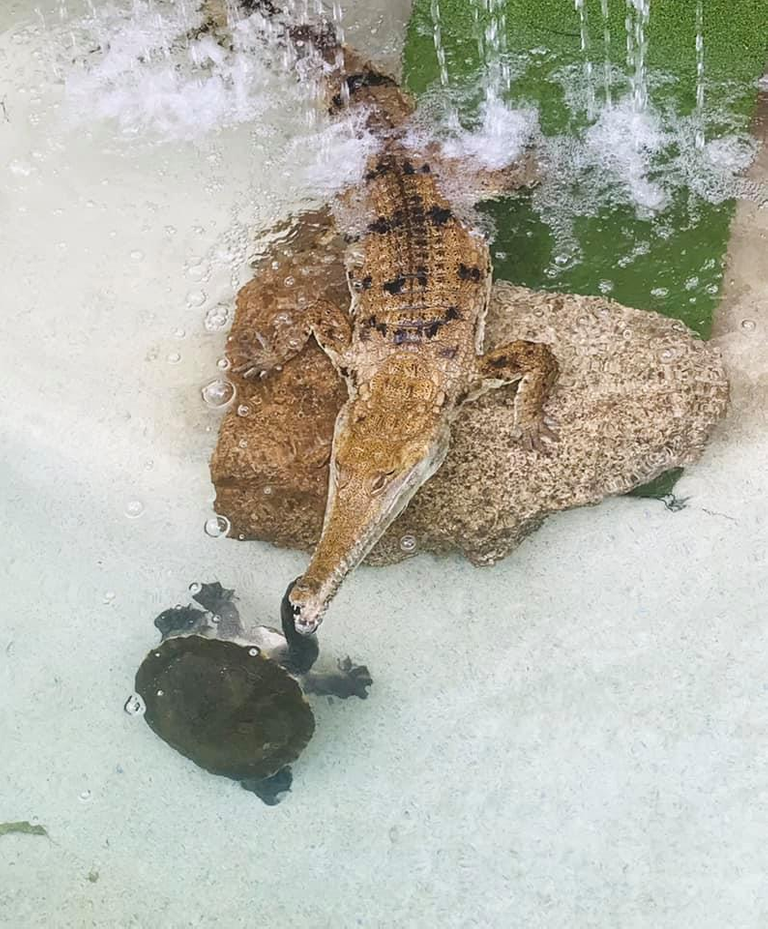 Fovian.
Fovian came to us from a lady who had gotten in trouble with the government. She is a lovely lady who cares about her animals intensely. Unfortunately for her she has had a few run ins with the department in charge of keeping these animals as pets and was forced to give up all of her crocodiles.
There was actually a documentary made (or being made, covid restrictions pushed it off) about the story and her crocodiles. I will try and find a link to add.
Fovian has a beautiful nature and is probably somewhat to do with the lady who raised him. He is very docile as far as crocodiles go and will happily let me pat him on the back or tail. Oftentimes I will be in his enclosure cleaning and he will be sunbaking right next to me, unfazed by my presence.
Fovian is 10 years old now and is actually the father of my young Frankie who I did a post about here
Feeding happens about 4-5 times a week and he will probably grow to be around 3m long at full size. It will take him a long time to reach his full size and his lifespan is somewhere in the area of 80 years if he is cared for properly.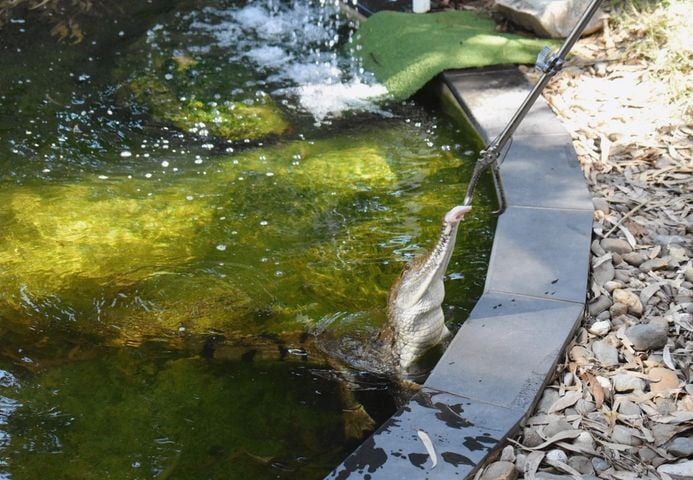 Fovian having some lunch
Broady.
Broady is a broad-shelled turtle and is listed as vulnerable in S.A and threatened in Victoria. Studies have shown an up to 93% predation rate of nest eggs and of the few who make it have a long and hard process to adulthood. Many predators, dehydration and crossing roads all contribute to their demise and something needs to be done to assist the number that make it into adulthood before they become critically endangered.
Broady unfortunately lost the function of his reproductive organs due to a prolapse. He received medical care but they were unable to repair the damage fully, this happened many years ago now before he came to us and he is unfazed by it. It is unfortunate as the lady he came from had hoped he would be able to breed and assist in bolstering their numbers in the wild.
Broady has a fairly docile nature as well, though most turtles do. They are fairly shy animals and will retreat into their shell if you approach or touch them with Broady being no different. At close to 25cm long he is the largest turtle we have and is still growing. He is unfortunately also missing the end of his tail due to a fight with another turtle.
Broad-shelled turtles are the largest of the freshwater turtles and he has a long powerful neck and very strong legs that push him through the water and help him to tear apart food. He will try and avoid being touched but will sometimes peek out of his shell when being held to see what's happening.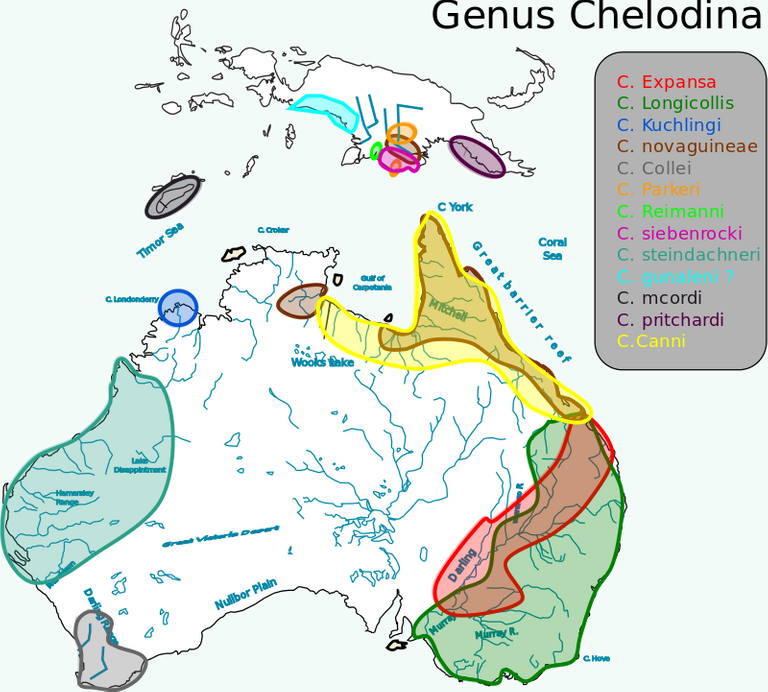 Wikimedia commons Broad-shelled turtle is C.expansa.
Their relationship.
Broady and Fovian both came to us at the same time and from the same lady, they were both very well loved pets and we promised we would treat them as such.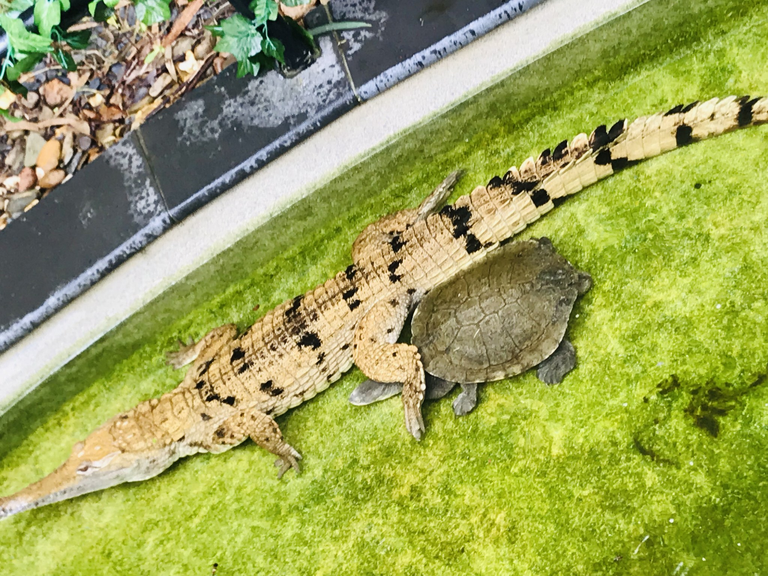 Broady cuddling under Fovians hind-leg
We don't fully understand their relationship or how it formed, there is very little information available online, scientific or anecdotal. I don't want to assume this is a one-off situation as we routinely underestimate animals.
We assume they have some sort of symbiotic relationship where the turtle eats algae or bugs or something along those lines, in exchange the crocodile would provide protection. It is hard to say because they do not come in contact in the wild from what I can find and their distribution is fairly different.. It is possible that some populations in Queensland would come across crocodiles but it would mean either crocodiles were further south than we think or the turtles are further north than we think.
The only time Fovian ever bit his old owner was when she tried to get Broady out of the water one day. I have not seen him show aggression anytime I have been near the turtle but I always keep an eye on him just in case. I believe he knows we aren't there to hurt them but you can never know.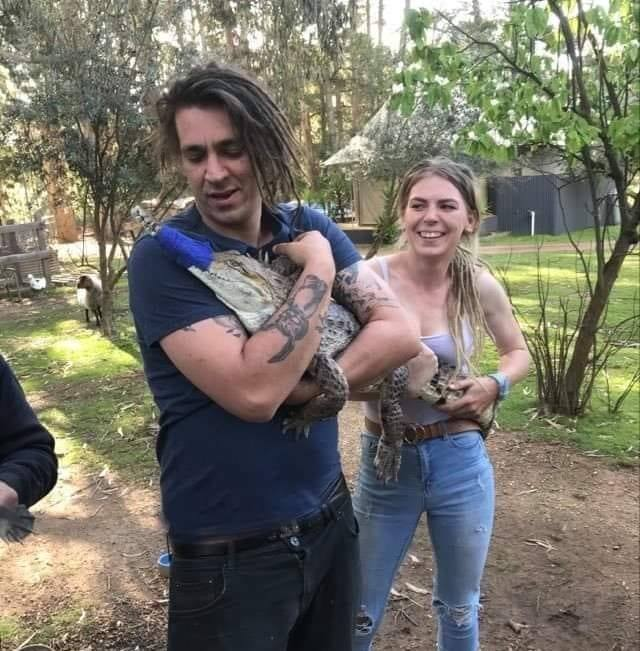 Me and Lydia bringing Fovian to the rescue for the first time, Broady was close behind. That's his foot on the left.
Fovian spends a fair bit of time sunning himself on the banks of his pond and around his enclosure but anytime he is in the water Broady is almost sure to be close by. They get fed together and I have even seen the turtle swim up and snatch food from the crocodiles mouth, he obviously isn't too intimidated.
They can often be seen sitting in the water together and if scared I have witnessed Broady move under and behind Fovian, using him as a shield or bodyguard almost.
Both Fovian and Broady will likely spend the rest of their life with us unless it is deemed he is becoming too big or too much work for my family.
For now they are both more than happy together and we plan on keeping them that way.
They are of course, wild animals. As such we understand they are unpredictable and you never know what could happen. Fovian may one day decide he's sick of Broady and attack him but it seems unlikely.
---
---