Sleepy Hollow, Review (ENG/SPA)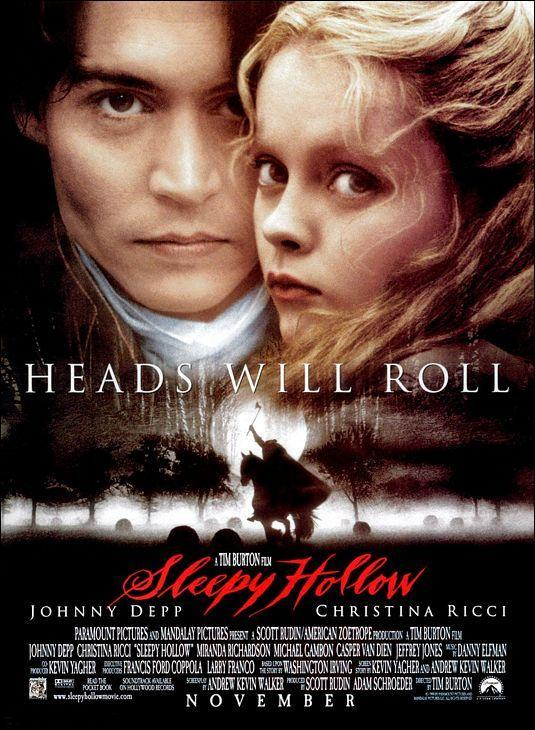 Fuente
Hello, Internet people! This time I want to tell you about one of the movies of one of my favorite directors and starring my beloved Johnny Deep. It is Sleepy Hollow, a 1999 film directed by Tim Burton and starring Christina Ricci and Johnny Deep.
¡Hola, gente de Internet! En esta ocasión quiero hablarles de una de las películas de uno de mis directores preferidos y protagonizada por mi amado Johnny Deep. Se trata de Sleepy Hollow, película de 1999, dirigida por Tim Burton y protagonizada por Christina Ricci y Johnny Deep.
Based on one of the most famous stories called The Legend of Sleepy Hollow, and which is part of the book: The Sketch Book of Geoffrey Crayon, written by Washington Irving in 1820. Tim Burton reimagines in his film the whole original story and I must admit that he doesn't do it in a bad way but I have some problems with the story, but I will talk about that later, I just wanted to make clear that the film only takes the important facts of the story but the development is totally different.
Partiendo de uno de los relatos más famosos llamado La leyenda de Sleepy Hollow, y el cuál forma parte del libro: The Sketch Book of Geoffrey Crayon, escrito por Washington Irving en 1820. Tim Burton reimagina en sus cinta toda la historia original y debo admitir que no lo hace de una mala manera, pero tengo algunos problemas con la historia, sin embargo de eso hablaré más adelante, solo quería dejar claro que la película únicamente toma los datos importantes del relato pero el desarrollo es totalmente diferente.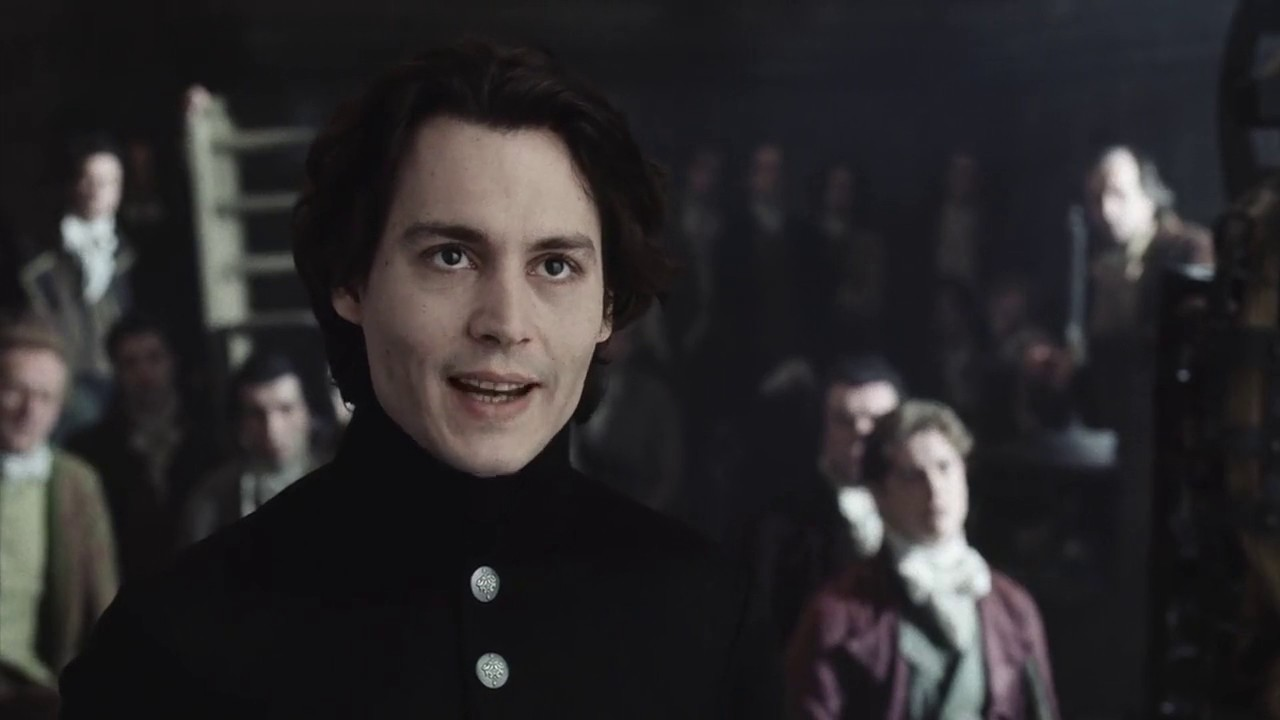 Fuente
Let's start with my favorite aspect: photography. To make this more organized I'll start with one of the components of photography, the shots. Tim Burton employs quite a few open shots, some close ups and one of my favorite types of shots, subjective shots. I know this is a review and not a cinematography class, but I like to be explicit and you can learn something new.
Empecemos con mi aspecto preferido: la fotografía. Para hacer esto más organizado empezaré por uno de los componentes de la fotografía, los planos. Tim Burton emplea bastantes tomas abiertas, algunos close up y uno de mis tipos de planos preferidos, los planos subjetivos. Se que esto es una review y no una clase de cinematografía pero me gusta ser explicita y además pueden aprender algo nuevo.
The subjective shots are those that do not allow us to appreciate the totality of a scene, that is to say that they focus more on secondary characters, they only focus on a part of the body of the incognito character or protagonist of the scene or they use the blur, all to preserve the mystery around the character of interest, in this case, the headless horseman. All his initial scenes are subjective, focusing on his victims, the legs of his horse, the road, his sword and even the first deaths have an ambiguity in showing us one quite explicit and the other subjective as a foretaste of what will be the film's filmic composition.
Los planos subjetivos son aquellos que no nos permiten apreciar la totalidad de una escena, es decir que enfoca más a personajes secundarios, solo enfocan una parte del cuerpo del personaje incógnito o protagonista de la escena, o emplean el desenfoque, todo para preservar el misterio en torno al personaje de interés, en este caso, el jinete sin cabeza. Todas sus escenas iniciales son subjetivas, se enfoca a sus víctimas, las patas de su caballo, el camino, su espada e incluso las primeras muertes tienen una ambigüedad en mostrarnos una bastante explícita y otra subjetiva como un abrebocas de lo que será la composición fílmica de la película.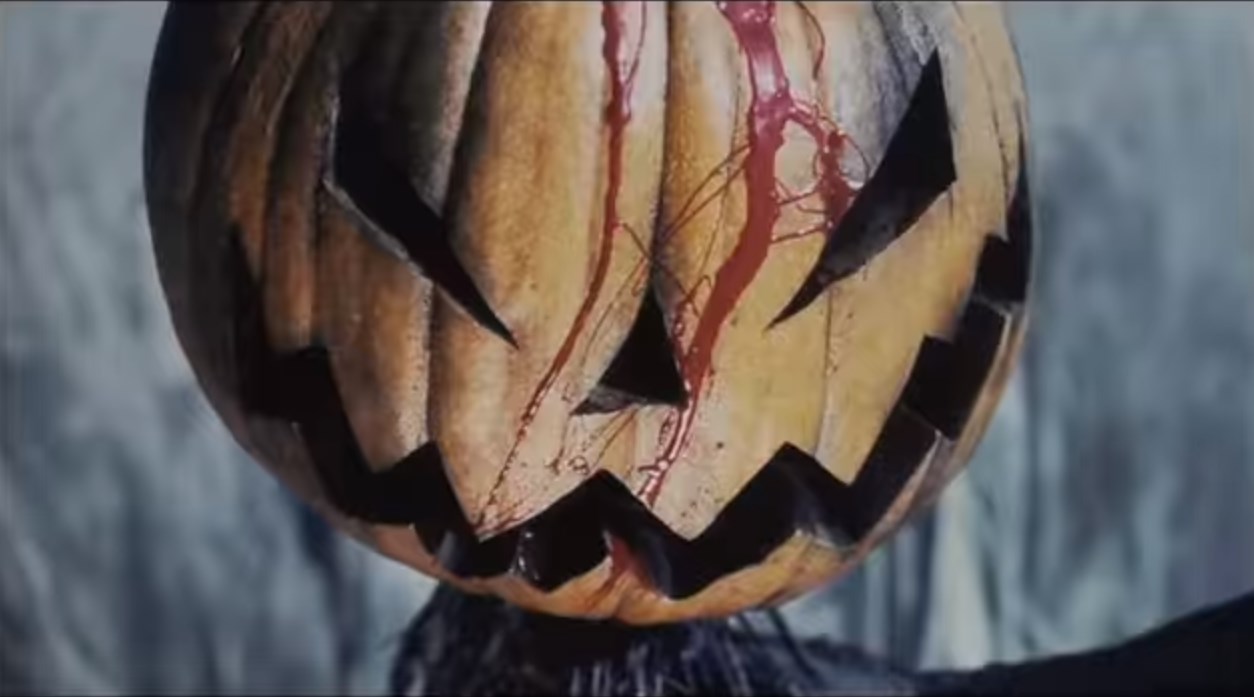 One thing I hated was the opening credits, they were literally across the screen, which distracted from the opening scenes of Ichabod traveling to Sleepy Hollow and it's a shame because the shots were beautiful, I think choosing to put the credits on one side or the other of the screen would have been a good choice, so the viewer decides whether to read them or not, and they are still on the tape without causing distractions. I should clarify that this is not an error per se, but a personal opinion.
Algo que detesté fue los créditos iniciales, estaban atravesados en la pantalla literalmente, lo que distraía de las escenas iniciales de Ichabod viajando a Sleepy Hollow, y es una pena porque las tomas eran preciosas, creo que optar por poner los créditos a un lado u otro de la pantalla habría sido un acierto, así el espectador decide si leerlos o no, y siguen estando en la cinta sin causar distracciones. Debo aclarar que no es un error en sí, sino una opinión personal.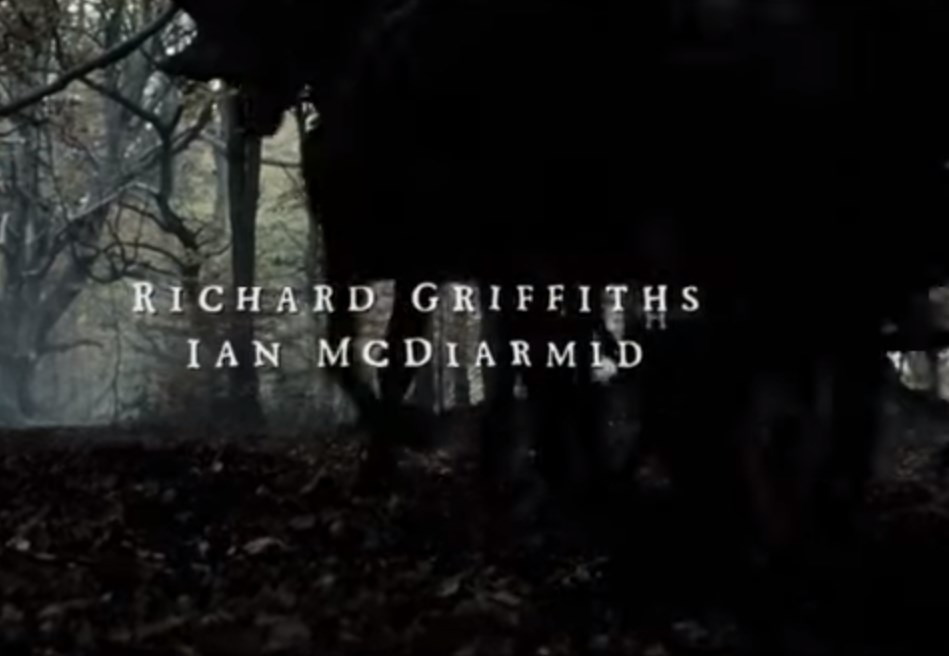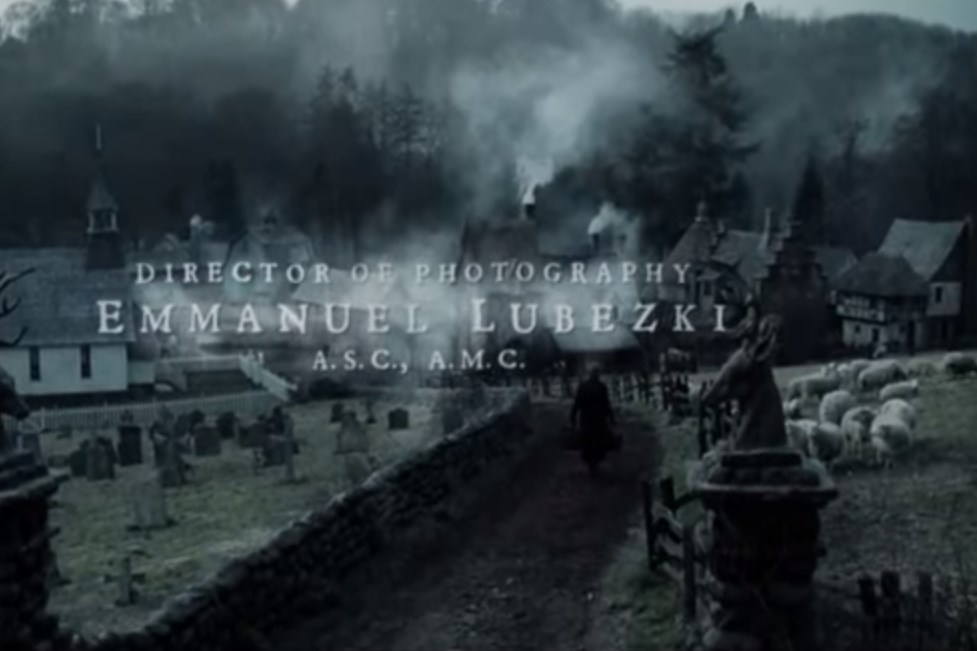 The color palette is almost entirely monochromatic, we can only see some color in the Van Tassel's party and this is due to the theme or genre that this film wants to present: mystery and gothic horror. Burton used this palette again and the same filter years later in Sweeney Todd: The Demon Barber of Fleet Street. That cloudy sky gray filter makes the day always look the same and we don't know if it's getting light or dark (which helps the uncertainty) and also helps the setting and atmosphere.
La paleta de colores es casi en su totalidad monocromática, solo podemos ver algo de color en la fiesta de los Van Tassel, y esto es debido a la temática o género que esta película quiere presentarnos: misterio y terror gótico. Burton volvió a emplear esta paleta y el mismo filtro años más tarde en Sweeney Tood: el barbero demoníaco de la calle Fleet. Ese filtro gris de cielo nublado hace que el día siempre se vea igual y no sepamos si está amaneciendo u oscureciendo (lo que ayuda a la incertidumbre) y lo que también ayuda a la ambientación y atmósfera.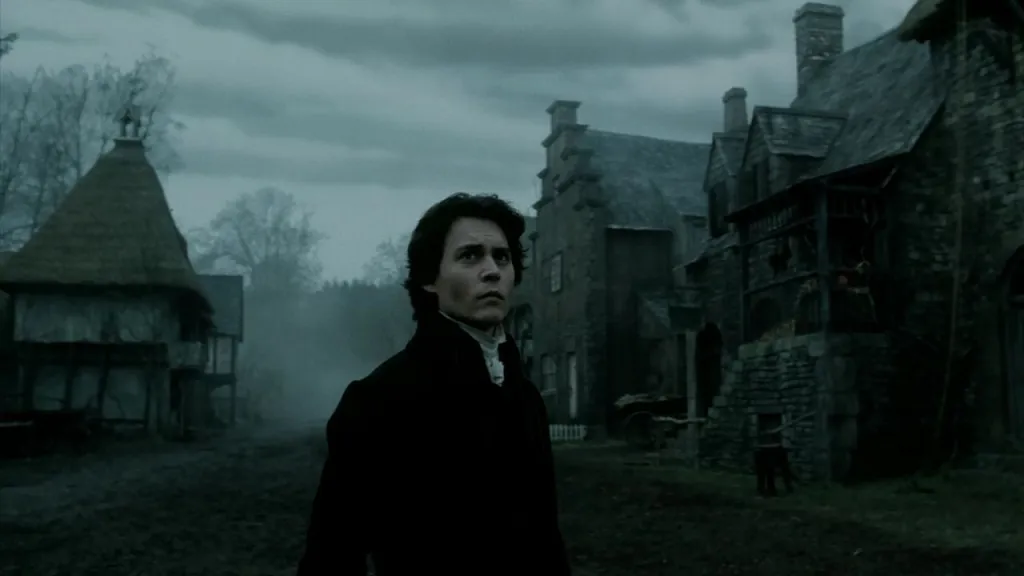 Fuente
And speaking of this aspect, it was the one that gave the Oscar to the film and it is very well worked, the cloudy sky, dark forests and a village with hostile inhabitants is a cocktail for a good horror movie and a setting of 10 in this genre.
Y hablando de este aspecto, fue el que le otorgó el Oscar a la película, y es que está muy bien trabajado, el cielo nublado, bosques oscuros y una aldea con habitantes hostiles es un coctel para una buena pelí de horror y una ambientación de 10 en este género.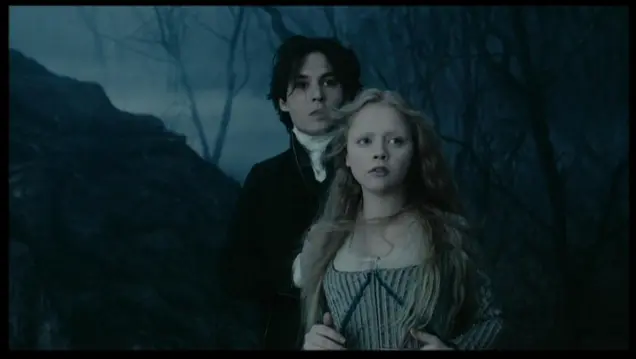 Fuente
I thought the story was good but there were some details that I didn´t like, such as the appearance of the witch that Ichabod consults, when she goes into a trance and shows her face, her appearance was a bit cartoonish, completely taking away the atmosphere of mystery and uncertainty that had been generated at the beginning when Ichabod entered her lair.
La historia me pareció buena pero hay algunos detalles que no me terminaron de encajar como el aspecto de la bruja que Ichabod consulta, cuando entra en trance y muestra su cara, su aspecto se me hizo un poco caricaturesco, quitando por completo la atmósfera de misterio e incertidumbre que habían generado al inicio cuando Ichabod entró en su guarida.
I like how at the beginning, Ichabod proposes a criminal case around the murders in Sleepy Hollow, and the locals attribute it to something paranormal.
Me gusta como al inicio, Ichabod propone un caso criminal en torno a los asesinatos en Sleepy Hollow, y los lugareños lo atribuyen a algo paranormal.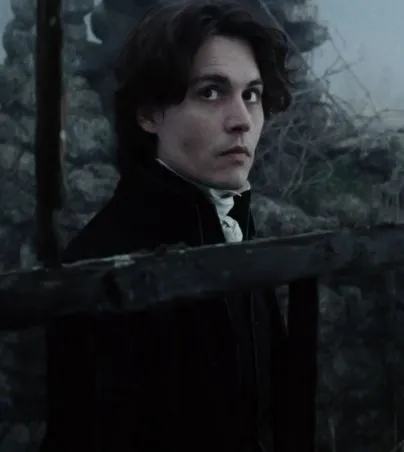 Fuente
In fact, if we talk about the characters, I think the one who really has a good development is Ichabod. He is a condestable (highest authority on behalf of a king) who also seems to be a forensic scientist and chemist. Because of his limited and closed personality and opinion due to his disbelief for the paranormal and his scientific knowledge, he is sent to Sleepy Hollow to investigate the massacre of the place.
De hecho, si hablamos de los personajes, creo que realmente el que tiene un buen desarrollo es Ichabod. Él es un condestable (máxima autoridad en nombre de un rey) que además parece ser forense, científico y químico. De acuerdo a su personalidad y opinión limitada y cerrada debido a su incredulidad por lo paranormal y sus conocimientos científicos, es enviado a Sleepy Hollow para que investigue la masacre del lugar.
Ichabod's personality is quite particular, his eccentricity is exaggerated by Johnny to make a gap between the rest of the townspeople, as they have different positions. It is an artistic and developed way by Johnny to graph the opinions and thoughts of his character, that we can not only hear him when he gives his opinion but we can also see him when he gives his opinion.
La personalidad de Ichabod es bastante particular, su excentricidad es exagerada por Johnny para hacer una brecha entre el resto de la gente del pueblo, ya que tienen posturas diferentes. Es una forma artística y desarrollada por Johnny de graficar las opiniones y pensamientos de su personaje, que no solo lo podamos escuchar cuando da su opinión, sino que también podamos verlo.
Fuente
The rest of the actors, act well but their characters are quite flat, without development. At least they should be there because they add situations and discoveries necessary for the plot of the film, but in terms of an evolution on their part, they were left in the attempt.
El resto de los actores, actúan bien pero sus personajes son bastante planos, sin desarrollo. Al menos deben estar ahí porque suman situaciones y descubrimientos necesarios para la trama de la película, pero en cuanto a una evolución de su parte, se quedaron en el intento.
Another thing I didn't like is that from time to time I was able to guess accurately what would happen next or who was behind the crime, and that is that they do not leave the culprit to speculation, but shortly before the climax of the film and we are revealed who is responsible in a not at all subtle way and that only a clueless person would not associate.
Otra cosa que no me gustó es que de vez en vez pude adivinar acertivamente lo que sucedería a continuación, o quien estaba detrás del crimen, y es que no dejan al culpable a la especulación, sino que poco antes del clímax de la película ya se nos revela quién es el responsable de una forma nada sutil y que solo un despistado no asociaría.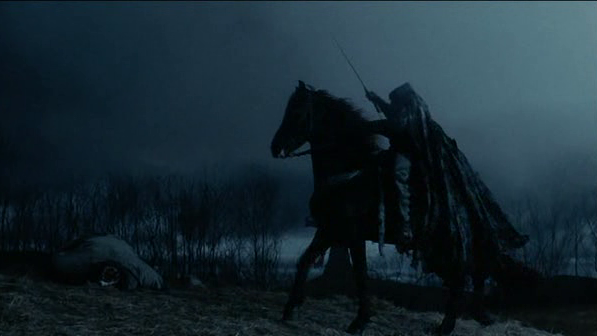 Fuente
Finally we can talk about the soundtrack. It is very good, it perfectly accompanies the film, it prints mystery and uncertainty (clear and present atmospheres in this film) and the pieces are clearly designed for each scene. It is mainly interpreted in classical musical instruments, in addition to bass backgrounds. A masterful piece, as usual, I will leave them below:
Finalmente podemos hablar de la banda sonora. Es buenísima, perfectamente acompaña a la cinta, imprime misterio e incertidumbre (atmósferas claras y presentes en esta película) y las piezas están claramente diseñadas para cada escena. Principalmente está interpretada en instrumentos musicales clásicos, además de fondos de bajo. Una pieza magistral, como es costumbre, se las dejaré a continuación:
And well, people, this has been all for today's post, I hope you liked it. Thank you very much as always for supporting my work, I welcome new readers, I love you all very much, I send you a hug and I'll meet you in another post.
Y bueno, gente, esto ha sido todo por el post de hoy, espero que les haya gustado. Muchas gracias como siempre por apoyar mi trabajo, le doy la bienvenida a los nuevos lectores, les quiero mucho a todos, les envío un abrazo y ya nos encontraremos en otro post.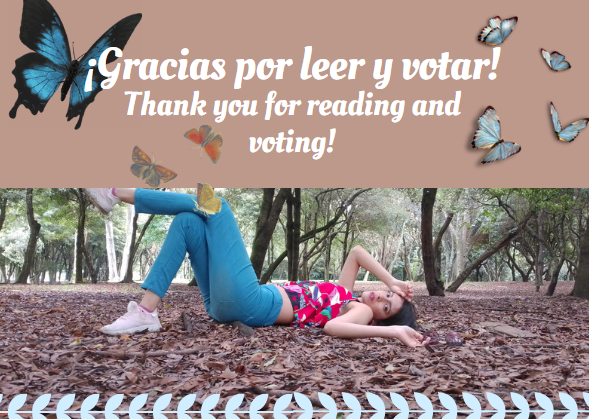 I made the farewell image in Canva. The images in the post without source, are screenshots of the movie.
La imagen de despedida la realicé en Canva. Las imágenes presentes en el post sin fuente, son capturas de pantalla de la película.
---
---