Rising Star unique cards

I have been playing the Rising Star Game for a few months now, and I have discovered several pearls of information along the way.
I have decided to start writing about my experience at RSG.

Buying Cards
Owning cards is a big part of the game.
Player Rankings depend a great deal on the cards that you hold.
There are two things to consider when purchasing cards.
Price of the card
Uniqueness of the card
The player ranking is as follows

As you can see, 70% of ranking is based on card ownership with the unique cards being worth a bit more.
You will want to obtain as many unique cards as you can afford to purchase.
You can purchase card packs in the game, but this will give you 36 cards for 100,000 starbits. This is not too bad, especially when you are first collecting unigue cards.
However, you will soon see that you get a good number of duplicates in the packs.
I have found a better way to collect unique cards for less cost.
Introducing RSGFam.com

You can go directly to the website, or you can access it in game under the CARDS dropdown box.
You will sign in using Hive Keychain, and RSGFam.com will import your data from the game.
There are several options on the site but for now I want to focus on obtaining unique cards.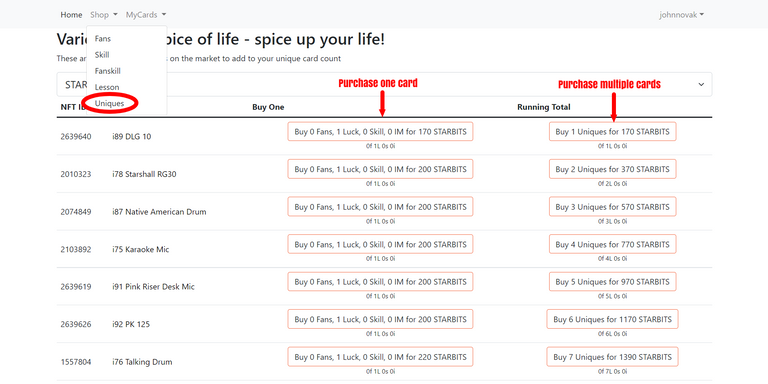 As you can see in the above picture, you click on the SHOP tab and then select UNIQUES.
This will load all of the available unique cards available started at least expensive.
Now you can purchase a single card, or you can purchase multiple unique cards by selecting from the column on the right.
Just click on your choice and you will see your Keychain prompt to make your purchase.
Okay, I think I have given you enough information to get you started on using RSGFam.com
If I have confused you or failed to explain something please make a note in the comments.
Please remember that when making purchases with Starbits, the Starbits need to be in your Hive Engine and not in the game.


Moving your Starbits from the game to your Hive Engine wallet is simple. You just move your cursor over your Starbits total on the right upper side, and you will get a dropdown list that starts with "Withdraw/Deposit."
Click the Withdraw/deposit tab, and you will see your choices for moving Starbits to your Hive Engine wallet.
If you are NOT yet playing Rising Start game, You can click on the link to start playing now!
Rising Star game.
The information in this post is my opinion and is correct to the best of my knowledge. There are always other options to consider. Be sure to D.Y.O.R
Until next time,
John Novak

All game images used in this post have come from the Rising Star Game and RSGFam.com.
Divider by @doze

Programs I Endorse
Click Track Profit
ListNerds
Rising Star Game

---
---