[ENG] The exuberant architecture and urbanism of Modern Panama [ESP] La exuberante arquitectura y urbanismo de la Moderna Panamá
The exuberant architecture and urbanism of Modern Panama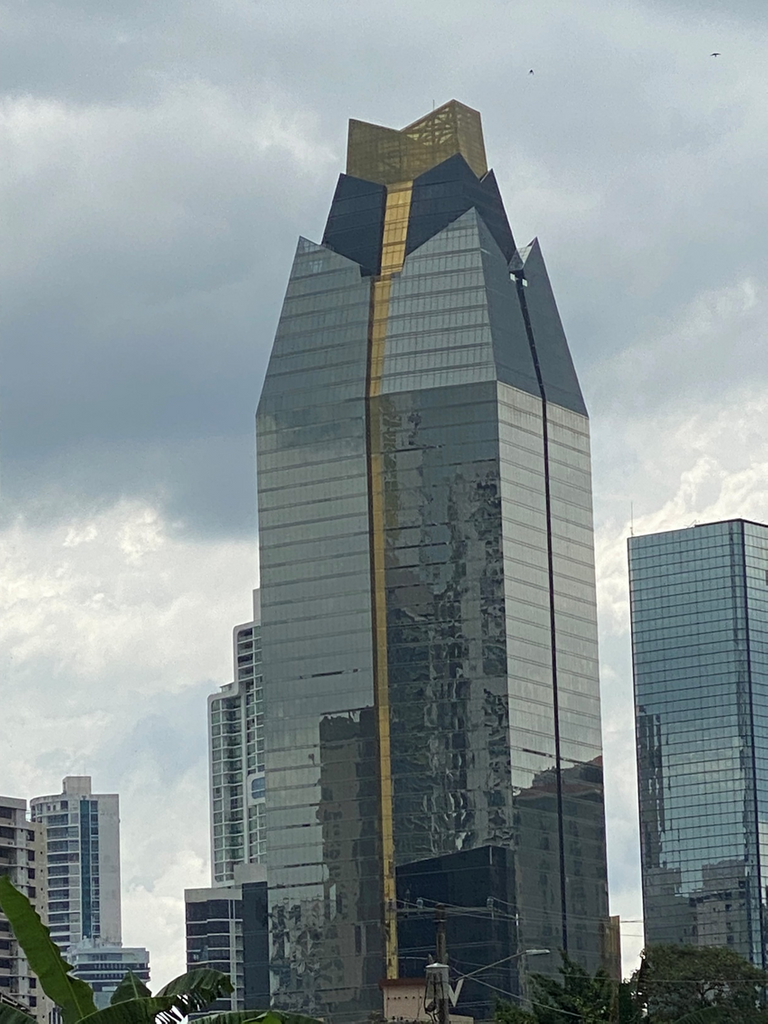 Evolution Tower, mixed-use building, with 56 floors and 217 meters high. (Evolution Tower, edificio de uso mixto, con 56 pisos y 217 mts. de altura)
     In a previous post I wrote about the colonial part of Panama City, I indicated that there were three cities in one in this Central American metropolis. Today I will dedicate myself to giving you photographs of the thriving, modern, and cosmopolitan city of Panama. On this occasion, my dear friends, Arelis Romero and her husband Alex, who are two successful Venezuelan professionals who live in Panama, lent themselves to take photos of the modern city in order to nurture this post that I deliver to you with all the respect and admiration of forever.
---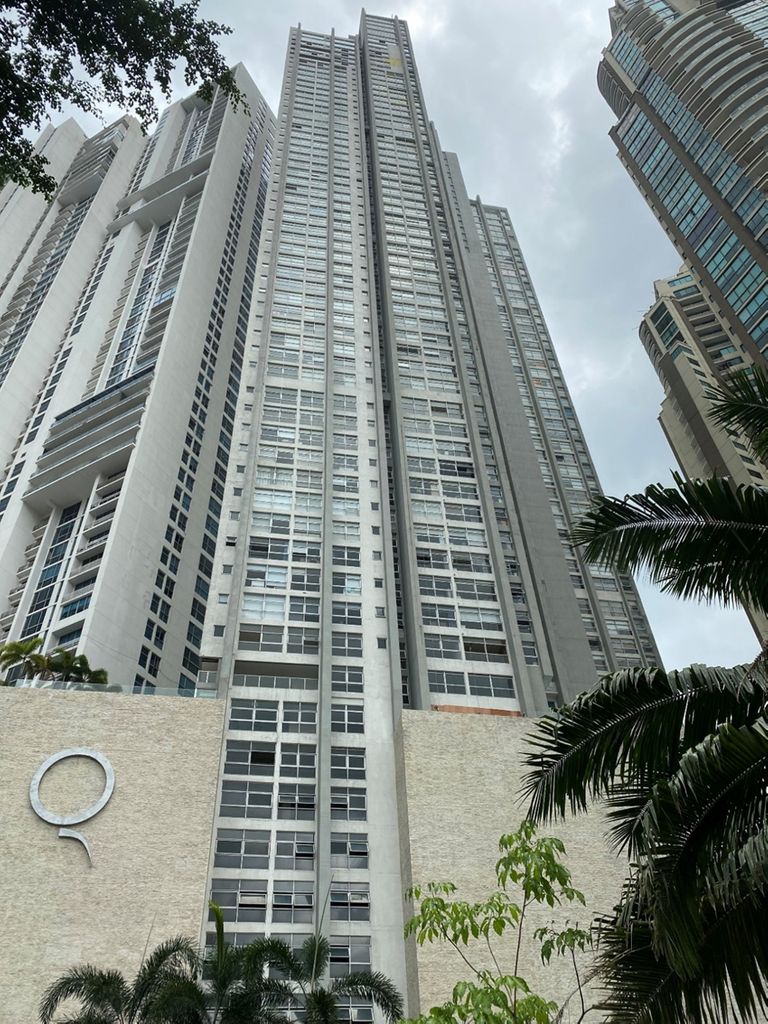 Q Tower is a 65-story skyscraper, with a height of 226 meters. Use constructive design in the form of a zigzag to take advantage of the spaces (Q Tower es un rascacielos de 65 pisos, con una altura
de 226 mts. Utiliza un diseño constructivo en forma de zigzag para aprovechar los espacios)
     The architecture of Panama is linked to the phrase that identifies the country: "Panama, melting pot." Like many of the Latin American cities, Panama is the confluence of a beautiful mixture of rich and different cultures such as indigenous, Spanish, Asian, American, and African, which left their mark on the Panamanian man of today, and they marked the way in which cities and buildings have been constructed and, therefore, signify the evolution that architecture has undergone in these cities.
---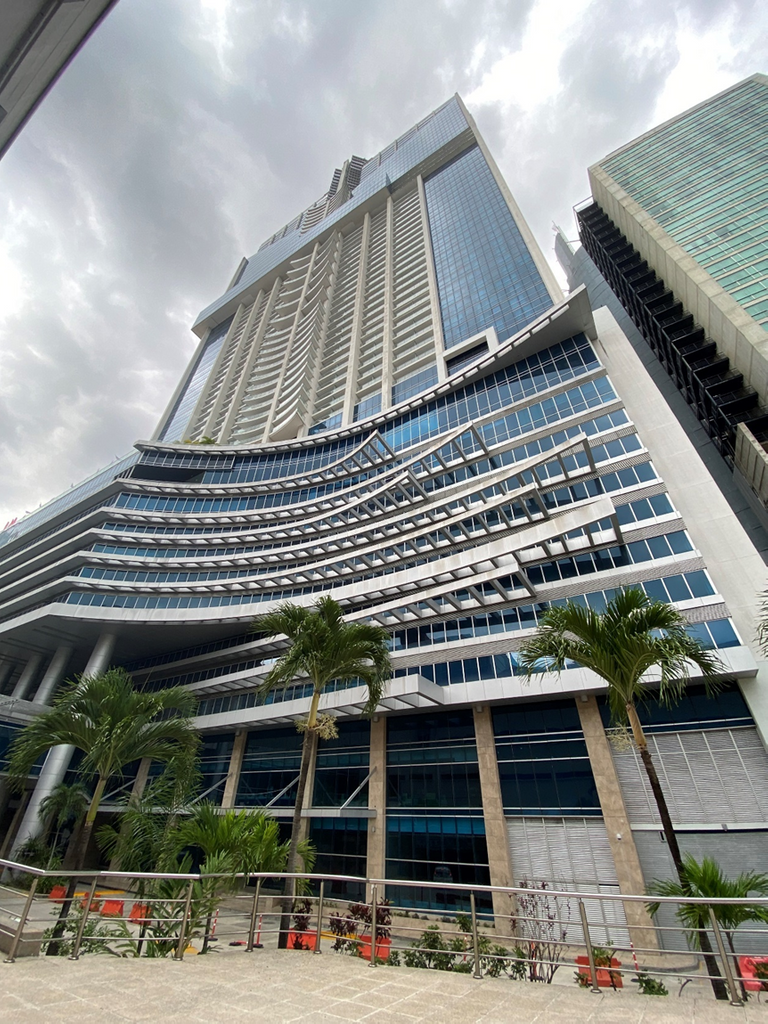 Megapolis Tower is the first of two twin towers, better known as the Panama Hard Rock Hotel (Torre Megápolis es la primera de dos torres gemelas, mejor conocida como Hard Rock Hotel de Panamá)
     This "third city" is located in the beautiful bay of Panama City, characterized by the commercial boom and the development of very modern and spectacular infrastructures, where a typical Caribbean nightlife takes place, with magnificent restaurants, luxury residential areas, and the unique tropical forest, called "Parque Natural Metropolitano", a tropical jungle in the middle of the city. This section of the city is a particular combination of the modern with the international and the Latin.
---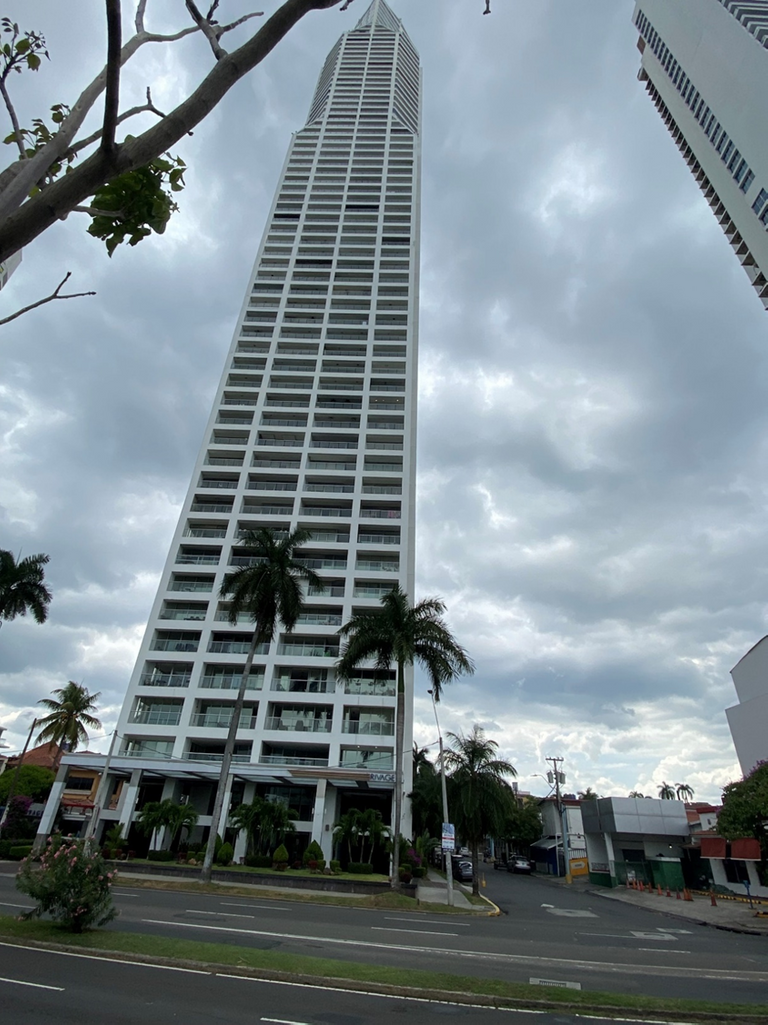 Rivage Tower es un edificio residencial de 233 mts de alto y 70 pisos (Rivage Tower es un edificio residencial de 233 mts de alto y 70 pisos)
     The commercial development of Panama, with the only canal that joins two oceans and serves as maritime traffic for ships from much of the world, has served to make La Bahía a center of attention for large international companies in order to build a zone conducive to facilitating business in the region.
---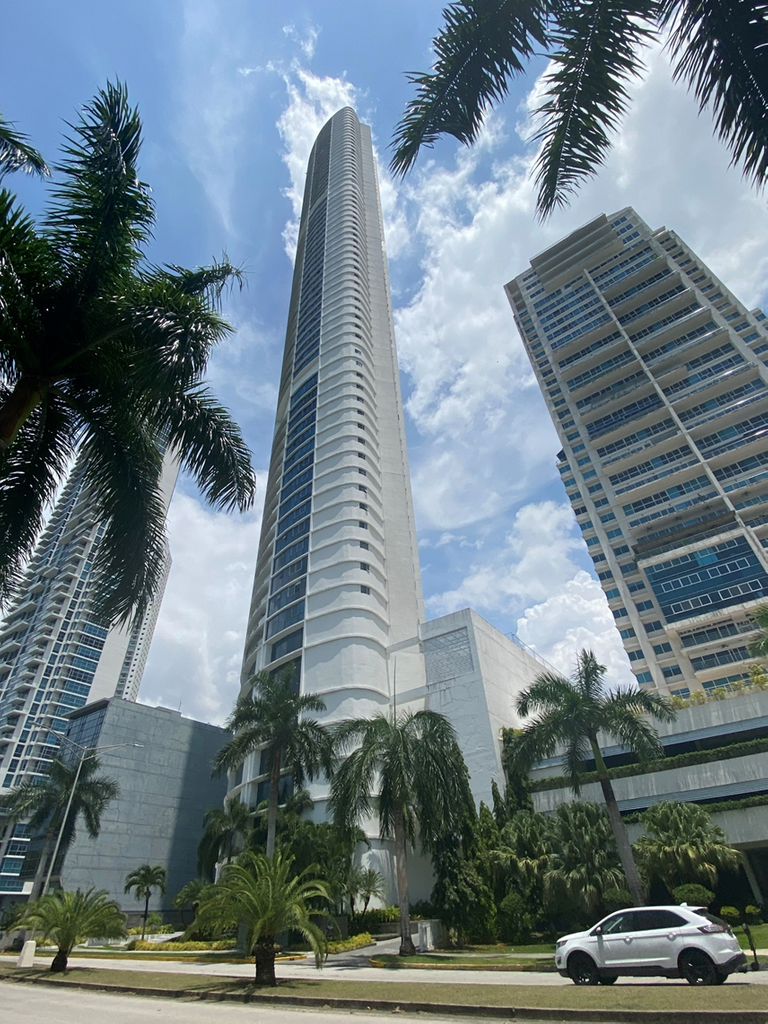 The Pearl Tower is a concrete building with an elliptical shape, 242 meters high and 70 floors (La Pearl Tower es un edificio en concreto de forma elíptica, de 242 mts y 70 pisos)
     At first glance, it is impossible to calculate the number of skyscrapers that rise gracefully in the so-called modern Panama. The unsuspecting visitor did not imagine that in Central America they would find a city that seemed more like the Middle East. A sample of what they have built in modern Panama is represented by some tinted glass skyscrapers, something that for many connoisseurs of architecture is a "contradiction" in a country with average temperatures of around 30 degrees Celsius and humidity levels of 80 % typical of a tropical climate, so it is imperative to use air conditioning in these kinds of structures.
---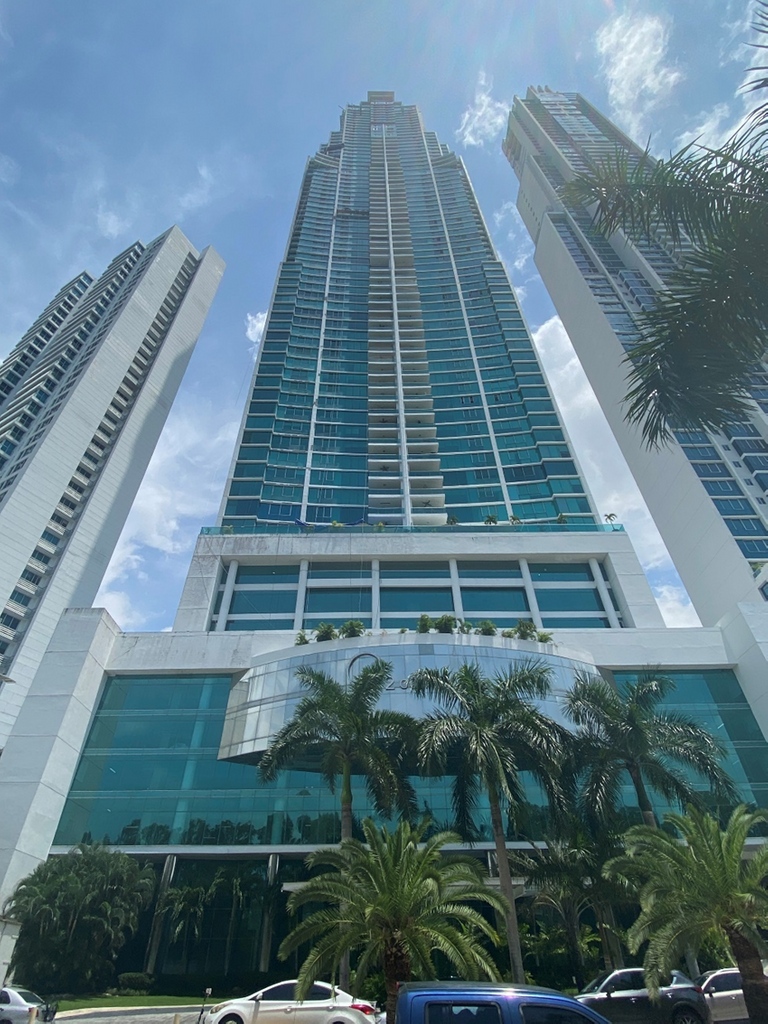 Ocean 2 (known as O2) is a residential building inaugurated in 2010, 273 meters long, with 73 floors (Ocean 2 (conocido como O2) es un edificio residencial inaugurado en 2010, de 273 mts, con73 pisos)
     At the beginning of this century, high-rise buildings began to be built. In 2011, the construction of the Trump Ocean Club International Hotel & Tower was completed, with 284 m and 70 floors, renamed "Bahia Gran Panamá", which is, until now, the tallest building in the country, with its sailboat shape, or the F&F tower that has the shape of a screw, the Vitri Tower of 275 meters for residential use, the Star Bay Tower with 267 meters, The Point building with 266 meters and the Towerbank Financial Center, an office building with 255 meters. All these modern structures are currently built under the highest standards of earthquake resistance and materials such as reinforced concrete, aluminum, tinted glass, and steel.
---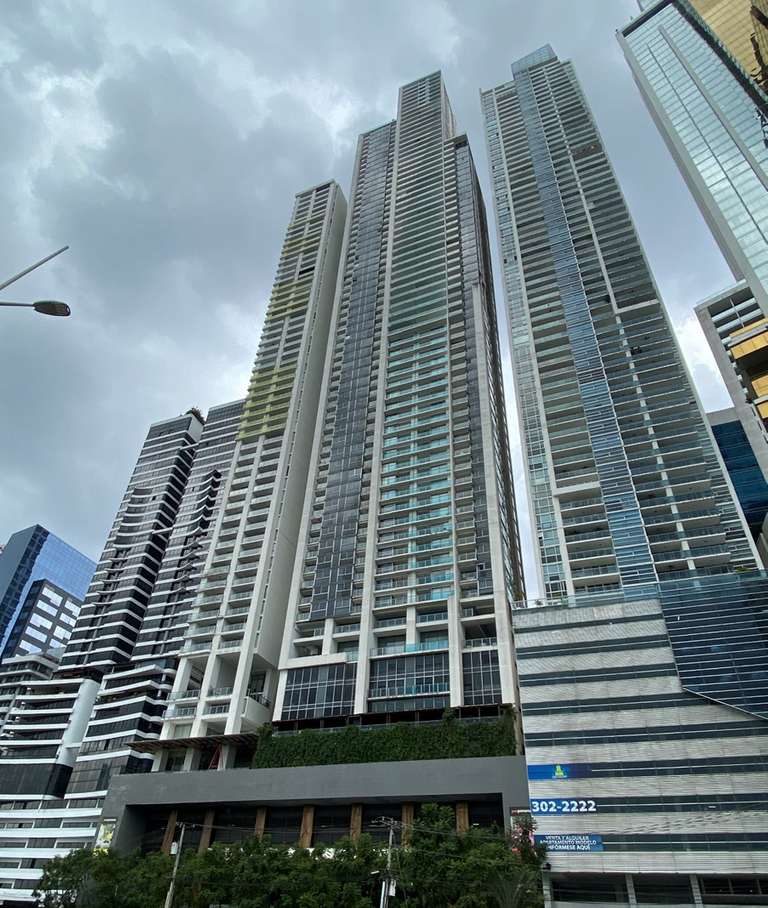 Yoo-Arts Tower, completed in 2013, is the main figure of the Yoo Panama residential complex, 246.8 meters high and 78 floors (Yoo-Arts Tower, terminada en 2013, es la figura principal del complejo residencial Yoo Panamá, de 246,8 mts de altura y 78 pisos)
     However, next to these buildings that literally "scratch the skies", we find other types of constructions, representative of various currents of architecture, such as the Iglesia Nuestra Señora del Carmen, a religious architecture of fine and beautiful finishes. In addition, if you want to see other very different structures, the old or colonial city is very close, where there are many small buildings that use cross-ventilation and thus take advantage of the air currents that exist in the area, in addition to the number of balconies in family homes, government buildings, small hotels, and businesses.
---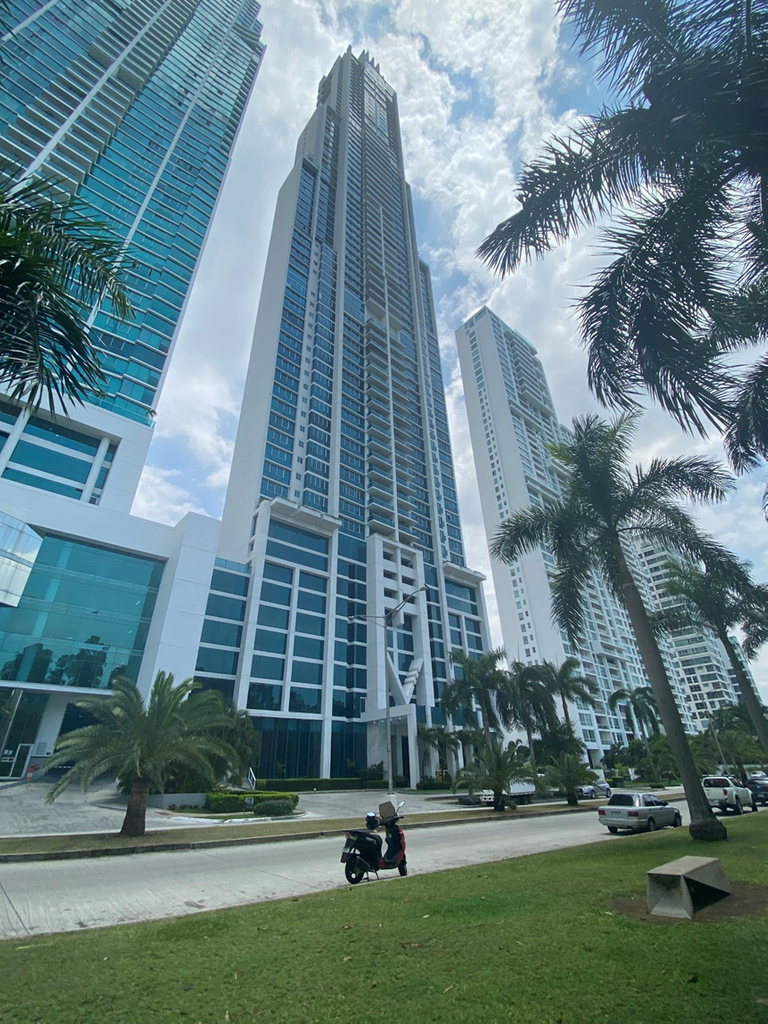 The Vitri Tower, completed in 2010, is a residential building with 75 floors and 281 meters high (La Torre Vitri, terminada en 2010, es un edificio residencial de 75 pisos y 281 mts de altura)
     To appreciate all this part of the city, there is no better way than "La Cinta Costera", a huge public space of 25 hectares of land facing the sea, whose construction began in 2007 by Panamanian architects and landscapers Boris Aguilar and Alberto Arosemena.
---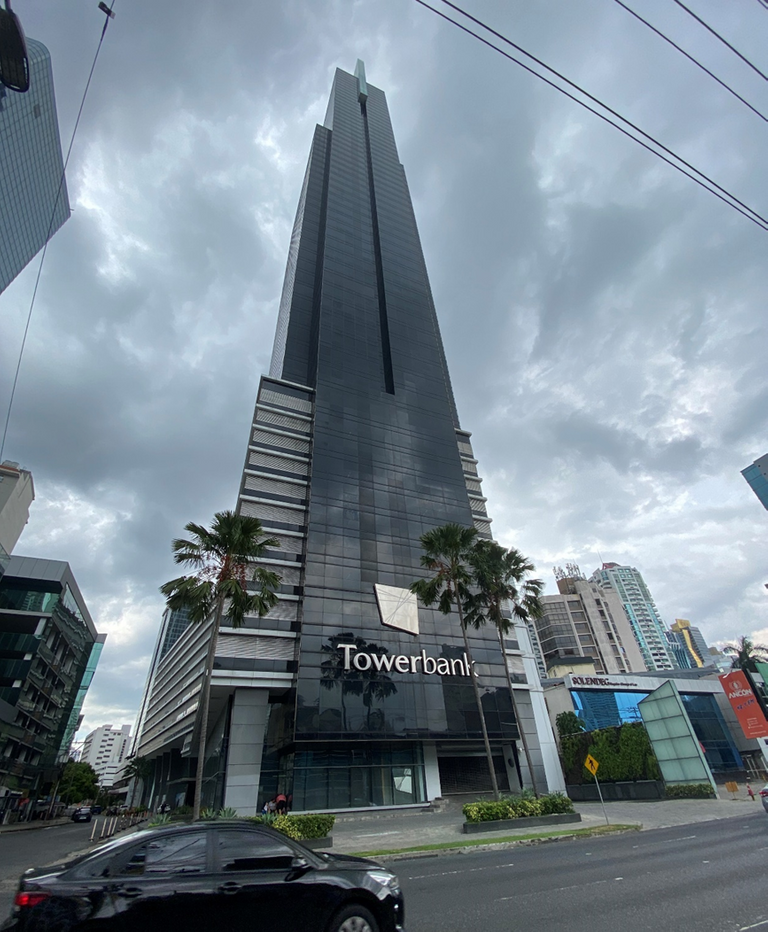 The Tower Financial Center (also known as TowerBank) is a 57-story office skyscraper, 231 meters high, located in the banking area of Panama City (La Tower Financial Center (también conocida como TowerBank) es un rascacielos de oficinas de 57 pisos, con 231 metros de altura, ubicada en la zona bancaria de la Ciudad de Panamá)
     To finish, I would like to point out that the incredible Museum of Biodiversity is another avant-garde architectural work, located in this part of the city, with an interesting aesthetic, which we will present soon in a separate post.
---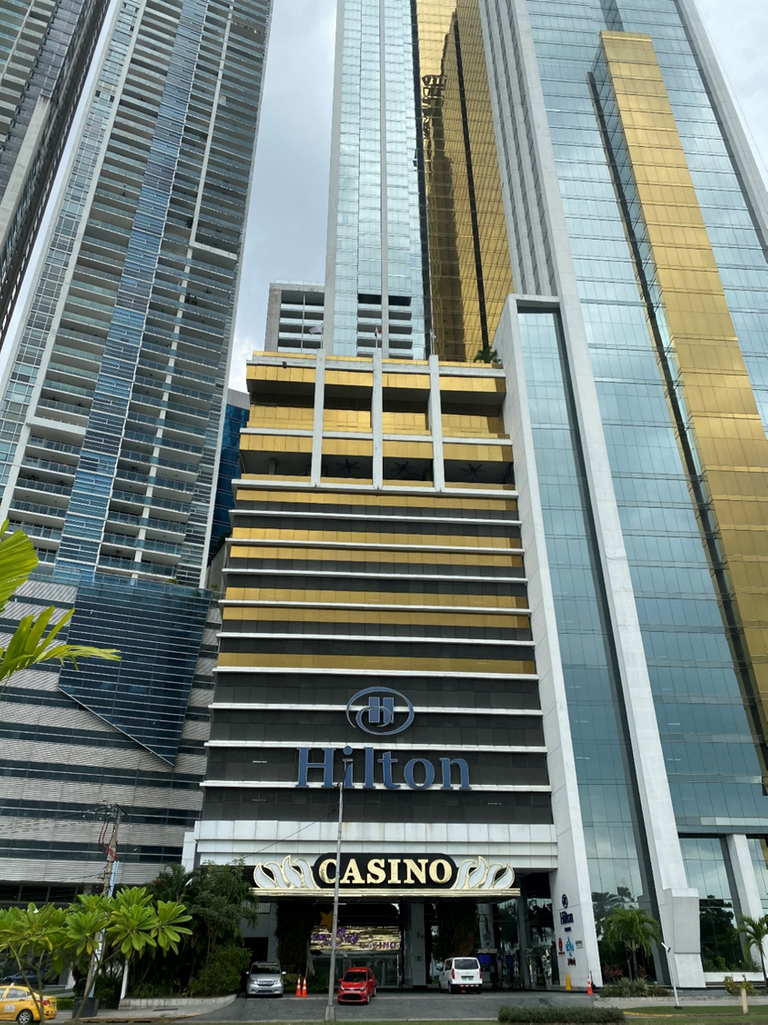 Star Bay Tower Bicsa, inaugurated in 2013, is an office building with its glass colors, strategically located in the center of the capital, overlooking the Pacific Ocean. The building has 68 floors and a height of 267 meters (Star Bay Tower Bicsa, inaugurada en 2013, es un edificio de oficinas con sus colores de vidrios, ubicado estratégicamente en el centro de la capital, con vista al océano Pacífico. La edificación tiene 68 pisos y una altura de 267 metros)
     Bibliography consulted:
*https://www.efe.com/efe/america/cultura/la-contradictoria-arquitectura-moderna-de-panama/20000009-4242533
---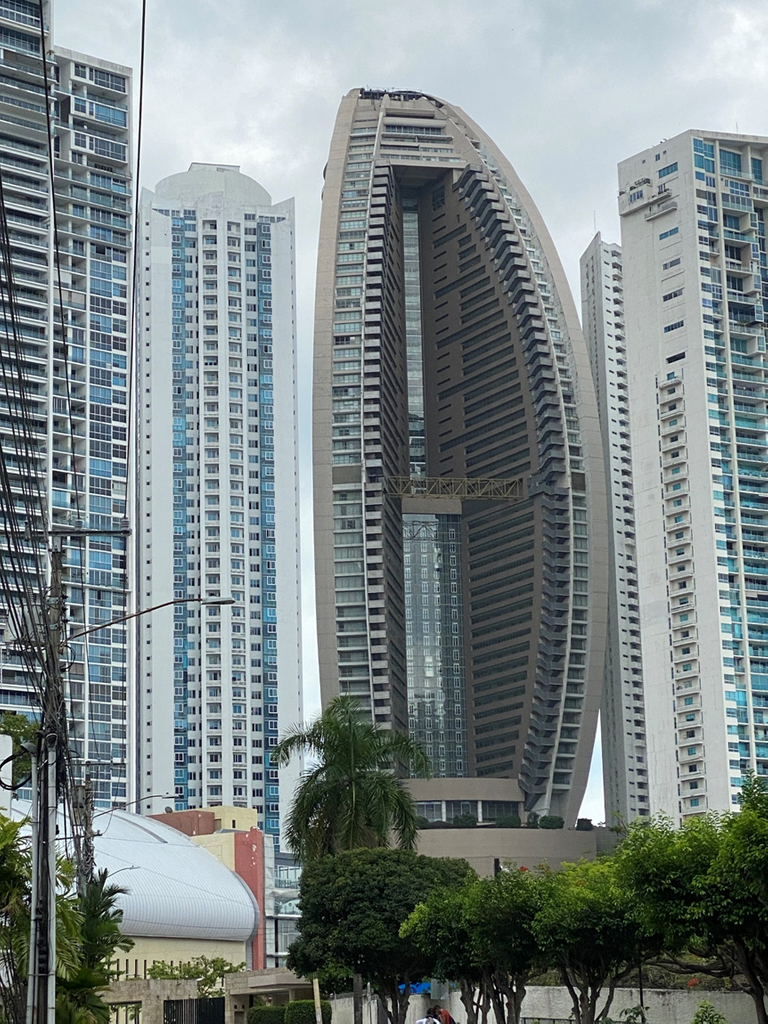 JW Marriott Panama or Bahia Grand Panama, formerly called Trump Ocean Club International Hotel, opened in 2011, is a controversial skyscraper, the tallest in Panama, it is considered an imitation of the "Burj Al Arab" Hotel in Dubai (JW Marriott Panamá o Bahia Grand Panamá, antes llamado Trump Ocean Club International Hotel, inaugurado en 2011, es un controversial rascacielos, el mas alto de Panamá, se le considera una imitación del Hotel "Burj Al Arab" en Dubai)
---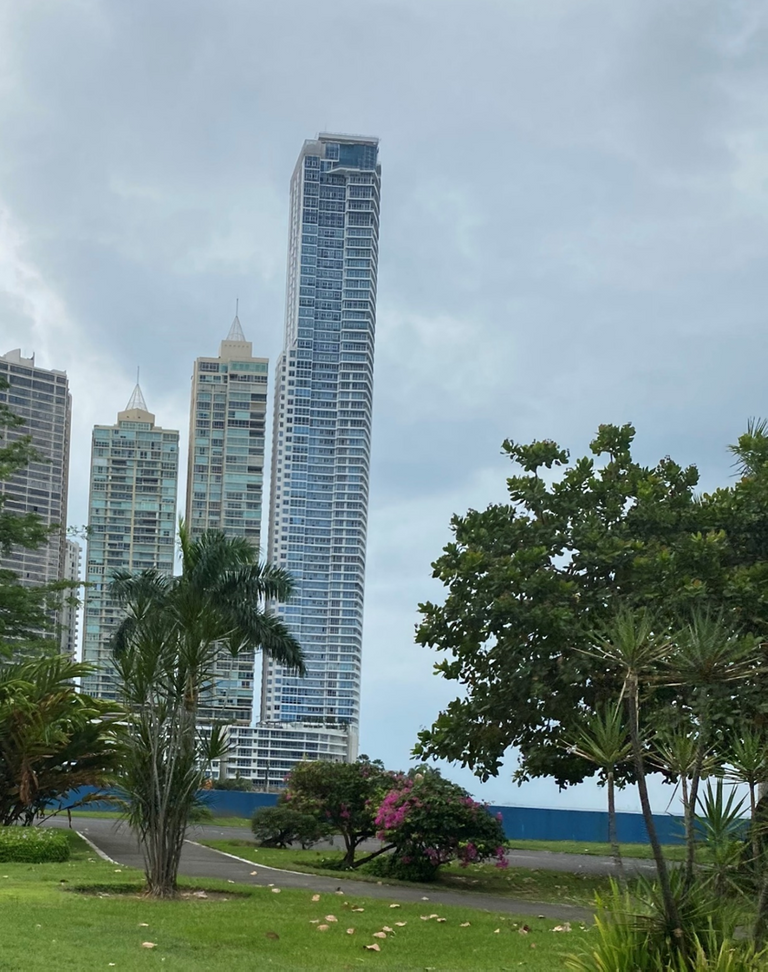 The Point is the tallest residential building in Latin America, with 67 floors, conveniently located at the end of Punta Paitilla that allows it to offer a 360° panoramic view of the city. (The Point es el edificio residencial mas alto de Latinoamérica, con 67 pisos, ubicado convenientemente en el extremo de Punta Paitilla que le permite ofrecer una vista panorámica de 360° de la ciudad)
---
La exuberante arquitectura y urbanismo de la Moderna Panamá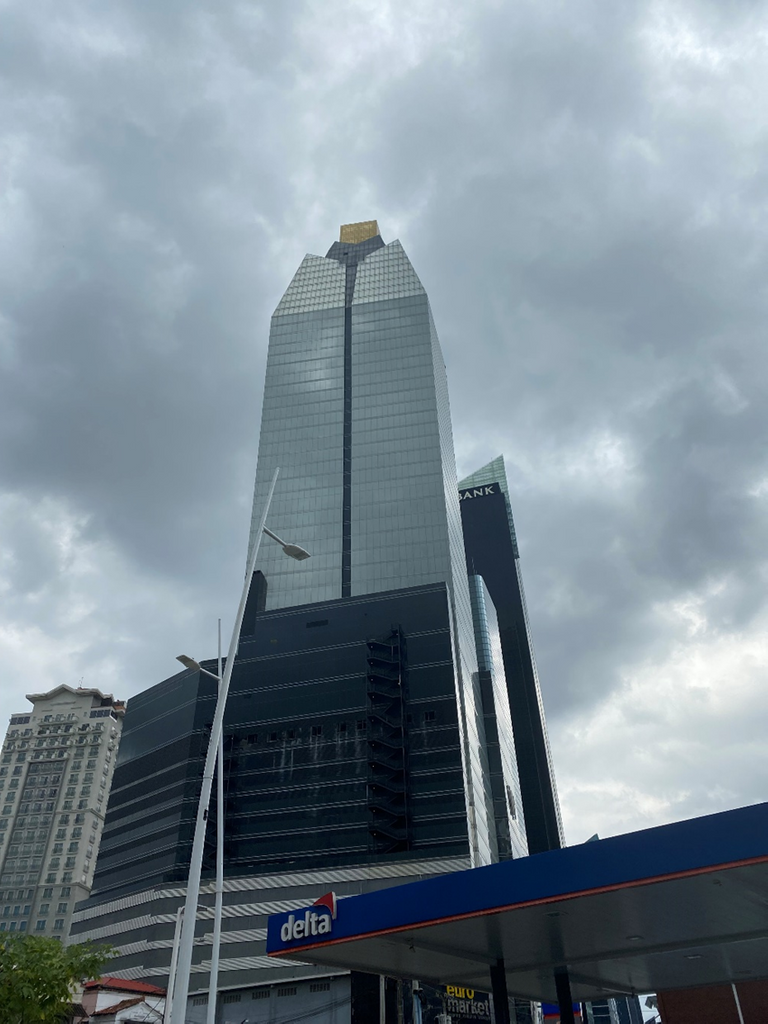 Evolution Tower, designed by the firm "F&F Properties, Ltd., Inc." (Evolution Tower, diseñada por la firma "F&F Properties, Ltd., Inc.")
     En un post anterior que escribí sobre la parte colonial de la Ciudad de Panamá, indicaba que había tres ciudades en una en esta metrópoli centroamericana. Hoy me dedicaré a hacerles entrega de fotografías de la pujante, moderna y cosmopolita ciudad de Panamá. En esta oportunidad mis amigos entrañables, Arelis Romero y su esposo Alex, quienes son dos exitosos profesionales venezolanos que viven en Panamá, se prestaron para tomar fotos de la ciudad moderna a fin de nutrir este post que les entrego con todo el cariño y admiración de siempre.
---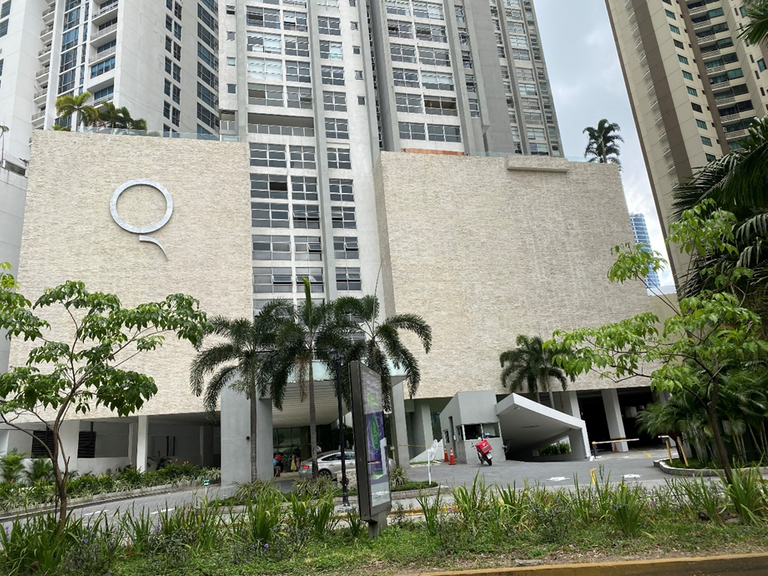 Q Tower, inaugurated in 2011, is a work of "Bettis & Tarazi Architecture" (Q Tower, inaugurada en 2011, es una obra de "Bettis & Tarazi Architecture")
     La arquitectura de Panamá está ligada a la frase que identifica al país: "Panamá, crisol". Al igual que muchas de las ciudades latinoamericanas, Panamá es la confluencia de una hermosa mezcla de ricas y diferentes culturas como la indígena, la española, la asiática, la americana y la africana, que dejaron su huella en el hombre panameño de hoy, y marcaron la forma en que se han construido las ciudades y edificios y, por tanto, significan la evolución que ha sufrido la arquitectura en estos lares.
---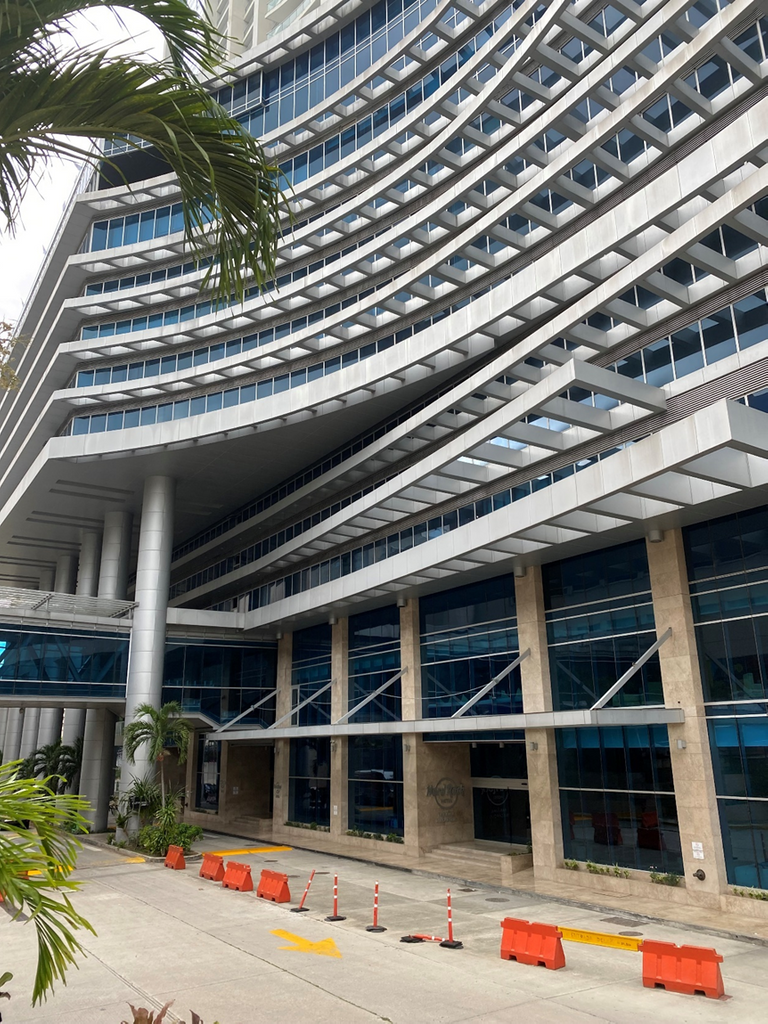 The Megapolis Tower is a building with 63 floors and 230 meters high, designed by "Pinzón Lozano and architects" (La Torre Megápolis es una edificación de 63 pisos y 230 mts de alto, diseñado por "Pinzón Lozano y arquitectos")
     Esta "tercera ciudad" está localizada en la hermosa bahía de la Ciudad de Panamá, caracterizada por el auge comercial y la construcción de infraestructuras muy modernas y espectaculares, donde se desarrolla una vida nocturna típica del caribe, con magníficos restaurantes, zonas residenciales de lujo y el singular bosque tropical, llamado "Parque Natural Metropolitano", una selva tropical en medio de ciudad. Esta sección de la urbe es una particular combinación de lo moderno con lo internacional y lo latino.
---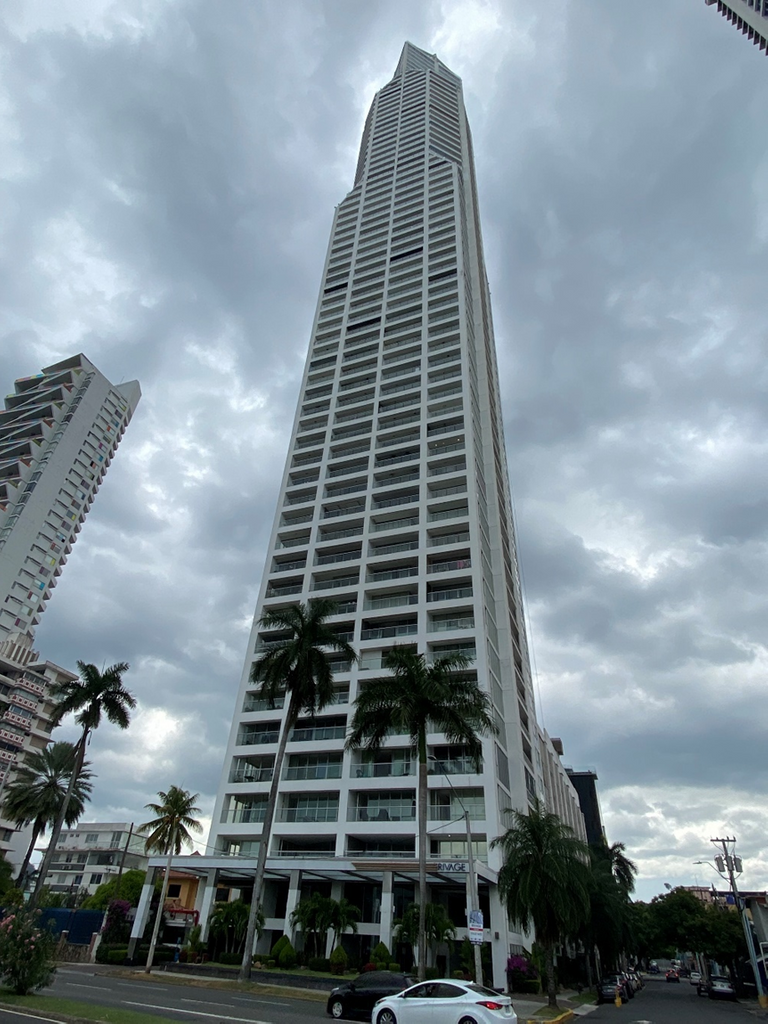 The Rivage Tower was inaugurated in 2012, it is a work of the architect Saúl Bassan (La Rivage Tower fue inaugurada en 2012, es una obra del arquitecto Saúl Bassan)
     El desarrollo comercial de Panamá, con el único canal que une dos océanos y sirve de tráfico marítimo para embarcaciones de buena parte del mundo, ha servido para que La Bahía se convirtiera en un centro de atención de grandes empresas internacionales a fin de edificar una zona propicia para facilitar los negocios de la región.
---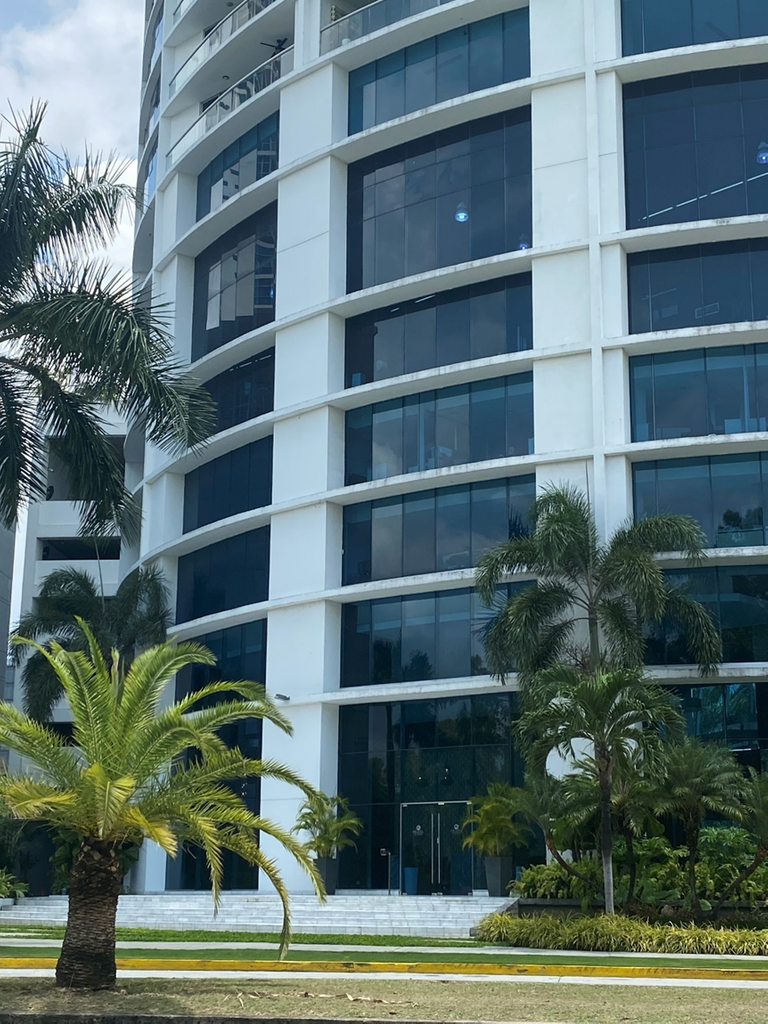 The Pearl Tower was opened in 2012, designed and built by "Musa Asvat Architects" (La Pearl Tower fue inaugurada en 2012, diseñada y construida por "Musa Asvat Arquitectos")
     A simple vista, resulta imposible calcular el número de rascacielos que se levantan airosos en la llamada Panamá moderna. El visitante desprevenido no se imaginaba que en Centro América se encontraría una ciudad que pareciera más bien del medio oriente. Una muestra de lo que han construido en la moderna Panamá la representan algunos rascacielos de vidrio polarizado, algo que para muchos conocedores de la arquitectura es una "contradicción" en un país de temperaturas promedio que rondan los 30 grados Celsius y niveles de humedad de 80 % típicos de un clima tropical, por lo que se hace imperioso usar aire acondicionado en este tipo de construcciones.
---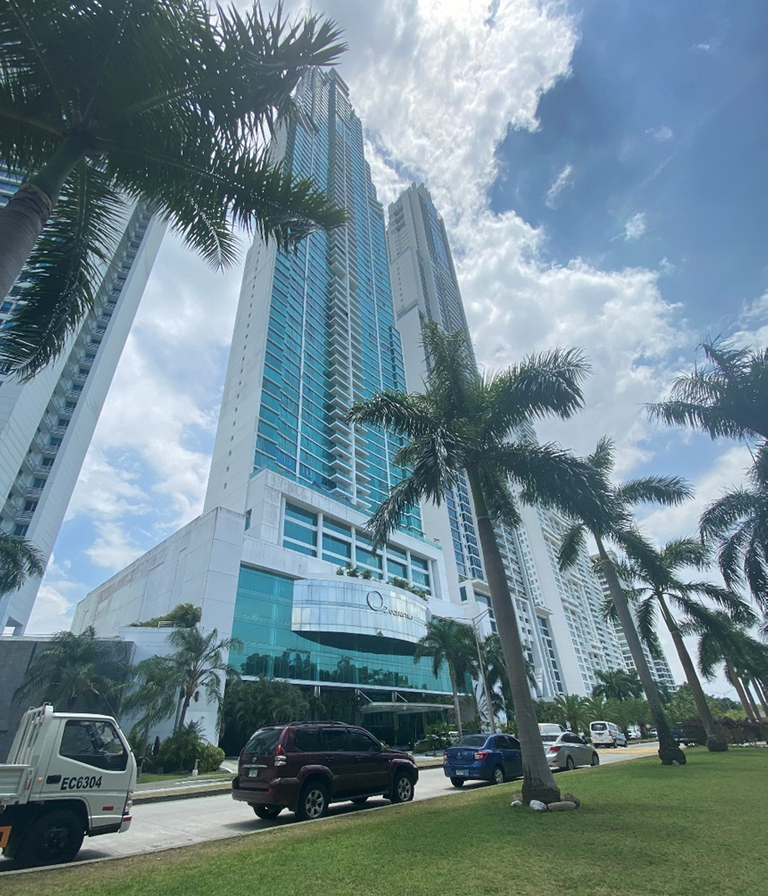 Ocean 2 is a work of the group "Pinzón Lozano & Asociados", the structural engineering was in charge of Luis García Dutari (Ocean 2 es una obra del grupo "Pinzón Lozano & Asociados", la Ingeniería estructural estuvo a cargo de Luis García Dutari)
     A inicios de este siglo, se empezaron a construir edificios de gran altura. En el 2011 se terminó de construir el Trump Ocean Club International Hotel & Tower, con 284 m y 70 pisos, rebautizado como "Bahia Gran Panamá", el cual es, hasta ahora, el edificio más alto del país, con su forma de velero, o la torre F&F que tiene la forma de tornillo, la Torre Vitri de 275 metros de uso residencial, el Star Bay Tower con 267 metros, el edificio The Point con 266 metros y el Towerbank Financial Center, un edificio destinado a oficinas con 255 metros. Todas estas modernas estructuras son construidas en la actualidad bajo los más altos estándares de sismorresistencia y materiales como hormigón armado, aluminio, vidrios polarizados y acero.
---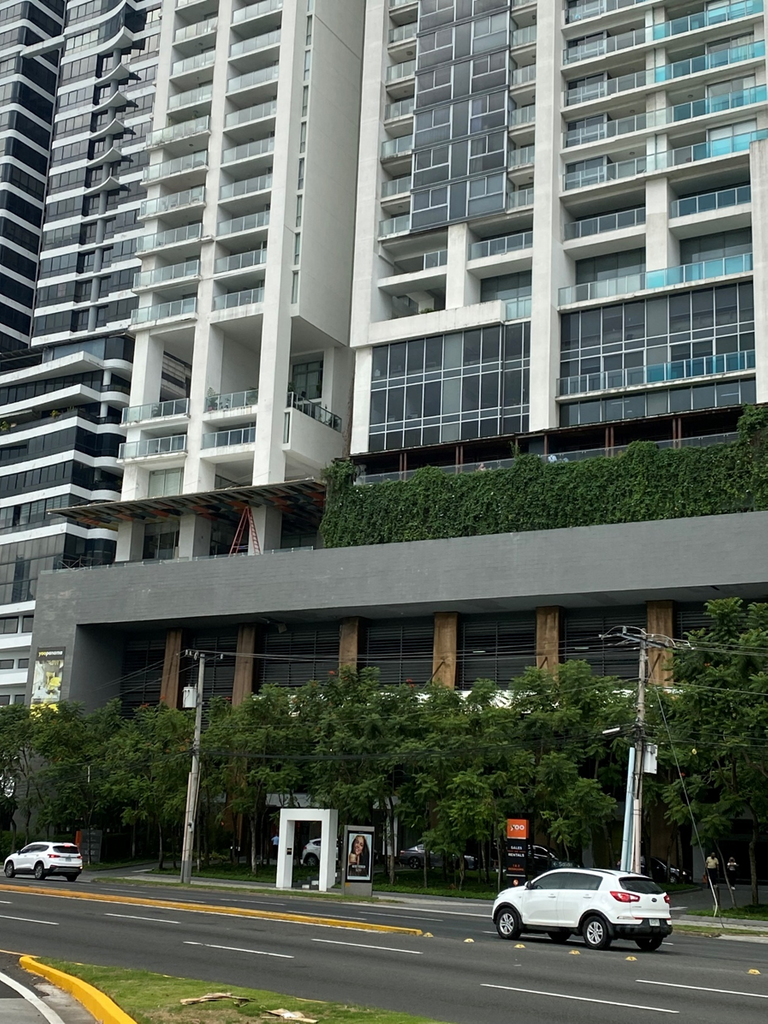 Yoo-Ars Tower is a work by the firm "Bettis Tarazi Arquitectos", in a modern style, with glass windows, metal finishes and a concrete structure (Yoo-Ars Tower es una obra de la firma "Bettis Tarazi Arquitectos", en estilo moderno, con ventanales de cristal, terminaciones metálicas y estructura en concreto)
     Empero, al lado de estos edificios que literalmente "rascan los cielos", encontramos otros tipos de construcciones, representativas de diversas corrientes de la arquitectura, como la Iglesia Nuestra Señora del Carmen, una arquitectura religiosa de finos y bellos acabados. Además, si se quiere ver otras estructuras muy diferentes muy cerca está la ciudad vieja o colonial donde hay muchas edificaciones pequeñas que usan la ventilación cruzada y así aprovechan las corrientes de aire que hay en la zona, amén de la cantidad de balcones en viviendas familiares, edificios gubernamentales, pequeños hoteles y negocios.
---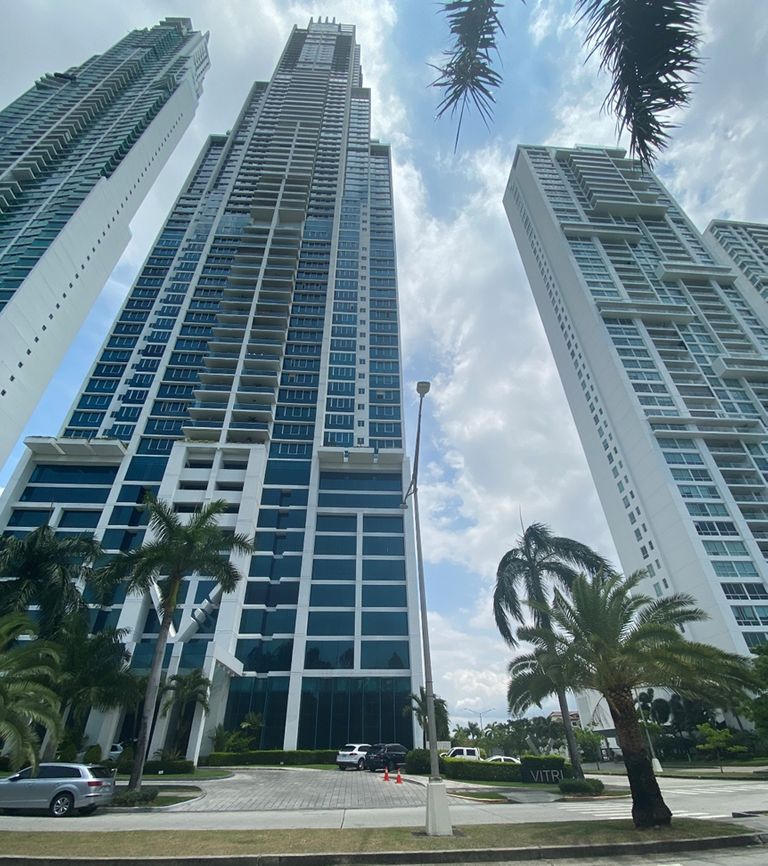 The Vitri Tower is a postmodern architecture building, full of stained-glass windows overlooking the sea. Work of the "Pinzón, Lozano & Asociados" group (La Torre Vitri es un edificio de arquitectura posmoderna, lleno de vitrales con vista al mar. Obra del grupo "Pinzón, Lozano & Asociados")
     Para apreciar toda esta parte de la ciudad, no hay mejor camino que "La Cinta Costera", un enorme espacio público de 25 hectáreas de terreno frente al mar, cuya construcción se inició en 2007 a cargo de los arquitectos y paisajistas panameños Boris Aguilar y Alberto Arosemena.
---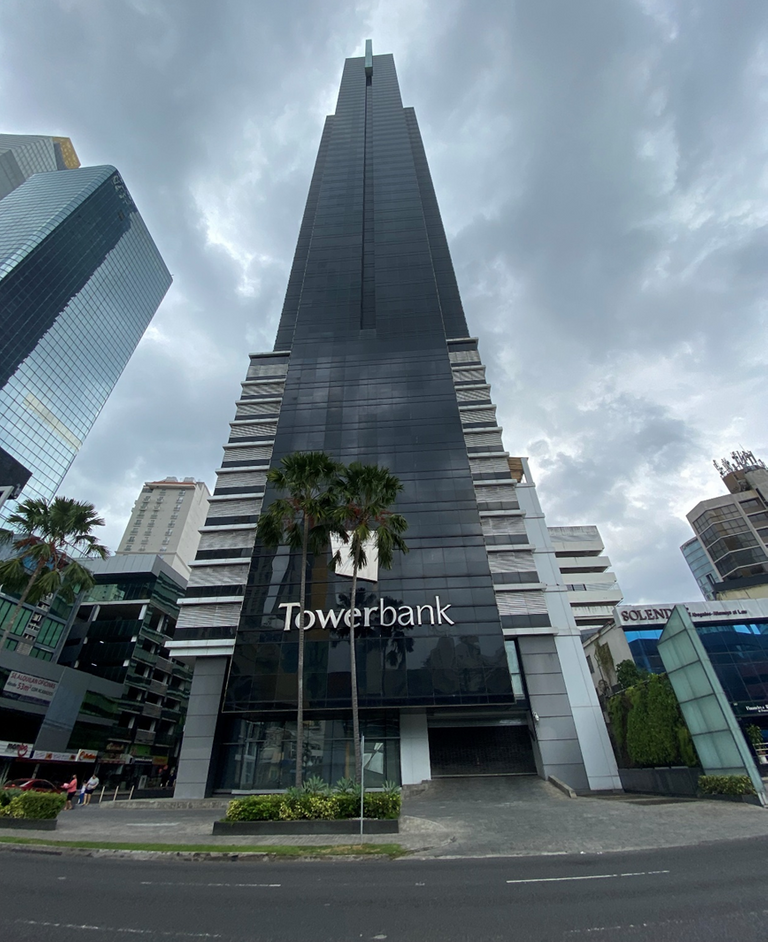 The Tower Financial Center or Towerbank is one of the tallest buildings in the city, it was completed in 2011. Work of the firm of architects and engineers "Pinzón Lozano & Asociados Arquitectos" (The Tower Financial Center o Towerbank es uno de los edificios más altos de la ciudad, fue terminado en 2011. Obra de la firma de arquitectos e ingenieros "Pinzón Lozano & Asociados Arquitectos")
     Para terminar, quisiera señalar que el increíble Museo de la Biodiversidad es otra obra arquitectónica de vanguardia, ubicada en esta parte de la ciudad, con una estética interesante, el cual presentaremos próximamente en un post aparte.
---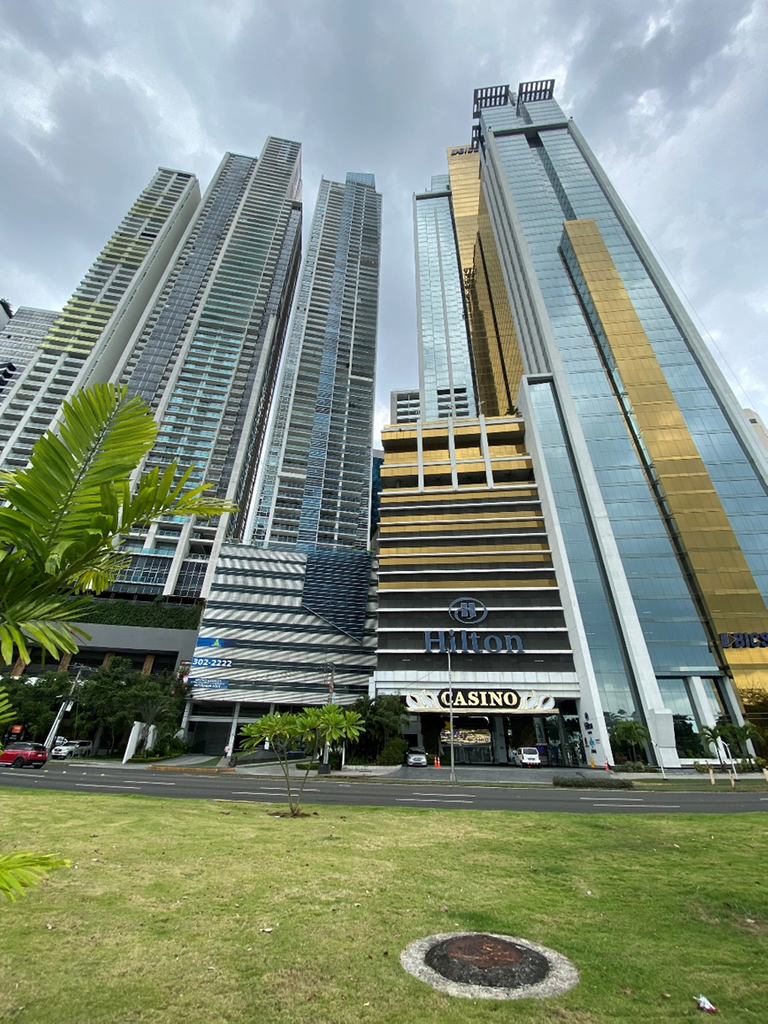 Star Bay Tower Bicsa is a work designed by the group of architects "Pinzón Lozano & Asociados Arquitectos". The building has undergone changes from its original design for various reasons (Star Bay Tower Bicsa es una obra diseñada por el grupo de arquitectos "Pinzón Lozano & Asociados Arquitectos". El edificio ha sufrido cambios respecto de su diseño original por diversos motivos)

     Bibliografía consultada:
*https://www.efe.com/efe/america/cultura/la-contradictoria-arquitectura-moderna-de-panama/20000009-4242533
---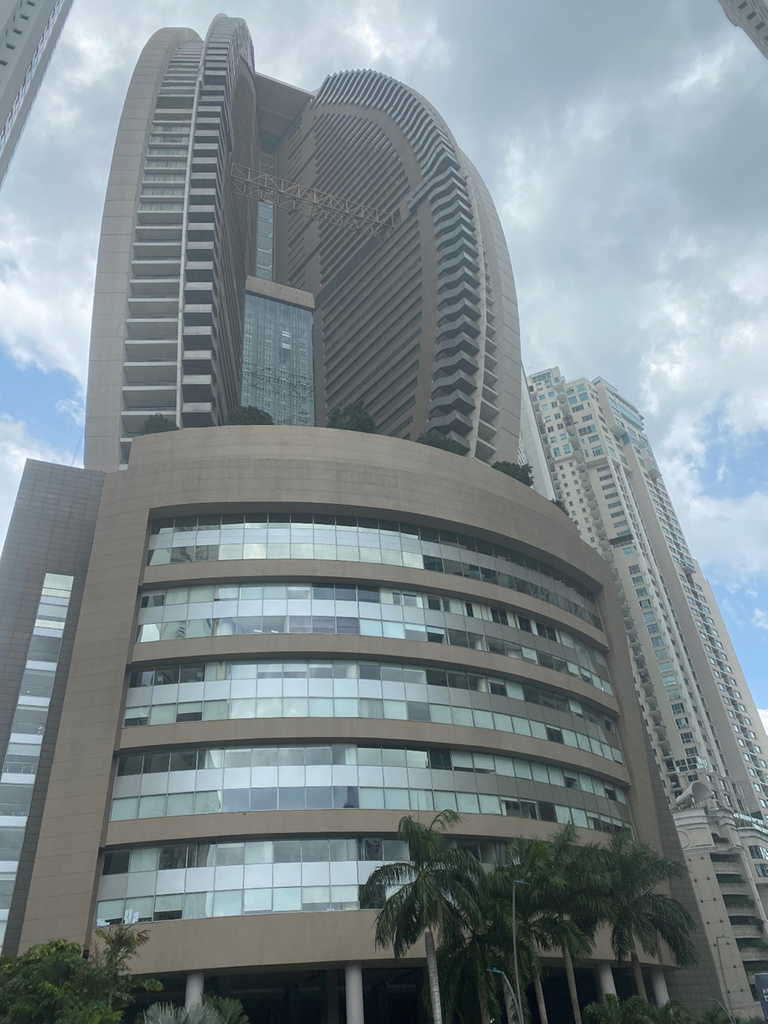 The JW Marriott Panama or Bahia Grand Panama skyscraper was designed by the Trump Organization, is 284 meters high and has 70 floors (El rascacielos JW Marriott Panamá o Bahia Grand Panamá fue proyectado por la Organización Trump, tiene 284 metros de altura y 70 pisos)
---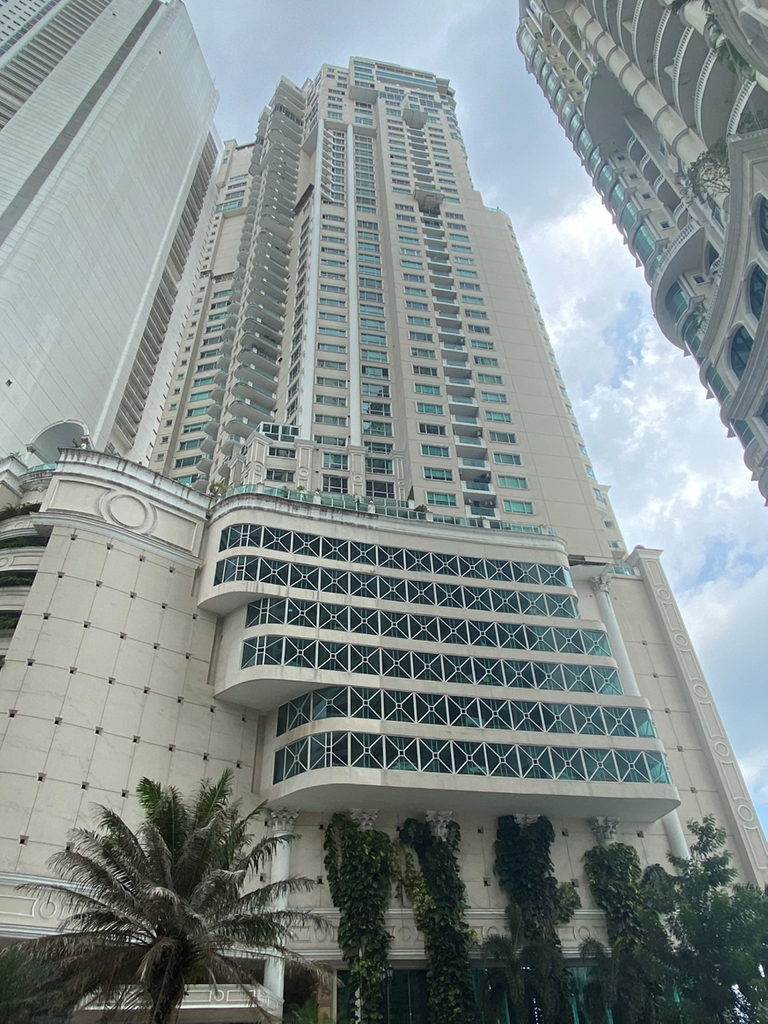 The skyscraper "The Point" was inaugurated in 2011, with 266 meters of height, it was designed by the architect Jorge Moreno an avant-garde postmodern style (El rascacielos "The Point" fue inaugurado en 2011, con 266 metro de altura, fue diseñado por el arquitecto Jorge Moreno un vanguardista estilo postmoderno)
---
---
Photo gallery (Galería de fotos)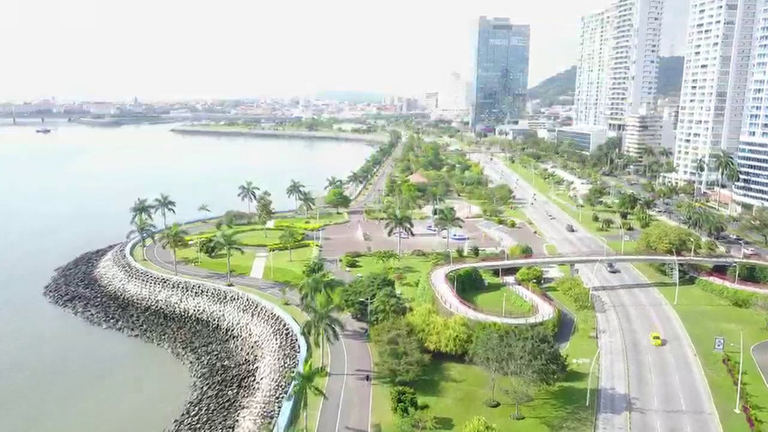 The "Cinta Costera" is a huge public space that comprises 25 hectares of land facing the sea, in Panama City (La Cinta costera es un enorme espacio público que comprende 25 hectáreas de terreno frente al mar, en la ciudad de Panamá)
---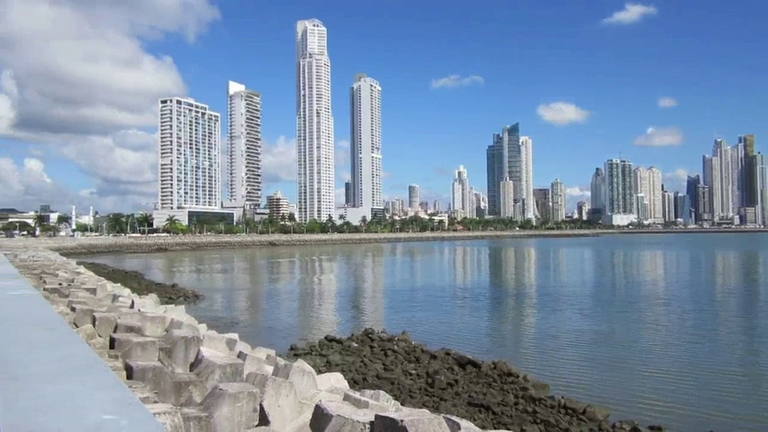 The construction of the "Cinta costera" began in 2007, it is a work developed and supervised by the Panamanian landscape architects, Boris Aguilar and Alberto Arosemena.(La construcción de la cinta costera se inició en 2007, es una obra desarrollada y supervisada por los arquitectos paisajistas panameños, Boris Aguilar y Alberto Arosemena)
---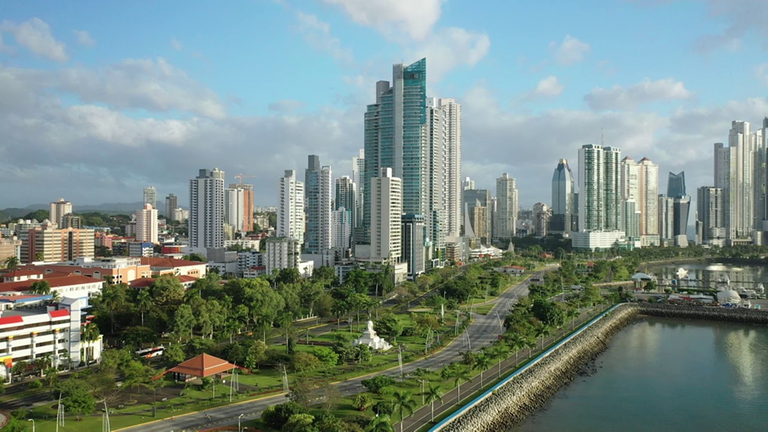 In the "Cinta costera" you can enjoy parks, gardens, kiosks, walks and amenities (En la Cinta costera se puede disfrutar de parques, jardines, kioscos, paseos y amenidades)
---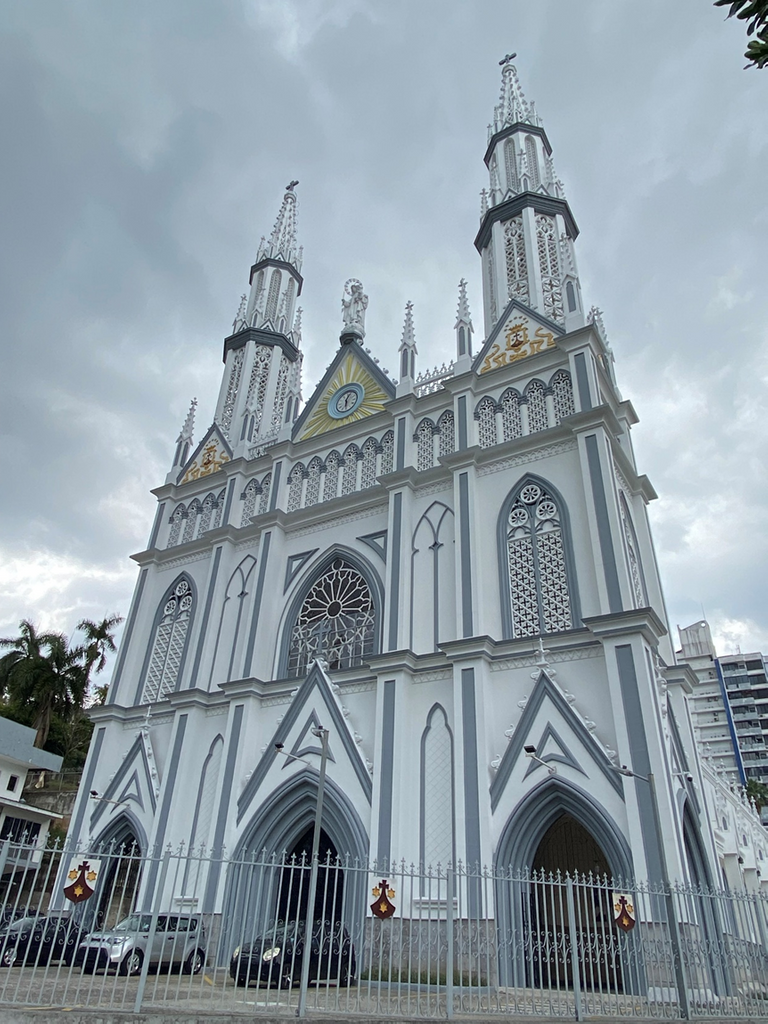 The "Iglesia Nuestra Señora del Carmen," which has a structure in Gothic style, inaugurated in 1953, contrasts sharply with the buildings that accompany it on the Vía España (La "Iglesia Nuestra Señora del Carmen,", la cual posee una estructura en estilo gótico, inaugurada en 1953, contrasta vivamente con las edificaciones que la acompañan en la Vía España)
---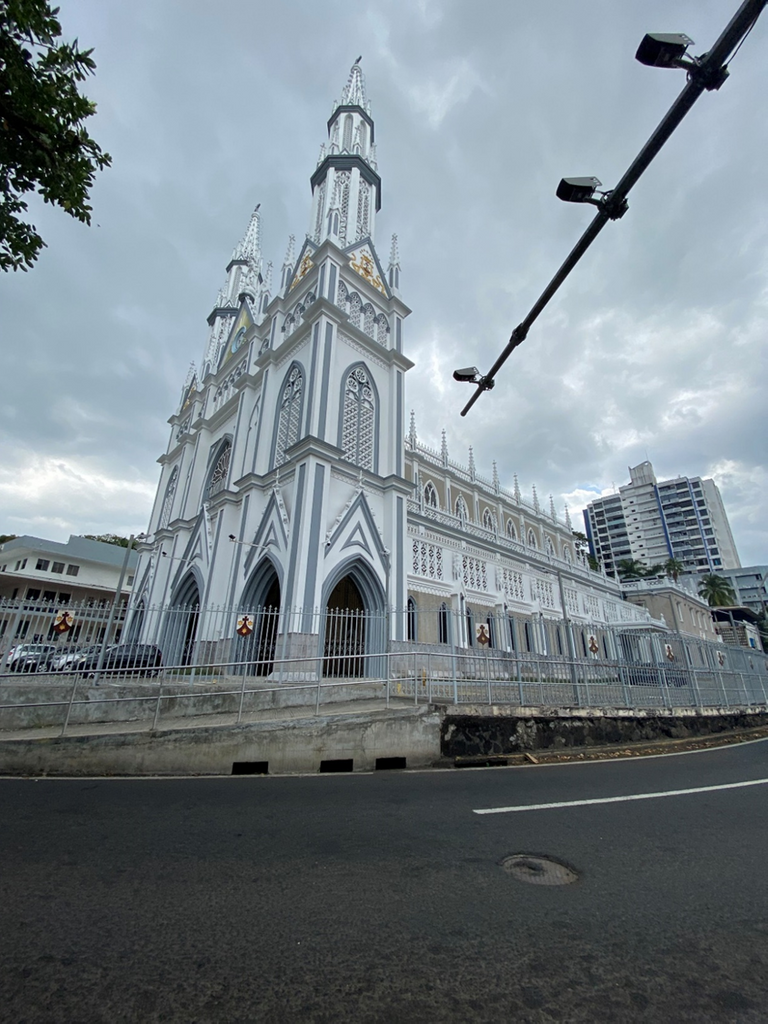 Currently the "Iglesia Nuestra Señora del Carmen" has 18 stained glass windows in the upper windows, a rose window on the facade of the church and an artistic mosaic of 120 square meters, covered with a million artistic pieces of ceramic, glass and gold, in more than 300 shades (En la actualidad la "Iglesia de nuestra señora del Carmen" tiene 18 vitrales en las ventanas superiores, un rosetón en la fachada de la iglesia y un mosaico artístico de 120 metros cuadrados,revestido de un millón de piezas artísticas de cerámica, vidrio y oro, en más de 300 tonalidades)
---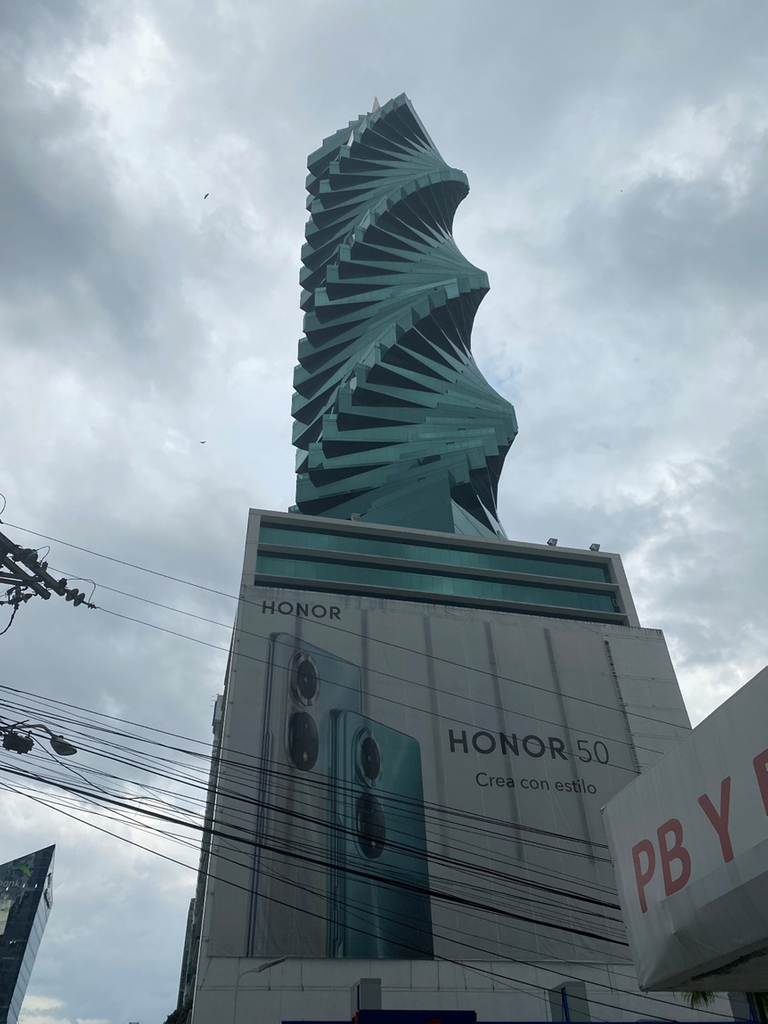 The F&F tower, formerly called "Revolution Tower", is a 52-story, 4-basement, and 242-meter-high, skyscraper, opened in 2011, located in the financial sector of Panama City (La torre F&F, antes llamada "Revolution Tower", es un rascacielos de 52 pisos, 4 sótanos y 242 metros de altura, inaugurada en 2011, ubicada en el sector financiero de la Ciudad de Panamá)
---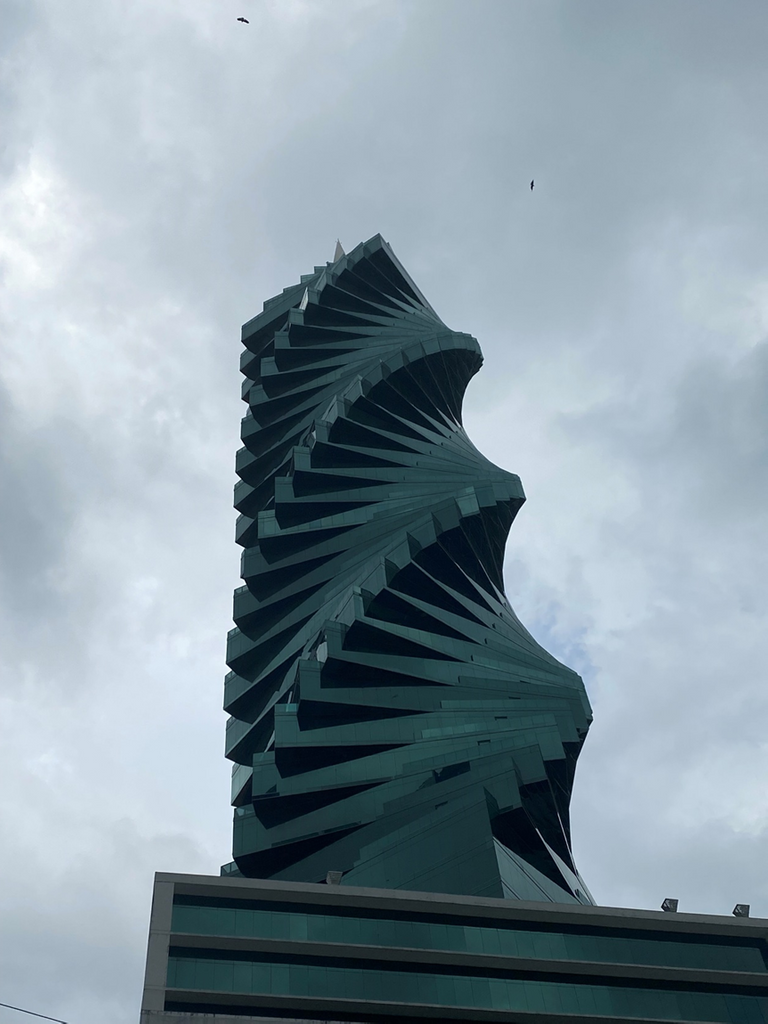 The F&F tower has a bolted style, designed by the architect Alfonso Pinzón of the "Pinzón Lozano y Asociados" group, built in concrete with a stone wall façade glass curtain (La torre F&F posee un estilo en forma atornillada, diseñada por el arquitecto Alfonso Pinzón del grupo "Pinzón Lozano y Asociados", construido en concreto con fachada en muro de cortina de vidrio)
---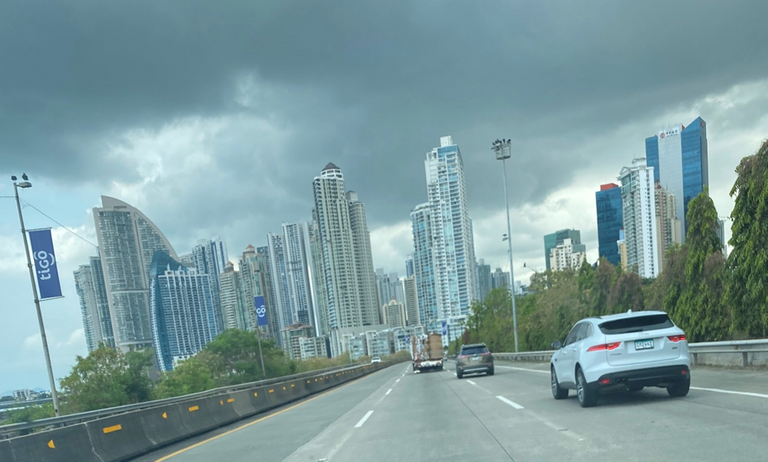 ---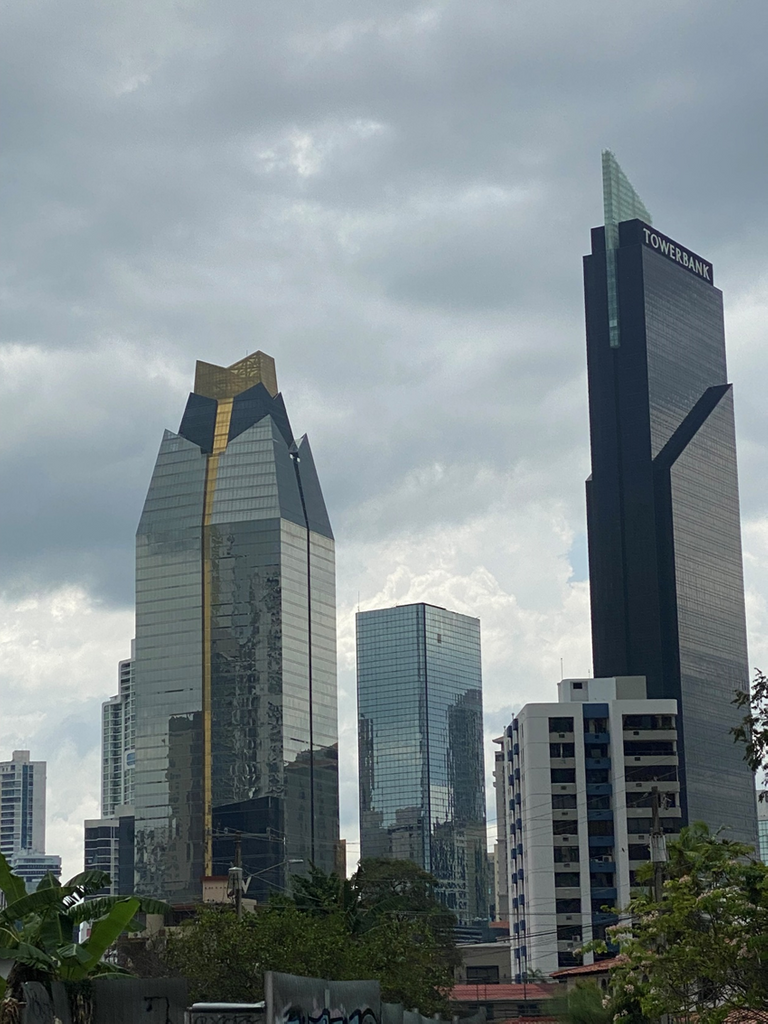 ---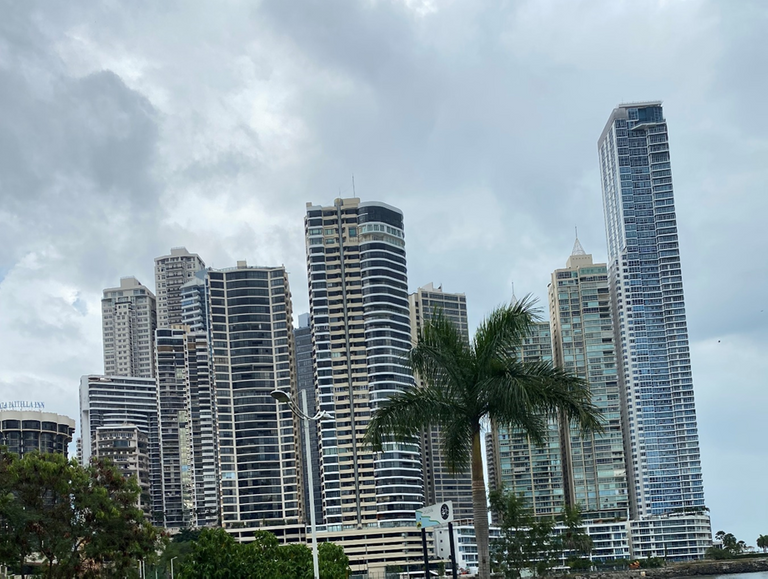 ---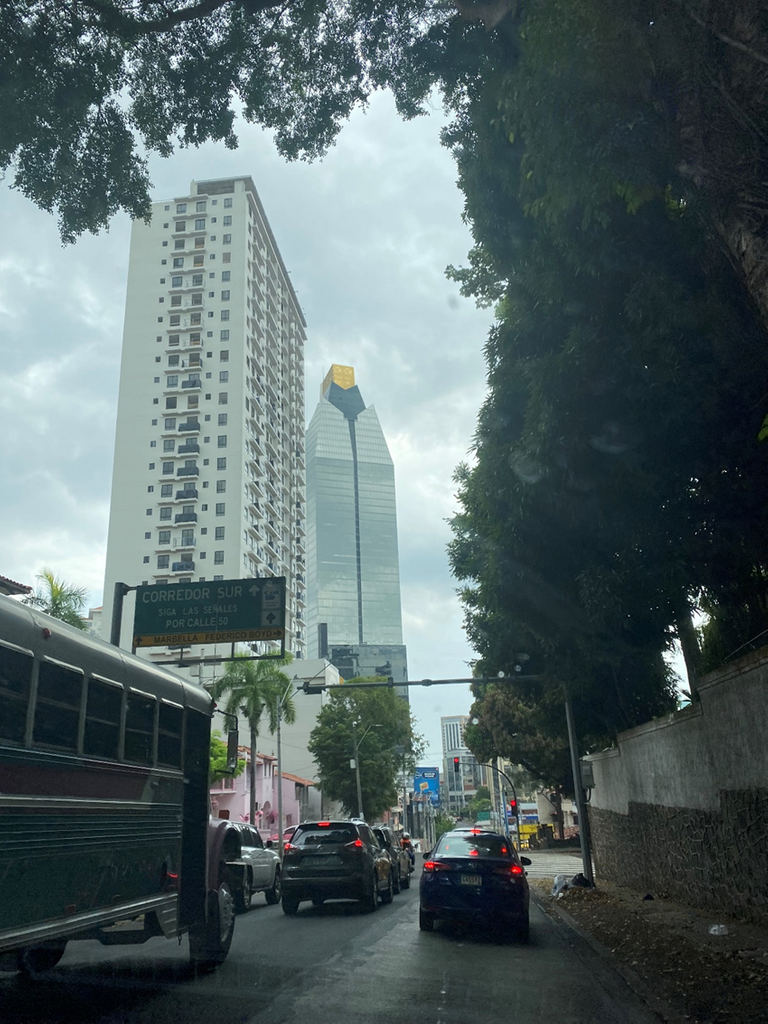 ---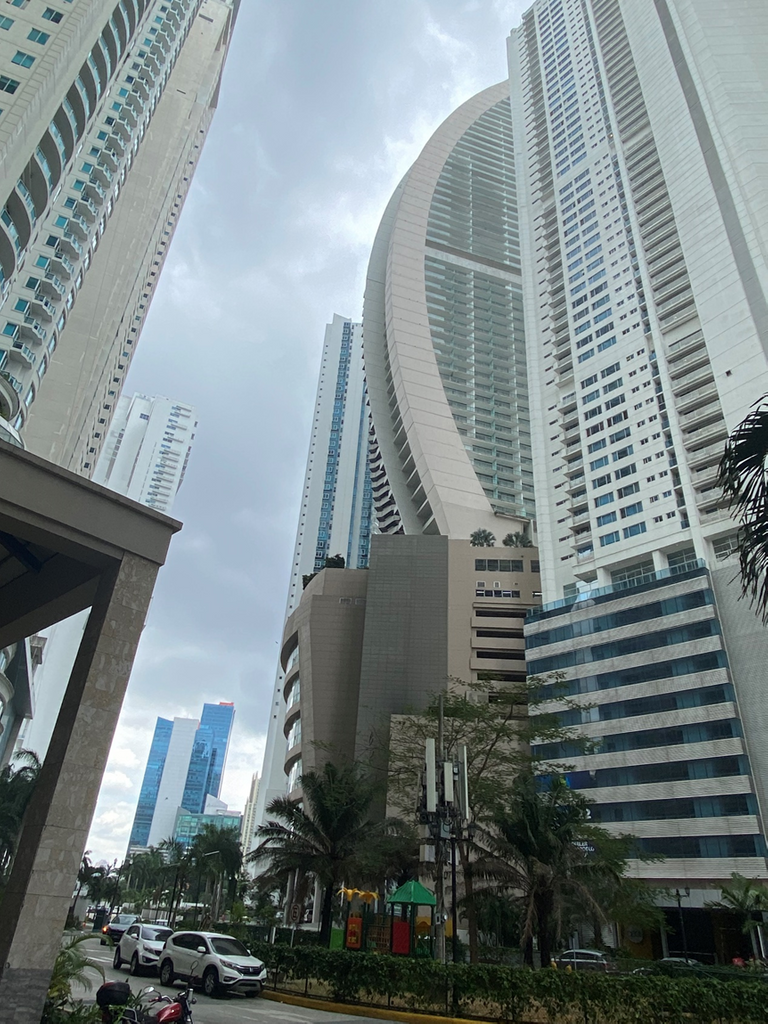 ---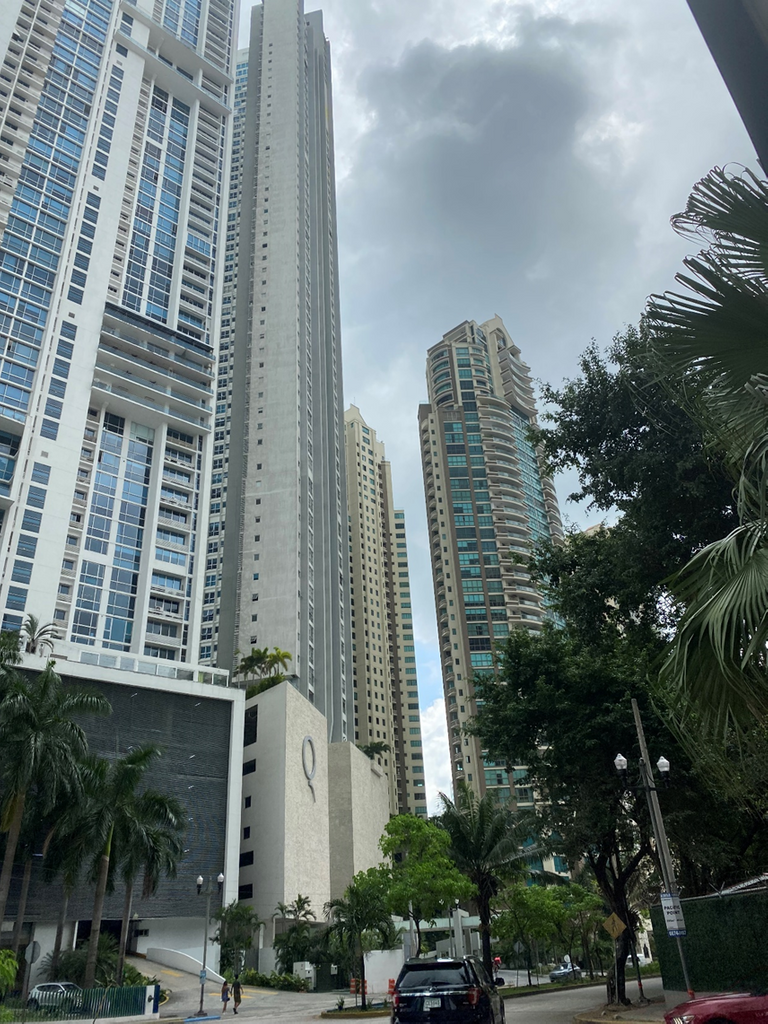 ---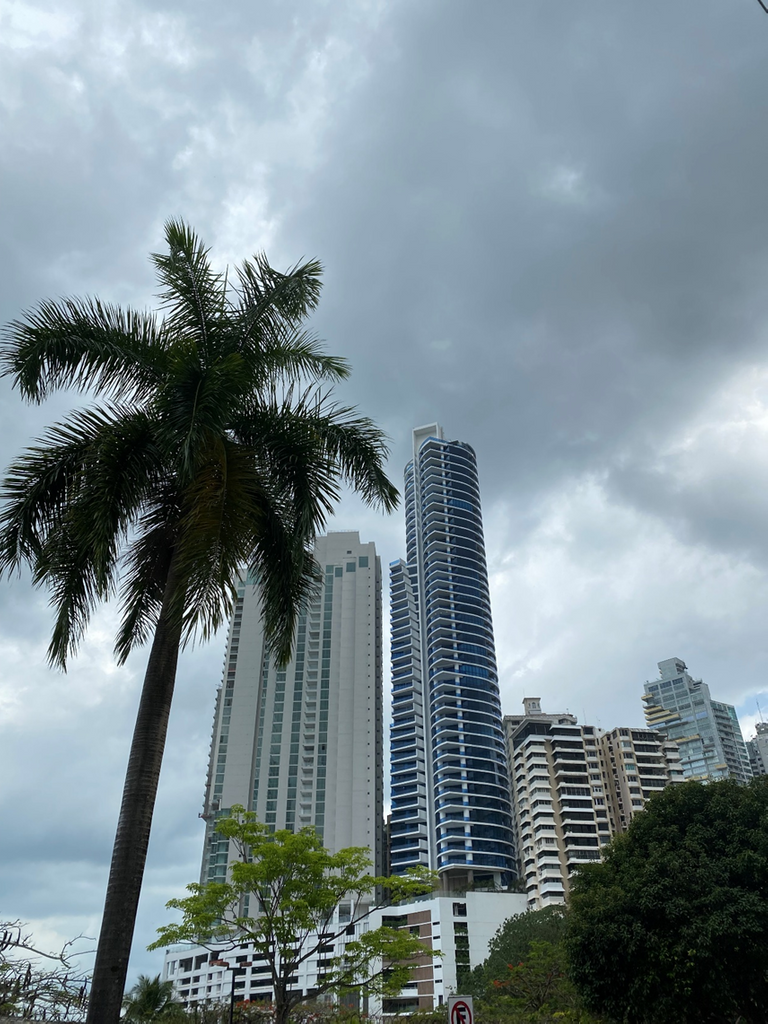 ---
---
---
---