[ENG] Irregular structure of the Holy Trinity Church in Prados del Este, Caracas [ESP]Estructura irregular de la Iglesia la Santísima Trinidad en Prados del Este, Caracas <div class="text-justify">
Irregular structure of the Holy Trinity Church in Prados del Este, Caracas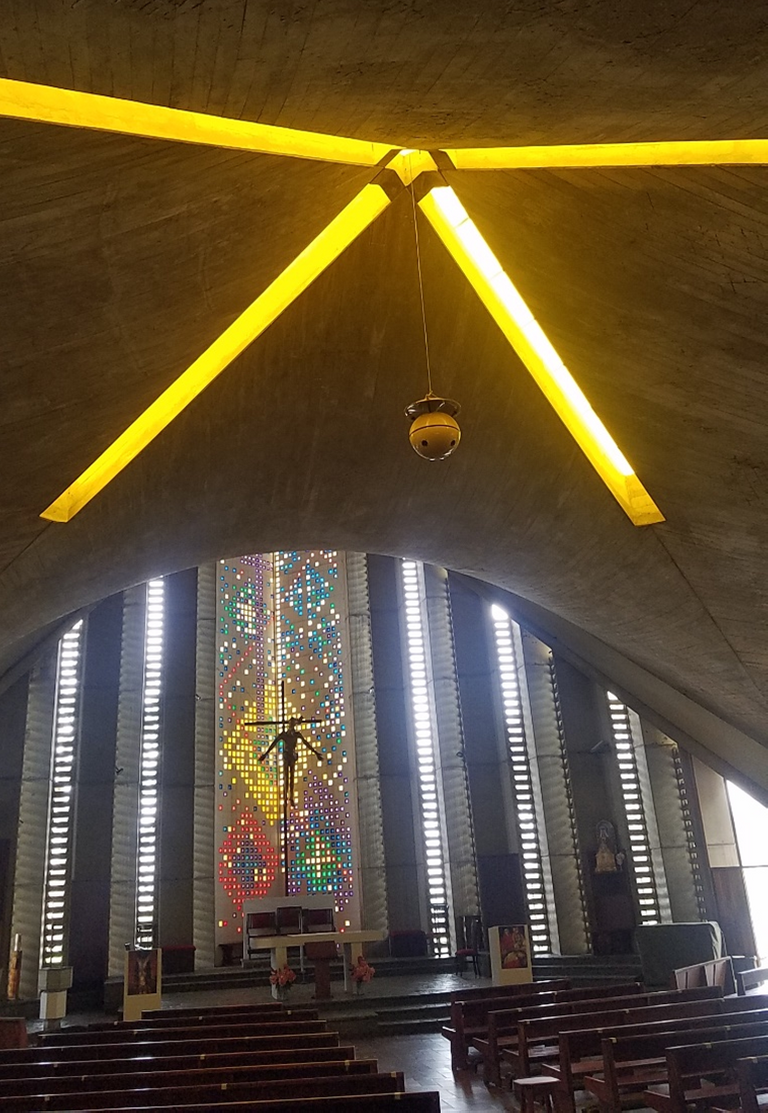 The High Altar with the magnificent stained-glass window behind it and the natural light that emanates from the walls (El Altar Mayor con el magnífico vitral a sus espaldas y la luz natural que emana de las paredes)
     Dear readers of this community, today I propose to invite you to visit, virtually, a small, but beautiful and architecturally rich, church in the southeast of Greater Caracas, Venezuela. I hope you enjoy your visit, just after Easter. As always, thanks in advance for the comments and observations that you kindly make to my posts.
---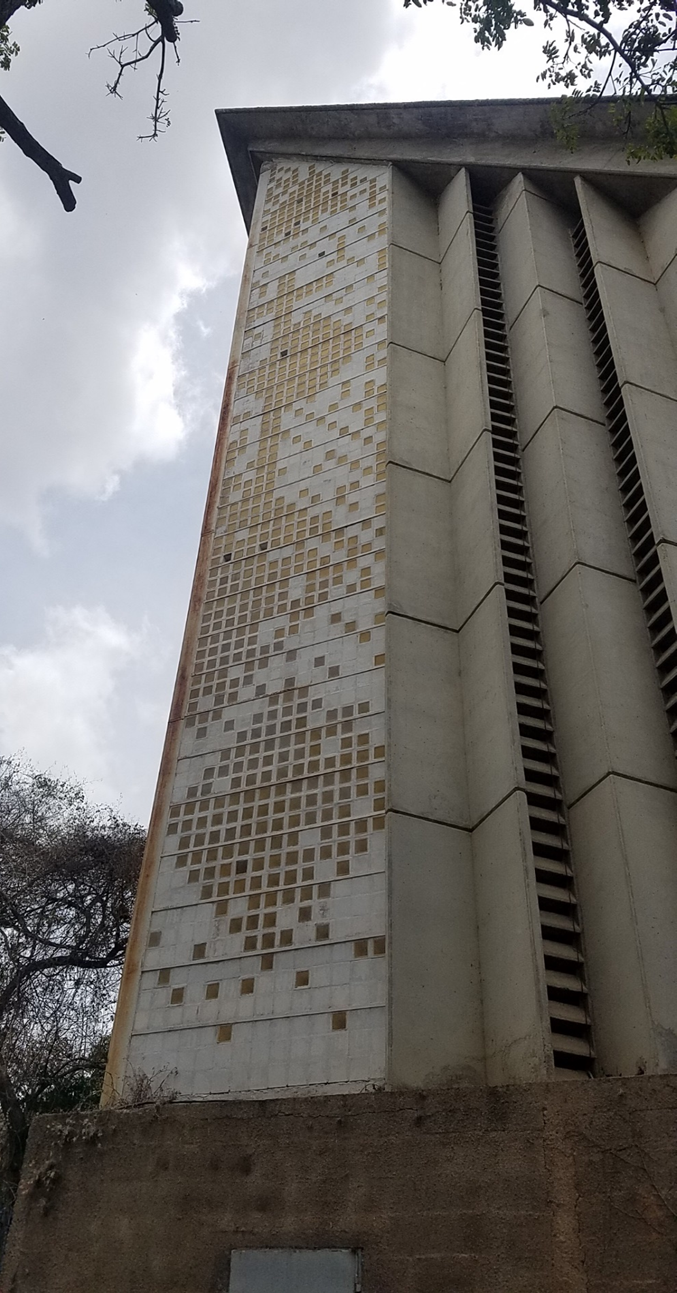 From the outside, you can see the stained-glass windows that allow light (Desde afuera se notan los vitrales que permiten la entrada de luz al interior)
     In 1963, the construction of a temple began in the Prados del Este urbanization, located on Calle La Iglesia, Prados del Este urbanization, Baruta, Caracas, which was handed over a year later to a group of priests from the Society of San Edmundo, whose name is "Iglesia la Santísima Trinidad", attached to the Archdiocese of Caracas.
---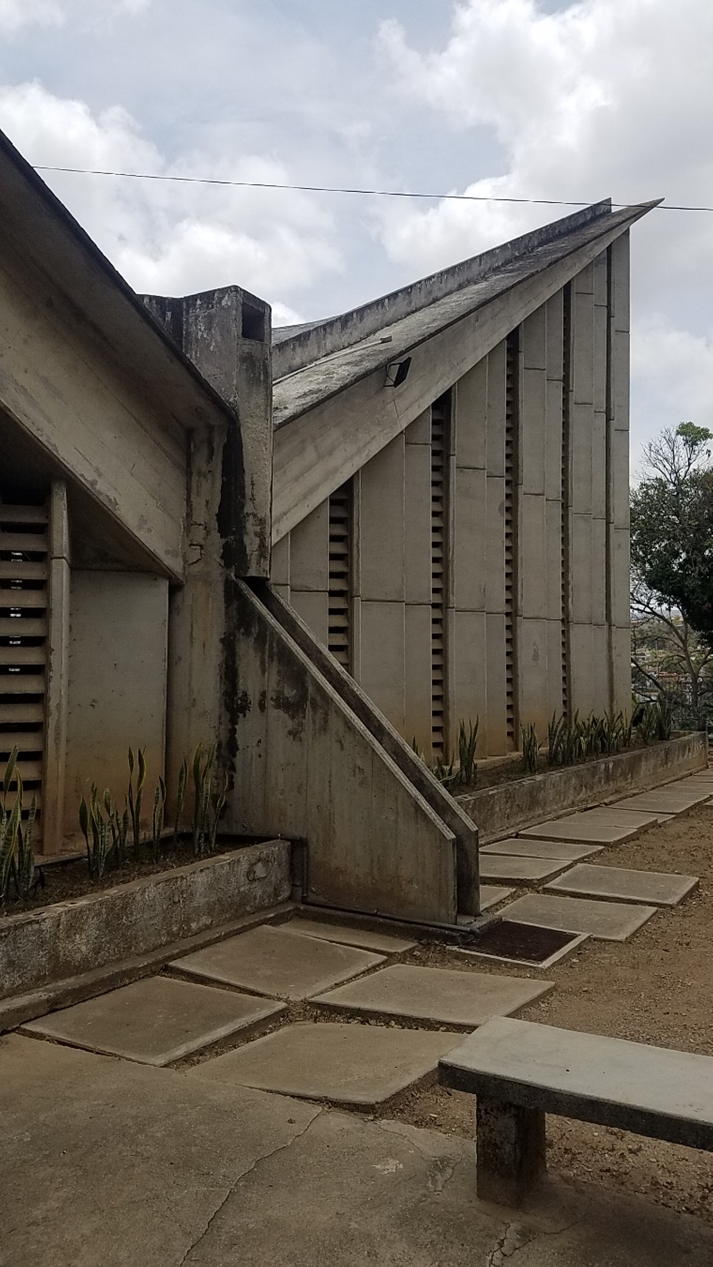 Irregularly shaped church facade (Fachada de la iglesia en forma irregular)
     The construction of the church took much longer than planned; In 1968 the building of the Church was considered finished, which was designed by the architects Andrés E. Betancourt Silva and José Antonio Ron Pedrique, together with the engineers Frederick Klindt Marcellini and Omar Sotillo Parilli, in charge of the structural calculations, in a land of 4200 square meters. Although, in truth, the work was completely finished in 1976, thirteen years after its construction began.
---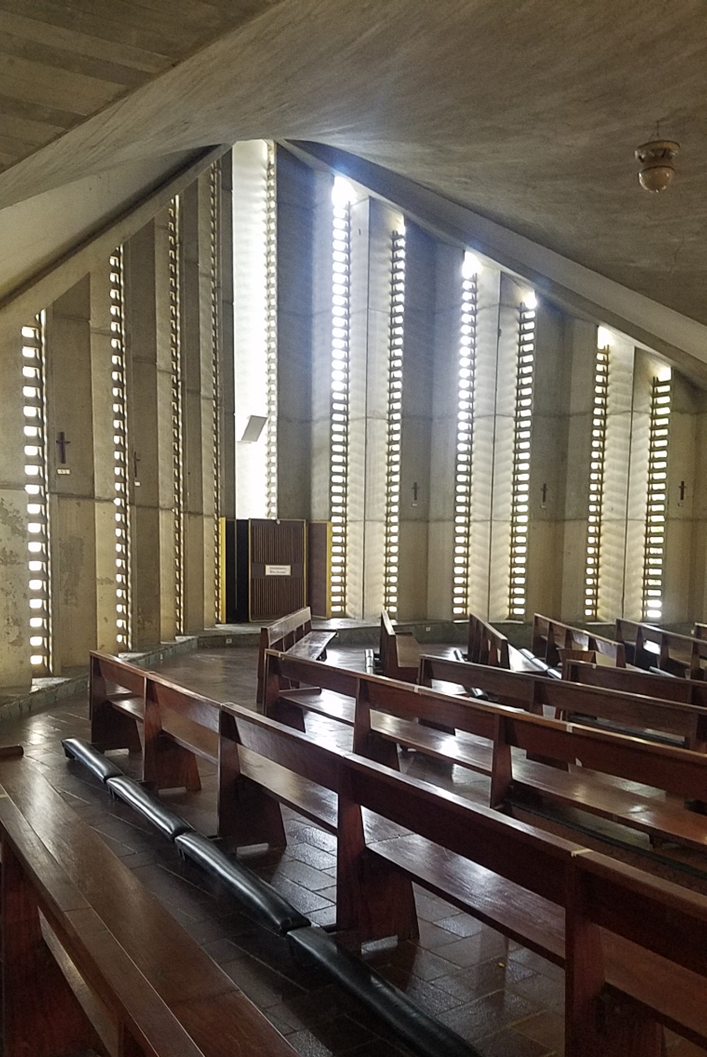 The interior of the church has natural lighting as a result of its stained-glass windows,
curvatures and a cross-shaped slot through which natural light penetrates (El interior de la iglesia tiene una iluminación natural producto de sus vitrales, curvaturas y una ranura en forma de cruz por donde penetra la luz natural)
     The church has an irregular shape, with the floor sloping from the entrance to the altar, the roof, made of reinforced concrete, has different curvatures and a cross-shaped slot through which natural light penetrates. The east façade has a stained-glass window, which during the day allows light to enter its interior. Ventilation is natural and is done through openings that are located along the entire facade.
---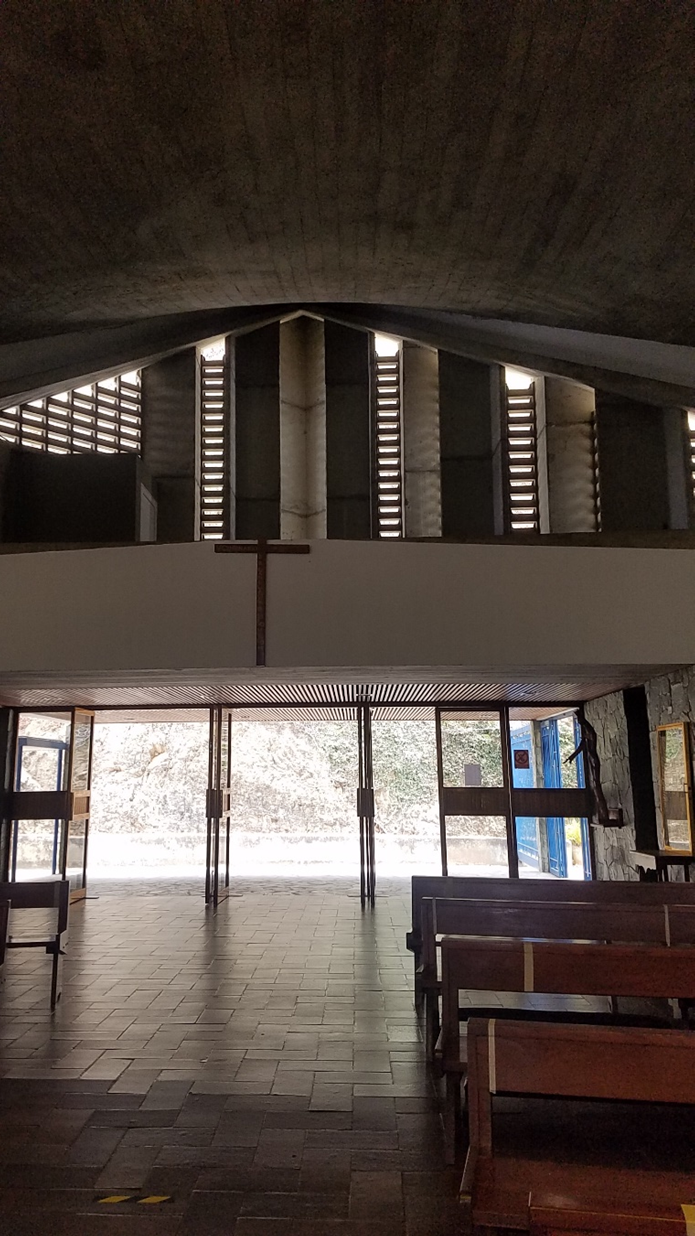 Shot of the entrance to the church from inside (Toma de la entrada a la iglesia desde adentro)
     The temple has a large interior without columns which is accessed through a wide double door located to the west of the structure, to the north and south of the work there are two additional entrances, the access located to the north leads to the parking lot that surrounds part from the church and the access located to the south communicates directly to a garden that leads to the parish house, at whose entrance there is a mural of a kinetic work by the Venezuelan artist Cruz-Diez.
---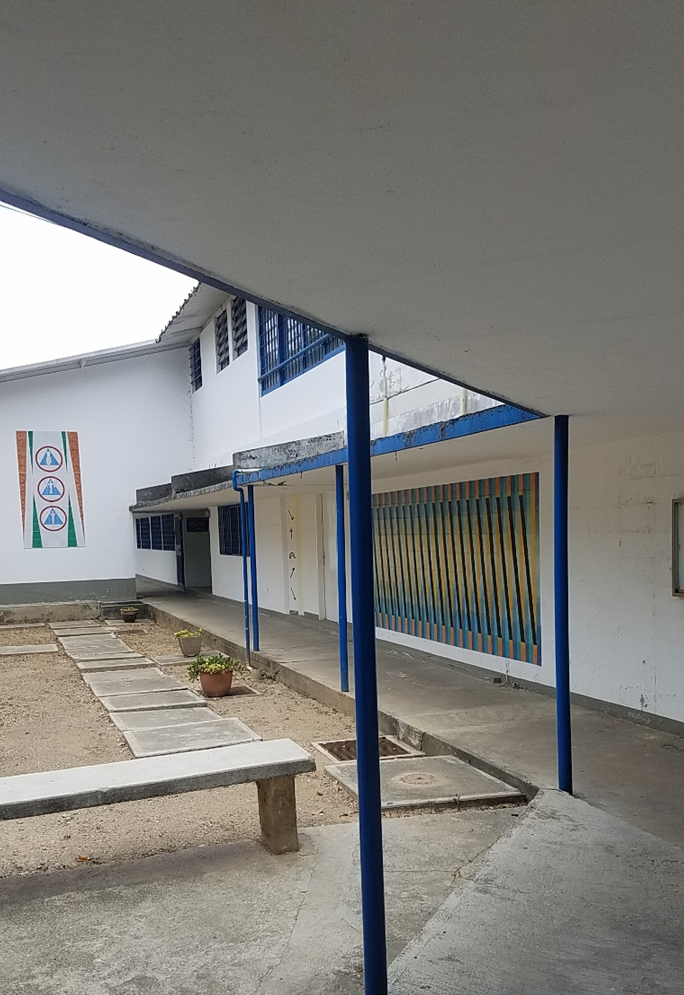 In the back of the Church is the parish house, with a mural cubist by Venezuelan artist Cruz-Diez on its walls. (En la parte de atrás de la Iglesia se encuentra la casa parroquial, con un mural cubista del artista venezolano Cruz-Diez en sus paredes)
     Both the roof, made up of two hyperbolic paraboloids, and all the structural elements, which are part of the different facades of the temple, were built in reinforced concrete.
---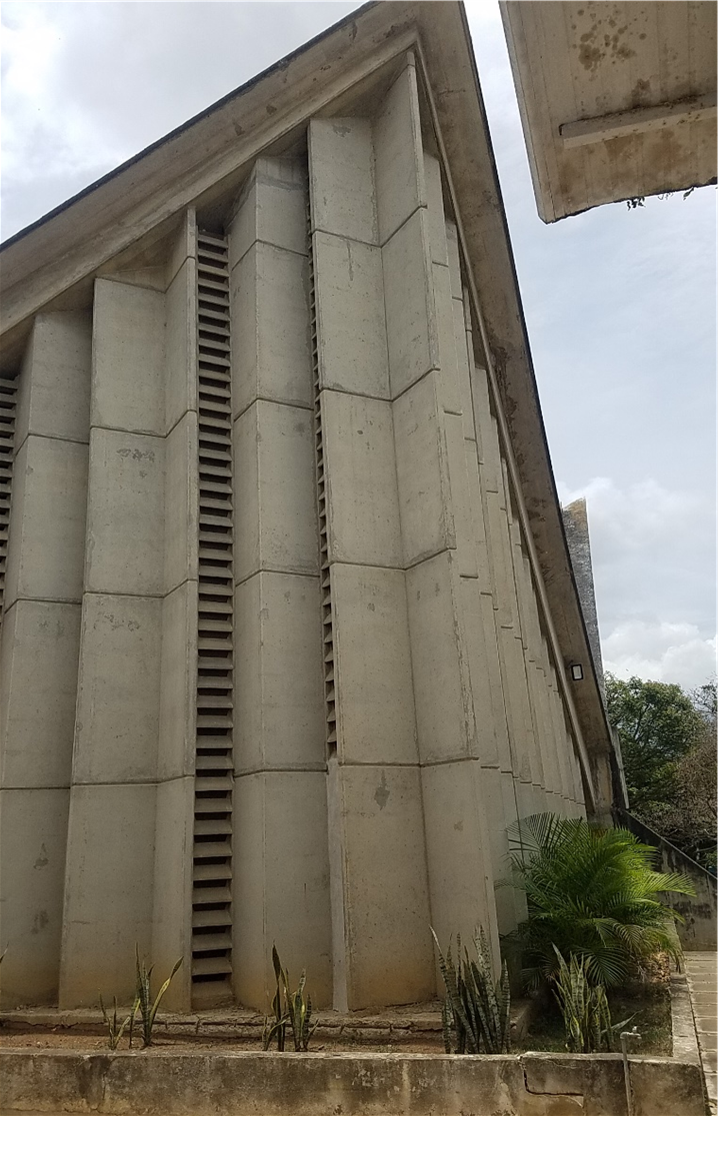 Irregular shape of the structure (Forma irregular de la estructura)
     It is worth remembering that part of the work was carried out by the parishioners themselves, as well as the funds used for the construction of the temple, were donations from the inhabitants of the area, in addition to a series of activities that were carried out, throughout those years, to raise funds for its completion.
---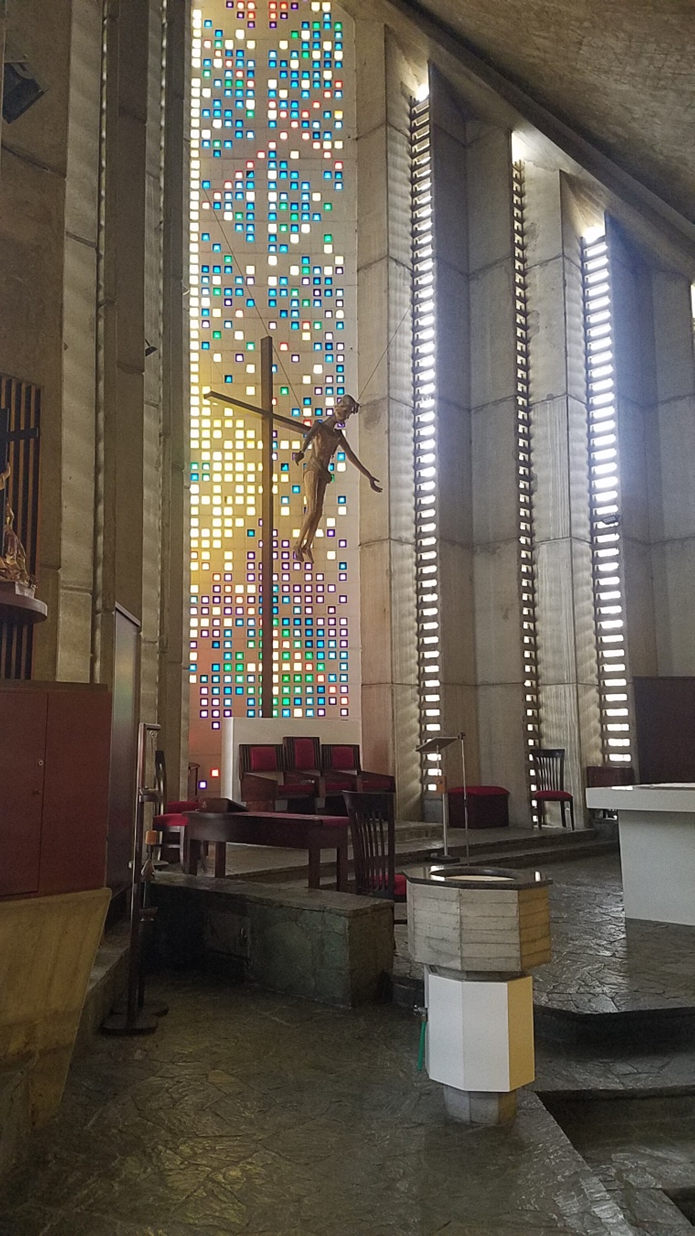 Christ hanging over the main altar seems to be a work by the Spanish artis Salvador Dalí, although it is not (Cristo colgando sobre el altar Mayor pareciera una obra del artista español Salvador Dalí, aunque no lo sea)
     Since 1964 the Society has invited 10 priests from different nations and has had 4 parish priests in its more than 50 years of history.
---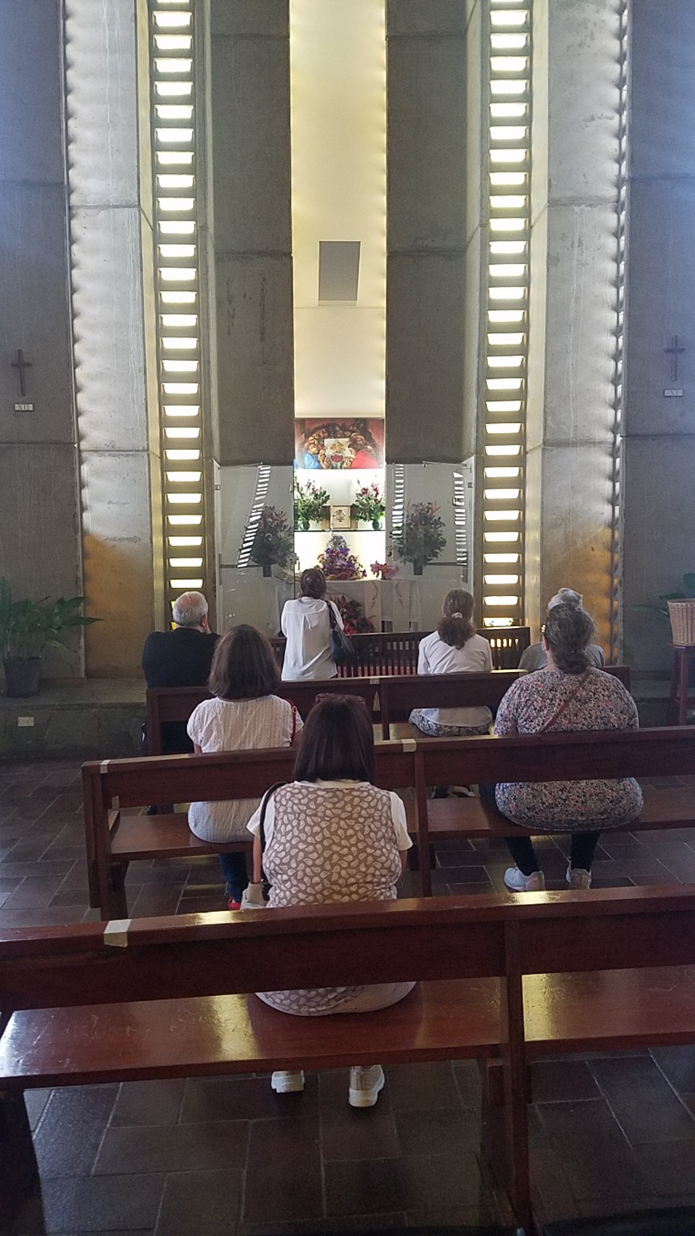 To one side of the High Altar, a small altar that is been used during Holy Week (A un costado del Altar Mayor, pequeño altar que se utiliza durante la Semana Santa)
---
Estructura irregular de la Iglesia la Santísima Trinidad en Prados del Este, Caracas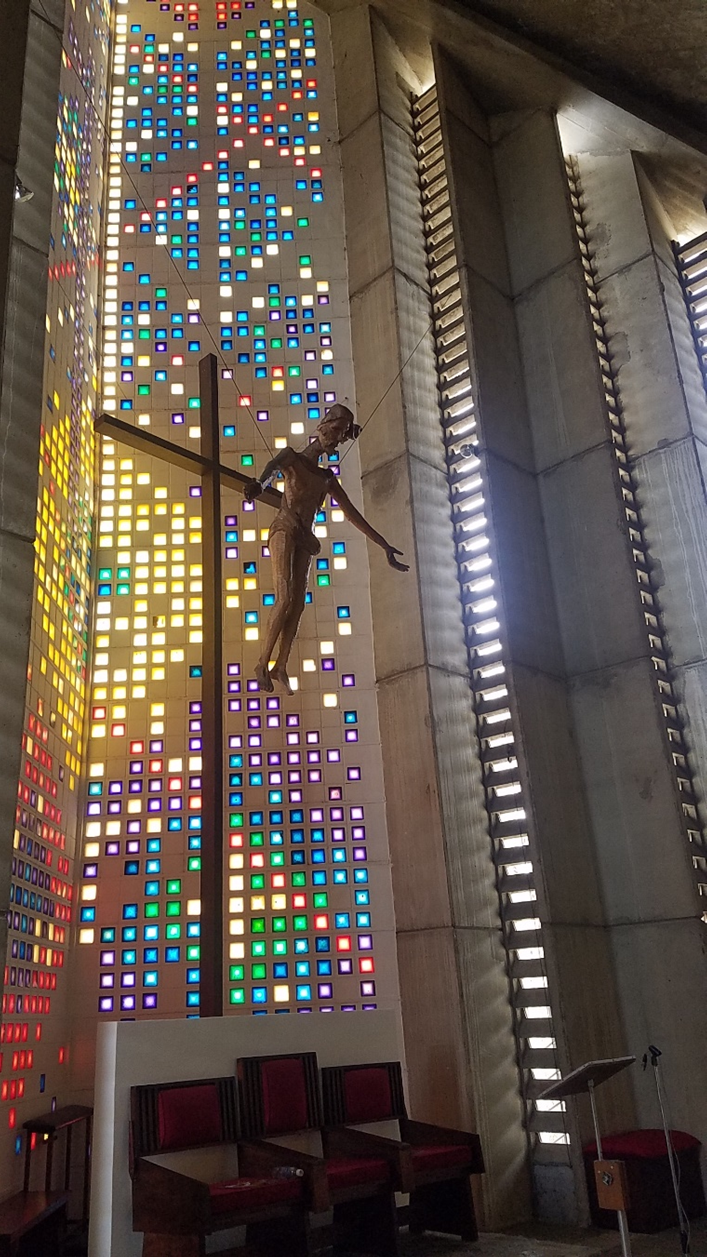 A close look at the Christ of the High Altar (Una mirada cercana al Cristo del Altar Mayor)
     Estimados lectores de esta comunidad, hoy me propongo invitarles a visitar, en forma virtual, una pequeña, pero bella y arquitectónicamente rica, iglesia en el sur este de la Gran Caracas, en Venezuela. Espero que disfruten la visita, recién pasados los días de Semana Santa. Como siempre, gracias de antemano por los comentarios y observaciones que tengan a bien realizar a este post.
---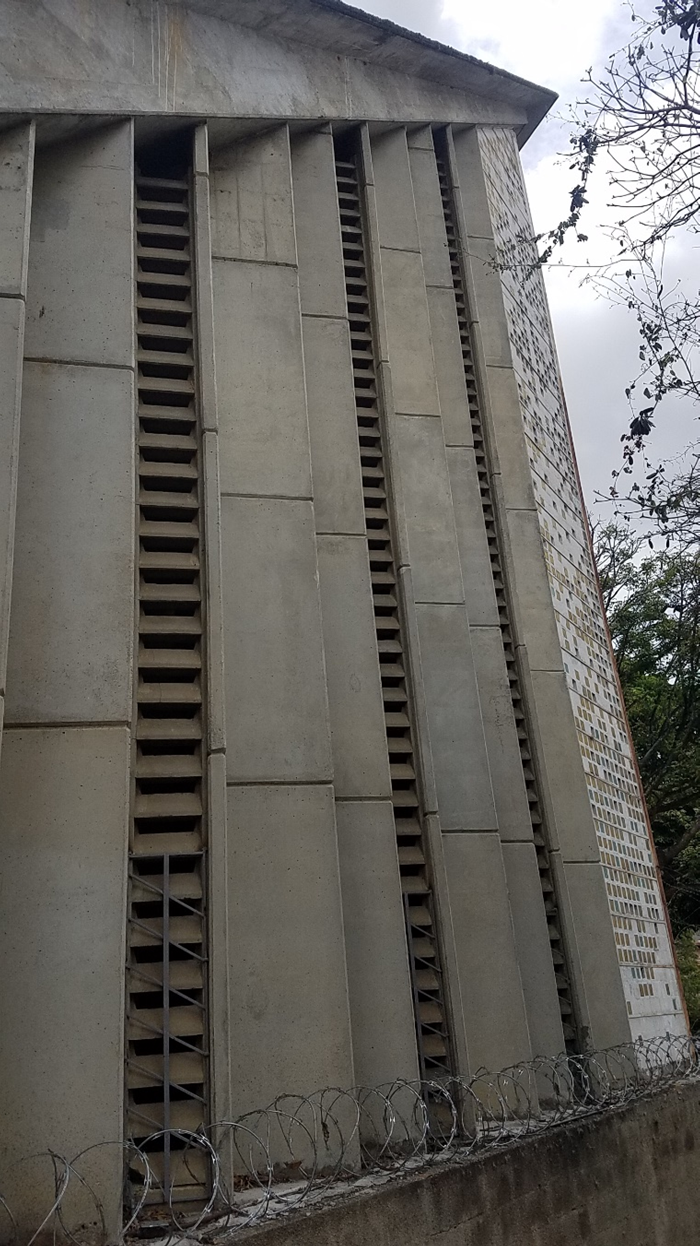 Another gigantic stained-glass window on the other side of the church ((Otro gigantesco vitral al otro costado de la iglesia)
     En el año 1963 se inició el levantamiento de un templo en la urbanización Prados del Este, ubicada en la Calle La Iglesia, urbanización Prados del Este, Baruta, Caracas, la cual fue entregada un año después a un grupo de sacerdotes de la Sociedad de San Edmundo, cuyo nombre es "Iglesia la Santísima Trinidad", adscrita a la Arquidiócesis de Caracas.
---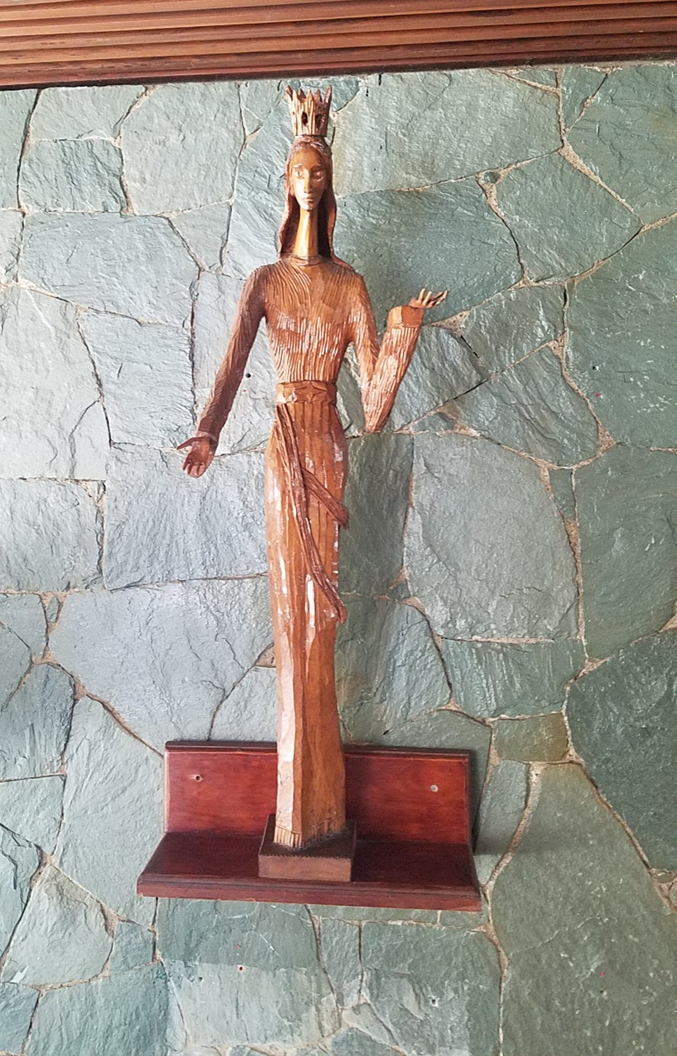 Slender wooden sculpture of the Virgin Mary at the entrance to the church (Esbelta escultura en madera de la Virgen María a la entrada de la iglesia)
     La construcción de la iglesia se tomó mucho más tiempo de lo planificado; en 1968 se dio por terminada la construcción de la Iglesia, la cual fue diseñada por los arquitectos Andrés E. Betancourt Silva y José Antonio Ron Pedrique, conjuntamente con los ingenieros Frederick Klindt Marcellini y Omar Sotillo Parilli, encargados de los cálculos estructurales, en un terreno de 4200 metros cuadrados. Aunque, en verdad, la obra fue totalmente acabada en 1976, trece años después de haberse iniciado su construcción.
__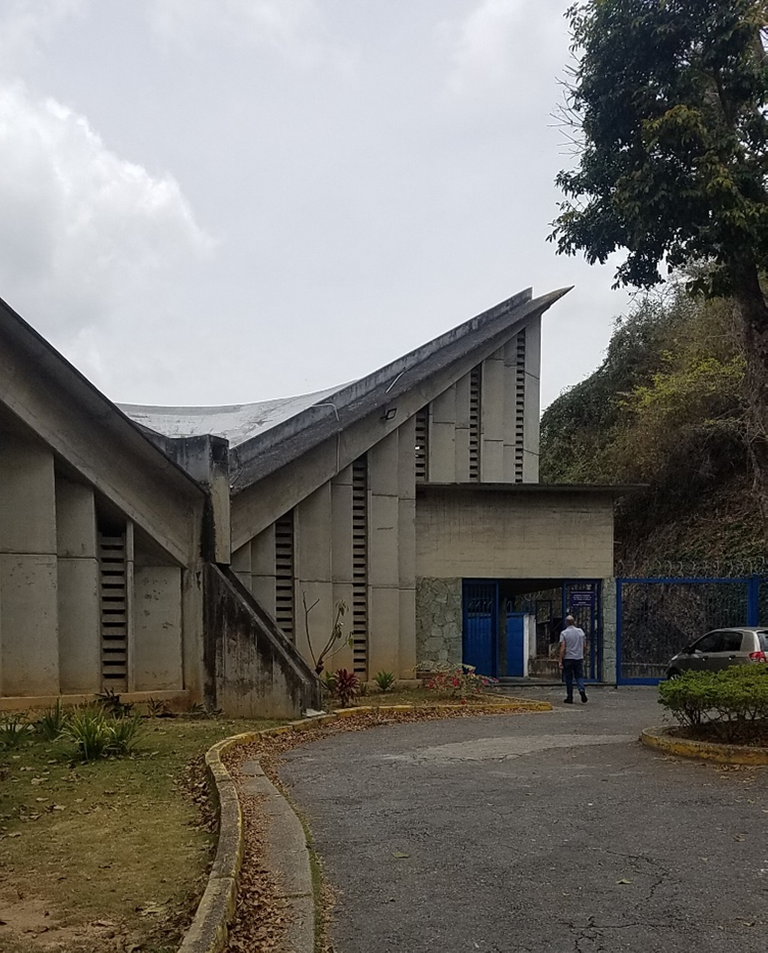 To the west of the structure is the main entrance (Al oeste de la estructura se encuentra la entrada principal)
     La iglesia tiene una forma irregular, con el piso inclinado desde la entrada hacia el altar, la cubierta, de concreto armado, tiene diferentes curvaturas y una ranura en forma de cruz por donde penetra la luz natural. La fachada este cuenta con un vitral, que durante el día permite el paso de la luz a su interior. La ventilación es natural y se hace por medio de aberturas que se ubican a lo largo de toda la fachada.
---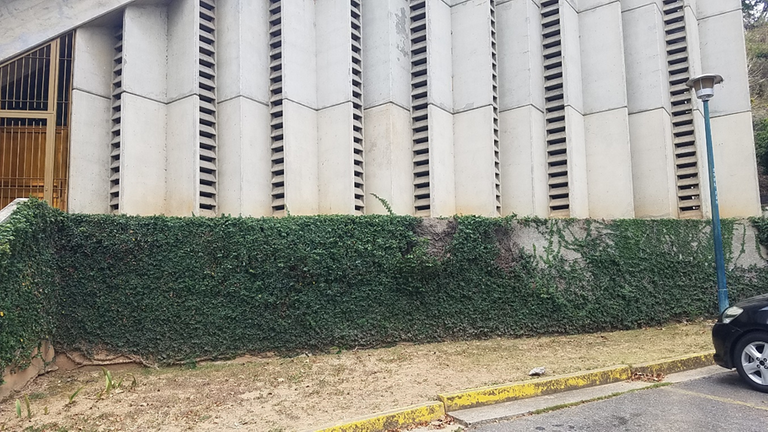 Main facade of the church, the wall that protects it appears covered with vegetation (Fachada principal de la iglesia, el muro que la protege aparece cubierto de vegetación)
     El templo cuenta con un gran interior sin columnas al cual se accede por una amplia puerta doble ubicada al oeste de la estructura, al norte y al sur de la obra se encuentran dos accesos adicionales, el acceso ubicado al norte conduce al estacionamiento que rodea parte de la iglesia y el acceso ubicado al sur comunica directo a un jardín que lleva a la casa parroquial, en cuya entrada se encuentra un mural de una obra cinética del artista venezolano Cruz-Diez.
---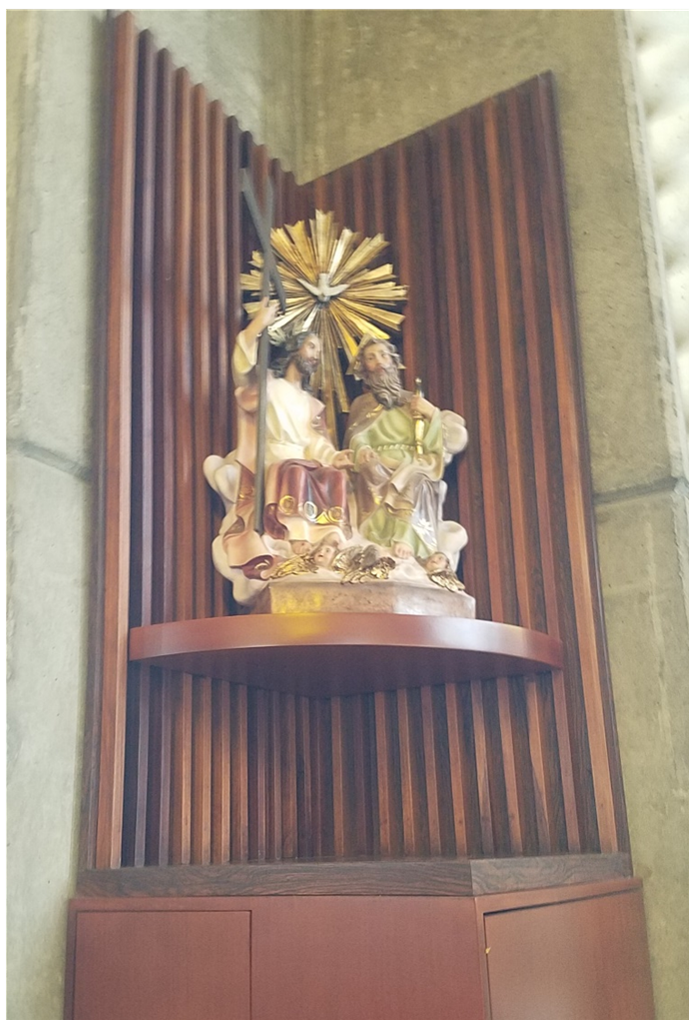 To one side of the High Altar is this representation of the Holy Trinity (A un costado del Altar mayor se encuentra esta representación de la Santísima Trinidad)
     Tanto el techo, conformado por dos paraboloides hiperbólicos, como todos los elementos estructurales, que hacen parte de las diferentes fachadas del templo, se levantaron en concreto armado.
---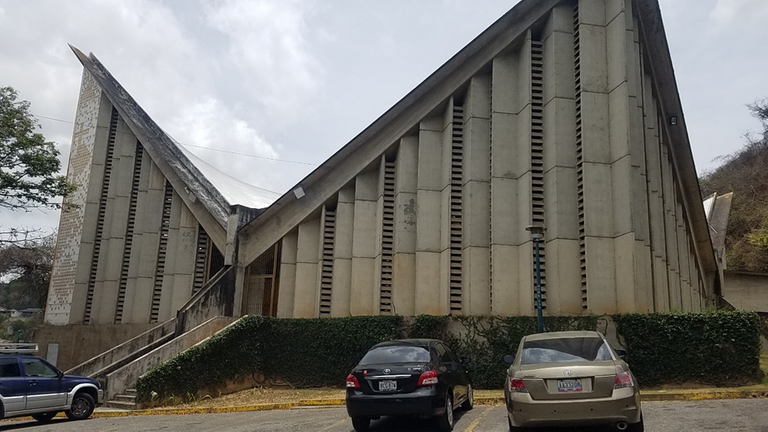 North façade, with one of the three entrances to the church (Fachada norte, con uno de los tres accesos a la iglesia)
     Es de recordar que parte de los trabajos fueron realizados por los propios feligreses, así como los fondos, utilizados para la construcción del tempo, fueron donaciones de los habitantes de la zona, además de una serie de actividades que se realizaron, a lo largo de esos años, para recabar fondos para su culminación.
---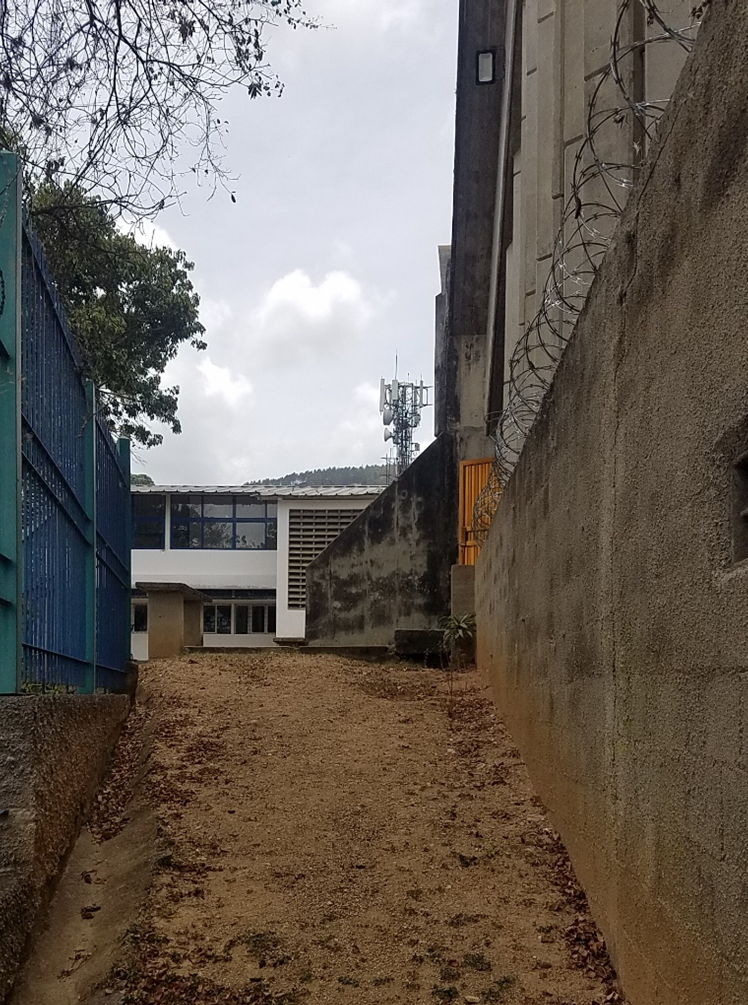 In the background you can see the parish house(Al fondo se nota la casa parroquial)
     Desde 1964 la Sociedad ha invitado a 10 sacerdotes de diferentes naciones y ha tenido 4 párrocos en sus más de 50 años de historia.
---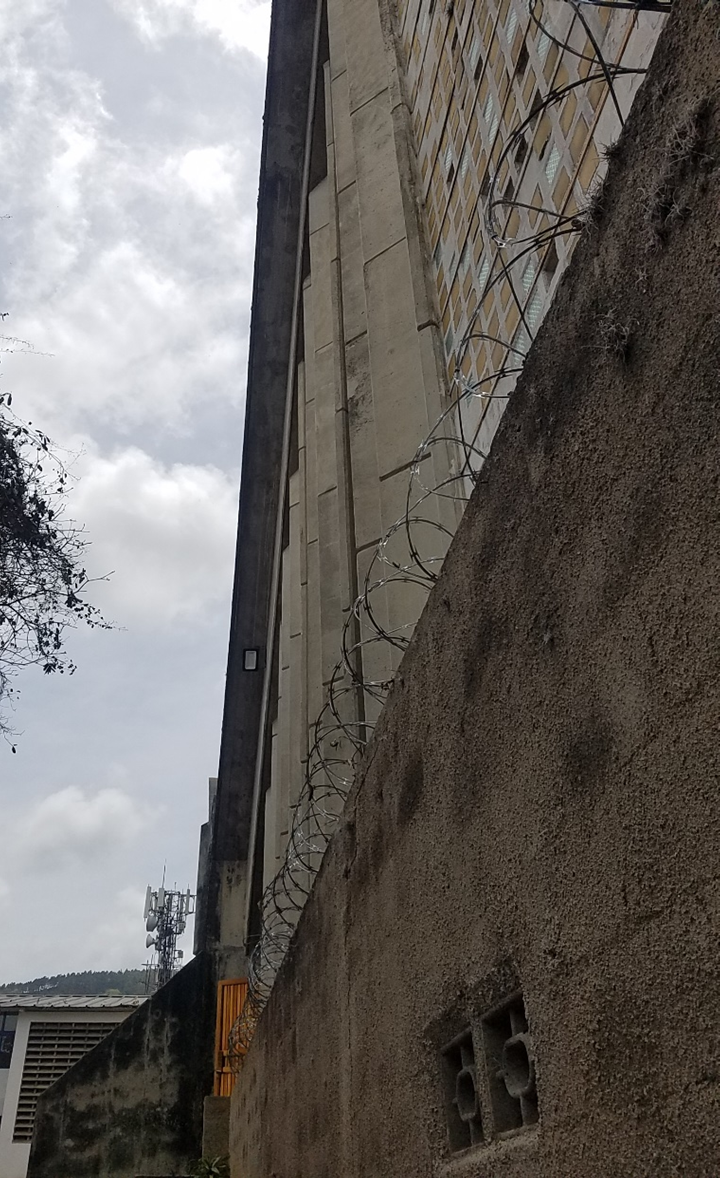 Back wall of the cruch (Pared trasera de la iglesia)
---
Photo gallery (Galería de fotos)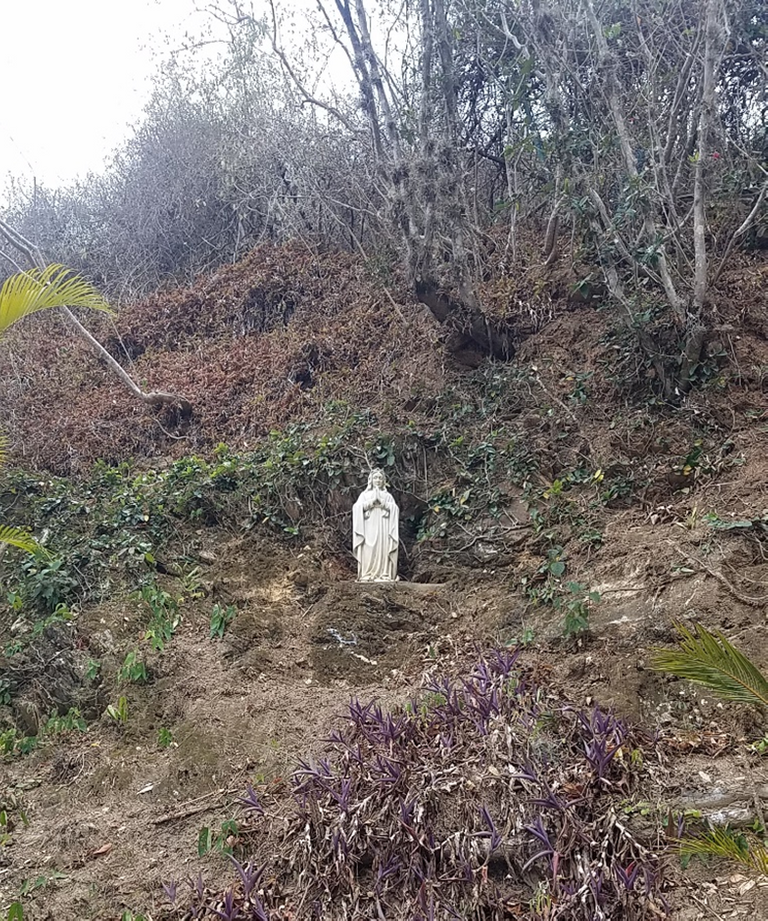 Before entering the church, on one side there is a representative sculpture of the Blessed Virgin (Antes de entrar a la iglesia, a un costado se encuentra una escultura representativa de la Santísima Virgen)
---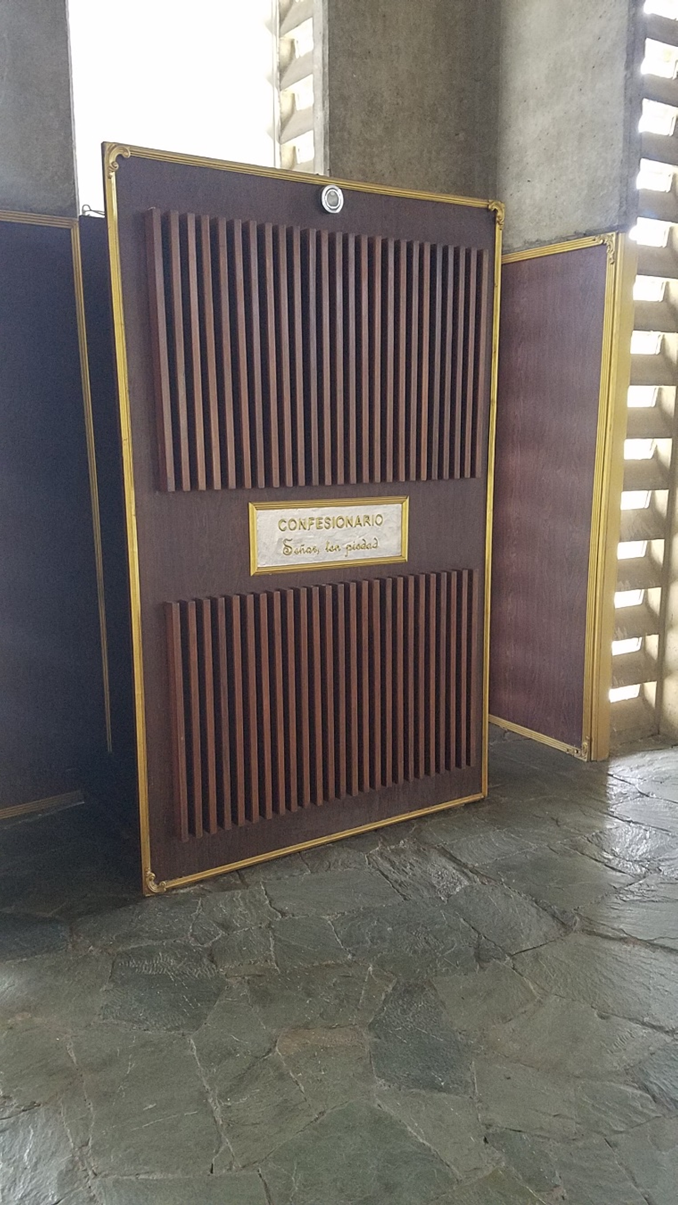 The somewhat strange church confessional (El confesionario de la iglesia un tanto extraño)
---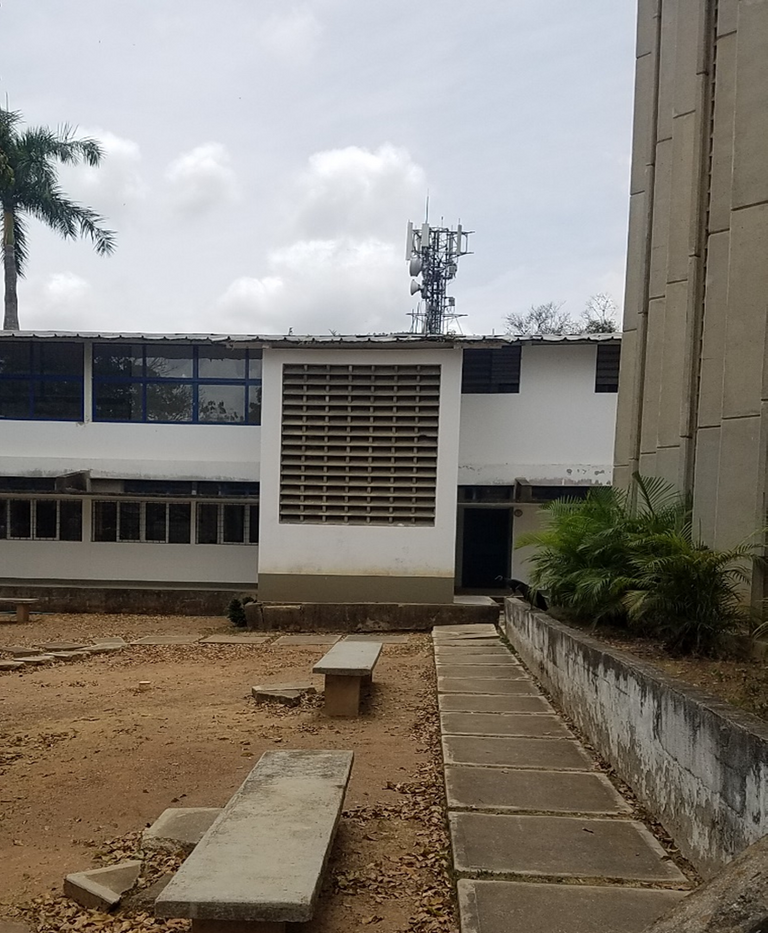 The rectory at the rear of the church (La casa parroquial en la parte trasera de la iglesia)
---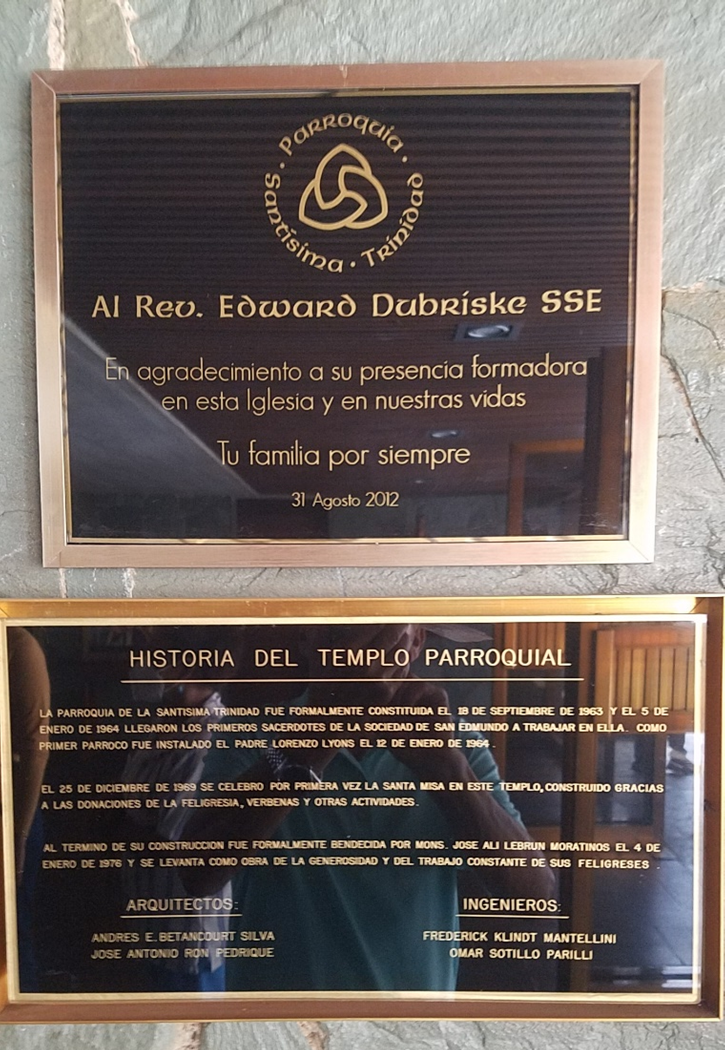 Commemorative Plaques: To Reverend Edward Dabríske and to the history of the church (Placas conmemorativas: al reverendo Edward Dabríske y a la historia de la iglesia)
---
---
---