[ENG] Church of the Precious Blood in Caracas [ESP] Iglesia de la Preciosísima Sangre en Caracas
Church of the Precious Blood in Caracas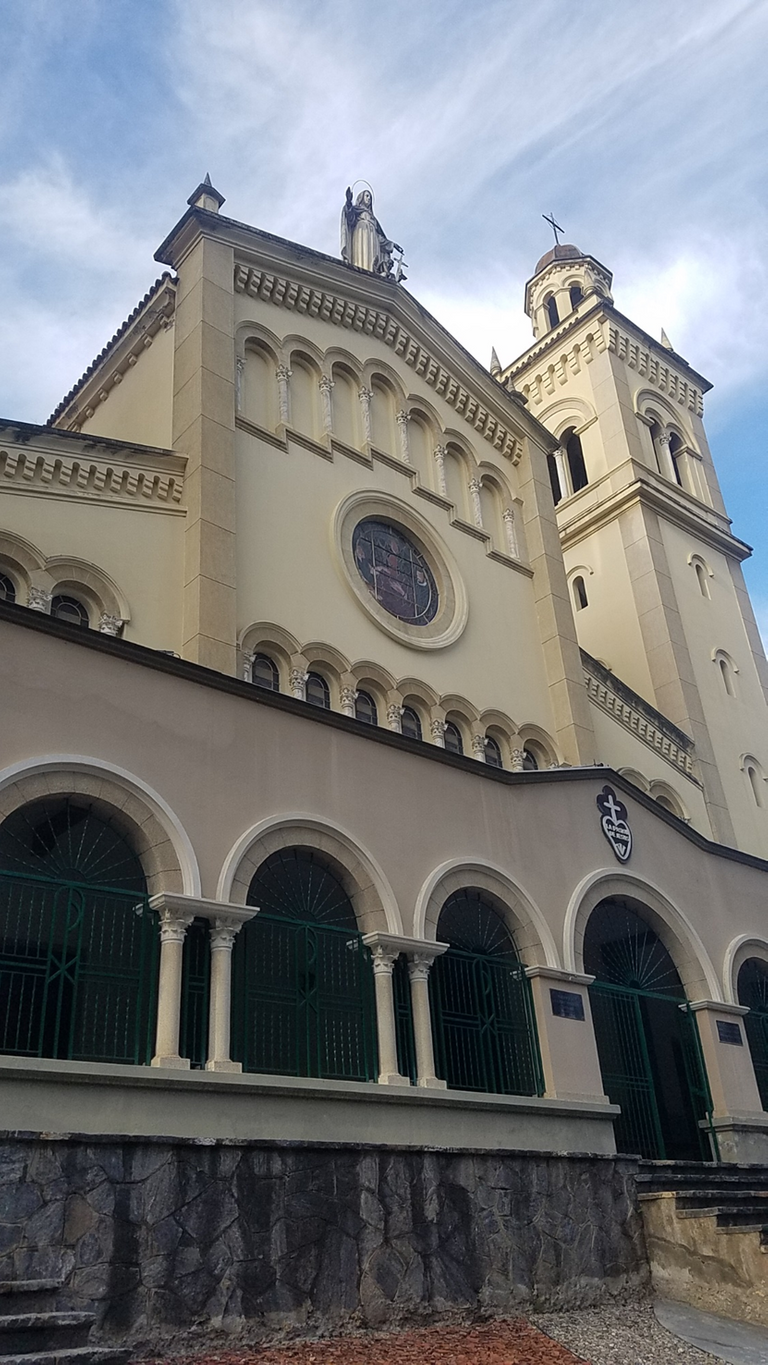 Part of the main facade of the church (Parte de la fachada principal de la iglesia)
     Dear readers of these communities that honor me with your reading, vote, and appreciation. Today I have the immense honor of sending you photos and information about a beautiful church that is located in the city of Caracas, specifically at the intersection of Avenida Santa Eduvigis and Tercera Transversal, Urbanización Santa Eduvigis, east of the capital. May Holy Week be a propitious date to see a temple that preaches the words of Jesus Christ and his disciples all year round for the good of all humanity.
---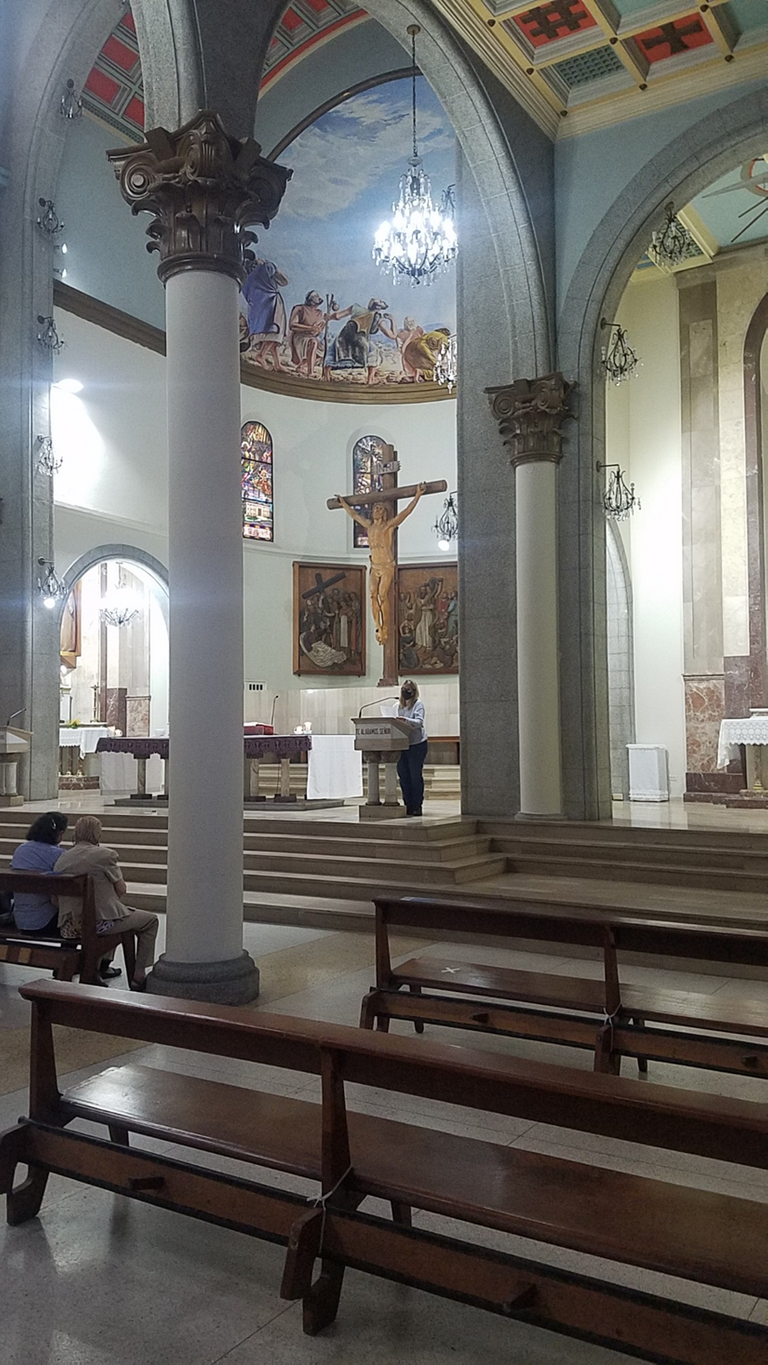 Shot of the main altar from the right nave (Toma del altar mayor desde la nave derecha)
     Passing through one of the streets surrounding the church, I was struck by the resemblance of this temple to the Chiquinquirá Church, of which I recently made a post for Hive, which is why I decided to enter it. After taking pictures of her slender neo-Romanesque figure, which some have classified as eclectic, somewhere between neo-Romanesque and neo-Byzantine, I entered, with all due respect and humility, its interior.
---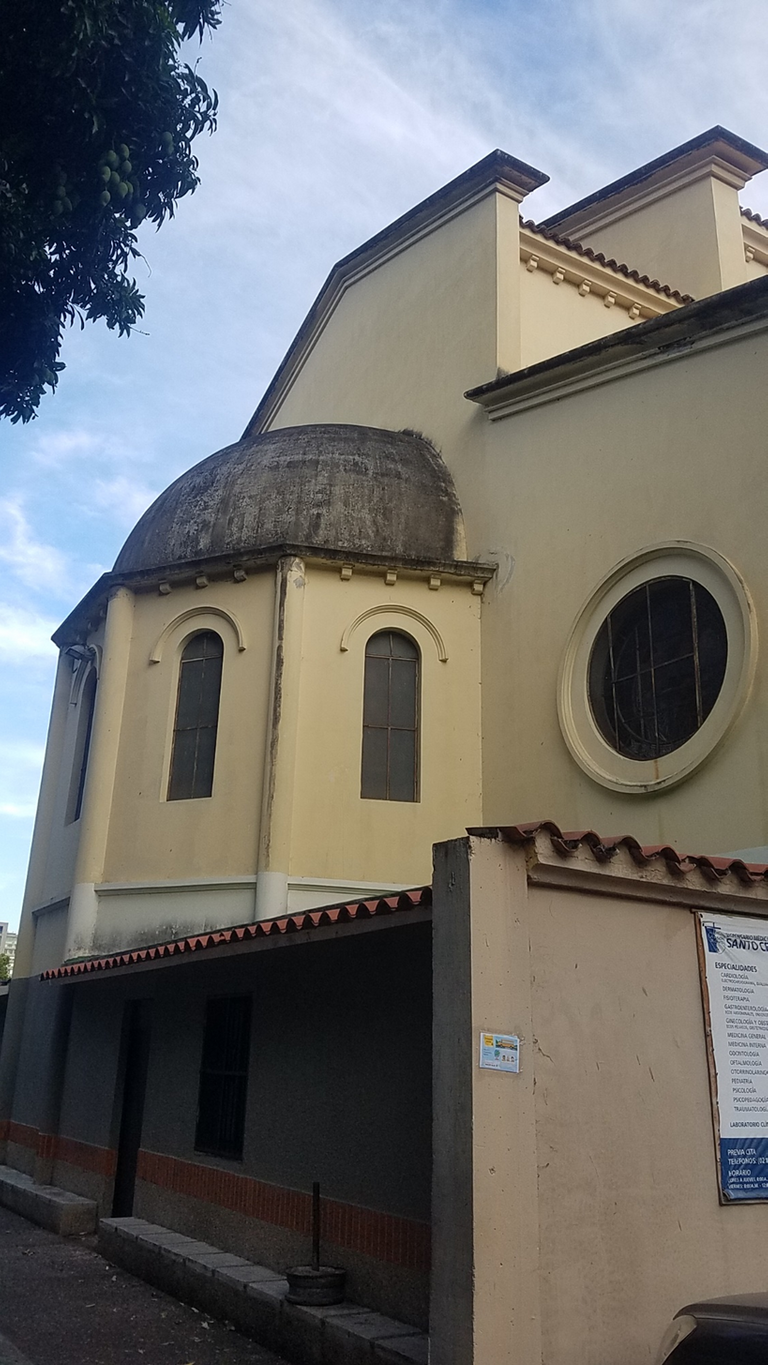 Back part of the church (Parte posterior de la iglesia)
     The construction of the Church of the Precious Blood, governed by the Passionist Fathers, was completed in 1959, designed by the Navarrese architect Javier Yárnoz Larrosa, who unfortunately died the same year his work was completed and 20 years after setting foot on Venezuelan soil. as a Spanish exile.
---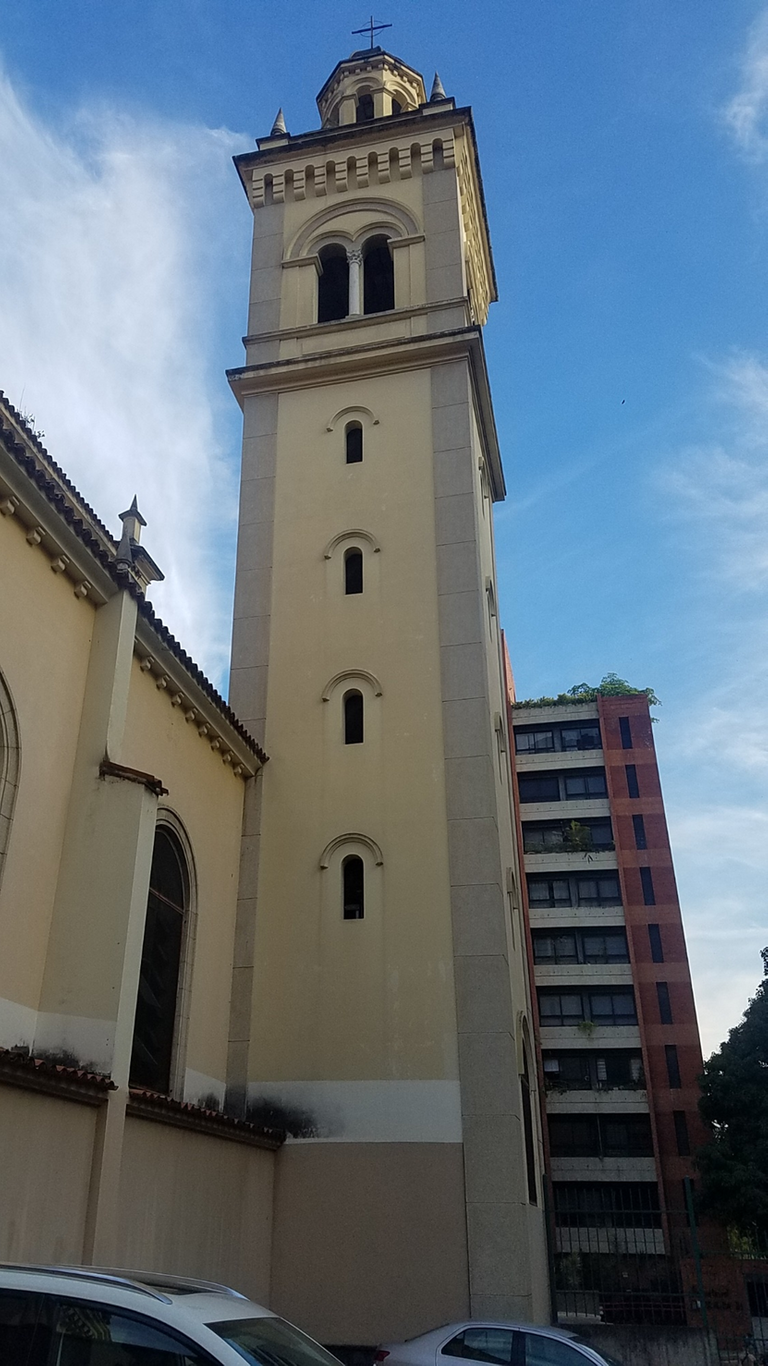 Huge bell tower of the Church (Campanario de la Iglesia)
     The first thing that impresses is the enormous dimensions of its widely lit spaces, its altars, and above all to see, something uncommon in Venezuelan churches, large murals or realistic spray-painted frescoes, which are found on the upper part of its sidewalls, which were made by the Spanish painter César Hombrados Oñativia, who managed to capture in his murals the passion of Christ in his different moments of the "viacrusis" (Way of the Cross).
---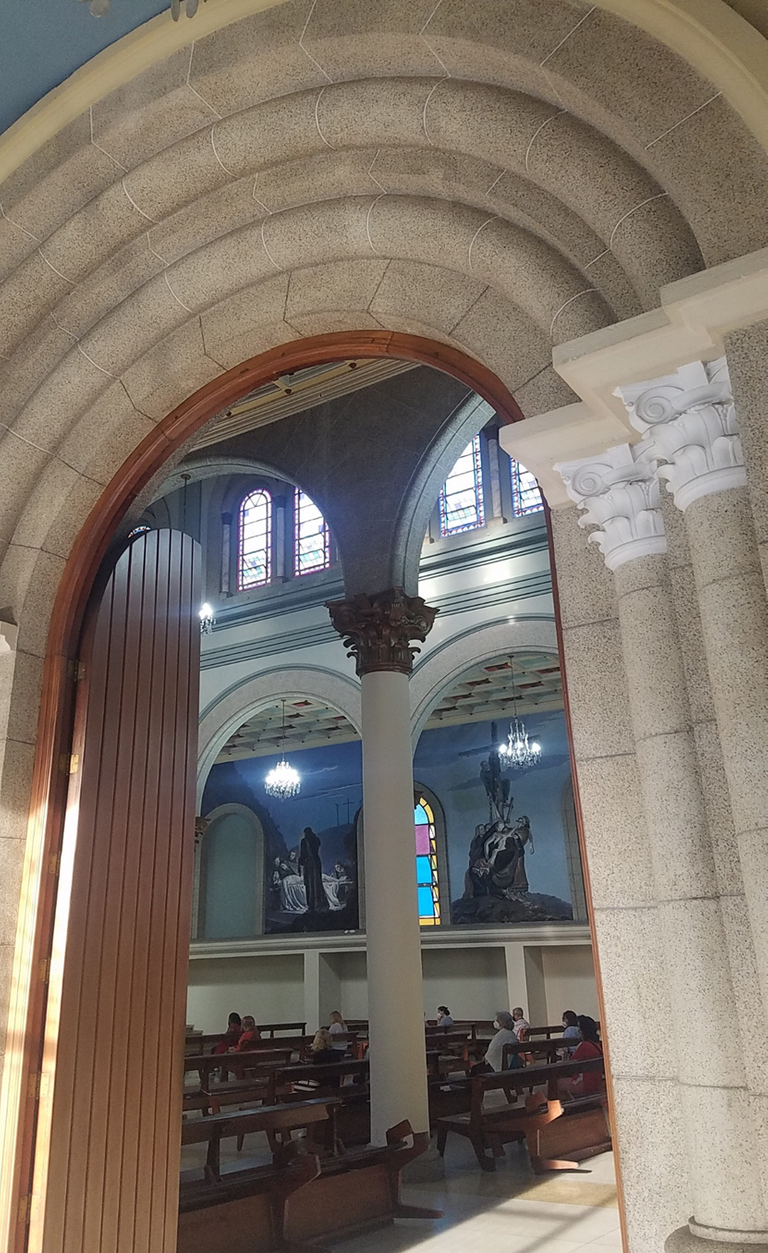 Arches and columns in the side doors of the church, from now on you can appreciate the inner beauty of the temple (Arcos y columnas en las puertas laterales de la iglesia, desde ya se puede apreciar la belleza interior del templo)
     Above the main altar there is an imposing dome of intense blue, the church is surrounded by a number of windows in its upper part that allows natural light to enter the entire enclosure.
---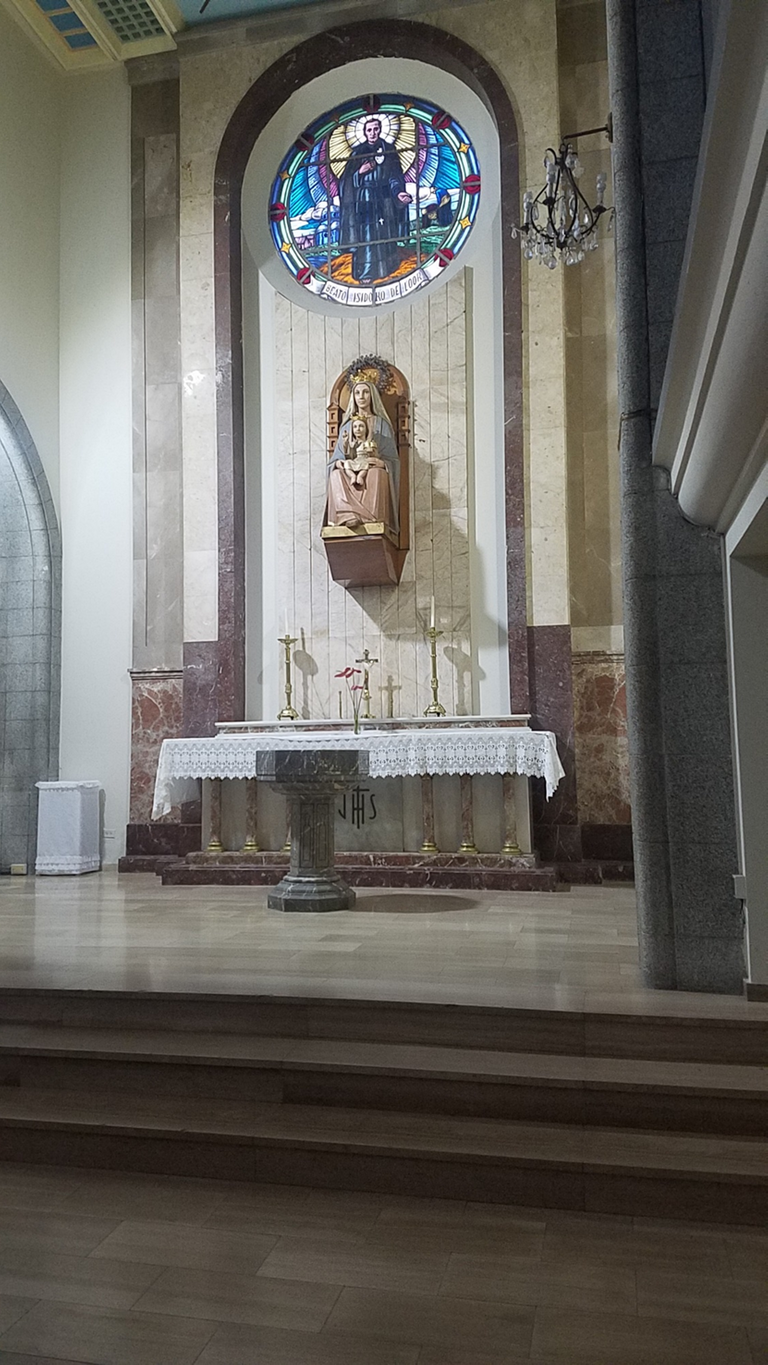 The Virgin of Coromoto, patron saint of Venezuela, on the altar of the right nave (La virgen de Coromoto, patrona de Venezuela, en el altar de la nave derecha)
     The passionate fathers not only take care of the spiritual health of their parishioners, but also attend the physical health with the provision of services in the "Santo Cristo Medical Dispensary", which is located in the church compound, and also in the educational part through a school "Santa Gema", whose building is next to the temple.
---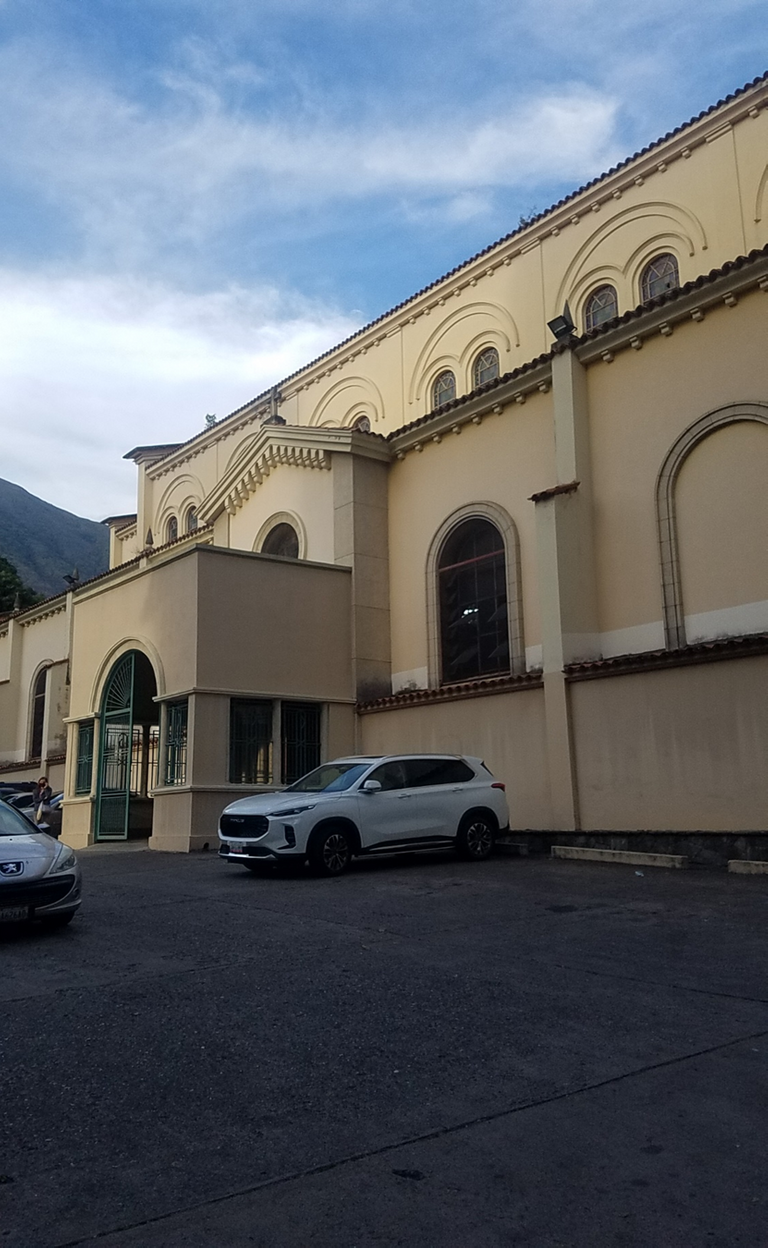 Side view of the church (Lateral de la Iglesia)
---
Iglesia de la Preciosísima Sangre en Caracas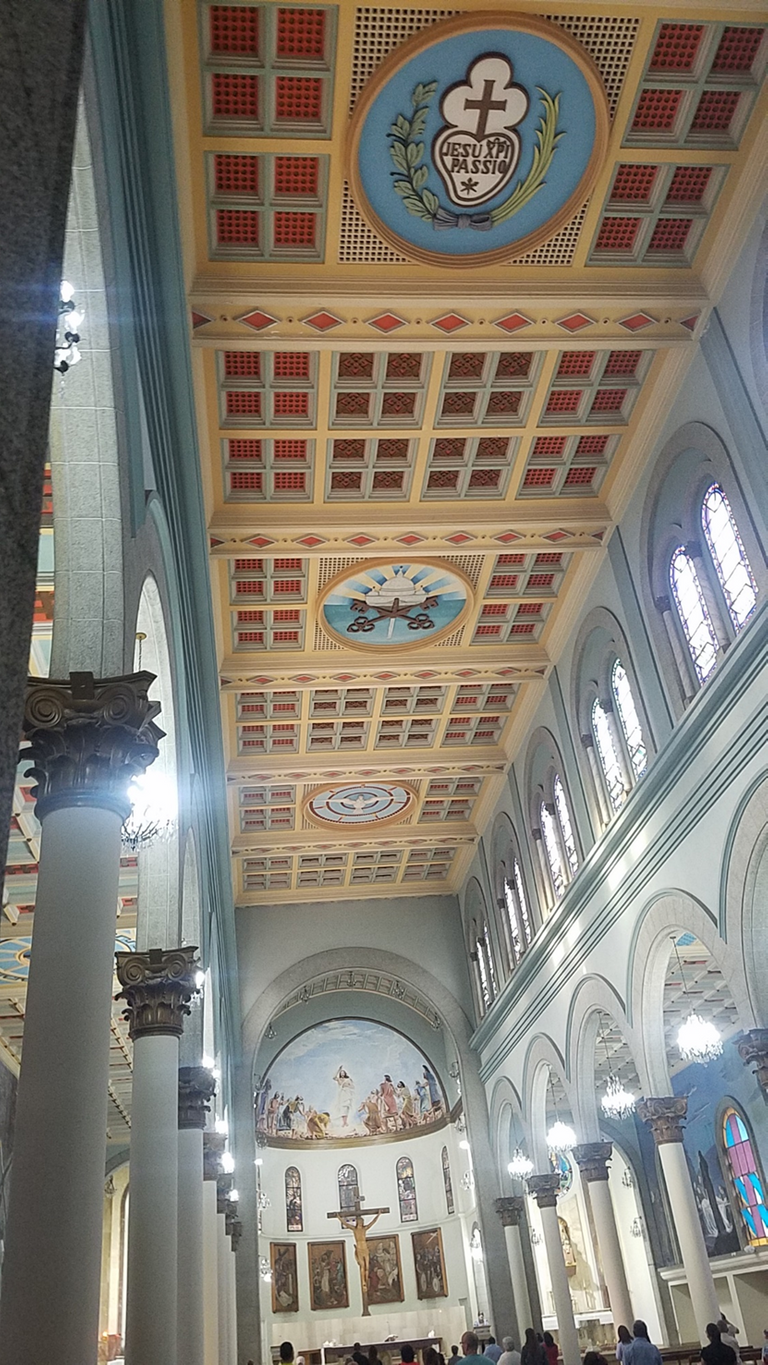 View of the High Altar from the back of the church (Vista del Altar Mayor desde el
fondo de la iglesia)
     Estimados lectores de estas comunidades que me honran con su lectura, voto y apreciaciones. En el día de hoy tengo el inmenso honor de hacerles llegar fotos e información sobre una bellísima iglesia que se encuentra en la ciudad de Caracas, específicamente en el cruce de la Avenida Santa Eduvigis y la Tercera Transversal, Urbanización Santa Eduvigis, al este de la capital. Sea la Semana Santa una fecha propicia para ver un templo que todo el año predica las palabras de Jesucristo y sus discípulos para el bien de toda la humanidad.
---
Left nave of the church, the size of the columns of the temple is remarkable, as is the beauty of its ceilings (Nave izquierda de la iglesia, es notable el tamaño de las columnas del templo al igual que la belleza de sus techos)
     Al pasar por una de las calles que rodean la iglesia, me llamó muchísimo la atención el parecido de este templo con la Iglesia de la Chiquinquirá, de la cual hice un post para Hive en fecha reciente, razón por la cual decidí entrar en ella. Luego de tomar fotografías de su esbelta figura neorrománica, que algunos han catalogado como ecléctica, entre neo-románica y neo-bizantina, entré, con todo respeto y humildad, a su parte interior.
---
Right nave of the church, in the upper part you can see some of the murals of the viacrusis (Nave derecha de la iglesia, en la parte superior se pueden apreciar algunos de los
murales del viacrusis)
     La construcción de la iglesia de la Preciosísima Sangre, regida por los padres Pasionistas, fue concluida en 1959, proyectada por el arquitecto navarro Javier Yárnoz Larrosa, quien desafortunadamente falleció el mismo año en que se concluyó su obra y 20 años de haber pisado tierra venezolana, como exiliado español.
---
Large windows, which allow the entrance of natural light, surround the church (Amplias Ventanas, que permiten la entrada de la luz natural, rodean la iglesia)
     Lo primero que impresiona son las enormes dimensiones de sus espacios ampliamente iluminados, sus altares y sobre todo ver, algo poco común en las iglesias venezolanas, grandes murales o frescos realistas pintados en spray, que se encuentran en la parte superior de sus paredes laterales, que fueron realizados por el pintor español César Hombrados Oñativia, quien logró plasmar en sus murales la pasión de Cristo en sus diferentes momentos del viacrusis.
---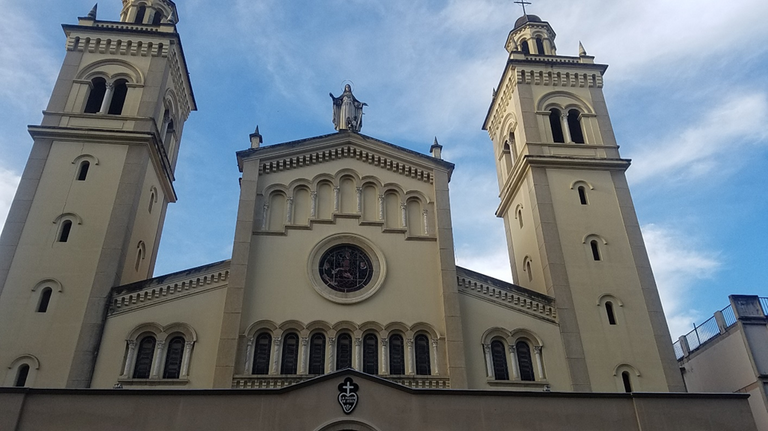 The three towers that make up the temple (Las tres torres que compone el templo)
     Sobre el altar mayor se encuentra una imponente cúpula de azul intenso, la iglesia se encuentra rodeada de una cantidad de ventanales en su parte superior que permite la entrada de la luz natural a todo el recinto.
---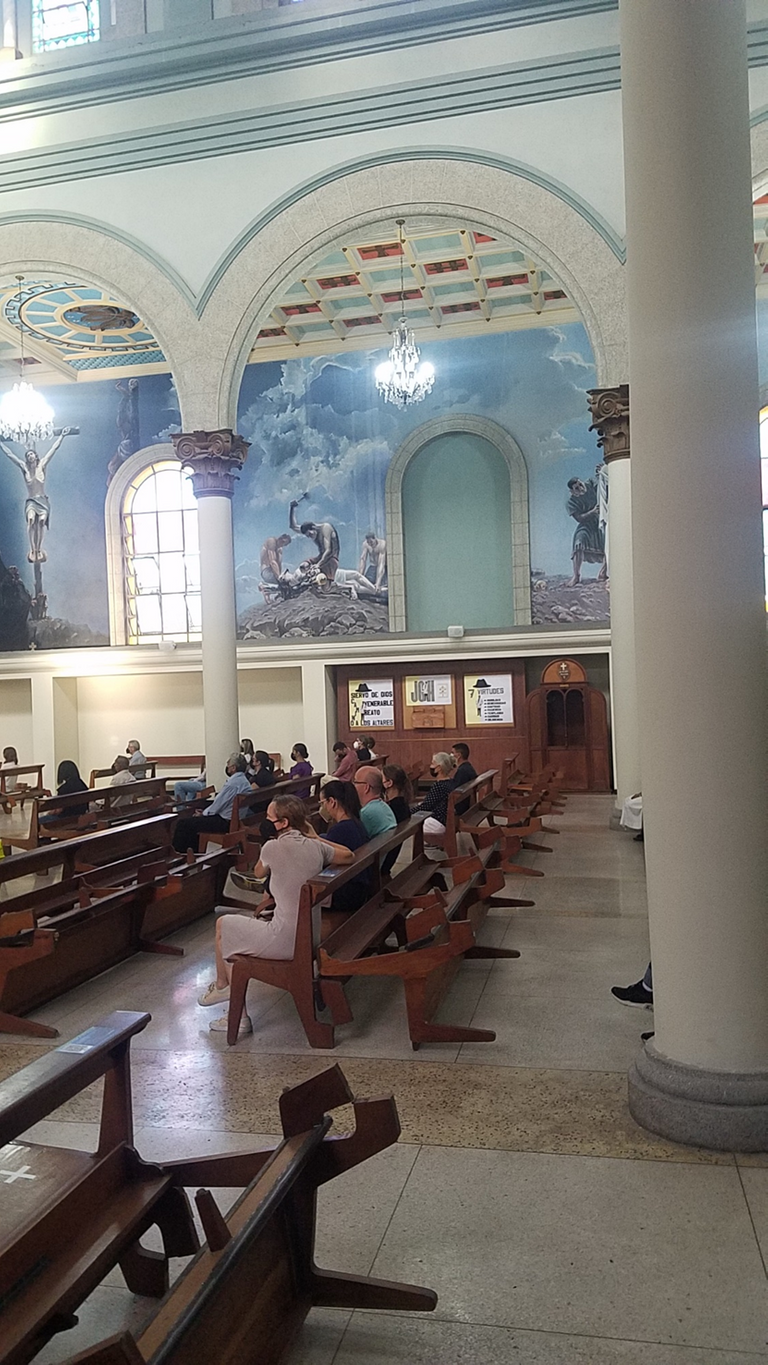 View, from the side, once inside the church (Vista, por un costado, una vez dentro de la iglesia)
     Los padres pasionarios no solo se encargan de la salud espiritual de sus feligreses, sino también se ocupan de la salud física con la prestación de servicios en el "Dispensario Médico Santo Cristo", que se encuentra en el recinto de la iglesia y también de la parte educativa a través del Colegio Santa Gema, cuya edificación está a un costado del templo.
---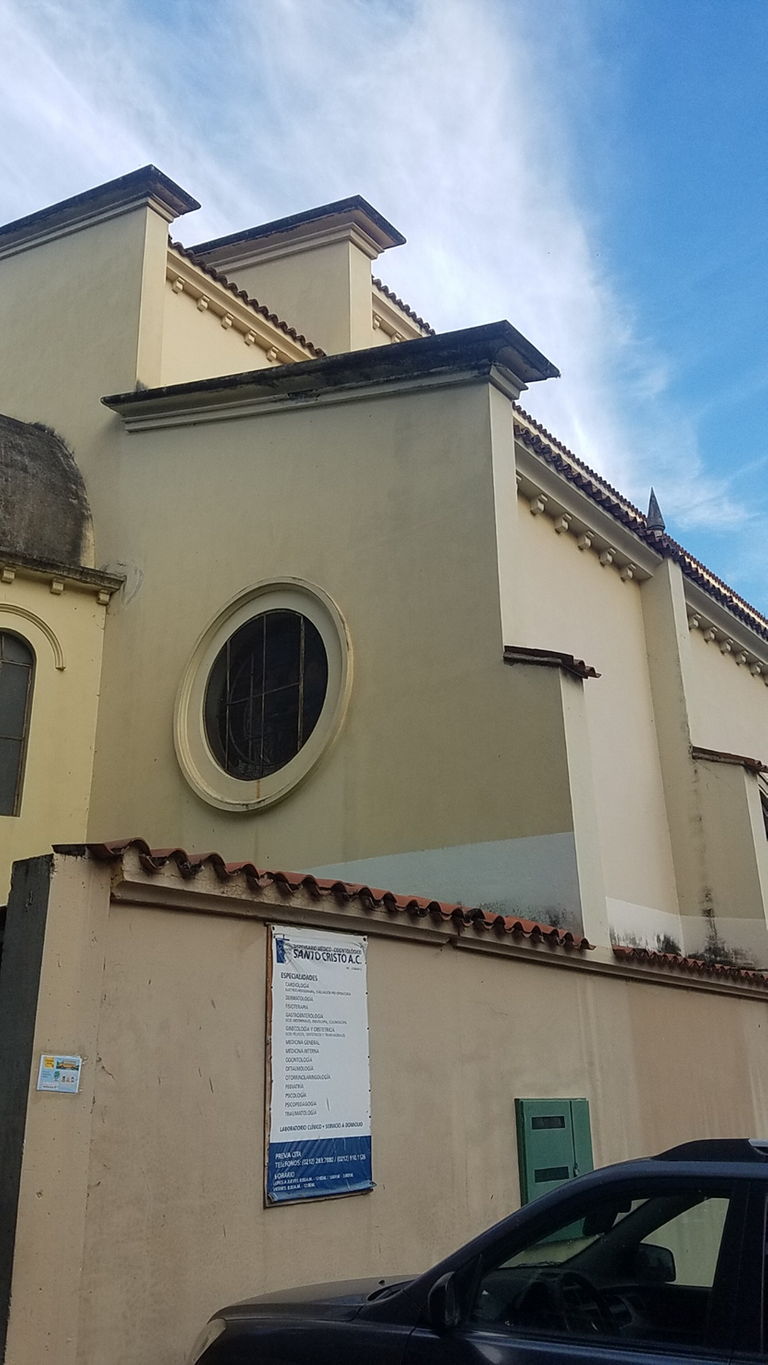 The church's medical clinic provides medical-dental services to those who deserve it (Dispensario médico de la iglesia presta servicio médico-odontológico a quienes lo ameriten)
---
Photo gallery (Galería de fotos)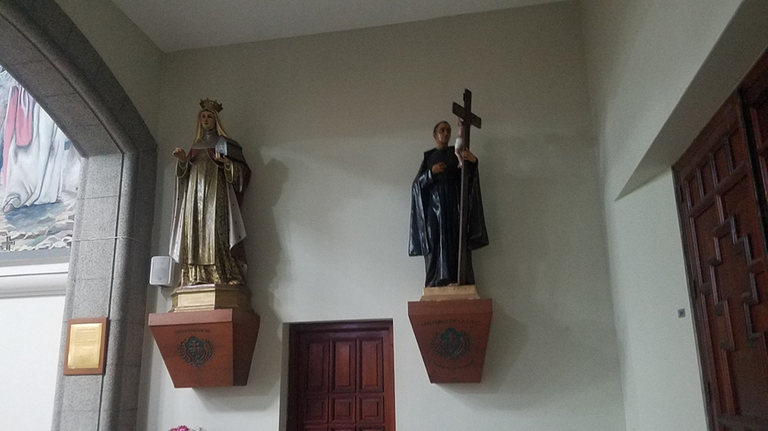 Inside the temple there are several niches with images of saints (Dentro del templo hay varios nichos con imágenes de santos)
---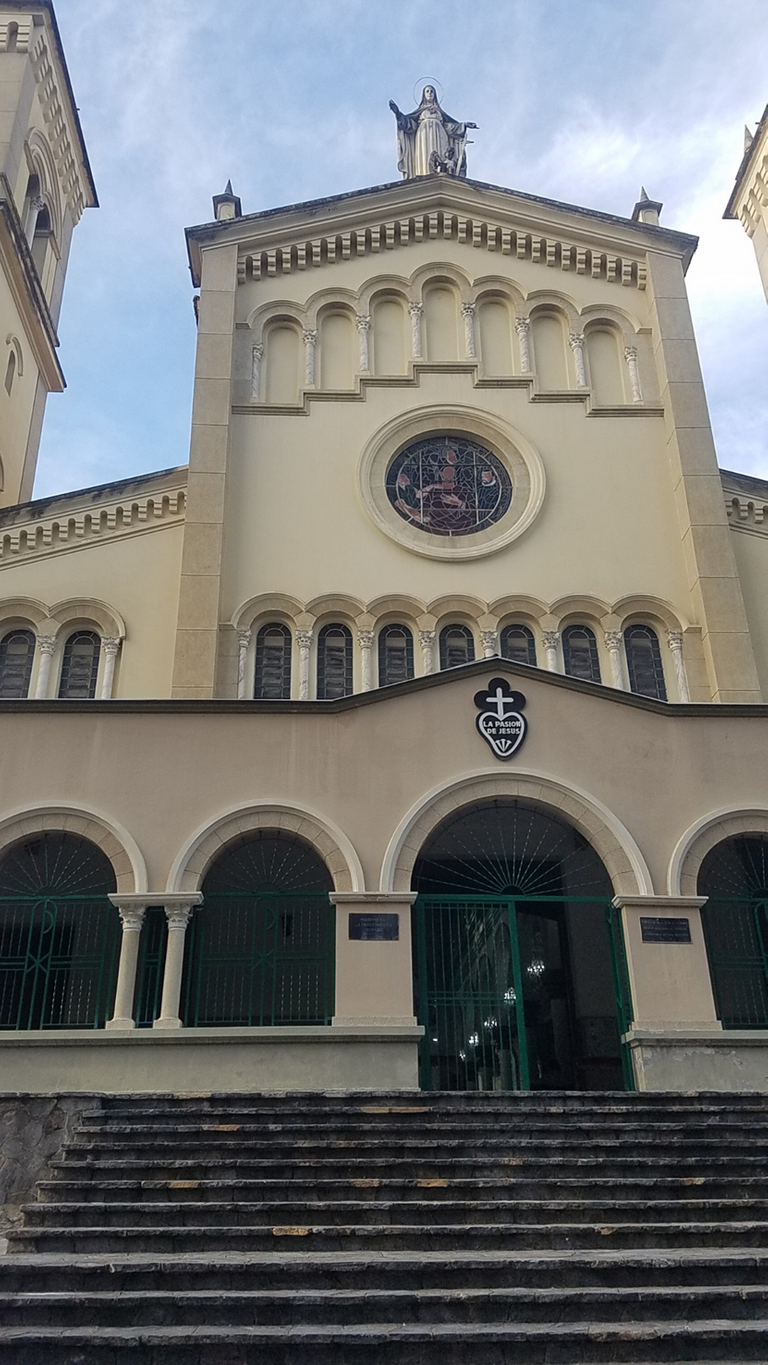 Exterior view of the main nave of the church (Vista exterior de la nave principal de la iglesia)
---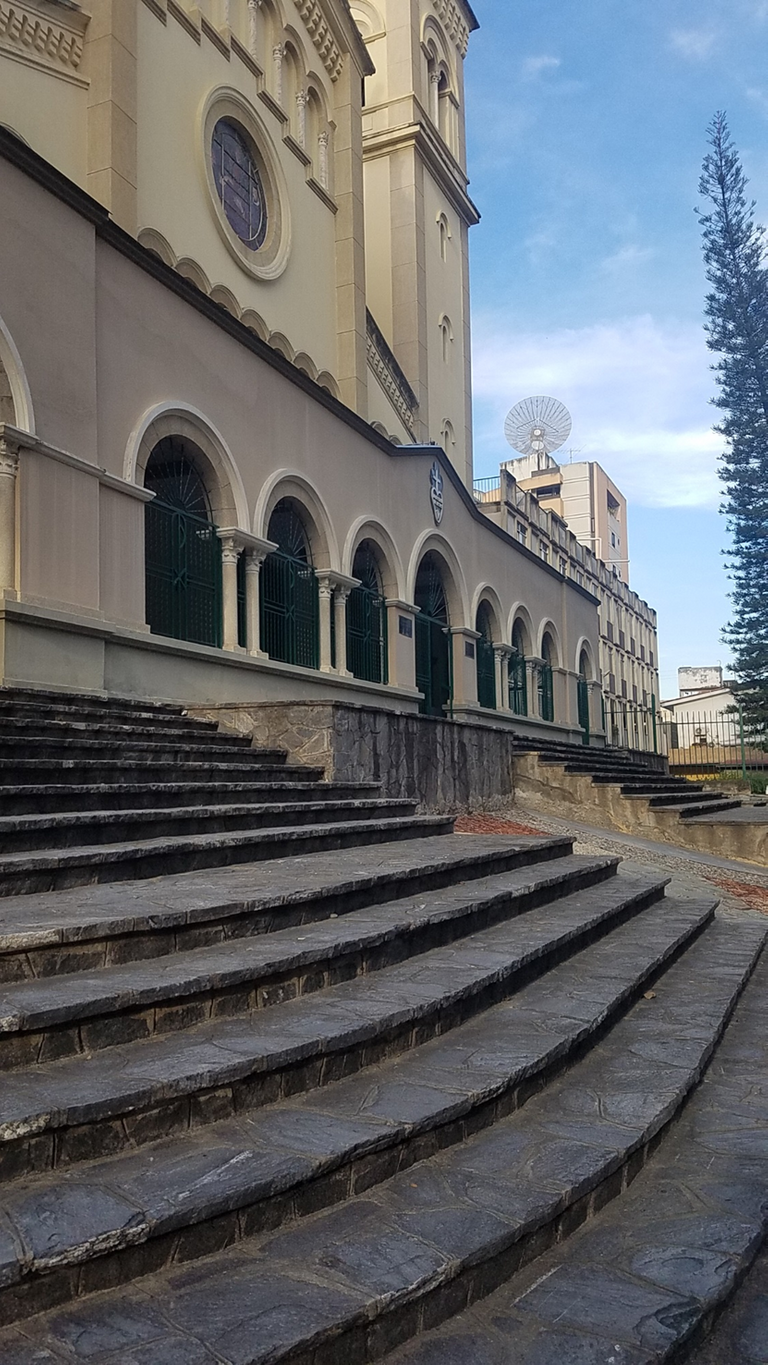 Stairs to access the main entrance (Escaleras para acceder a la entrada principal)
---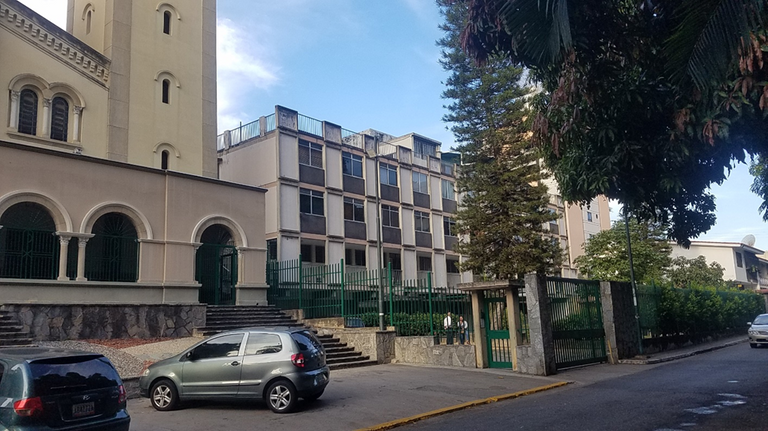 Next to the church is the College run by the Passionist Fathers (Al costado de la iglesia se encuentra el Colegio que administran los padres pasionistas)
---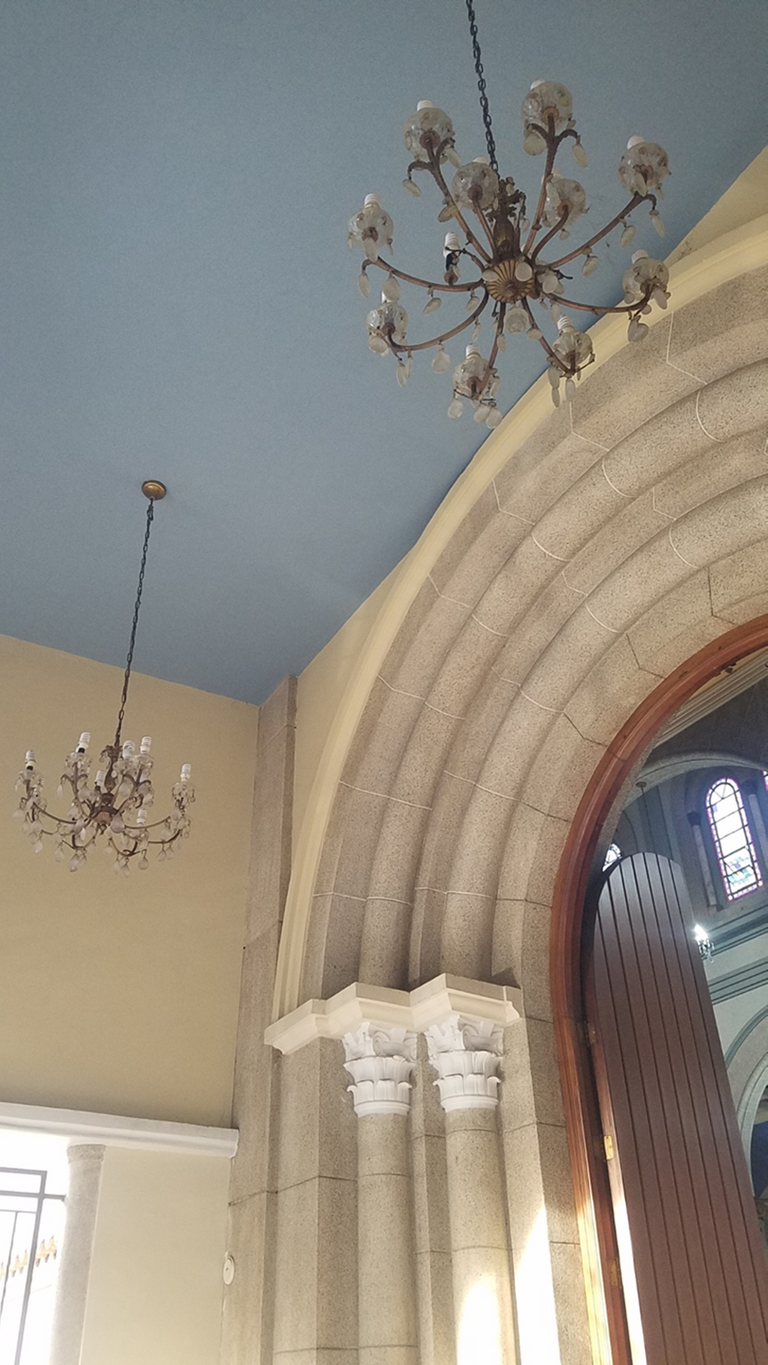 ---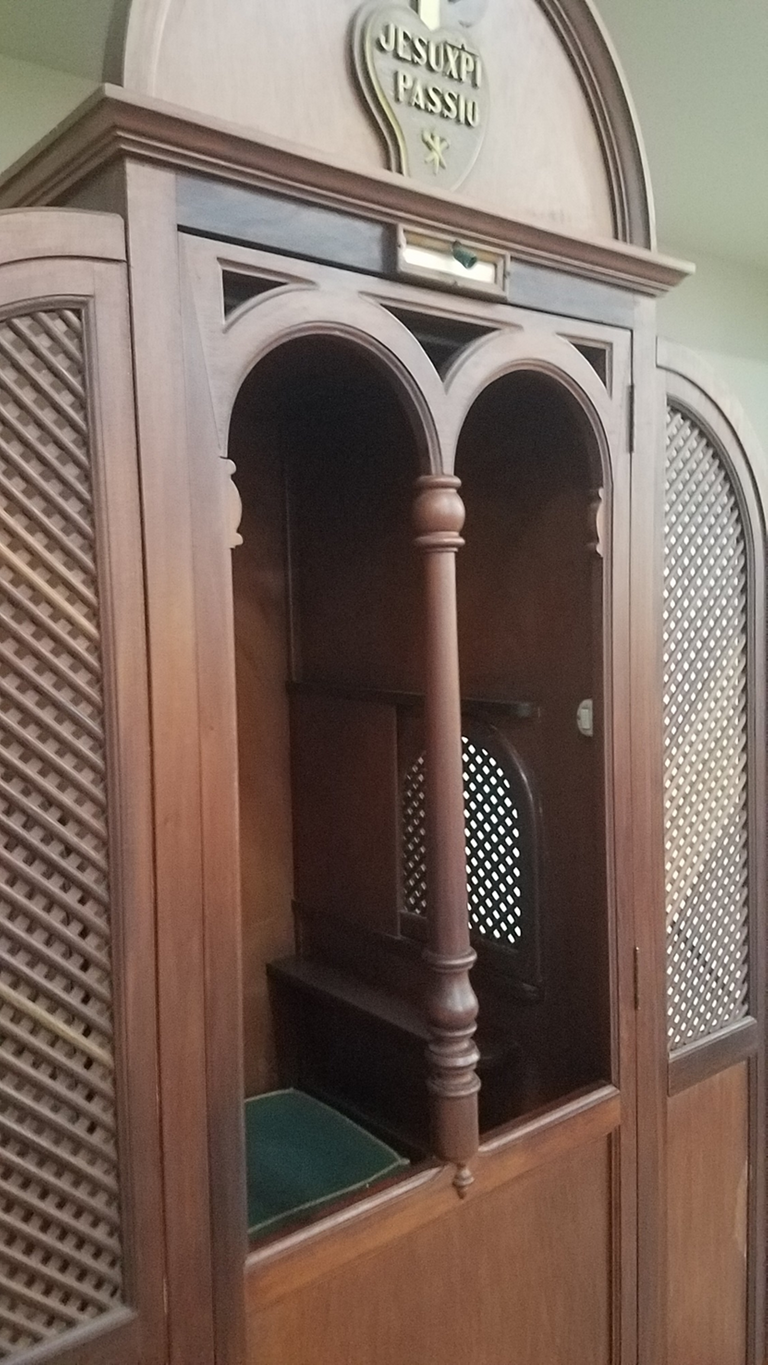 The confessionals were totally made and carved in wood (Los confesionarios fueron totalmente hechos y tallados en madera)
---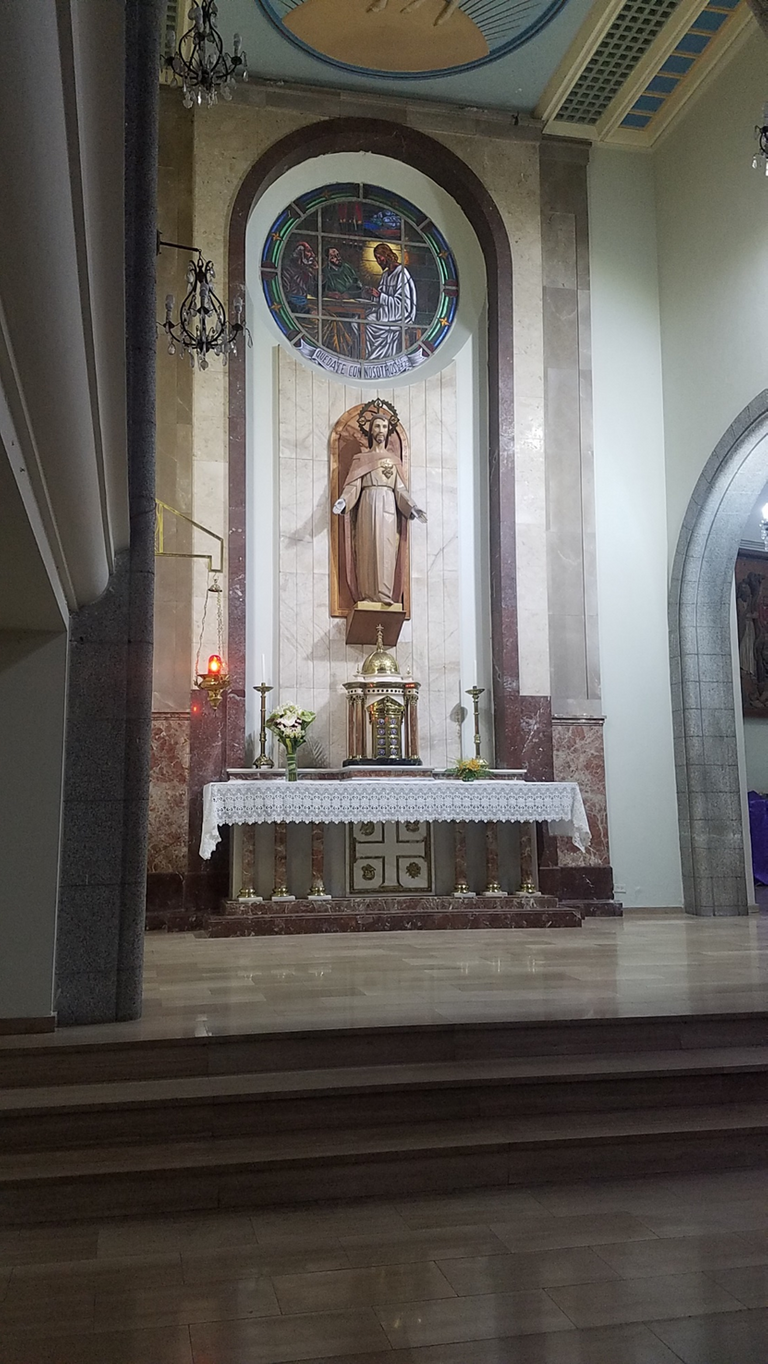 Altar in the left nave of the temple (Altar en la nave izquierda del templo)
---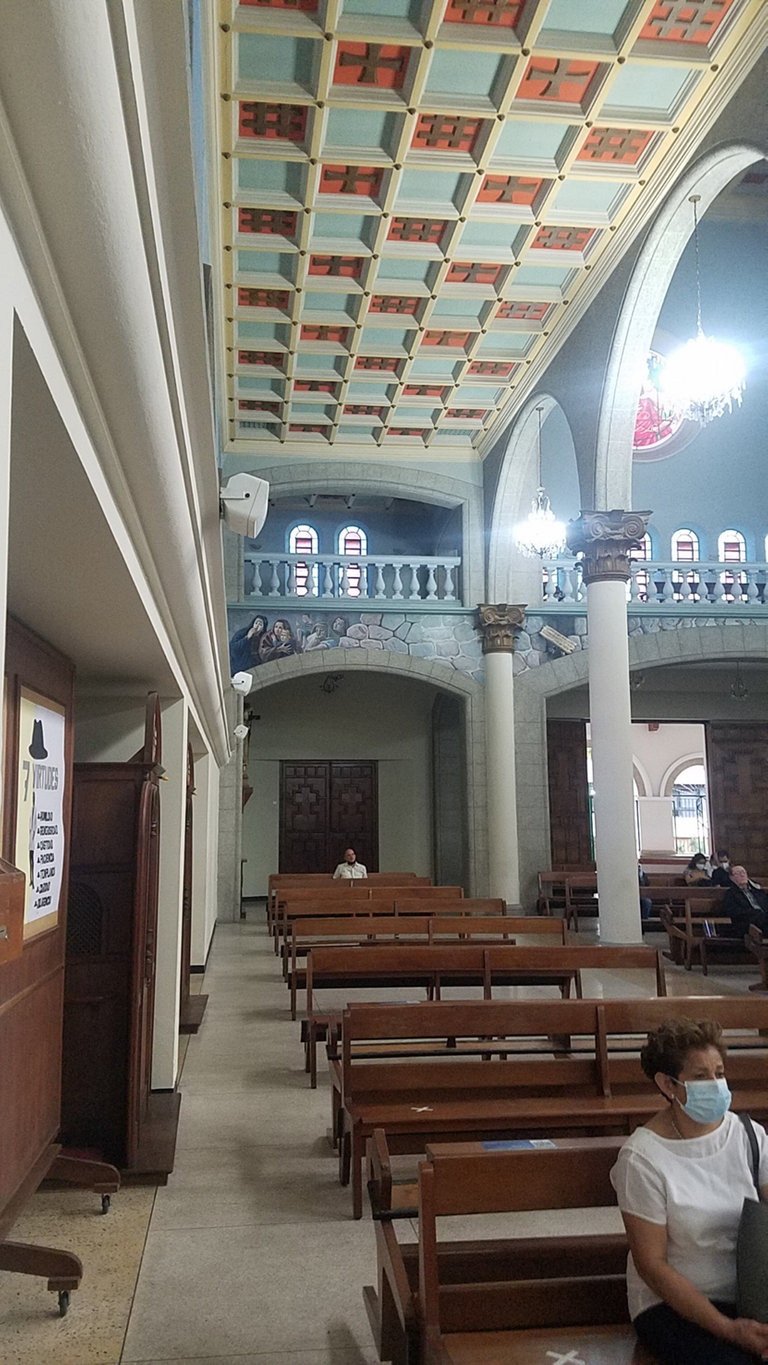 Interior of the church with its second floor at the bottom (Interior de la iglesia con su
segundo piso al fondo)
---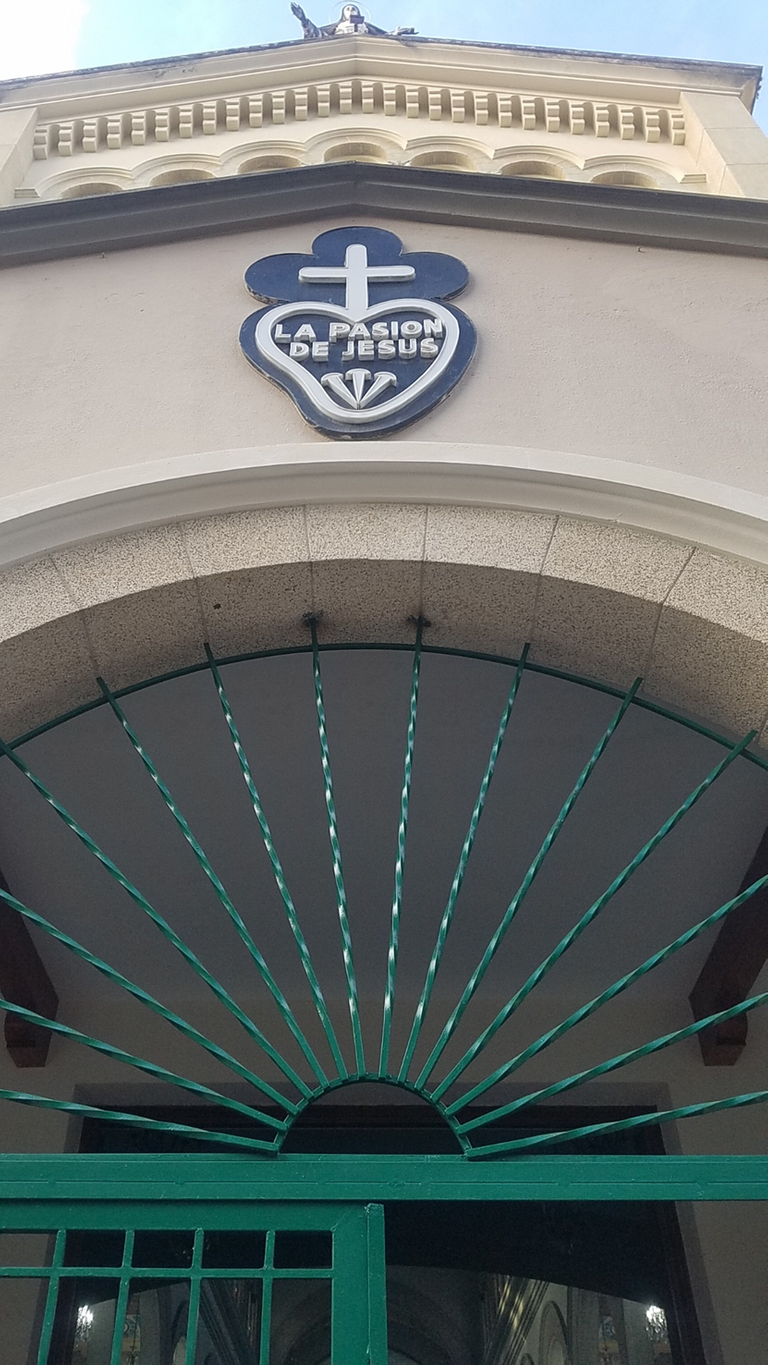 ---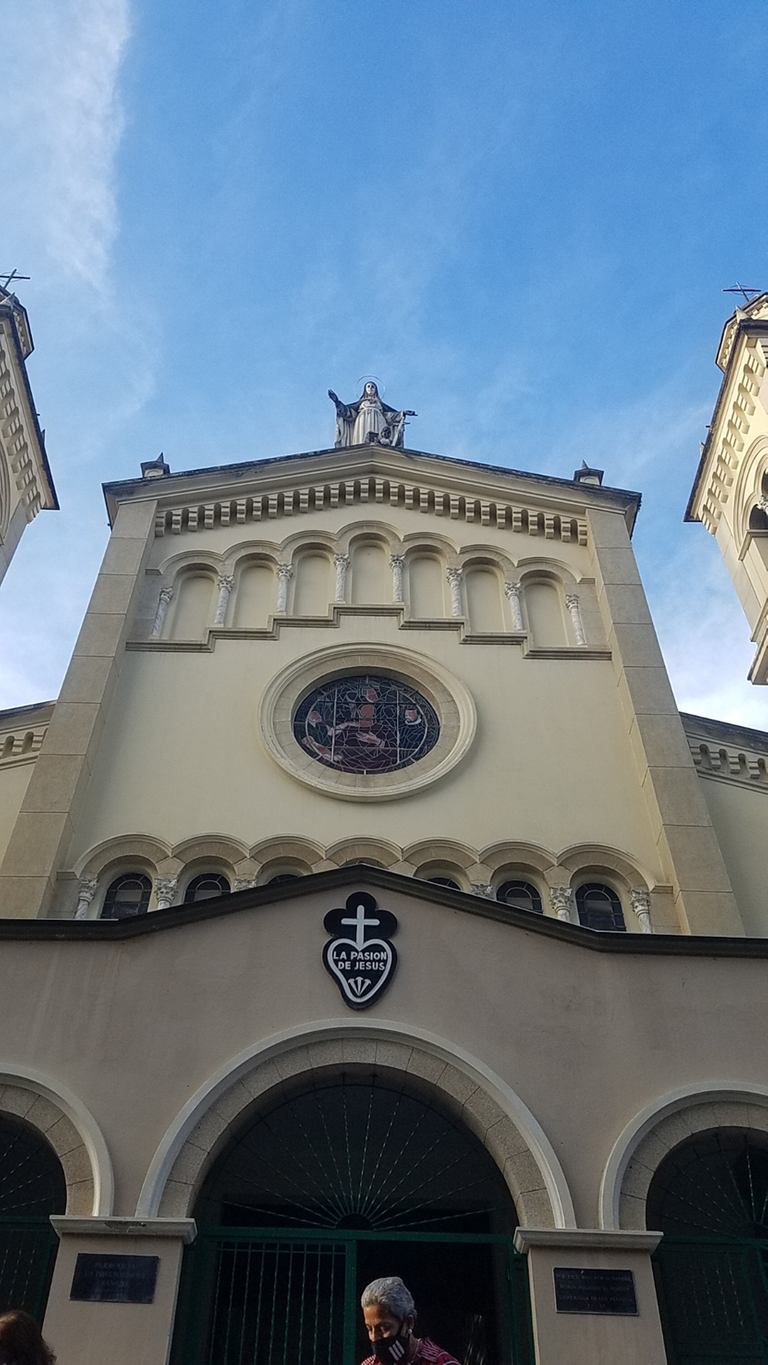 ---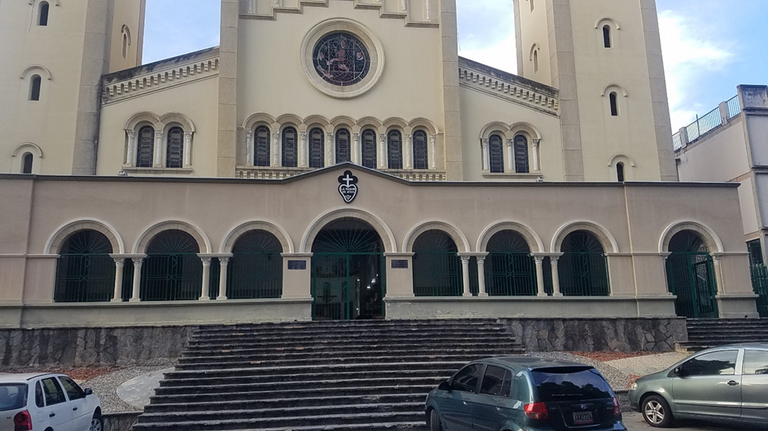 ---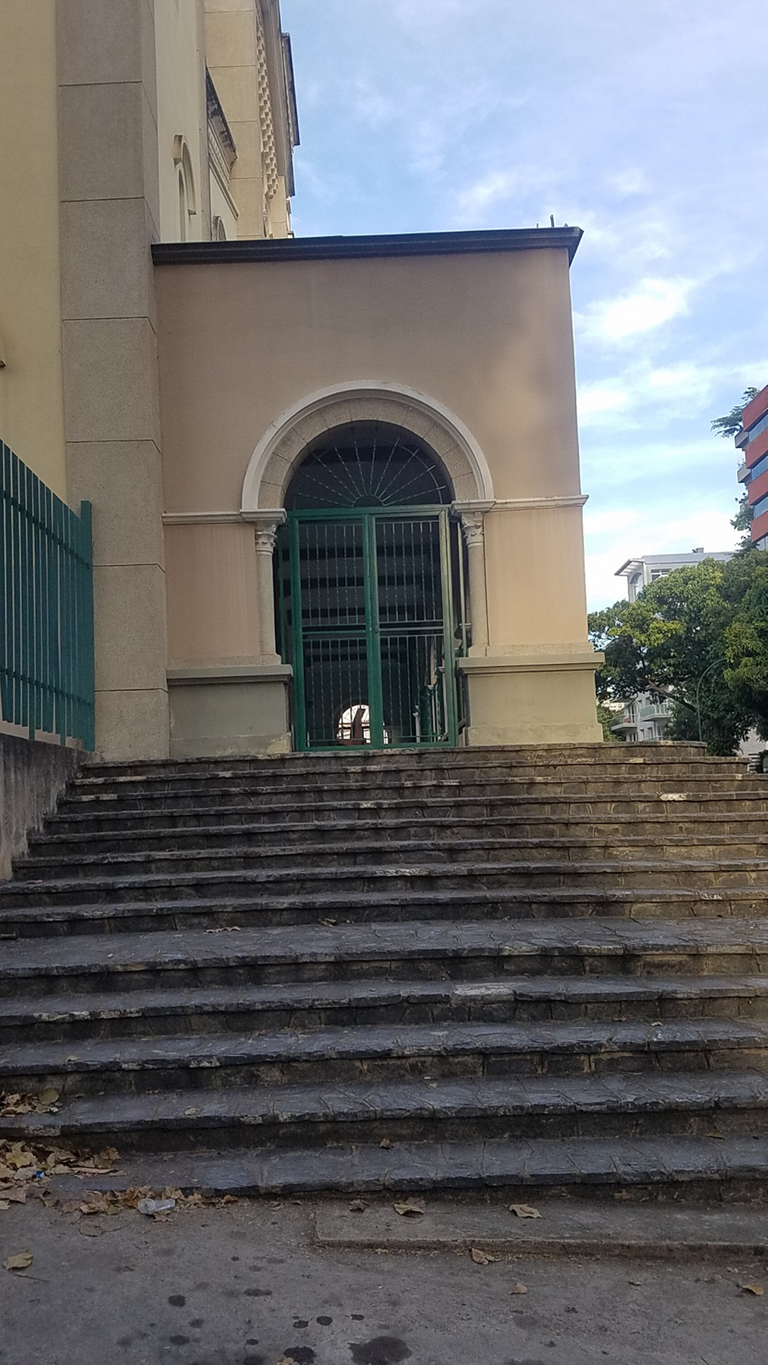 ---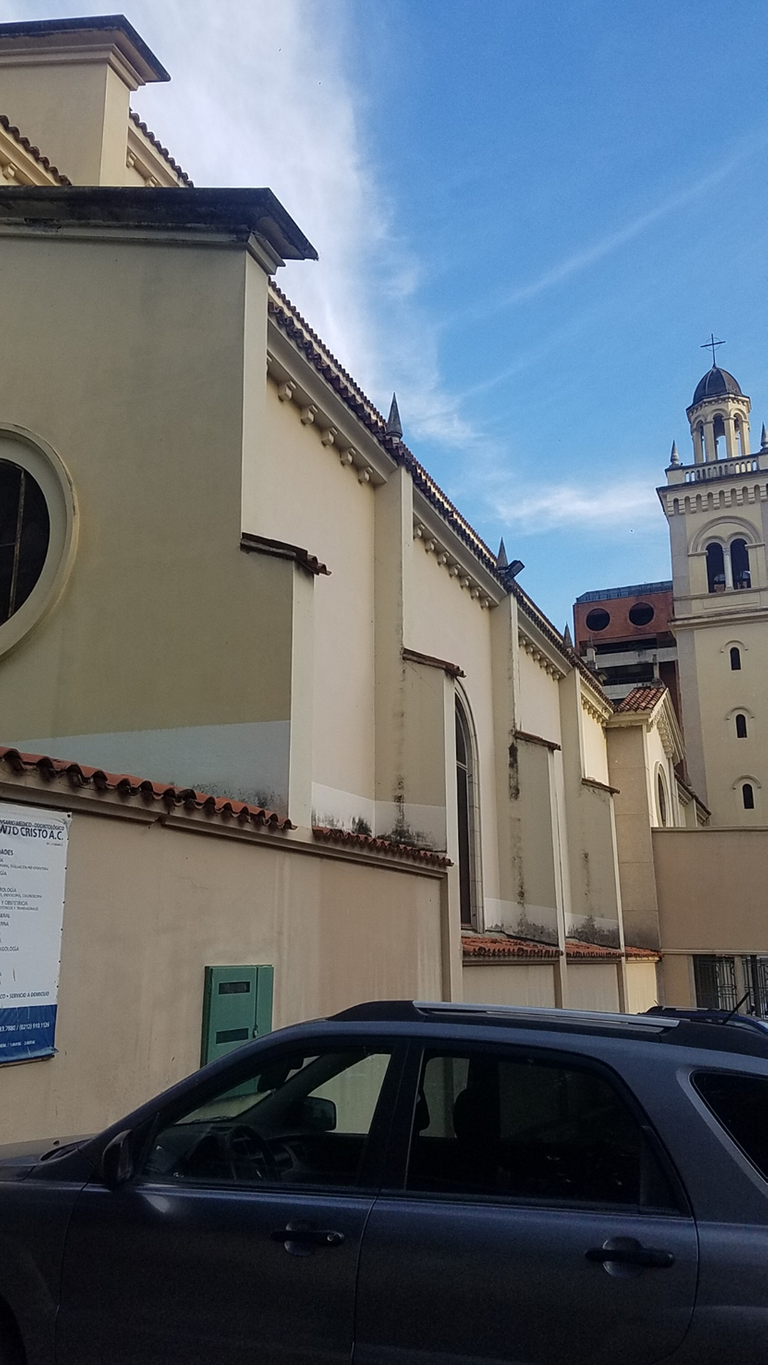 ---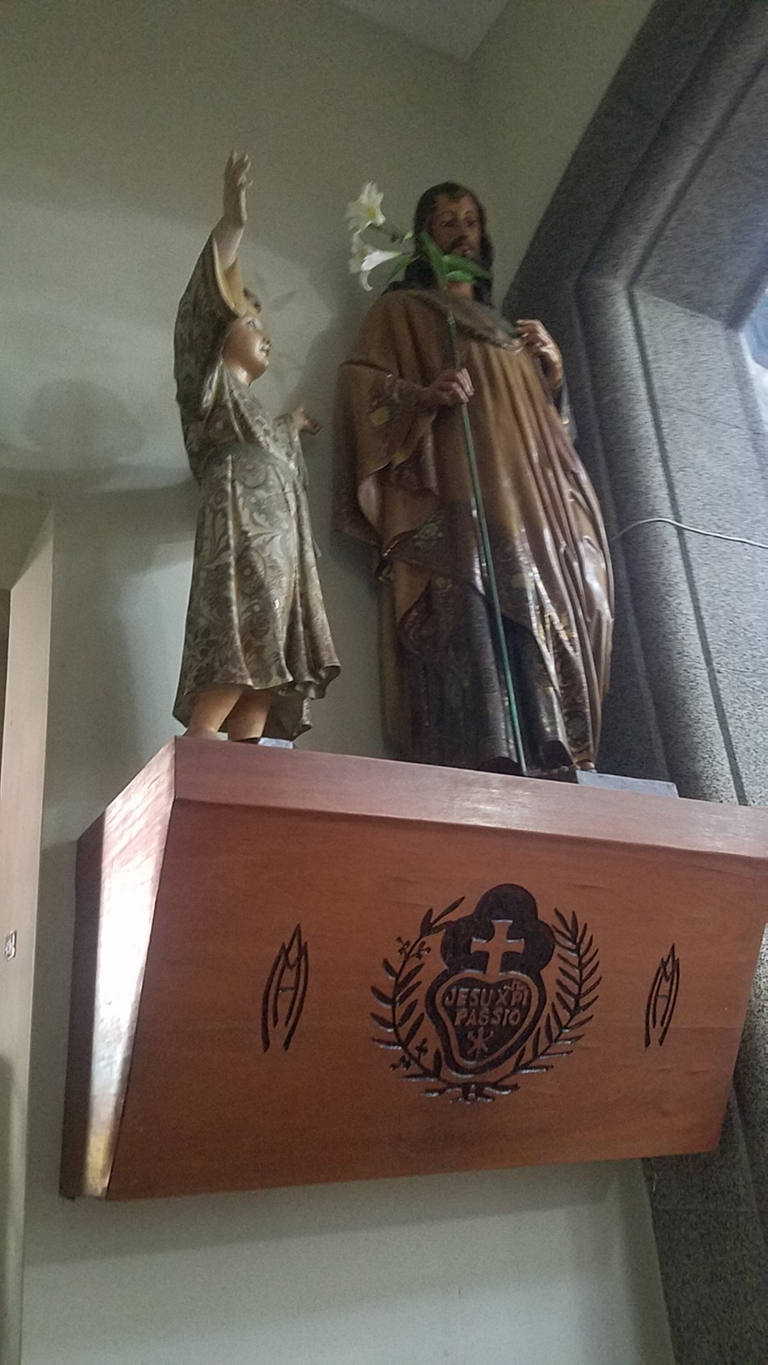 ---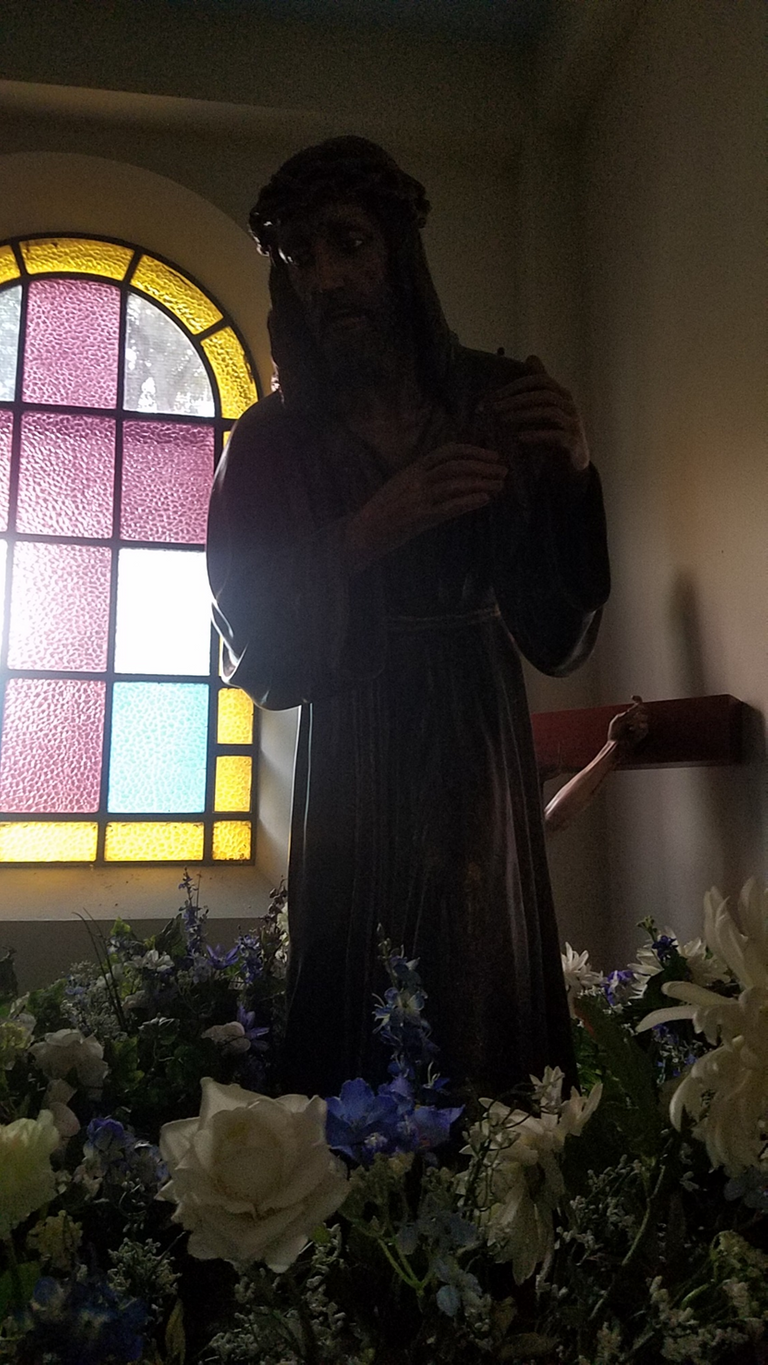 ---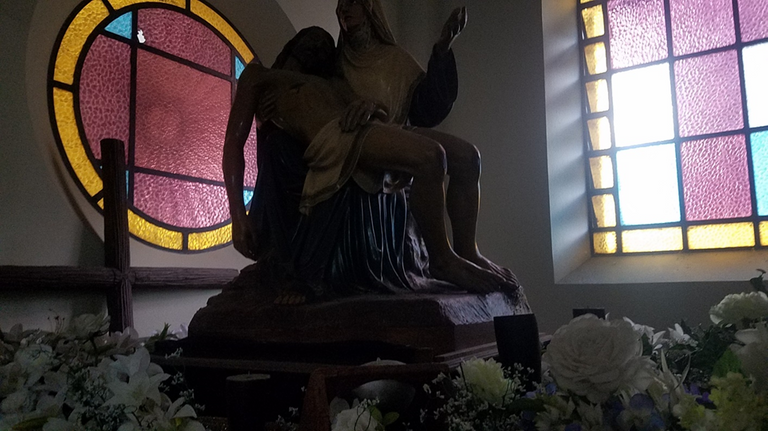 ---
---
---