[ENG] A well-known restaurant-pizzeria in the city of Buenos Aires [ESP]Un restaurante-pizzería bien conocido en la ciudad de Buenos Aires
An iconic restaurant-pizzeria in the city of Buenos Aires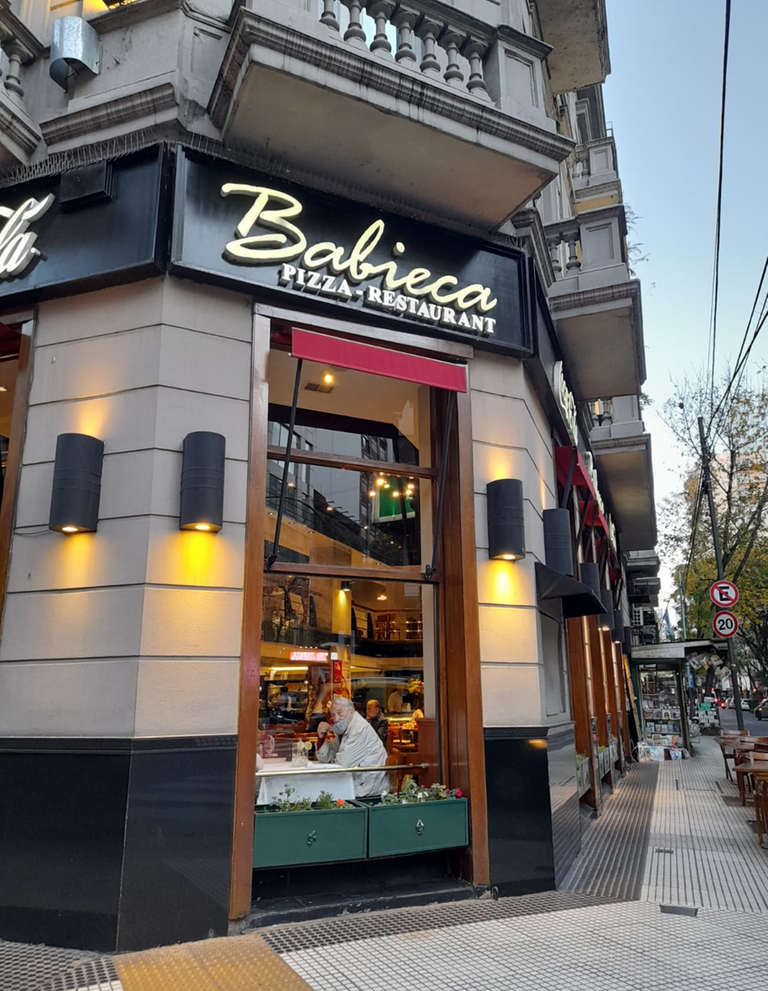 The corner building of the Babieca restaurant in Buenos Aires (El esquinero edificio del restaurante Babieca en Buenos Aires)
     Dear reader friends and curators of the communities that honor me with your appreciations and comments. Today I am going to present a series of photographs of the Pizzeria, Cafeteria, Restaurant or also known as the "Babieca" Confectionery of Buenos Aires, captured by my sister Myrna, who was in Buenos Aires and has allowed me to use them to make this post that I give you with great appreciation.
---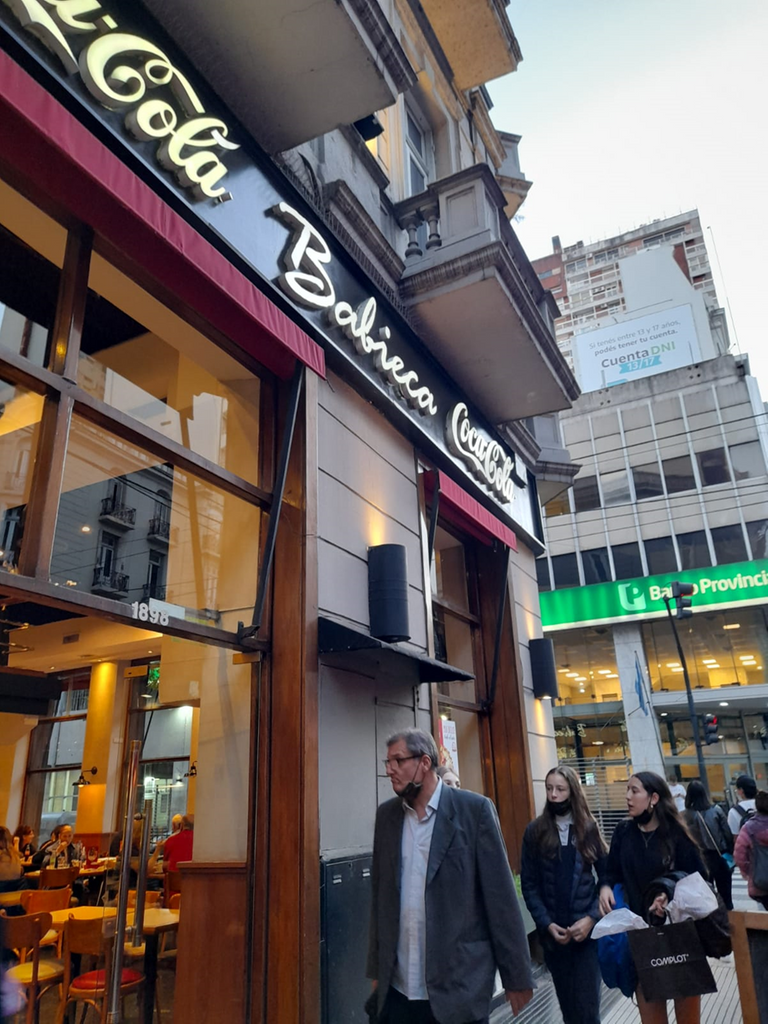 Entrance to the Restaurant (Entrada al Restaurante)
     La Babieca is a restaurant, that specializes in pizzas, is emblematic of Buenos Aires, and is located on Santa Fe Avenue with Riobamba corner in Barrio Norte. It is a two-storey structure with magnificent decoration and a cozy atmosphere. That has become an obligatory stop for music lovers who attend opera performances at the Teatro Colón.
---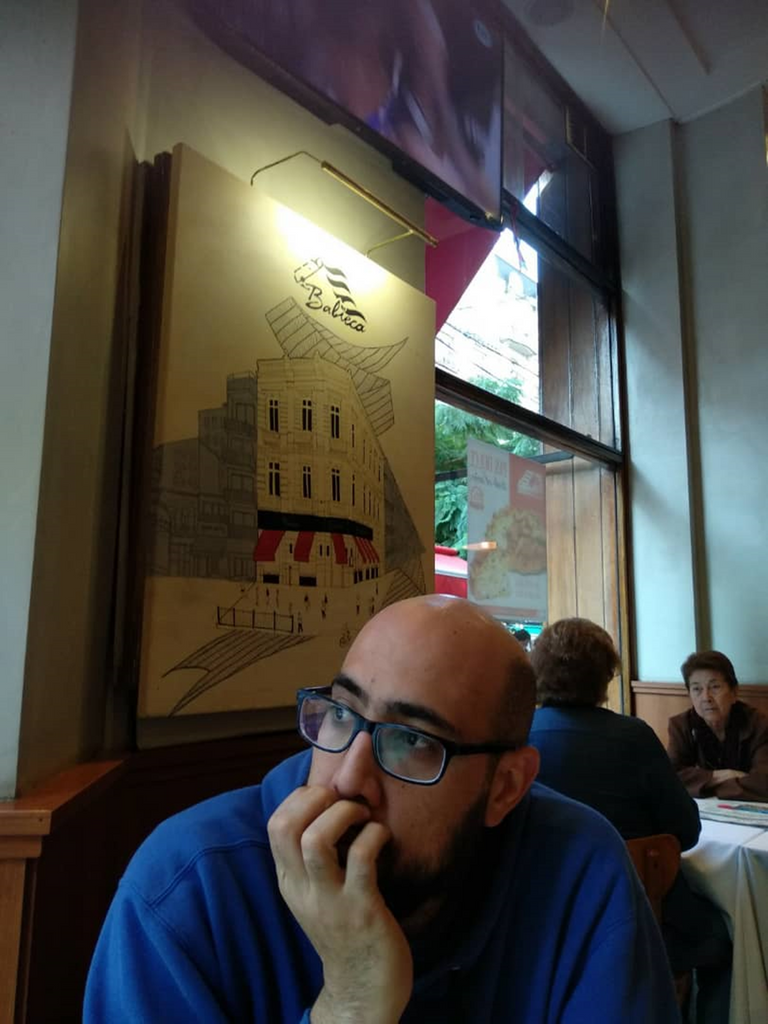 My nephew Edgar with the emblematic poster of Babieca, behind his back (Mi sobrino Edgar con el afiche emblemático de la Babieca, a sus espaldas)
     Like almost all the first restaurants and cafes in Buenos Aires, its presentation and category are strictly European, fundamentally Parisian in style.
---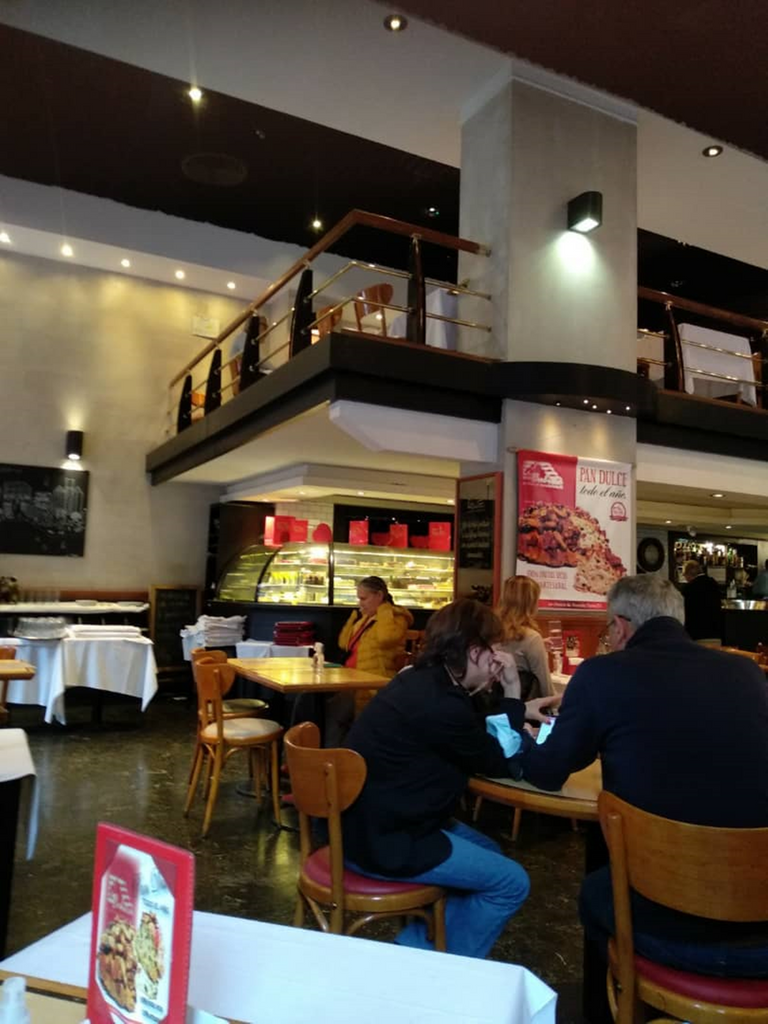 Large and thick columns support the structure of the building (Grandes y gruesas columnas soportan la estructura del edificio)
     La Babieca is listed as No. 60 among 3,268 pizzerias in Buenos Aires and is the most visited place by artists and personalities from the Buenos Aires show business, whose origin dates back to 1840, although, at that time, it was originally an old pizzeria with brick walls. tiles that served customers traveling from Buenos Aires to the Pampas. Later, in 1944, it became the "El Modelo" Confectionery, until in 1980 the building became what we can see today, adding the upper floor, to expand the services of the premises 24 hours a day.
---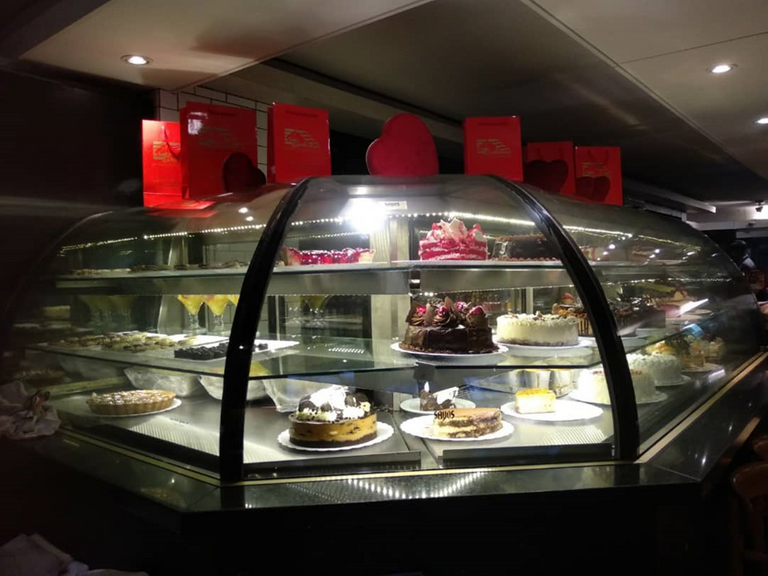 The restaurant's pastry shop is one of the attractions after a good meal (La pastelería del Restaurante es uno de los atractivos después de una buena comida)
     The menu of the Restaurants is very extensive, and as far as pizzas and kinds of pasta are concerned, they are truly extraordinary, since the dough is homemade and they offer more than 20 types of sauces as specialties, including, in addition, delicacies such as chicken pizza or the arugula or arugula, raw ham and dried tomato, being the first one, the chicken one, chosen by my relatives during their visit to the place.
---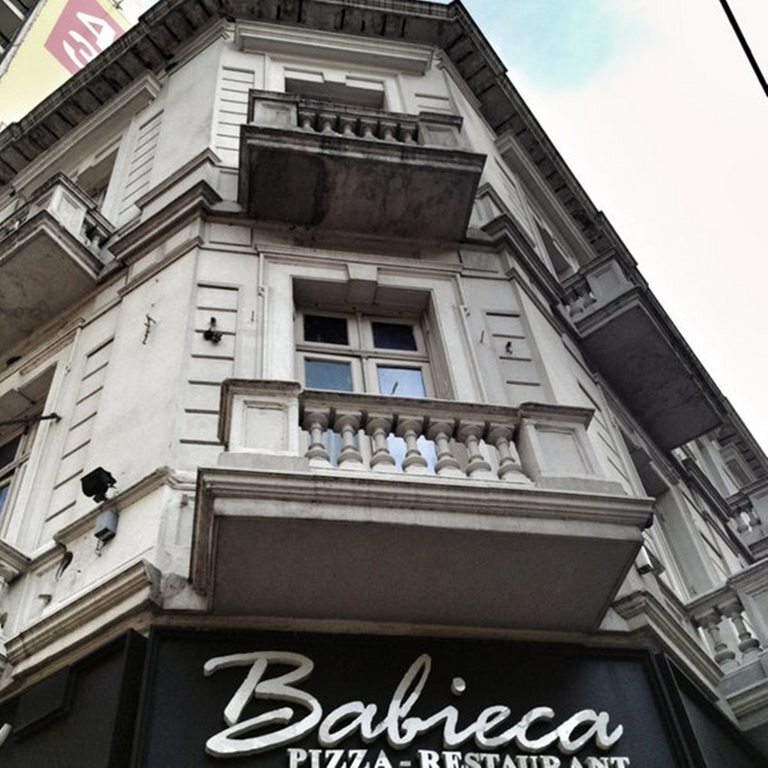 Pizza-Restaurant Babieca, two floors redesigned on a building from the beginning of the 20th century (Pizza-Restaurant Babieca, dos pisos rediseñados sobre un edificio de principios del siglo XX) Image
---
Un restaurante-pizzería icónico en la ciudad de Buenos Aires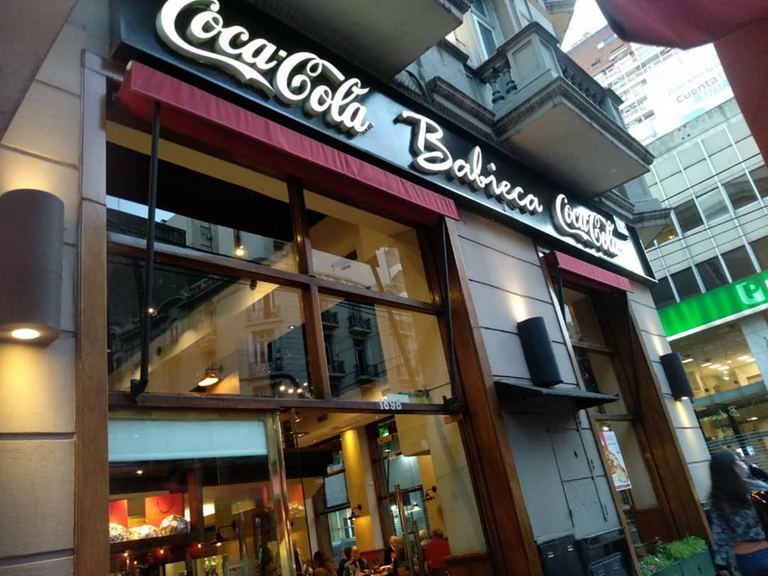 The building above the restaurant shows typical balconies of Spanish architecture (La edificación encima del restaurante muestra unos balcones típicos de la arquitectura española)
     Estimados amigos lectores y curadores de las comunidades que me honran con sus apreciaciones y comentarios. Hoy les voy a presentar una serie de fotografías de la Pizzería, Cafetería, Restaurante o también conocida como Confitería "Babieca" bonaerense, capturadas por mi hermana Myrna, quien se encontraba en Buenos Aires y me ha permitido usarlas para hacer este post que les entrego con mucho aprecio.
---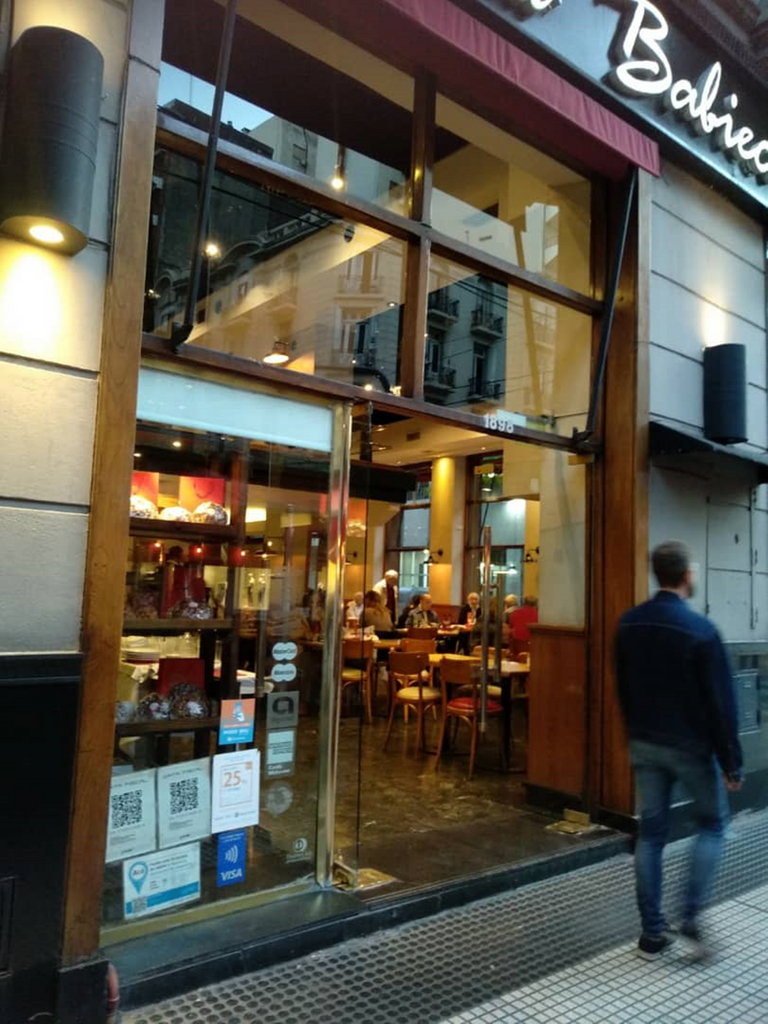 The large windows give an internal panoramic view of the Restaurant (Los grandes ventanales dan una vista panorámica interna del Restaurante)
     Babieca es un restaurante, especializado en pizzas, emblemático de Buenos Aires y está ubicada en la avenida Santa Fe con esquina Riobamba en el Barrio Norte. Es una estructura de dos plantas con una magnífica decoración y un ambiente acogedor. Que se ha convertido en parada obligatoria de los melómanos que asisten a las funciones de ópera del Teatro Colón.
---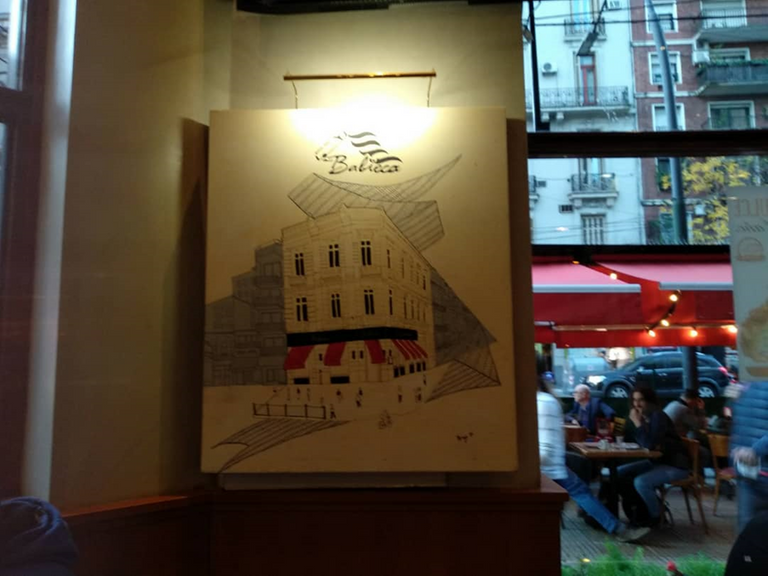 In the foreground the poster with the emblem of the Restaurant, in the background you can see the service part on the side sidewalk of the building (En primer plano el afiche con el emblema del Restaurante, al fondo se nota la parte de servicio en la acera lateral del edificio)
     Como casi todos los primeros restaurantes y cafés de Buenos Aires, su presentación y categoría es estrictamente europea, fundamentalmente de estilo parisino.
---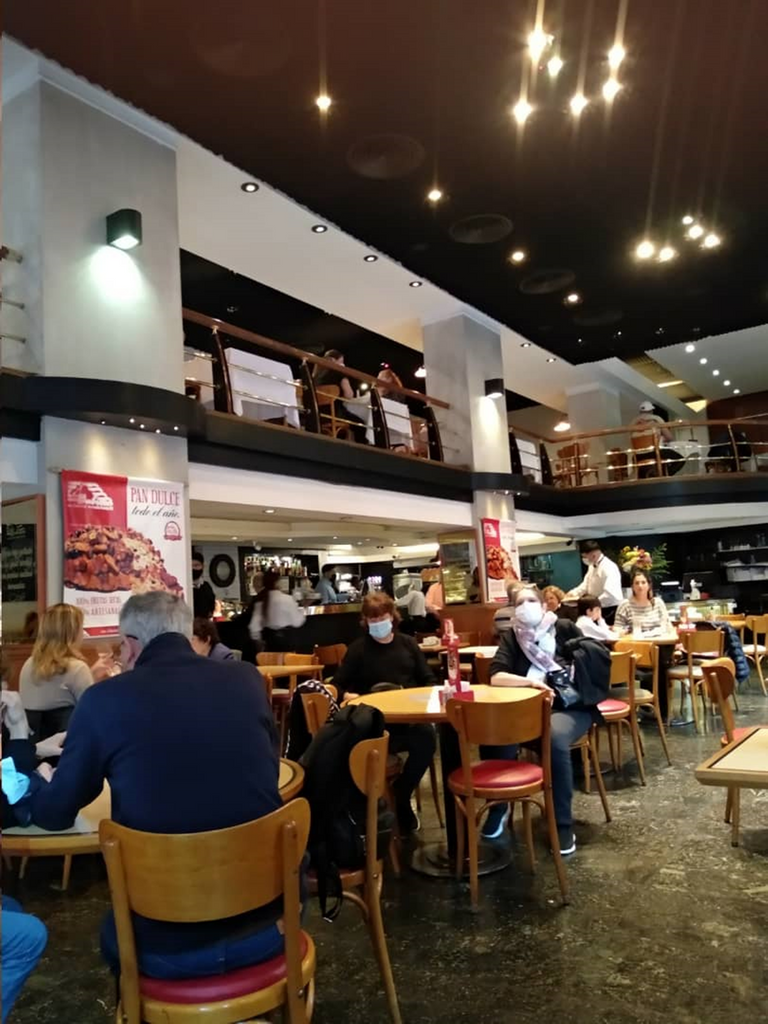 The spacious restaurant inside with a modernist structure and furniture, splendidly lit (El espacioso restaurante en su interior con una estructura y mobiliario modernistas , espléndidamente iluminado)
     La Babieca está catalogada como la No 60 entre 3268 pizzerías en Buenos y es el lugar mas visitado por artistas y personalidades de la farándula porteña, cuyo origen se remonta al año 1840, aunque, en aquel entonces, era originalmente una vieja pizzería con paredes de azulejos que servía a los clientes que viajaban de Buenos Aires a la Pampa. Posteriormente, en 1944 se convirtió en la Confitería "El Modelo", hasta que en 1980 el edificio se convierte en lo que hoy podemos apreciar, añadiéndole la planta alta, para expandir los servicios del local durante las 24 horas del día.
---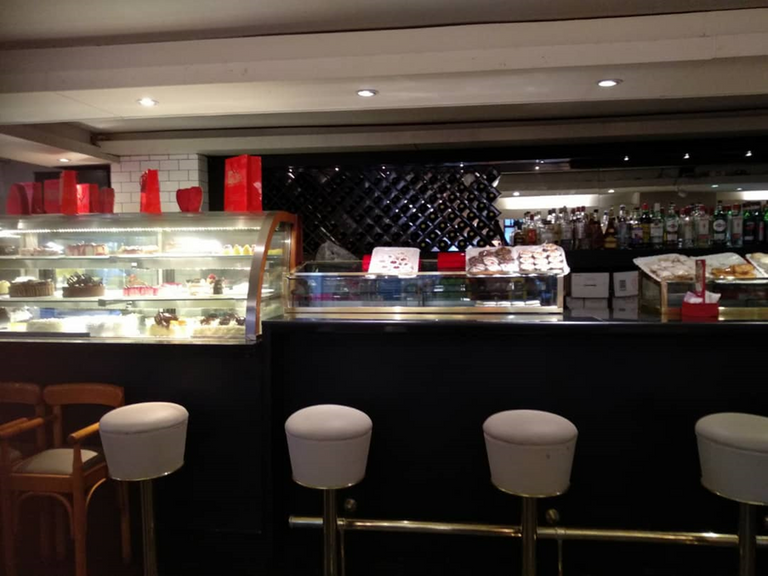 The bar of the restaurant, finely designed (La barra del restaurante, finamente diseñada)
     La carta del Restaurantes es muy amplia, y en lo que atañe a pizzas y pastas son verdaderamente extraordinarias, ya que la masa es hecha en casa y ofrecen como especialidades más de 20 tipos de salsas, incluyendo, además, exquisiteces como la pizza de pollo o la de rúcula o rúgula, jamón crudo y tomate seco, siendo la primera de ellas, la de pollo, escogida por mis familiares en su visita al lugar.
---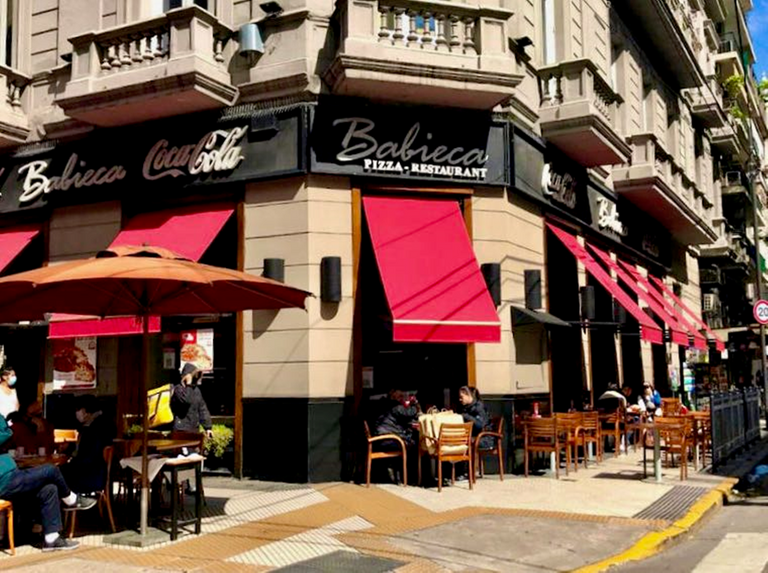 The restaurant, when the weather allows it, uses the surrounding sidewalks to serve diners (El restaurante, cuando el clima lo permite, utiliza las aceras aledañas para atender a los comensales)
Image
---
Photos gallery (Galería de fotos)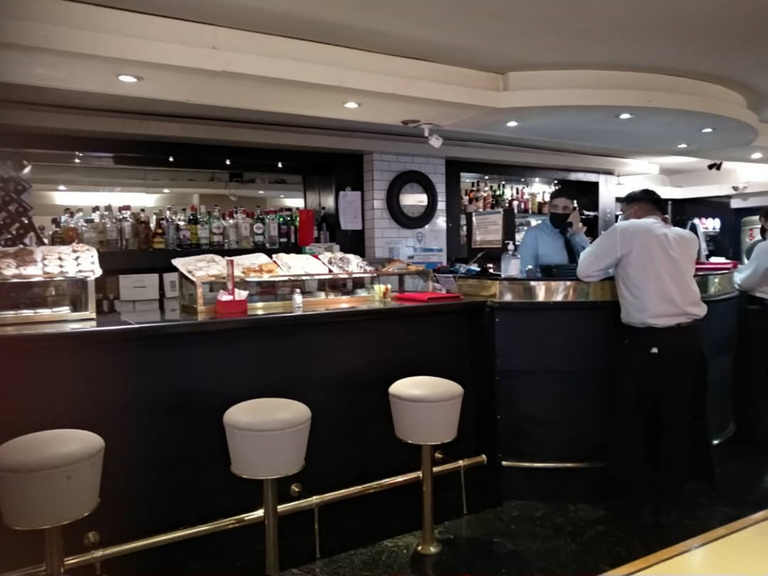 Another shot of the bar (Otra toma de la barra)
---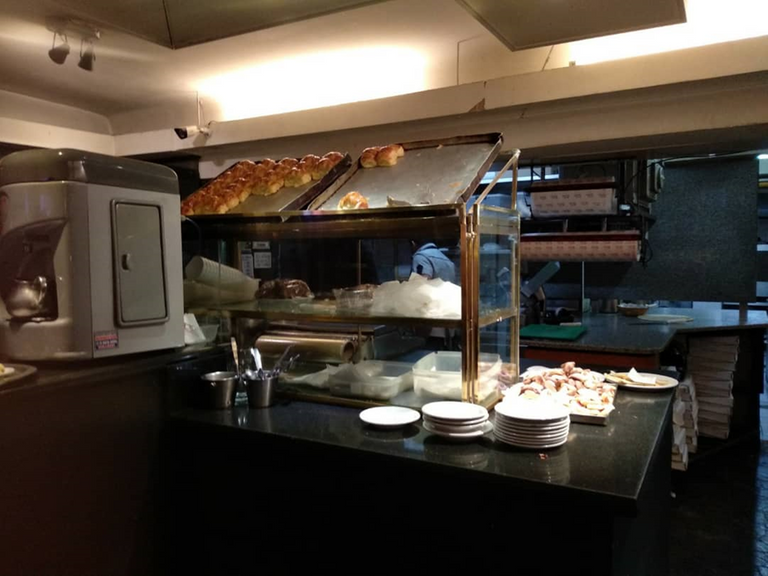 The restaurant's pastry and bakery (La pastelería y panadería del restaurante)
---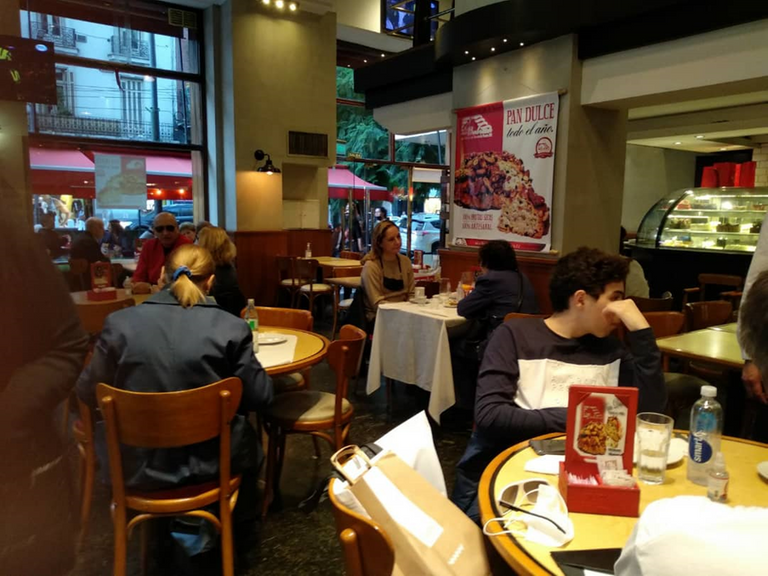 The series of windows give the appearance that the restaurant is completely open (La serie de ventanales dan la apariencia de que el restaurante sea totalmente abierto)
---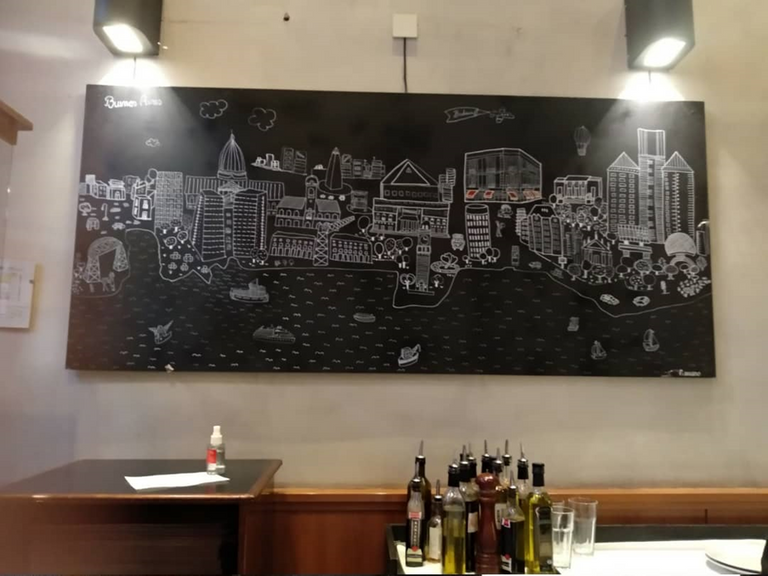 On one of its walls, the restaurant exhibits a carbon map of the city of Buenos Aires (En una de sus paredes el Restaurante exhibe un mapa al carbón de la ciudad de Buenos Aires)
---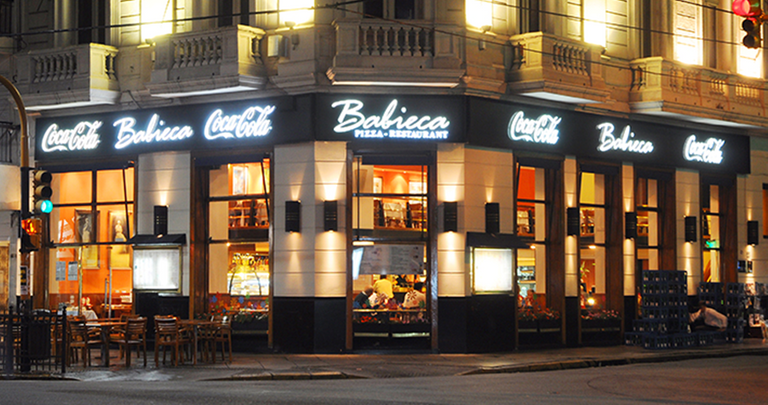 Overview of the Babieca restaurant (Panorámica del restaurante Babieca" Image
---
---
---