Saporito Cafe: Melbourne (AUSTRALIA)
Read this post on TravelFeed.io for the best experience
---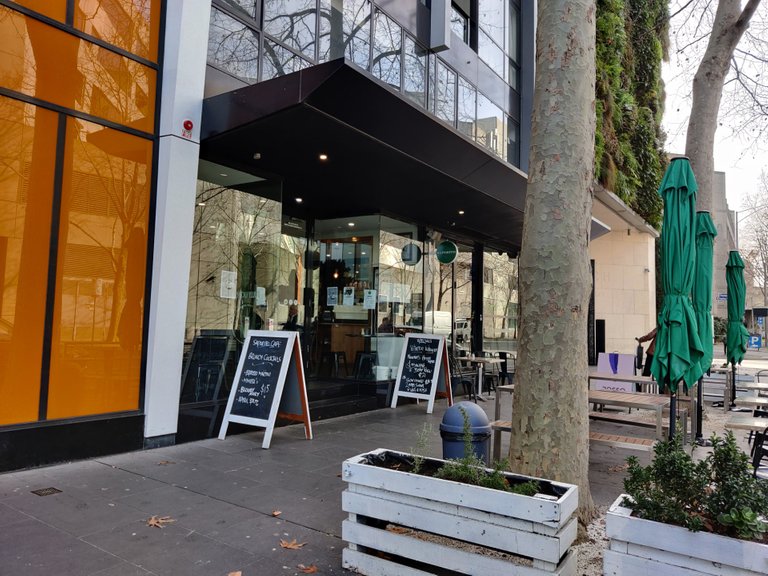 When you step off a stupidly early morning flight... you really would like to be able to step out of the taxi and straight into the bed at the hotel. However, sometimes, the hotel room isn't ready... well, if you are that early in the morning... the room is OFTEN not ready! Not fault of the hotel, they aren't supposed to be ready to check-in until later in the afternoon...
... still, you will need a place to crash and kill time. Saporito Cafe was this place for me on this particular day. I dumped my luggage at the hotel, and hung on to my violins and nerd-gear, and went in to have a well deserved coffee... and a bit of breakfast. For the crazy early morning flights, I skip breakfast... every little bit of extra sleep counts!

The Space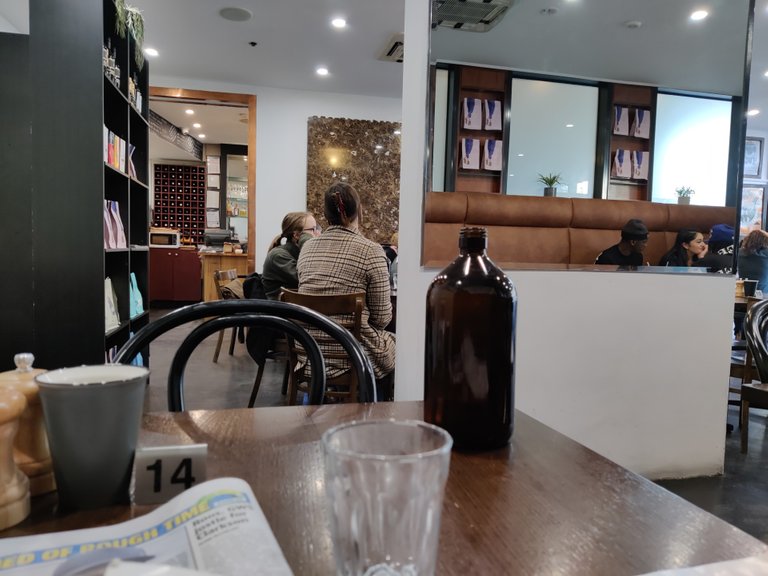 In addition to the outdoor seating area (it was winter, I'm not sitting out there... not raining, but it was pretty damn cold!... there is quite ample indoor seating as well. Nice cosy aesthetic, and if you can find a corner, a comfortable place to hole up for an hour or two... l
Nice wooden tables, mirrors and lots of natural light makes for a open and bright feeling even in the early winter morning!

The Menu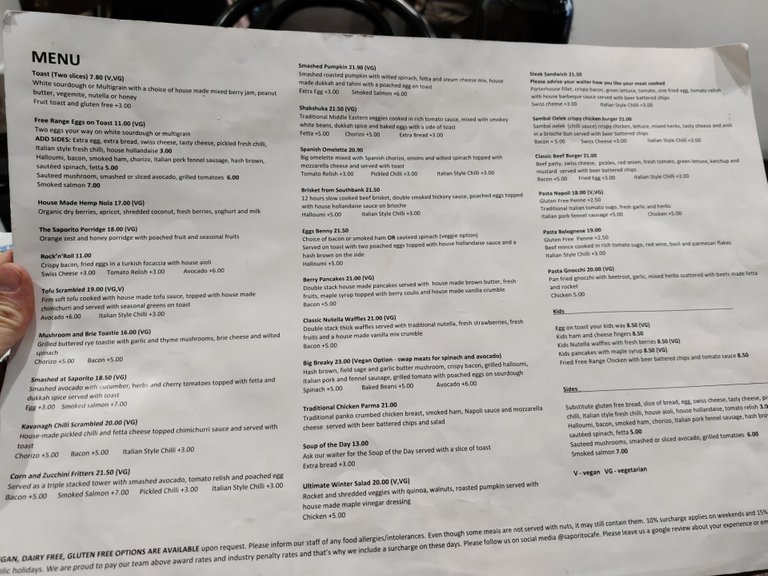 A crazy mix of different types of food selections... I'm not exactly sure what style it is. I don't think that there was a particular country or culinary style in mind... just a mix and match of various tasty sounding things.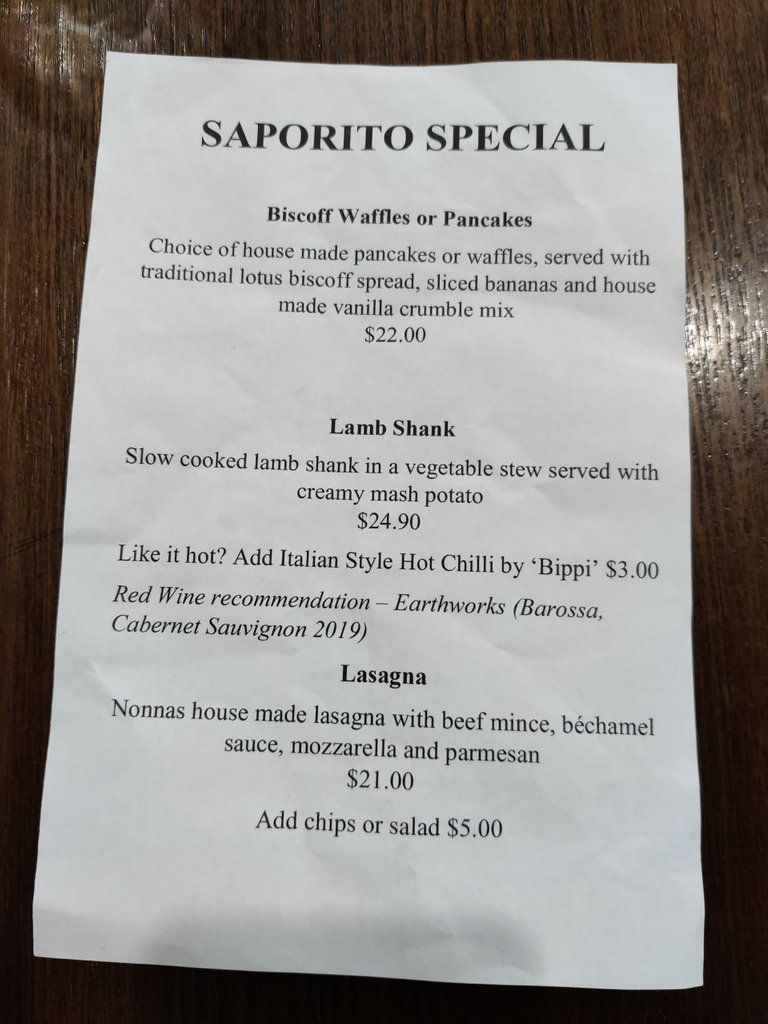 Of course, there were the lunch specials... I was a touch early for it, and it did look pretty enticing, but perhaps it shouldn't be the breakfast meal... otherwise that would turn out to be a heavy start to a long day!

The Food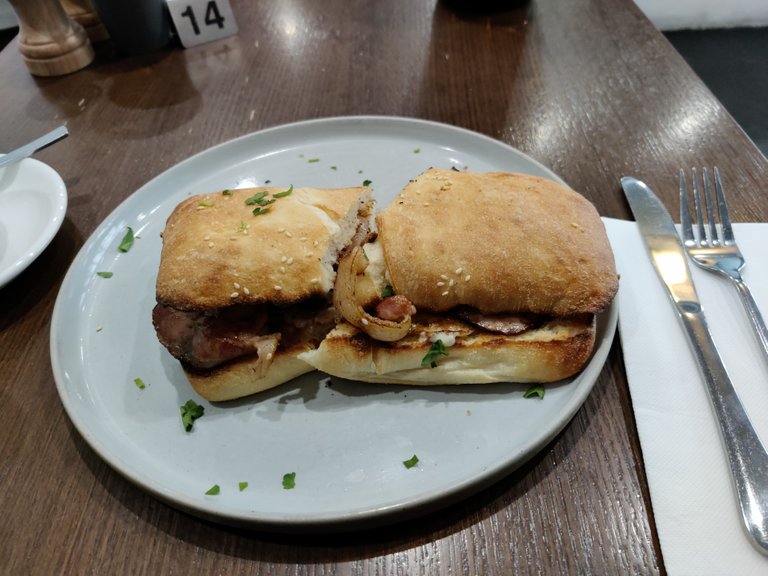 In the end, I opted for the "Rock and Roll", a sort of breakfast style "burger". Eggs, bacon, aoili... all settled into a nicely toasted Turkish roll. Not the usual type of breakfast that I would normally have at home... a touch too heavy for me. I usually go for museli or toast... that sort of thing. The fried eggs and bacon... well, I love eating it.. but my stomach tends to rebel a little bit at the thought of dealing with oil and salt first thing in the morning...
... that said, I had a long day ahead of me. And I thought that I would be able to slowly eat this... to maximise the amount of time that I could feasibly sit at the cafe!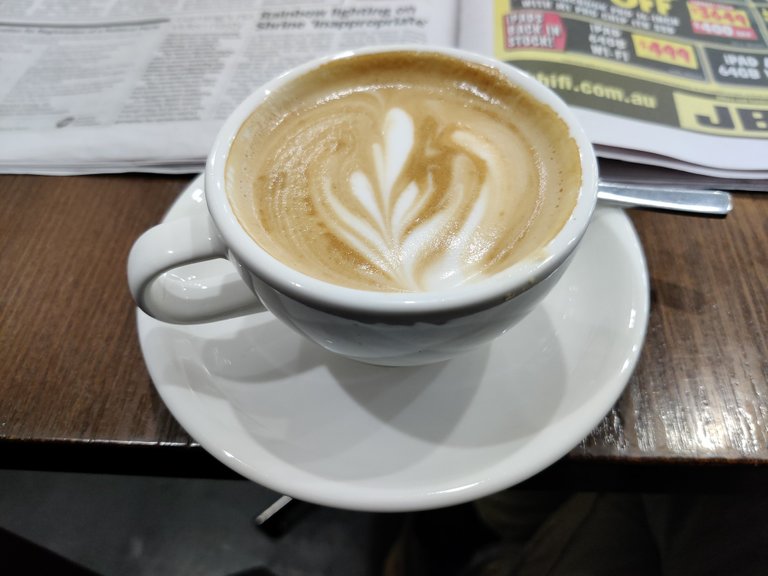 Ahhhh... a decent flat white as well. Sadly, a little bit too late in the day after waking up to fend off my coffee deprivation headache. But still, better than nothing... and to be honest, Melbourne coffees are really seriously good! So, this was quickly chased down by a second one!

The Experience
Although my brain wasn't quite up to speed whilst visiting this cafe due to extreme tiredness, I did love this place. Nice cosy and warm... with a friendly wait staff, this was the perfect place to spend a couple hours in relative peace whilst waiting for my hotel room to be prepared.
I will definitely return in the future to try out the more substantial meals when I am at a better eating time!

Opening Times
Monday 6am–4pm
Tuesday 6am–4pm
Wednesday 6am–4pm
Thursday 6am–4pm
Friday 6am–4pm
Saturday 7am–4pm
Sunday Closed

Contact Details
Address: 12-16 Kavanagh St, Southbank VIC 3006
Website: https://saporitocafe.com.au
Phone: (03) 9696 6284
Facebook
Instagram
---
View this post on TravelFeed for the best experience.
---
---