Jewish Museum in Berlin: get ready to travel back in time and emotions [Eng - Esp]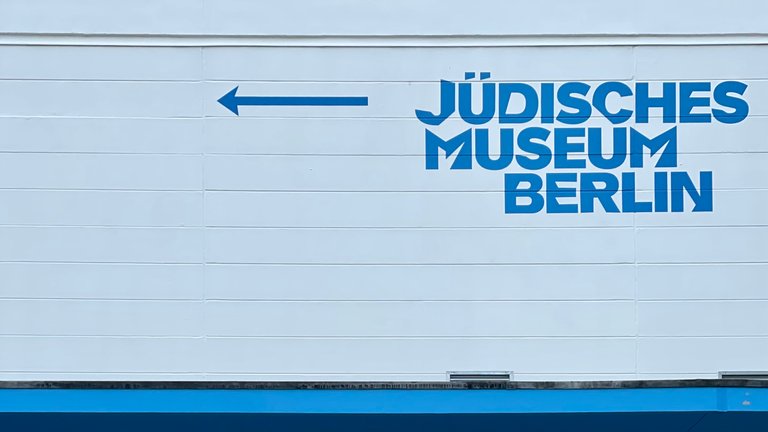 Jewish Museum in Berlin: get ready to travel back in time and emotions
---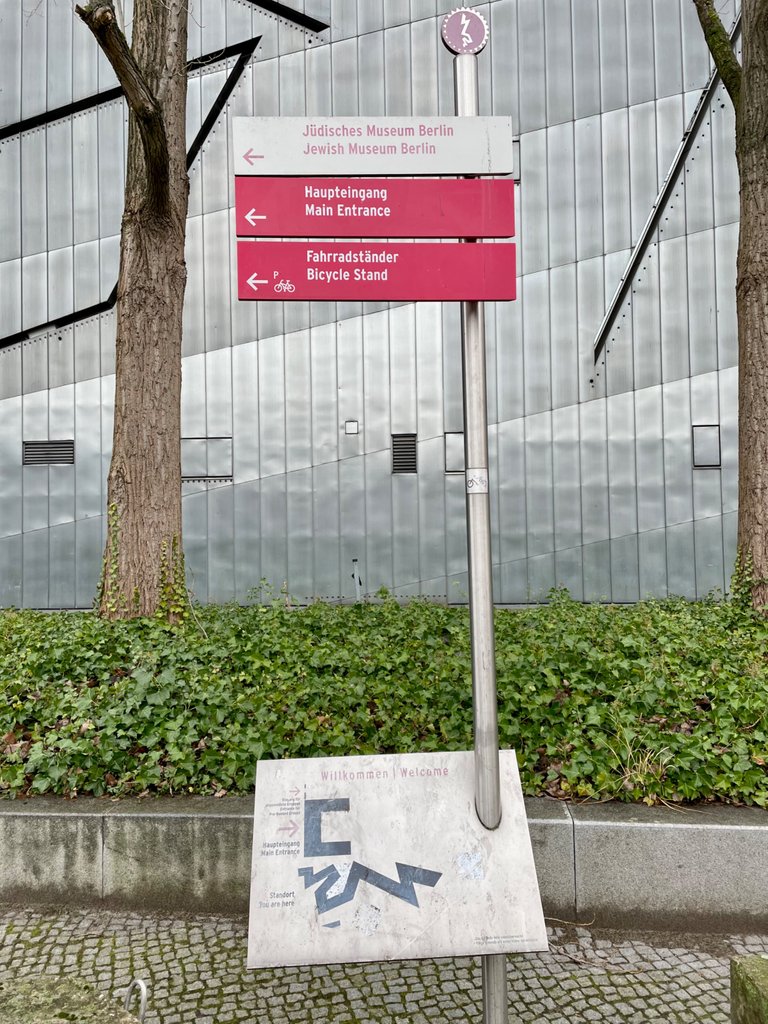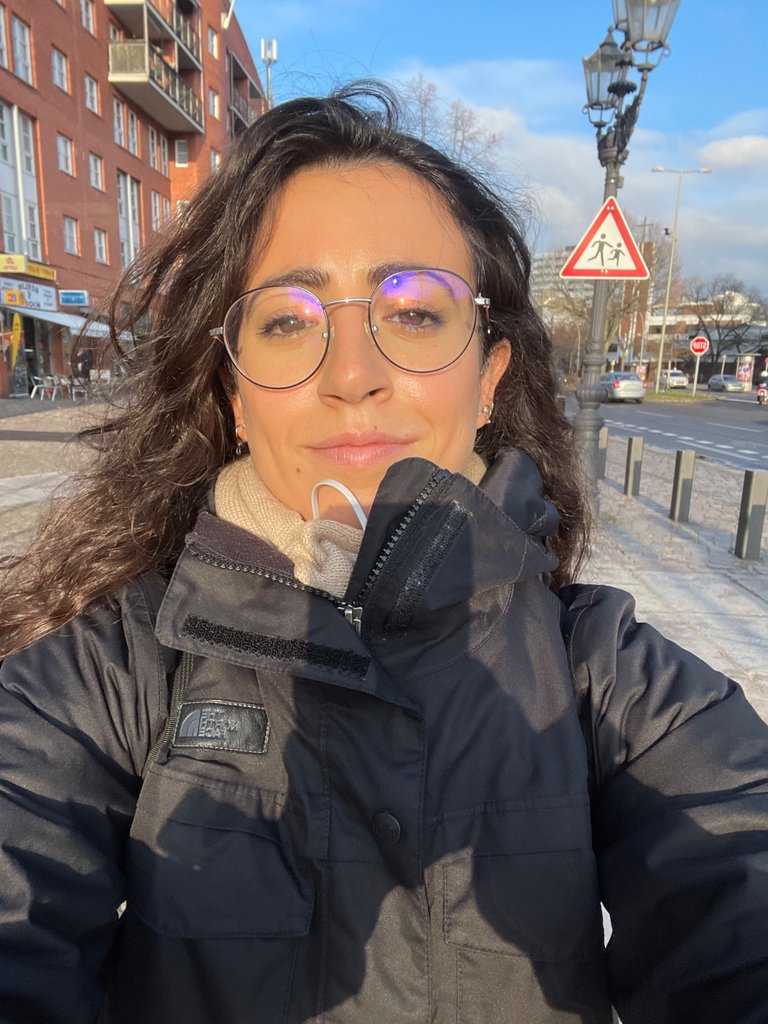 ---
Hello everyone in my dear Pinmapple community, it's a pleasure to be here today, once again.
Today I come to take you to one of those places that when we know we are going to go, it simply makes our skin and part of our soul stand on end, because these are spaces that somehow, as human beings, touch us all.
Personally, I have always had a certain rejection and attraction for that not so distant history that dates back to World War II. Dislike because I detest what happened, attraction because I like to learn about it.
I have quite a lot of photographic documentation about my trip to Berlin, since I took advantage of that visit to see in person places that I had studied at the University, while I was studying Geography. Unfortunately, I realized that I had forgotten too much information to adequately follow that urban exhibition that showed us that one of the greatest atrocities in the history of mankind had occurred right where I was.
Museo Judío en Berlín: prepárate para viajar en el tiempo y en las emociones
---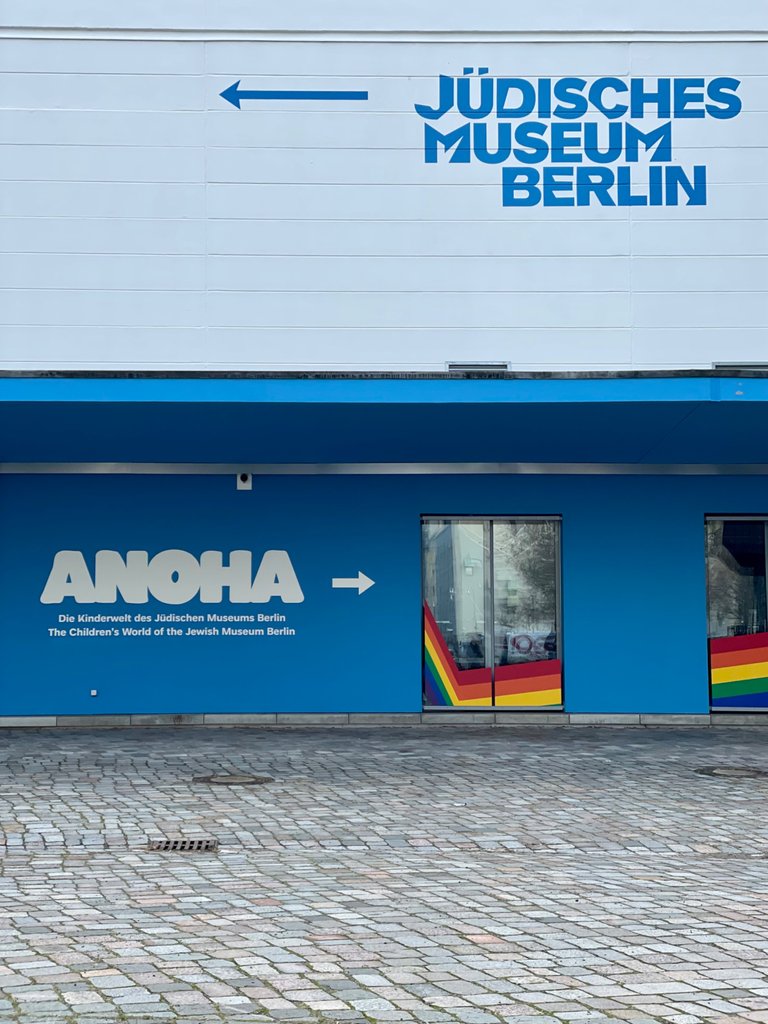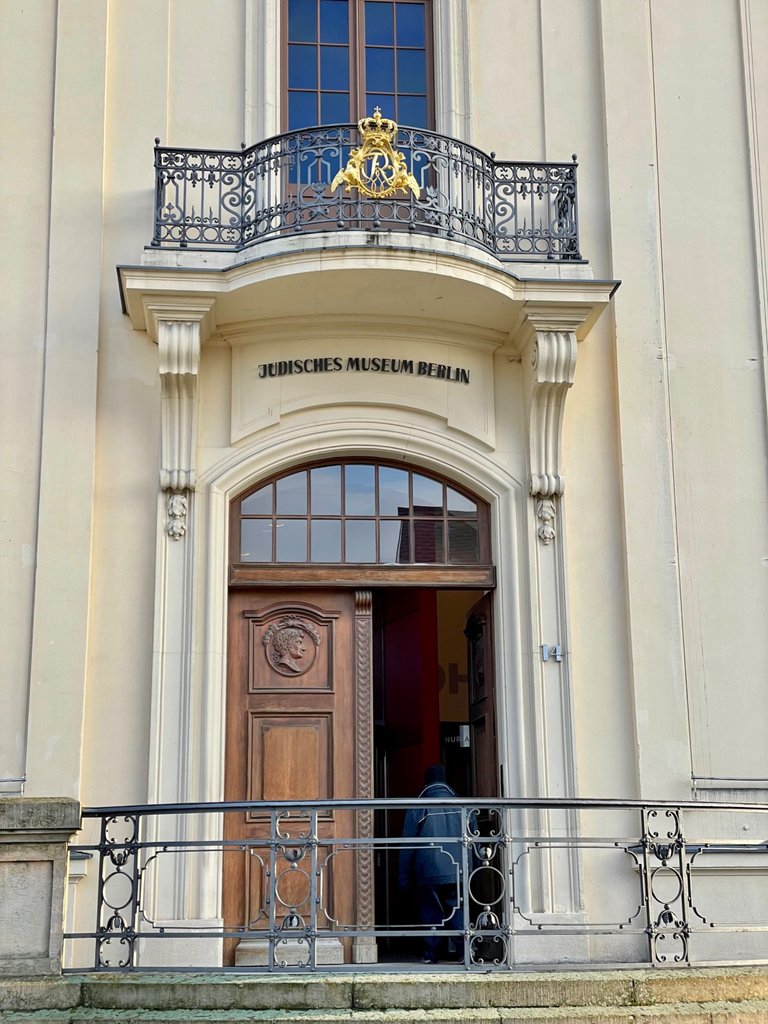 ---
Hola a todos en mi querida comunidad de Pinmapple, es un placer estar hoy por aquí, una vez más.
Hoy vengo a llevarlos a uno de esos lugares que cuando sabemos que vamos a ir, sencillamente se nos eriza la piel y una parte del alma, porque se trata de espacios que de alguna manera, a todos como seres humanos, nos toca.
Personalmente, siempre he tenido cierto rechazo y atracción por aquella historia no muy lejana que se remonta a la Segunda Guerra Mundial. Rechazo porque detesto lo ocurrido, atracción porque me gusta aprender sobre el tema.
Tengo bastante documentación fotográfica sobre mi viaje a Berlín, ya que aproveché aquella visita para conocer en persona lugares que había estudiado en la Universidad, mientras cursaba la carrera de Geógrafo. Lamentablemente me di cuenta de que me había olvidado de varios datos como para seguir adecuadamente aquella exposición urbana que nos indicaba que una de las mayores atrocidades de la historia del ser humano había ocurrido justo ahí donde yo estaba.
---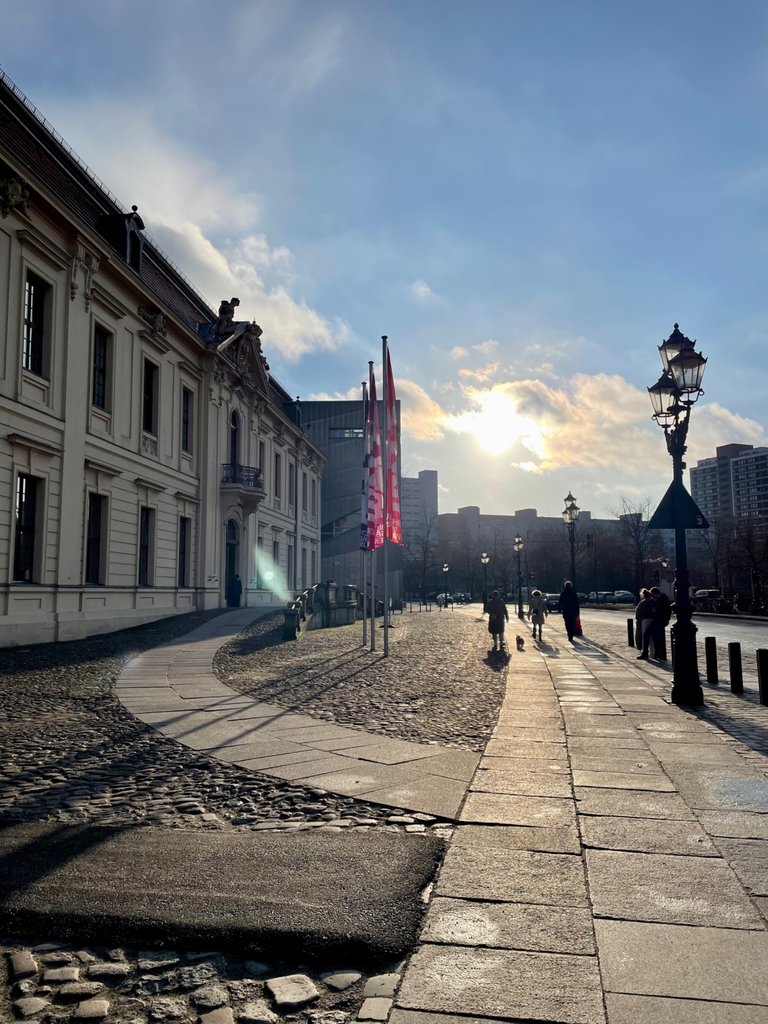 ---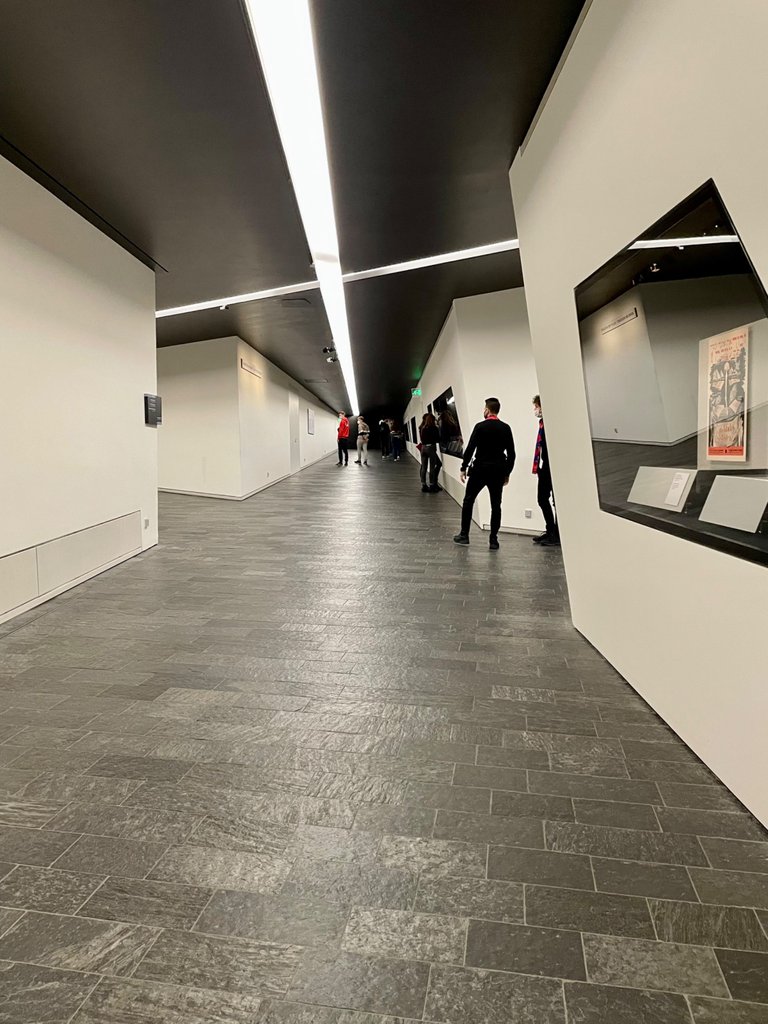 ---
Well, I'll take you to the Jewish Museum of Berlin and I'll stop going around so much, because the truth is that I could talk about it a lot. This museum is located in Berlin - Kreuzberg, located on Lindenstrasse street, quite close to Checkpoint Charlie.
It is one of the largest in Europe and although I am not a museum lover, this one fascinated me, because it did not show us art (art is beautiful, but I do not enjoy those museums because I do not know much about it), but history.
I remember that I entered for free, and in fact I think that the general admission to the permanent exhibition is free for everyone, you only have to pay to enter a particular exhibition.
I had to leave quite a few belongings at the entrance, but they let me in with my backpack.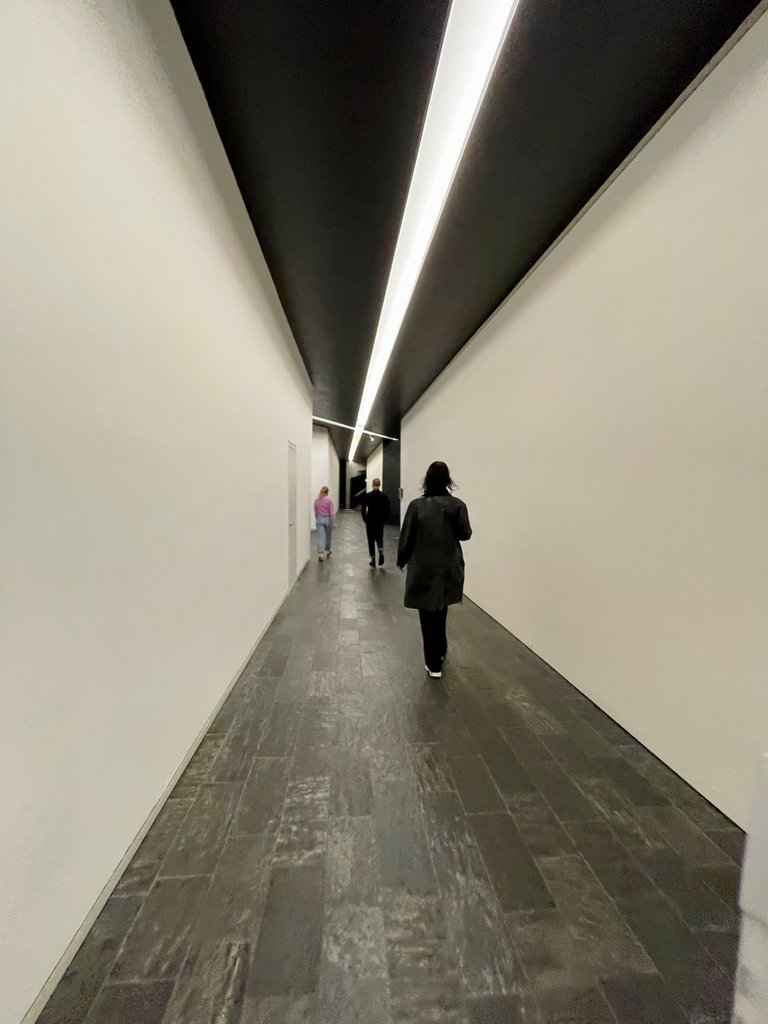 ---
Pues bien, me los llevo al Museo Judío de Berlín y me dejo de tanta vuelta, porque la verdad es que podría hablar bastante de ello. Este Museo se encuentra en Berlín - Kreuzberg, sobre la calle Lindenstrasse, bastante cerca del Checkpoint Charlie.
Es uno de los más grandes de Europa y aunque no soy muy amante de los Museos, este me fascinó, ya que no nos mostraba arte (el arte es bellísima, pero disfruto poco esos museos porque no manejo mucho el tema), sino historia.
Recuerdo que entré de manera gratuita, y de hecho creo que la entrada general a la exposición permanente es gratis para todos, solo hay que pagar al ingresar a alguna exposición particular.
Tuve que dejar bastantes pertenencias en la entrada, pero me dejaron ingresar con la mochila.
---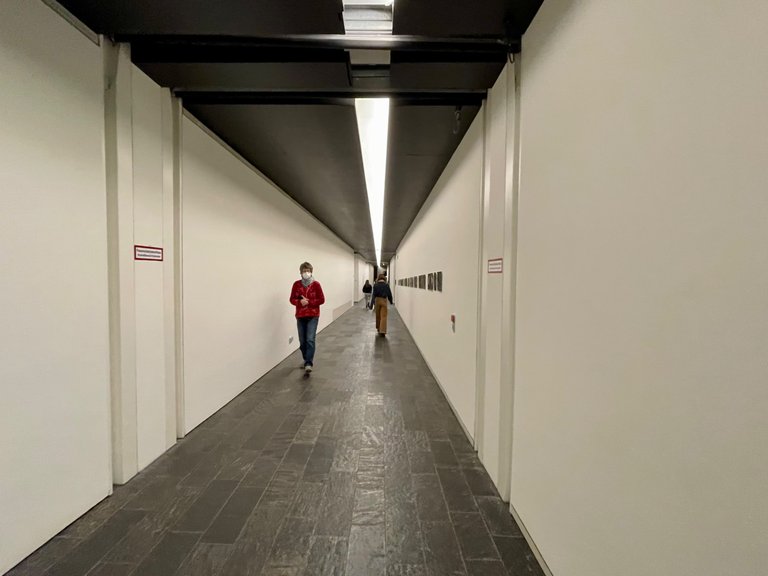 ---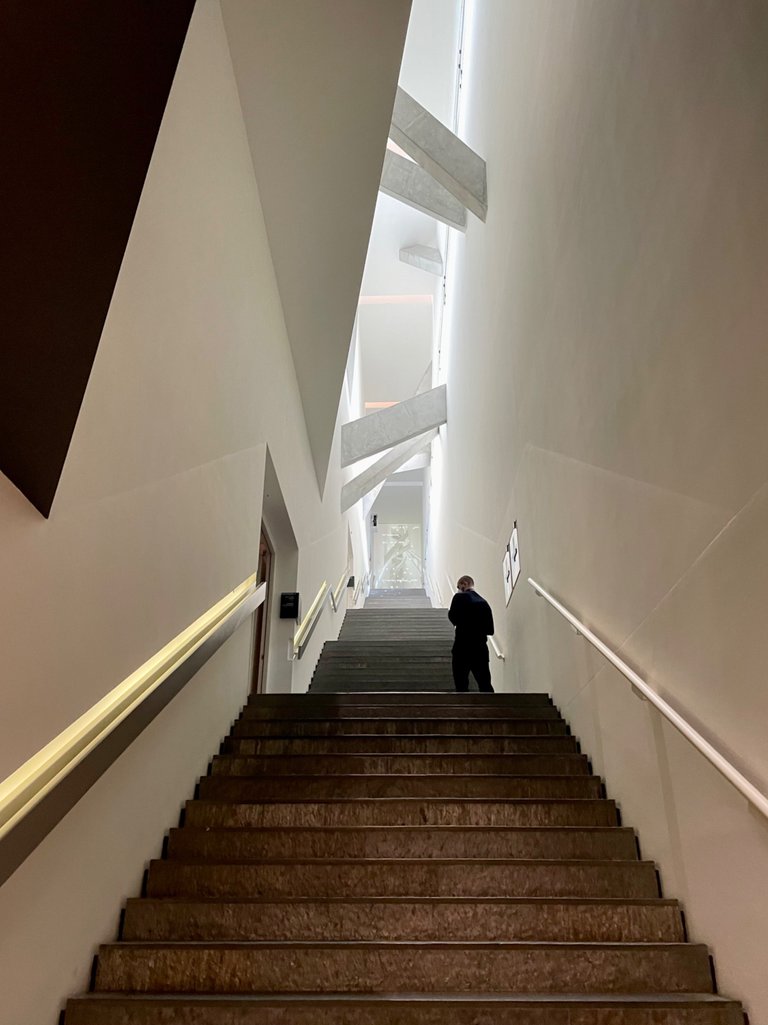 ---
The museum is all white and fully illuminated. The floor is black and that contrast makes it beautiful.
It has different levels and in some parts there are corridors that begin to cross in a somewhat irregular way, which gives a little sense of bewilderment and already begins to feel a "no exit" in the environment.
It is not that there is no way out, but the intention of the design is to make you feel that, since slowly these corridors, while exposing documentation and works related to the Holocaust, lead to a courtyard where you can live "the exile", precisely in what the museum calls "Garden of Exile".
It is a small space (it seemed small to me, but it must have been quite large), with very tall cement blocks in which one, as a human being, feels very small. The terrain is sloping, so you have to make an effort to walk.
The grayish walls give the impression of resignation, of death, of the loss of any dream, and in truth generates, all this, an emotion of uprooting and sadness.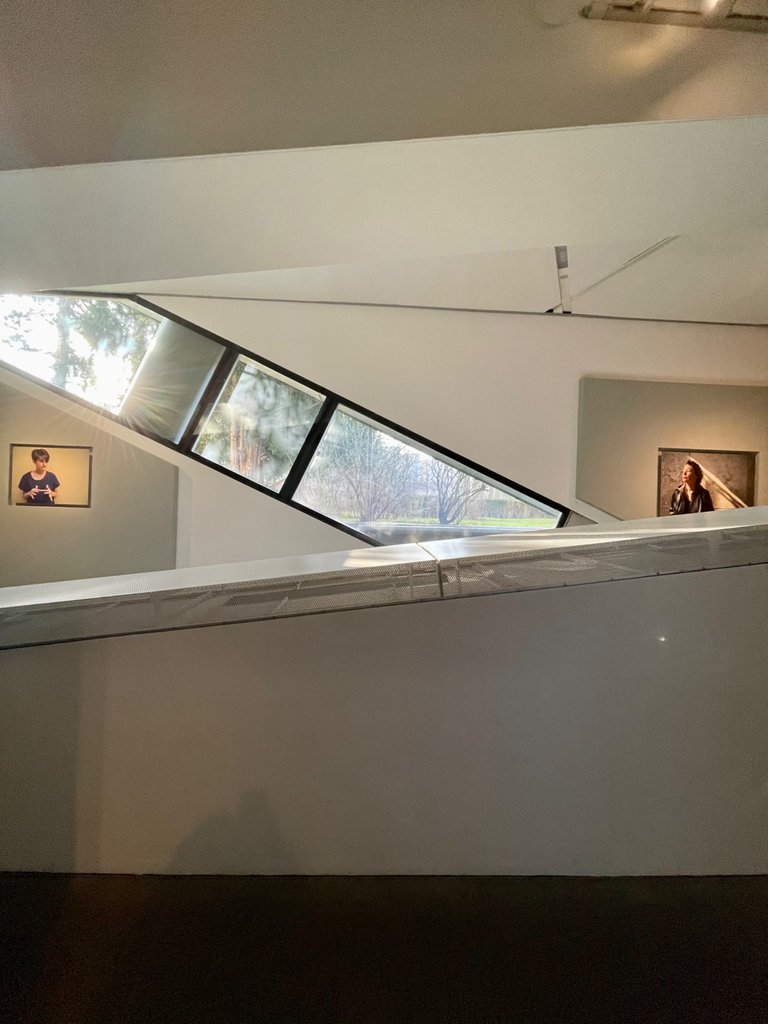 ---
El museo es todo blanco y está totalmente iluminado. El piso es de color negro y ese contraste lo hace hermoso.
Tiene diferentes niveles y en algunas partes hay pasillos que empiezan a cruzarse de manera algo irregular, lo que da un poco la sensación de desconcierto y ya se empieza a sentir un "sin salida" en el ambiente.
No es que no haya salida, sino que la intención del diseño es hacer sentir eso, ya que lentamente estos pasillos, mientras exponen documentación y obras referentes al Holocausto, conducen a un patio en donde se puede vivir "el exilio", justamente en lo que en el museo se denomina "Jardín del Exilio".
Se trata de un pequeño espacio (me pareció pequeño, pero debe haber sido bastante extenso), con bloques de cemento altísimos en los que uno, como ser humano, pasa a sentirse ínfimo. El terreno está en pendiente, por lo que hay que hacer un esfuerzo para caminar.
Las paredes grisáceas dan la impresión de resignación, de muerte, de pérdida de cualquier sueño, y en verdad genera, todo eso, una emoción de desarraigo y tristeza.
---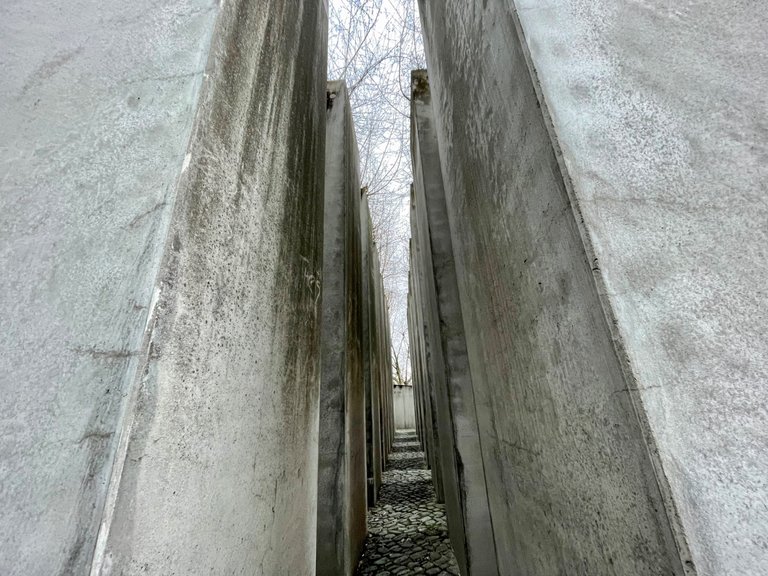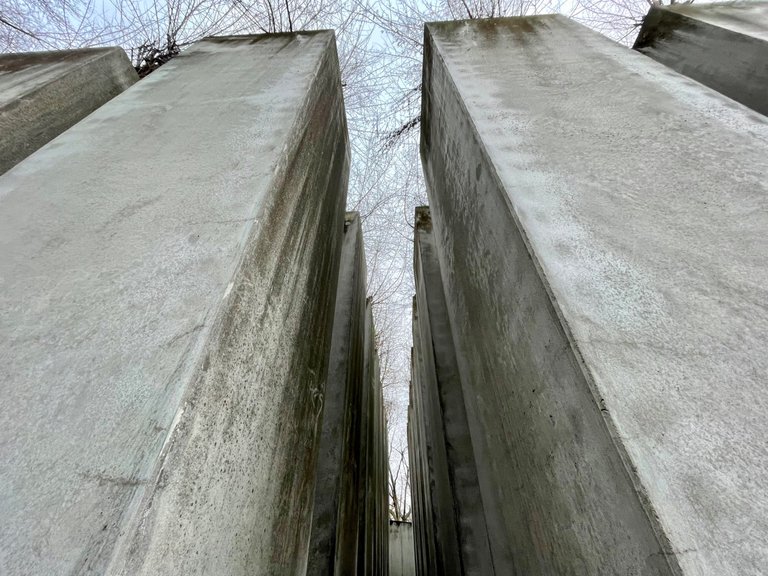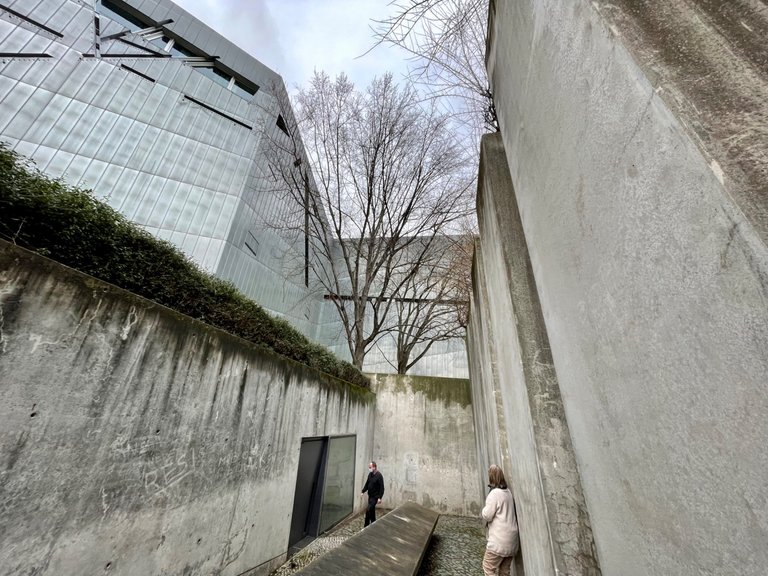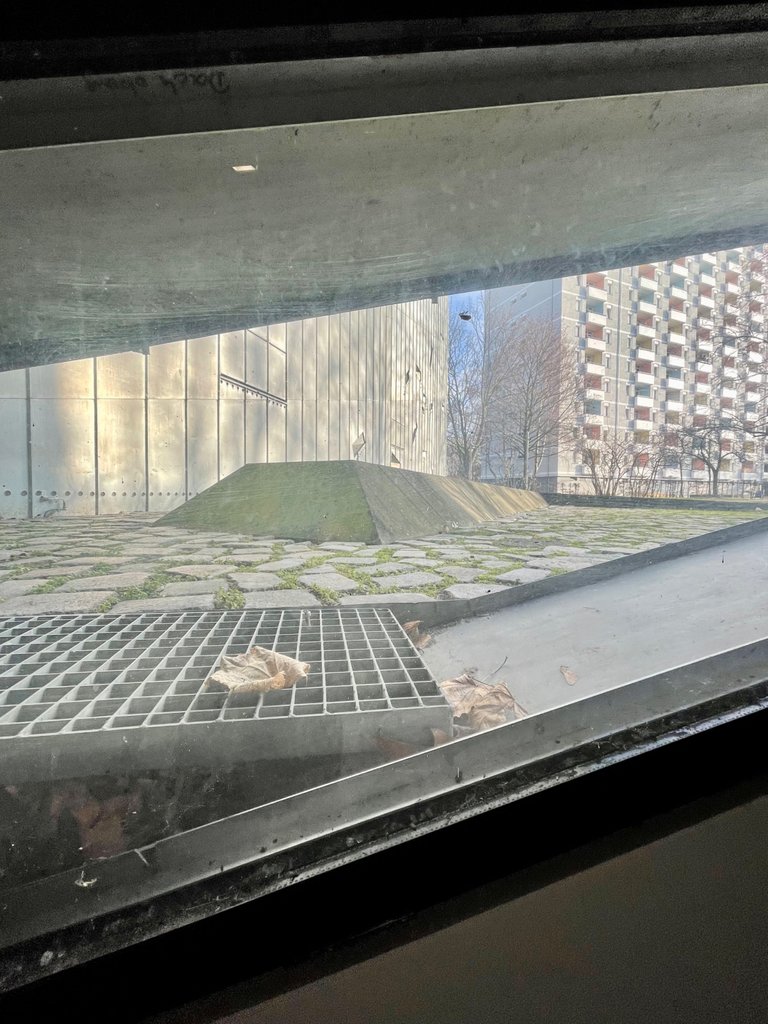 ---
---
In addition, the Museum offers us one of the strongest experiences that at least I have lived in tourist spots, and that is the Holocaust Tower.
You may think that it is a balcony, a terrace. Well, it is not. It is a towering tower that once you enter, the whole physical and mental environment changes.
The tower is freezing cold and totally dark. Only a trickle of light enters through some part of the pointed roof. The door is airtight, so no air or sound enters.
I had the experience of being there with someone else, a stranger. But as soon as a couple of minutes passed, his presence disappeared, as I was immersed in an intense nullification of time and space.
When I decided to leave, I noticed that the stranger was gone.
The experience is interesting, but I doubt that all people can feel comfortable with it. Let's see, comfortable I didn't feel, but I tolerated it. If anyone has a bit of claustrophobia, I don't recommend it. The good thing is that when you leave, the museum awaits you with its white light and quickly "brings you to the now".
---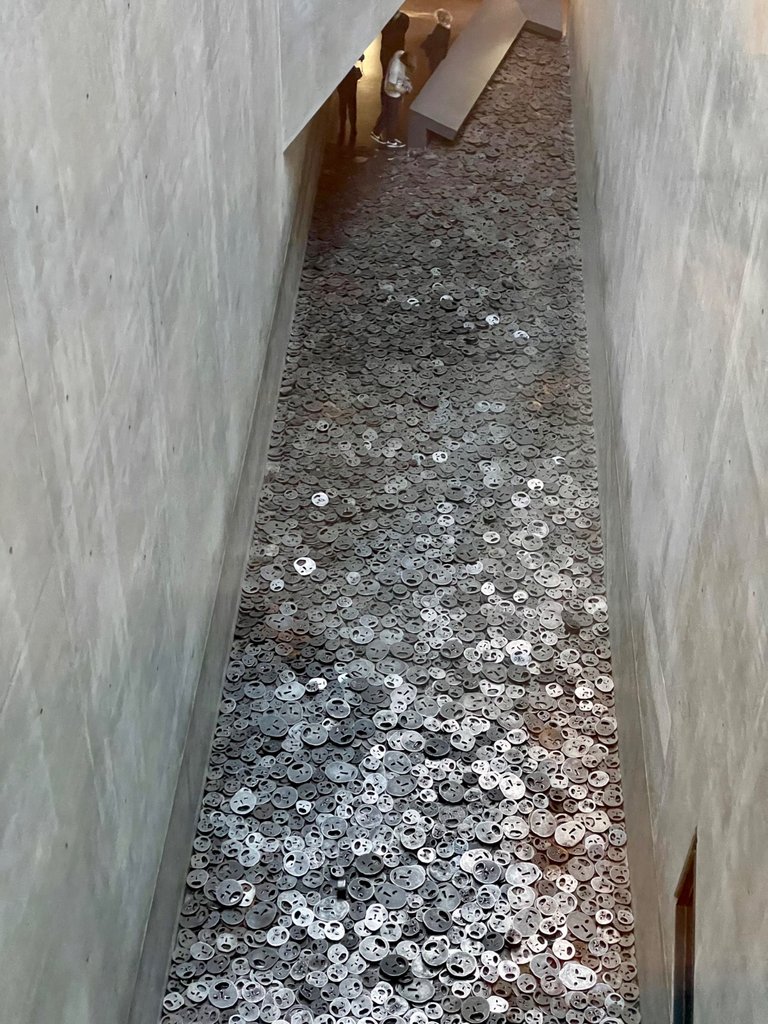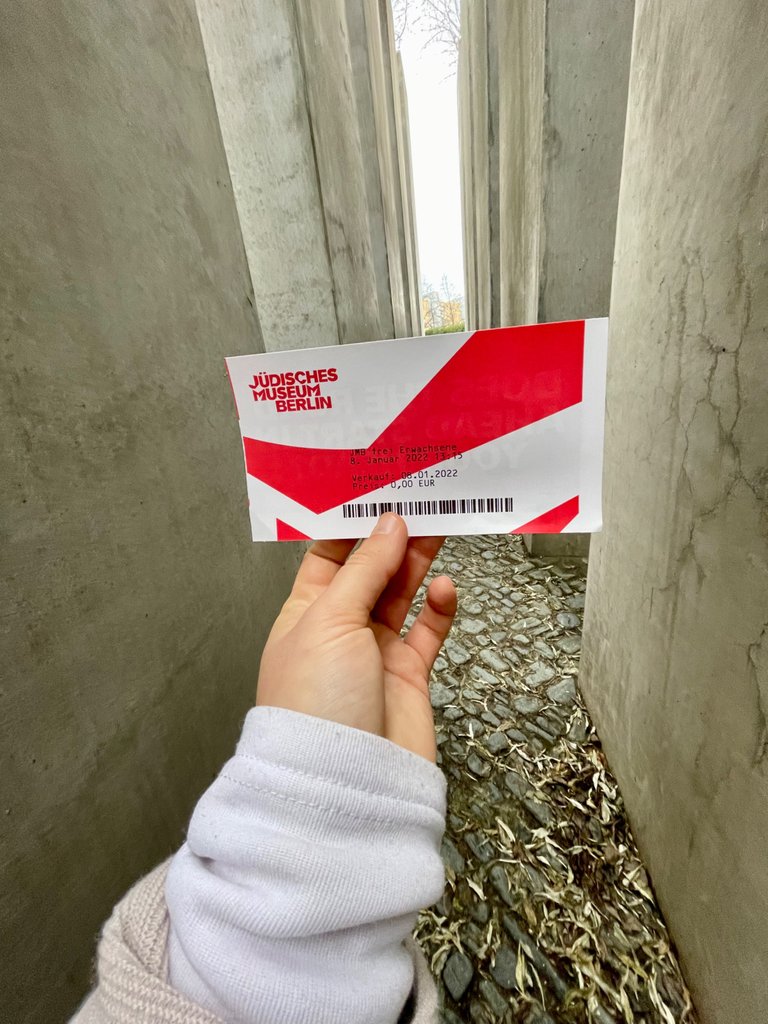 ---
Además, el Museo nos ofrece una de las experiencias más fuertes que al menos yo he vivido en puntos turísticos, y es la Torre del Holocausto.
Quizás piensen que se trata de un balcón, una terraza. Pues no. Es una torre altísima a la que una vez que se entra, todo el entorno físico y mental cambia.
La torre está helada y totalmente oscura. Tan solo entra un hilo de luz por alguna parte del puntiagudo techo. La puerta es hermética, por lo que no entra ni aire ni sonido.
Tuve la experiencia de estar allí con alguien más, un desconocido. Pero en cuanto pasaron un par de minutos, su presencia desapareció, ya que me había sumergido en una anulación intensa del tiempo y el espacio.
Cuando decidí salir de allí, noté que el extraño ya no estaba.
La experiencia es interesante, pero dudo que todas las personas se puedan sentir cómodas con ello. A ver, cómoda no me sentí, pero la toleré. Si alguien tiene un poco de claustrofobia, no la recomiendo. Lo bueno es que al salir, el museo te espera con su luz blanca y rápidamente te "trae al ahora".
---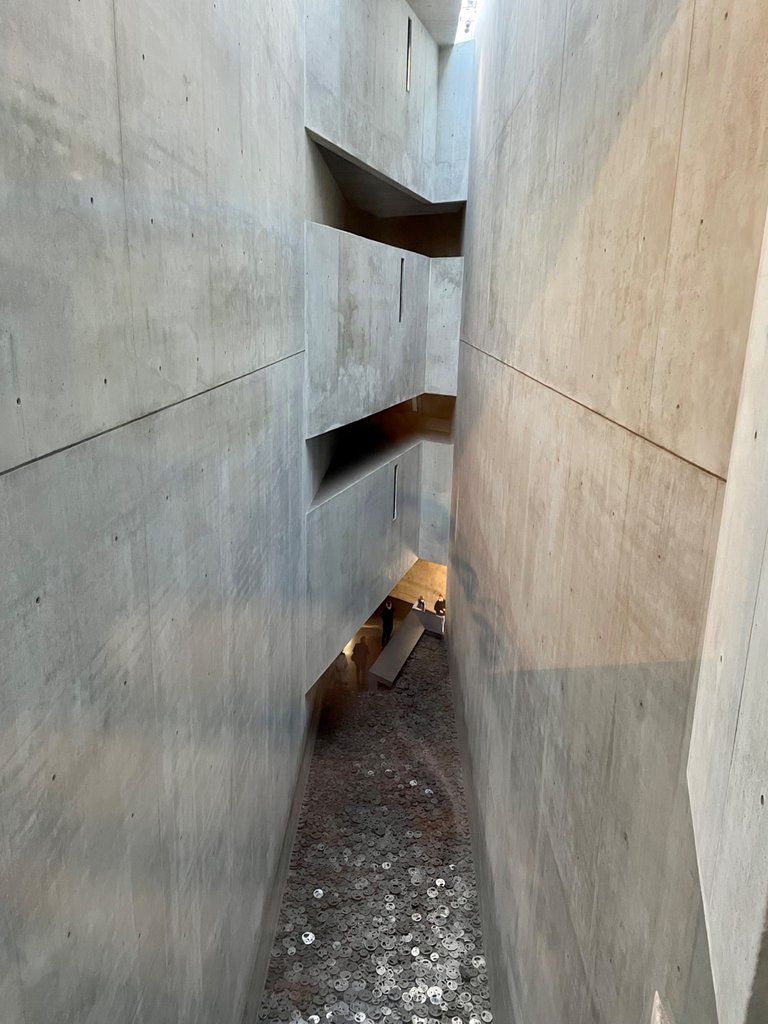 ---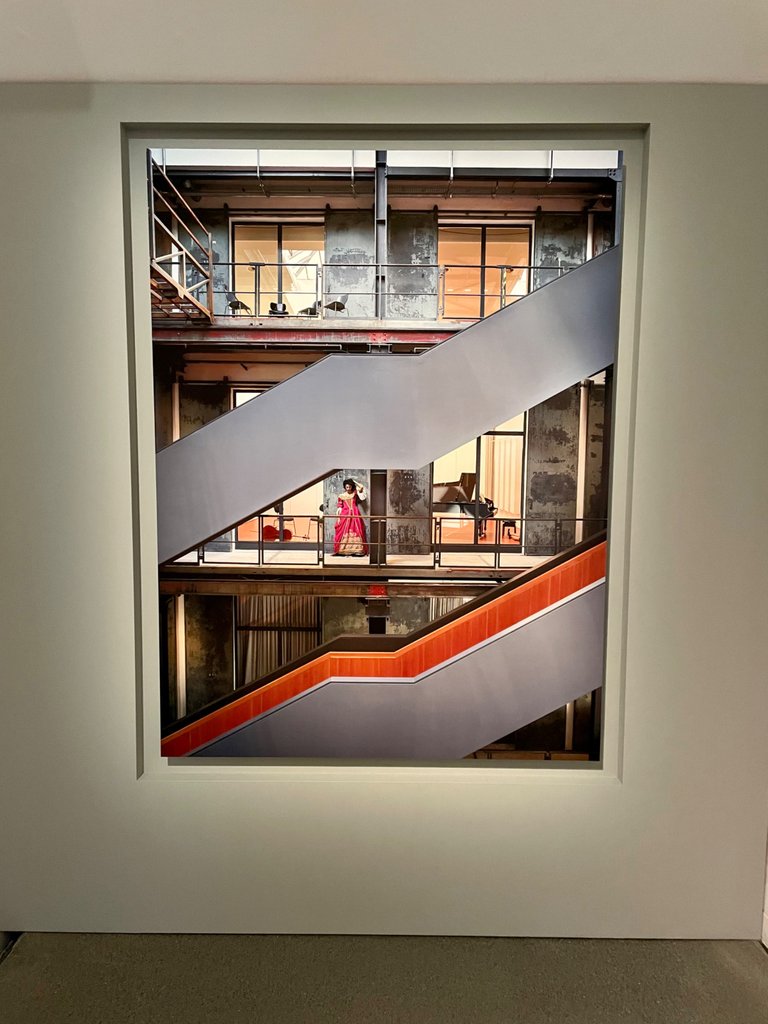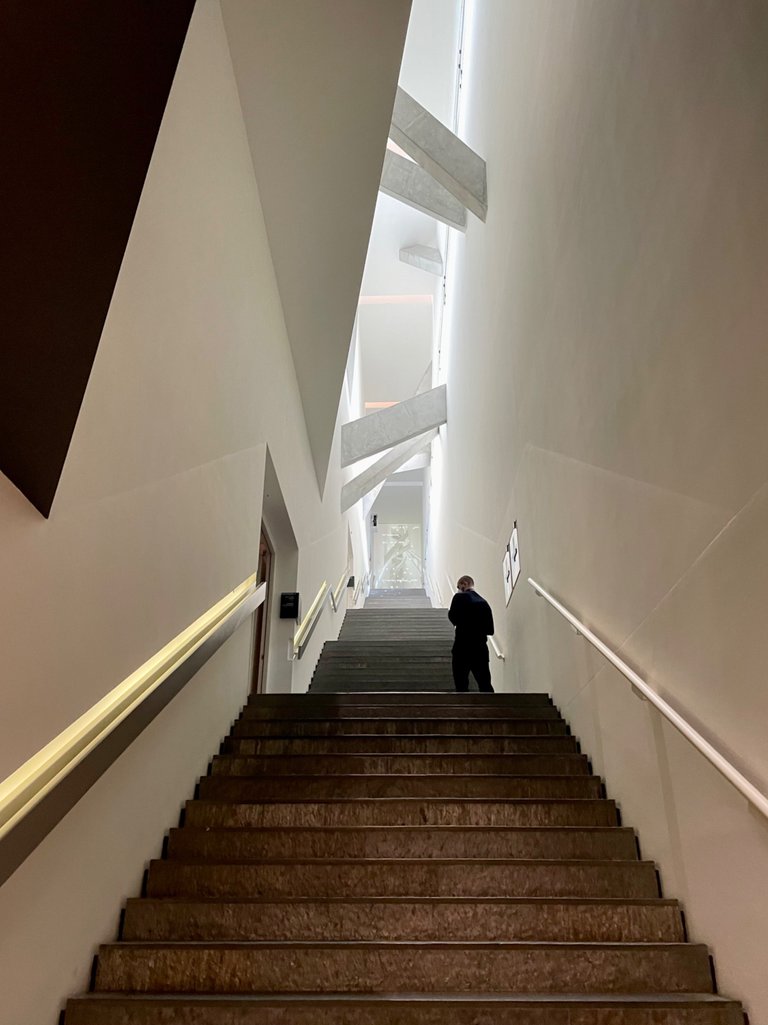 ---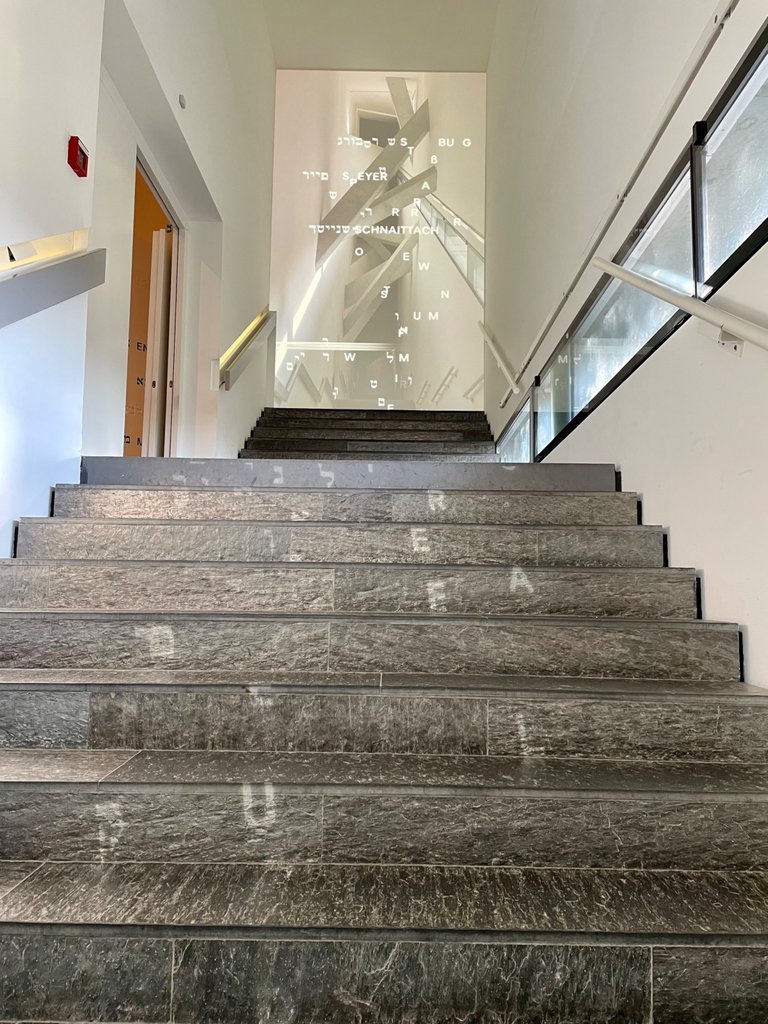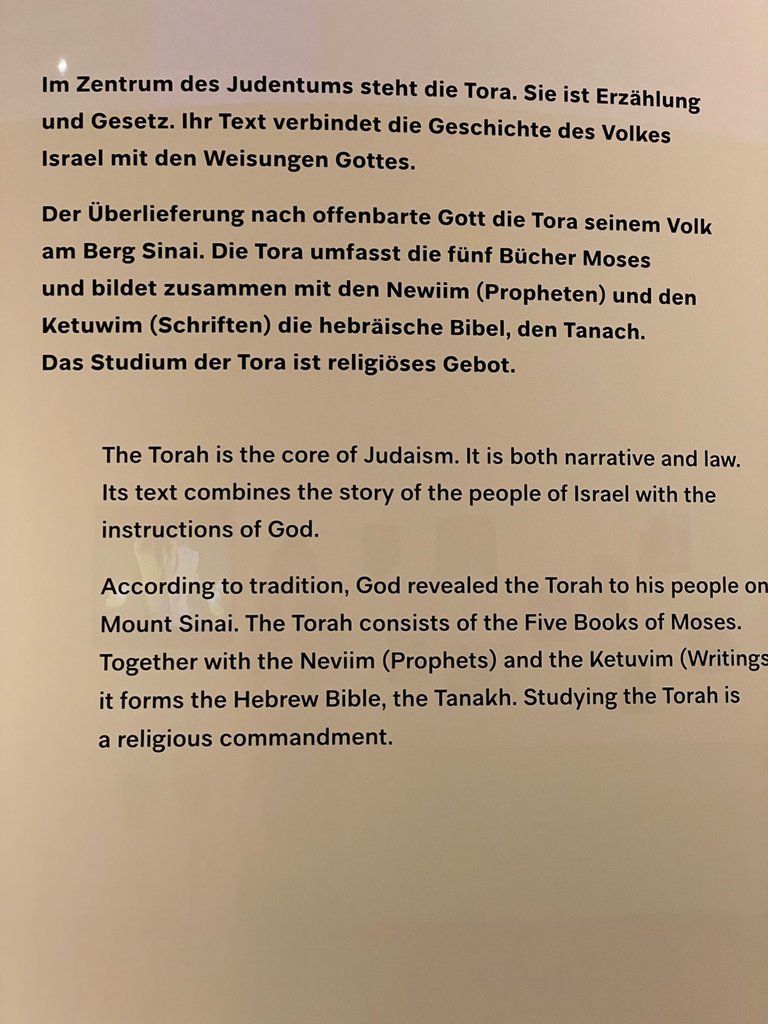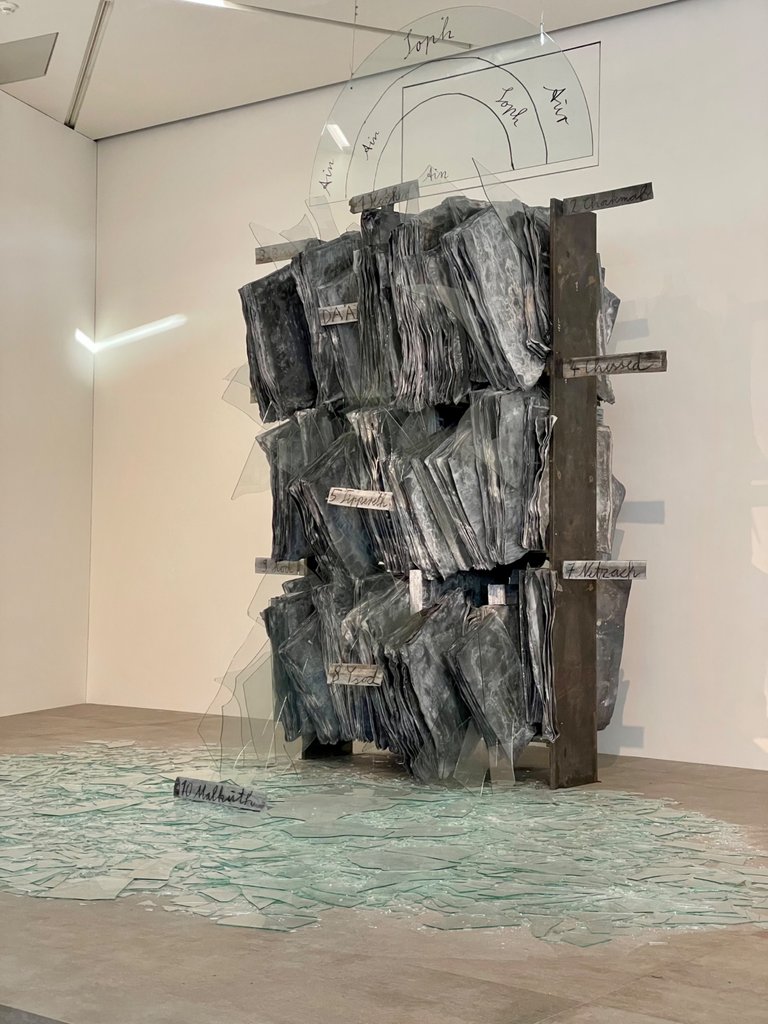 Something very nice about this space is that in one of the last levels, we can see a whole space dedicated to the Torah. There are words in Hebrew (I don't understand it but I love those letters) that are arranged in a beautiful artistic way.
I would have liked to understand a bit more about everything: about Jewish history, about the history of the Holocaust, about the language. But it was still a great experience, really very good.
Something that also caught my attention were some points in one of the levels (I think it was the second one), where you stood or sat under a light, and music or words came to you. It was very nice, because all of a sudden, without the need to enter a room or something like that, you found yourself moving to some sound just meters away from the other visitors, who in turn were enjoying other music at other points.
---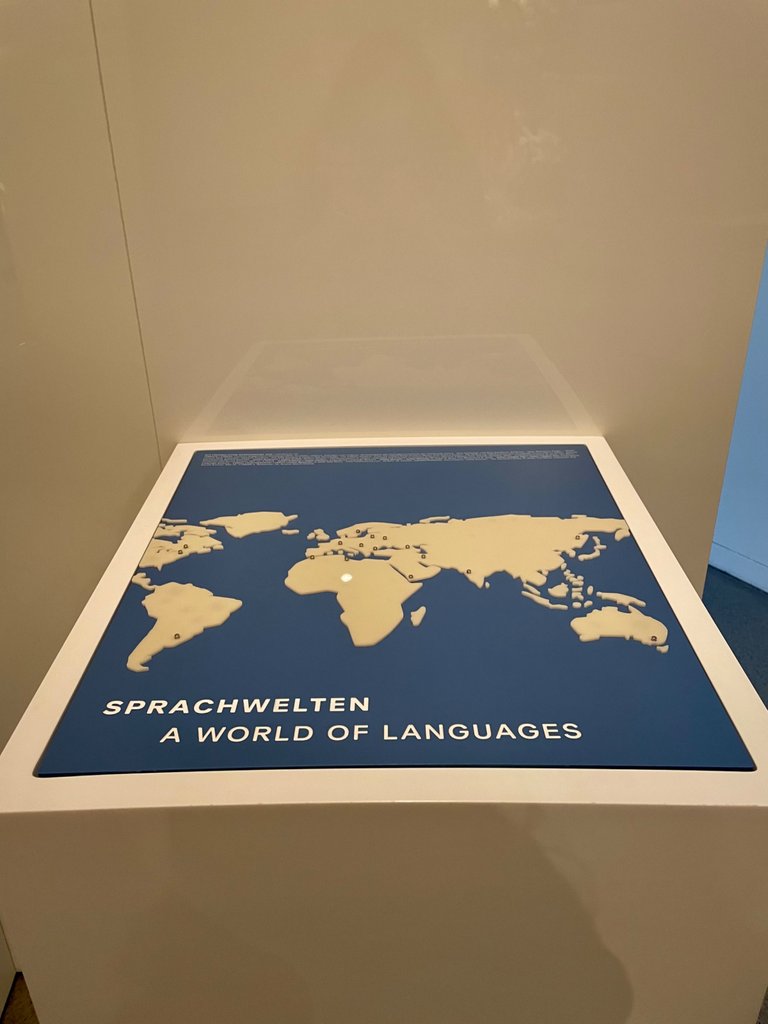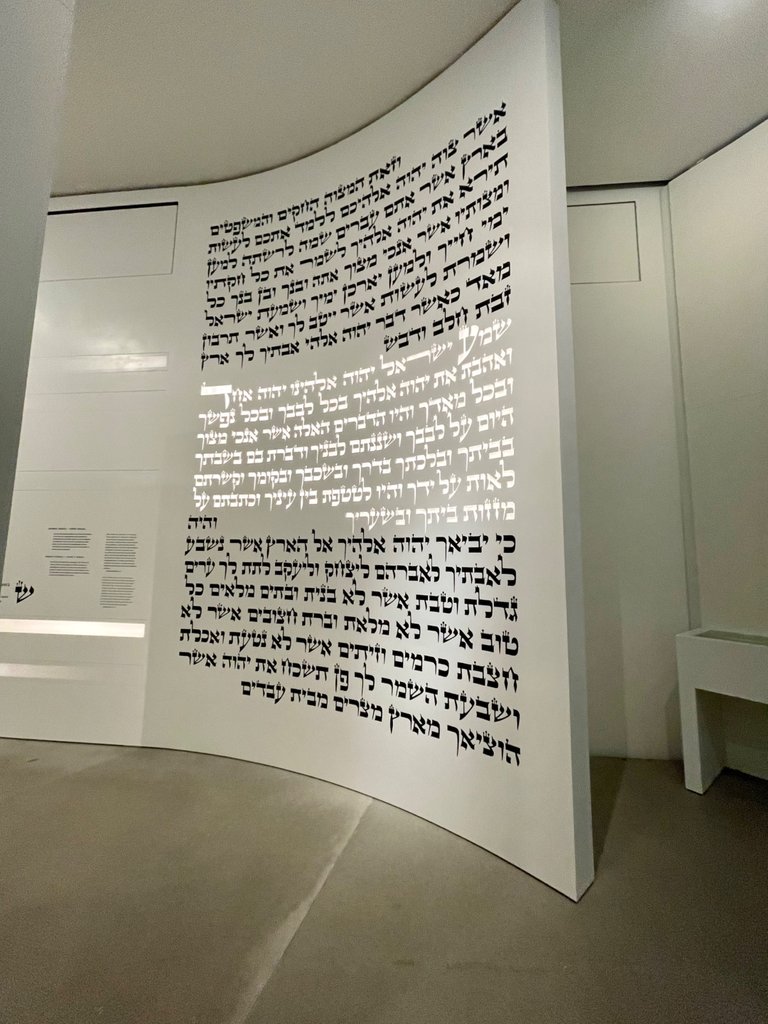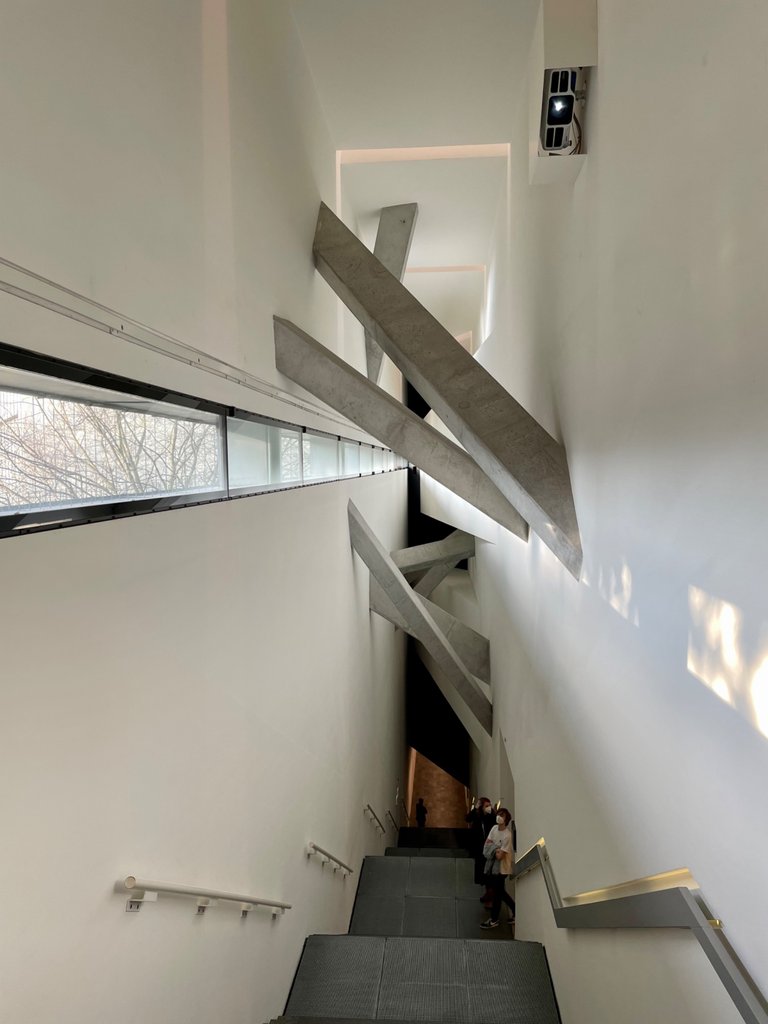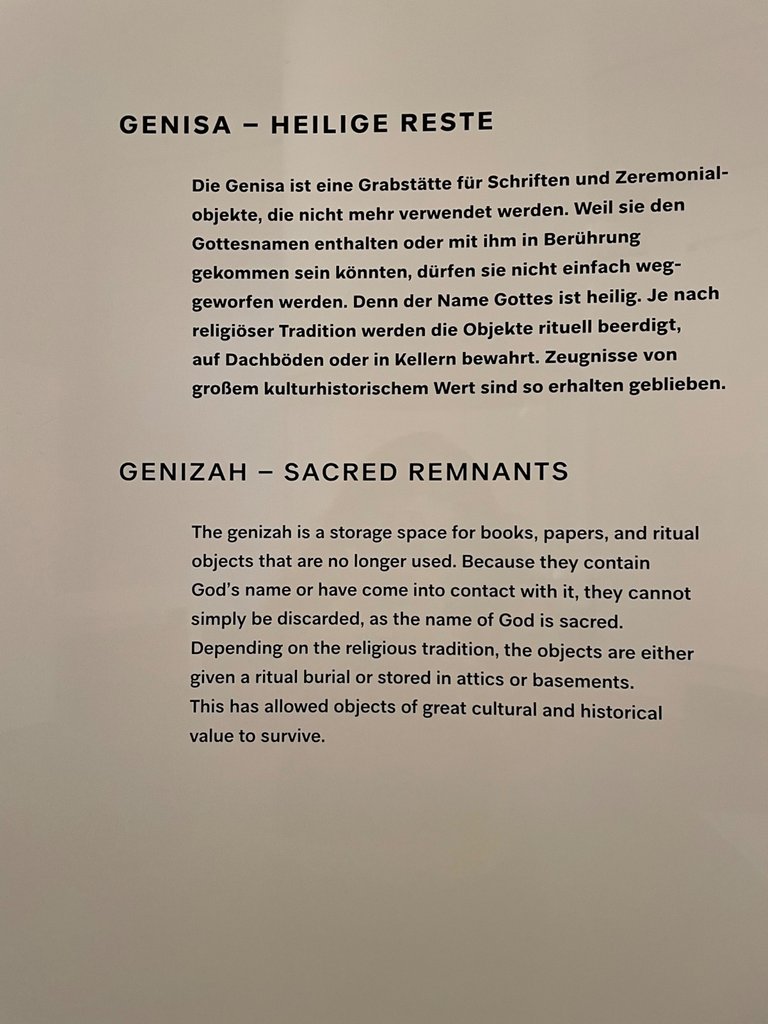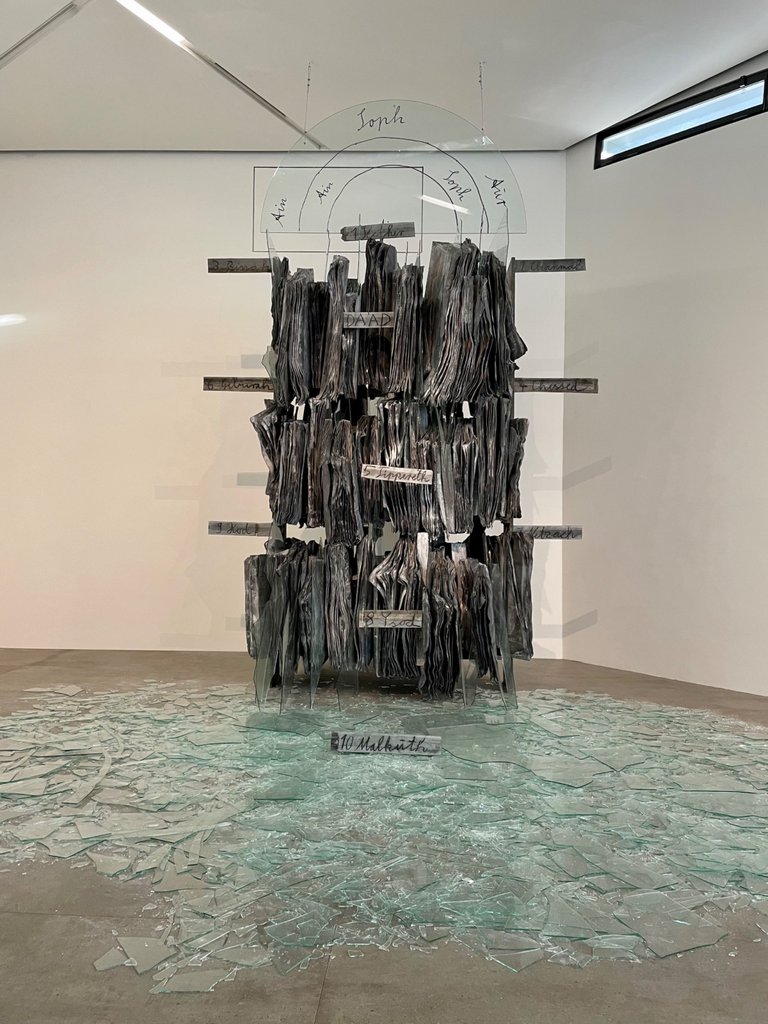 Algo muy bonito que tiene este espacio, es que en uno de los últimos niveles, podemos ver todo un espacio dedicado al Torá. Hay palabras en Hebreo (no lo entiendo pero me encantan esas letras) que están dispuestas de una manera artística preciosa.
Me hubiese gustado comprender un poco más de todo: de la historia judía, de la historia del Holocausto, del idioma. Pero igualmente fue una gran experiencia, realmente muy buena.
Algo que también llamó muchísimo mi atención, fueron unos puntos que había en uno de los niveles (creo que era el segundo), en donde te parabas o sentabas bajo una luz, y te llegaba música o palabras. Fue muy bonito, ya que de golpe, sin necesidad de entrar a una habitación o algo así, te encontrabas trasladándote a algún sonido a tan solo metros de los otros visitantes, que a su vez disfrutaban de otra música en otros puntos.
---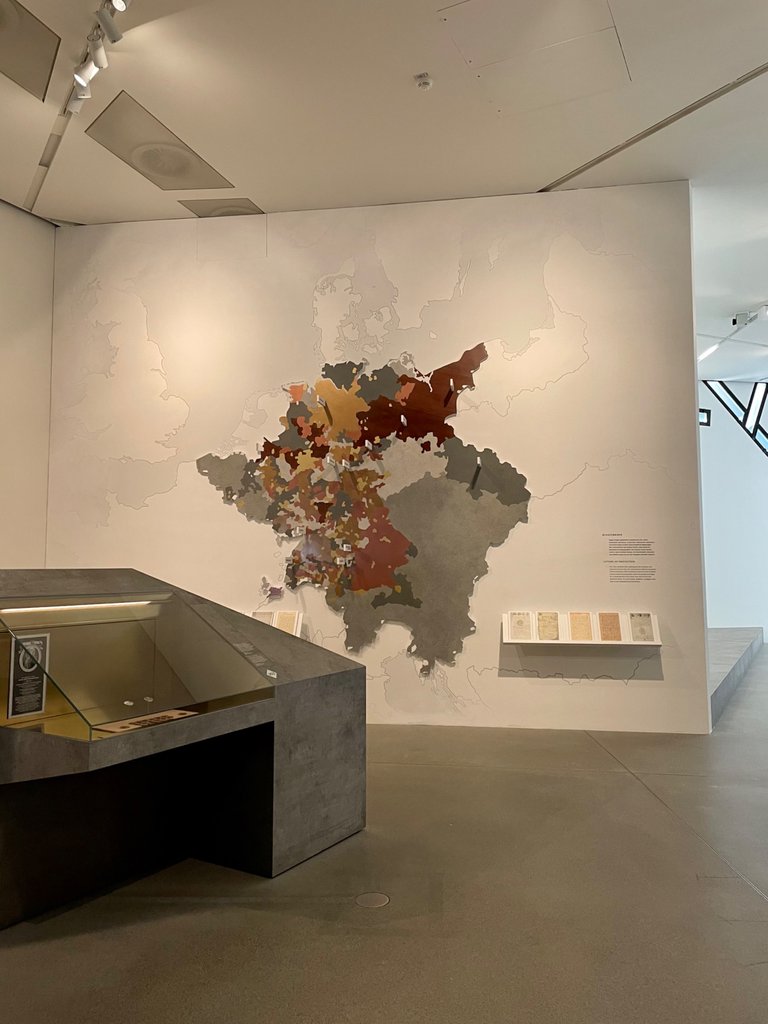 ---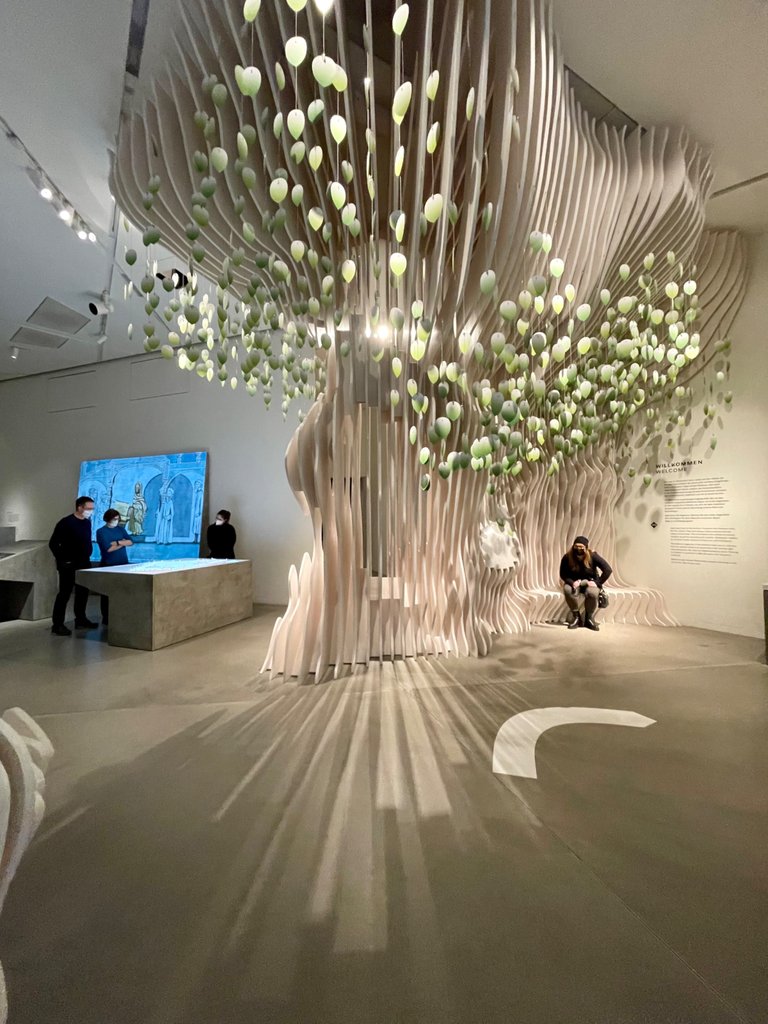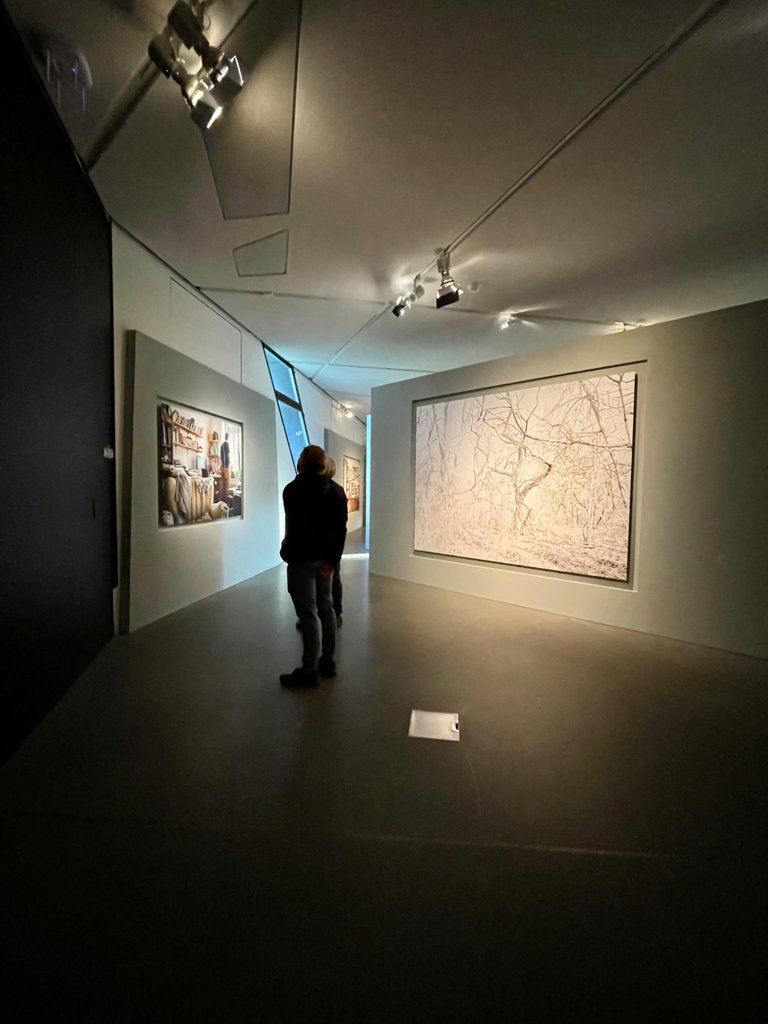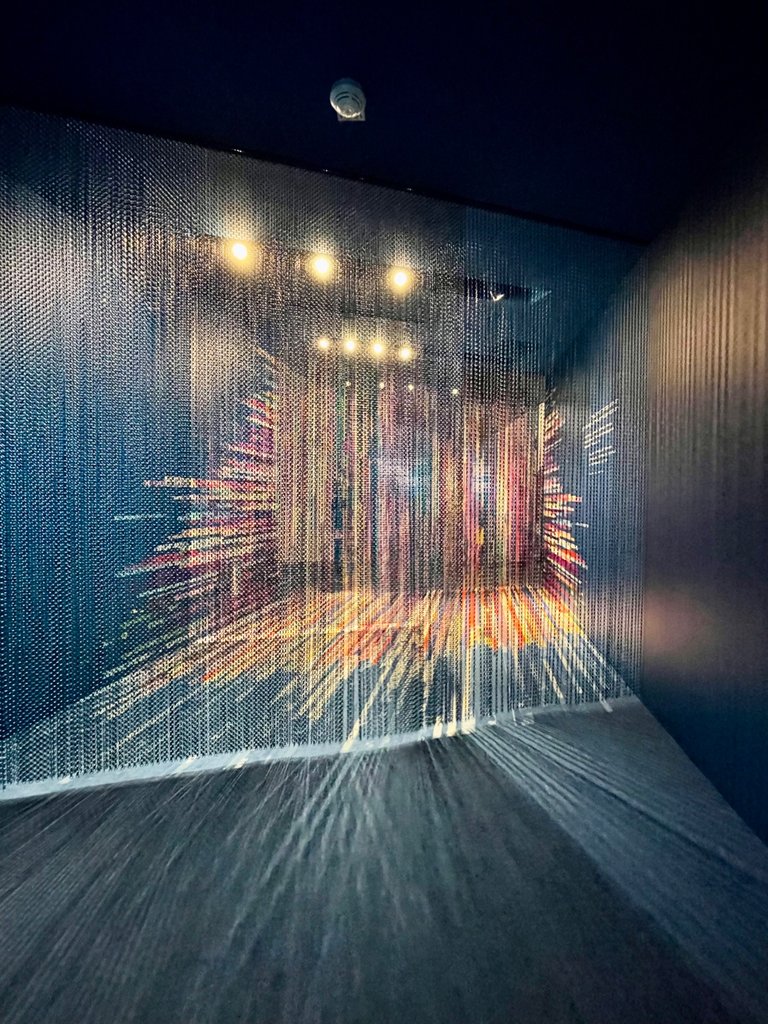 ---
I will leave below some images that make reference to documents presented in this museum, either belonging to real people, or to sacred books, even, as I mentioned previously, to some works or creations that, at that time, made reference to what was being lived.
---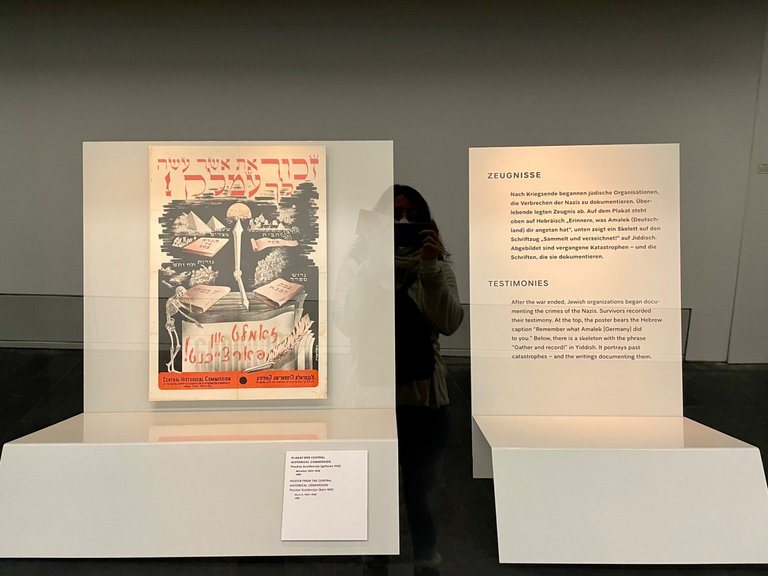 Dejaré a continuación algunas imágenes que hacen referencia a documentos que nos presenta este museo, sea perteneciente a personas reales, o a libros sagrados, incluso, como mencioné previamente, a algunas obras o creaciones que, en aquel entonces, hacían referencia a lo que se estaba viviendo.
---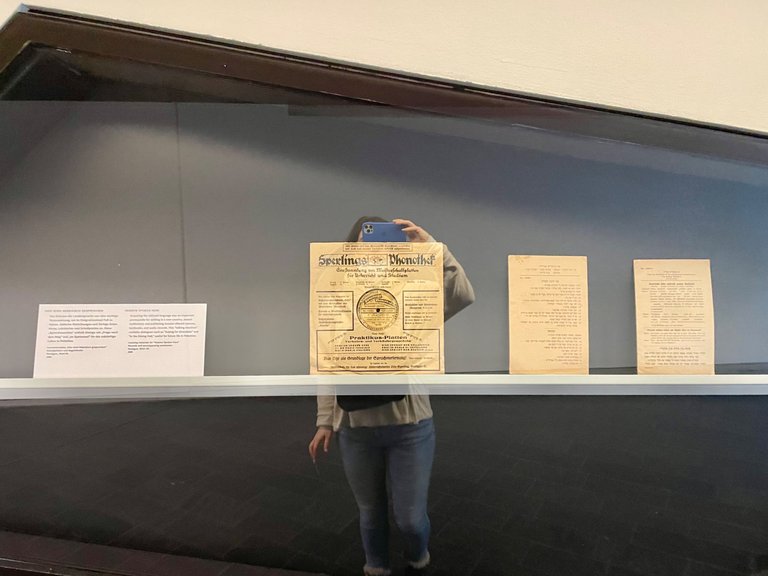 ---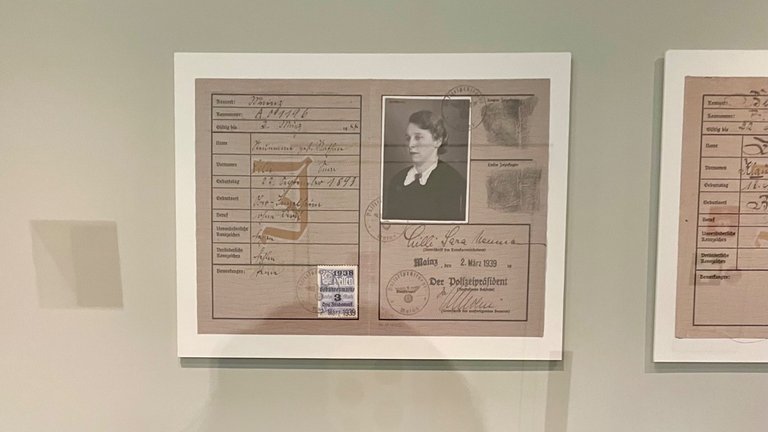 ---
I strongly recommend visiting the Jewish Museum if you travel to Berlin and if you somehow feel an interest in this part of Jewish history and culture.
Recomiendo fuertemente visitar el Museo Judío si viajas a Berlín y si de alguna manera sientes ineterés por esta parte de la historia y por la cultura judía.
---
I hope you like it!
Thanks a lot for being here!
With love,
Espero que les guste!!
Muchas gracias por estar aquí!
Con cariño,
---
Device: iPhone 12 Pro
Translation: DeepL
Dispositivo: iPhone 12 Pro
Traducción: DeepL
---
Pinmapple code: [//]:# (!pinmapple 52.50254 lat 13.39524 long Jewish Museum in Berlin: get ready to travel back in time and emotions d3scr)
---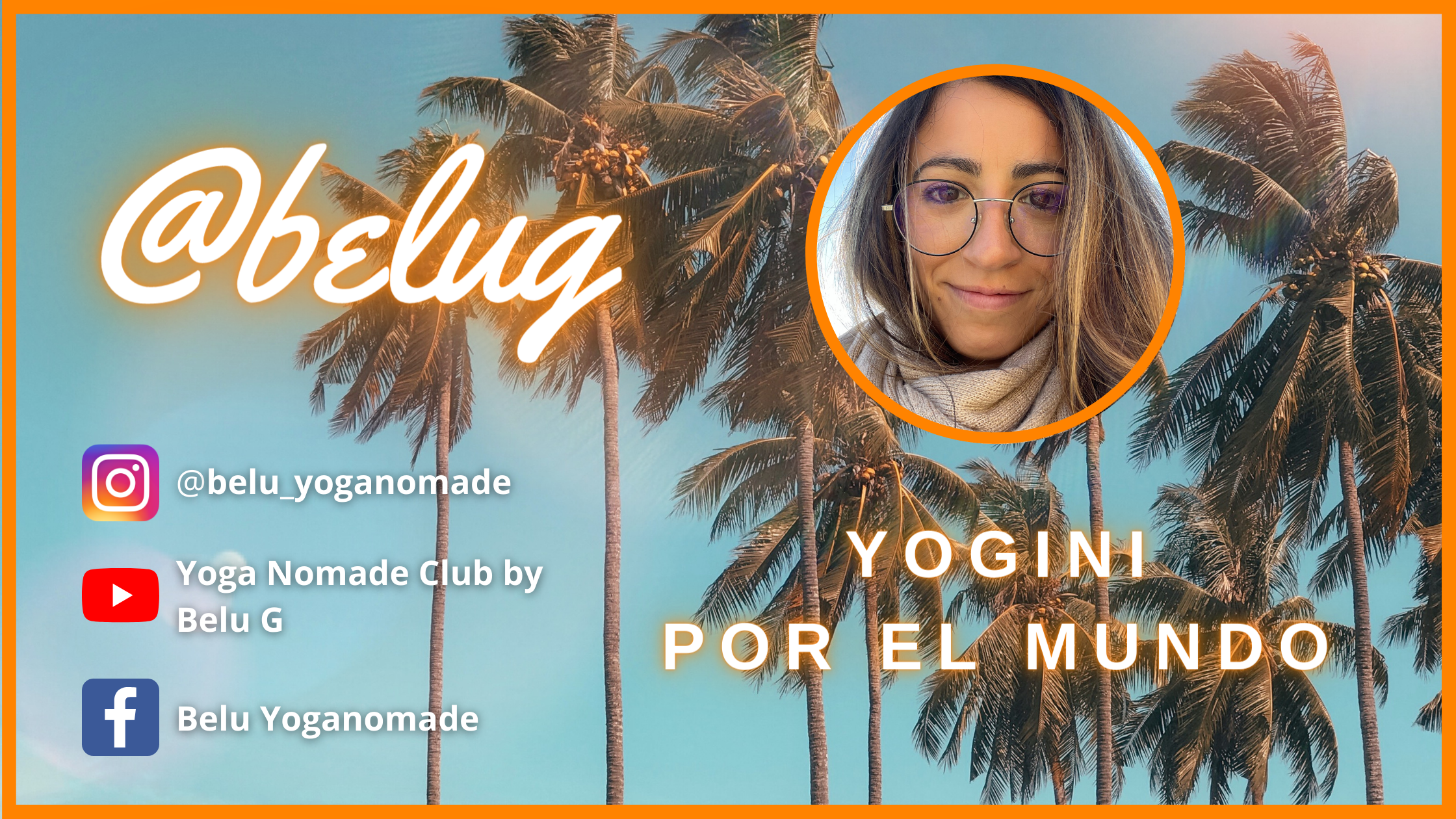 ---
---