A gastronomic tour of Israel [Eng - Esp]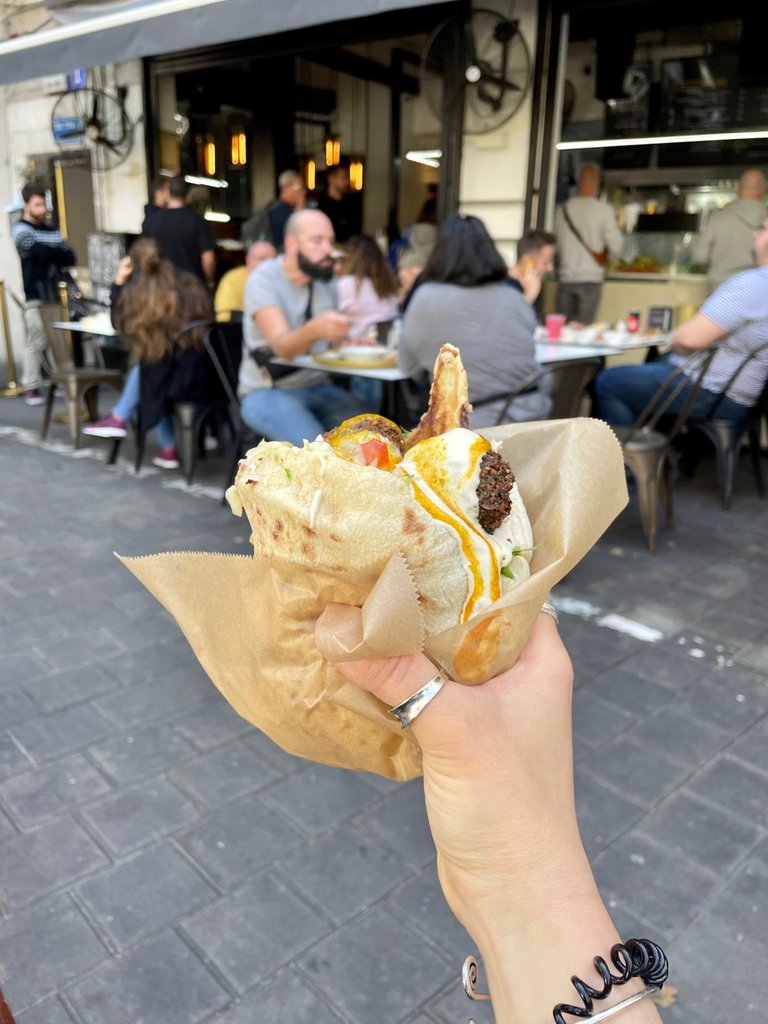 English
---
A gastronomic tour of Israel
---
Hello my dear friends of the Foodies Bee Hive community! Today I come to give you a gastronomic tour of Israel!!! When I was there, some of their traditional dishes caught my attention, as well as foods or desserts that are all over the world, but were especially tasty there, such as ice cream.
In addition, I will tell you about some traditions that involve culinary art and that make this country a great destination with exotic touches in its dishes.
Finally, I will leave the names of the restaurants and stalls that I liked the most to go to eat!
I hope you enjoy this tour!
Español
---
Un tour gastronómico por Israel
---
Hola a mis queridos amigos de la comunidad de Foodies Bee Hive! Hoy vengo a darles un paseo gastronómico por Israel!! Cuando estuve allí, me llamaron mucho la atención algunos de sus platos tradicionales, como también comidas o postres que están en todo el mundo, pero que allí eran especialmente sabrosos, como los helados.
Además, les comentaré algunas tradiciones que involucran el arte culinario y que hacen de este país, un gran destino con toques exóticos en sus platos.
Por último, dejaré los nombres de los restaurantes y puestos que más me gustaron para ir a comer!
Espero que disfruten este tour!!
---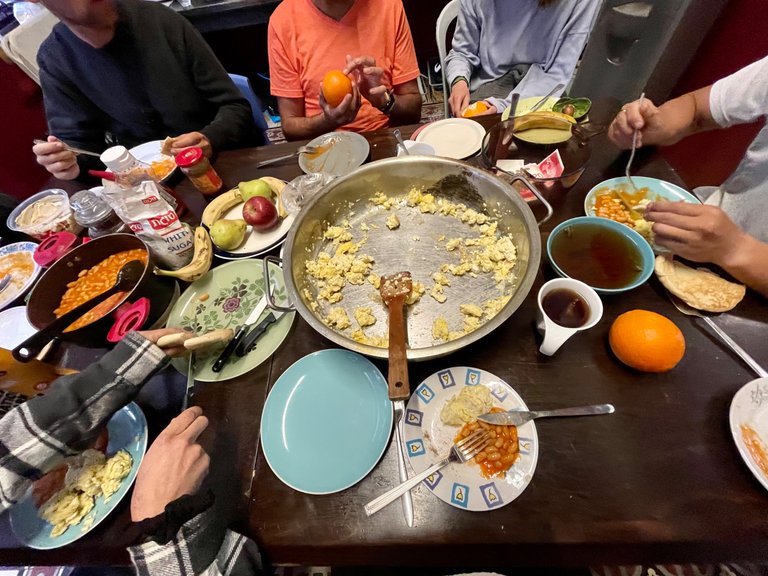 ---
Falafel
---
This is a very traditional food from Israel, whose origin belongs to the Arab culture.
It consists of a pita bread (it is what at least in Argentina is known as Arabic bread), filled with fried vegetable dumplings. To that you can add chicken, meat or more vegetables, as well as condiments.
It is exquisite and it is a quick meal. Although it is quite healthy, it is something that is usually eaten on foot, standing next to the place, or of course, some stalls also offer the option of sitting down.
I ate a lot of this in Israel because it was the food I liked the most. At the stalls where they sell it, they usually offer kebab and shawarma as well. The former is like a pancake batter stuffed with meat, chicken and/or vegetables that ends up looking like a Mexican burrito because of the shape. The only photo I have of this I've already shared on another occasion when taking them for a walk in Jerusalem, so I won't upload it here.
And shawarma is a bread with meat or chicken cut into small pieces. The peculiarity of this food is that a large portion of meat is cooked over a low flame and then it is larded a little at a time. I didn't eat this because in Argentina there is some and it never caught my attention (I've tried it and it doesn't fascinate me).
I will leave the photos of my adored falafel and the place I recommend to go is Falafel Hakosem.
Falafel
---
Esta es una comida muy tradicional de Israel, cuyo origen pertenece a la cultura árabe.
Consiste en un pan pita (es lo que al menos en Argentina se conoce como pan árabe), relleno de unas bolitas de vegetales fritas. A eso se le puede agregar pollo, carne o más verduras, como también condimentos.
Es exquisito y es una comida rápida. Aunque es bastante saludable, es algo que suele comerse caminando, parado al lado del local, o claro, algunos puestos ofrecen también la opción de sentarse.
Comí mucho de esto en Israel porque fue la comida que más me gustó. En los puestos donde lo venden, por lo general ofrecen también kebab y shawarma. El primero es como una masa de panqueque rellena con carne, pollo y/o verduras que termina pareciéndose a un burrito mexicano por la forma. La única foto que tengo de esto ya la he compartido en otra ocasión al llevarlos a pasear por Jerusalén, por lo que no la subiré aquí.
Y el shawarma es un pan con carne o pollo cortado en pedacitos. La peculiaridad de esta comida está en que se cocina una gran porción de carne a fuego lento y se va mechando de a poco. De esto no comí porque en Argentina hay y nunca me llamó mucho la atención (lo he probado y no me fascina).
Dejaré las fotos de mis adorados falafel y el lugar que recomiendo para ir, es Falafel Hakosem.
---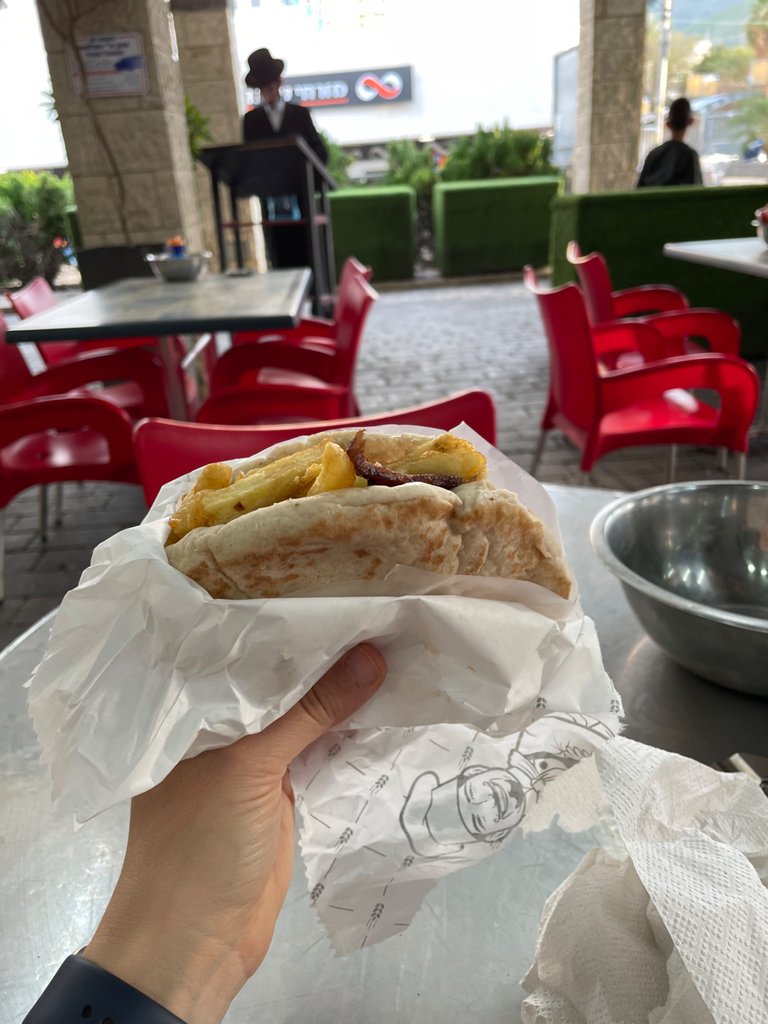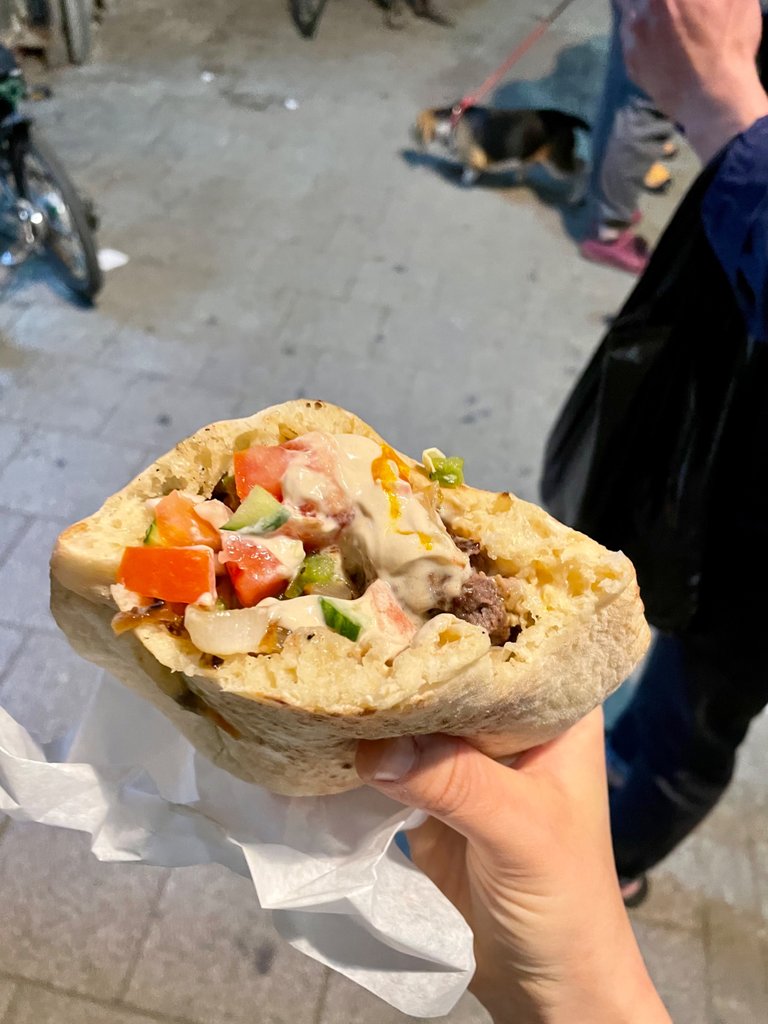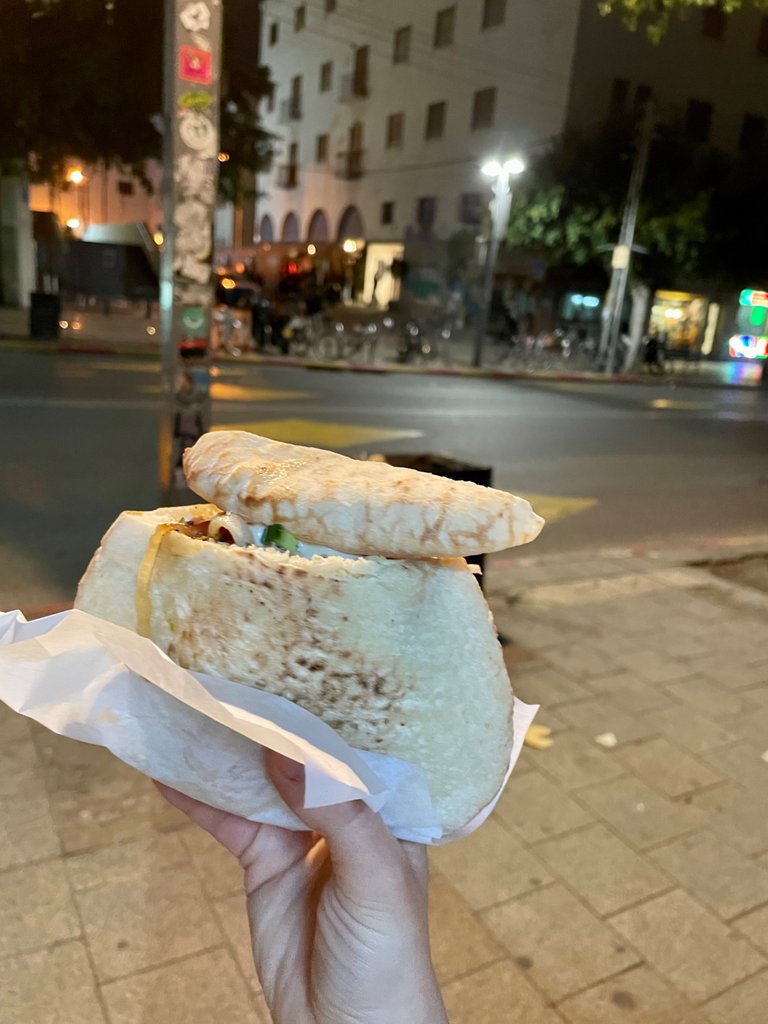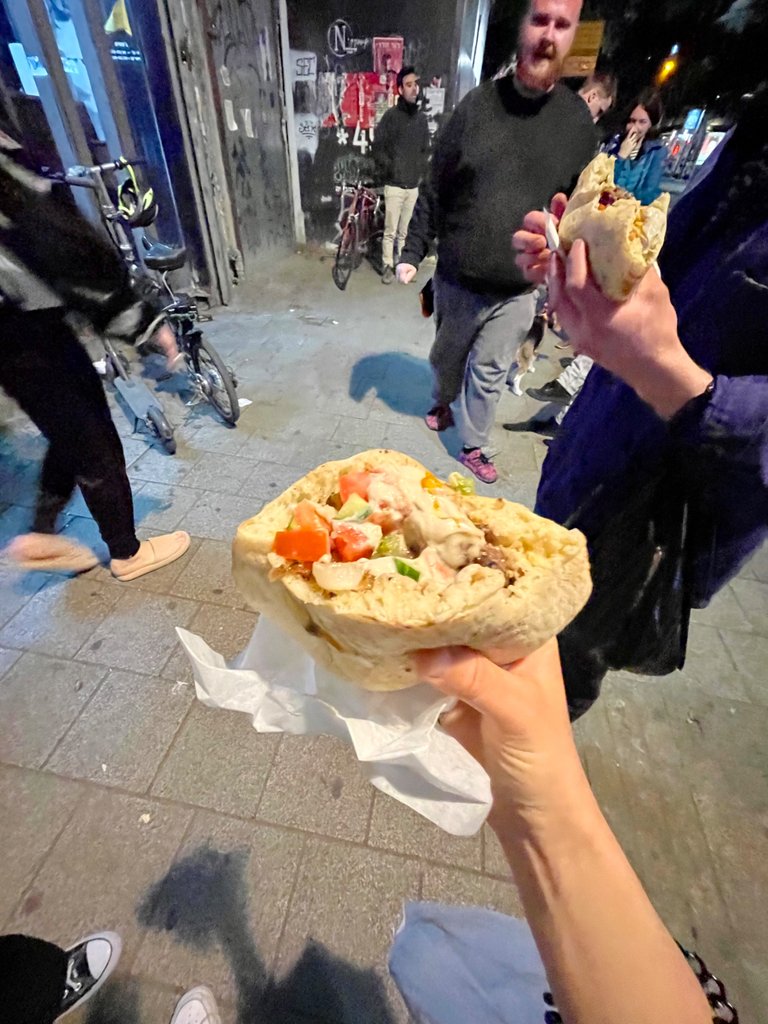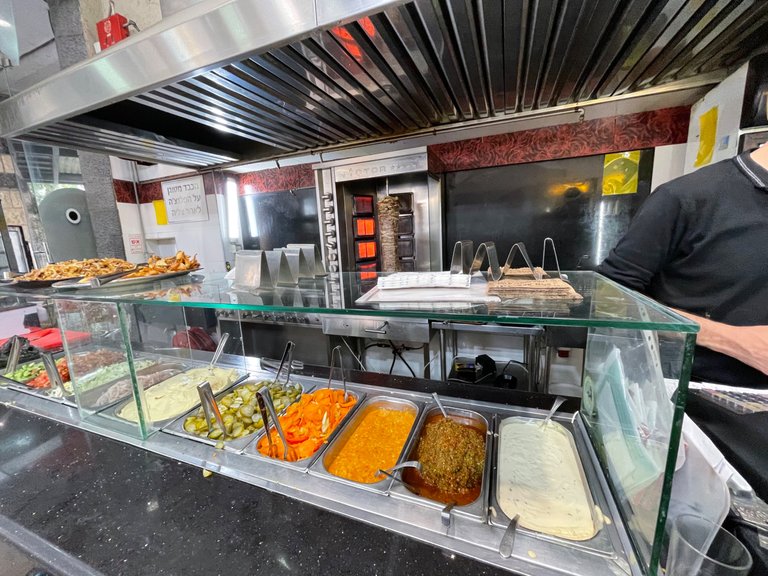 ---
And it is in Falafel Hakosem / Y esto es en Falafel Hakosem
---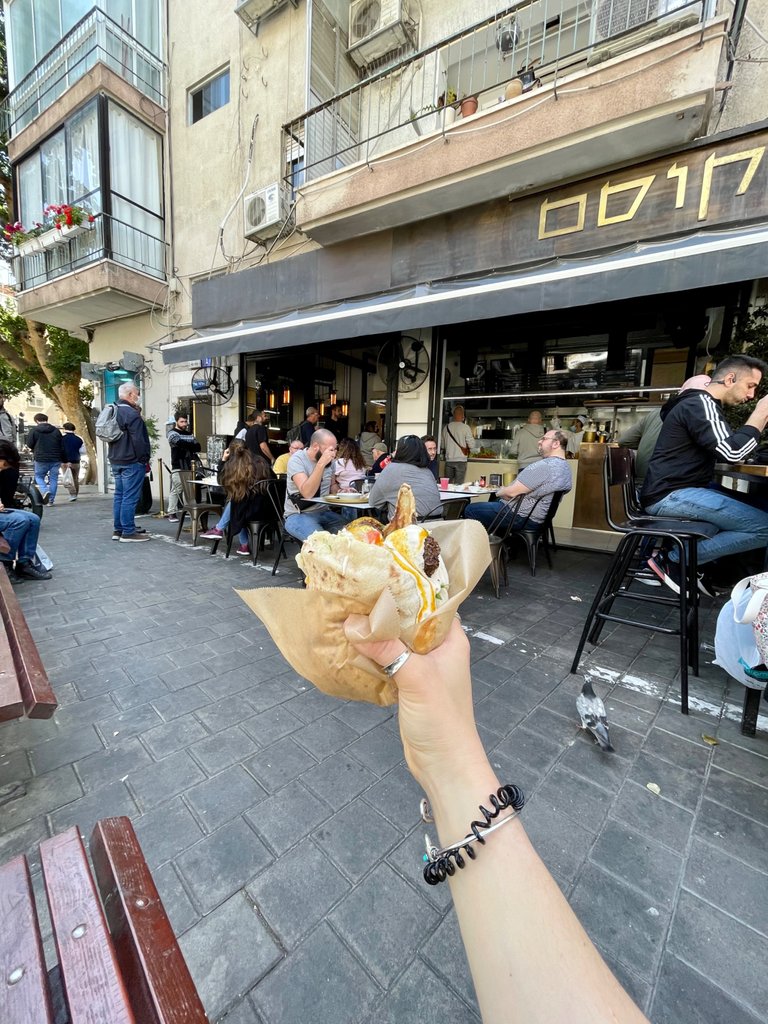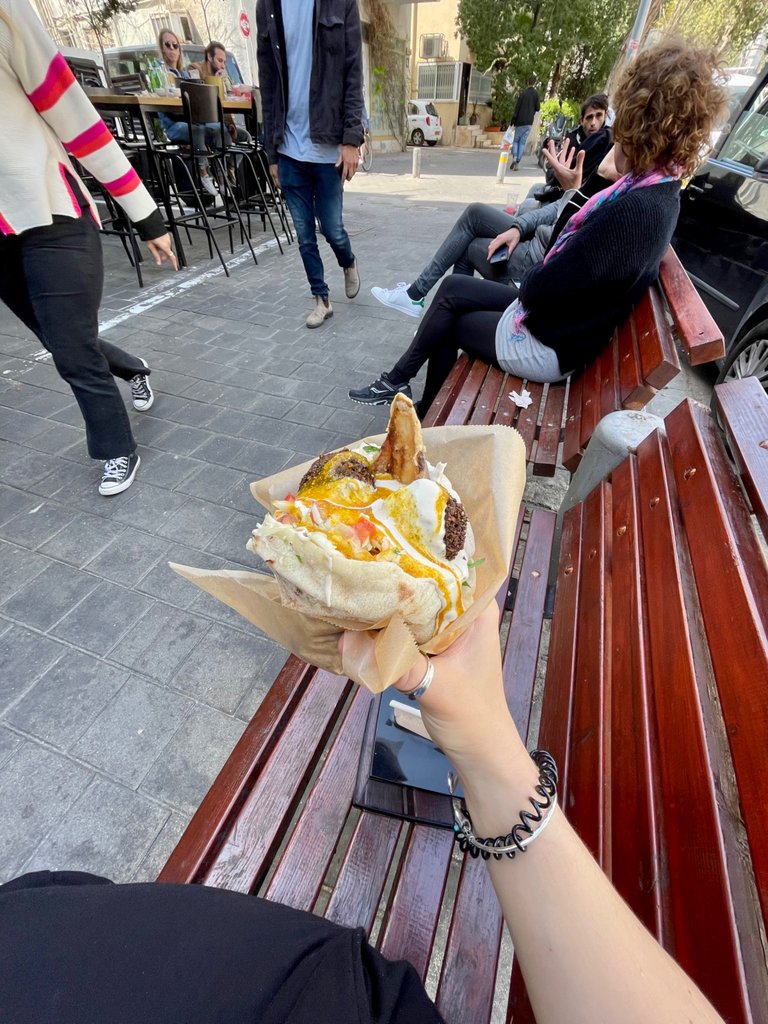 ---
Humus
---
Hummus is quite well known internationally, but although I have eaten it many times, I have never tasted one like the one from Israel. They sell it in the supermarket with different flavors, and in all the markets like Carmel Market, Sarona Market, Levinski Street. The one on Levinski Street is the one I recommend, unfortunately I don't remember the name of the place, but in the whole area they make it homemade and it is very good.
The particularity of Israeli hummus is that they add tahini, an Arab sauce made with sesame seeds and olive oil, which gives it a unique touch and a creamier consistency than the hummus that is made at least in Argentina.
Humus
---
El humus es bastante conocido a nivel internacional, pero a pesar de que lo he comido muchas veces, jamás probé uno como el de Israel. Lo venden en el supermercado con diferentes sabores, y en todos los mercados como Carmel Market, Sarona Market, la calle Levinski. El de esta última calle es el que recomiendo, lamentablemente no recuerdo el nombre del lugar, pero en todo el sector lo hacen casero y es muy bueno.
La particularidad del humus de Israel es que se le agrega tahini, una salsa árabe hecha con semillas de sésamo y aceite de oliva, lo que le da un toque único y una consistencia más cremosa que el humus que se hace al menos en Argentina.
---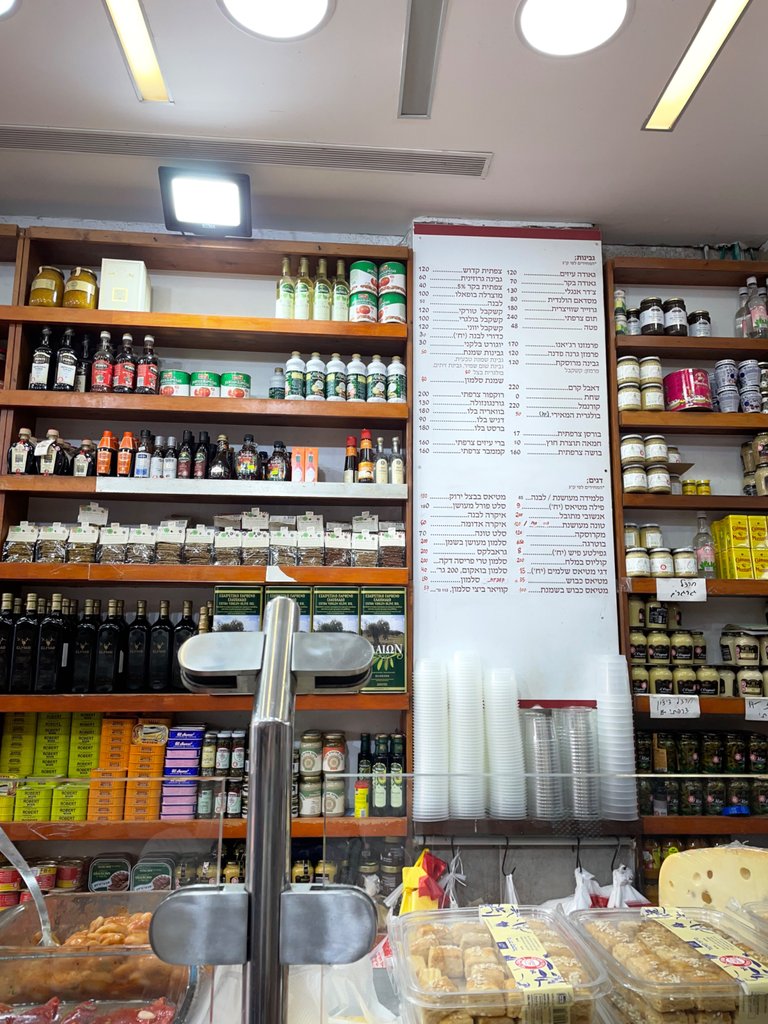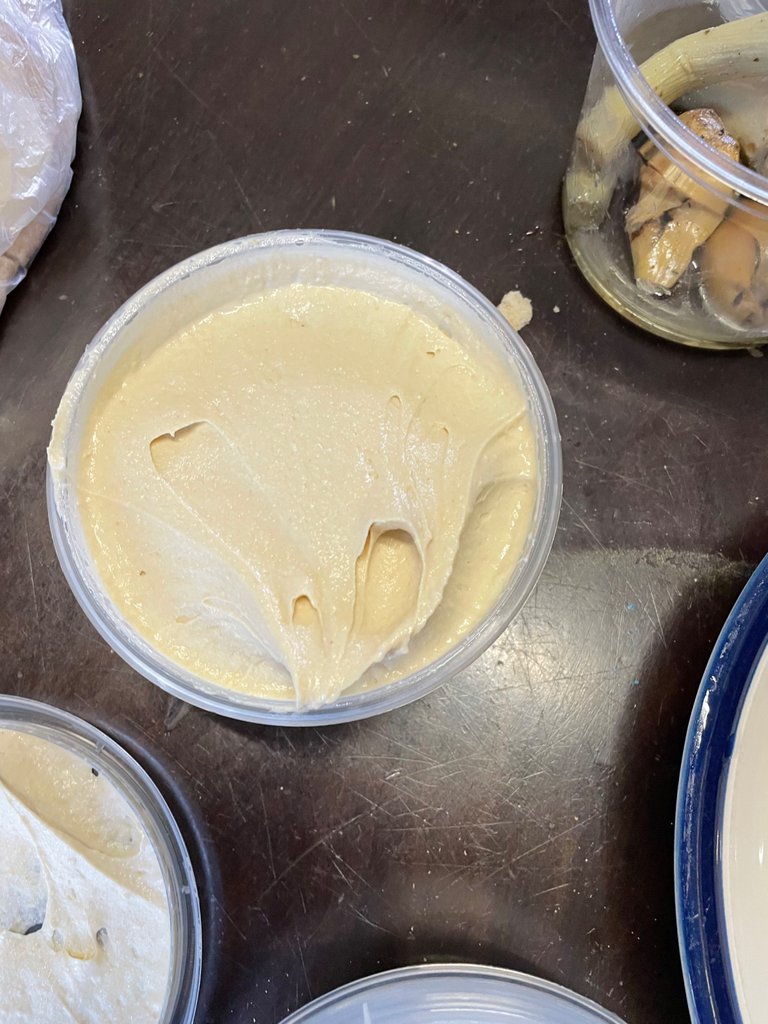 ---
Fruits, raw vegetables, seeds and nuts
---
Well, this is something quite simple, but I had to mention it, as I have never seen so much eaten raw. I don't know if it was a coincidence and I just happened to be with people who ate this way, but all the colors of peppers, chili peppers, tomatoes, radish and more, are mixed in salads which sometimes they don't even season and they eat them like this, extremely natural.
It seemed to me a very healthy way of eating, since I am more used to cooking vegetables.
My favorite place to buy them is the Carmel Market in Tel Aviv, as its narrow streets allow the vegetables to make a festival of colors before your eyes. The vendors have them displayed in large quantities and it's great to go and choose the fresh vegetable you will eat, or fruit.
They also sell fruit salad, in the same way. Just cut up fruit, no juice or anything. Very tasty.
Also, the dried fruits are very traditional, and they have a lot of varieties. The place I liked the most to buy them is also Levinski Street.
Frutas, verduras crudas, semillas y frutos secos
---
Bueno, esto es algo bastante sencillo, pero tenía que mencionarlo, ya que nunca había visto que se comiera tanto crudo. No se si fue casualidad y justo estuve con personas que comían así, pero todos los colores de pimientos, ajíes, tomate, rábano y más, se mezclan en ensaladas a las cuales a veces ni siquiera condimentan y los comen así, sumamente naturales.
Me pareció una manera muy saludable de alimentarse, ya que yo estoy más acostumbrada a cocinar las verduras.
Mi lugar preferido para comprarlas es el Carmel Market de Tel Aviv, ya que sus estrechas callecitas permiten que las verduras hagan un festival de colores ante los ojos. Los vendedores las tienen expuestas en grandes cantidades y es genial ir y elegir la fresca verdura que comerás, o fruta.
También venden ensalada de frutas, de la misma manera. Solo frutas corta ditas, sin jugo ni nada. Muy rico.
Además, los frutos secos son muy tradicionales, y tienen una gran cantidad de variedades. El lugar que más me gustó para comprarlos es también la calle Levinski.
---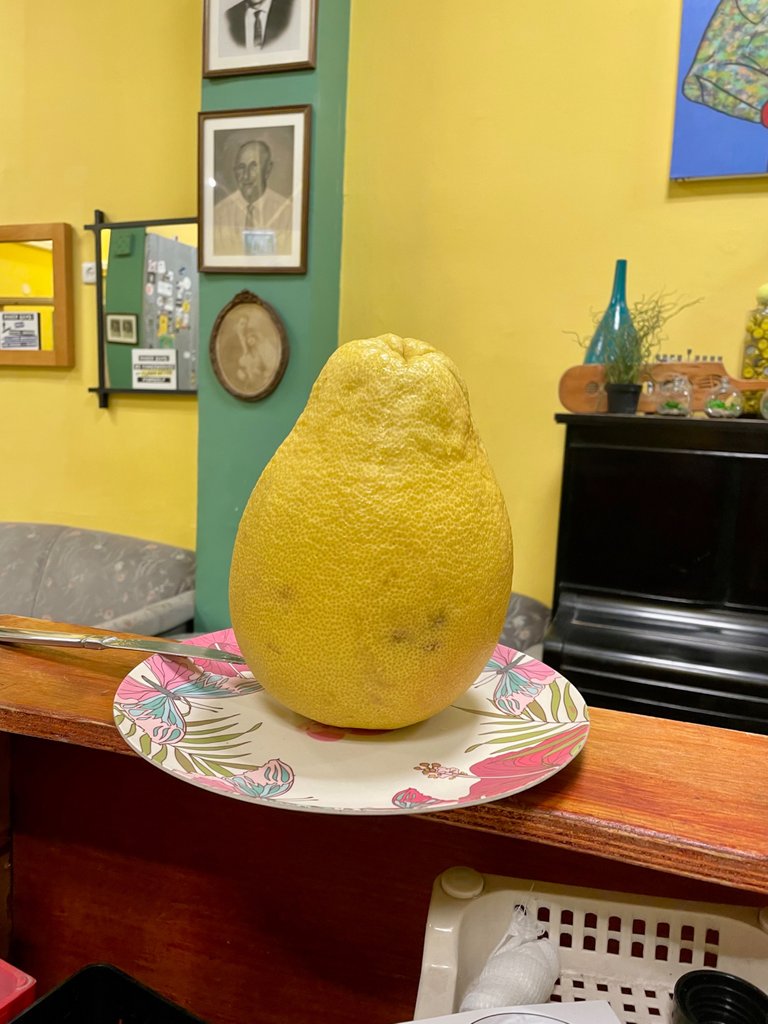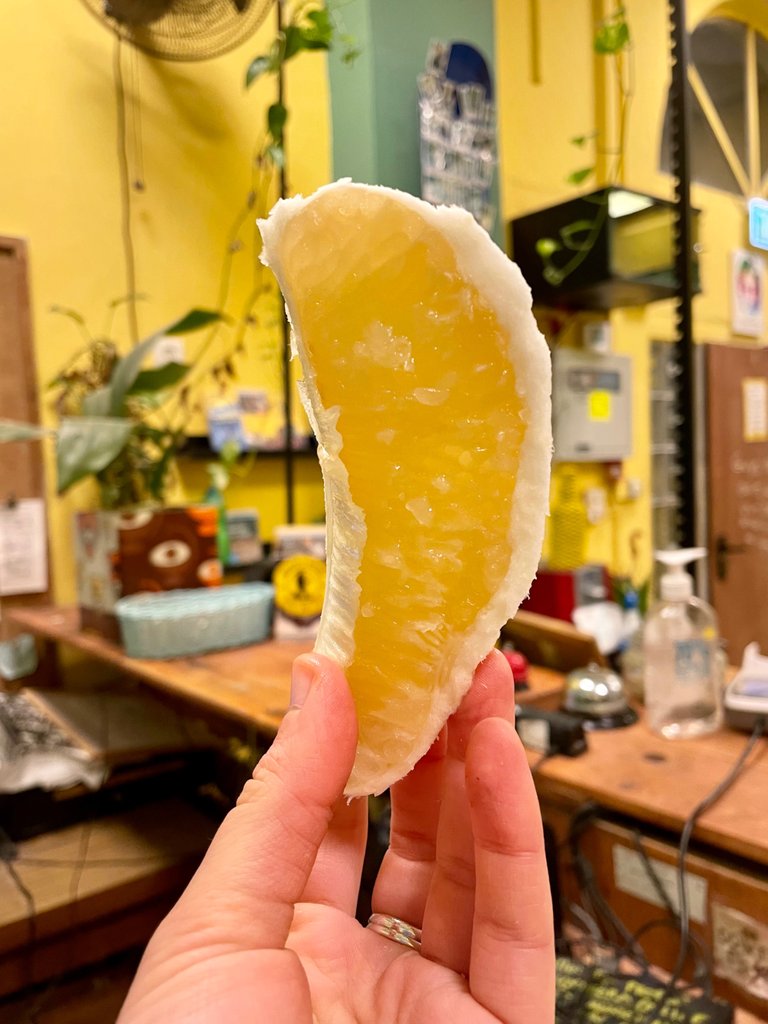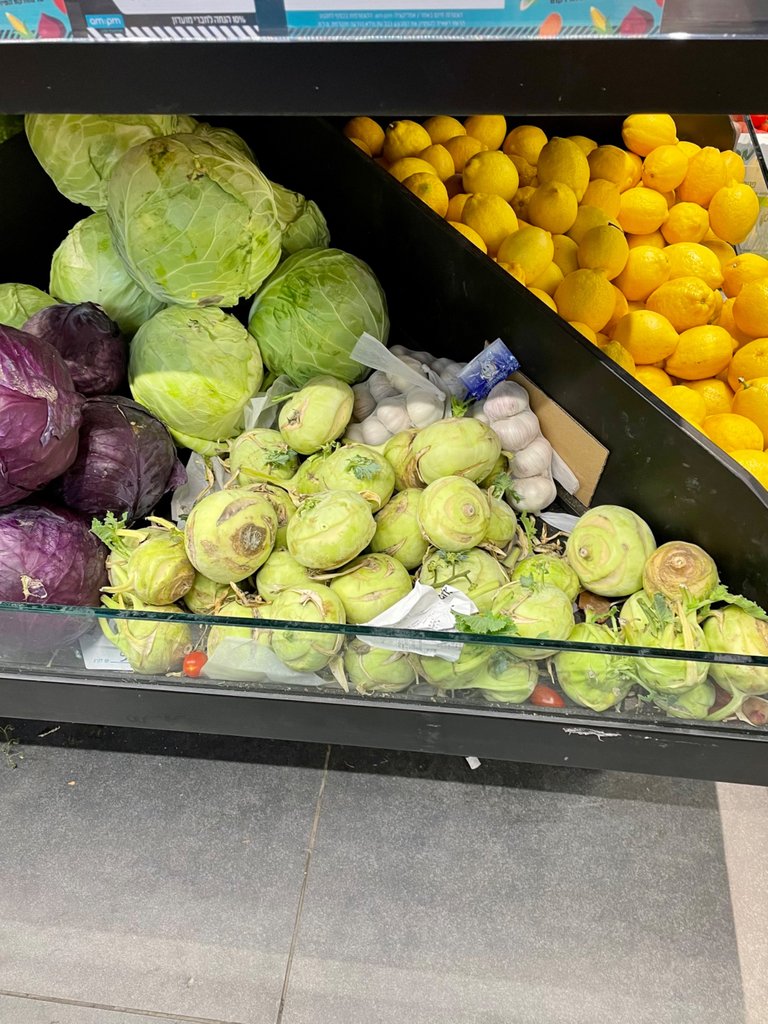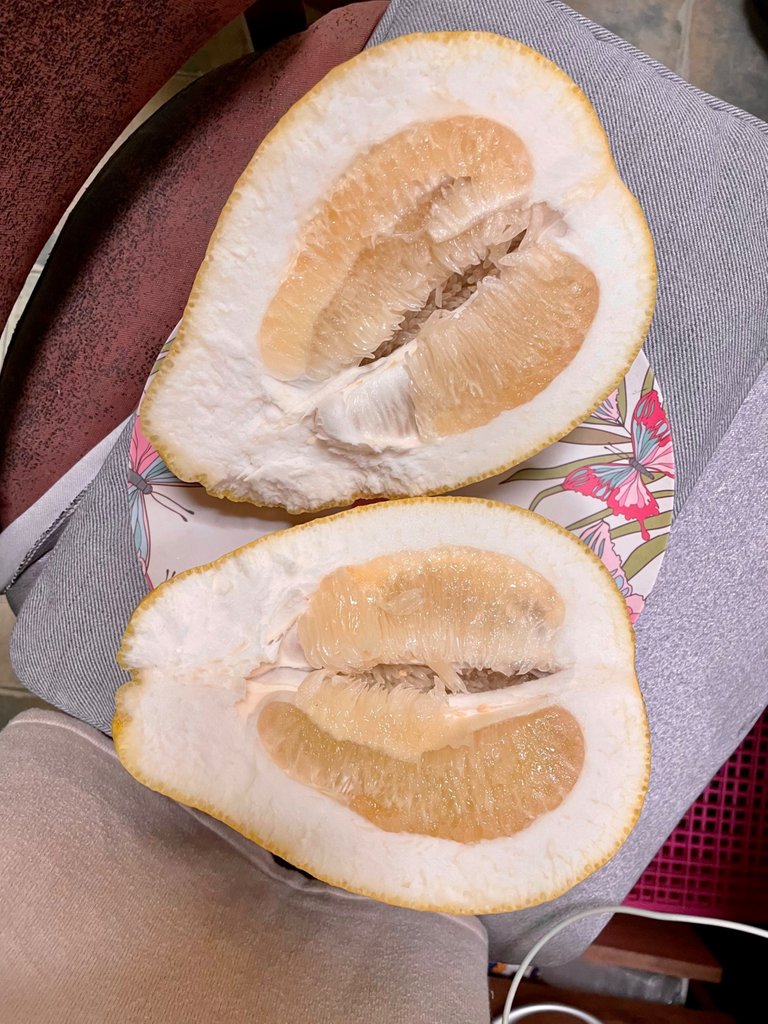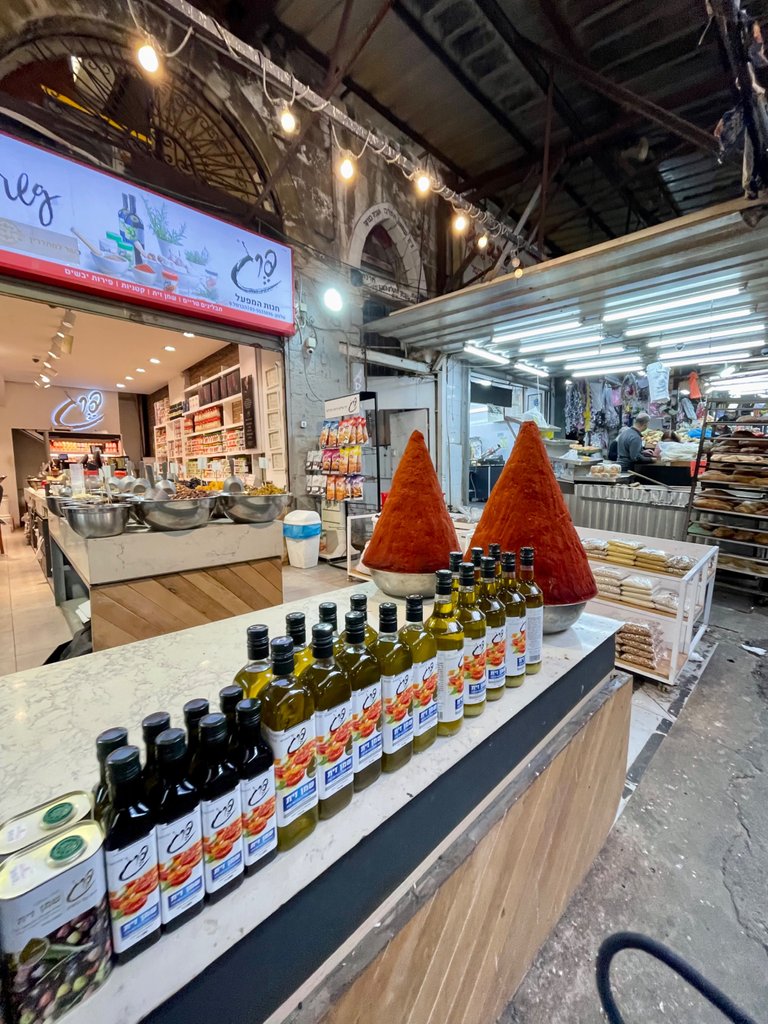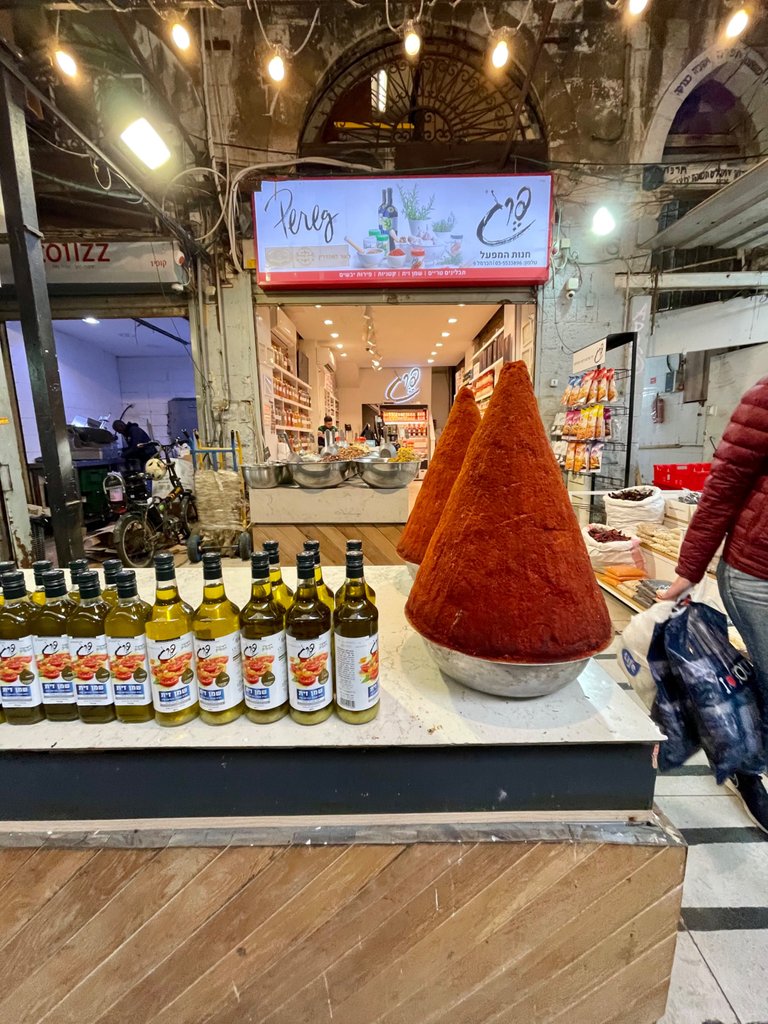 ---
Pastries
---
Well, here I mention this in general, because there are different specialties within the sweet baked goods. What I liked the most, were the different versions of chocolate rugelach. The rugelach are very similar to the Argentinean croissants or the French croissants, but they are softer, very sweet and usually have chocolate not inside, but as a layer in the same dough that is then folded. It is a Jewish sweet, this being a very Israeli elaboration, while in this country we see that dishes of Arab origin predominate.
The place I fell in love with to eat this was the cafe facing the Mediterranean Sea in Jaffa: Silvia Cafe.
Also, there is a very famous coffee shop in Israel that sells very tasty things, although it stands out for its iced coffee. I know this does not fall under pastries, but as we always accompany these sweets with a drink, I take the opportunity to mention it here. The name of this place is Aroma.
Bollería
---
Bueno, aquí menciono esto en general, porque hay diferentes especialidades dentro de los panificados dulces. Lo que a mi mas me gustó, fueron las diferentes versiones de rugelach de chocolate. Los rugelach son muy parecidos a las medialunas argentinas o los croissants franceses, pero son más blandos, muy dulces y por lo general llevan chocolate no adentro, sino como una capa en la misma masa que luego pliegan. Se trata de un dulce judío, siendo esta una elaboración bien israelí, mientras en este país vemos que predominan los platos de origen árabe.
El lugar del que me enamoré para comer esto, fue la cafetería que está frente al Mar Mediterráneo en Jaffa: Silvia Cafe.
Igualmente, hay una cafetería muy famosa en Israel que vende cosas muy ricas, aunque se destaca por su café helado. Sé que esto no entra dentro de bollería, pero como siempre acompañamos estos dulces con alguna bebida, aprovecho para mencionarla aquí. El nombre de este lugar es Aroma.
---
Silvia cafe
---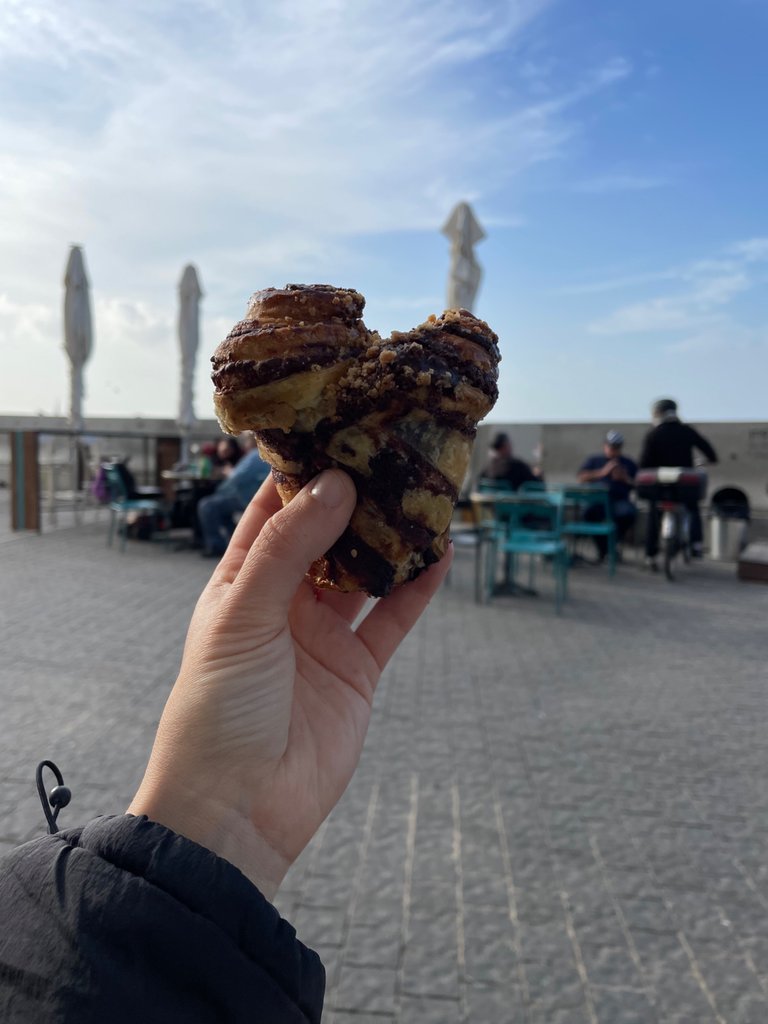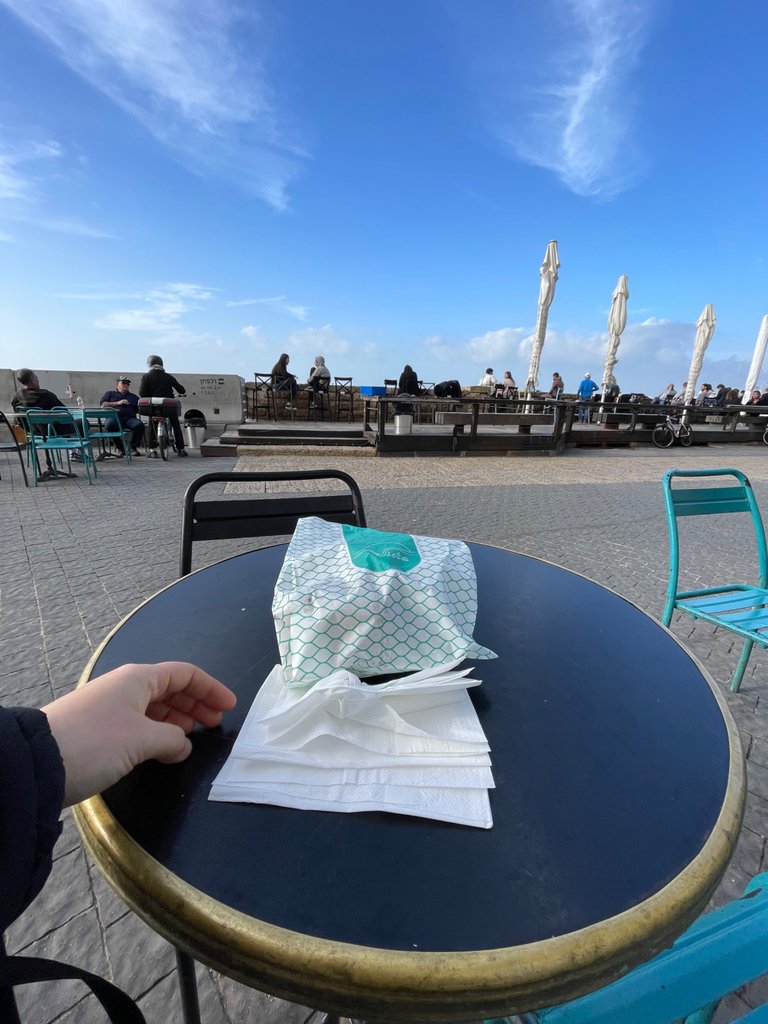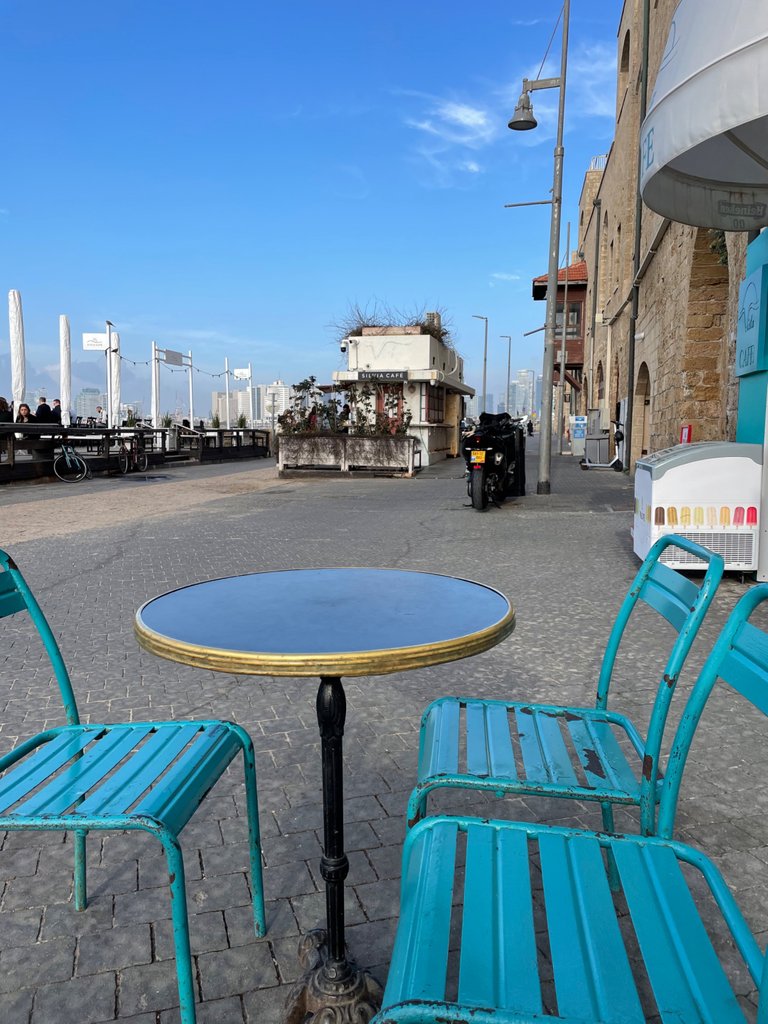 ---
Aroma
---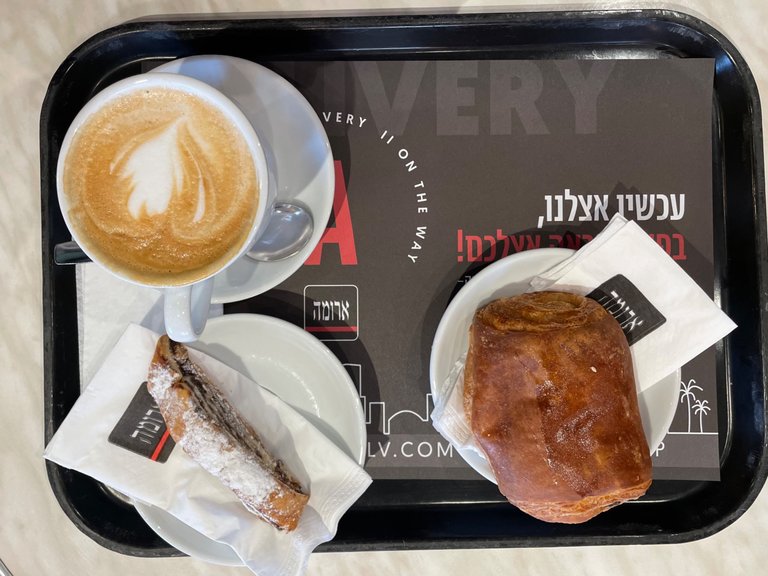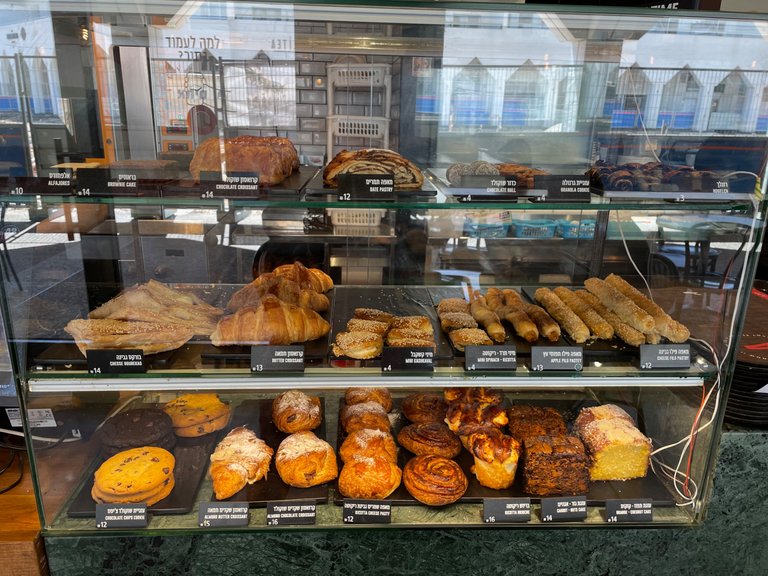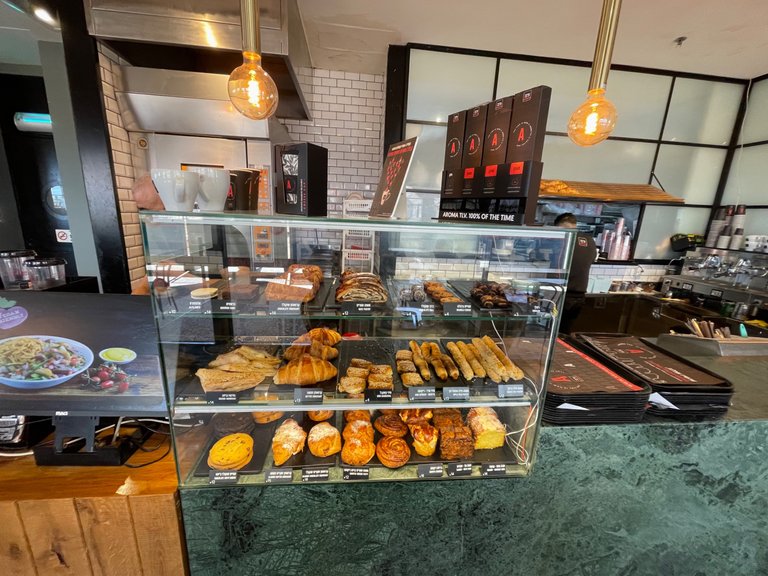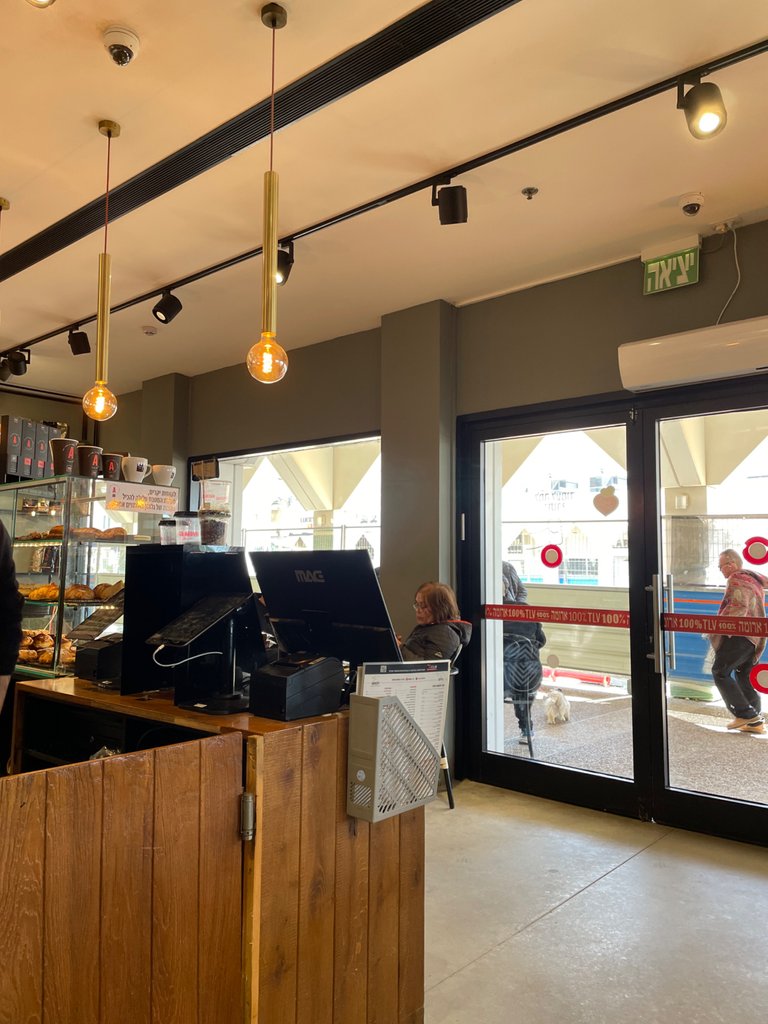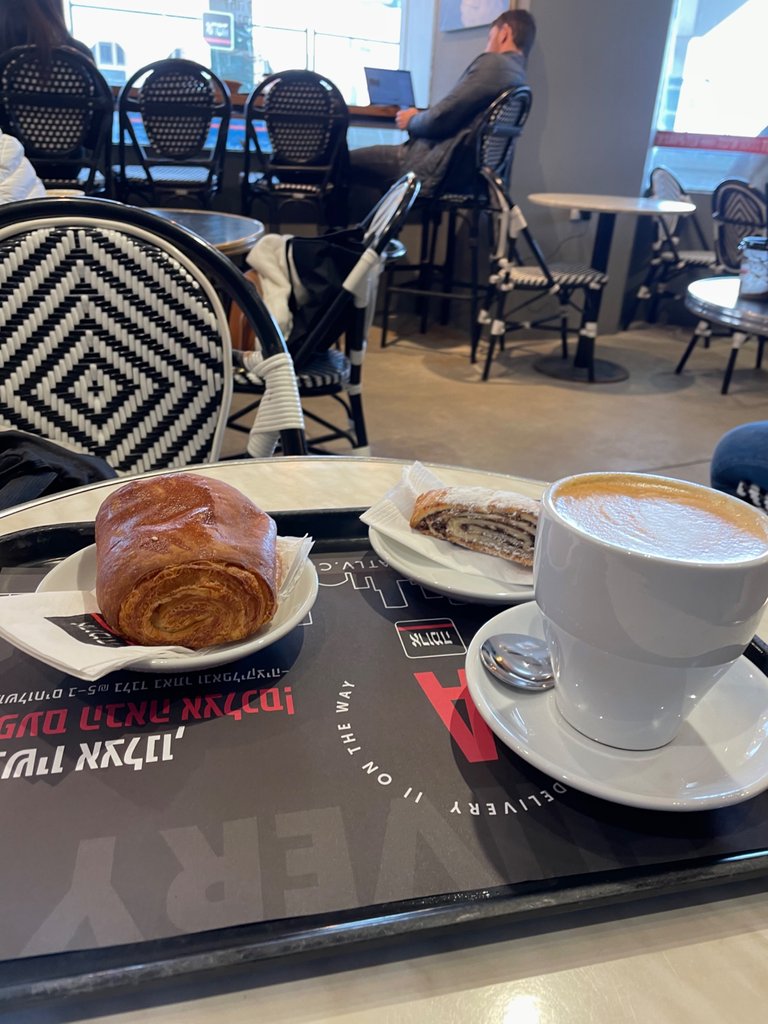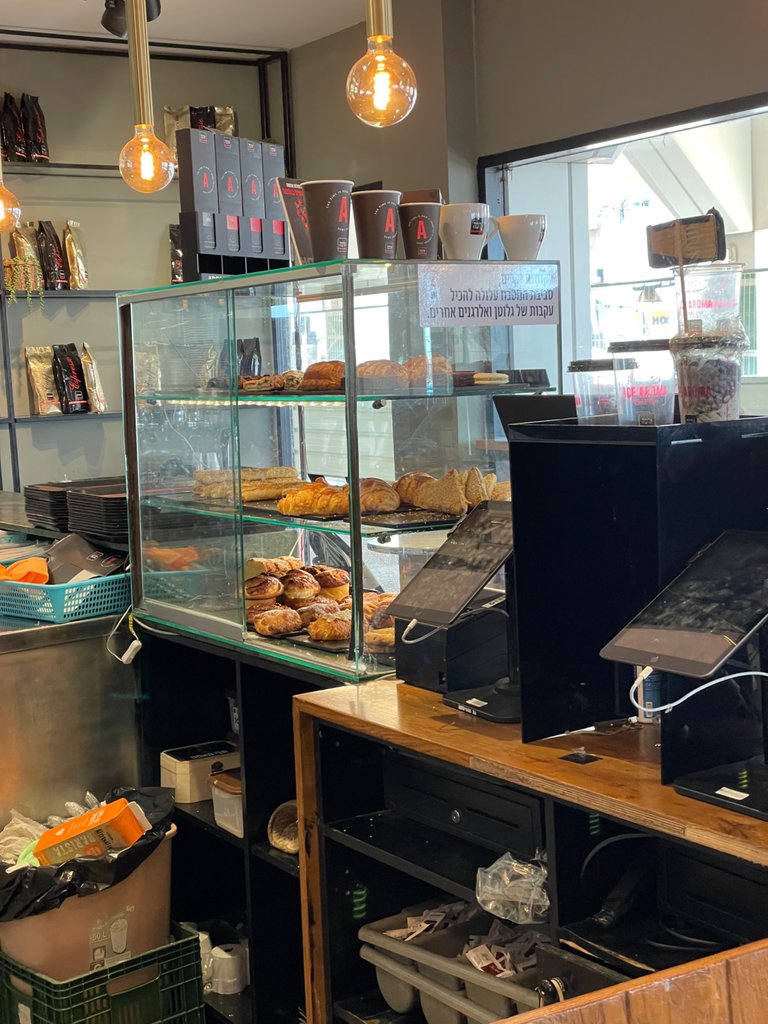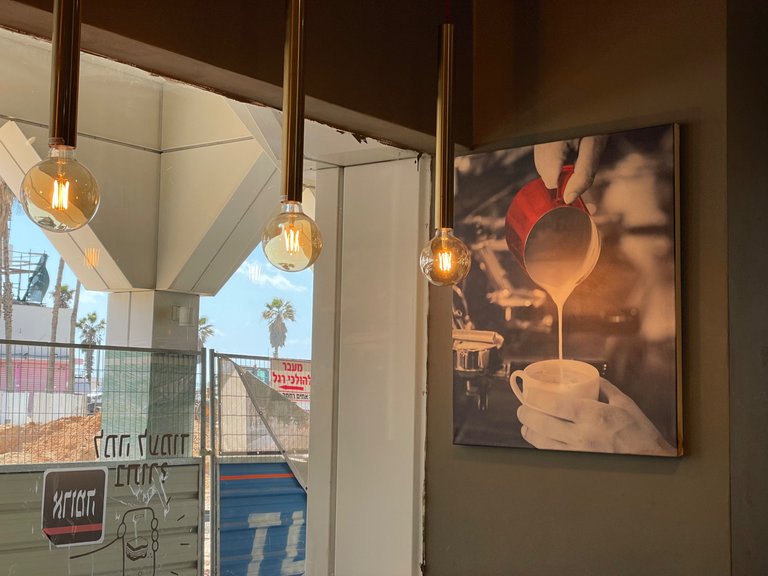 I bought this coffee on the way from Eilat to Jerusalem / Compré este cafe en el camino de Eilat a Jerusalén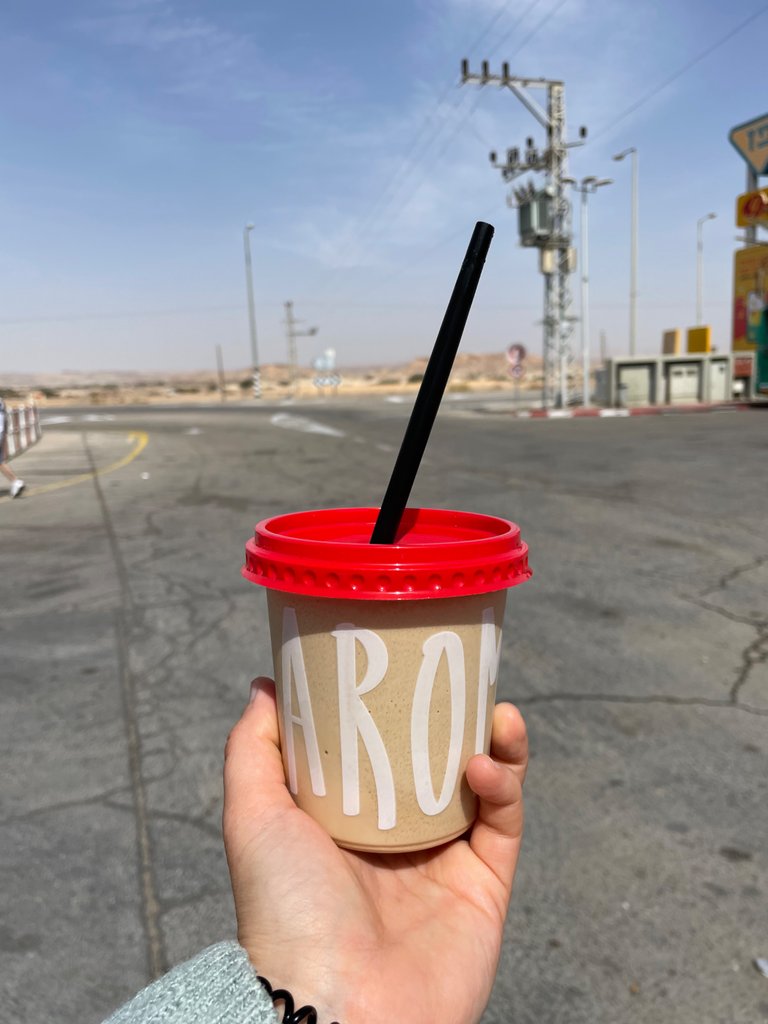 Halva
---
This is a dessert made with crushed sesame seeds and gives a flavor similar to what we know in Argentina as Mantecol, made with peanut butter.
There are different flavors: classic; with white, dark, bitter chocolate; with pepper; with chili; with lemon and many more.
In addition, it comes in different forms, for example as a bread, to cut a portion, or in strings, to add a touch to a meal.
I was delighted with the local Rey Halva. I will leave some unpublished photos from my archive, belonging to the Jerusalem market, Yehuda Market and others of some Halva with its box that I bought in Tel Aviv. It was very expensive that place, but it had an incomparable taste.
Halva
---
Este es un postre hecho con semillas de sésamo trituradas y le da un sabor similar a lo que en Argentina conocemos como Mantecol, hecho a base de crema de maní.
Hay diferentes sabores: clásico; con chocolate blanco, negro, amargo; con pimienta; con ají; con limón y muchos más.
Además, viene de diferentes maneras, por ejemplo tipo pan, para cortar una porción, o en hilos, para dar un toque a alguna comida.
Quedé encantada con el local Rey Halva. Dejaré algunas fotos inéditas de mi archivo, pertenecientes al mercado de Jerusalén, Yehuda Market y otras de un poco de Halva con su caja que compré en Tel Aviv. Era muy caro ese lugar, pero tenía un sabor inigualable.
---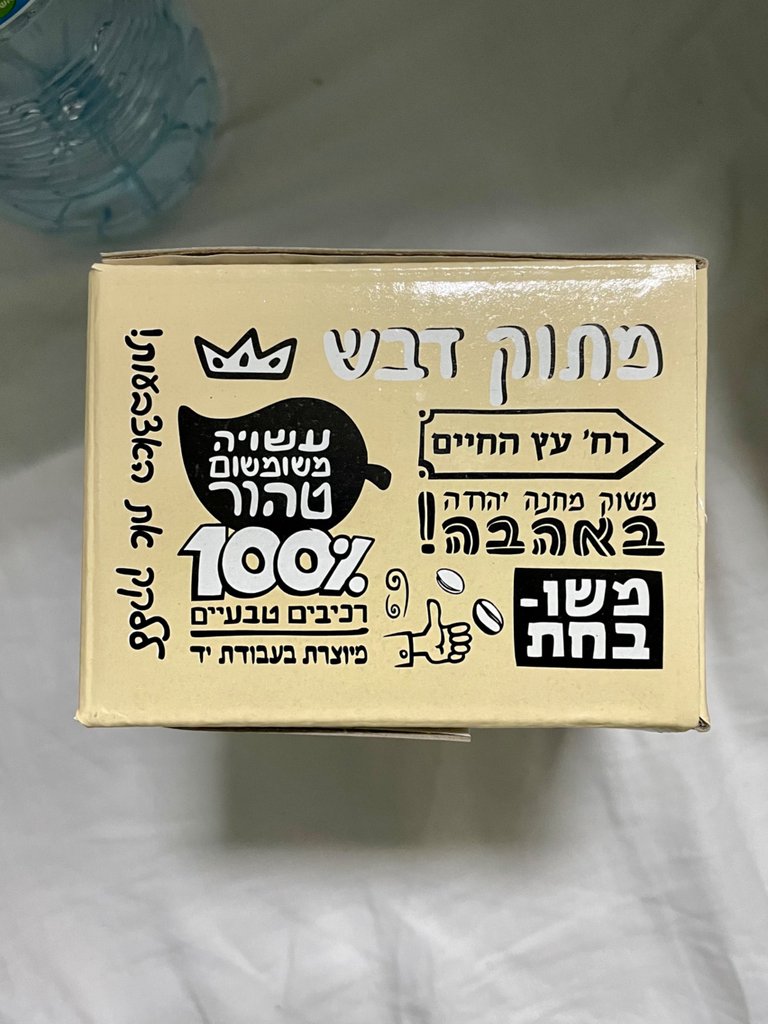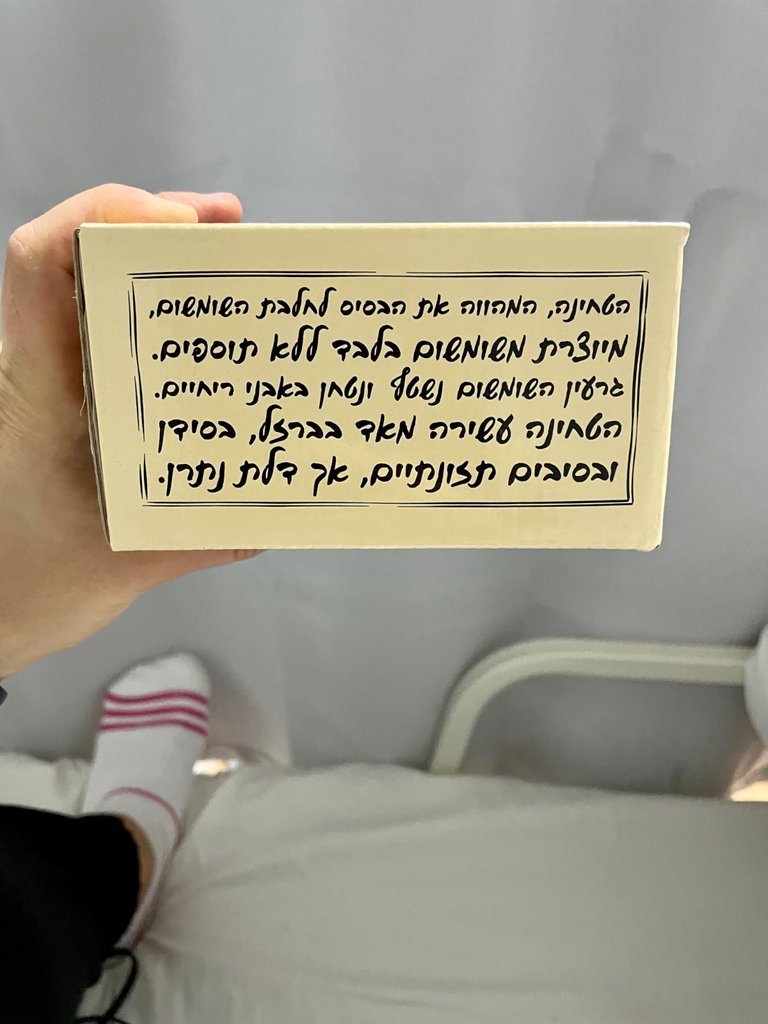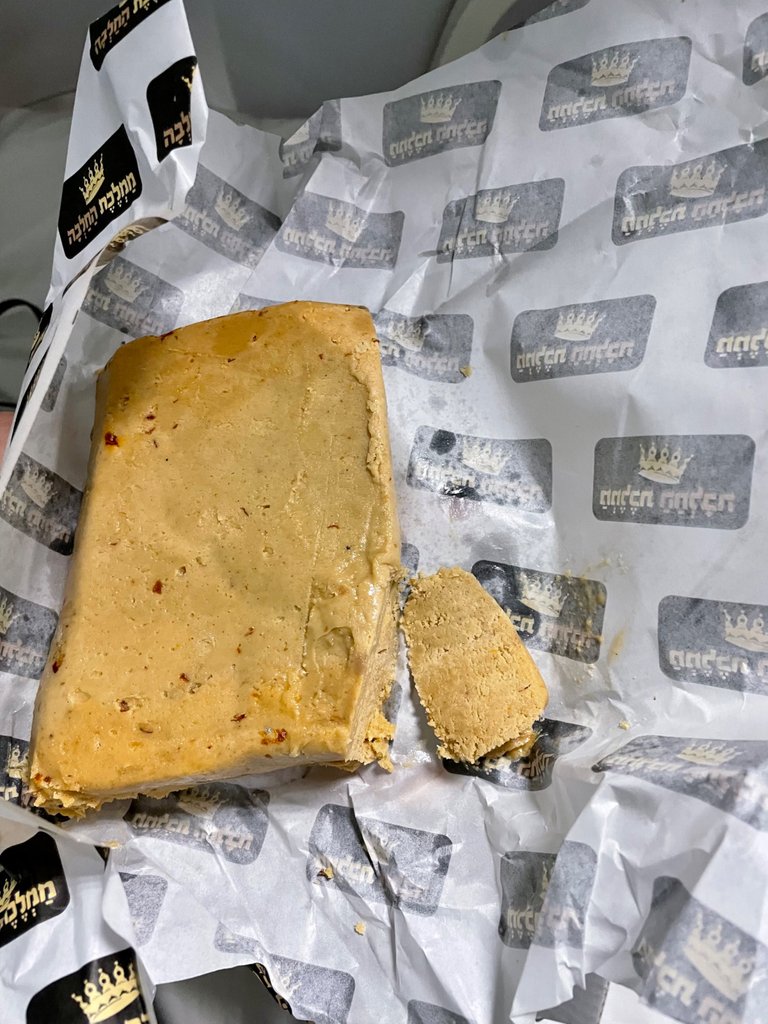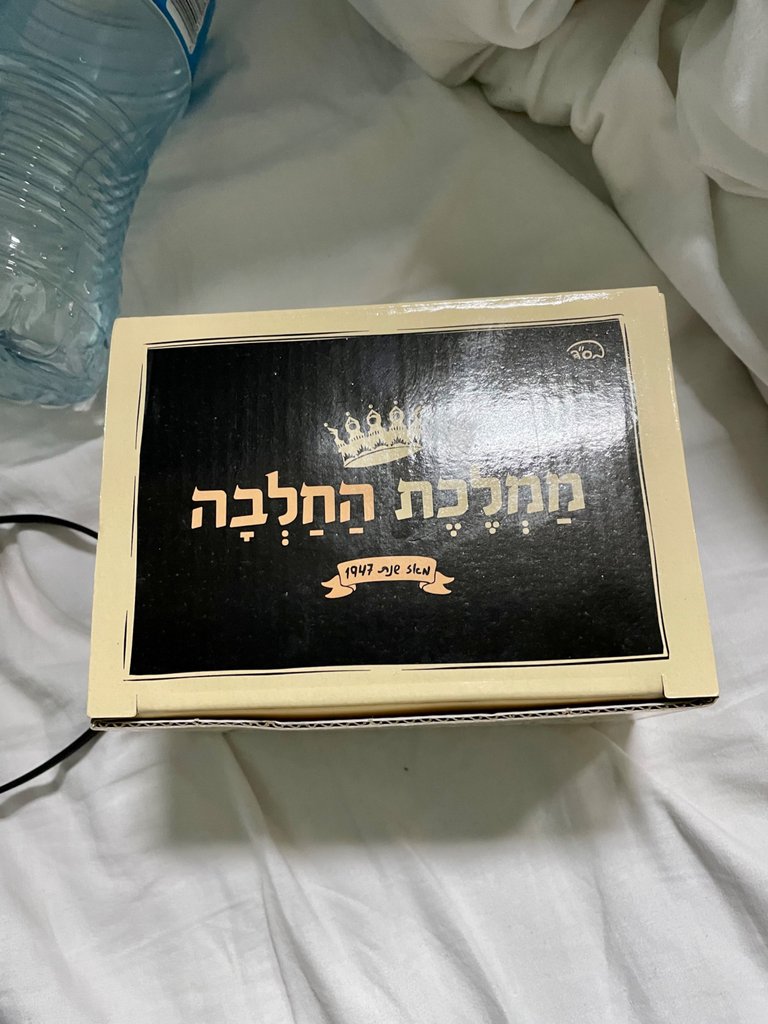 ---
Halva in curls / Halva en hilos
---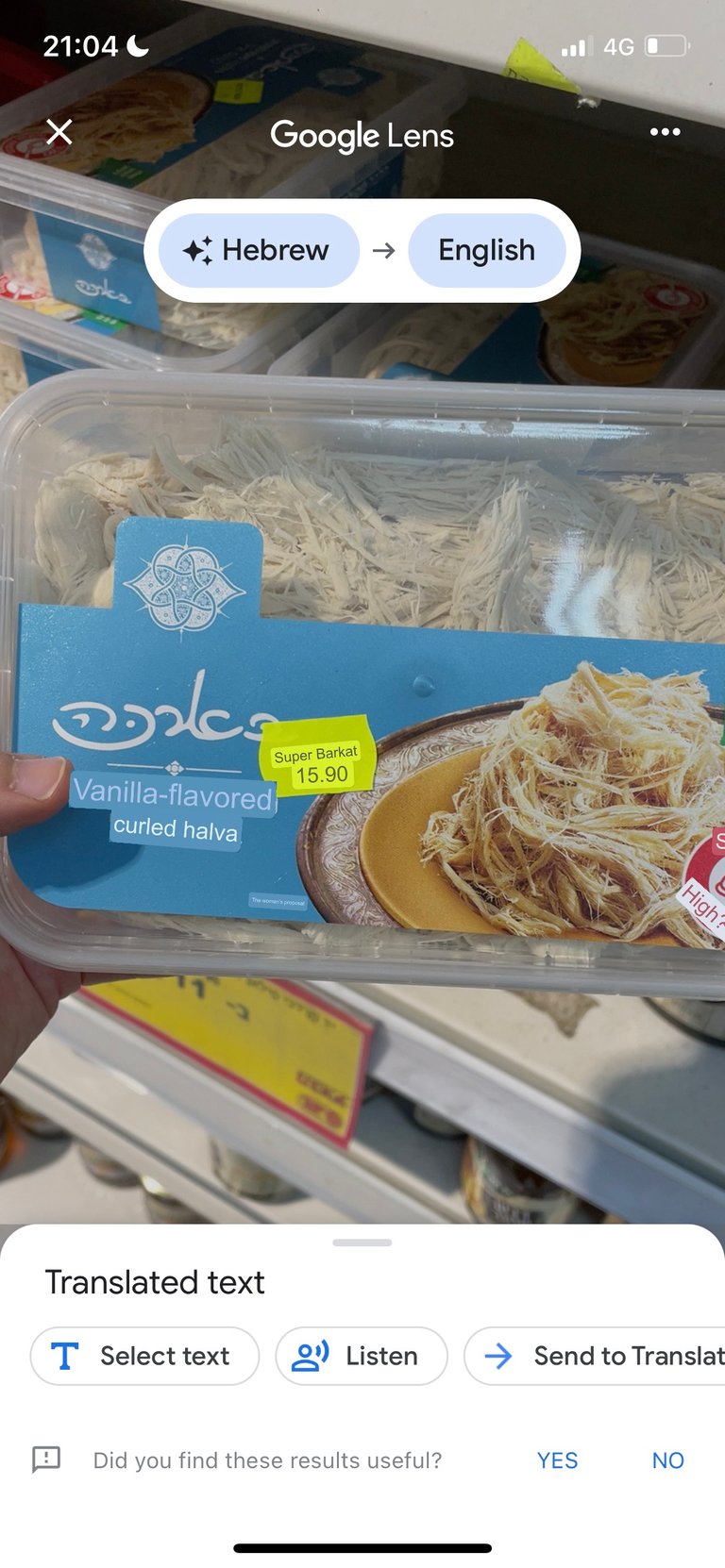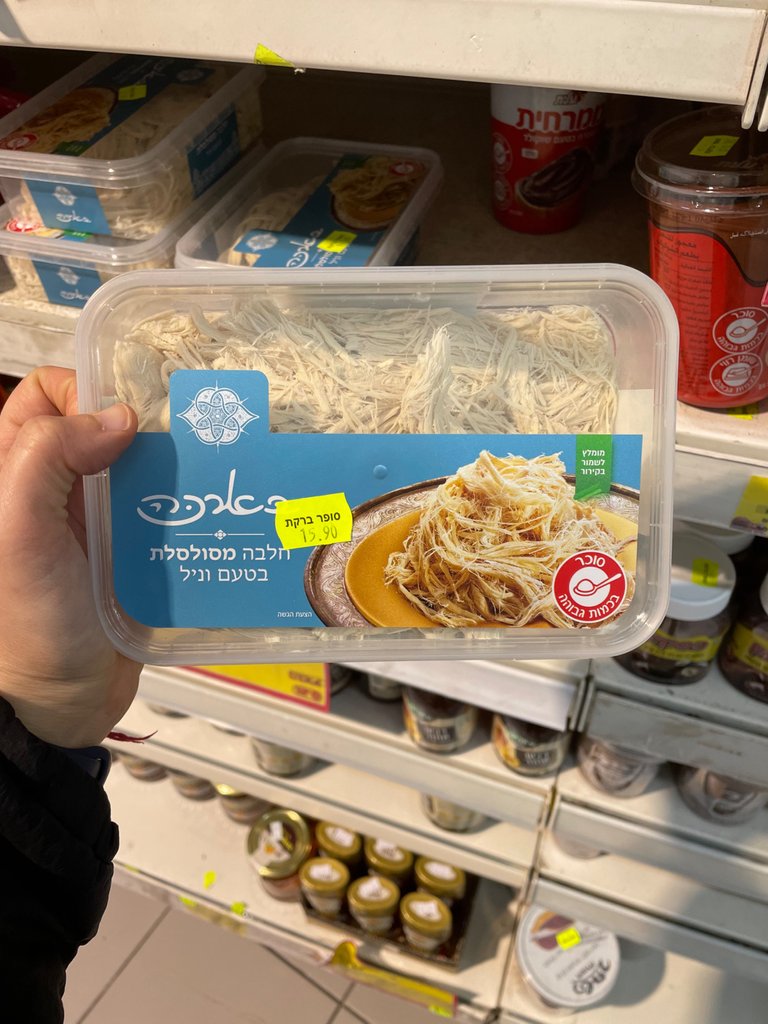 ---
King Halva in Yehuda Market / El Rey Halva en Yehuda Market
---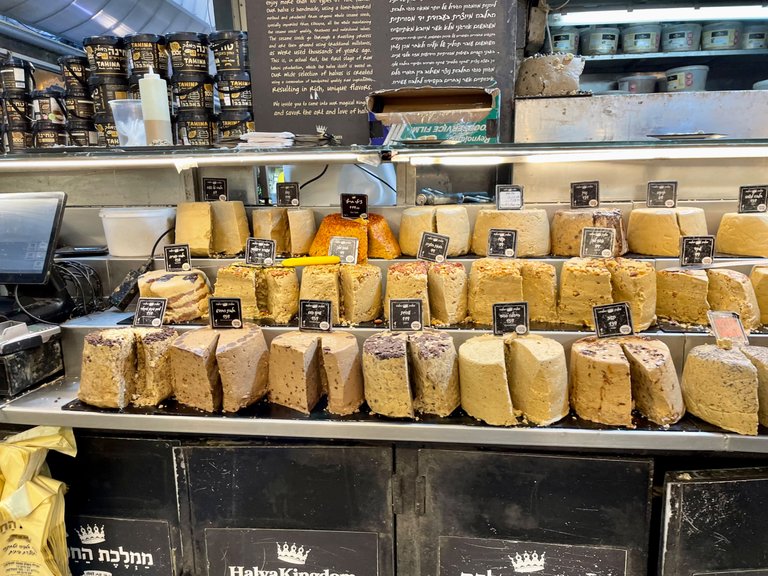 ---
Ice cream
---
Israel's ice creams are becoming internationally known, especially those from Tel Aviv. Since this is such a warm region, it seems only logical that they have sought to perfect their ice cream. And they have succeeded.
Their flavors and creaminess equal, I would say, the famous Italian ice creams (gelatos). I liked the Anita ice cream parlor a lot, but I prefer Golda.
Helados
---
Los helados de Israel se están haciendo conocidos a nivel internacional, especialmente los de Tel Aviv. Y es que siendo esta una región tan cálida, parece hasta lógico que hayan buscado perfeccionar sus helados. Y lo han logrado.
Sus sabores y cremosidad igualan diría, a los famosos helados (gelatos) italianos. La heladería Anita me gustó mucho, pero prefiero Golda.
---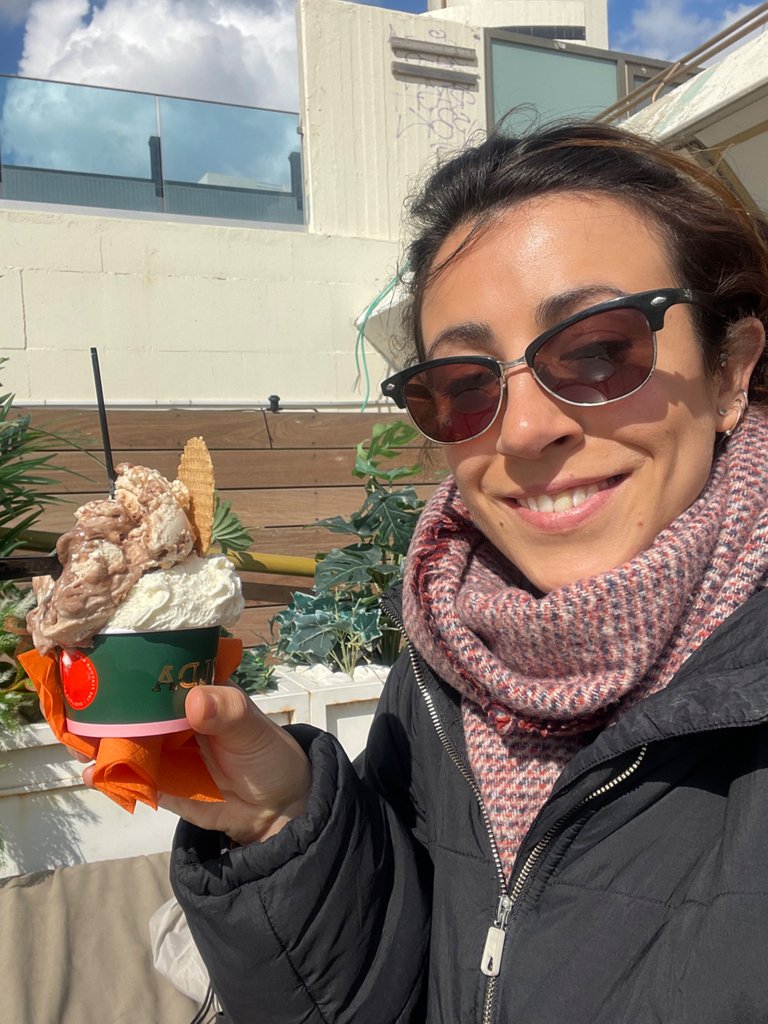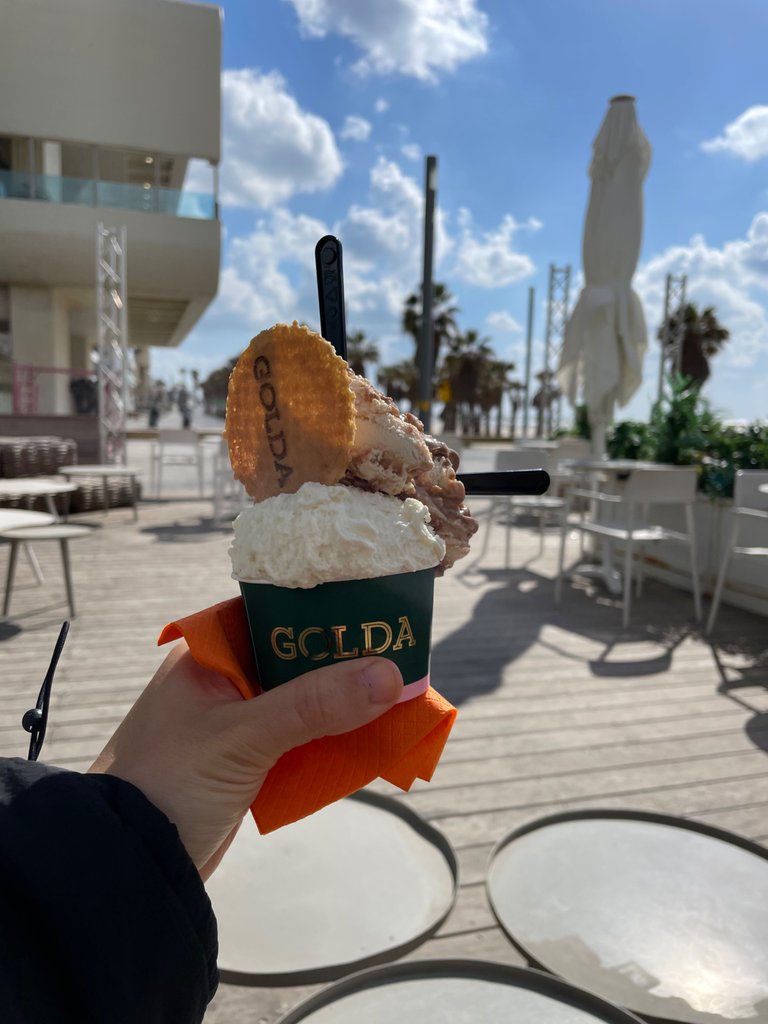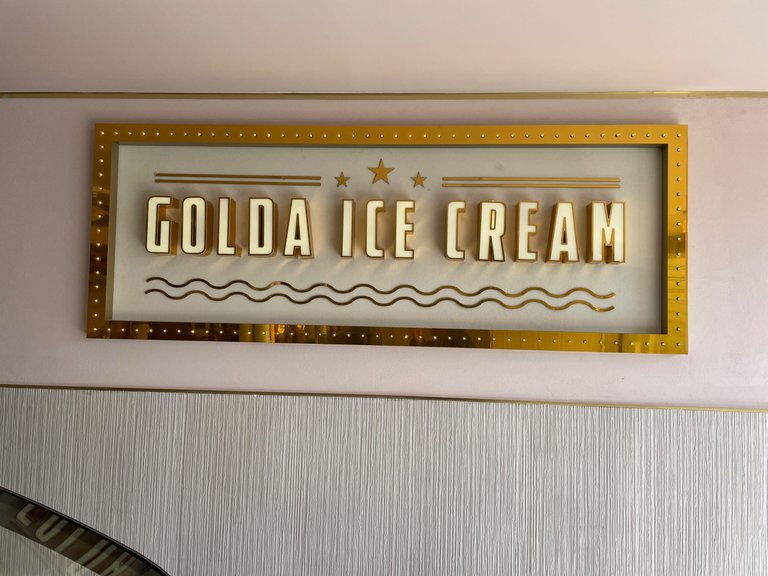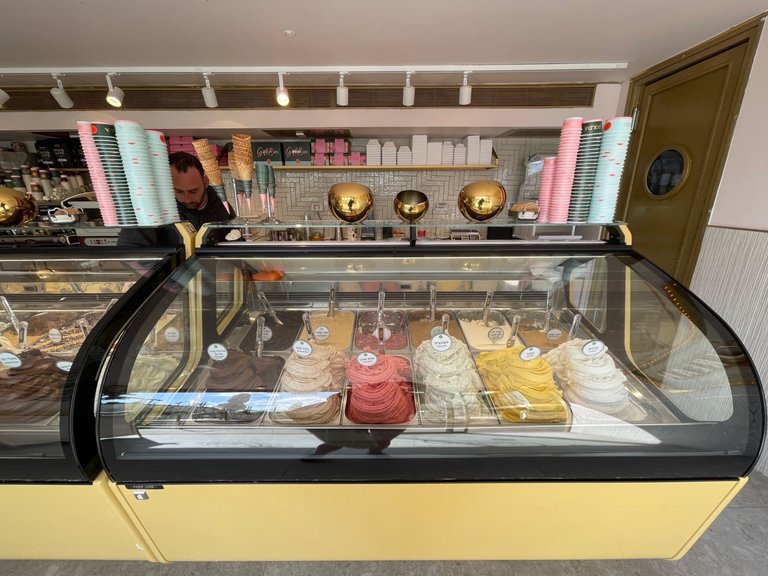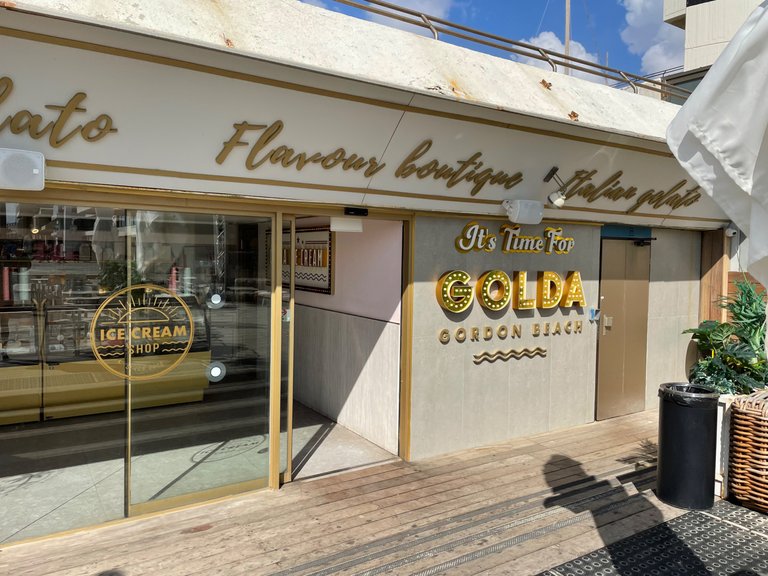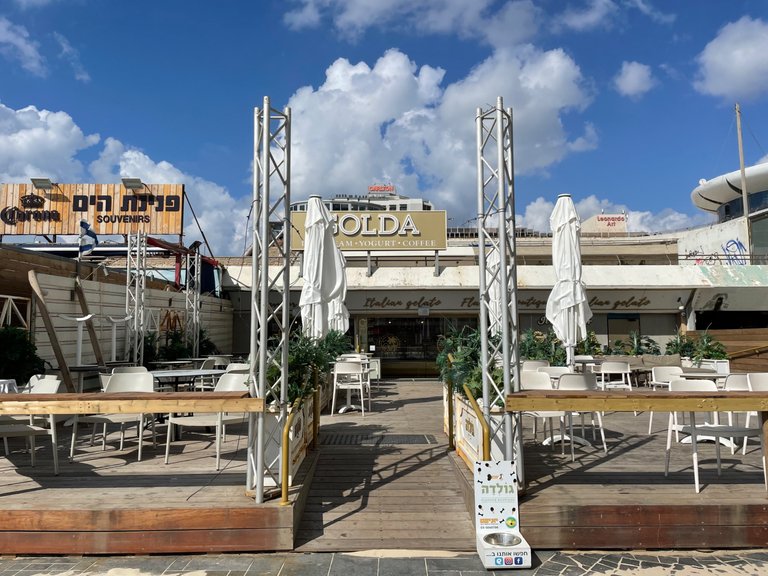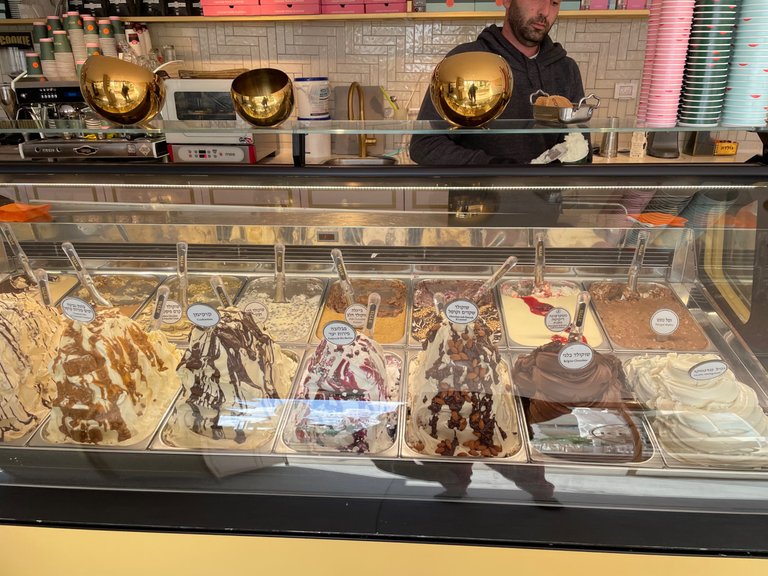 ---
Jachnun
---
I didn't like this dish very much, but my friend there insisted that I should try it because it was one of the most traditional dishes of the Jewish people, so of course I tried it. It was not really unpleasant, but for my taste it was too much fried food.
It is a very compactly rolled dough with a bit of smoky flavor, deep fried. It comes with a spicy sauce (this one was delicious), and you cut it and eat it.
Jachnun
---
Este plato no me gustó mucho, pero mi amiga de allí insistió en que debía probarlo porque era uno de los más tradicionales del pueblo judío, así que claro que lo probé. En verdad no es que fuese desagradable, pero para mi gusto era demasiada fritura.
Se trata de una masa enrollada de manera muy compacta con un poco de sabor ahumado, frita. Eso viene acompañado de salsa algo picante (esta si estaba rica), y se va cortando y comiendo.
---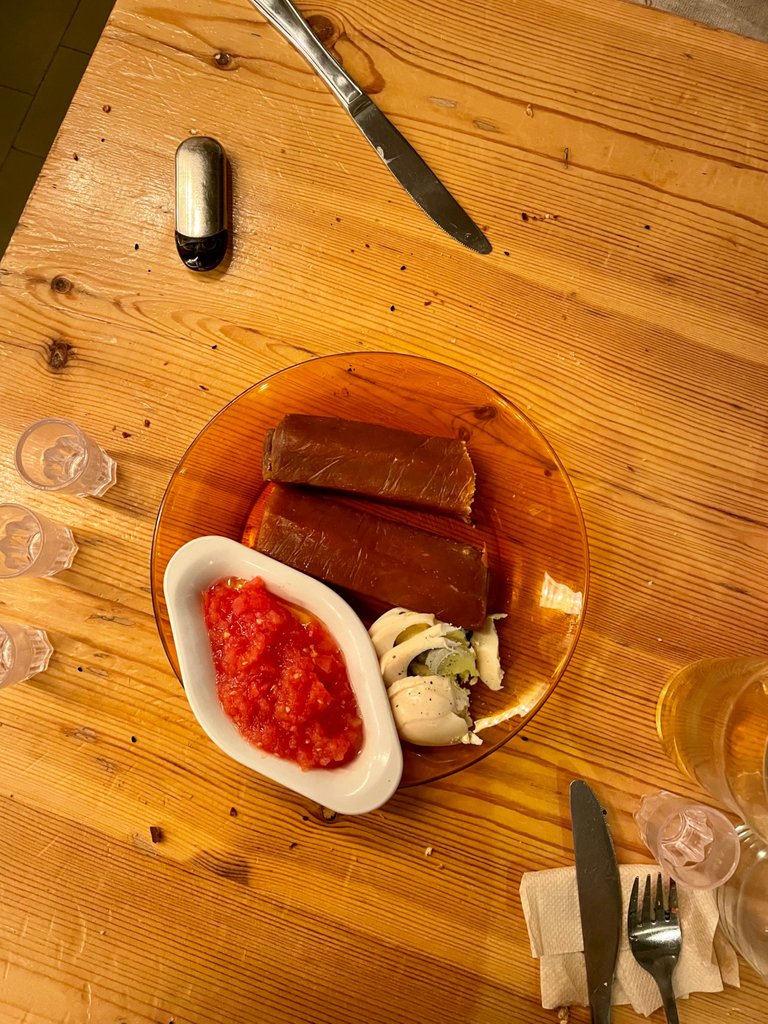 ---
Kubane
---
I loved this dish. It is very simple but very tasty to my palate. It is a very tender little bread, that I would say you touch it with a spoon and you get a little piece. The bread is very pillowy and has a mild sweet taste, but it is accompanied by salty and spicy sauces, which make a perfect combination, with a good balance of flavors.
Kubane
---
Amé este plato. Es muy sencillo pero a mi paladar muy rico. Se trata de un panecito muy tierno, que diría que lo tocas con una cuchara y sacas un pedacito. El pan es muy acolchonado y tiene un suave sabor dulce, pero se acompaña de salsas saladas y picantes, lo cual hacen una perfecta combinación, con un buen equilibrio de sabores.
---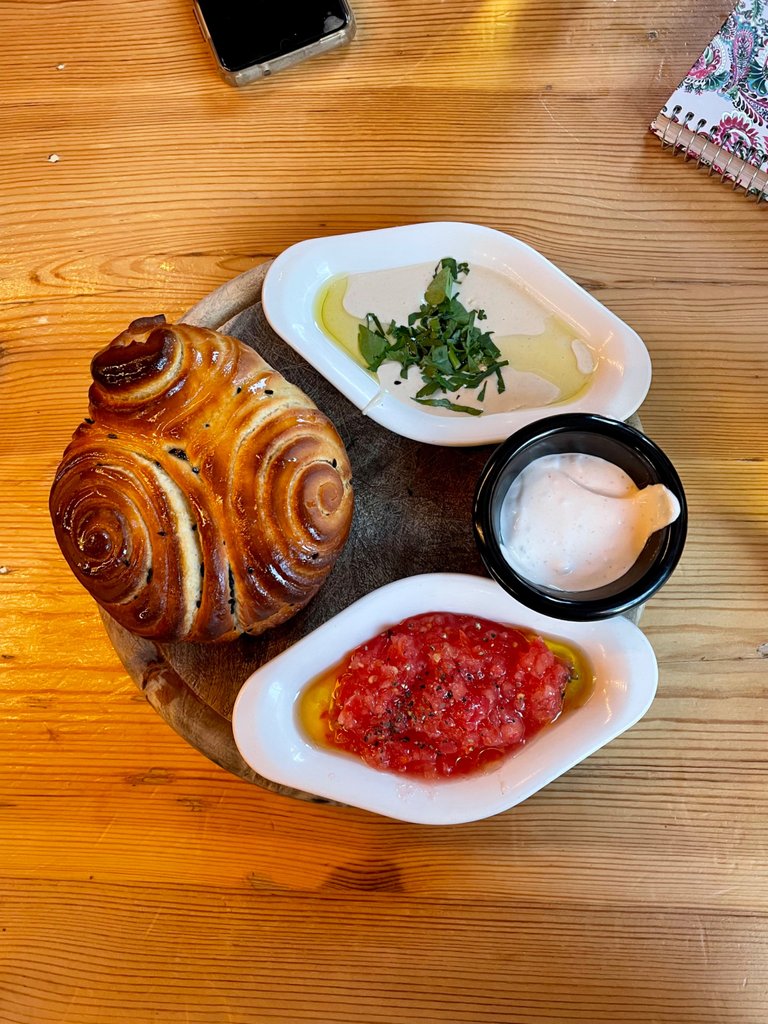 ---
Malabi
---
It is a dessert that looks like a milk flan with jelly on top. It is made with rice, sugar, milk and sometimes semolina is put on top. I wasn't fascinated by it, but my friend from Israel insisted that I try it because she told me it was very famous throughout the Middle East area. So of course, why not.
Malabi
---
Es un postre que parece ser un flan de leche con gelatina arriba. Se hace con arroz, azúcar, leche y a veces se le coloca sémola. No me fascinó, pero mi amiga de Israel insistió en que lo probaba porque me dijo que era muy famoso en toda la zona de Medio Oriente. Así que claro, cómo no.
---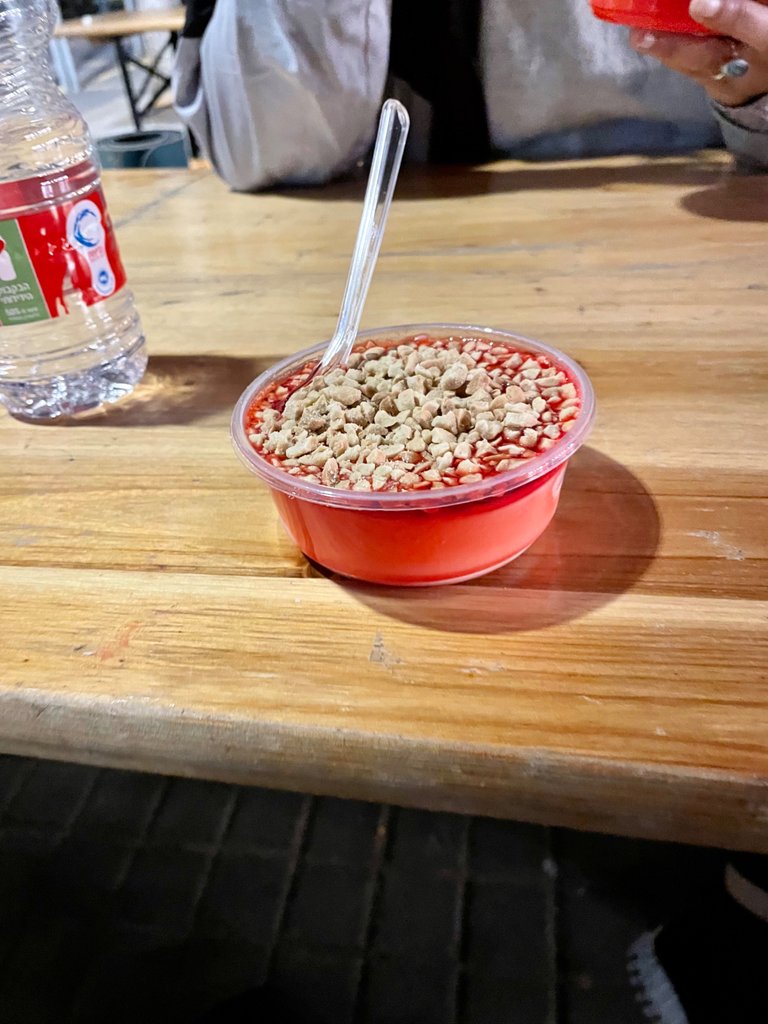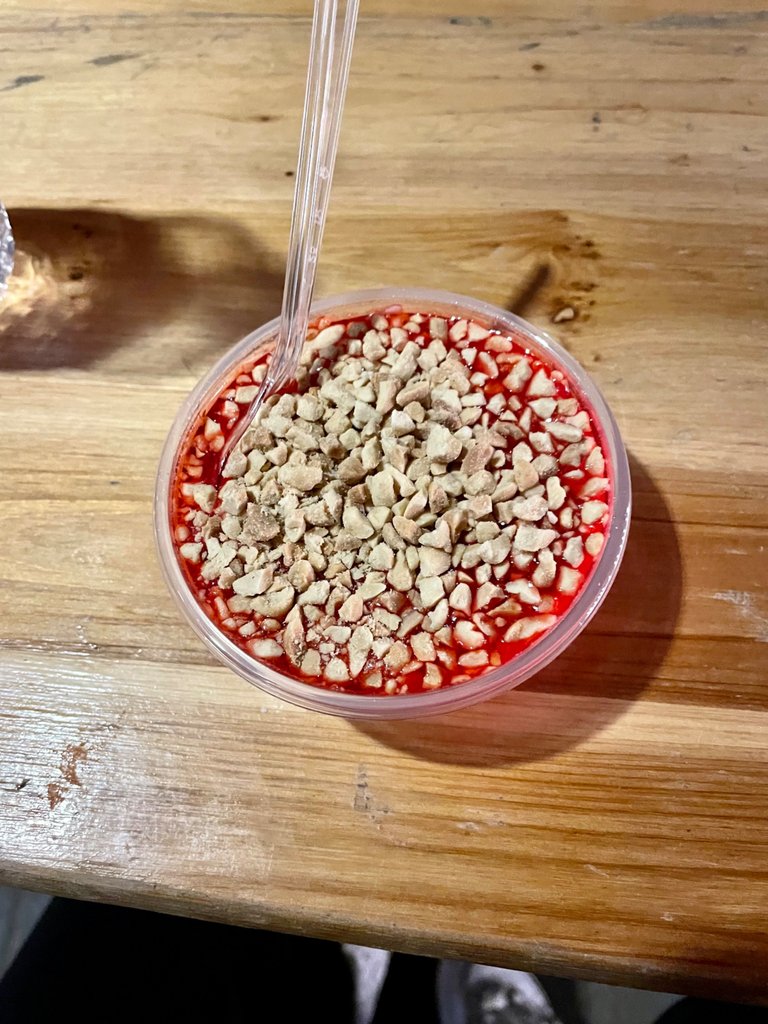 ---
Shabbat
---
This is a big dinner that takes place as a celebration on Friday nights and belongs to the Jewish tradition. From Friday at sunset until Saturday at sunset, what is known as Shabbat occurs and it is the day when no work is done.
At the hostel where I was volunteering, there were only two Jewish guys, however, every Friday, we would celebrate Shabbat because it was fun! We would buy everything to cook at Carmel Market before it closed at about 4 pm, and we would cook and eat dinner in big groups.
We mostly made noodles with sauces and side dishes, hummus and pita bread.
That was the first time I knew about this celebration and I enjoyed it very much!!!
Shabbat
---
Esta es una gran cena que se realiza a modo de celebración los viernes por la noche y pertenece a la tradición judía. Desde el viernes en la puesta del sol hasta el sábado en la puesta del sol, ocurre lo que se conoce como Shabbat y es el día en que no se trabaja.
En el hostel donde yo estaba haciendo el voluntariado, solo habían dos chicos judíos, sin embargo, cada viernes, nosotros celebrábamos el Shabbat porque era divertido! Comprábamos todo para cocinar en Carmel Market antes de que cerrara a eso de as 4 pm, y cocinábamos y cenábamos en grandes grupos.
Lo que más hacíamos eran fideos con salsas y acompañamientos, humus y pan pita.
Esa fue la primera vez que conocí esta celebración y la disfruté mucho!!
---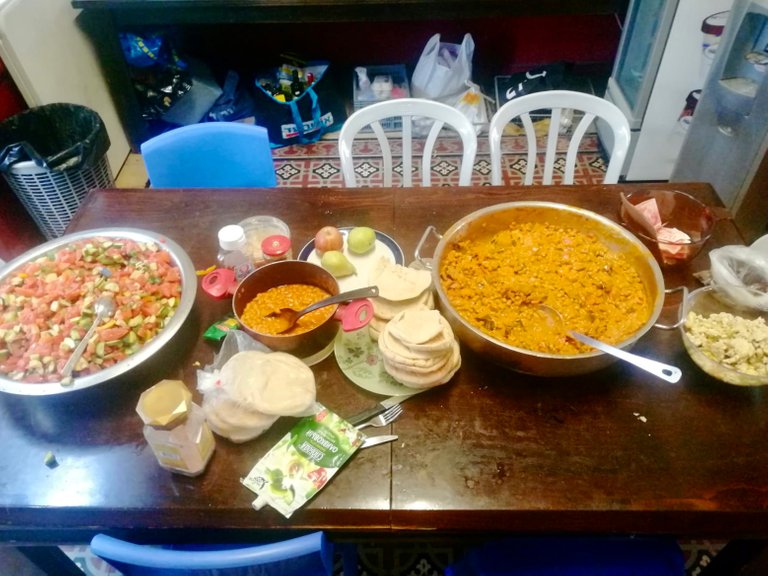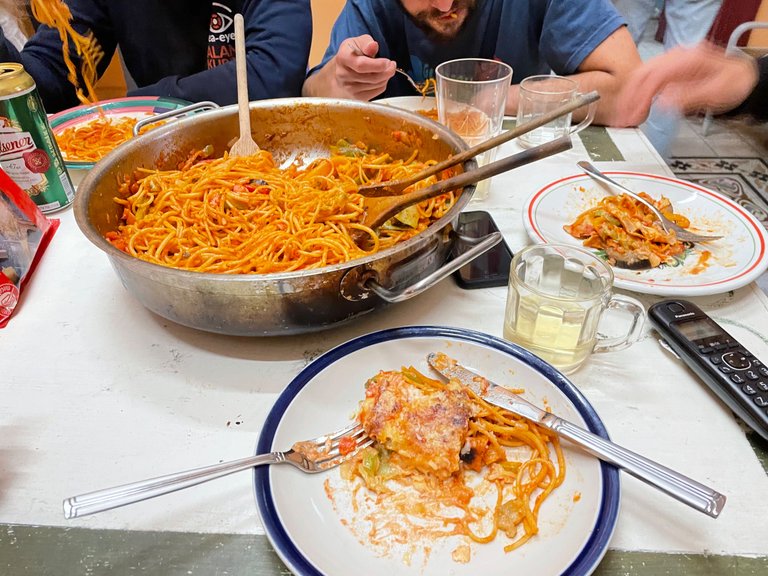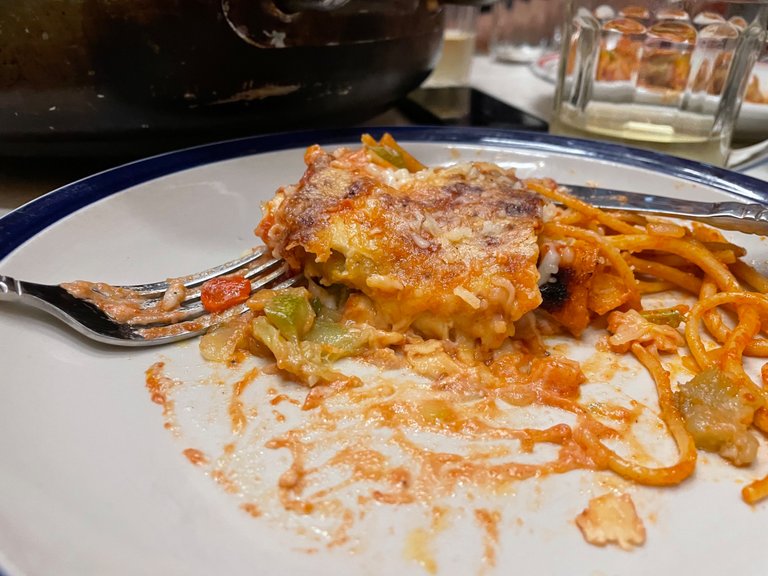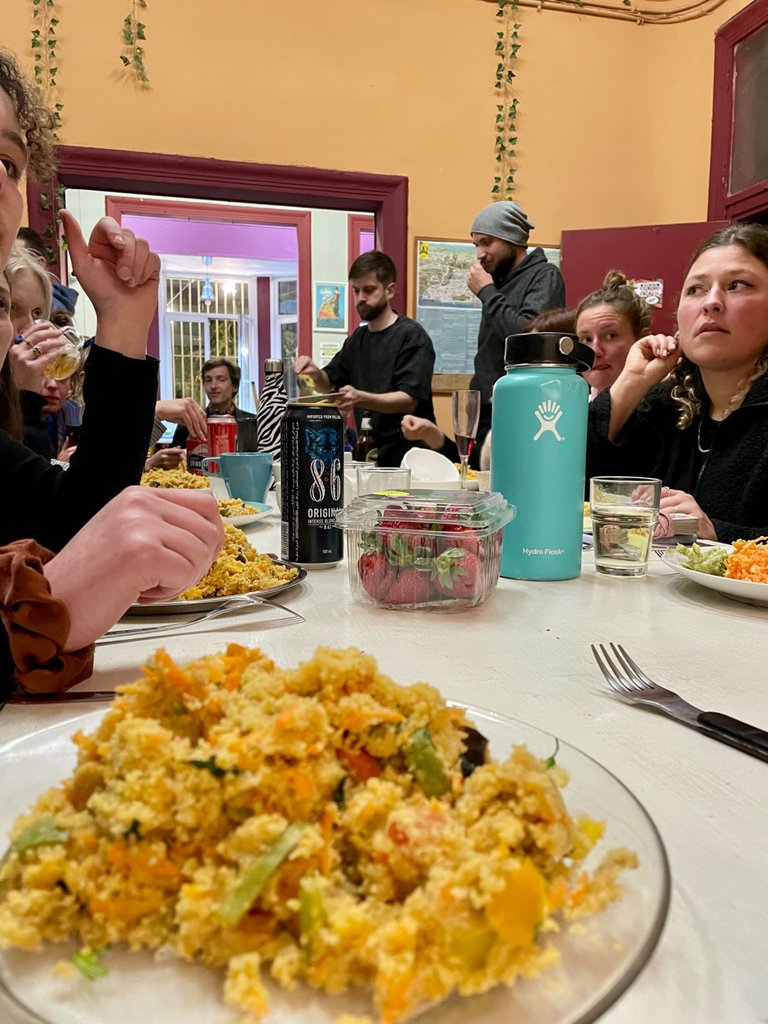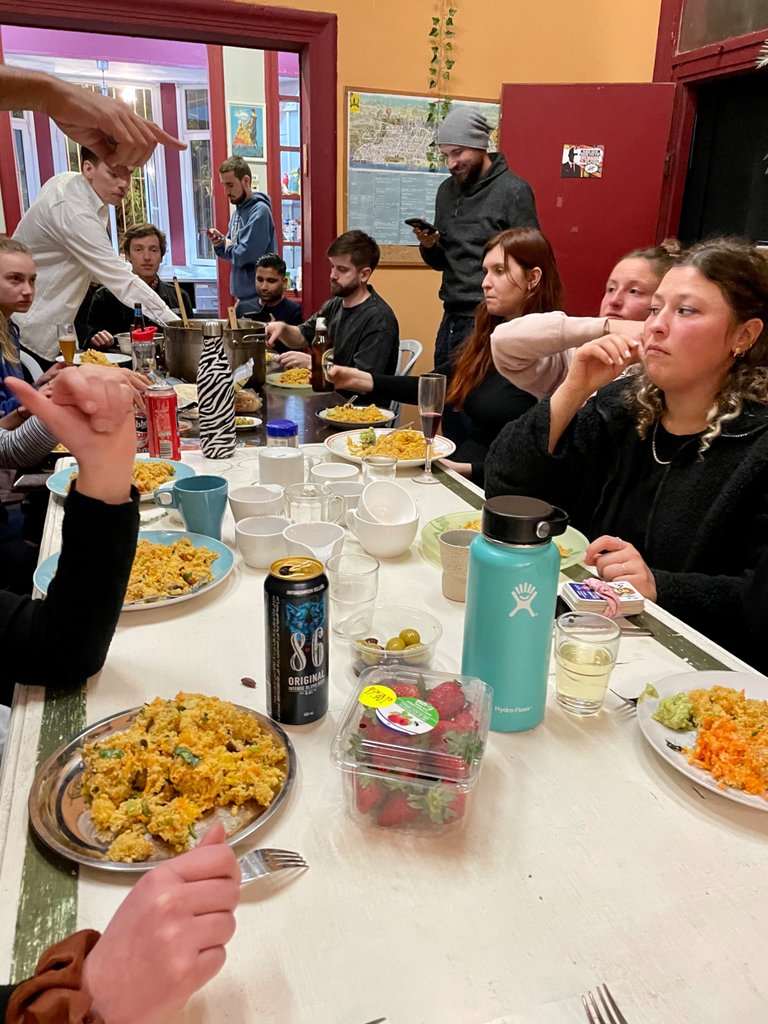 ---
I hope you've liked it!
Thanks a lot for reading!!
With love,
Espero que les haya gustado!!
Muchas gracias por leer!!
Con cariño,
---
Device: iPhone 12 Pro
Translation: DeepL
Dispositivo: iPhone 12 Pro
Traducción: DeepL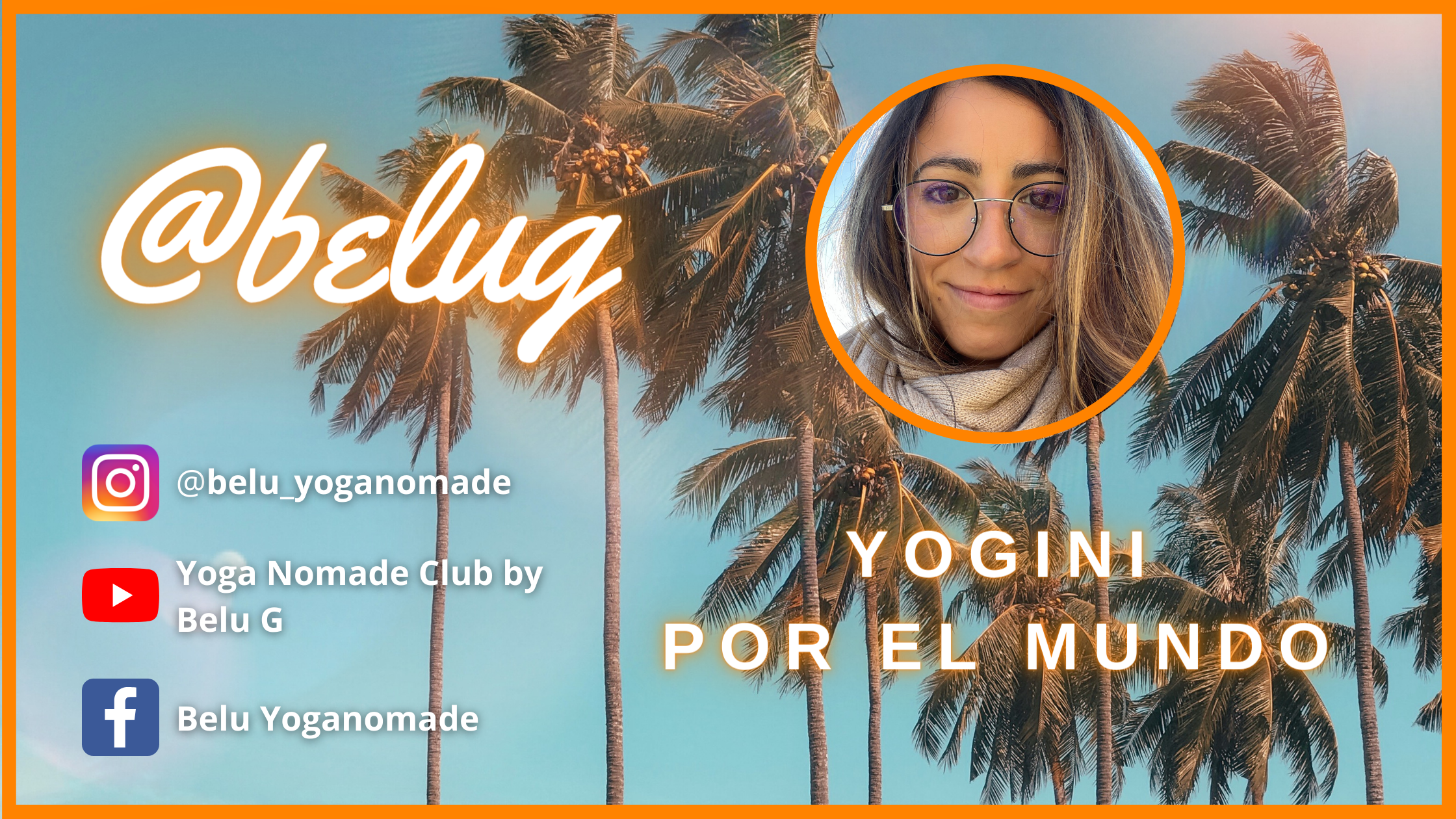 ---
---