The Undoing - Can the one you love become your undoing? | Review and opinion [Eng-Esp]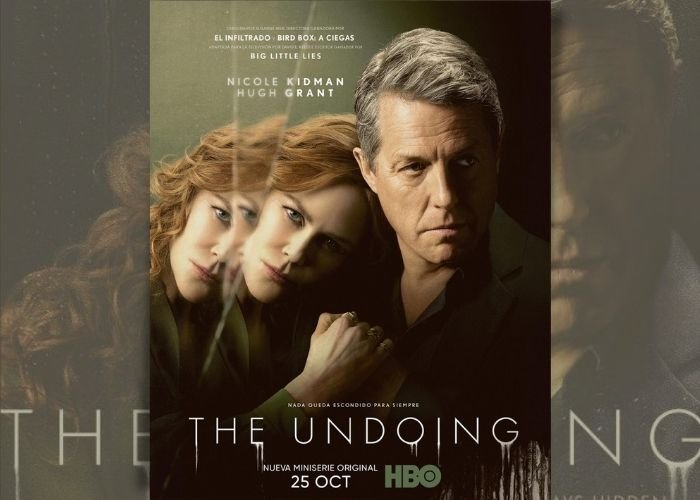 Fuente: Filmaffinity

ello, dear Hivers, this is my first review of a miniseries The Undoing, a title that foreshadows a very interesting psychological thriller.
When the promotion of this miniseries came out in 2020, here in Venezuela we had the Directv service which was later suspended for reasons well known, and in my particular case deprived me of watching it when it premiered on October 25, 2020, through HBO.
I was struck by its cast that brings very familiar faces and other new ones that we are already starting to see in several productions; Nicole Kidman and Hugh Grant stand out in the main roles, supported by Donald Sutherland, Edgar Ramirez, Ismael Cruz Cordova, Matilda De Angelis, Lily Rabe, Noma Dumezweni; and the young Noah Jupe and Edan Alexander.
Films with that psychological touch in their plots catch my attention that's why it was on my to-watch list. But to be honest with you, the other reason to watch it was Edgar Ramírez, not only for being the most international Venezuelan actor who has been growing with every character he plays; but also for being a native of Táchira like me. 😃😍
Hola queridos Hivers, esta es mi primera reseña de una miniserie The Undoing, todo un título que presagia un thriller psicológico muy interesante.
Cuando salio la promoción de esta miniserie en el 2020, aquí en Venezuela teníamos el servicio de Directv que luego fue suspendido por razones de sobra conocidas, y en mi caso particular me privó de verla cuando se estrenó el 25 de octubre de 2020, a través de HBO.
Me llamo la atención por su reparto que trae rostros muy conocidos y otros nuevos que ya estamos empezando a ver en varias producciones; destacan en los papeles principales Nicole Kidman y Hugh Grant, respaldados por Donald Sutherland, Edgar Ramirez, Ismael Cruz Cordova, Matilda De Angelis, Lily Rabe, Noma Dumezweni; y los jóvenes Noah Jupe y Edan Alexander.
Los films con ese toque psicológico en su trama me llaman mucho la atención por eso estaba en mi lista de pendientes. Pero para ser honesta con ustedes, la otra razón para verla era Edgar Ramírez, no sólo por ser el actor venezolano más internacional que ha venido creciendo con cada personaje que interpreta; sino además por ser oriundo del Táchira como yo. 😃😍
---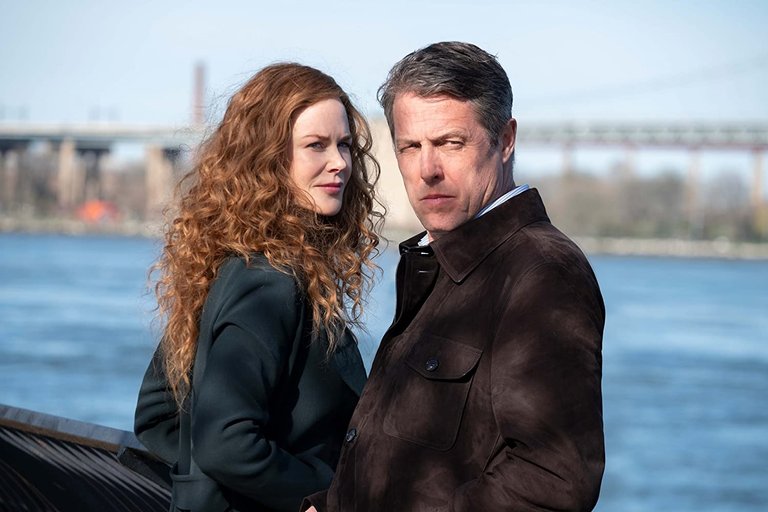 Fuente: sensacine.com
Episodes. There are six whose titles hook you at the first time:
Episodios. Hay seis cuyos títulos te enganchan a la primera:
| 1- The Undoing | 1- La ruina |
| --- | --- |
| 2- The Missing | 2- El Desaparecido |
| 3- Do No Harm | 3- No hacer daño |
| 4- See No Evil | 4- No veas el mal |
| 5- Trial By Fury | 5- Juicio por furia |
| 6- The Bloody Truth | 6- La verdad sangrienta |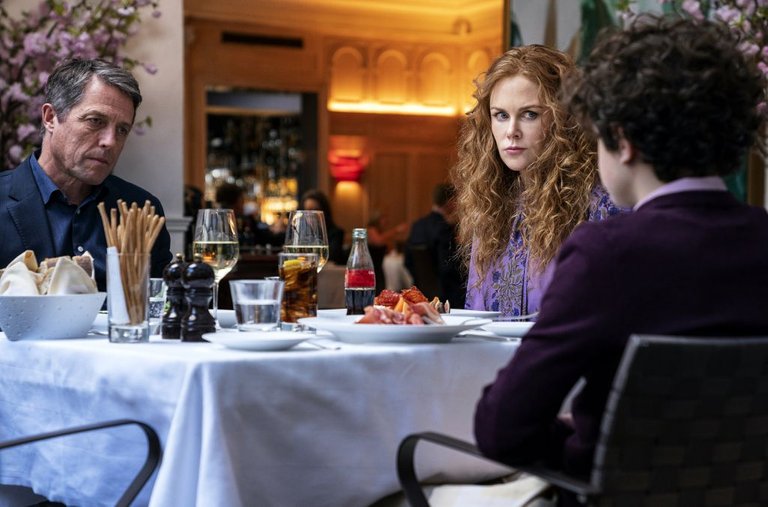 Fuente: sensacine.com

he film centers around the Fraser family. Nicole Kidman as Grace the successful psychologist, Hugh Grant her husband who is also a renowned pediatric oncologist, and their teenage son Noah Jupe; form this New York family admired by some and most likely, envied by others.
After some situations that catch Grace Fraser's attention, a series of events are triggered that give a 180-degree turn to this family.
From the beginning you want to unravel this mystery that focuses on the Frasers, I think the series succeeds in catching you. With each chapter I was watching, I was also formulating a hypothesis about what was going on and why; and this made me want more and more until I discovered the truth.
La trama se centra en la familia Fraser. Nicole Kidman como Grace la exitosa psicóloga, Hugh Grant su esposo quien es también un reconocido médico oncólogo pediatra, y su hijo adolescente Noah Jupe; forman esta familia newyorkina admirada por unos y muy seguramente, envidiada por otros.
Luego de algunas situaciones que le llaman la atención a Grace Fraser, se desencadenan una serie de hechos que le dan un giro de 180 grados a esta familiar.
Desde el principio quieres ir desentramando este misterio que se centra en los Fraser, creo que la serie logra su cometido en atraparte. Con cada capítulo que iba viendo, también estaba formulando una hipótesis sobre lo que pasaba y por qué; y este juego tipo Agatha Cristie es lo que me hizo querer más y más hasta descubrir la verdad.
---

enjoyed the development of the plot and seeing the characters so well constructed by these actors, Noah and Edan are the young interpreters of the series, who have their weight in the whole plot; it is nice to see these young people who transport you with their performances.
Hugh Grant has surprised me again with his role, very far from other lighter characters, but without leaving aside that ease he has to make us smile. In addition to all of the above, Edgar Ramirez shows a strong, well-developed characterization as the detective who goes in search of the truth.
Another actor I love is Donald Sutherland, a veteran with a range of characters that go from comedy to very intense dramas. This actor makes me want to see the movies he appears in.
When cable TV had not yet arrived in Venezuela, back in the '80s; on Fridays and Saturdays the TV channels would show mystery movies late at night; watching this genre became one of my favorites, thanks to the fact that my parents didn't send me to bed early. And it was precisely there that I saw a film that impacted me Don't Look Now (Don't Look Now), starring Sutherland and went on to become a cult film, hence my love for this actor.
Disfrute el desarrollo de la trama y ver a unos personajes tan bien construidos por estos actores, Noah y Edan son los jóvenes interpretes de la serie, que tienen su peso propio en todo el entramado; da gusto ver a éstos jóvenes que te transportan con sus perfomances.
Hugh Grant me ha vuelto a sorprender con su papel, muy alejado de otros personajes más livianos, pero sin dejar de lado esa facilidad que tiene para hacernos sonreír. Además de todo lo anterior, Edgar Ramírez muestra una caracterización firme, bien desarrollada como el detective que va en busca de la verdad.
Otro actor que me encanta es Donald Sutherland, un veterano con un abanico de personajes que van desde la comedia hasta dramas muy intensos. Éste actor hace que quiera ver las películas donde aparece.
Cuando en Venezuela aún no había llegado la TV por cable, por alla por los años 80; los días viernes y sábado los canales de televisión colocaban películas de misterio a altas horas de la noche; ver éste género se convirtió en uno de mis favoritos, gracias a que mis padres no me enviaban a la cama temprano. Y precisamente ahí fue donde ví un film que me impactó No mires ahora (Don't Look Now), protagonizada por Sutherland y llegó a convertirse en una película de culto, de ahí viene mi gusto por este actor.
---

nother protagonist is the city of New York, which although without showing great locations, gives us the frame of reference in each episode and helps us to build that hypothesis about the reason for The Undoing, well that was my case maybe because I love architecture.
The script and direction were in charge of David E. Kelly the same as Big Little Lies, Ally McBeal, and other hits; with this tandem, it was hard not to be encouraged to see The Undoing and honestly, I was not disappointed.
Of course Nicole Kidman is not far behind, as she is not only the main character and producer, it is her character Grace Fraser, the famous psychologist, who has to unravel the mystery to find the truth and return her family to "normality". The script does not make it easy and that is the charm of this thriller.
Otro protagonista es la ciudad de Nueva York, que aunque sin mostrar grandes locaciones, nos dá el marco de referencia en cada episodio y nos ayuda a construir esa hipótesis sobre la razón de ser de The Undoing, bueno ese fue mi caso tal vez porque me encanta la arquitectura.
El guión y dirección estuvo a cargo de David E. Kelly el mismo de Big Little Lies, Ally McBeal y otros éxitos; pues con este tándem era difícil no animarme a ver The Undoing y honestamente, no me defraudo.
Por supuesto Nicole Kidman no se queda atrás, pues es quien lleva la batuta no sólo como protagonista y productora, es su personaje Grace Fraser la afamada psicóloga, la que tiene que ir develando el misterio para encontrar la verdad y poder retornar a su familia a la "normalidad". El guión no lo pone fácil y es ese el encanto de este thriller.
---

his is my particular opinion, perhaps influenced by being a fan of Agatha Christie's novels, Sherlock Holmes' adventures, and Stephen King's mysteries.
Tell me, dear Hiver, do you dare to watch the series, and if you have already seen it, what do you think of it? Cinema and television are windows that transport us and immerses us in other words, some of fiction and others of reality.
Thank you for having come this far and I hope we meet again to share what we love, the ***Septimo Arte.
Esta es mi opinión particular tal vez influenciada, por ser fanática de las novelas de Agatha Cristie, de las aventuras de Sherlock Holmes y de los misterios de Stephen King.
Cuéntame querido Hiver ¿Te animas a ver la serie? y si ya la viste ¿qué opinión te merece?. El cine y la televisión son esa ventana que nos transporta y sumerge en otros mundos, algunos de ficción y otros de realidad.
Gracias por haber llegado hasta aquí y espero que nos volvamos a encontrar compartiendo eso que nos gusta, el Séptimo Arte.
---

🔸 Banner, footer, separator and uppercase letters made with Canva | 🔹 Translate whit Deepl.com
---
---