May the SPACE FORCE 🚀 be with you, 😆😆😅😂 [TV Series]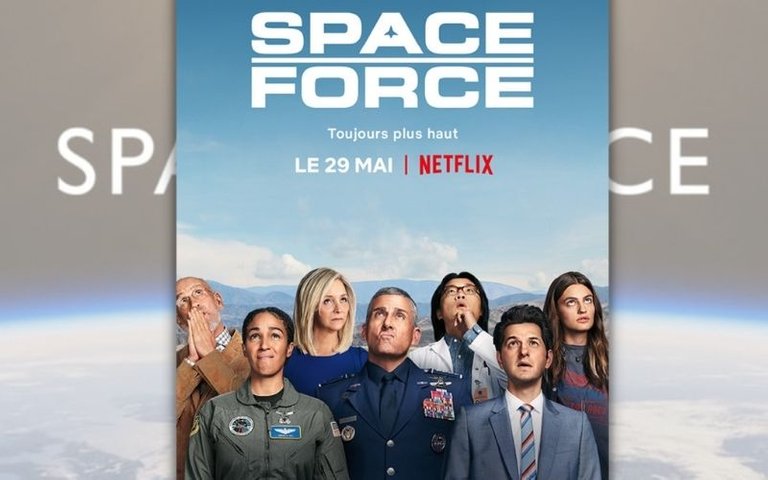 Banner made for mi whit Canva. Photo Sensacine.
Laughter is medicine for the soul and the body
---

n December I watched on Netflix the series Space Force and I liked it so much that I put an alert to let me know if a new season was coming, and yes, this week the 2nd season was released with the same main characters which allow me to have a continuation.
I must say I was not disappointed, I loved it!
To put you in context, Space Force is a US military division in charge of making the president's projects in space a reality.
When I saw the trailer of the 1st season, I laughed a lot because it was the response of Greg Daniels and Steve Carell along with Netflix, to the news that launched in 2018 the then president of the United States, Donald Trump and that in 2019 became a reality; I remember they created many memes about it.
It is a crazy vision of a military scientific team in charge of creating this defense and advancement force; of course, they are not exempt from the envy of one or another military colleague.
In addition to their adventures, sometimes misadventures, to be taken seriously and meet the objectives set; our characters also have to deal with their problems. The great thing is the acting of each of them.
Definitivamente la Risa es la medicina para el alma y el cuerpo.
En diciembre vi por Netflix la serie Fuerza Espacial y me gustó tanto que puse una alerta para que me avisarán si venía una nueva temporada, y sí, está semana se estrenó la 2da temporada con los mismos personajes principales lo que permite tener una continuación.
Debo decir que no me defraudó. ¡Me encanto!
Para ponerlos en contexto, Fuerza Espacial es una división militar de USA encargada de hacer realidad los proyectos del presidente en el espacio.
Cuando vi el tráiler de la 1ra temporada, me reí mucho porque fue la respuesta de Greg Daniels y Steve Carell junto con Netflix, a la noticia que lanzó en 2018 el entonces presidente de Estados Unidos, Donald Trump y que en 2019 se hizo realidad; recuerdo que crearon muchos memes al respecto.
Es una visión alocada de un equipo científico militar encargado de crear esta fuerza de defensa y avance; por supuesto no están exentos de la envidia de alguno que otro colega militar.
Además de sus aventuras, a veces desventuras, por ser tomados en serio y cumplir con los objetivos planteados; también nuestros personajes tienen que lidiar con sus problemas personales. Lo genial es la actuación de cada uno de ellos.
---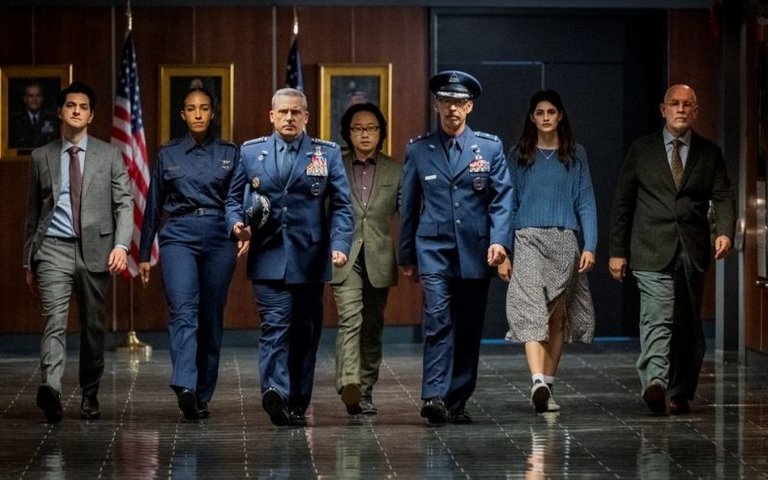 Photo Sensacine.
Cast

he cast is made up of both comedic and drama actors, it's a successful combination.
Jhon Jhon Malkovich's performance is hilarious at exactly the right moments, he plays the chief scientist with more than 2 PhDs who must deal with the demands of the Pentagon and the general.
Of course, Steve Carell is the chief general who must create a team that will pull the project off. A performance that ratifies his quality as a comedian.
Lisa Kudrow is the wife of General Nair, who must be a wife and mother in some very particular situations, it must be said that this actress is great.
Diana Silvers is the daughter of General Nair, at the beginning it seems that she is aimless, given the family situation; her role is gaining strength within the series. We saw this actress in the thriller "Ma " with Octavia Spencer. (Put this one on your list of movies to watch).
There is an actor that we don't know very well in Latin America, but he has been around for many years and is very well known, Ben Schwartz who plays the role of the public relations person of the division, he is very witty and has a very physical comedy.
He's got a very good cast. By the way, our general many times have to meet at the Pentagon, in person or by video conference, with the military high command; and those meetings are a blast because all the commanders are high caliber comedic actors and it's hard not to laugh at that particular humor.
---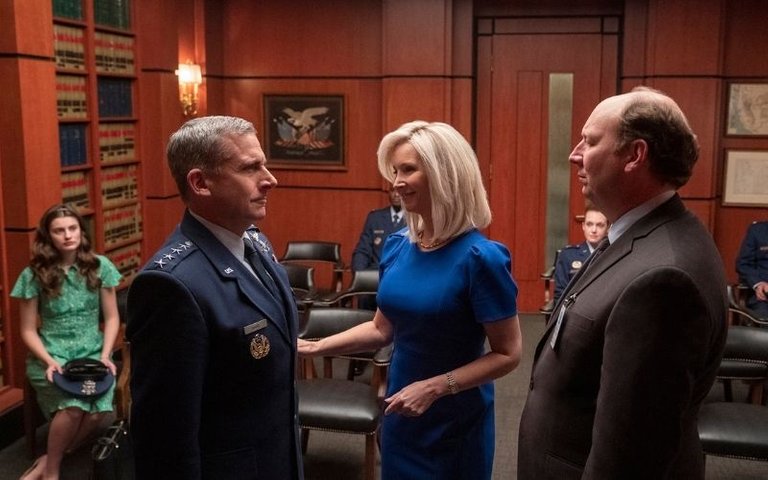 Photo Sensacine.
Reparto
El reparto está compuesto por actores cómicos y de drama, es una combinación éxitosa.
La actuación de Jhon Jhon Malkovich es hilarante en los momentos exactos, hace del científico en jefe con más de 2 doctorados que debe lidiar con las exigencias del Pentágono y del general.
Por supuesto a Steve Carell como el general en jefe que debe crear un equipo que saque adelante el proyecto. Una actuación que ratifica su calidad de comediante.
Lisa Kudrow es la esposa del general Nair, quien debe ser esposa y madre en unas situaciones muy particulares, hay que decir que está actriz es genial.
Diana Silvers es la hija del general Nair, al principio parece que esta sin rumbo, dada la situación familiar; su rol va tomando fuerza dentro de la serie. Esta actriz la vimos en la película de suspenso y terror "Ma" con Octavia Spencer. (Anota ésta en tu lista de películas para ver)
Hay un actor que poco lo conocemos en latinoamérica, pero lleva bastantes años y es muy reconocido, Ben Schwartz quien hace el papel de la persona que lleva las relaciones públicas de la división, es muy ocurrente y tiene una comedia muy físisca.
Tiene un reparto muy bueno. Por cierto, nuestro general muchas veces debe que reunirse en el Pentágono, en persona o por vídeo conferencia, con el alto mando militar; y esas reuniones son una pasada, ya que todos los comandantes son actores comediantes de alto calibre y es difícil no reir con ese humor tan particular.
---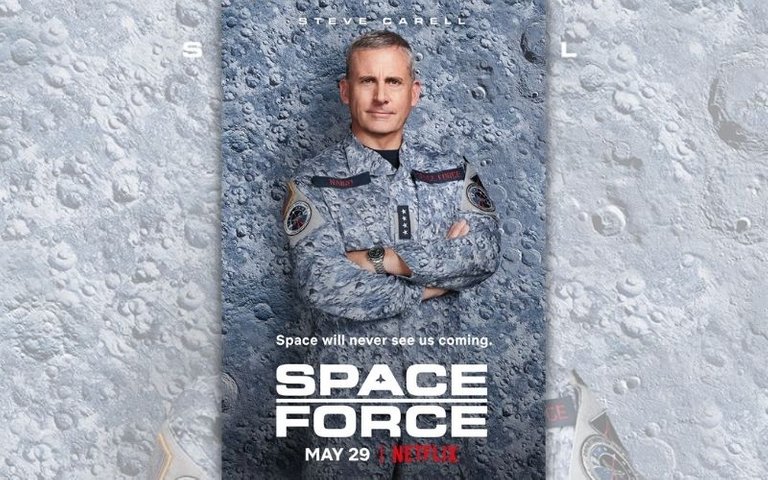 Photo Sensacine.
Season 1
The premiere was May 29, 2020, with 10 episodes loaded with lots of humor, averaging 35 minutes in length.
Temporada 1
El estreno fue el 29 de mayo de 2020, con 10 episodios cargados de mucho humor, con una duración media de 35 minutos.
| 1- The launch | 1. El lanzamiento |
| --- | --- |
| 2. Save epsilon 6! | 2. ¡Salven al Epsilon 6! |
| 3. Mark and mallory go to washington | 3. Mark y Mallory van a Washington |
| 4. Lunar habitat | 4. Hábitat lunar |
| 5. Space flag | 5. Juego bélico |
| 6. The spy | 6. Espía |
| 7. Edison jaymes | 7. Edison Jaymes |
| 8. Conjugal visit | 8. Visita conyugal |
| 9. It's good to be back on the moon | 9. Feliz de regresar a la Luna |
| 10. Proportionate response | 10. Respuesta proporcional |
---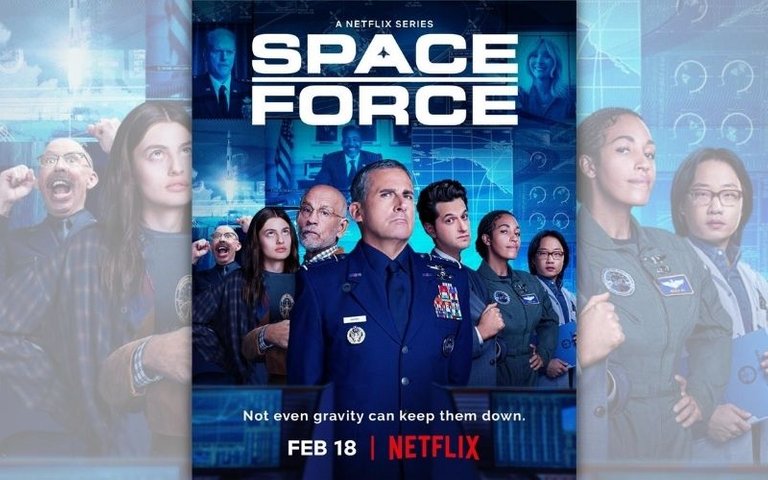 Photo Filmaffinity.
---
Season 2
The premiere on February 18, 2022, only has 07 episodes of 30 minutes, all of them are good but the closing is... no spoilers, you have to watch it.
Temporada 2
Estreno el 18 de febrero del 2022, solo cuenta con 07 episodios de 30 minutos, todos son buenos pero el cierre es... , nada de spoilers, tienes que verlos.
| 1- The inquiry | 1. El interrogatorio |
| --- | --- |
| 2- Budget cuts | 2. Recortes de presupuesto |
| 3- The chinese delegation | 3. La delegación china |
| 4- The europa project | 4. El Proyecto Europa |
| 5- Mad (buff) confidence | 5. La confianza de Mad Buff |
| 6- The doctor's appointment | 6. La cita médica |
| 7- The hack | 7. El ciberataque |

---

---

hen I finished watching the last episode of the 2nd season, I couldn't stop laughing. Many dramas are premiering, but it's good to have the space to watch proposals that make you laugh and help you recharge your batteries.
Be sure to watch it and please let me know what you thought.
Al terminar de ver el último episodio de la 2da temporada, no paraba de reírme. Hay muchos dramas que se están estrenando, pero es bueno tener el espacio para ver propuestas que te saquen una carcajada y te ayuden a recargar de energía.
No dejes de verla y por favor cuéntame que te pareció.
---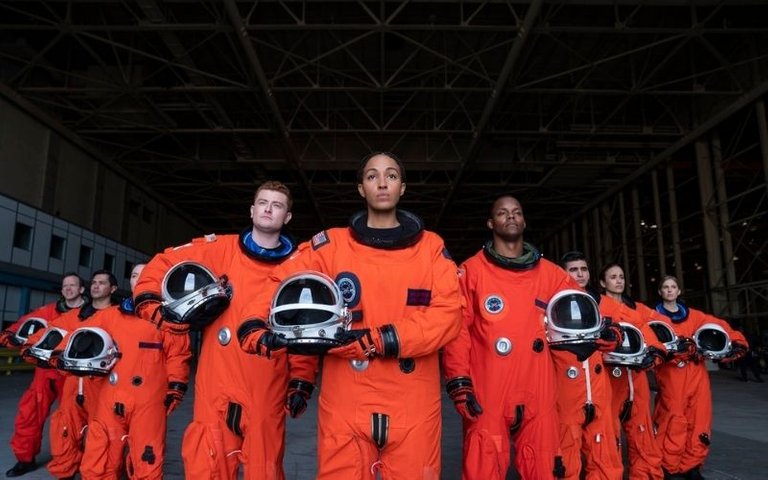 Photo Sensacine.
---
🔷Banner, Footer y letras mayúsculas creadas por mí en | Banner, Footer and uppercase letters created by me in Canva.
🔶Traducción realizada con | Translation made with Deepl.
🔺Separador creado por mi en | Separator created by me in Adobe Creative Cloud Express.

---
---