Reputation, healthy correction and holding monsters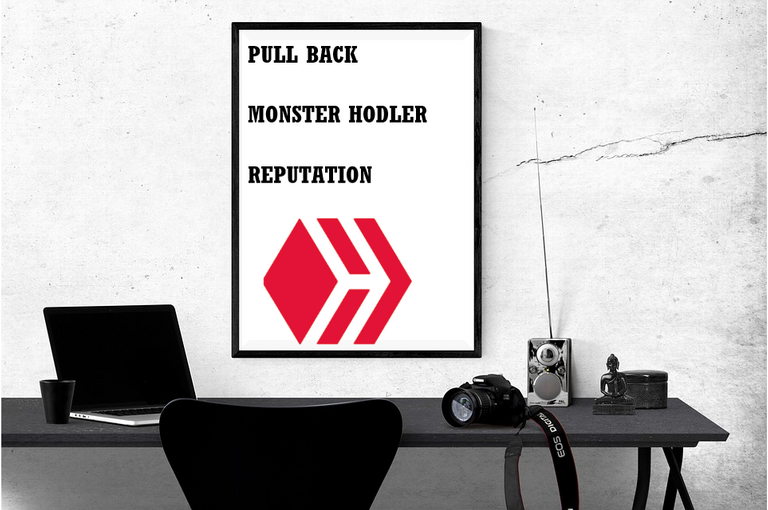 The price of Hive reached over $3 for a while yesterday and turned it into the talk of the town. There have been so many people wondering how or why the Coin pumped but I'm holding to my belief that it's just because the market is catching up to us.
Anyway, the total market cap of Hive had it breaking into the top 100 assets and that was pretty huge for the community. We finally became an entity that was worth a billion dollars and you could just see what it meant to everyone.
Just as expected, the run up paused for a while and beyond that, we've seen Hive settle at yet another solid rate. Prior to this pump, I discussed how watching Hive being stable at $1, was a bullish sign and now we're settled at $2.
Dropping from $3.5 to $2, is a pretty big deal but again, so is the fact that we can now refer to $2 hive as a dip. As time goes on, we'll experience more higher lows and see the price of Hive settle at higher rates.
So while looking at my account value drop from $10.7k to $7.7k isn't what I'd call a fun weekend, I'm also seeing signs of a face-melting pump on the horizon. I feel like this pullback might just be the proverbial calm before the whirlwind of a storm that could see hive running up to $10. I don't need to tell you how incredible that will be.
It's only a matter of time before we'll see Hive going on this run. The amount of interest in our David Vs Goliath origin against Justin Sun and other media type stuff also means that we're getting even more press.
Hive has developed a reputation of being a solid platform that offers bloggers, artists, gamers, and virtually everyone an opportunity to grow.
Reputation
Still, on the topic of reputation, it also pleases me to point out that .y reputation finally got into 76. I'm now 4 points away from 80 and while I'm not in control of my target, it would be cool if I can end next year at 80 reputations.
As I've said on multiple occasions, all I have is gratitude for the opportunity. So I'm grateful that you supported my content and got me here.
Oh yeah, if you've been viewing my posts through Leo, then you'd have been seeing 76 all along but that's just an estimation. The reality is that I was 75.99 for a while. Now it's officially 76, so hallalujah.
Monsters are stored
On a different note, I'd also like to add that I decided to pull out all the remaining monsters that were worth around $900 from the market.
The main reason I decided to take them out of the market was because of how DEC pumped aggressively. That situation would reduce the number of DEC tokens I receive and in turn, reduce the number of SPS tokens I receive.
So at the end of the day, I decided to hold the monsters and put them into battle. This period made me realise that I can survive without some monsters.
For example, I've been going on fine without water and fire splinter summoners. I sold the water summoner a long time ago and the fire was on the market but never sold.
I survived and got to my max league of gold 2 with the monsters at my disposal. So at the end of the day, I survived without those two monsters, although now I brought the fire summoner back from the market, so everything is fine.
I'm probably not going to sell any monsters this period. In fact, with the hive pump in effect, it is even possible to start purchasing DEC and get your hands on more monsters.
At the end of the day, you'll have to make one or more tough decisions to get ahead. Will you sell NFT, crypto, or just hodl? The ball is in your court but may the odds be in your favour as well.
Contact & Support

Posted Using LeoFinance Beta
---
---