Hive Progress Report on 05-September-2021
Hive blockchain lives amazing times as its token hit a new all-time high up to $1.06 based on the CoinGecko data. The growth in this ecosystem blossomed in big proportion to Splinterlands and with it, the communities around try to capitalize on the new rush of new users. Some will expand into blogging as well, while others will surely try new dapps around. And one thing that proved is that we need a lot of new dapps on HIVE to support the demand and the hunger of new users and potential investors. All this craziness translated for me into an amazing weekly financial report with impressive gains.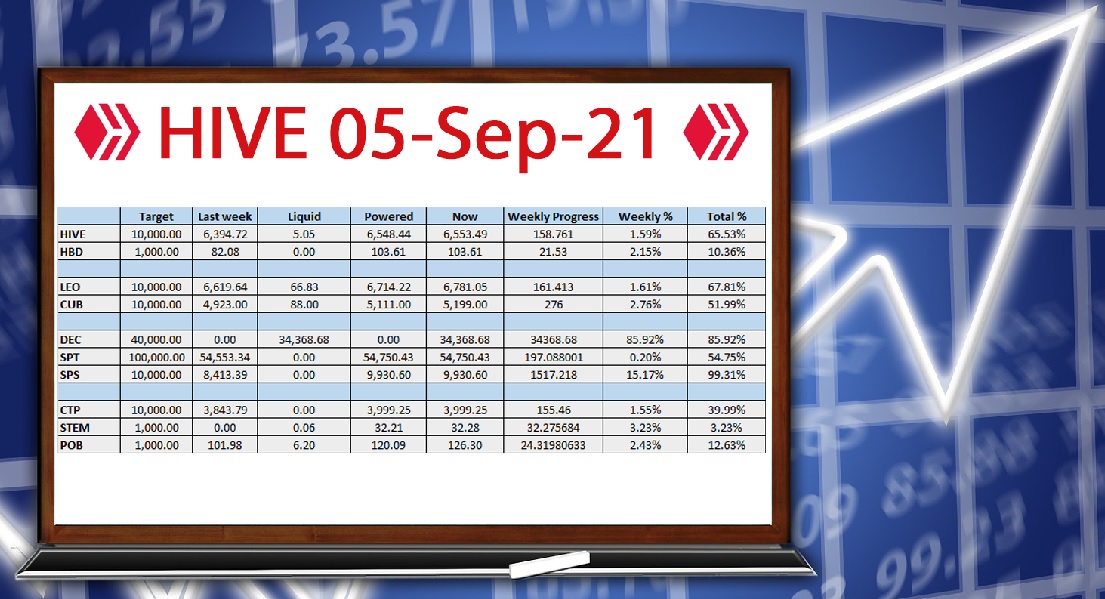 HIVE & HBD
HIVE shined as supplies from exchanges all over the world run dry and its price skyrocketed up to $1.06. For me this is encouraging, but I am in accumulation and investment mode so I didn't sell any as I continue my path towards my goals of getting to 10,000 HP and 1,000 HBD. With that in mind, I have increased my holdings with 158 HIVE and 21 HBD which make for about $140 for the week.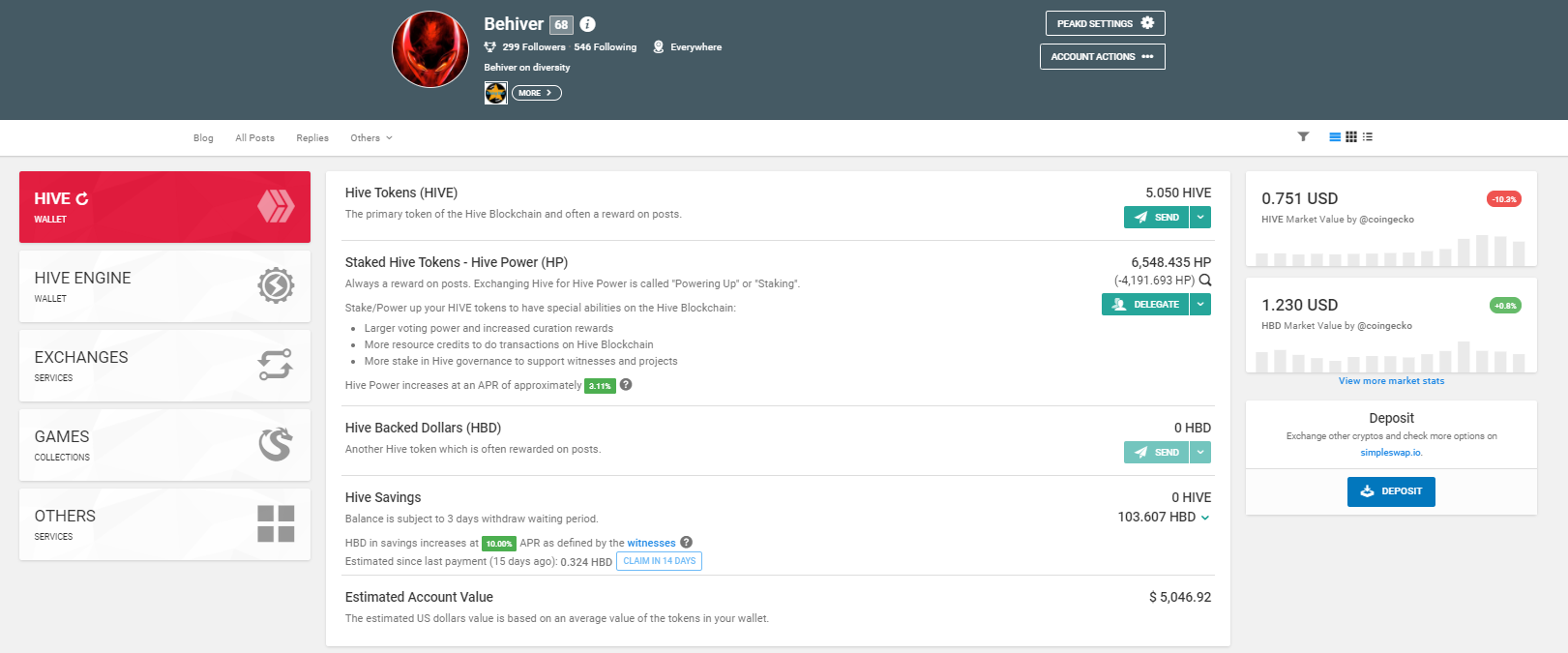 LEO & CUB
Leo Finance continues to be my place of blogging and keeping me up to date with crypto opportunities. I got also a curation role within the team and that should help my wallet along with great opportunities to spread the good word about this great community, curate and bring new users onboard and try to expand it as much as possible. And many ideas are rushing out of my mind, I just need to capitalize on those with greater expansion. The CUB staking into the Kingdom continues and as I have emerged also in the CAKE kingdom last week, I should get more CUBs to add to my portfolio. These added up and at the end of this week, I have earned 161 LEO and 276 CUB which have a value of $218.


DEC & SPS & SPT
Splinterlands continue to be my greatest earned around and I am spreading my wings across all in-game and external assets. I am staking SPS as always in order to benefit from Chaos Legion vouchers and see if I buy in or sell out (probable buy-in as a hungry wolf), DEC I am selling for HIVE and SPT I am staking and delegating for passive income. Putting all these together I have harvested 34,368 DEC, 1,517 SPS, and 197 SPT which sum up to $893.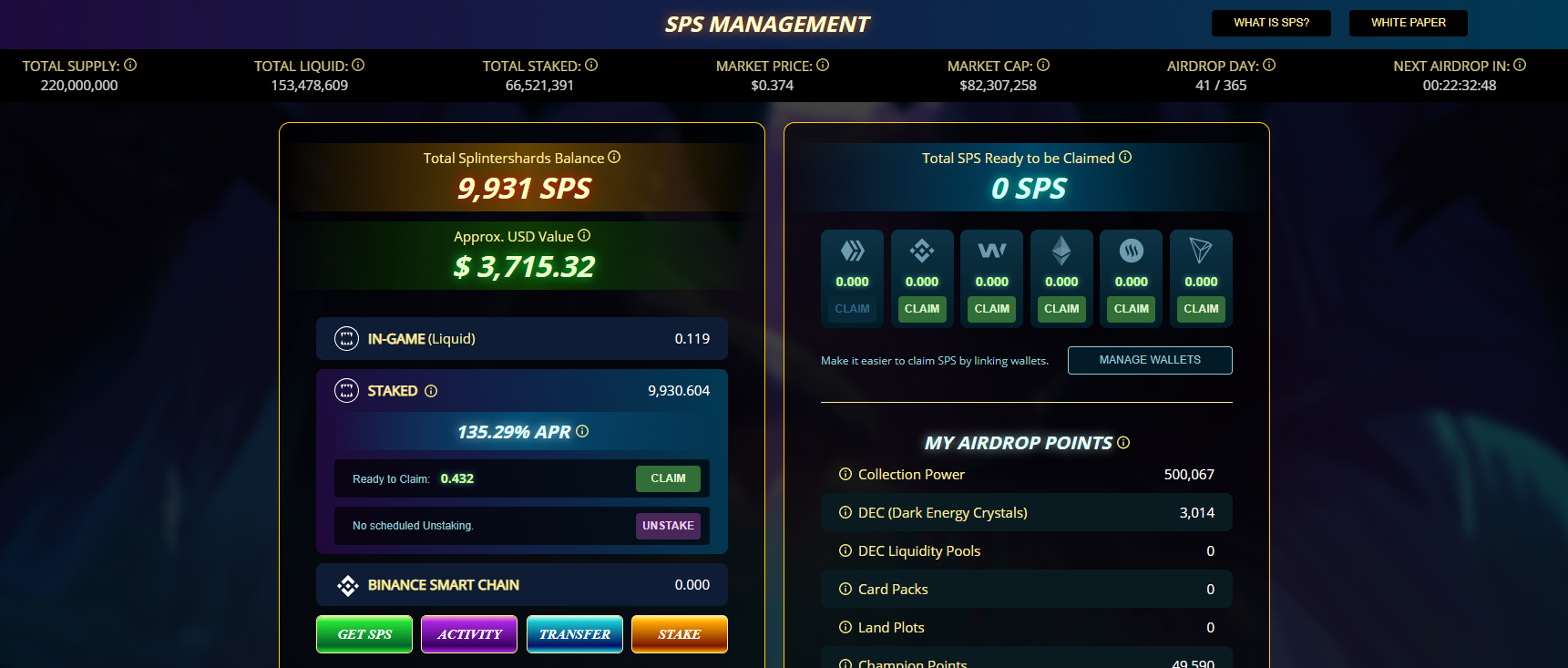 CTP, POB, STEM & Other HIVE second layer tokens
A good thing for my portfolio is that I have extended it with additional tokens and one of them is STEM. All the tokens are staked and delegated to @amr008 account for specific communities and that ensures me some additional passive income on top of the rewards obtained from content creation, commenting, and engaging. By doing so I've grown my assets with 155 CTP, 24 POB, and 32 STEM which have a current value of $8 for the week.

My diversified portfolio on HIVE blockchain and its second layer/bridged tokens saw quite a progress this week and part of it was gratitude to the improved HIVE price which even jumped past $1 price point. Staking SPS, harvesting CUB through DeFi from Cub Finance on BSC along content creation touching multiple communities are the ways that ensure me sustainable growth. This resulted in an overall portfolio performance of $1,200 for the week or $180 per day. Let's see when I can reach $200 per day which would be my next goal for it.
Posted Using LeoFinance Beta
---
---